This Smoked Turkey recipe is exceptionally juicy. It is brined overnight and seasoned with a delicious turkey seasoning. It may take a bit of time, but it is so worth it.
Looking for sides to serve with this whole smoked turkey? Try these mashed potatoes, brussel sprouts with bacon, or these tasty mashed sweet potatoes.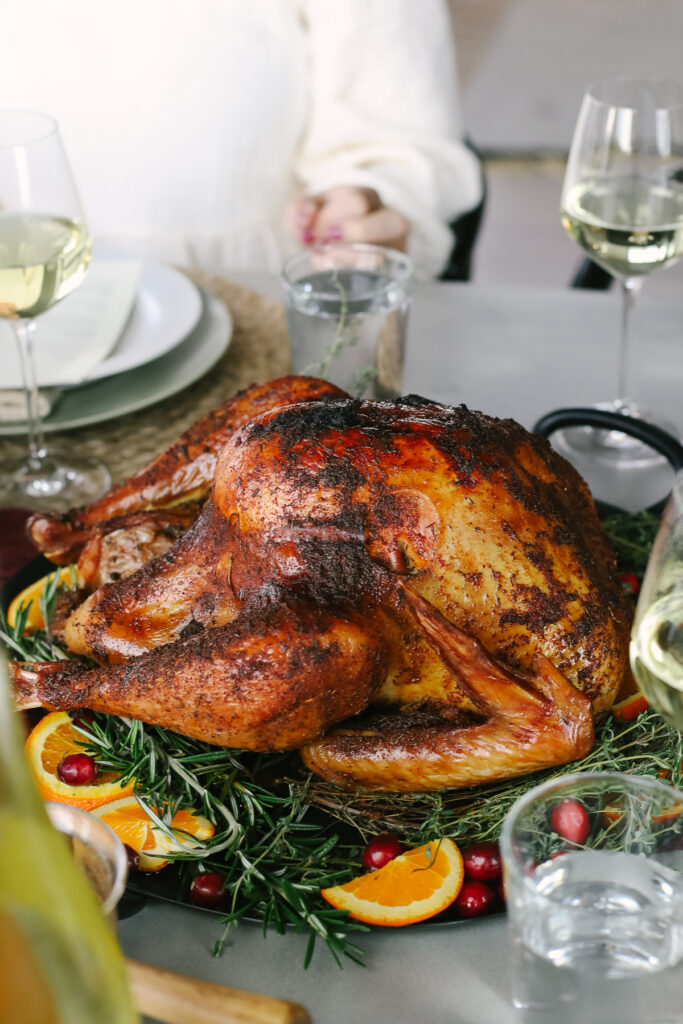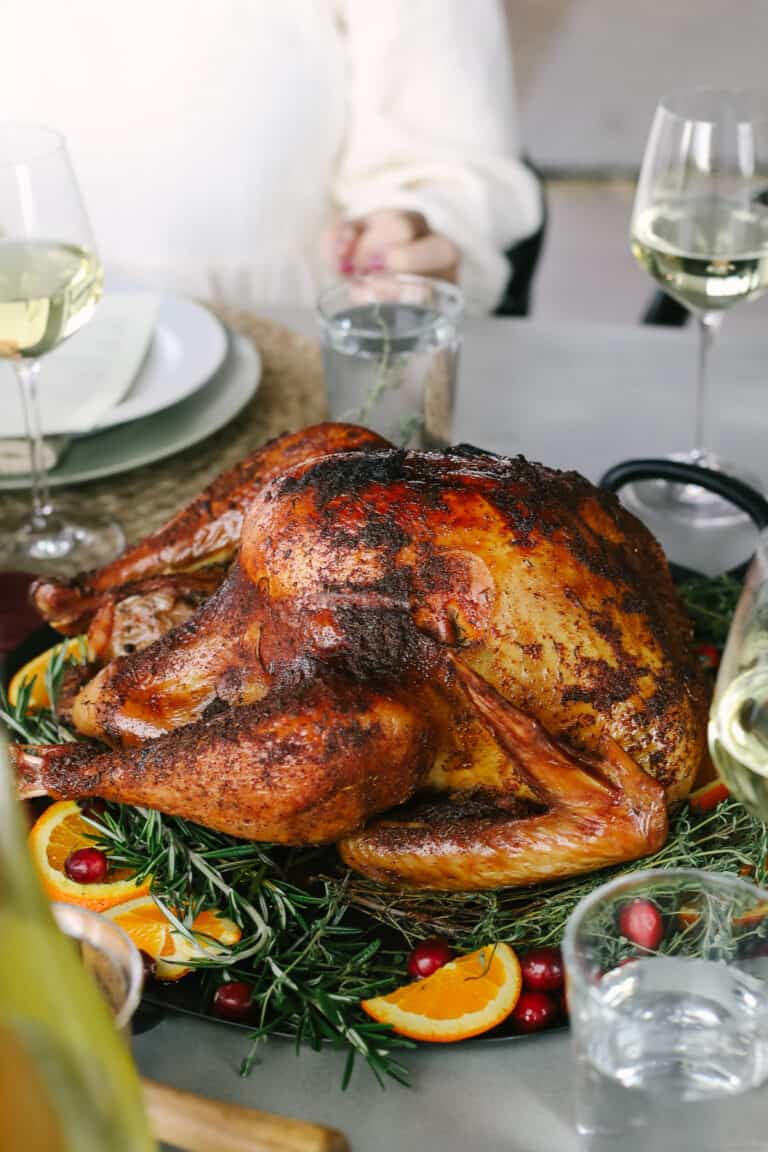 The Best Smoked Turkey Recipe
If there is ever a turkey recipe that you make please make it this smoked turkey recipe. It is not lost on us that cooking a whole turkey, whether you are roasting, smoking, sous-viding, or whatever, is an endeavor.
No matter how you cook a whole turkey it is going to take some time so why not do it right? Smoking a turkey does take 2 days to make, just an FYI.
This is truly the best smoked turkey recipe because it comes out so juicy and flavorful all thanks to a smoked turkey wet brine, turkey seasoning, and basting liquid.
So if you don't have the time turn around now and go make our baked turkey tenderloin or this easy herby turkey breast.
Why you should consider smoking a turkey
If you decided that smoking a turkey is for you, here are all the reasons you should smoke a turkey versus any other method.
Smoked turkey is juicy on the inside.
The flavor is incredible.
It is a fun way to cook with the family.
Smoking a turkey is a long process that leaves you with the most flavorful turkey ever.
Smoked turkey makes great leftovers that last a long time.
Best Smoker for Smoking Turkey
Let's talk smokers. If you have a smoker that you love, you can skip this section. We have smoked many different types of meat on many different smokers. Automatic pellet grills or smokers, manual smokers, and even regular grills.
Our favorite smoker is the Traeger electric smoker because (like a slow cooker) there is minimal work required once you set the Traeger. This smoker uses pellets rather than wood chips and it automatically feeds the smoker to adjust the temperature.
That's right, nobody has to add wood chips or wood pellets themselves to keep the temperature up.
What type of pellets should I use? You can use whatever pellet you would like! We used the original Traeger pellets for this recipe. You can use hickory, cherry, or any other pellet flavor you'd like.
Smoker Essentials
Check out all of our favorite smoker products, including what smoker we use in the Fit Foodie kitchen for testing recipes!
Can I Use a Regular Grill to Smoke a Turkey?
Yes, you can use a gas grill or charcoal grill as a smoker. It does take a bit more work. All you have to do is buy one of these wood chip smoker boxes and then add wood chips throughout the smoking process to maintain the correct temperature.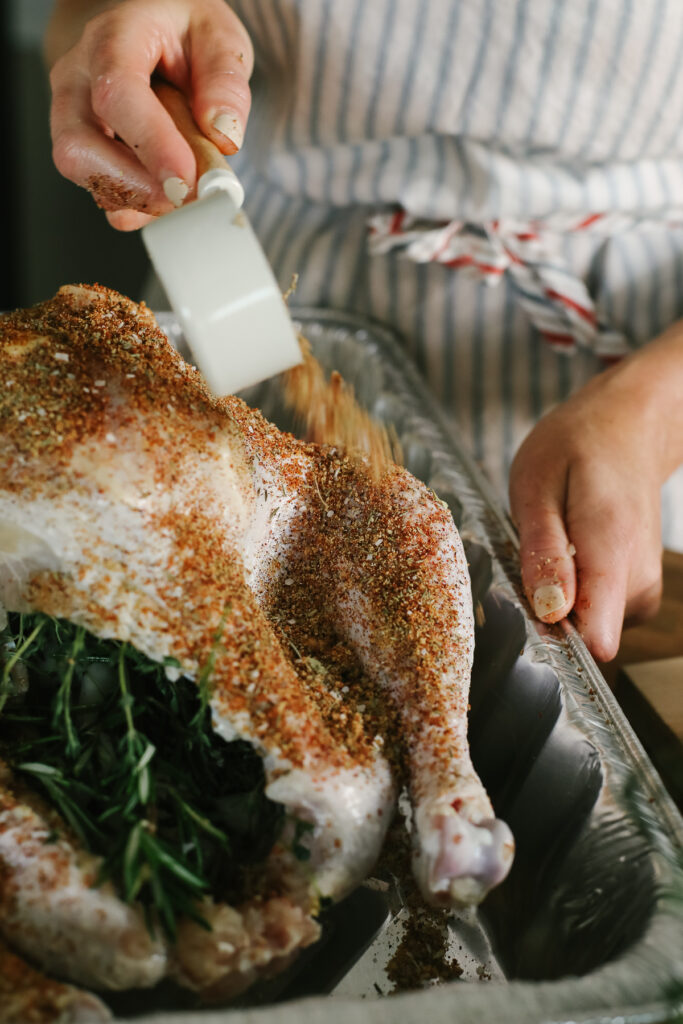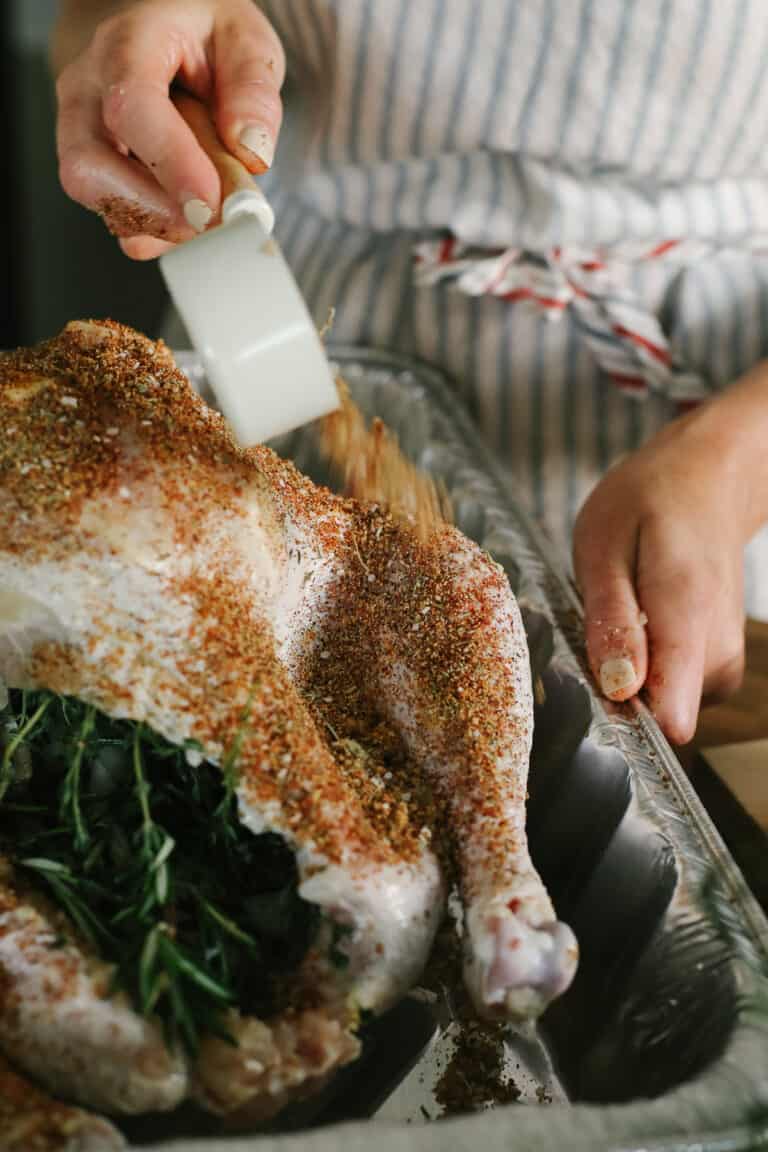 All the Supplies You Need
Before you start smoking the turkey you have a few things that you will need to gather to make it an easy process.
Smoker Essentials
Check out all of our favorite smoker products, including what smoker we use in the Fit Foodie kitchen for testing recipes!
Ingredients for Smoked Turkey
There are a few different steps to this smoked turkey recipe but the nice part is that many of the ingredients overlap!
Turkey– this recipe calls for a 12-15 pound whole turkey. Be sure you find a turkey that is untreated. Some turkeys come pre-brined and we don't want that. This turkey should feed between 12-15 people if you are serving it with sides.
Brine Ingredients- you are going to bine your bird in this smoked turkey brine which consists of water, salt, rosemary, thyme, peppercorns, garlic, and onions.
Turkey seasoning– do not skip this seasoning, it adds so much flavor to this recipe. This turkey seasoning is the most flavorful seasoning that compliments turkey and other poultry so well. It is a combination of sweet + savory. Please please make it!
Onion and Garlic– you are going to stuff your turkey with onions and garlic. Don't skip this, it adds all the best flavors to your turkey and the gravy.
Salted butter– oh butter, how we love you. You are going to stick a little butter under the skin of your turkey before you smoke it.
Chicken broth– you are going to make a bit of a basting liquid with chicken broth. If you don't have chicken broth, any type will do!
Fresh herbs- we use fresh sage, fresh rosemary, and fresh thyme in this recipe. They are used in a few different parts of the recipe.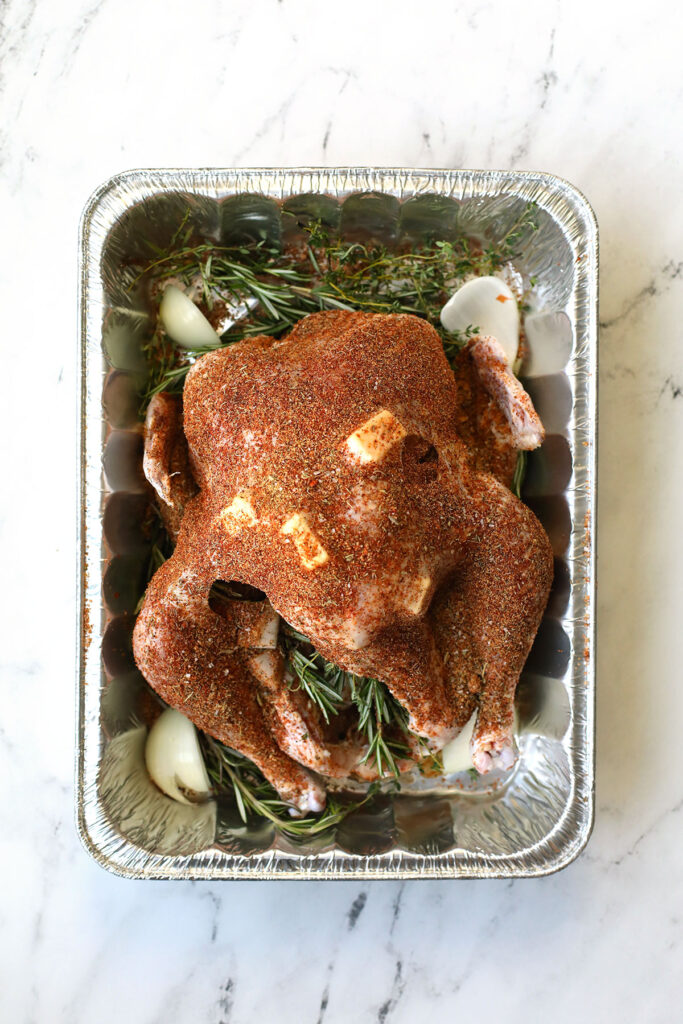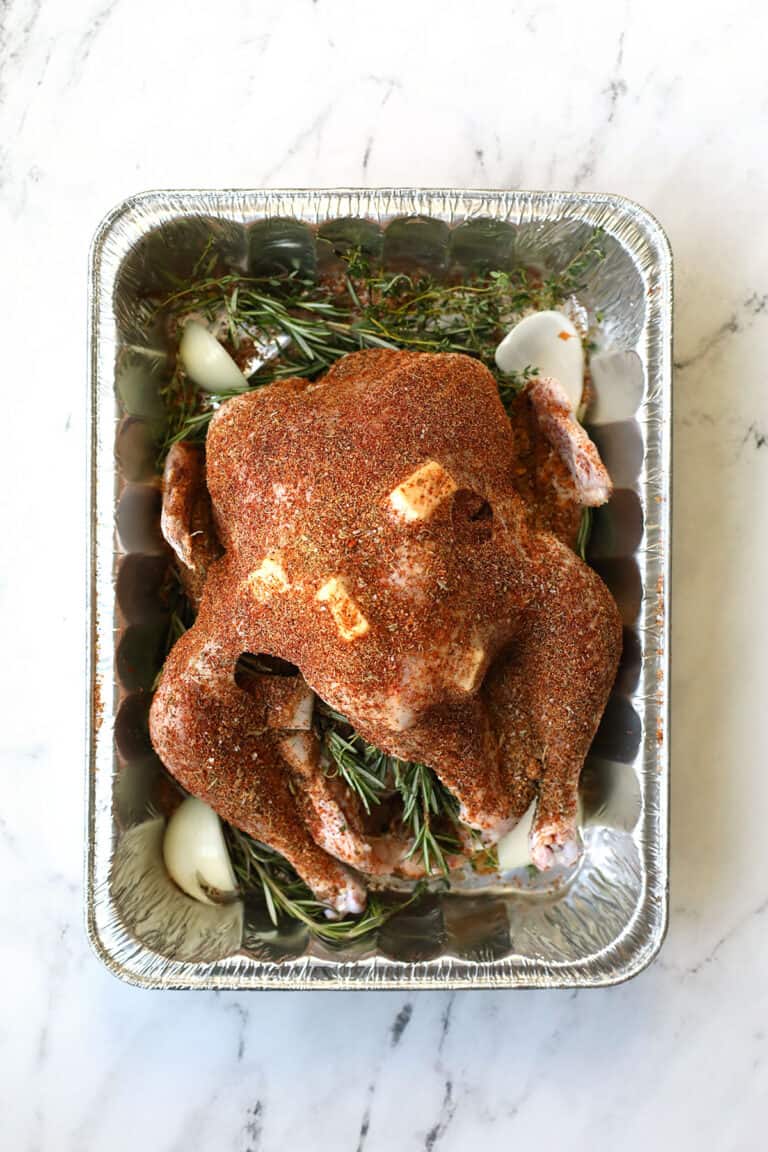 How to Prepare a Turkey for Smoking
To prepare your turkey for brining and smoking, we suggest sanitizing your kitchen sink and placing a baking sheet in the sink. Place your turkey on the baking sheet and remove the wrapping from the turkey.
Thaw Turkey
It is very important that you thaw your turkey fully before beginning this process. Thawing a 15 lb. turkey takes longer than you'd think.
We thawed ours in the fridge for 2 days until fully thawed.
Make sure to keep an eye on your turkey. You can always bring it to the countertop to thaw faster than in the fridge.
Remove Turkey Innards
Before starting anything, be sure to remove the innards from the cavity of the turkey before preparing the brine for the turkey.
You can discard the giblets and innarts or save them for a yummy turkey soup later on.
Smoked Turkey Brine
After your turkey is prepped and ready to go it's time to prepare the 'wet' turkey brine. We have an entire post about our smoked turkey brine, but essentially you are preparing a salty water bath for the turkey to sit in overnight.
Why brine your turkey before smoking? We swear by wet brining our turkey before smoking because it not only adds a ton of flavor but also helps the turkey retain moisture during the smoking process.
How long to brine a turkey before smoking? We recommend brining your turkey for at least 12 hours or overnight. So, you can do this the night before so that it's ready for smoking in the morning!
Smoked Turkey Dry Rub
The second thing you have to do to your turkey before putting it on the smoker is carefully rinse the turkey under water, pat it dry with a paper towel, and then douse it in our delicious turkey dry rub.
Make sure to get that rub in every nook and cranny! We highly suggest making our dry rub because it's truly what adds amazing flavor to this recipe. You'll likely use around 1/2 to 3/4 cup of our turkey seasoning. Here's what it's made of:
Dried thyme
Dried rosemary
Dried oregano
Brown sugar
Garlic powder
Salt
Ground pepper
Chili powder
Smoked paprika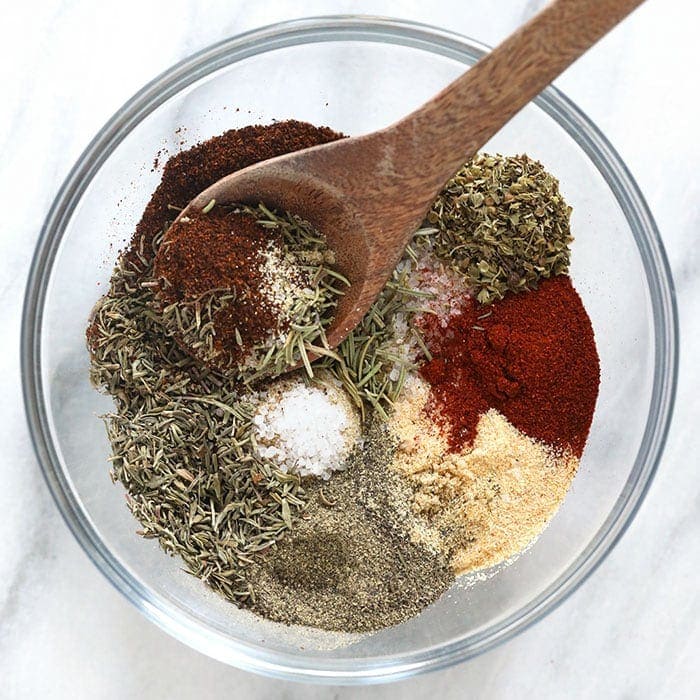 try it!
Turkey Seasoning
Ditch the store-bought turkey seasoning and use the most Flavorful Turkey Seasoning made with 9 ingredients you can actually pronounce. This seasoning is made up of garlic powder, brown sugar, kosher salt, and other simple seasonings.
get recipe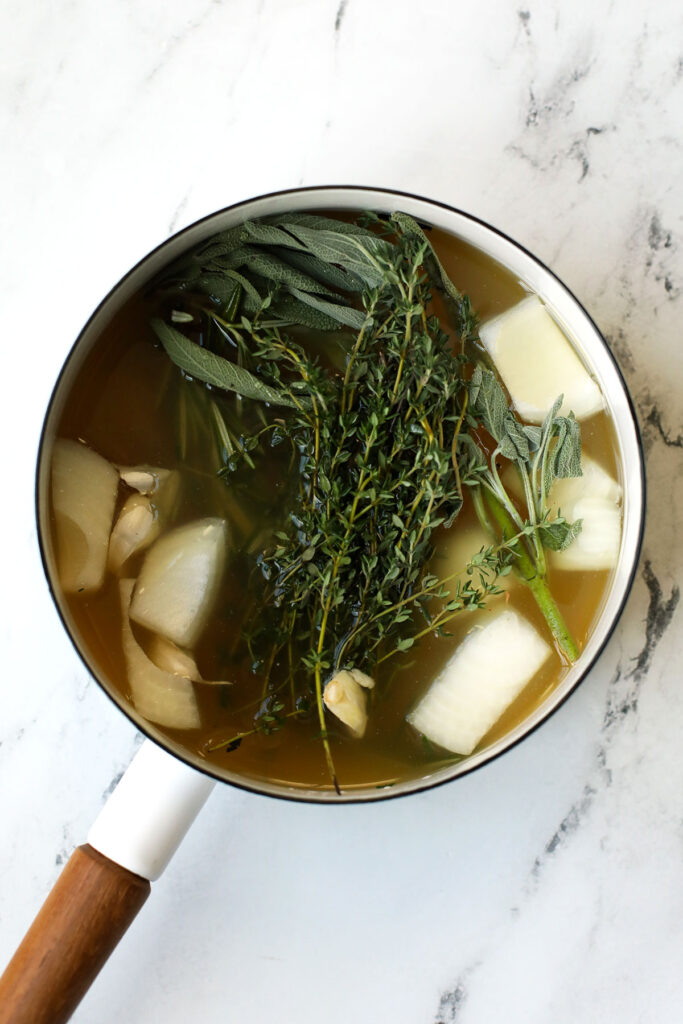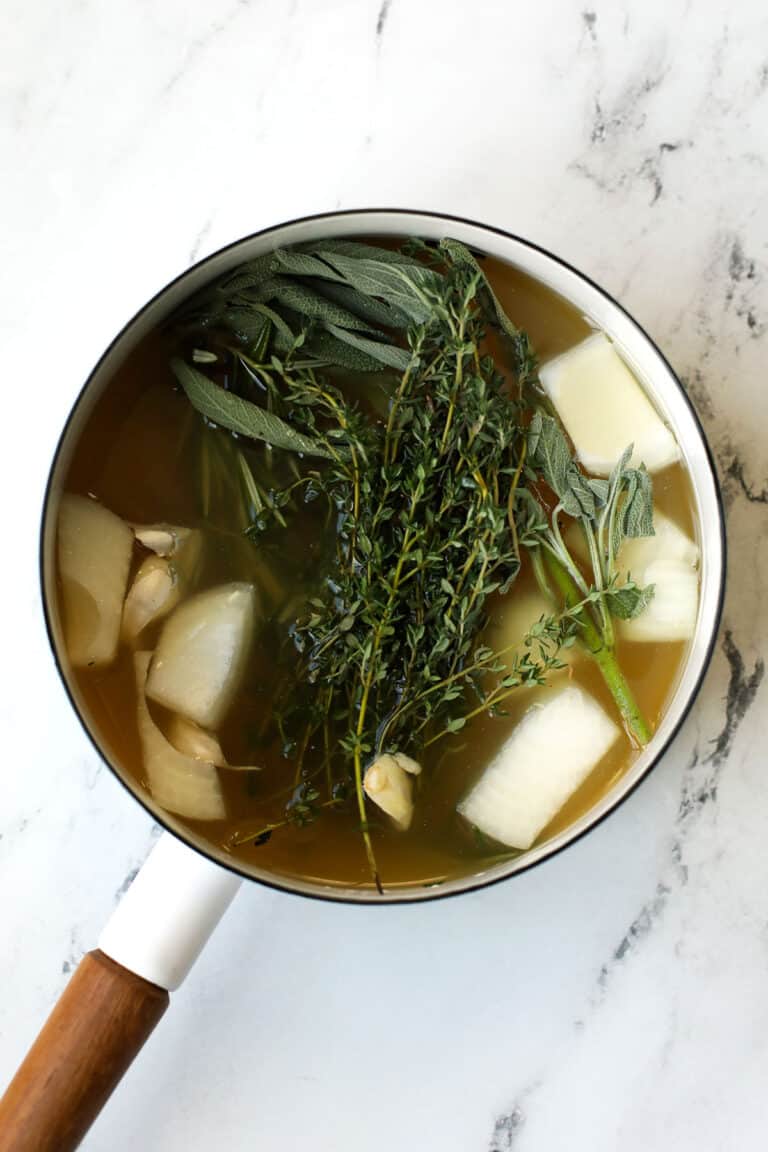 Things to Do Before You Smoke the Turkey
In the last hours that your turkey is brining, there are a few things you can do to get ready to smoke the bird.
Prep the Basting Liquid
Every 1.5 to 2 hours while you are smoking the turkey you are going to baste your bird in a delicious basting liquid that will also become part of the gravy you make at the end of your recipe.
Prepare the basting liquid on the stovetop before you prepare the bird and then find a small aluminum container that you can keep the basting liquid in in the smoker.
Why should you baste your smoked turkey? Basting helps prevent the turkey from drying out on the smoker. Trust us when we say don't skip this part.
Get your aluminum Pan ready
After the bird is brined, you are going to place it in a big aluminum roasting pan that will eventually go on your smoker. Find an aluminum roasting pan that is big enough for your bird, but will still fit on your smoker.
Along with your bird, there will be onion, garlic, and fresh herbs that will make up your gravy along with the basting liquid and drippings from the turkey.
Clean the smoker
Always clean your smoker so there are no chances for flavor contamination or fire of any kind. That means you also want to clean the drip tray of your smoker as well!
Preheat the Smoker
Preheat your grill or smoker so it is all ready for you and your bird!
What Temperature Do I Smoke a Turkey at?
This smoked turkey is smoked at 225ºF covered with tin foil for 6 hours (for a 12-15 lb. turkey) — low and slow. At 5 hours of smoking, we remove the aluminum cover and turn the heat up to 250ºF for an additional 1 hour to crisp up the skin. It's delicious!
How to Make the gravy
One of the secret heroes of this recipe is the GRAVY. Use the drippings and yummy juices that the turkey makes during smoking, the leftover basting liquid (if you have any), and 1 cup of broth.
Heat all those ingredients together and slowly whisk in 1-2 tablespoons of corn starch until the gravy thickens.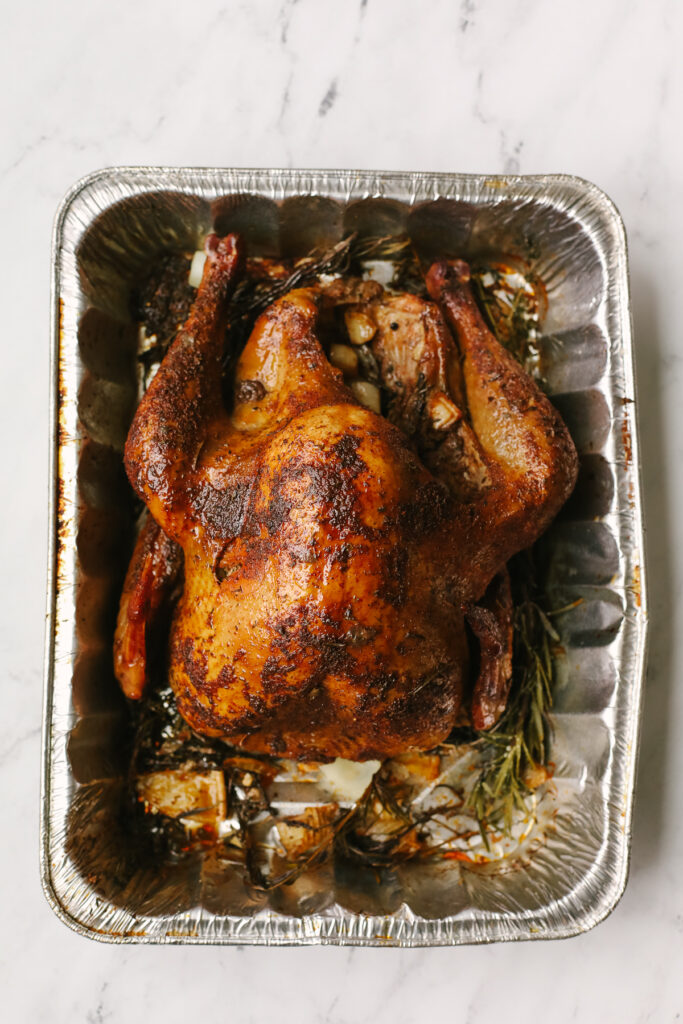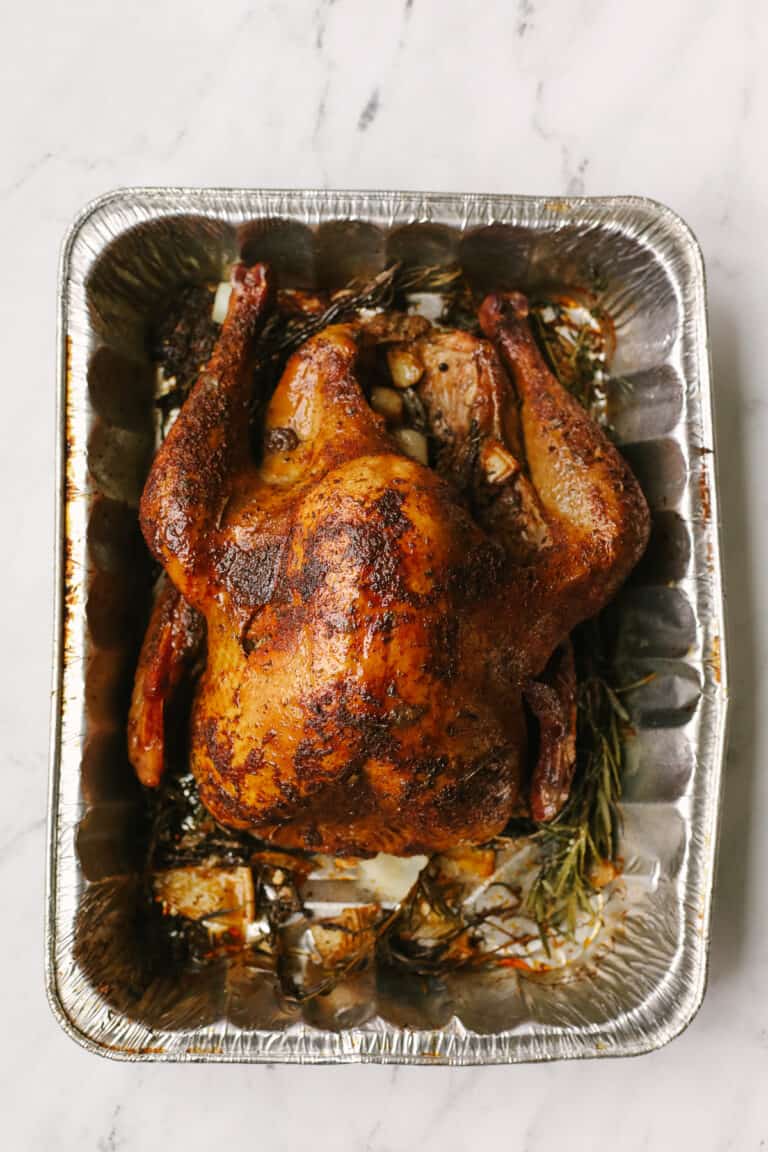 How Long to Smoke a Turkey?
This 12-15 lb turkey is smoked (covered) for 6 hours. If you have a larger turkey you will need to smoke the turkey longer. Just check the internal temperature!
Remove the turkey from the smoker and let the turkey rest for 15-20 minutes to retain all the moisture back into the meat. Then use a carving knife to slice your turkey.
Can I smoke a bigger turkey? We actually don't recommend smoking a turkey larger than 15 lbs. because it will take too long to cook and the exterior of the turkey could get too dry.
Internal Temperature of a Whole Turkey
The internal temperature of turkey should be 165ºF. Some people follow the rule that the chicken thigh temperature should be 175ºF and the breast meat should come out to 160ºF or 165ºF. Generally, we make sure the whole bird is about 165ºF.
Our rule of thumb is to keep the probe of your smoker in the thickest part of the bird to watch the temperature of the turkey throughout smoking.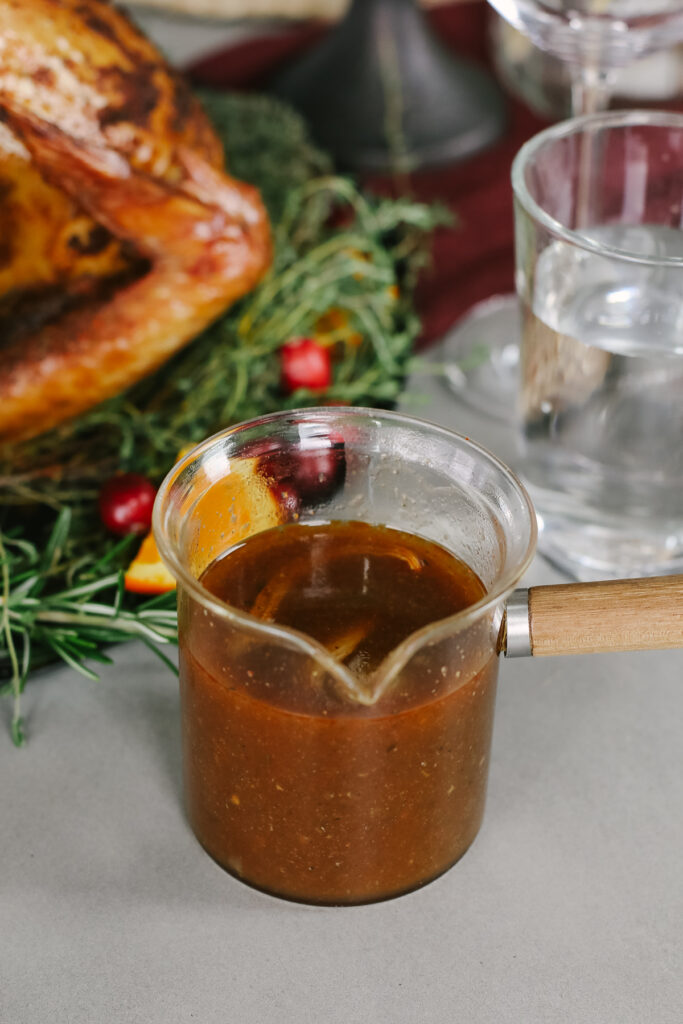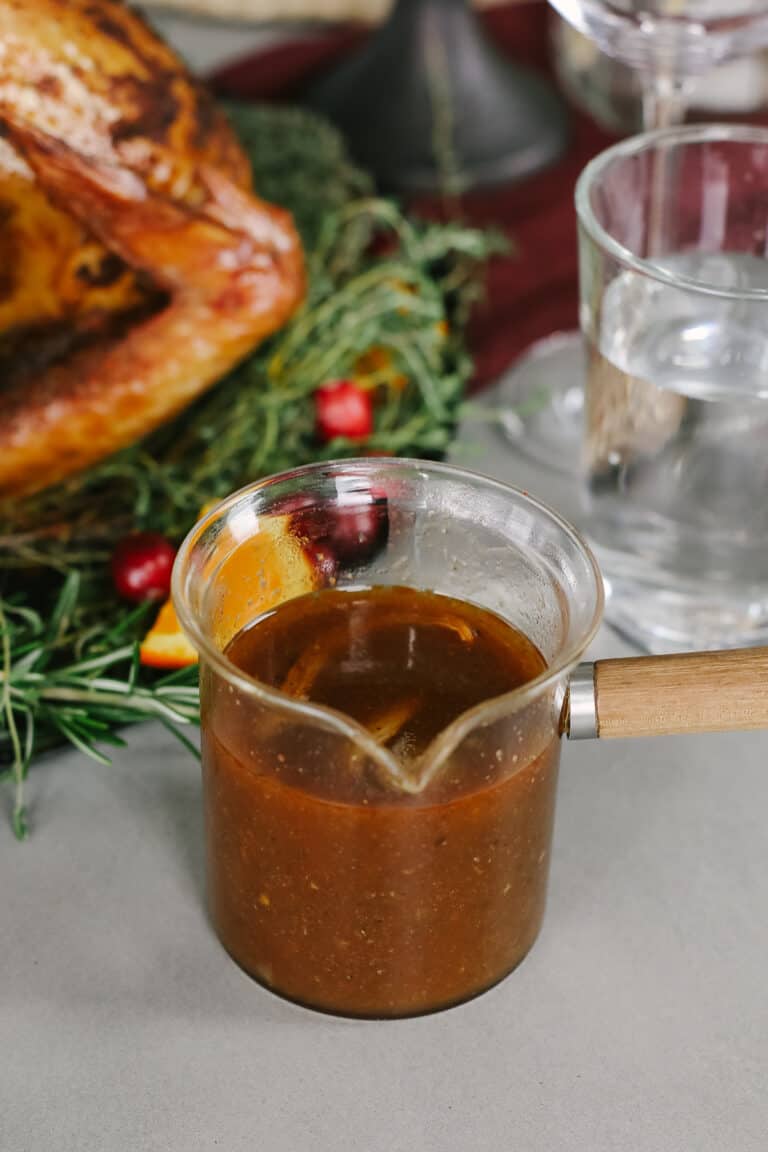 FAQ
How long does it take to smoke a turkey?
While the smoke time for a 13-15 lb. turkey is only around 6 hours, you will likely be brining the turkey, which makes this a 1 day+ endeavor.
Do smoked turkeys taste good?
Smoked turkeys are absolutely delicious. They take on the flavor of the smoking pellets used along with any dry or wet brining that was done beforehand.
How do you keep a turkey moist while smoking?
There are a few ways to keep a turkey moist while smoking. You can cover it with tinfoil to trap some moisture and/or use a basting liquid like classic roasted turkey.
Should I wrap my turkey in tin foil while smoking?
We recommend using tin foil for the majority of the turkey smoke time to make sure the turkey comes out nice and moist. Only right at the end do you uncover it.
What to Serve with Smoked Turkey
You can't have turkey without delicious sides! Below are some of our most favorite side dishes for Thanksgiving or any other time you are enjoying a turkey dinner.
Roasted Brussel Sprouts with Bacon- This delicious roasted brussels sprouts recipe is made with just a few simple ingredients including thick-cup maple bacon and in less than 30 minutes!
Roasted Root Vegetables- These Roasted Root Vegetables are such an easy and delicious seasonal side to serve this fall and winter! Simply cut the veggies, season, and roast for 45 minutes — that's it!
Mashed Potatoes- Add these healthy mashed potatoes to your Thanksgiving dinner. They're made with russet potatoes, Greek yogurt, a little bit of butter, and tons of fresh herbs for the most perfect mashed potatoes with skin on (just the way I like it!).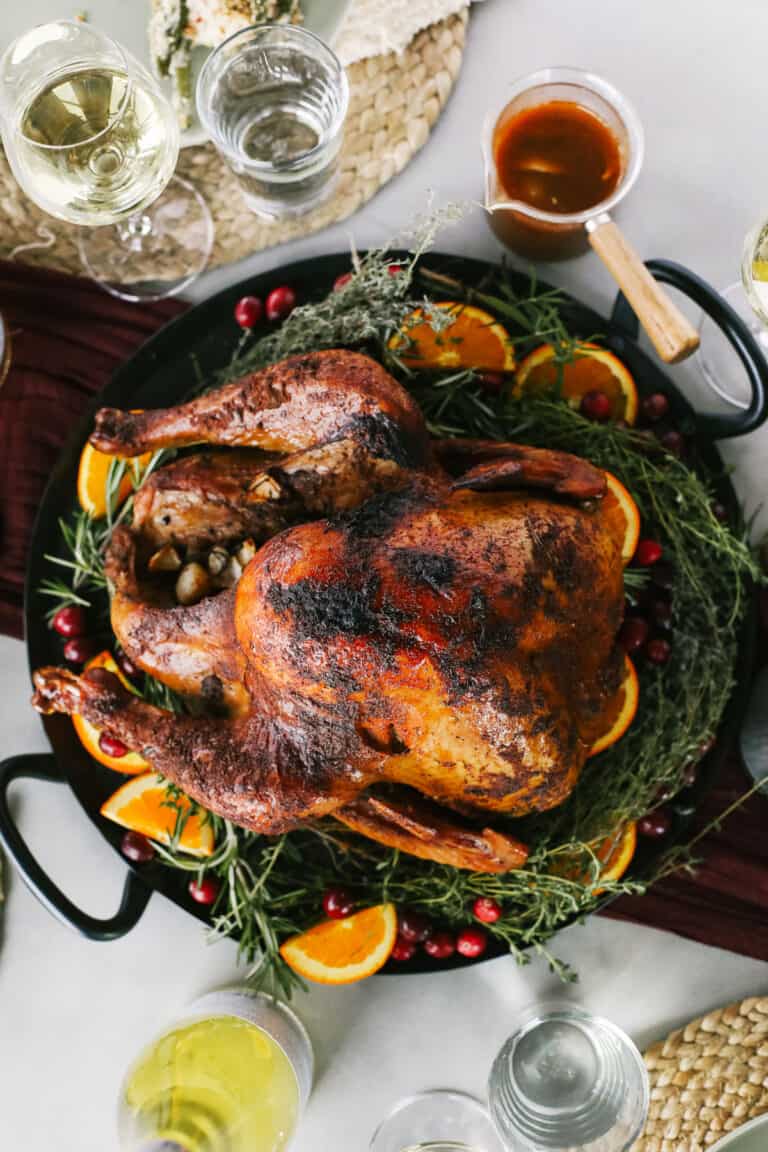 Smoked Turkey Leftover Ideas
If you have a smaller group of people for this turkey you will definitely have leftovers! Below are some delicious leftover ideas.
Storage
Store your turkey leftovers in an airtight container in the fridge for up to 7 days.
Can I freeze smoked turkey?
Yes, you can freeze leftover turkey for soups, salads, or any other recipes. Let the turkey cool completely and then place it in a freezer-safe bag and freeze it for up to 3 months.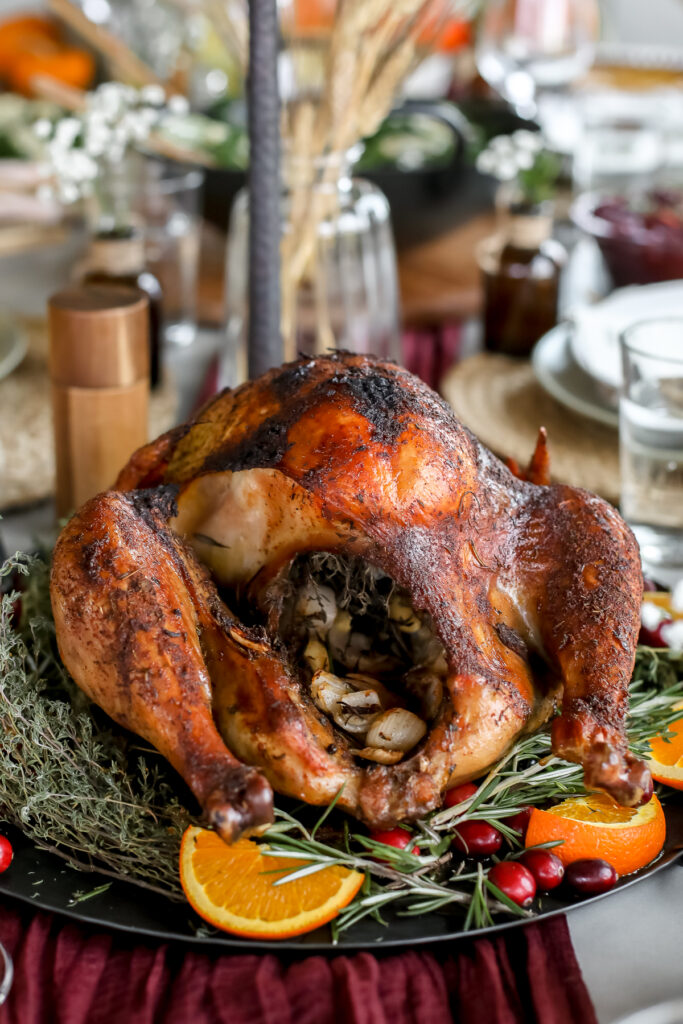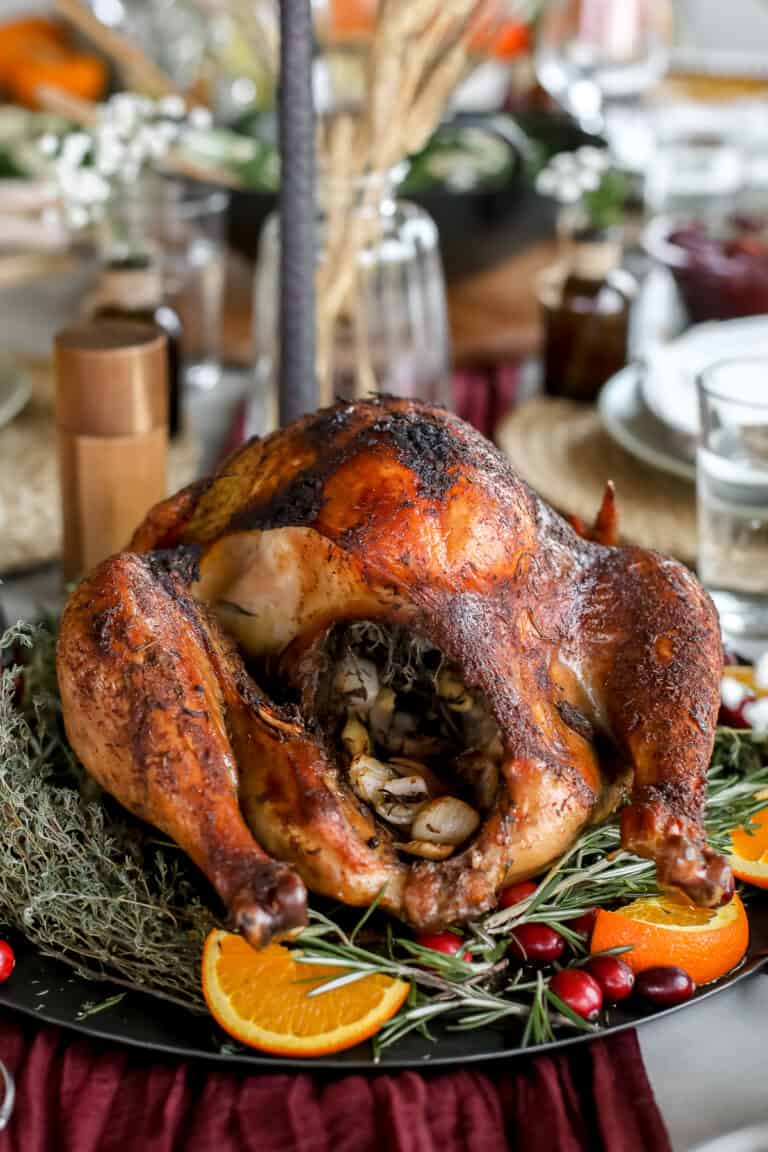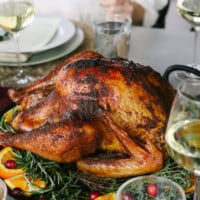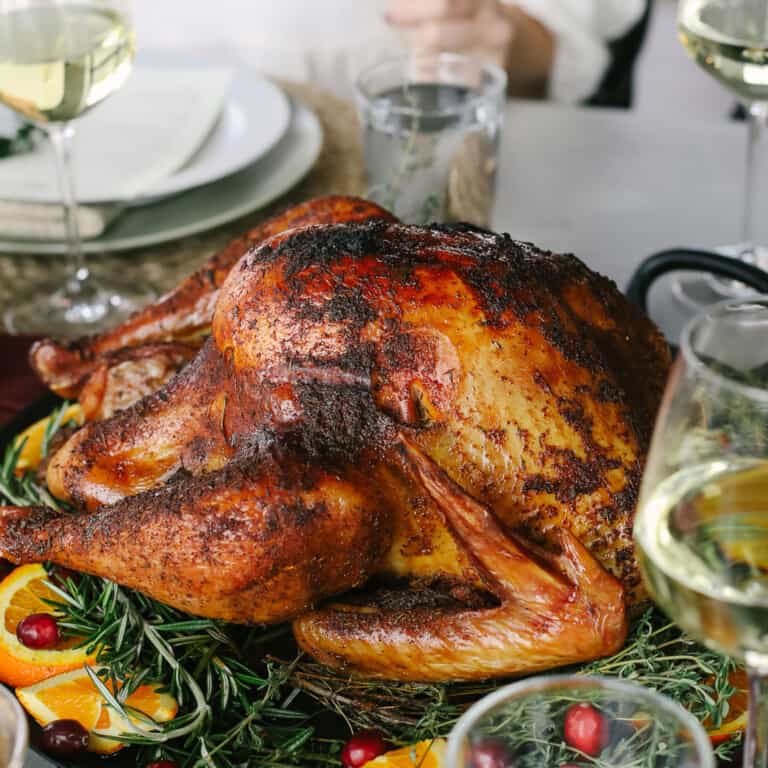 Juicy Smoked Turkey (How to Smoke a Turkey)
This smoked turkey recipe includes a smoked turkey brine, turkey seasoning, and a delicious gravy. Your guests will be wowed by this juicy Traeger smoked turkey recipe. Yum! 
Ingredients
Instructions
Prepare the Brine: Add 2 cups of water to a saucepan and add 1.5 cups of kosher salt to the pan and heat it over medium heat. Whisk the 2 ingredients together over the heat until the salt is absorbed. 

Pour the salt water into a 4 gallon bucket. Add the rest of the brine ingredients to the pot and mix until all the ingredients are combined. 

Brine Turkey: Carefully place the turkey into the brine and place the pot into the fridge and let it sit overnight. 

When you are ready to smoke the turkey, preheat the smoker to 225ºF. 

Once the turkey has sat in the brine, remove it from the pot and discard the brine. 

Place the turkey on a baking sheet in the sink and carefully rinse the turkey. 

Pat the turkey try with paper towel. 

Place the turkey on a clean aluminum tray and carefully place the small pieces of cold butter under the skin of the turkey.

Prepare turkey seasoning: prepare turkey seasoning by cominbing all of the spices in a mediu bowl. Mix to combine.

Season turkey: Depending on how big your bird is, you'll use around 3/4 cup of the turkey seasonoing. Sprinkle the turkey with turkey seasoning. Pat the seasoning into the turkey and be sure the turkey is covered in seasoning. It's okay if some of the seasoning falls to the bottom of your tin pan becuase those flavors will help make the gravy taste amazing.

Stuff turkey: stuff the onion, garlic, and herbs in to the center of the turkey and cover the turkey with aluminum foil. set aside. 

Prepare basting liquid: Place all the ingredients for the basting liquid into a small bowl (we used a disposible tin container). Be sure the bowl can get dirty in the smoker if that's what you're using. 

Finally, place the pan with they turkey into the smoker and set the basting liquid next to the turkey pan. 

Smoke turkey: smoke the turkey at 225ºF for 5 hours, basting the turkey every 1.5 to 2 hours with the basting liquid. 

Uncover the turkey after 5 hours and increase the heat to 250ºF and smoke for an additional 1 hour or until the internal temperature of the thickest part of the turkey (the breast) reaches 165ºF. Increasing the heat will allow the skin to crisp up. 

Remove the turkey from the smoker and let it rest for 15-20 minutes before carving. 

Make the gravy: Discard the onion, garlic, and sprigs of herbs from the roasting pan and add all the turkey drippings to a saucepan (you should have around 1-2 cups of liquid).

Add any leftover basting liquid (if you have any) and 1 cup of chicken broth to the saucepan and bring to a gentle boil over medium/high heat.

Once the liquid is hot, turn the heat to medium and create a cornstarch slurry. Whisk 1 tablespoon cornstarch with 2 tablespoons of the liquid from the pot until the cornstarch dissolves. Then add the slurry to the pot and whisk to combine.

Continue whisking until the gravy thickens. If the gravy doesn't reach your desired thickness, repeat with another tablespoon of cornstarch.
Tips & Notes
Non-Smoker Grill Instructions: Bring your gas grill or charcoal grill to 225ºF and set a wood chip box full of soaked wood chips onto the grill. You will have to maintain the temperature 225ºF throughout the whole cook time by making sure you have enough propane if you are using a gas grill or being sure to continually add charcoal to your charcoal grill. You will also have to add more soaked wood chips to the smoking box throughout the cooking time. Once your grill is preheated, follow the same cooking instructions from above.
Nutrition facts
Calories:
684
kcal
Carbohydrates:
49
g
Protein:
130
g
Fat:
15
g
Fiber:
1
g
Sugar:
0
g