Ditch the store-bought turkey seasoning and use the most flavorful turkey seasoning recipe made with 9 ingredients you can actually pronounce.
Whether you're cooking a full Thanksgiving turkey or a smaller turkey tenderloin for Thanksgiving, we've used this very turkey seasoning on almost all cuts of turkey and they always come out some flavorful!
This turkey seasoning recipe is one of our most popular Thanksgiving recipes and rightfully so. We use this turkey seasoning every year to season our Thanksgiving turkey and it's truly what makes it so amazing.
It's savory, a little bit smokey, and slightly sweet. It combines some of the best common spices such as garlic powder, thyme, and oregano to create one amazing turkey dry rub.
Featured Comment
"This dry rub was AHHHMAZING! the house smelled divine and the turkey tasted even better! Can't wait to share this (and impress) my family next Thanksgiving! Also appreciated that all of the ingredients were already in my cupboard!" – Erica
Turkey Seasoning Ingredients
We're betting that the following spices for turkey are already in your cupboard. And, we can guarantee you that this seasoning will be more flavorful than any store-bought turkey seasoning + all the benefits of actually being able to pronounce the ingredients:
Dried thyme
Dried rosemary
Dried oregano
Garlic powder
Chili powder
Smoked paprika
Brown sugar
Coarse salt
Pepper
How much does this seasoning for turkey yield?
This recipe yields around 1/3 cup and is enough seasoning for a 15 lb. turkey. For smaller or larger birds, use 1.5 tablespoons of seasoning per lb. of turkey.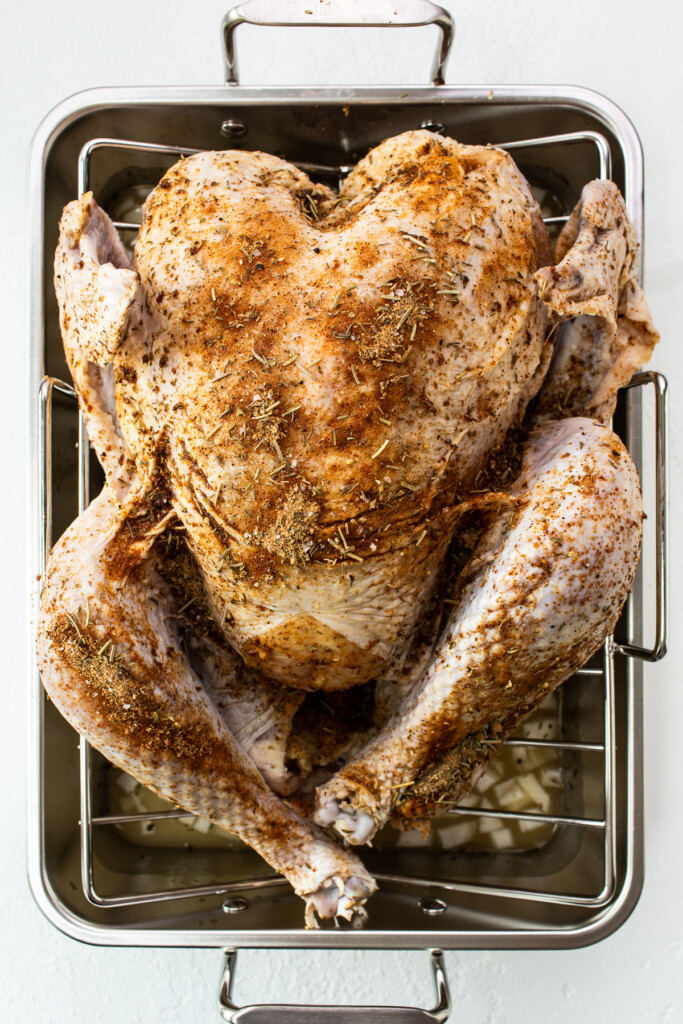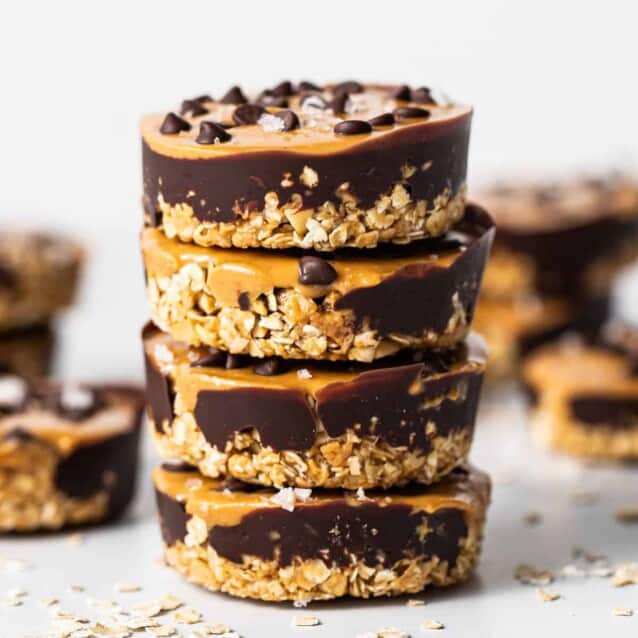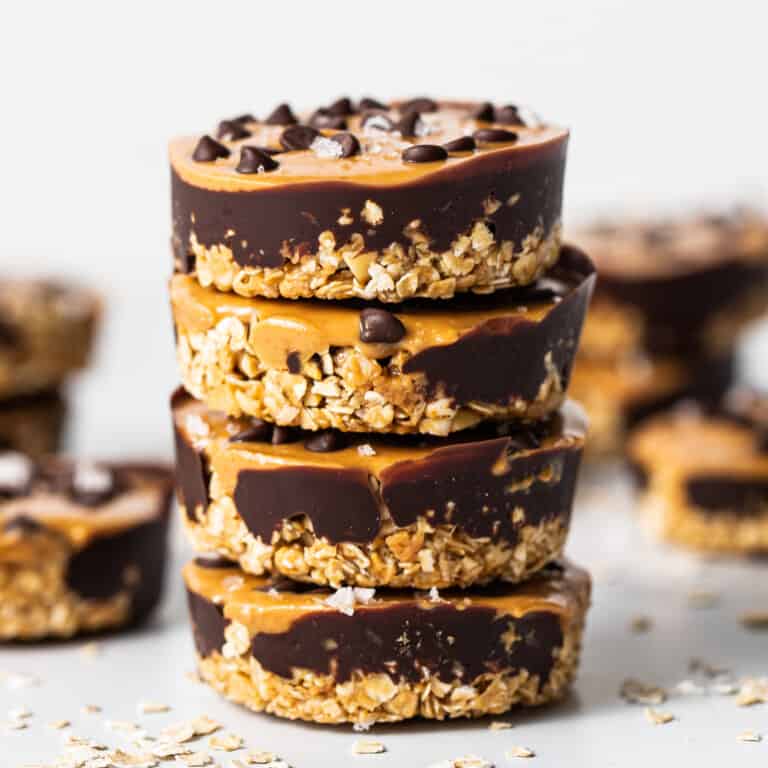 Get our Top 10 5-Star Recipes!
Join our email list for new recipes and BONUS: get our top 10 ⭐️⭐️⭐️⭐️⭐️ recipes e-book!
How to Season a Turkey
Seasoning a turkey is simple and our #1 tip is to put it everywhere! After mixing up the spice blend, simply sprinkle it on top of the skin and in between the legs. Then, use your hands to rub it in. You can even rub it under the skin for optimal flavor. Not only will it flavor the turkey itself, but it will help create the most flavorful turkey drippings, which will eventually be your turkey gravy.
How to Store Homemade Turkey Seasoning
This recipe yields 1/3 cup. If you have leftover turkey seasoning, transfer it into a jar and tightly seal it shut. Store in a cool, dark place for up to 6 months.
Recipe Pairings
If you're planning a full Thanksgiving dinner or you're making a smaller bird for the fam, here are some go-to recipe pairings we're always coming back to to flesh out a top notch turkey dinner:
Salads
Sides
Desserts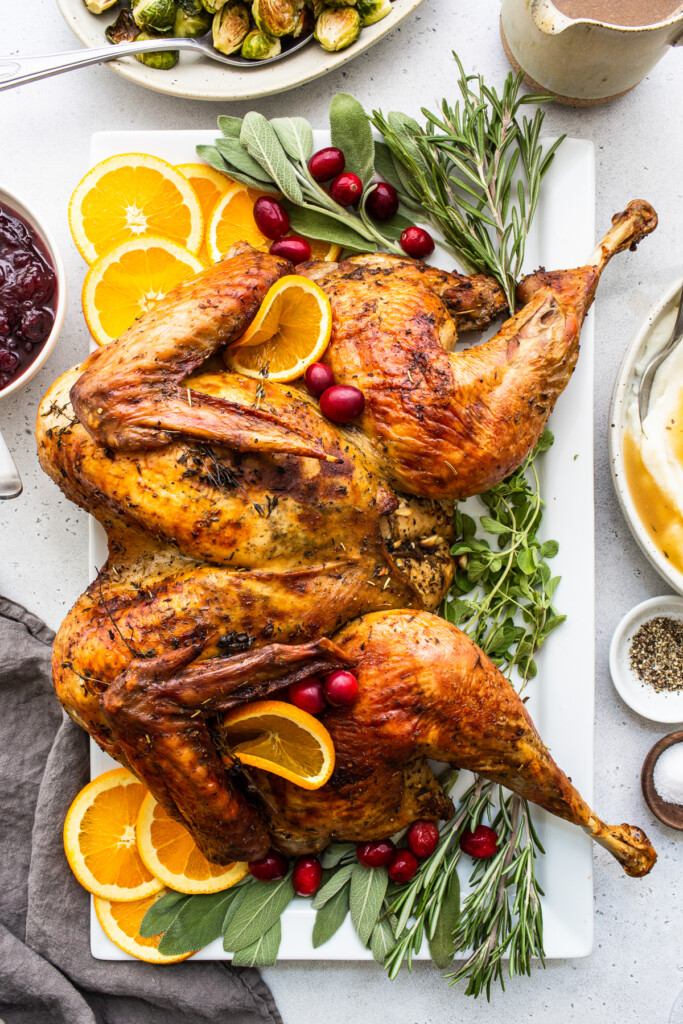 Use this seasoning for turkey on one of our turkey recipes!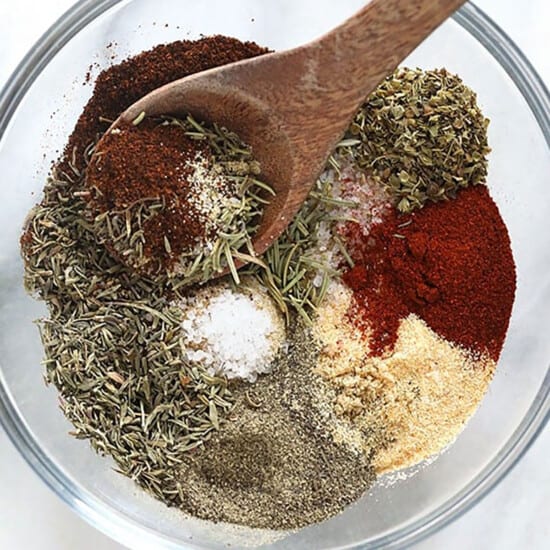 The Best Turkey Seasoning
Made with 9 simple ingredients, this is the best turkey seasoning you'll find on the internet. It's savory and slightly sweet and so good on your Thanksgiving turkey.
Instructions
Place all ingredients for the turkey seasoning into a large glass container or mason jar.

Then, stir the spices together to create your rub.

To season your turkey, generously sprinkle it on top of the entire bird including the breasts, legs, etc. Use your hands to rub it into the turkey skin. You can even rub it under the skin or put it in the cavity if you have extra for optimal flavor.

Storage: if you have leftover turkey seasoning, store it in an airtight container in a cool, dark place for up to 6 months.
Tips & Notes
This recipe yields: ~1/3 cup seasoning
For a 15 lb. turkey, use the entire recipe.
For smaller or larger birds, use 1.5 tablespoons of seasoning per lb. of turkey.
Nutrition facts
Calories:
39
kcal
Carbohydrates:
9
g
Protein:
1
g
Fat:
0
g
Fiber:
1
g
Sugar:
6
g