Make crispy brussel sprouts in half the time by making these air fryer brussel sprouts. They are tossed in parmesan cheese, garlic powder, and salt and pepper.
Do you have extra brussel sprouts? Make our brussel sprouts with bacon or our bacon wrapped brussel sprouts for more delicious brussel sprout recipes.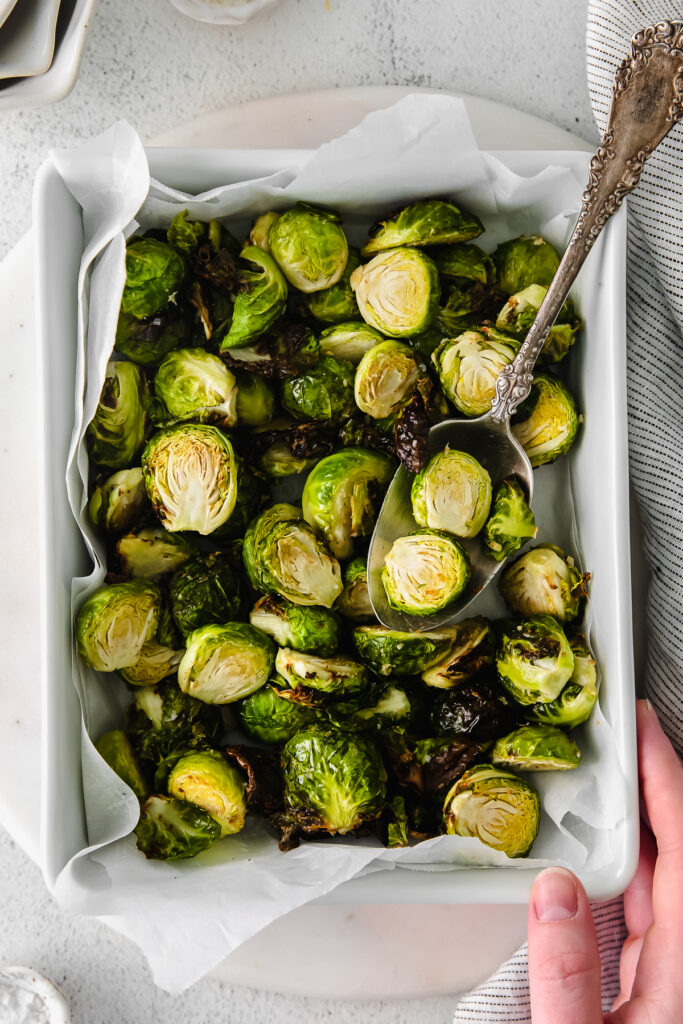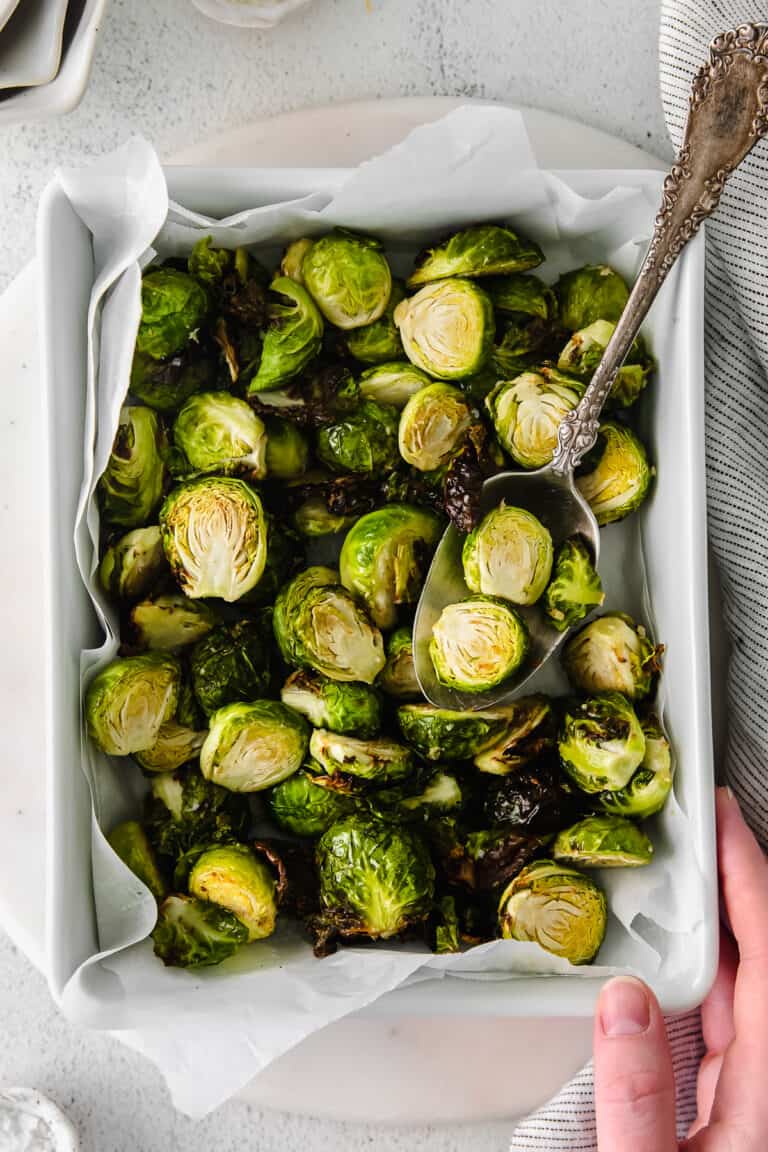 The Crispy Air Fryer Brussels Sprouts
Raise your hand if you like when your vegetables are crispy, salty, and delicious. THIS GIRL. We are all about quick and easy ways to make healthy vegetable side dishes.
These air fryer brussel sprouts are ready in 15 minutes and you will not be let down by the crispiness of these little cabbages. The are tender on the inside and crispy on the outside.
Tips + Tricks Before You Start
Prepare your brussel sprouts for the air fryer. To prepare brussel sprouts for the air fryer assess if the outter leaves are brown and if so, remove them. Otherwise, trim the stem and cut them in half hot dog style.
Remember some brussel sprouts are different sizes. This recipe calls for 1 pound brussels sprouts.. If your brussel sprouts are bigger, there may not be as many brussel sprouts so be sure you get enough for the whole family.
Air fryers differ from each other. Air fryers come in all shapes and sizes. Like ovens, they can differ in temperature. Be sure you get to know your air fryer before making this recipe.
Get those brussels extra crispy. Add a little extra oil and crisp those brussel sprouts up to your desired crispness.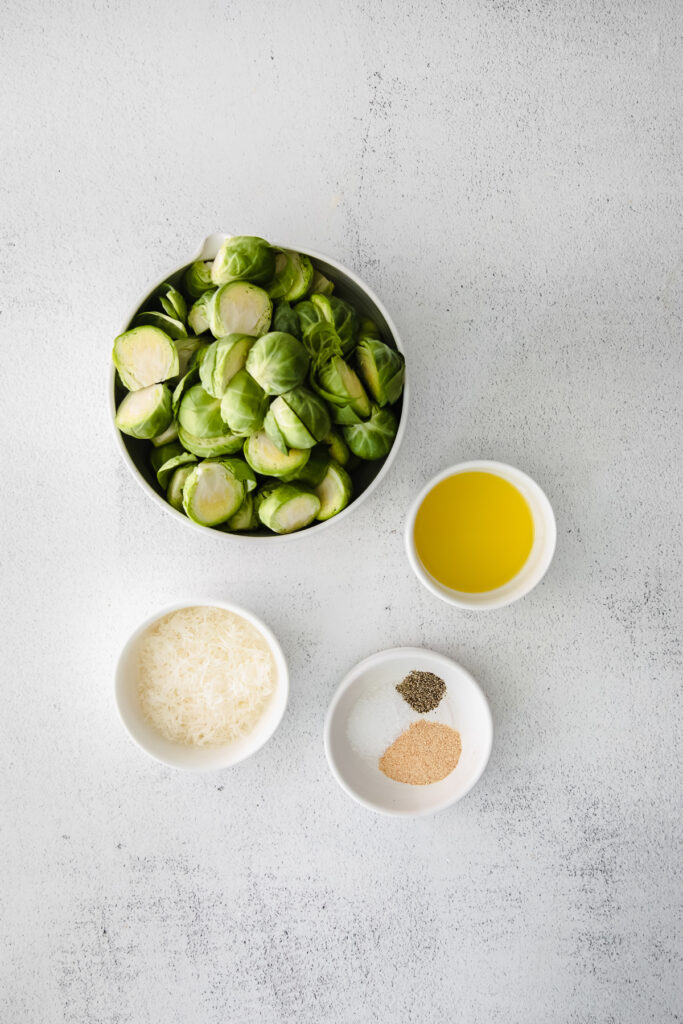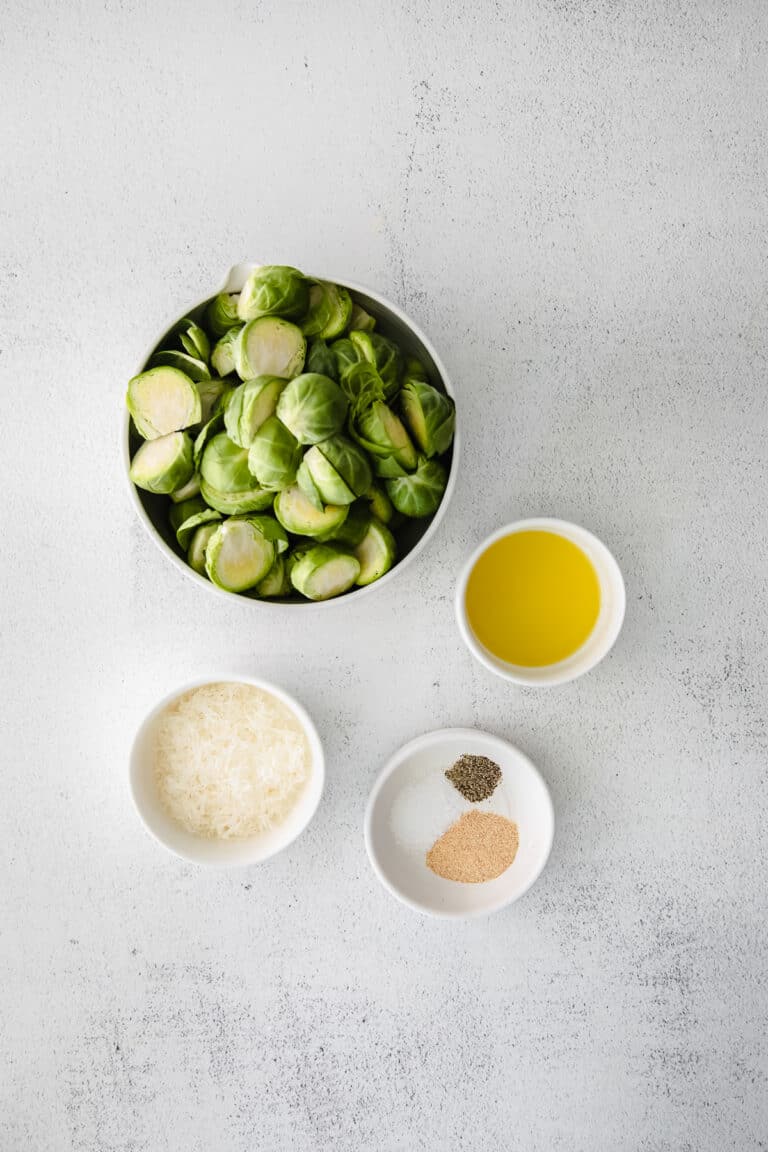 Ingredients You Need
These air fryer brussel sprouts are so simple and only require a few ingredients. Here is what you need.
Brussel sprouts- brussel sprouts come in all different sizes. Just be sure you trim them before you use them.
Olive Oil– you will need the olive oil as your oil and fat to crisp up the brussel sprouts. 
Finely grated parmesan cheese– we prefer to use finely grated parmesan for this recipe rather than parmesan shreds. The finely grated parmesan tends to stick better to the brussel sprouts.
Garlic powder- garlic powder adds flavor and a little crispy crust to these delicious veggies.
Salt and pepper to taste.
Fun add-ins or seasoning options
We kept this salty with salt, pepper, and parmesan for this air fryer brussel sprouts recipe. However, this recipe will work with your favorite seasonings, too. Check out some other seasoning options below as well as add ins.
Cajun seasoning (for spicy brussel sprouts)
Drizzle the finished brussels with a little balsamic vinegar glaze.
Toss your finished brussel sprouts with chopped bacon pieces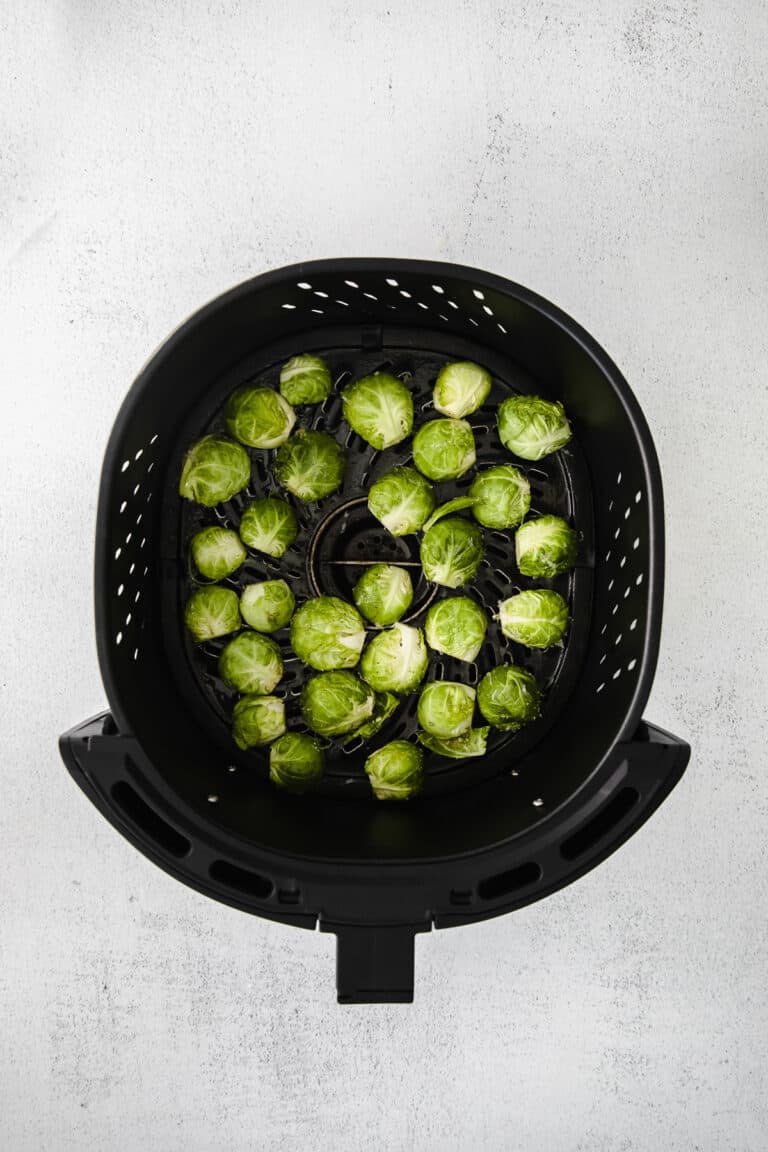 What Air Fryer Do I Buy?
There are quite a few different air fryers on the market. What air fryer you choose depends on how many people you are serving and how much space you have to store the air fryer.
We have a smaller 2 qt. air fryer (similar to this one) so there isn't a ton of space in our air fryer basket so we tend to have to make any air fryer recipes in batches.
The larger your air fryer basket the more food you'll be able to make. You can even make a whole meal in the air fryer. Chick out some air fryer options below.
Is the Air Fryer Better than the Oven?
The air fryer is known for crisping up food without using a lot of oil like a traditional deep fryer. It is a great cross between an oven and a deep fryer. People who love the taste of deep fried crispy food will love the air fryer.
Don't have an air fryer but want delicious brussel sprouts? Try our roasted balsamic brussel sprouts in the oven.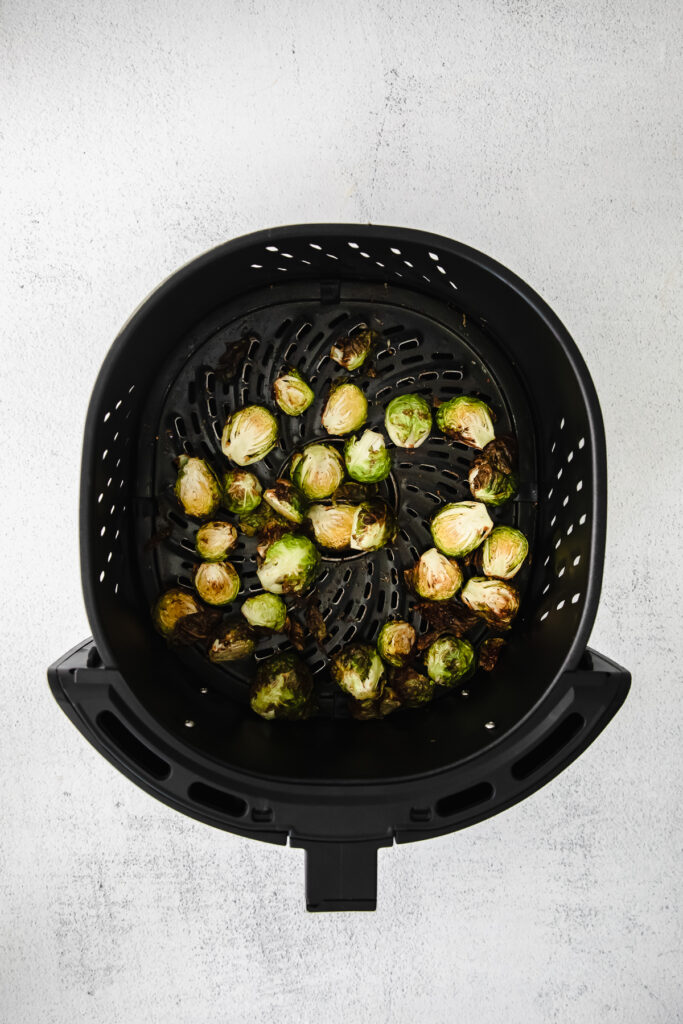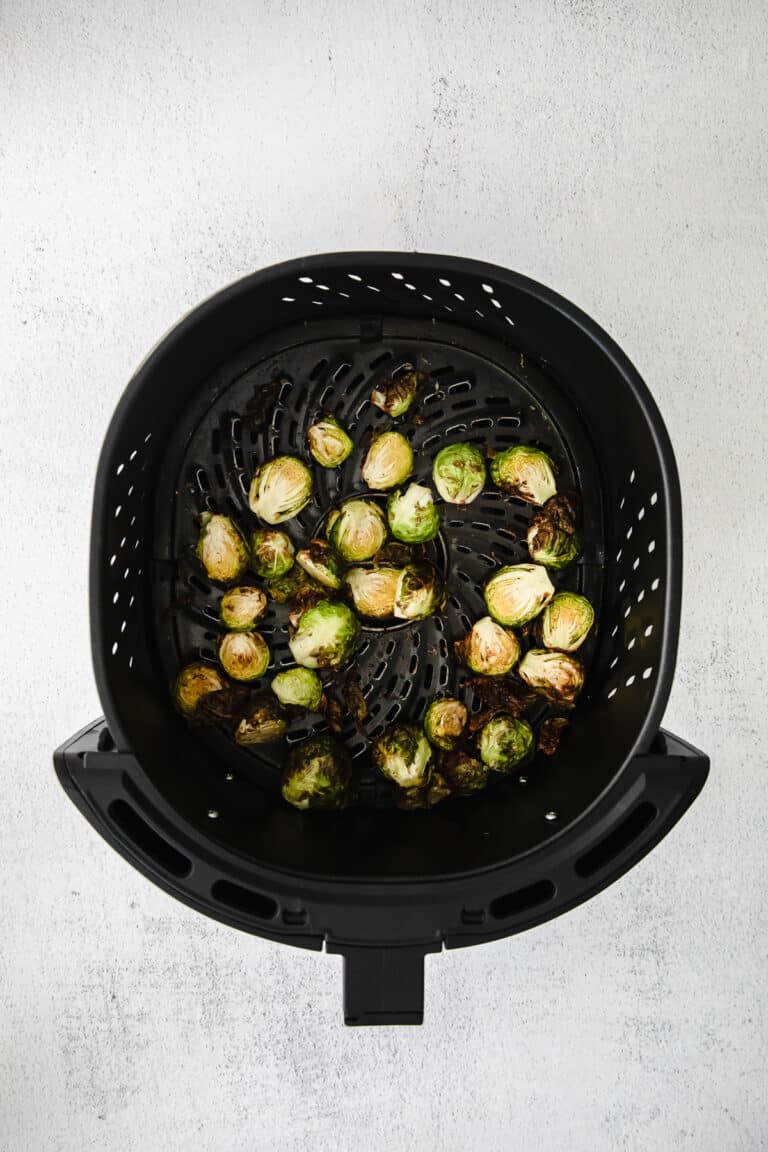 How to Make Air Fryer Brussel Sprouts
Preheat the air fryer. I always forget that you have to preheat an air fryer, just like an oven. We went with a higher temperature at 400ºF. Spray your air fryer with a little oil, too.
Trim the brussel sprouts. Slice your brussel sprouts hot dog style to prepare them for the air fryer.
Toss with oil and seasoning. Place your brussel sprouts into a bowl and drizzle them with oil and then sprinkle them with garlic, salt, and pepper.
Air fry the brussel sprouts. Add the brussel sprouts to the air fryer basket and set the cook time for 5 minutes.
Flip and cook more. Flip the brussel sprouts so the whole brussel sprout gets crispy. Cook them for an additional 4-5 minutes.
Remove and enjoy. When the brussels are done, remove them from the air fryer and repeat until all of the brussel sprouts are cooked.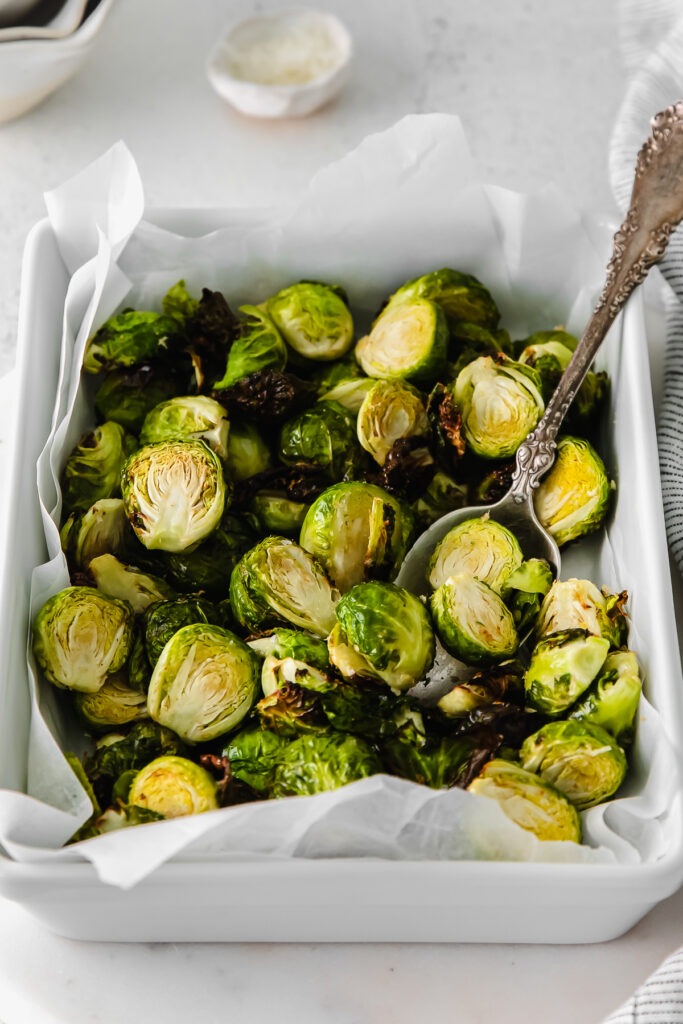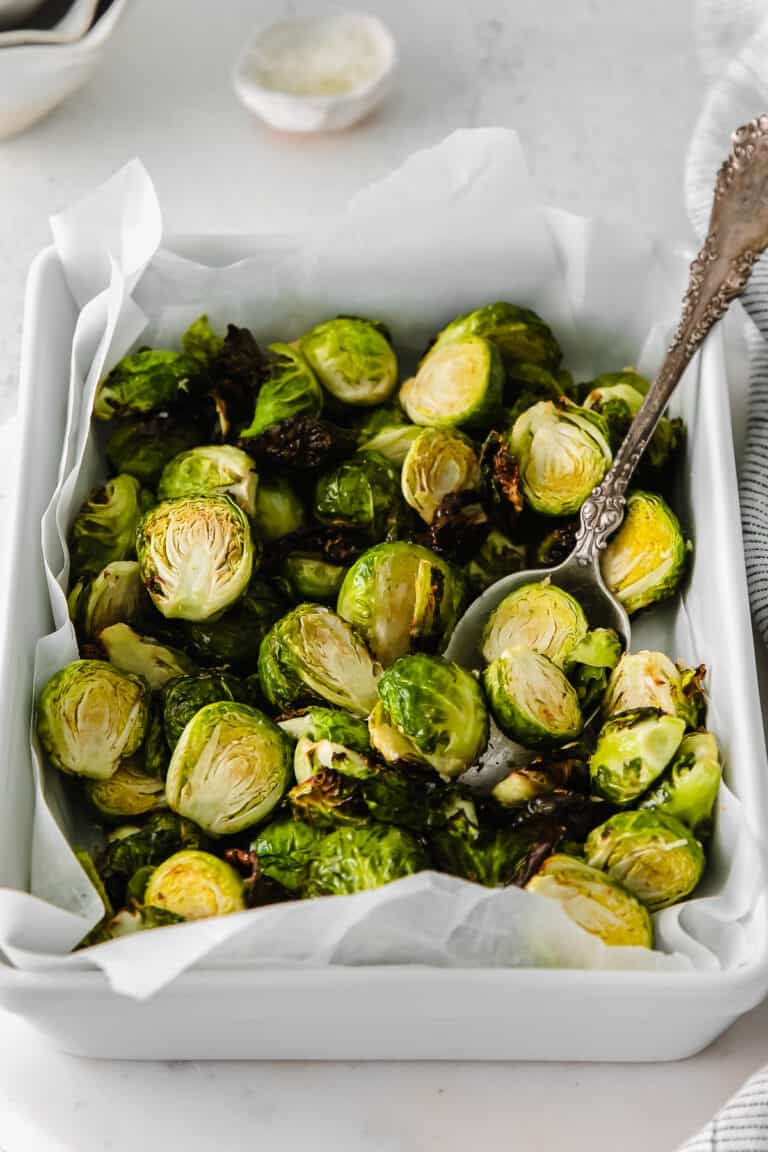 Storage
Let your brussel sprouts cool completely and then add them to an airtight container and store them for up to 5 days.
What to Serve with Air Fryer Brussel Sprouts
These delicious brussel sprouts are a great side dish for so many meals. Whether you are making them for a holiday meal or a weekday, they are a healthy option. Check out some serving options below.
Instant Pot Butternut Squash- Perfectly cooked Instant Pot Butternut Squash in under 20 minutes! In this post, we're sharing how to cook butternut squash in the Instant Pot – 2 ways!
Baked Turkey Tenderloin- This easy baked turkey tenderloin is made super flavorful with a turkey brine and then our amazing turkey seasoning.
The Ultimate Instant Pot Pork Roast- Pot Roast lovers, this recipe is for you! It's the most delicious and savory Instant Pot Pot Roast made with tons of veggies and a homemade gravy in just 2 hours.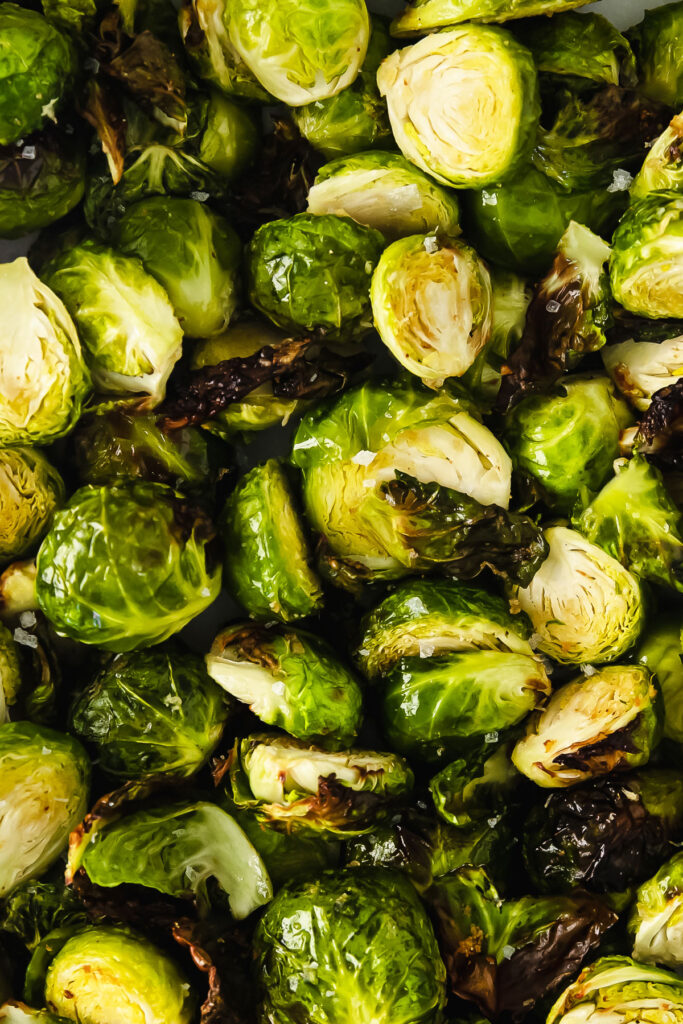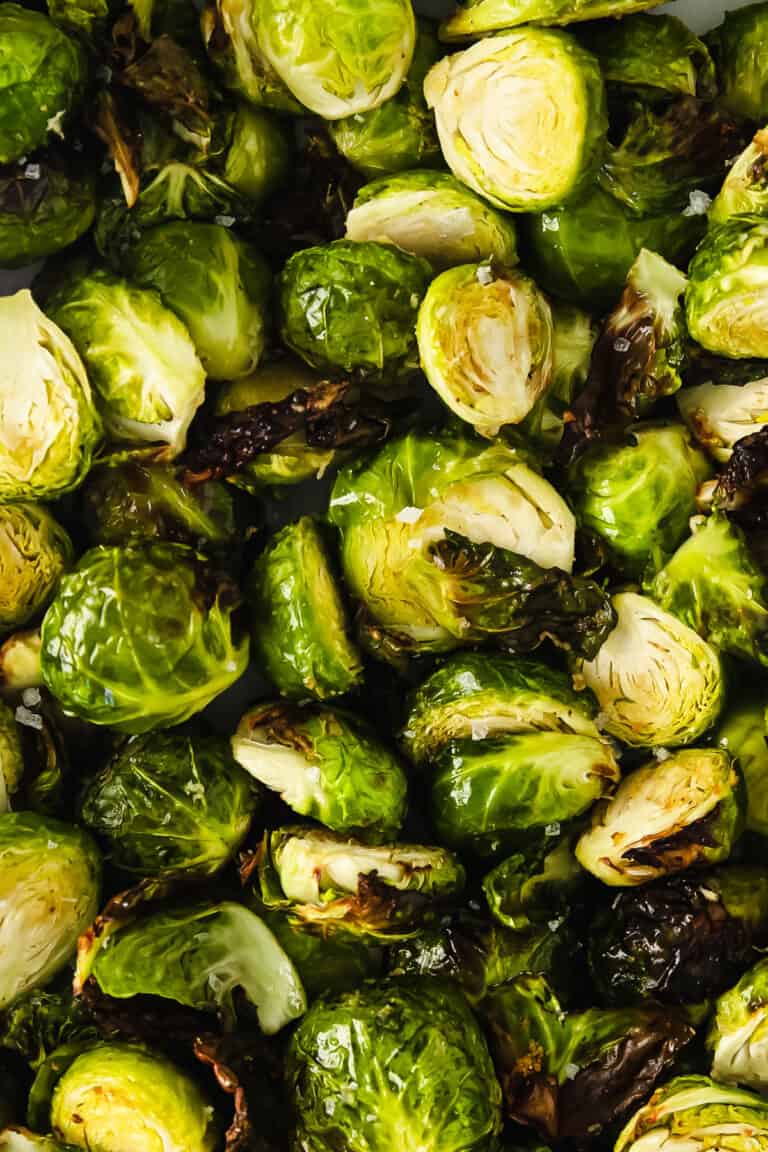 Brussel Sprouts Recipes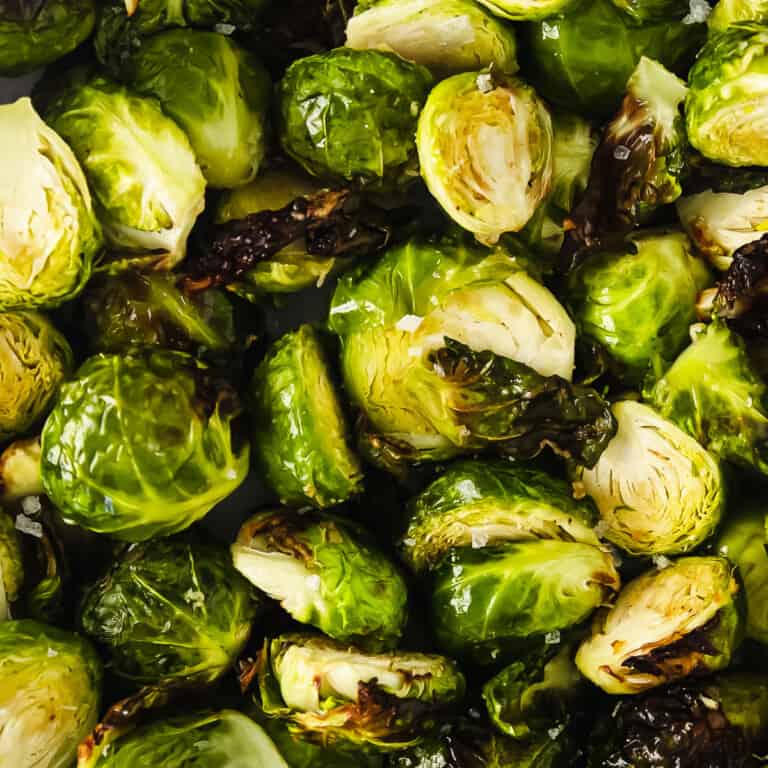 Air Fryer Brussel Sprouts
Air frying in an air fryer is an easy way to make Brussels sprouts crisp and delicious. Make them with this air fryer recipe.
Instructions
Preheat the air fryer to 400ºF and spray the air fryer basket with non-stick cooking spray.

Add the brussel sprouts to a large bowl and drizzle them with olive oil. Toss the brussels sprouts to make sure they are coated in olive oil. 

Next, sprinkle the brussel sprouts with parmesan cheese, garlic powder, salt and pepper   and toss the ingredients together until the brussel sprouts are coated. 

Next, place the brussel sprouts into the air fryer in one layer (you will have to do a few batches). Be sure the flat side of the brussel sprouts are facing down and not touching. 

Cook the brussel sprouts for 5 minutes, flip, and then cook them for an additional 4-5 minutes until they are golden brown and crispy. 

Repeat steps 4 and 5 until all the brussel sprouts are cooked. 

Remove the brussel sprouts from the air fryer. Sprinkle with additional parmesan cheese (if desired) and serve immediately. 
Nutrition facts
Calories:
115
kcal
Carbohydrates:
13
g
Protein:
7
g
Fat:
6
g
Fiber:
5
g
Sugar:
5
g