There is nothing better than a perfectly cooked brussel sprout. Here are some of our favorite brussel sprouts recipes that you can add to your menu for a healthy side dish to any meal!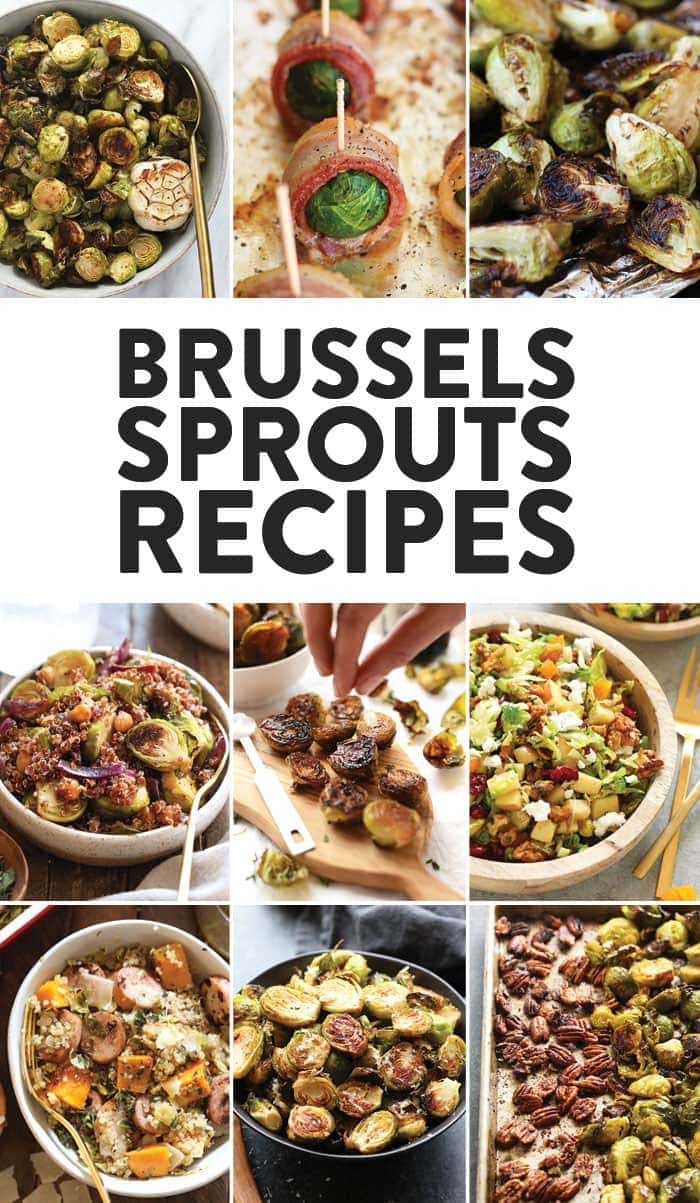 We LOVE Brussel Sprouts
What is better than a vegetable that is hearty, delicious, filling, and versatile? Brussel sprouts are one of our favorite vegetables because they are packed with nutrition and easy to prepare for many different dishes!
We know that people have mixed feelings about brussel sprouts. The most common complaint is that they are too mushy after you cook them! It is all about HOW you cook a brussel sprout that really makes them delicious.
Let's break all down all the ways you can cook a brussel sprout.
The Best Way to Cook Brussel Sprouts
Roasted Brussel Sprouts
Roasting a brussel sprouts is our favorite way to cook them. They end up perfectly cooked and crispy after roasted slow with oil and spices!
We go into detail on the ins and outs of how to roast brussel sprouts here, but here is a quick run down on how we roast brussel sprouts.
To roast brussel sprouts spread the brussels (about 4 cups of halved brussel sprouts) out on a baking sheet and drizzle with olive oil and season with salt and pepper.
Roast at 400ºF for 25-30 minutes for the perfect roasted brussel sprout.
Grilled Brussel Sprouts
What is better than a grilled vegetable in the summer? We love grilling brussel sprouts because it gives the brussel sprouts a delicious chared summer flavor that goes great with other grilling recipes!
To grill brussel sprouts, preheat the oven to 400ºF and make a tin foil boat. Place brussel sprouts into the tin foil boat, drizzle with oil, and season with salt and pepper.
Place the tin foil boat on the grill and cover the grill. Grill for 20 minutes, stirring the brussel sprouts half way through the cook time.
Brussel Sprouts Tips and Tricks
Keep it fresh. If you have the option, always use fresh brussel sprouts over frozen brussel sprouts! Fresh brussel sprouts have more flavor, crisp up, and are never mushy!
We do not recommend using frozen brussel sprouts because they tend to hold moisture and become soggy much easier than fresh brussel sprouts.
Trim them up. Cutting a brussel sprout is imporant! Make sure they are trimmed and diced perfectly so they cook all the way through. Here's how we do it!
Begin by slicing the ends off your Brussels sprouts. We do this to remove any residue where the Brussels attached to their stalk.
Then, dice them in half longways (hot-dog style). The goal here is to get all of our Brussels sprouts around the same size so that they roast evenly. So, if you have some extra-large sprouts, you may need to quarter them.
Toss them in oil. Do not skimp on the oil! Oil is what is going to give you that amazing caramelized texture to the brussel sprout, so make sure to coat your brussel sprouts in oil.
It's all about the flavor. While sometimes keeping things super simple with just salt, pepper, and garlic is the way to go when seasoning your brussel sprouts, sometimes you want to add a little spice to your sprouts!
We recommend spicing up your brussels with this homemade taco seasoning or one of your favorite spice mixes!
Brussel Sprouts Recipes
A roasted Brussels sprouts recipe that will get you crispy, caramelized Brussels sprouts every time!

These Balsamic Sea Salt Roasted Brussel Sprouts are crispy, savory and healthy. And oh so easy to make!
Try out this roasted brussel sprouts recipe for the most delicious vegan and paleo side that everyone will gobble right up!

This Grilled Brussel Sprouts Recipe is perfect for a quick and easy weeknight dinner side or meal-prep for the week!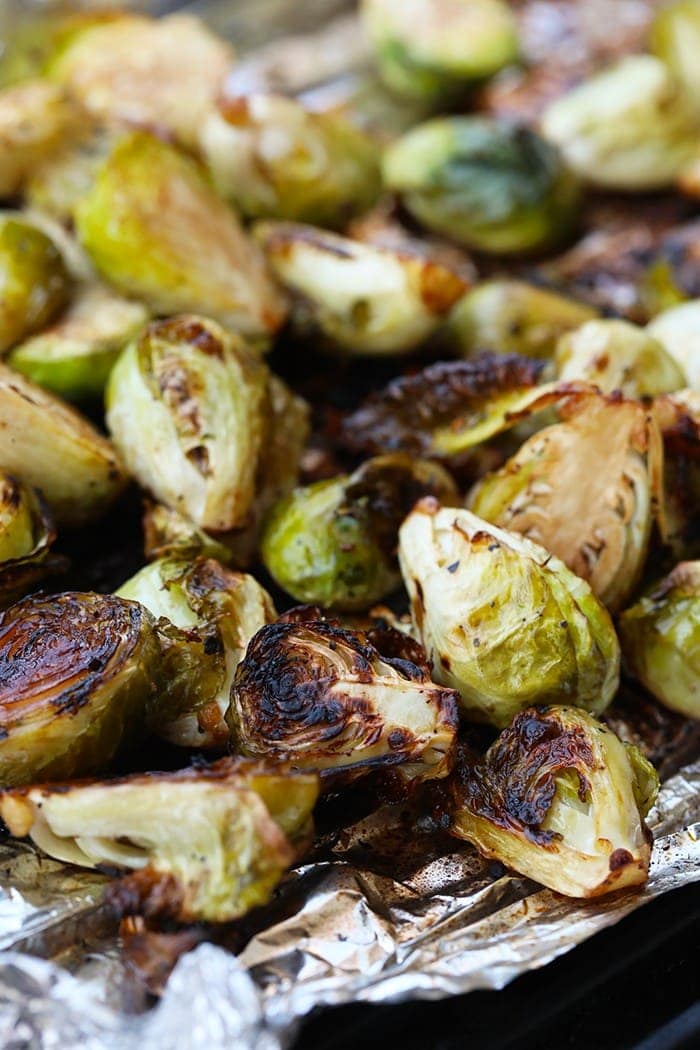 Whether you're looking for a healthy holiday side dish or a delicious fall meal, you're going to love this roasted brussel sprout salad with quinoa!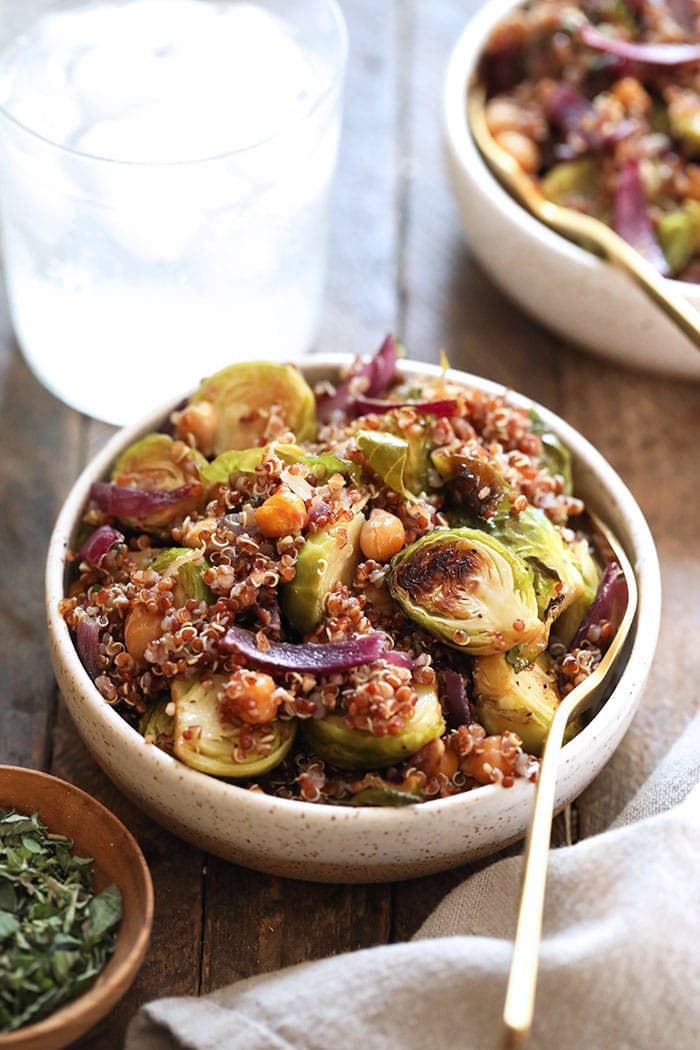 This two-ingredient, bacon-wrapped brussel sprouts recipe is the perfect appetizer for a delicious Thanksgiving feast. They are healthy, easy to make, and oh so tasty!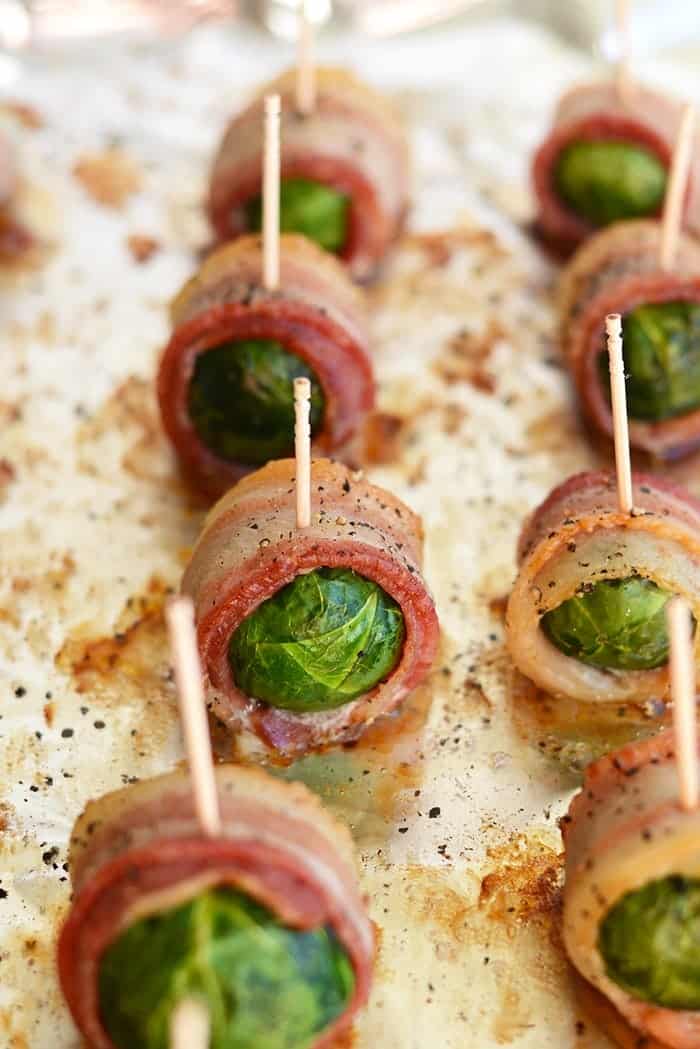 This Shaved Brussels Sprout Salad is fresh, flavorful and tossed with a healthy balsamic vinaigrette dressing.
From diced apples to dried apricots to candied almonds, and, of course, shaved brussels sprouts, this salad truly has it all!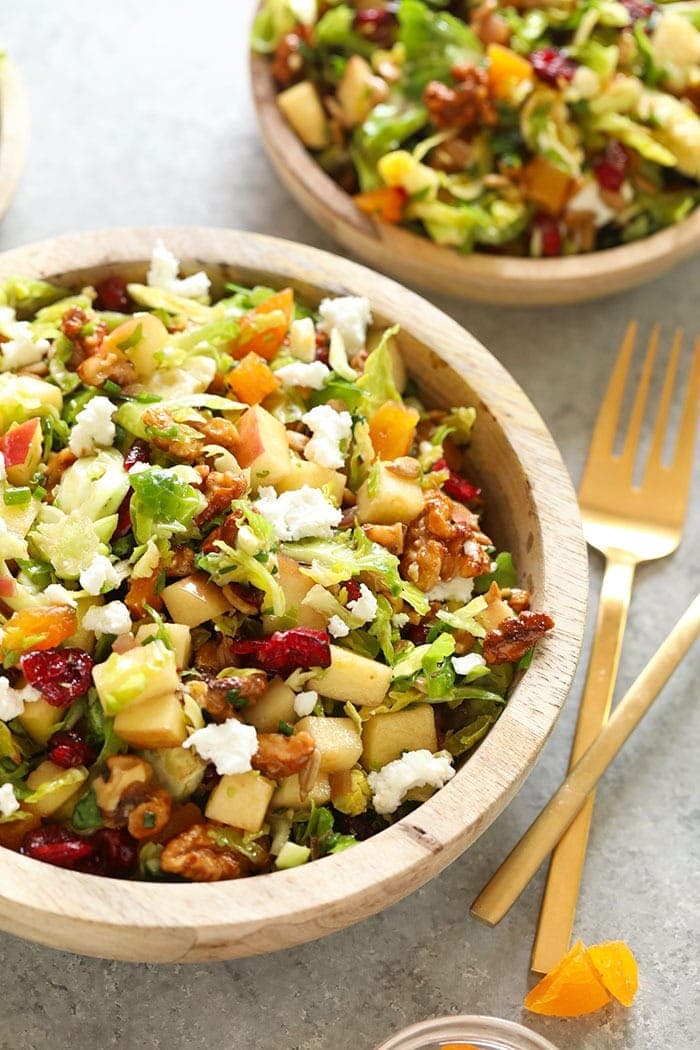 This Chicken Apple Sausage Quinoa Casserole is packed with shredded brussel sprouts and sweet potatoes.
It is the perfect healthy meal for an easy weeknight dinner or is perfect for meal prep for the week! It is high in protein and delicious!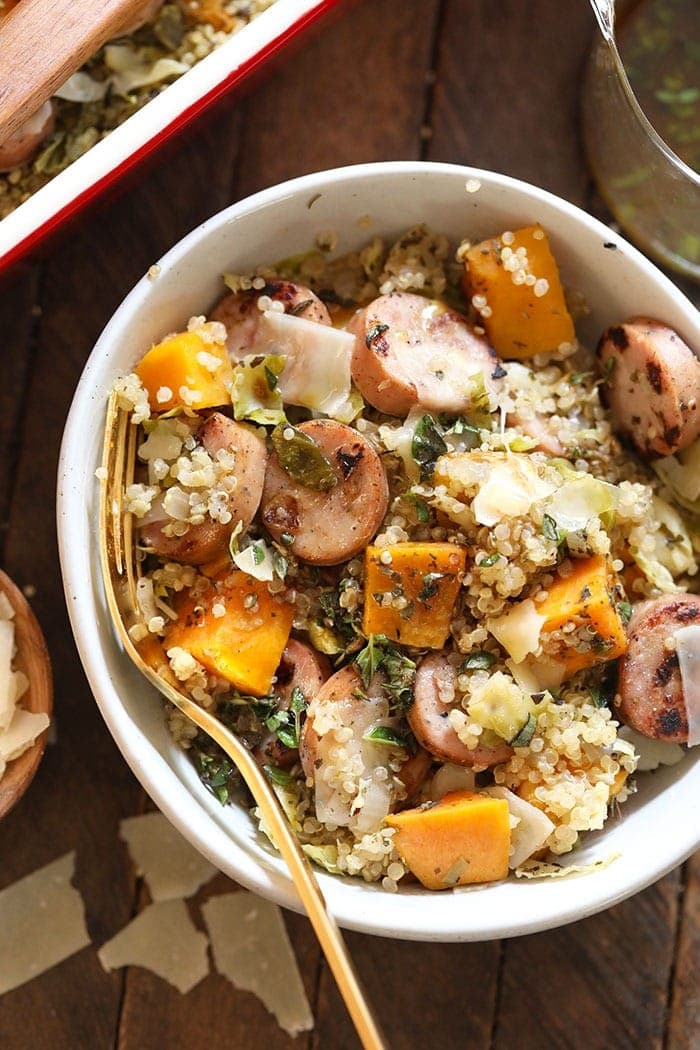 These roasted Brussel sprouts with parmesan are a great side dish staple for any time of year! All you need are 6 ingredients in order to make these crunchy, cheesy bites of heaven.