Make this creamy and delicious red potato salad for your next BBQ. It is made with red potatoes, Greek yogurt, a little mayo, fresh dill, and other classic potato salad ingredients.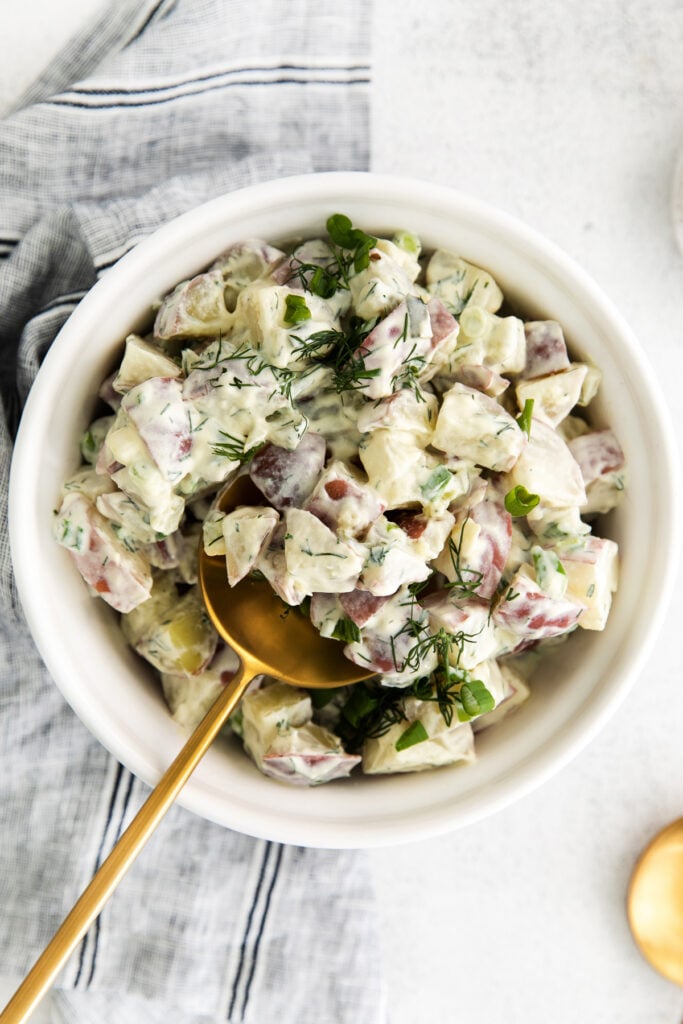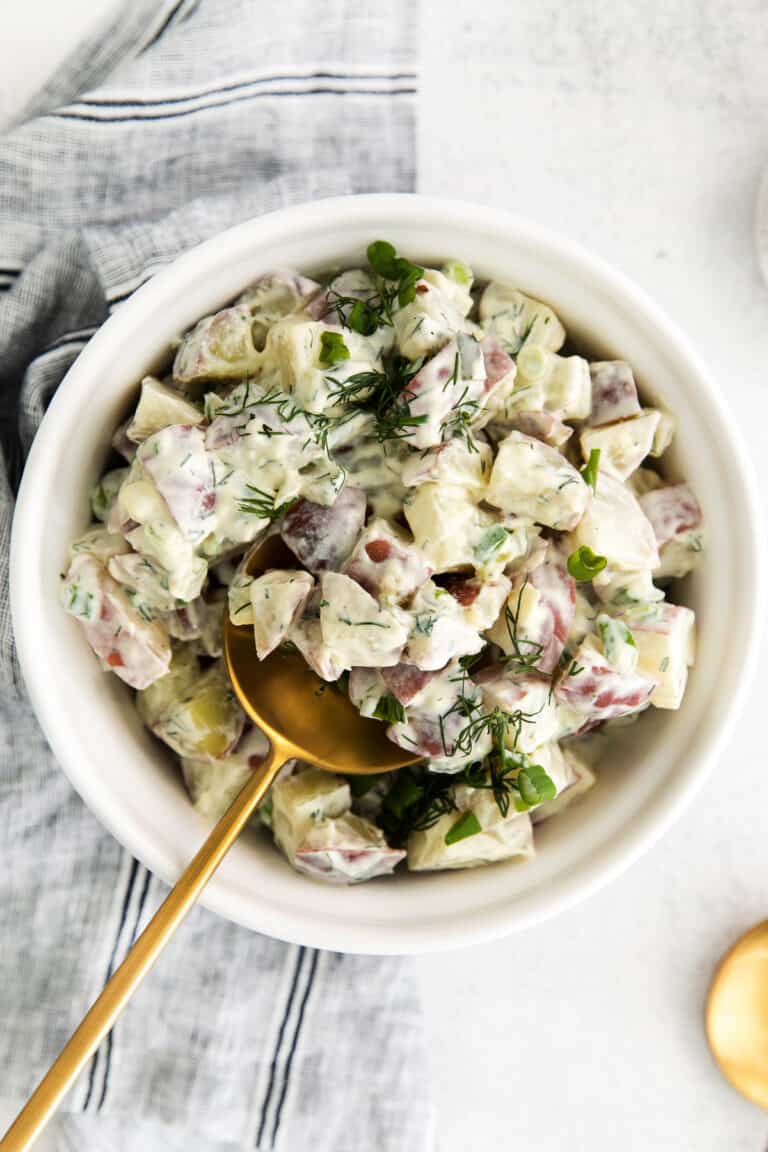 The Creamiest Red Potato Salad
What is better than a potato salad recipe that is creamy, flavorful, and healthy all at the same time? This red potato salad recipe is all of those things and then some.
Why and when make this potato salad?
Make this red potato salad for a side dish for a bbq or for a great meal prep option for the week.
This red potato salad is extra creamy because red potatoes have a creamy inside and the Greek yogurt and mayo sauce add to the creaminess, too!
Who doesn't love potato salad? No matter where you bring this salad, you'll have happy people all around.
The Best Kind of Potatoes to Use
We use red potatoes in this red potato salad because they are creamy, quick to boil, and so delicious!
If you don't have red potatoes, feel free to use any potato of your choosing. Idaho potatoes, russet potatoes, fingerling potatoes, or anything in-between. Just be sure that you cut whatever potatoes you use all the same size.
other ingredients you need
Other than potatoes you just need your ingredients for the potato salad sauce, fresh herbs, pickles, and some citrus. Also, salt. Don't skimp on the salt!
Red potatoes
Greek yogurt
Mayo
Lemon juice
Pickle juice
Fresh dill
Dill pickles
Green onions
Dijon mustard
Salt
Pepper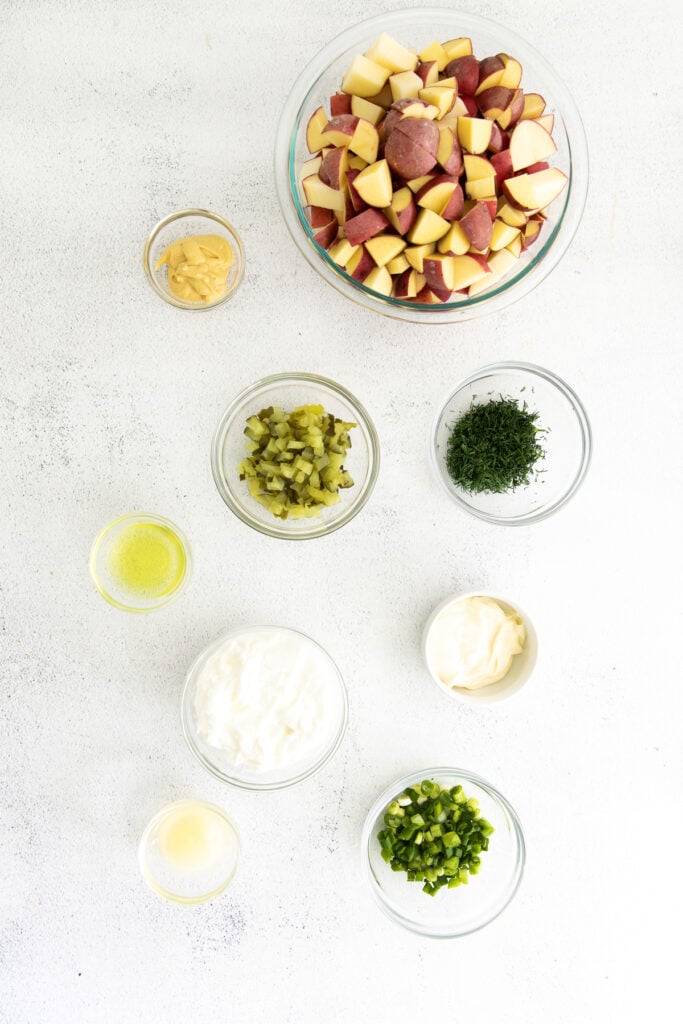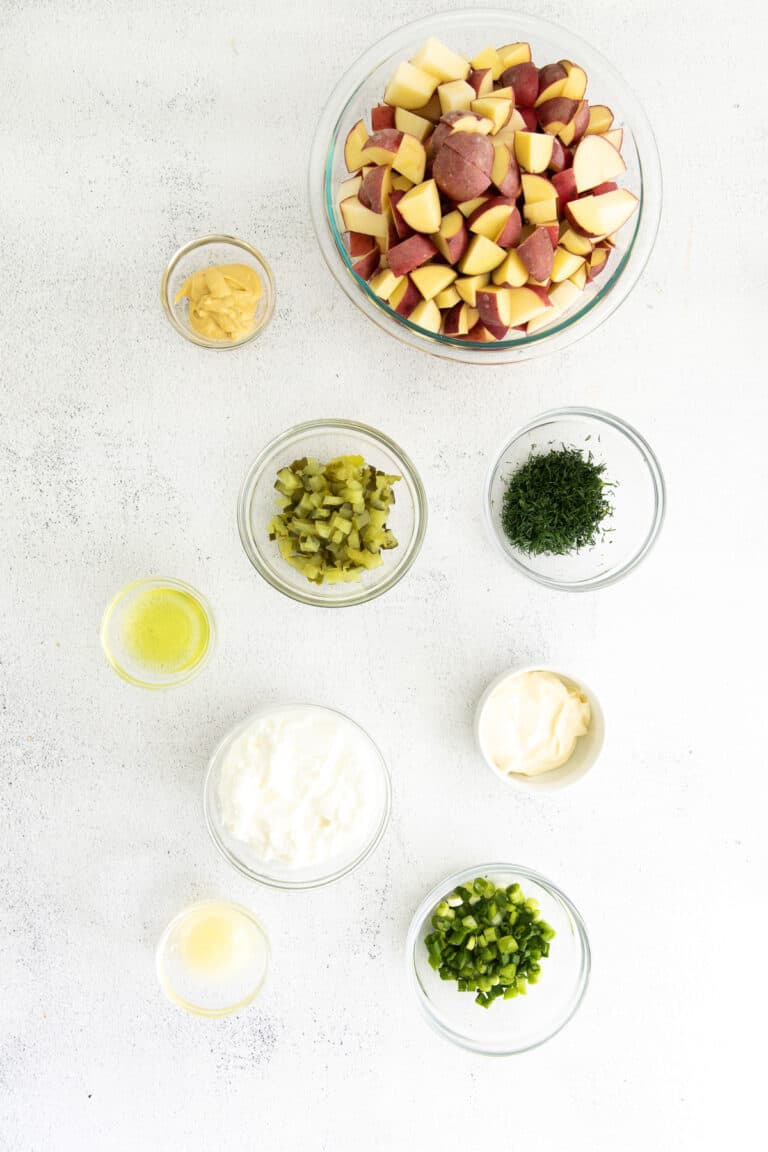 How to Make Potato Salad
Boil the potatoes. Rinse your red potatoes and if they are bigger red potatoes quarter them and so they boil a bit quicker and if your potatoes are smaller, go ahead and just throw them in.
Mash the potatoes. Once your potatoes are fork tender strain them in a colander and rinse them with cold water. Dry your potatoes off and place them in a large bowl and gently mash some of the potatoes so you have both chunks of potatoes and some creamed potatoes. Set aside.
Make the potato salad sauce. Place the Greek yogurt, mayo, lemon juice, pickle juice, fresh dill, green onions, dijon, salt, and pepper into a separate bowl and mix everything together until combined.
Mix them together. Pour the Greek yogurt sauce over the red potatoes and fold the sauce into the potatoes until the potatoes are completely covered.
Serve or Refrigerate. Top the potato salad with fresh chopped dill and serve OR refrigerate.
Serve it cold! We prefer to serve this potato salad cold, so be sure to place it in the refrigerator for up to 2 hours to chill.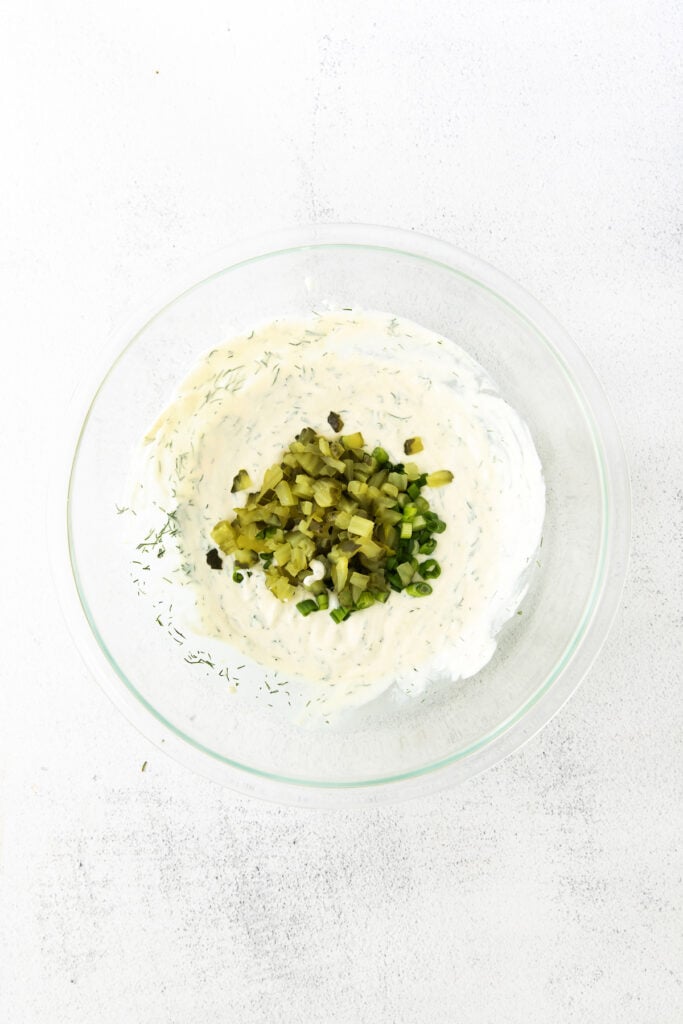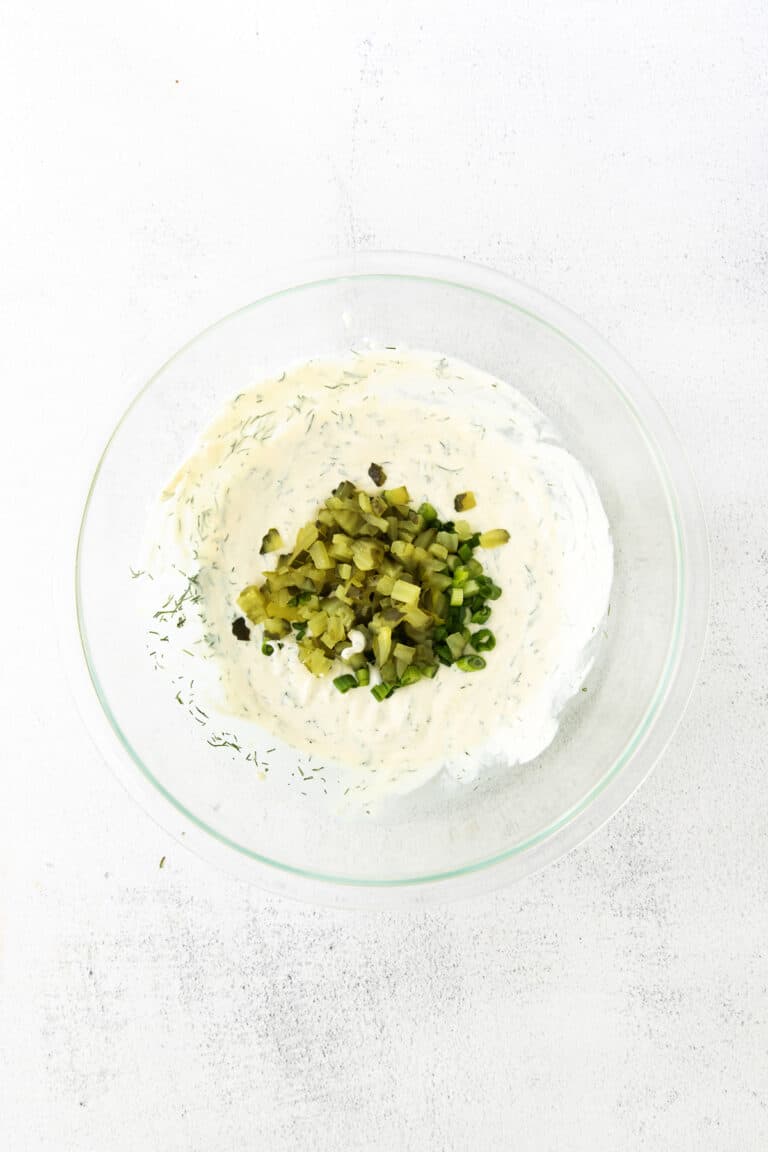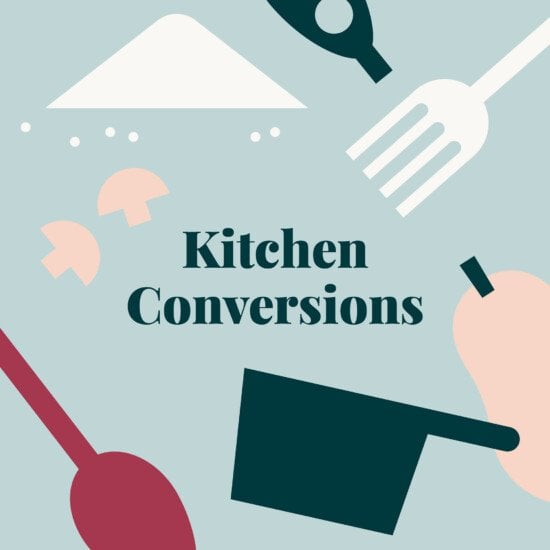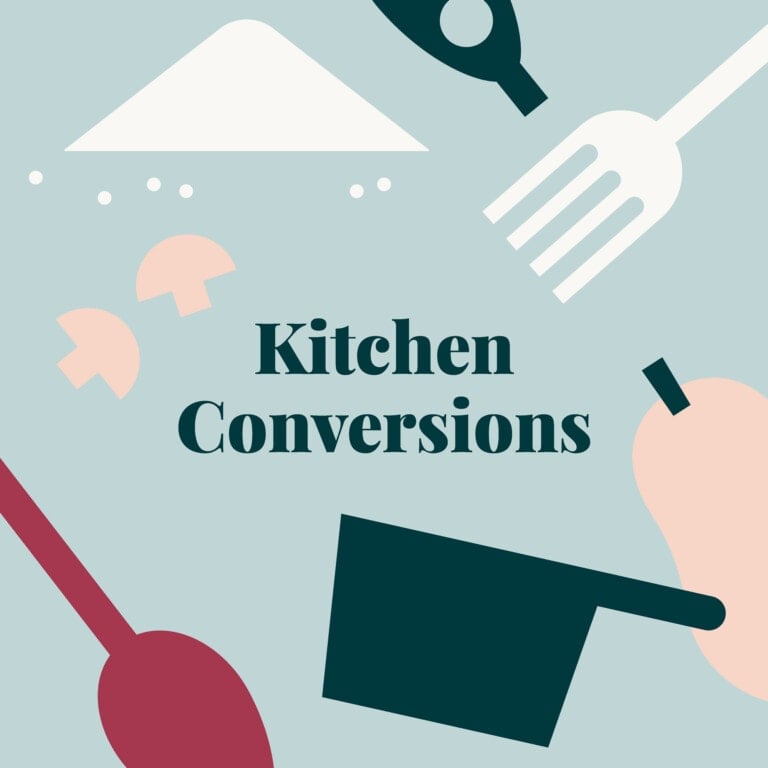 make it easy
Print Your Own
Keep common kitchen conversions like tablespoons to teaspoons and Fahrenheit to Celsius on hand at all times with our printable kitchen conversions chart.
get it now
Learn More Kitchen Conversions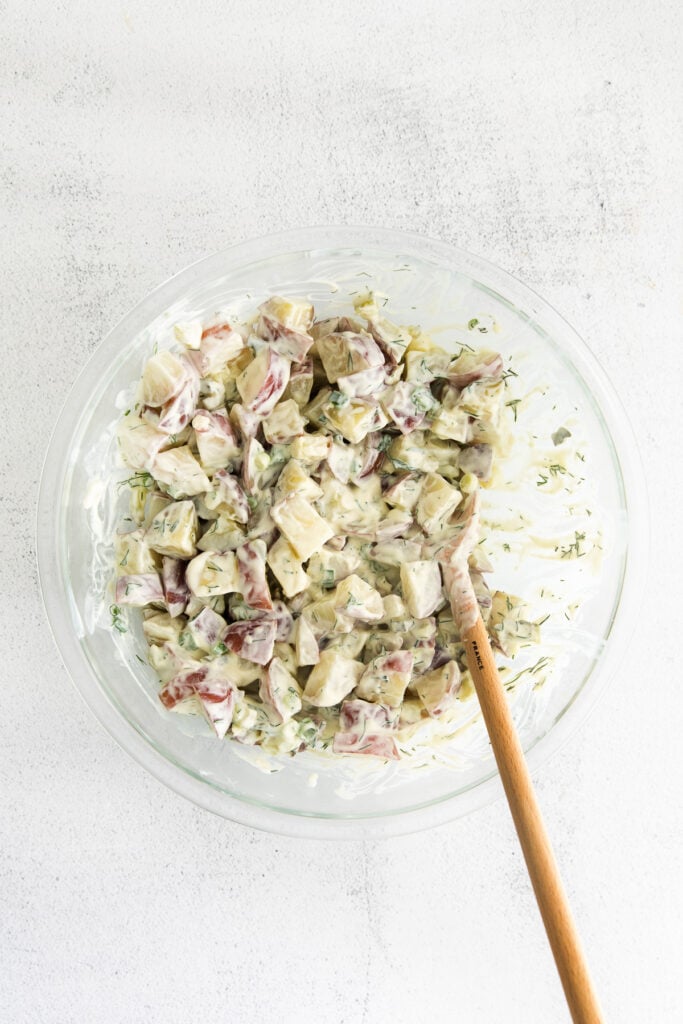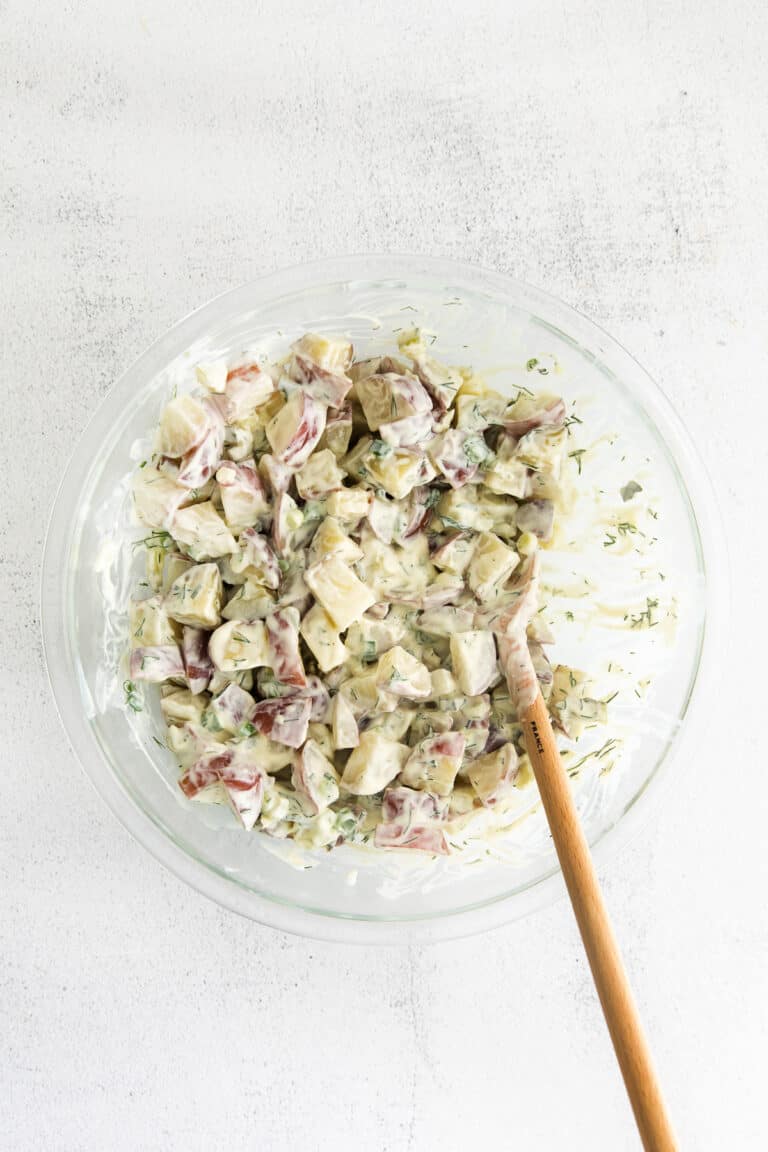 Other Things You Need to Know
The Best herbs for potato salad
The obvious fresh herb choice (for us) is fresh chopped dill! Feel free to change up the fresh herbs in this salad with more green onions, fresh chopped chives, or fresh parsley.
Spice up your potato salad
Oh baby, spice your red potato salad up by adding 1 teaspoon of red pepper flakes or 1-2 teaspoons of your favorite hot sauce.
What Else can I use in potato salad?
If you want to add other ingredients to your potato salad to add a little something extra, feel free to add any of the ingredients below.
Bacon bits
Diced bell pepper
Chopped hard boiled eggs
Diced red onion
Diced jalapeños
Storage
Red potato salad is always better the next day! Store your potato salad in an air tight container. It will last up to 5 days in the refrigerator.
Serving Options
Smoked Whole Chicken- This smoked whole chicken is rubbed with a flavorful dry rub and smoked for 4 hours for a juicy chicken recipe with crispy skin!
Black Bean Burgers- You are going to love these easy and flavorful black bean burgers. They're made with quick roasted garlic, an entire can of black beans, quinoa, and delicious spices.
Simple Ground Chicken Burgers- If you are looking for a staple chicken burger recipe, this is it! These ground chicken burgers are so flavorful and moist and topped with our secret burger sauce.
Slow Cooker BBQ Pulled Chicken- No matter the time of year BBQ Pulled Chicken is the way to go for any gathering. So, take out that crock pot, and let's make the easiest Slow Cooker Pulled Chicken recipe of all time.
Slow Roasted Pork Shoulder- The best pork shoulder recipes are cooked low and slow. This slow roasted pork shoulder is slightly sweet and incredibly tender with crispy, crunchy edges. This is one of the best pork shoulder recipes of all time!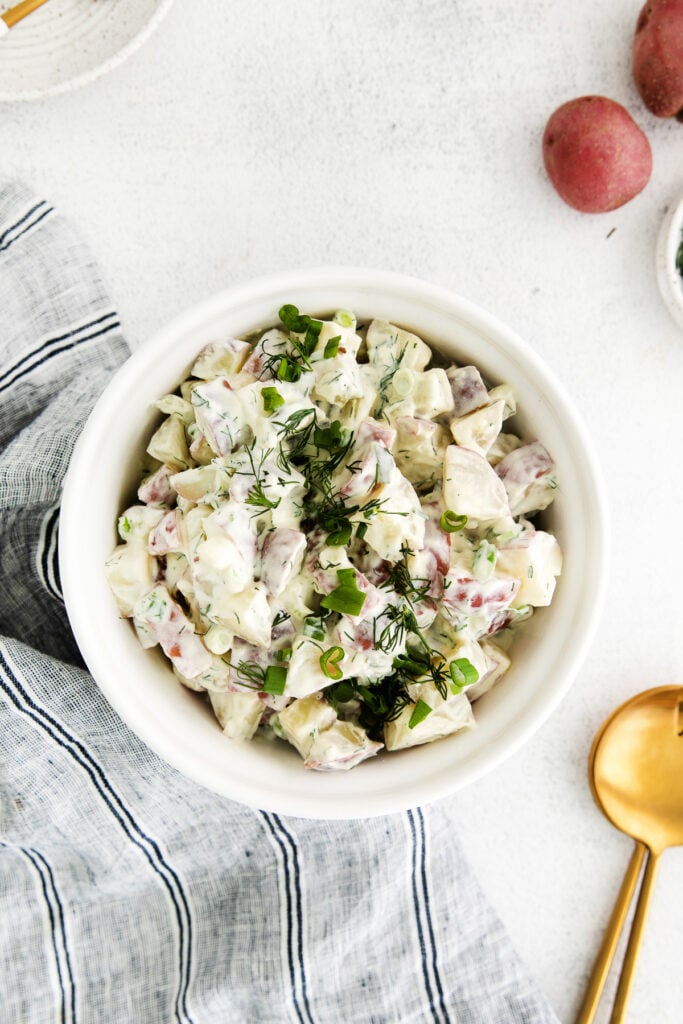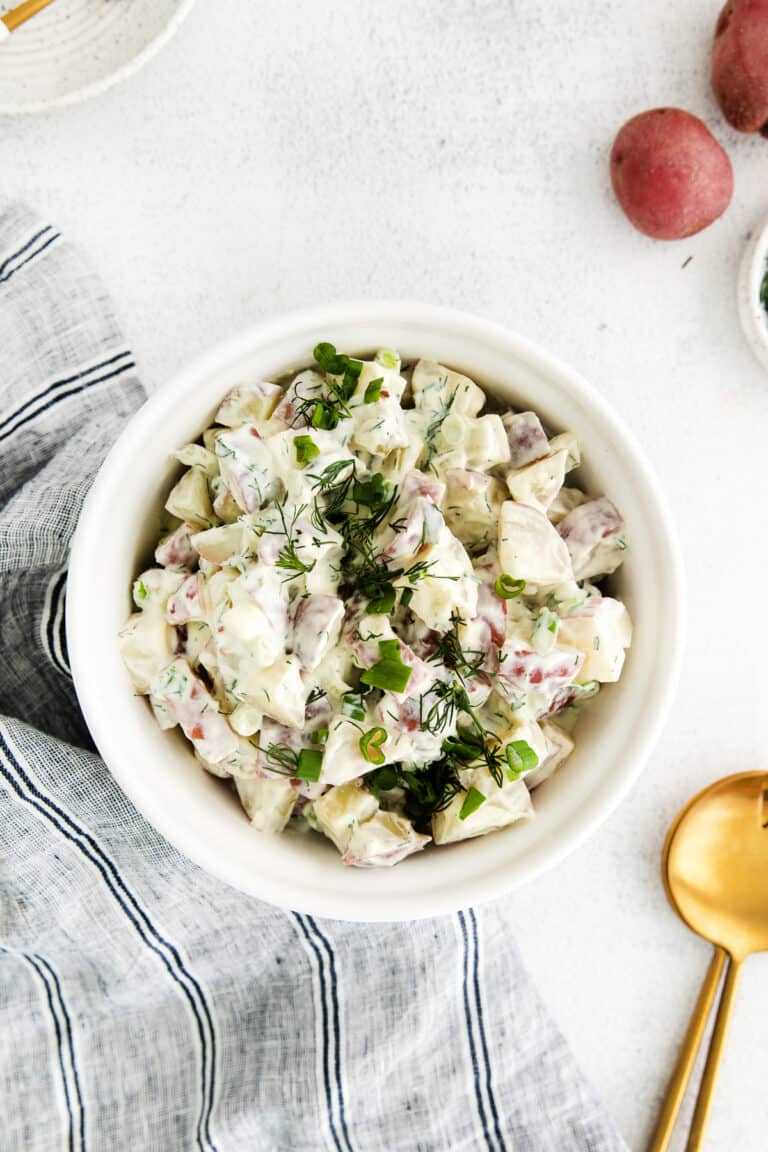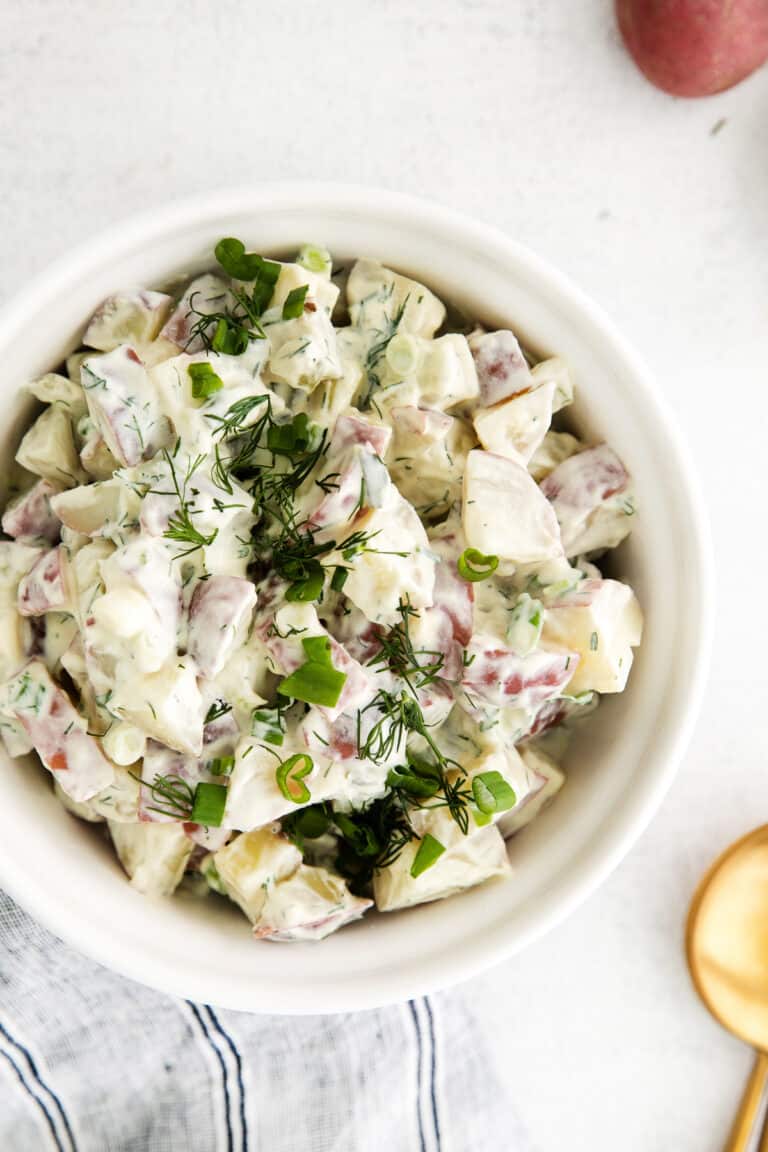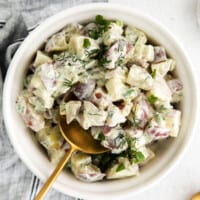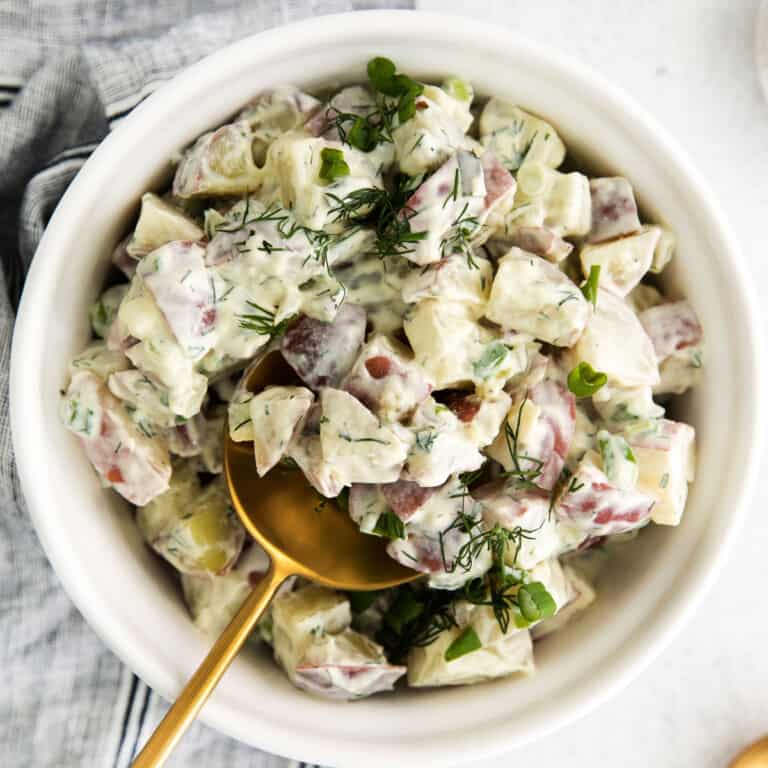 Red Potato Salad
This red potato salad recipe is made with a mixture of Greek yogurt, mayo, lemon juice, and other classic potato salad ingredients. It makes a great side to any summer meal. 
Ingredients
3

lbs.

red potatoes

cut into 1/2 inch chunks

1

cup

plain Greek yogurt

1/4

cup

mayo

2

tablespoons

lemon juice

2

tablespoons

pickle juice

2

tablespoons

fresh dill

minced

1/2

cup

dill pickles

minced

4

green onions

separated and the white part minced

2

tablespoons

dijon mustard

1/2

teaspoon

salt

1/8

teaspoon

pepper
Instructions
Add the potatoes to a large pot and add water to the pot so that the potatoes are completely submerged in water.

Bring the water to a boil over medium/high heat.

Turn heat to low and let the potatoes simmer for 8-10 minutes or until the potatoes are fork tender.

Meanwhile, add the Greek yogurt, mayo, lemon juice, pickle juice, minced pickles, fresh dill, green onions, dijon, salt, and pepper to a large bowl. Mix everything together until combined.

Strain potatoes and rinse them with cold water.

Let the potatoes cool and be sure to strain as much water as you can from the potatoes.

Add potatoes to the sauce and mix until the potatoes are covered in sauce.

Use a wooden spoon or a fork to smash some of the potato pieces.

Eat immediately or refrigerate for 30 minutes to 1 hour and serve chilled.
Nutrition facts
Calories:
270
kcal
Carbohydrates:
38
g
Protein:
9
g
Fat:
9
g
Fiber:
5
g
Sugar:
6
g