Sweet potatoes for every meal of the day (+ snacks and dessert!)! We rounded up 50 of our favorite healthy sweet potato recipes from Fit Foodie Finds (+ from some of our friends) and put them all right here for you.
Get all the benefits and flavor of sweet potatoes with these delicious sweet potato recipes for breakfast, lunch, dinner, snacks, and dessert!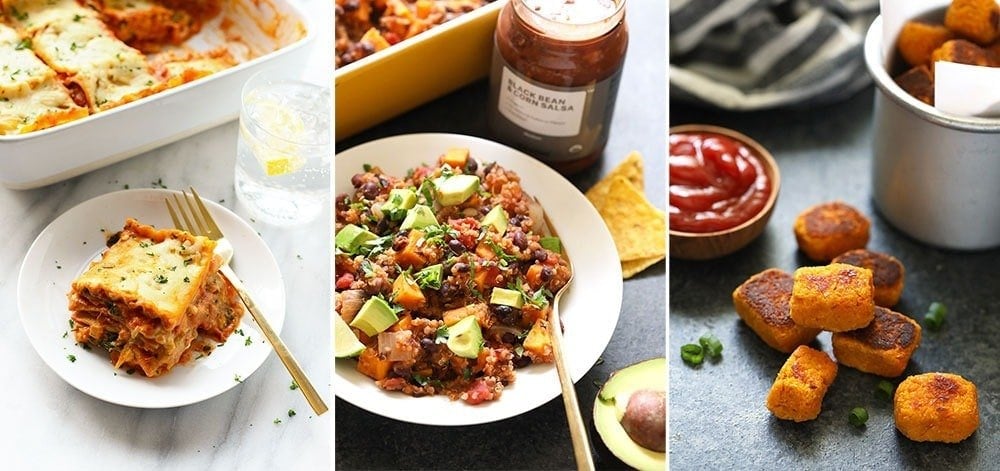 Sweet Potato for Every Meal
People can't seem to get enough of the sweet potato! We understand why. The sweet potato is an amazing vegetable that can be baked, boiled, mashed, or mixed in to just about any recipe that you're craving!
We love all potatoes, but the sweet potato has some added flavor and nutrient benefits compared to the regular white potato, so today we're celebrating everything sweet potato!
All the Ways to Prepare Sweet Potatoes
There are so many different ways you can prepare a sweet potato. Here are some of our favorites!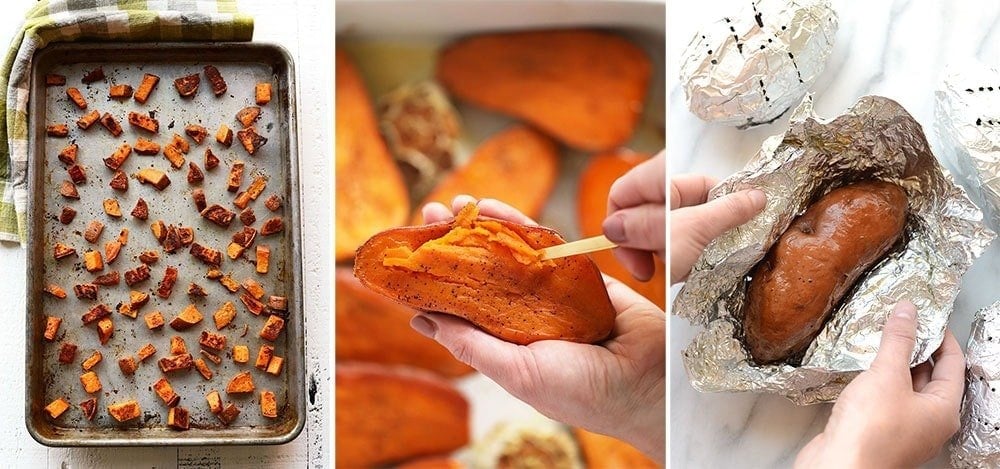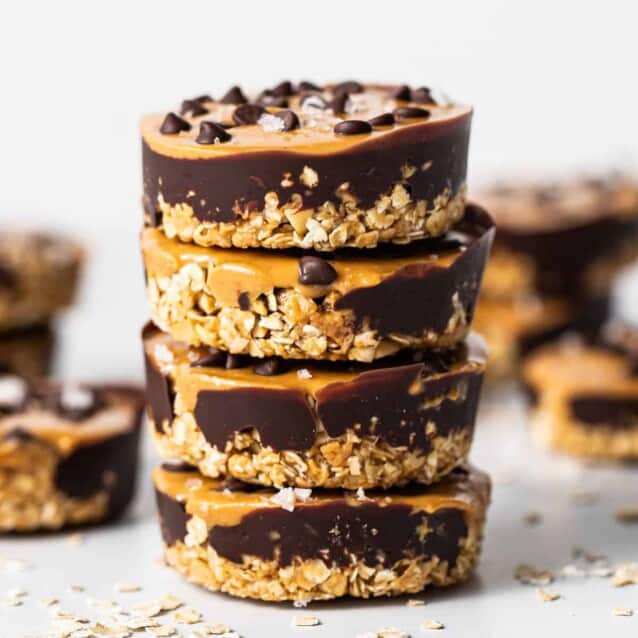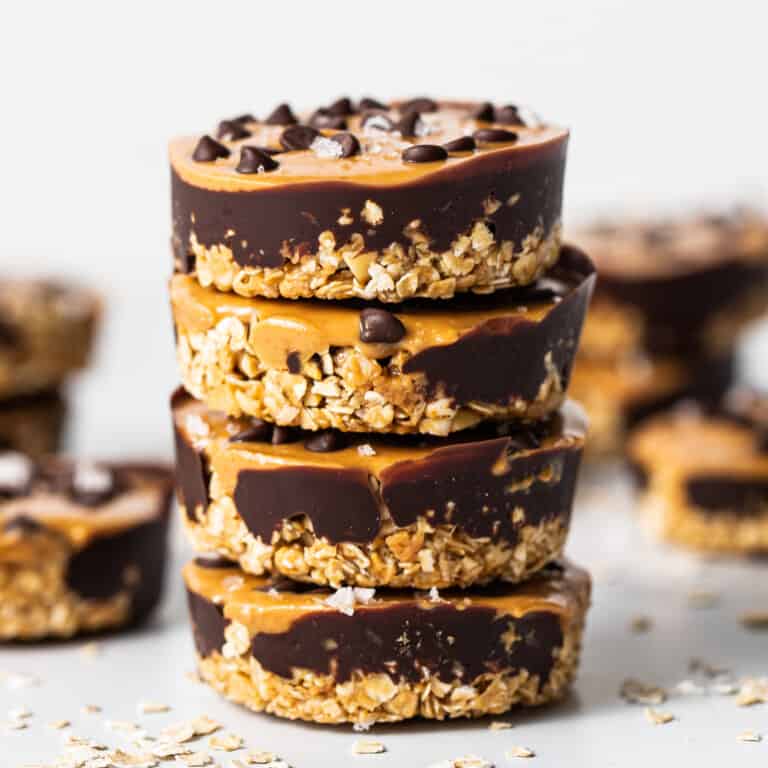 Get our Top 10 5-Star Recipes!
Join our email list for new recipes and BONUS: get our top 10 ⭐️⭐️⭐️⭐️⭐️ recipes e-book!
If we are ever at a loss for what to make for a meal we always chop up a sweet potato and roast it in the oven to have in a buddha bowl or as an easy side dish!
We love drizzling cubed sweet potatoes in a little olive oil and then sprikling on some of our homemade fajita seasoning or homemade taco seasoning! You just can't go wrong.
Who says you can't trade out the traditional mashed potato for a mashed sweet potato for dinner? We are obsessed with our healthy mashed sweet potatoes! They are a hit during the holidays or as a fun side dish during the week!
You can buy sweet potato in a can at the grocery store or you can make your own sweet potato puree at home! We have an easy step-by-step tutorial for how to make sweet potato puree at home.
Sweet potato puree is a great addition to any baked good! Feel free to substitute sweet potato puree in any recipe that calls for pumpkin. It adds the same moisture and flavor.
You can also use sweet potato puree in pies, soups, and any other recipe where you feel like getting creative!
Baked Sweet Potatoes
Just l like any traditional white potato, you can bake a sweet potato, too! We love baking sweet potatoes in the oven and then topping them with our favorite toppings! Check out our favorite stuffed sweet potato recipes here!
Ceramic Knife – Best for Cutting Sweet Potatoes
There is a really good chance you're going to need to slice your sweet potatoes in some way, shape, or form. We HIGHLY suggest picking up a ceramic knife because they cut through sweet potatoes and other hard vegetables like butter…no joke!
We LOVE this set by Chef's Foundry. It's only $69 for 3 different sizes of ceramic knives!
Buy now HERE!
Sweet Potato FAQs
How many calories are in a sweet potato?
In 1 cup of cubed sweet potatoes, there is about 114 calories.
What are the macros for a sweet potato?
Sweet potatoes are a healthy root vegetable that have an amazing nutrition profile. Per 1 cup of cubed sweet potatoes: 114 calories, .1g fat, 27g protein, 27g carbs, 4g fiber, 6g sugar, 2.1g protein.
Are Sweet Potatoes the same as yams?
What's the difference between a sweet potato and a yam? GREAT QUESTION. Sweet potatoes and yams are essentially the same thing! Actually, yams are a type of sweet potato. Crazy, right?
How many carbs are in a sweet potato?
In 1 cup of cubed sweet potatoes, there is about 27g of carbs.
50 of the BEST Sweet Potato Recipes
Sweet Potato Breakfast Recipes
Can you really use sweet potatoes in savory AND sweet breakfast recipes?! The answer is YES, my friends. From waffles to omelets to burritos, these sweet potato breakfast recipes will help you start your day off with a protein and veggie-packed breakfast.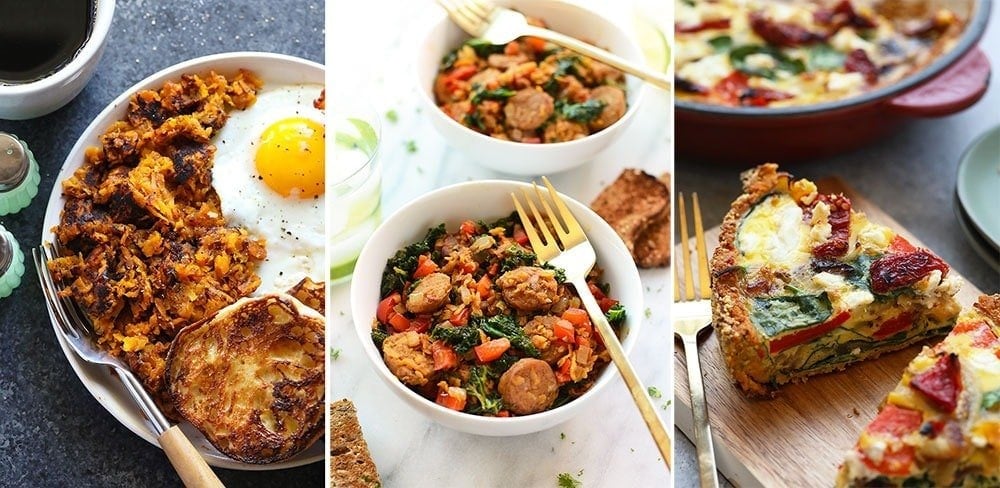 Sweet Potato Lunch Recipes
You know we're all about meal prep recipes at Fit Foodie Finds, and these recipes are perfect for lunches on the go. Not only do sweet potatoes keep well in the fridge, You can easily warm them up without losing texture.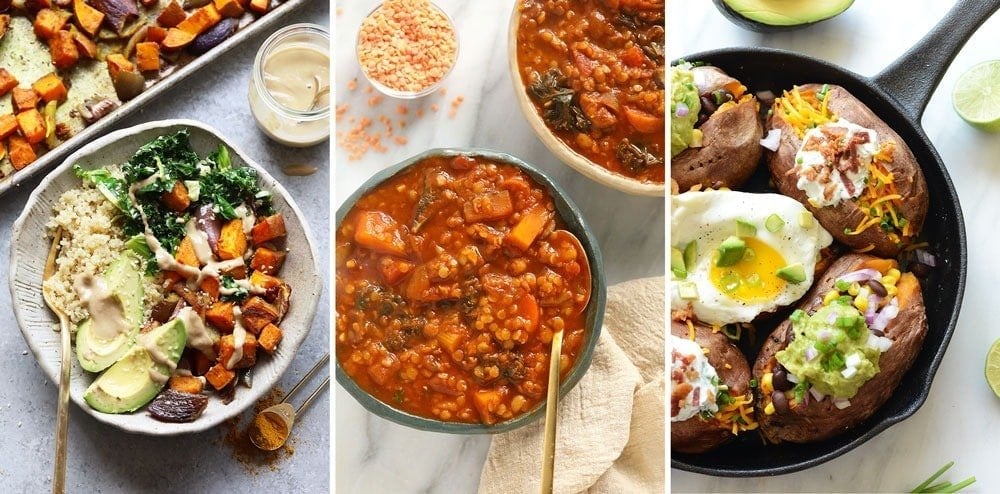 Sweet Potato Recipes for Dinner
It's dinner time and these healthy sweet potato recipes for dinner are calling your name! Whether you're serving a crowd, or just cooking a quiet weekday dinner, these recipes pack protein, veggies and all the good flavor.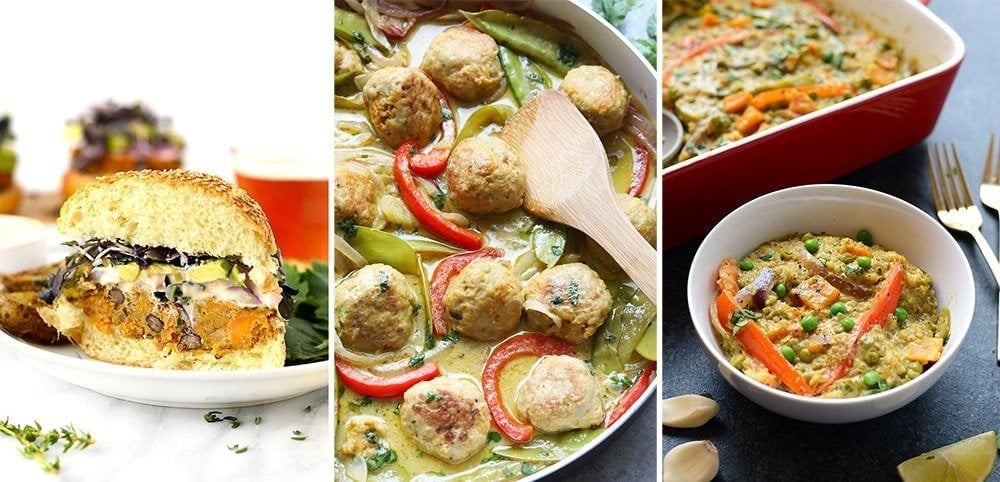 Sweet Potato Snack Recipes
We couldn't leave you hanging without any yummy sweet potato snacks and sides! These recipes are great as appetizers for your next get-together, or simply served as a side of your main dish.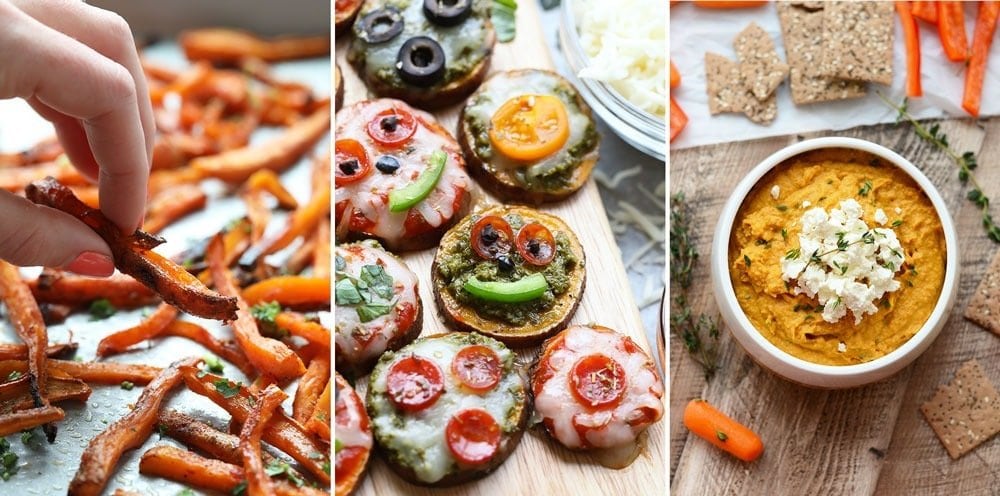 Sweet Potato Dessert Recipes
All my sweet tooth people out there! These desserts are DELICIOUS. Sweet potatoes add such great texture to baked treats without overpowering on flavor.