This homemade sweet potato hummus recipe is the perfect healthy snack that's packed with fiber, protein, and veggies! If you like a little more heat, then up the sriracha and enjoy with your favorite veggies, on a sandwich, and more!
Looking for more healthy appetizer recipes? We love to serve this sweet potato hummus at get-togethers along with delicious guacamole recipes, our yummy vegan queso, and we dunk this golden roasted cauliflower in all of them!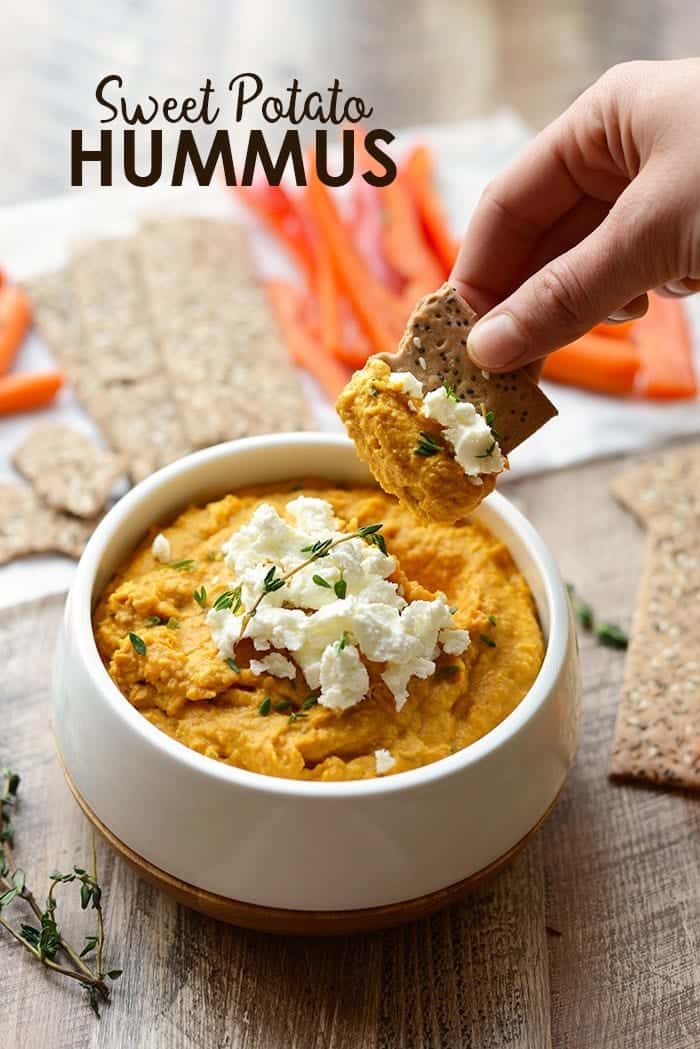 Better Than Store Bought
Homemade hummus is wayyyyy better than store bought. Honestly, anything homemade is way better than store bought. It's that added elbow grease that just makes it so much better.
Peanut butter, granola, cookies….they're all better homemade. Am I right?
Don't worry, I'm not saying skip the store-bought goodies all the time. I do my fair share of store-bought things, too! All I'm saying is that I love making a homemade recipe because I know exactly what is going into my food and it's so rewarding to enjoy something that you made.
This sweet potato hummus recipe is easy to make and is delicious with vegetables as a fun appetizer and it even works as a delicious spread on sandwiches. You just can't go wrong. It was our attempt to mix up what type of hummus we make. The change up worked- this sweet potato hummus is amazing.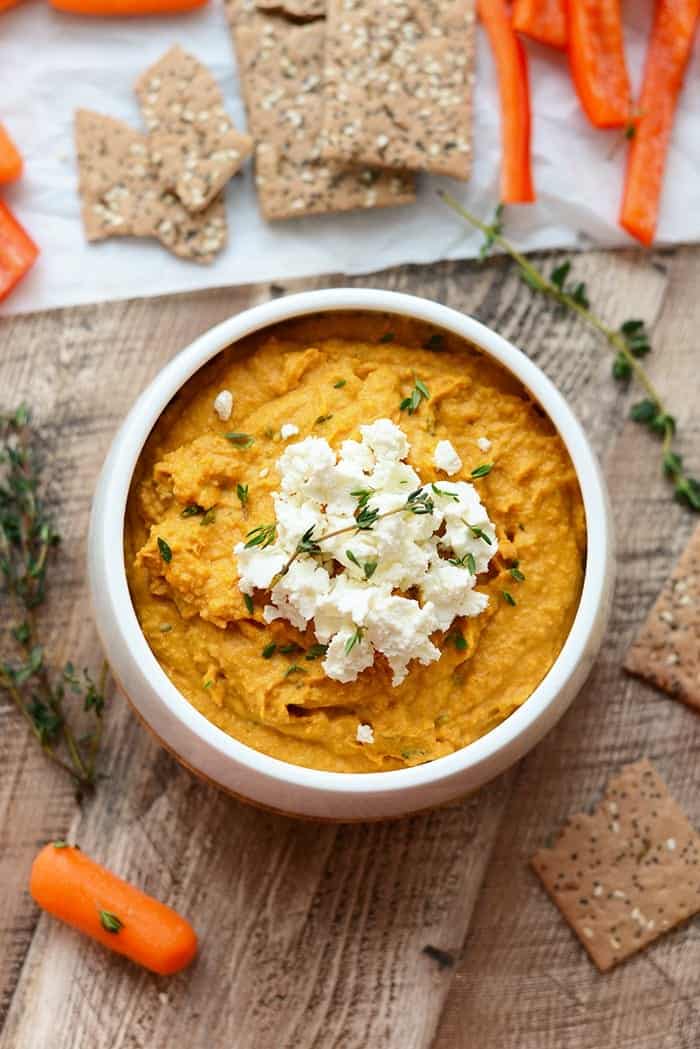 Change Up Your Hummus Recipe
First things, first. I love a good classic hummus recipe. Chickpeas, tahini, olive oil, lemon juice, and salt. Blend that up and you've got yourself a timeless snack. Sometimes, I need a little change when it comes to my snack.
This sweet potato hummus was developed out of a need for change! We wanted to create a new hummus flavor that was savory and made with our favorite flavors. Sweet potato came to mind almost instantly. Why not get some veggies in while you're munching on some hummus?
We went with sweet potato, garbanzo beans fresh thyme (because it's amazing), tahini, goat cheese, and warm spices and blended it together into silky perfection! Not a sweet potato fan? You could use any of your favorite vegetable purees (pumpkin, squash, etc.) for this recipe.
How is Hummus Eaten?
What I love about any hummus is how versatile it is. There are so many ways to incorporate hummus into so many different recipes!
Sauce Base
It is easy to incorporate hummus into a pasta sauce! All you have to do is saute some veggies in olive oil and slowly whisk the hummus into the olive oil once everything is cooked down. BOOM. Pasta sauce.
Dip
Who doesn't love a good dip? Hummus is most commonly eaten as a dip! Any type of hummus flavor makes a great dip for an appetizer, snack, or even for a charcuterie lunch. Serve hummus with crackers, veggies, and yummy bread!
Spread
Forget the mayo and mustard and use hummus as a condiment for your next sandwich! I love using hummus as a sandwich or wrap spread. It gives any sandwich amazing flavor and texture!
Dressing
Looking for ways to jazz up your salad dressing? Whisk a little bit of hummus into your next salad dressing to thicken it up and to add great flavor!
There are countless ways to use hummus and there are also countless ways to make different hummus flavors. Just stick to your favorite ingredients and spices and your hummus will turn out great!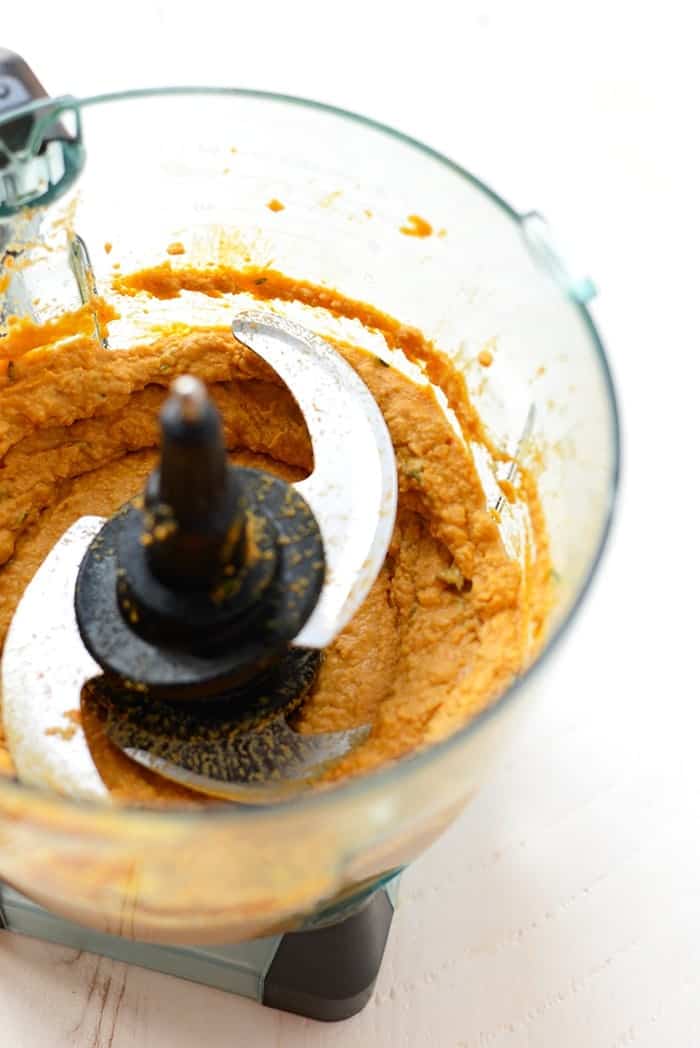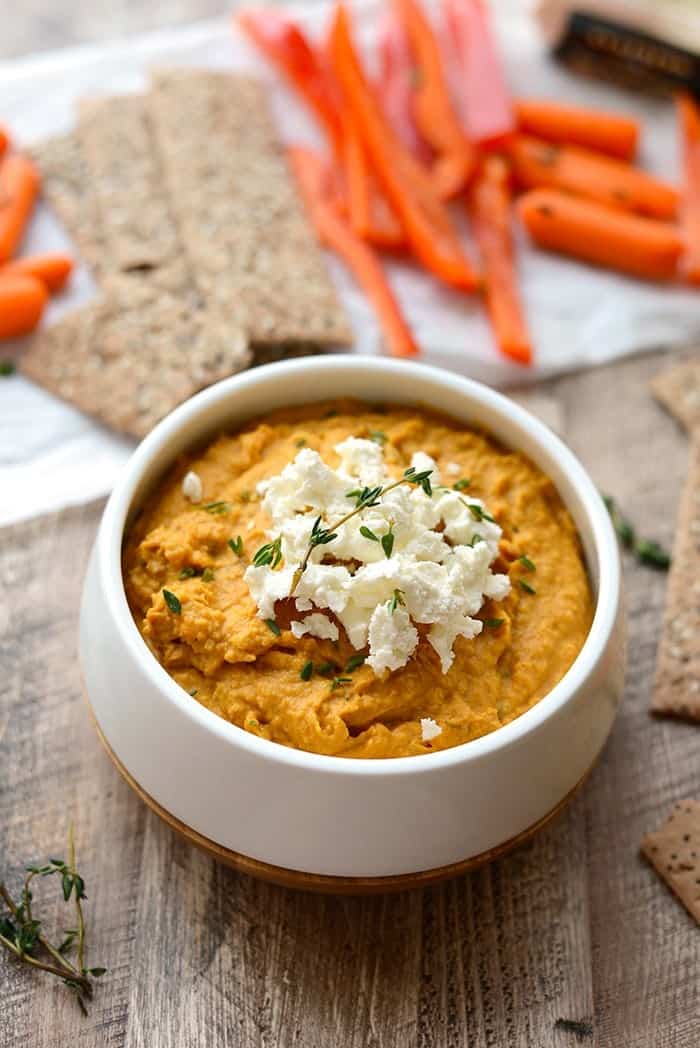 Healthy Hummus Recipes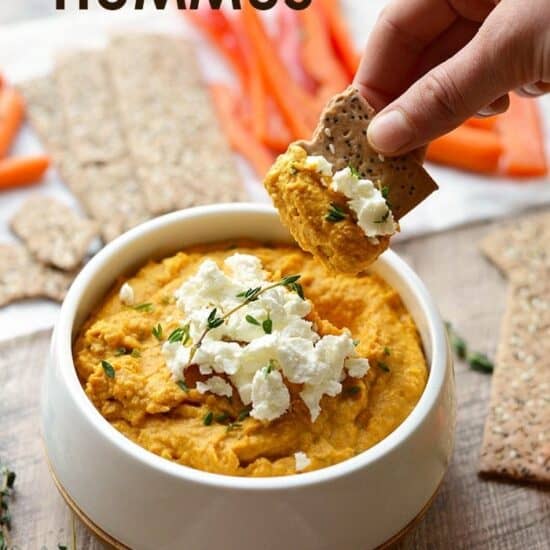 Sweet Potato Hummus
This homemade sweet potato hummus recipe is the perfect healthy snack that's packed with fiber, protein, and veggies! If you like a little more heat, then up the sriracha and enjoy with your favorite veggies, on a sandwich, and more!
Instructions
Place garbanzo beans, sweet potato puree, tahini, EVOO, and sriracha in a high-speed food processor and process for about a minute, or until everything is smooth. You may need to stop a few times to scrape the side with a spatula. If things are too thick, add a tablespoon or two more of EVOO.

Next, add in spices and blend one more time to mix everything together.

Top with goat cheese and serve with fresh veggies and rice crackers.
Nutrition facts
Serving:
6
g
Calories:
212
kcal
Carbohydrates:
21
g
Protein:
5
g
Fat:
13
g
Fiber:
5
g
Sugar:
5
g
My Coñera
As you know, my sister got married in August. That wedding still ranks as one of the best days of my life. I not only gained a new brother in-law, but 2 more sisters as well. Ben has an older sister, Annie, and a younger sister, Cath. Cath is 21 and has become one of my best friends over the past few months. She goes to the U of M and frequents my Snapchat 🙂 —> FitFoodieFinds <— Seriously though, I never laugh more than I do with that girl. We do weekly workouts at Alchemy and have Girls Night Wednesdays.
So the word coñera. I'm sure you're like WTF. Well there's a story behind it. Cath and I get asked often how we know each other and it's always a mouthful to tell people: she's my brother in-law's sister. WHY ISN'T THERE A WORD FOR BROTHER IN-LAW'S SISTER IN ENGLISH? One Wednesday night after a bottle of wine, we were on a mission to find a word for brother in-law's sister, even if that meant resorting to another language. We read a bunch of articles where people make up slang words for things in Spanish. We found an article that had a word for it, but it was hard to pronounce so we resorted to the word coñera. And the rest is history.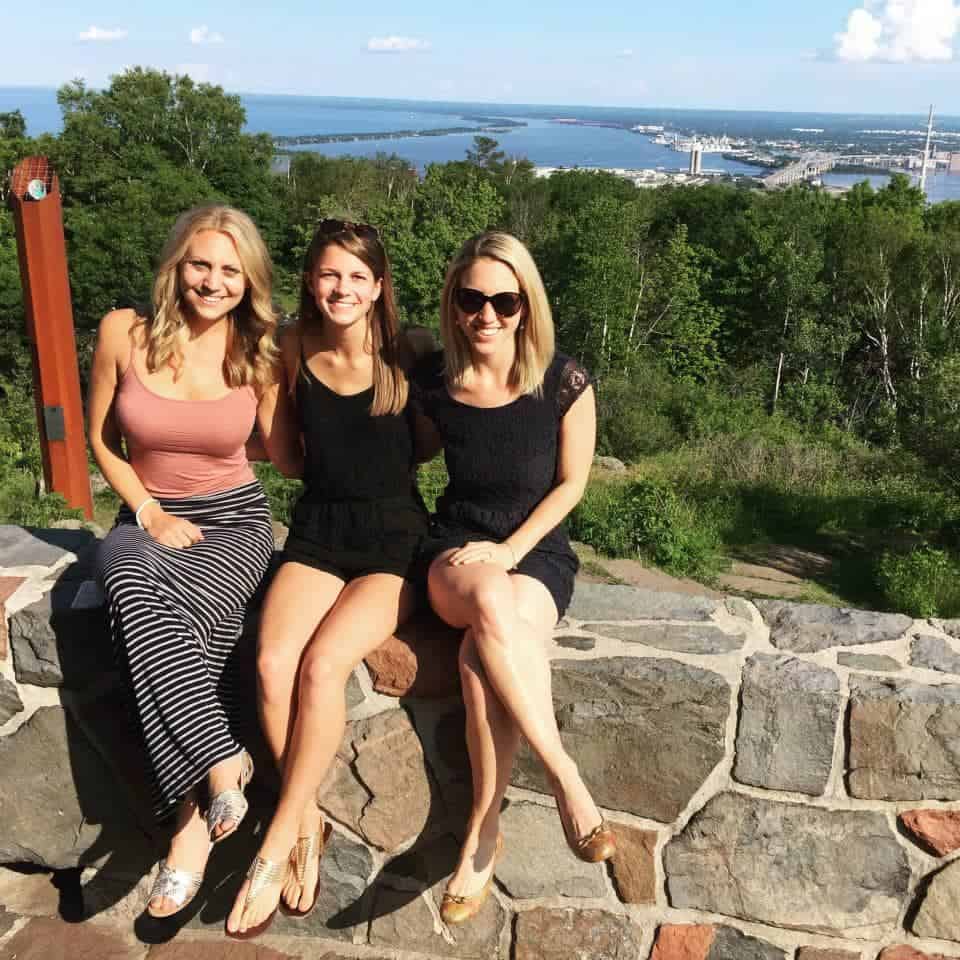 This is Me, Cath, and Sister in Duluth, MN this Summer! #BringMeBack