Dip your healthy, homemade sweet chili sweet potato fries in the most delicious thai curry yogurt dip that only requires 3 ingredients!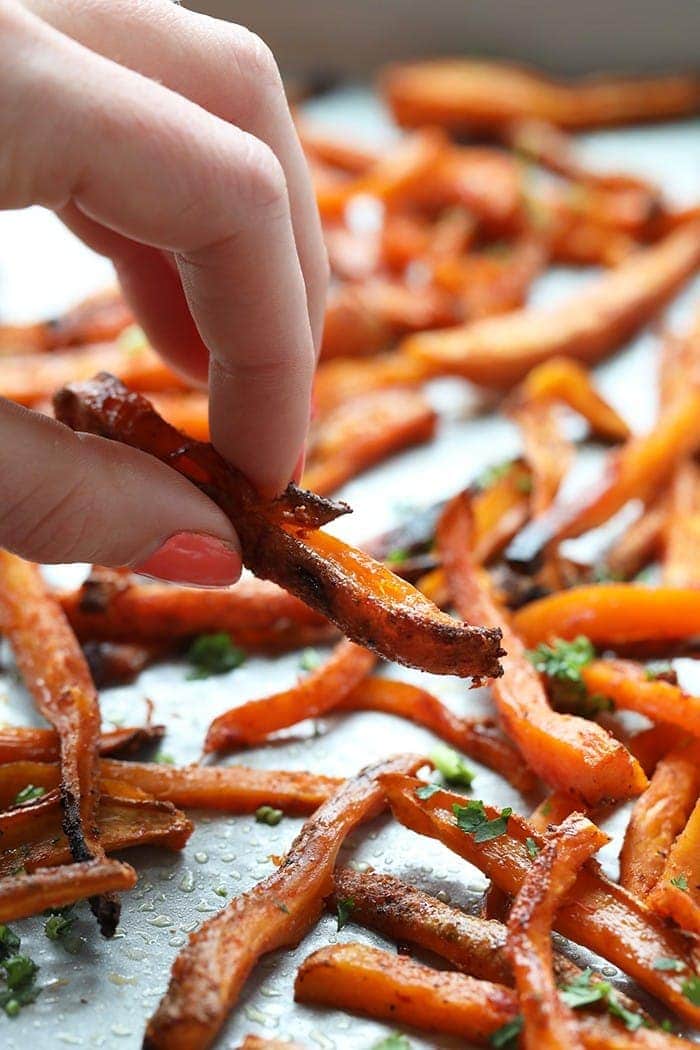 People of the planet who can not eat dairy. I have found your new best friend! I get so many quesitons from readers who are unable to consume dairy for whatever reason and I'm excited that Silk finally launched a dairy-free yogurt alternative.
That's right, now you dairy-free peeps can have your sweet chili sweet potato fries AND dip them in a curry yogurt sauce without worrying about dat dairy. I should say top, I made this recipe for Silk's Top it Tuesday campaign 😀 (dip…top…same thing!) You guys, these fries might be the best thing that ever happened to me. Wait, that was until we invented the most delicious curry yogurt sauce to dip them in. The combo is absolutely to die for and I can't wait for you to try them!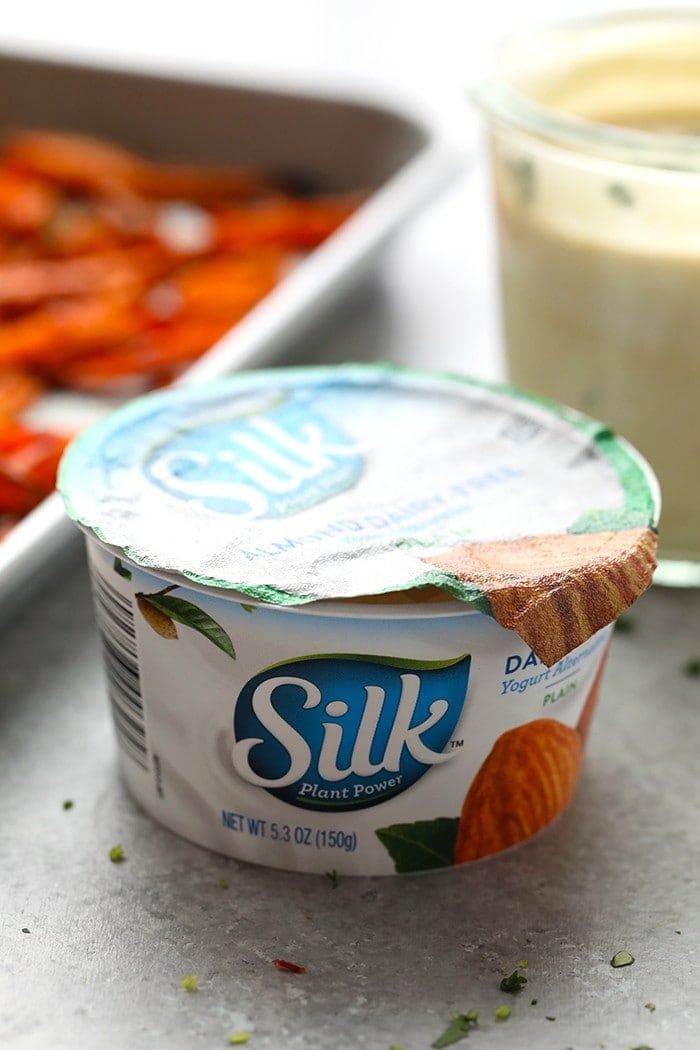 The fries are obviously baked, not fried. We flavored them with a red chili paste
(which you can find in the Asian section) and honey. Option to use maple syrup if you want to go completely animal free. Of course there was some garlic and olive oil in there too because I can never have enough of those two things. The key to sweet potato fries is baking them until they are just about cooked and then upping your oven to a broil so that they get super hot and a little crunchy. All ovens are different so just make sure you keep an eye on them once you turn it to broil; you don't want to char the fries all the way 😀
As for the jelly to this peanut butter…the thai curry yogurt dip is equally as delicious (literally I could eat it with a spoon). We used Silk's Plain Almond Dairy-Free Yogurt Alternative, which you can find pretty much everywhere (check out their product finder here). The plain almond variation is still a tad sweet, but the texture is very similar to normal yogurt. It has a pretty stellar nutrition label with 6 grams of protein, live active cultures, no artificial colors, vegan, and GMO-free. We added green curry paste, garlic powder, fresh lime zest, and a little salt to a full single-serve cup of yogurt. SO SO SOOO good. Top it, dip it, eat it with a spoon. Whatever you do, you're going to love this dip.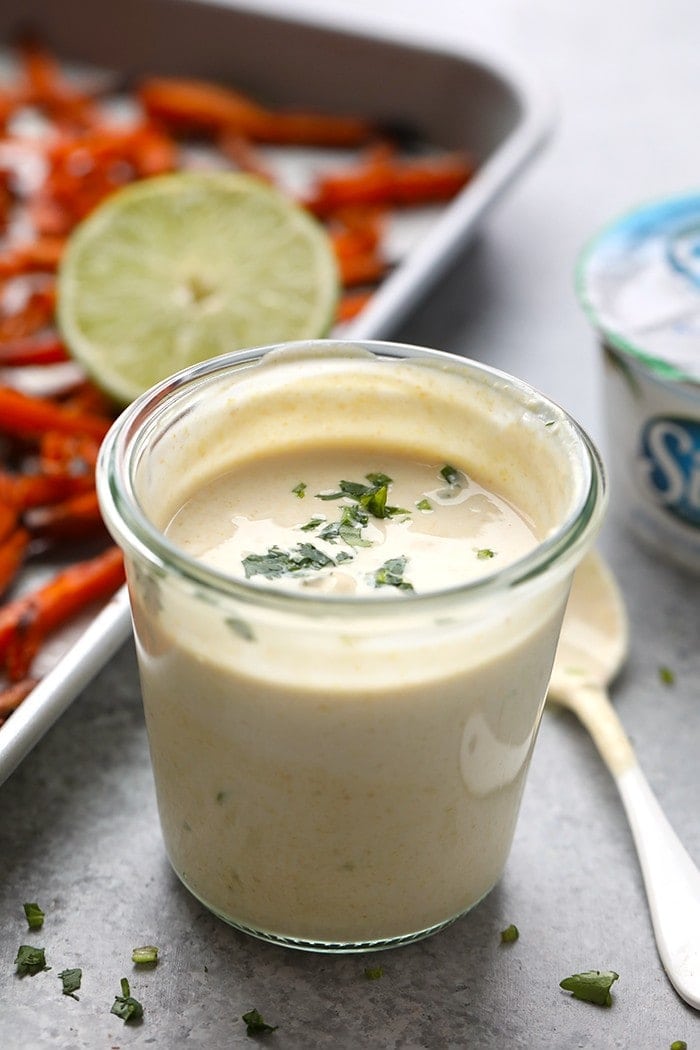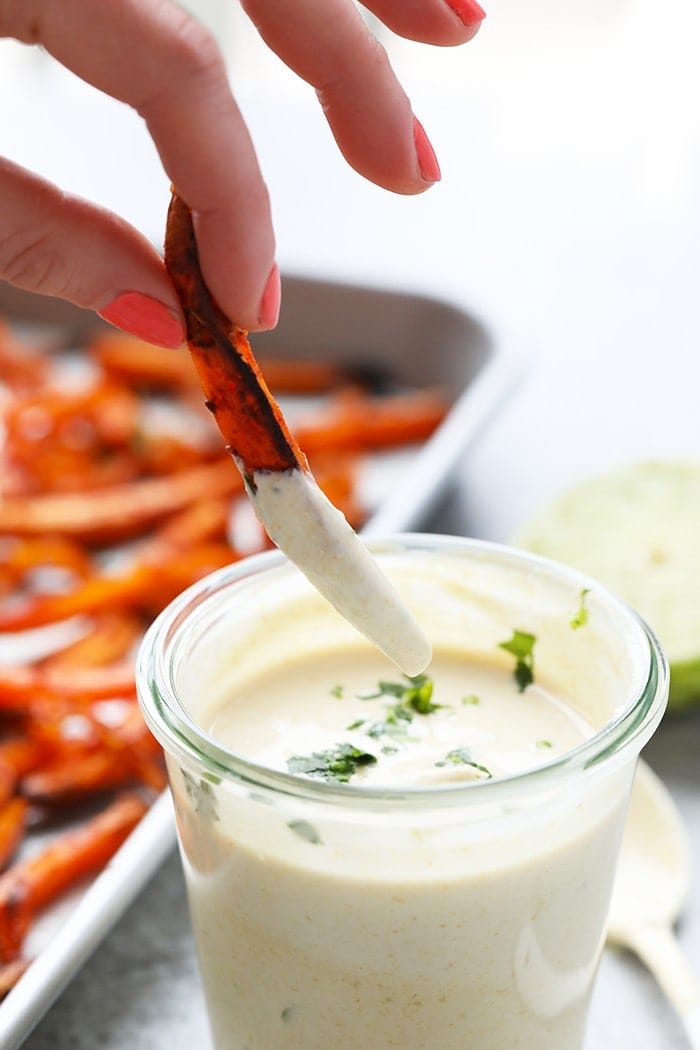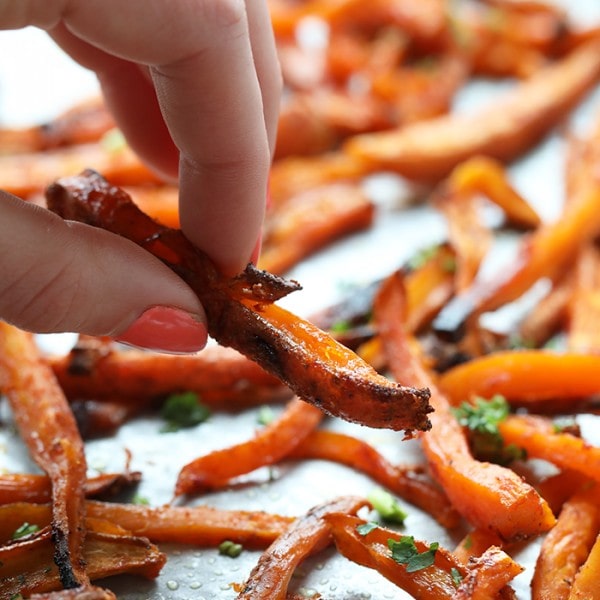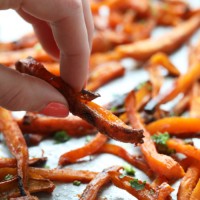 Sweet Chili Sweet Potato Fries with Thai Curry Yogurt Dip
Prep:
10 mins
Cook:
35 mins
Total:
45 minutes
Ingredients
For the Sweet Potatoes
2

large sweet potatoes

1 tablespoon

red chili paste

1.5 tablespoons

honey (or maple syrup)

2 teaspoons

garlic powder

1 tablespoon

olive oil
olive oil cooking spray (coconut oil spray will work too)
For the Yogurt Dip
2 teaspoons

green curry paste

1/4 teaspoon

garlic powder

1/4 teaspoon

lime zest
salt, to taste
Instructions
Preheat oven to 400ºF. Spray baking sheet with olive oil cooking spray and set aside.
Rinse sweet potatoes and cut them into fries. Then, place into a gallon-size bag.
Next, add chili paste, honey (or maple syrup), garlic powder, and olive oil to the sweet potatoes. Seal bag and shake, making sure everything is evenly coated.
Spread sweet potato fries out evenly on the greased baking sheet. Spray fries with an additional coating of olive oil cooking spray
Bake for 30 minutes at 400ºF and toss half way through.
While sweet potato fries are baking, place all ingredients for yogurt dip into a bowl and mix well. Place in refrigerator.
Once sweet potato fries are fully cooked, turn your oven to high broil and broil for 3-5 minutes* This will help get your fries crunchier!
Serve with yogurt dip. Enjoy!
Tips & Notes
*Broil longer for a crispier sweet potato fry, but be careful! Everyone's oven cooks differently, so make sure you keep an eye on your fries.
Nutrition Facts
Serving Size:
1/4
Calories:
180
Sugar:
13
Sodium:
214
Fat:
7
Carbohydrates:
28
Fiber:
4
Protein:
3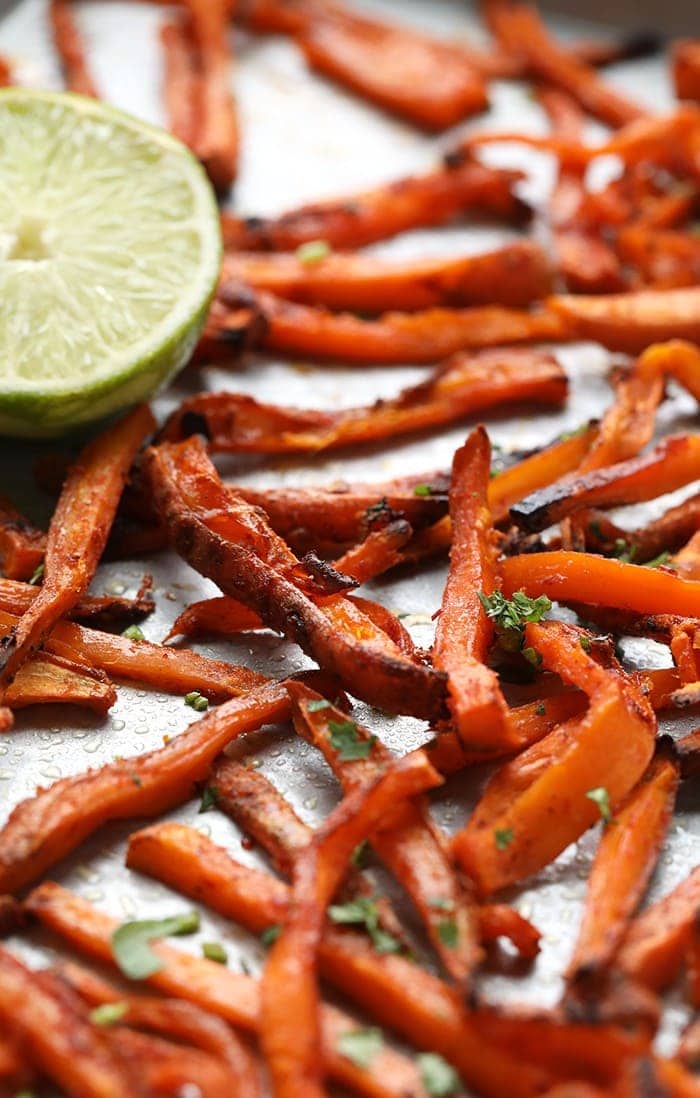 In addition to the plain almond variation (which is what this recipe uses) I bought a couple vanilla soys that I could try both an almond and soy variation. Man was it spot on with the texture and the flavor compared to normal yogurt! If you're looking for a dairy alternative to normal vanilla yogurt- the soy vanilla is about to be your bestie.
This is a sponsored conversation written by me on behalf of Silk. The opinions and text are all mine.