Back to school snacking never looked so good! Make these Sweet Potato Pizza Bites for the kiddos. They're customizable with a pesto or marinara base and a variety of different toppings.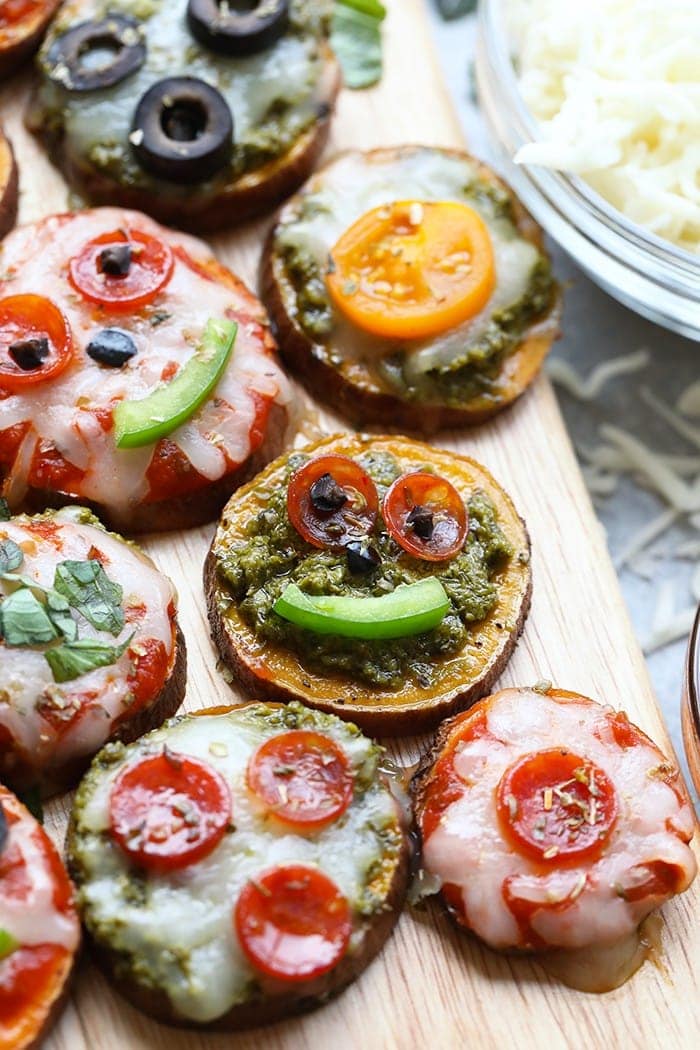 Linley has been gone ALL WEEK and it's been way too quiet around here. I had a lot of boring, I-don't-want-to-do-this-so-I'll-keep-procrastinating work to do that I've been putting off, so I guess it was good that I could just grind away. HOWEVER, I much prefer a team atmosphere and long days in the kitchen. Sometimes sitting behind my computer for hours on end is draining and uninspiring…but I do have to say, I feel VERY accomplished at the end of the day.
It's a busy time of year for me over here with a large mix of Fit Foodie and Healthy Glow Co. projects going on. Having a lot on my plate gives me anxiety, but also a sense of excitement all at the same time. Once I write things down and get a strategy in play I am ready to rock and roll. Plus, I get to work with 2 amazing teams, which makes the work that I do all that much more fulfilling. To top it off, my amazing video contractor, BRITA, is having a baby so we've all been working our buns off to prepare while she's on maternity leave. While Brita doesn't work at Fit Foodie HQ, she feels very much part of the team. I mean, she's freaking talented. She's been the mastermind behind all of FFF's vids over the past few months and I'm super pumped for withs coming down the pipeline.
I'm a kid at heart and quite honestly I don't think that's ever going to change. These sweet potato pizza bites are LEGIT…especially the ones that have faces on them. They are so basic, yet creative and fun for the entire family. What you'll need:
All whole ingredients so that you can eat pizza and not feel bad for a second. Because I know this question is going to get asked– yes you can use normal potatoes, but I highly recommend sweet potatoes not just because they have more nutrition, but because the flavor is better for this. That little bit of sweet goes a long way for pizza crust.
PS: I once went 5 whole days without eating sweet potatoes and I just didn't feel like myself. NEVER AGAIN.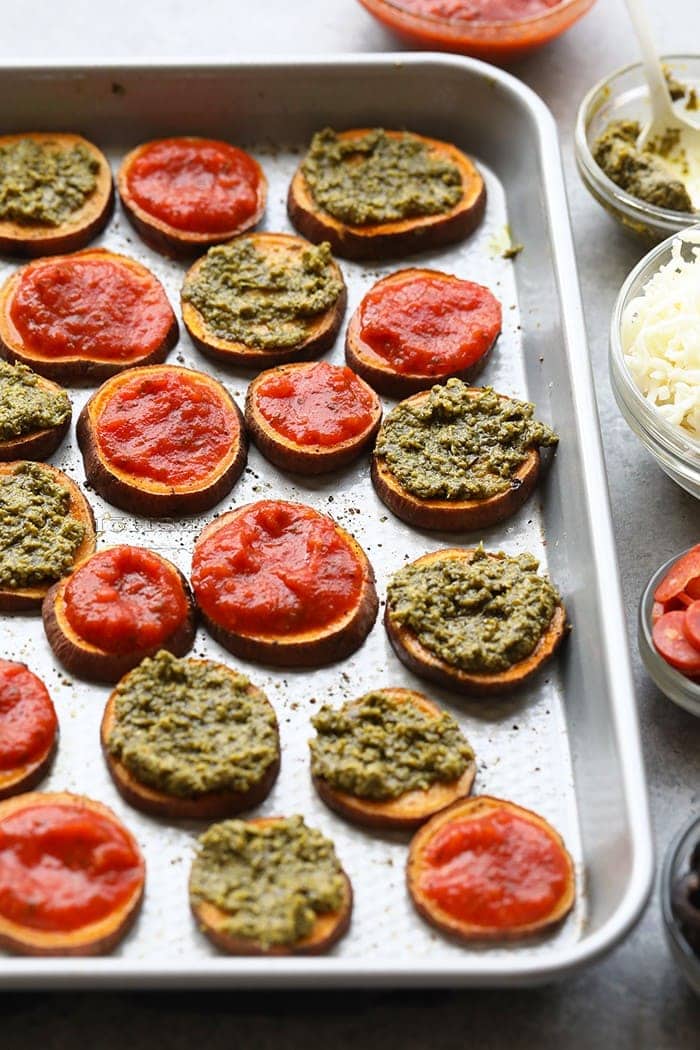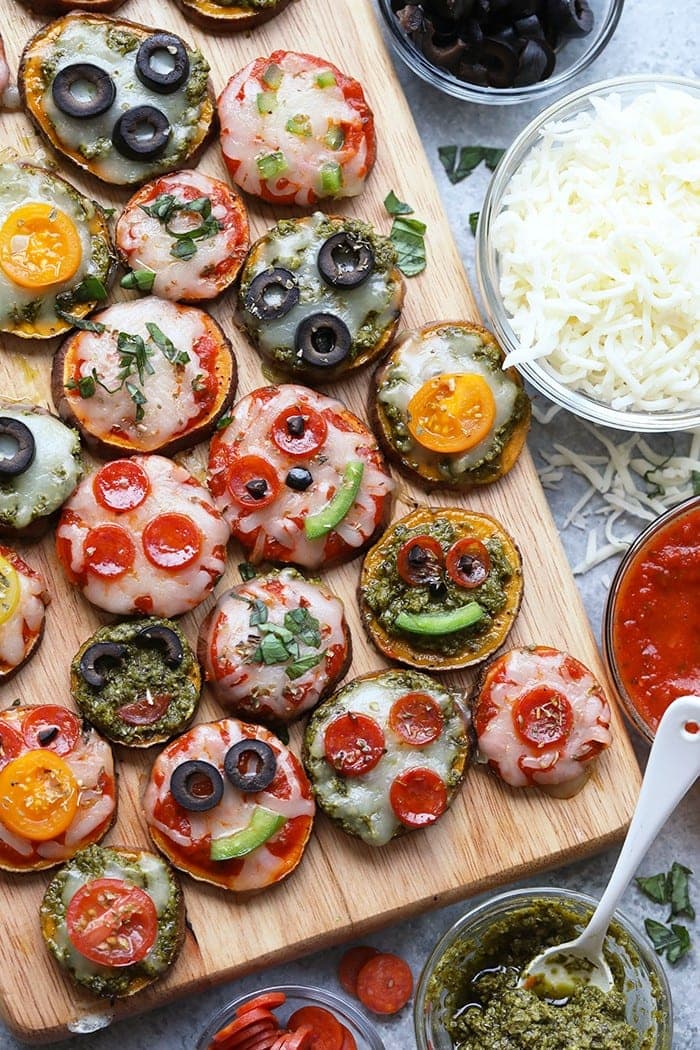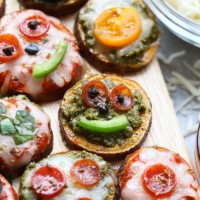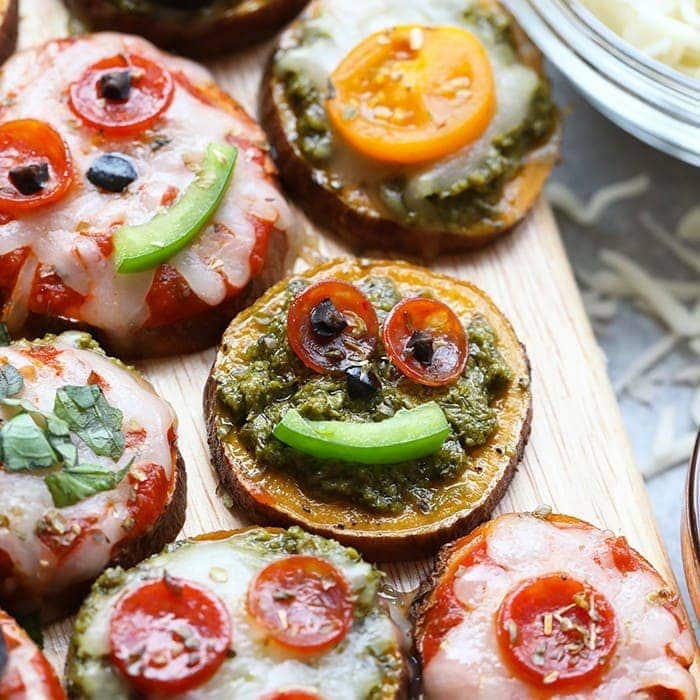 Sweet Potato Pizza Bites
Back to school snacking never looked so good! Make these Sweet Potato Pizza Bites for the kiddos. They're customizable with a pesto or marinara base and a variety of different toppings.
Ingredients
For the Sweet Potatoes
4

medium sweet potatoes

2

tablespoons

olive oil

salt and pepper

to taste
Optional Toppings
1/2

cup

organic marinara sauce

1/2

cup

pesto

homemade or store bought

1/2

cup

cherry tomatoes

sliced

1

cup

mozzarella

shredded

1/4

cup

sliced black olives

1/2

cup

green peppers

1/2

cup

mini pepperonis

or protein of choice

1

tablespoon

dried oregano

1/2

cup

fresh basil

chopped
Instructions
Preheat oven to 375ºF. Spray a baking sheet with non-stick cooking spray. Set aside.

Next, slice your sweet potatoes into thin rounds. Place them on cookie sheet. Drizzle with olive oil and salt and pepper to taste, and then place them in the oven for 15 minutes*.

Remove sweet potato rounds from the oven. Prepare sweet potato pizza bites by topping with sauce of choice (marinara or pesto).

Then, top with toppings of choice.*

 Bake for an additional 3-5 more minutes to melt your cheese.

Remove from oven and ENJOY.
Tips & Notes
Bake time depends on how thick your sweet potato rounds are. You don't want them to be over cooked or else they will be too squishy and won't hold when you pick them up!
Feel free to top bites however you'd like. We made adorable faces with peppers, onions, olives and cheese. We also kept some simple with just cheese and mini pepperonis. The goal here is to top your sweet potato pizzas however you'd like and to have some FUN!
Nutrition facts
Calories:
86
kcal
Carbohydrates:
13
g
Protein:
1
g
Fat:
3
g
Fiber:
2
g
Sugar:
3
g

Happy Sunday!