One Pot Sunday is BACK. This time it's with a Mexican flare- spice included.
And a cha cha cha on the side. I mean CHA CHA CHA.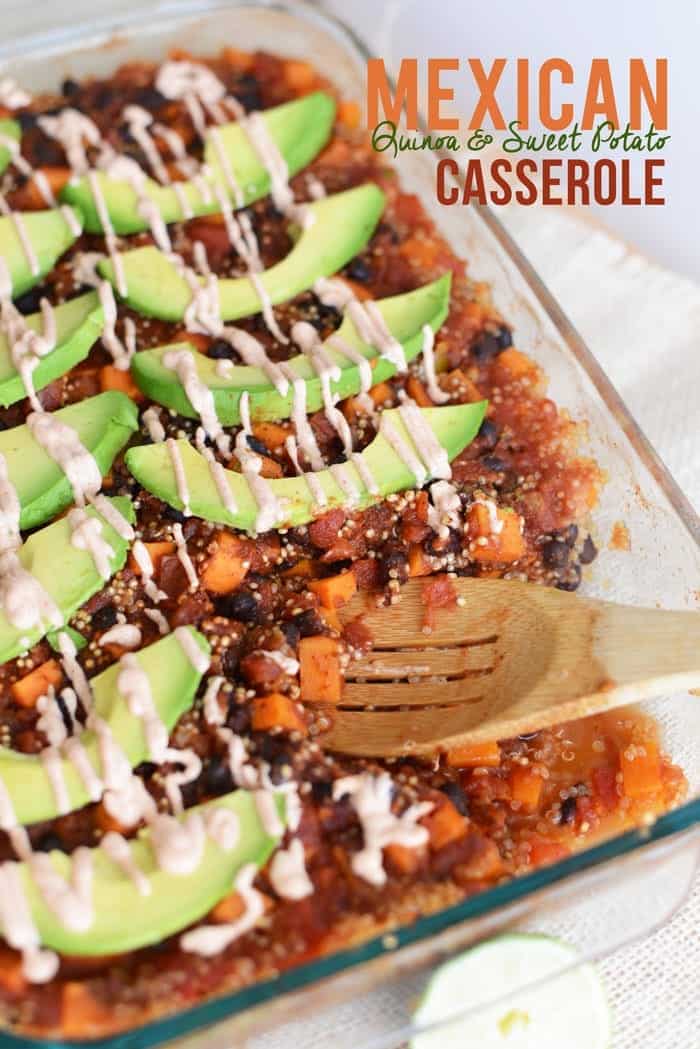 I even made a homemade chipotle sauce that only calls for 3 ingredients!
---
---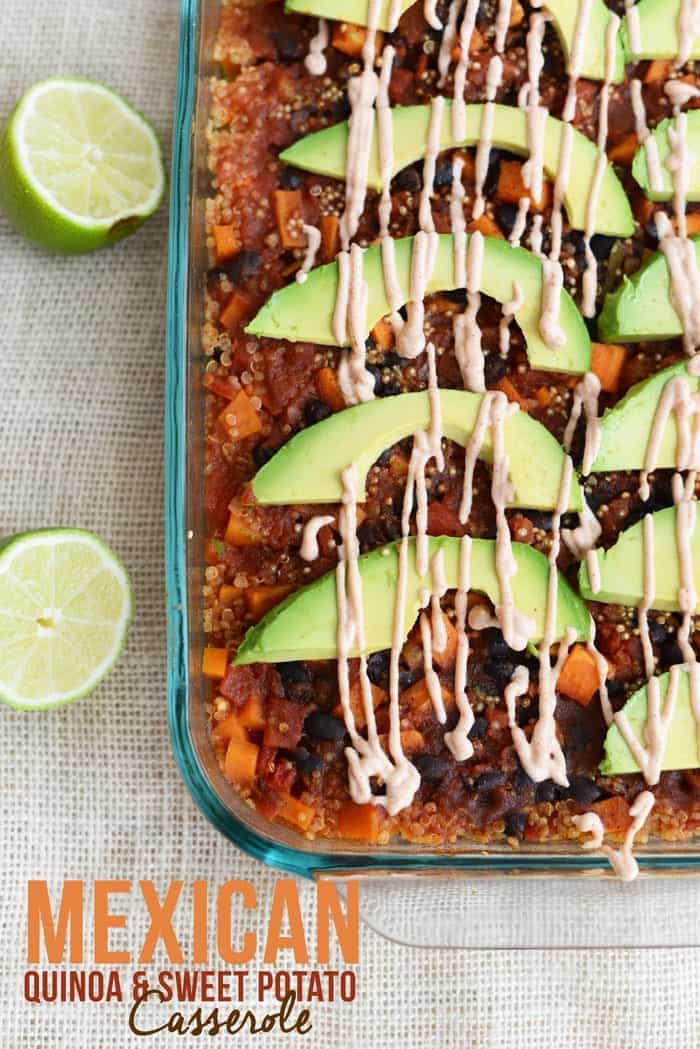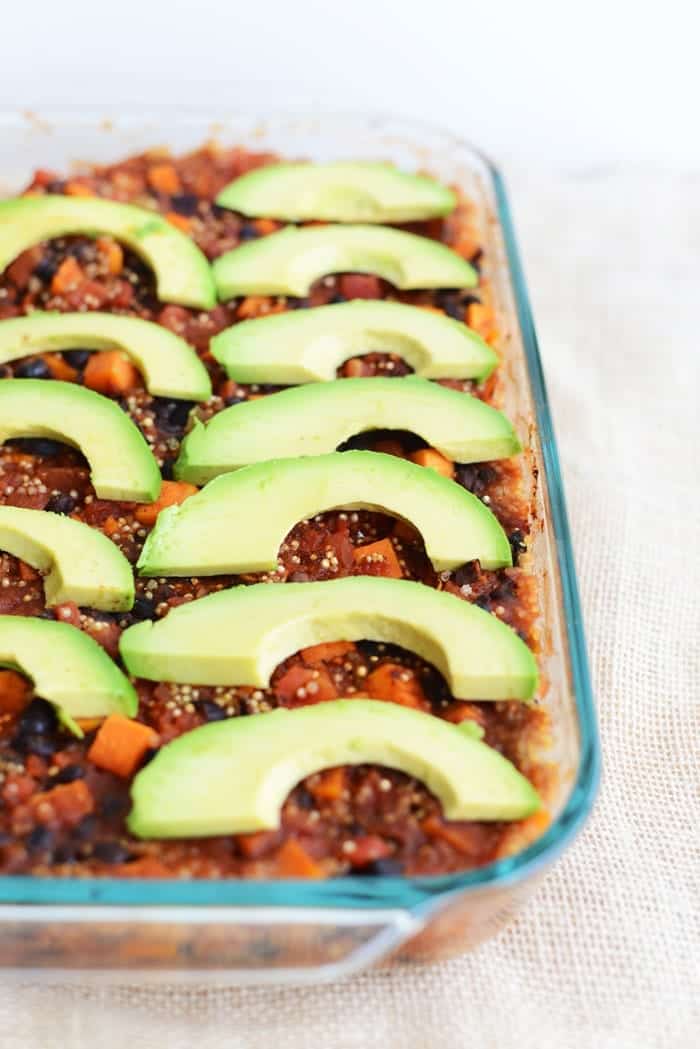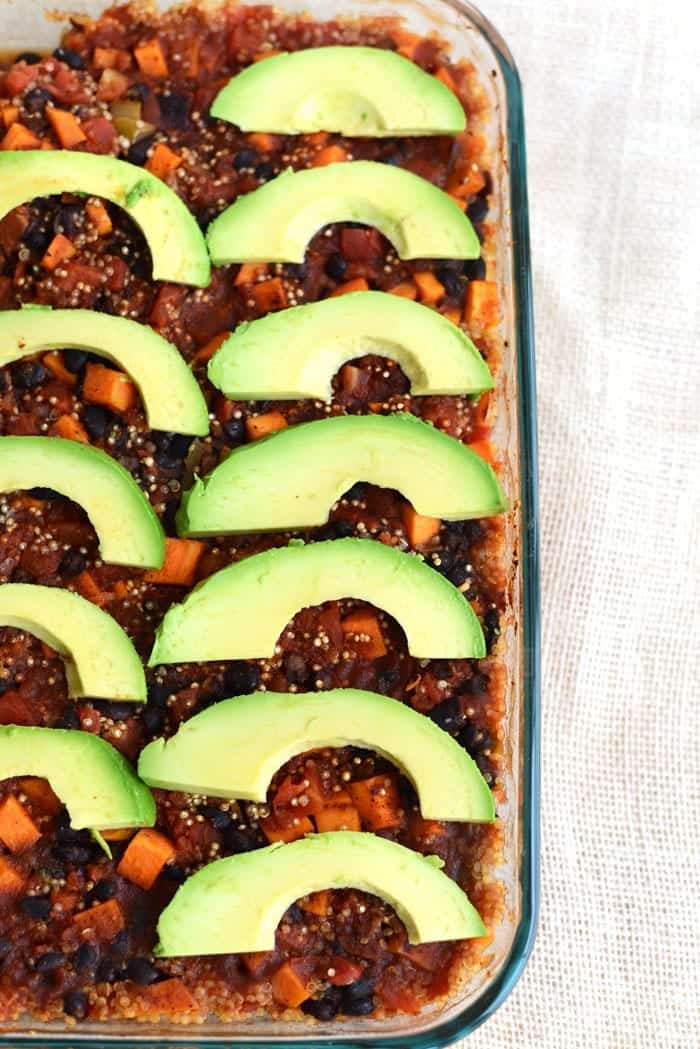 Even though this dish is technically "vegan," (minus the the yogurt sauce, of course) it's filling, carby, and filled with delicious flavor. It is spicy, but the sweet potatoes do a nice job of balancing flavors and they add some sweetness, too.
I love that you literally throw everything into a baking dish, stir, and you're pretty much done. Prep time is less than 10 minutes. So if you're a busy mom or work from home like me…this is really nice and easy!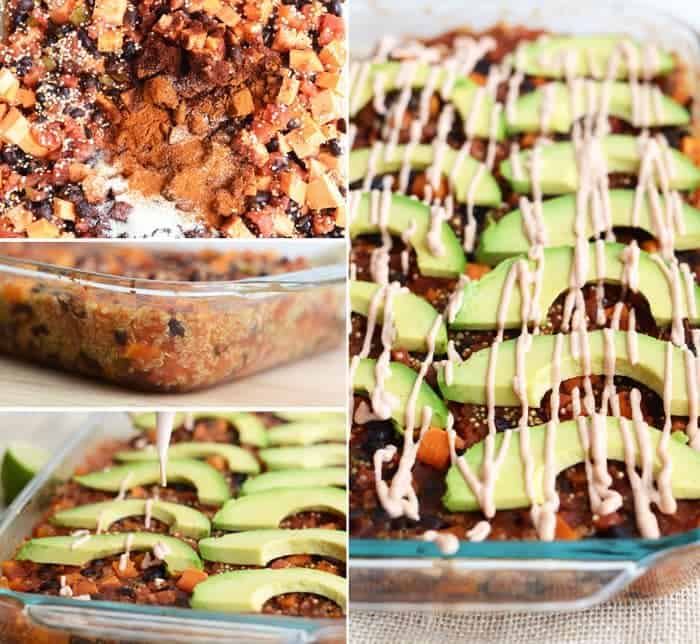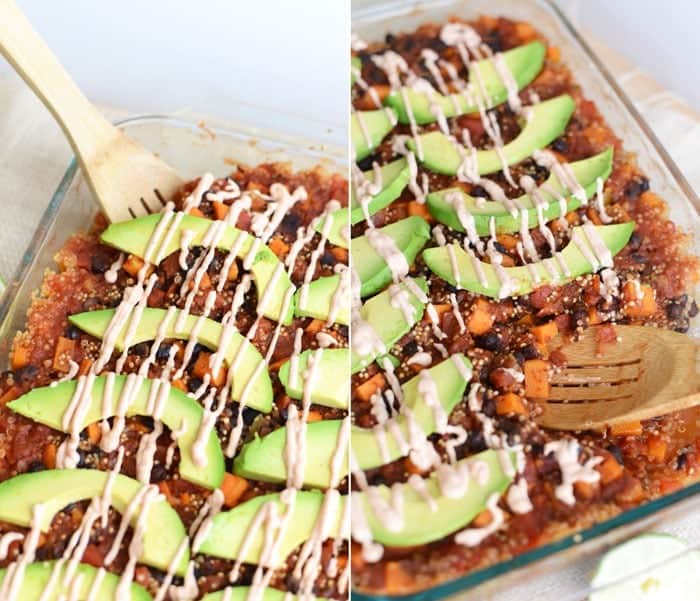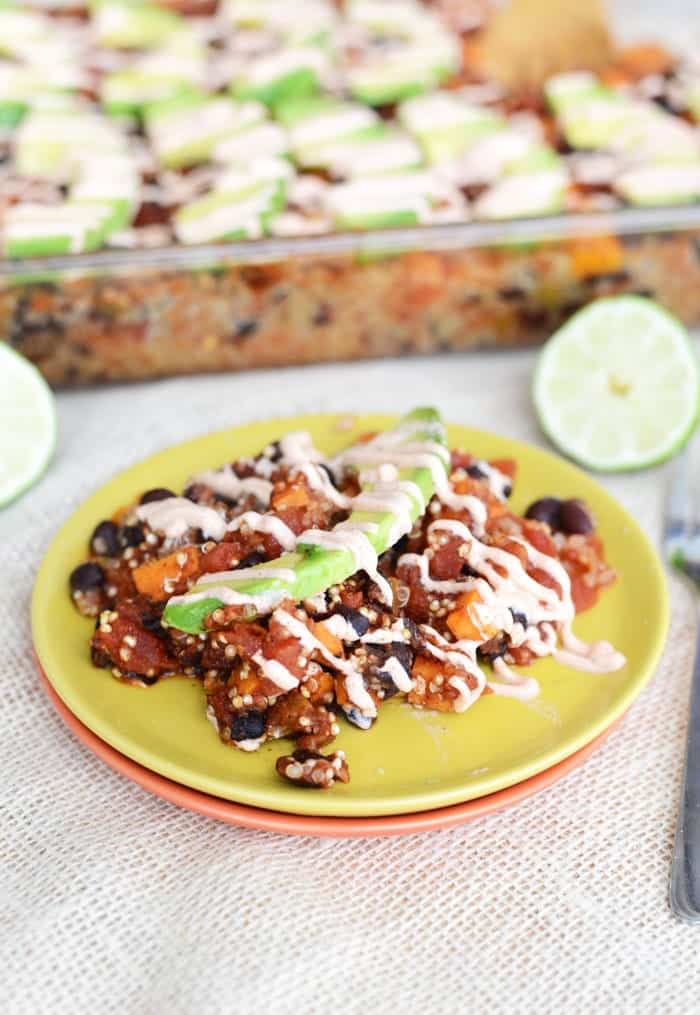 The ingredient list is simple: quinoa, sweet potatoes, back beans, diced tomatoes, your favorite salsa, vegetable stock, and some spices. I guarantee you have most or all of these ingredients in your kitchen!
You can also gauge the spiciness, too. Do you want to clear ya' sinuses? Or do you like your food a bit blander? You can manipulate this when you are seasoning things before baking. So just beware that if you use my EXACT recipe, your mouth may be on fire. #sizzle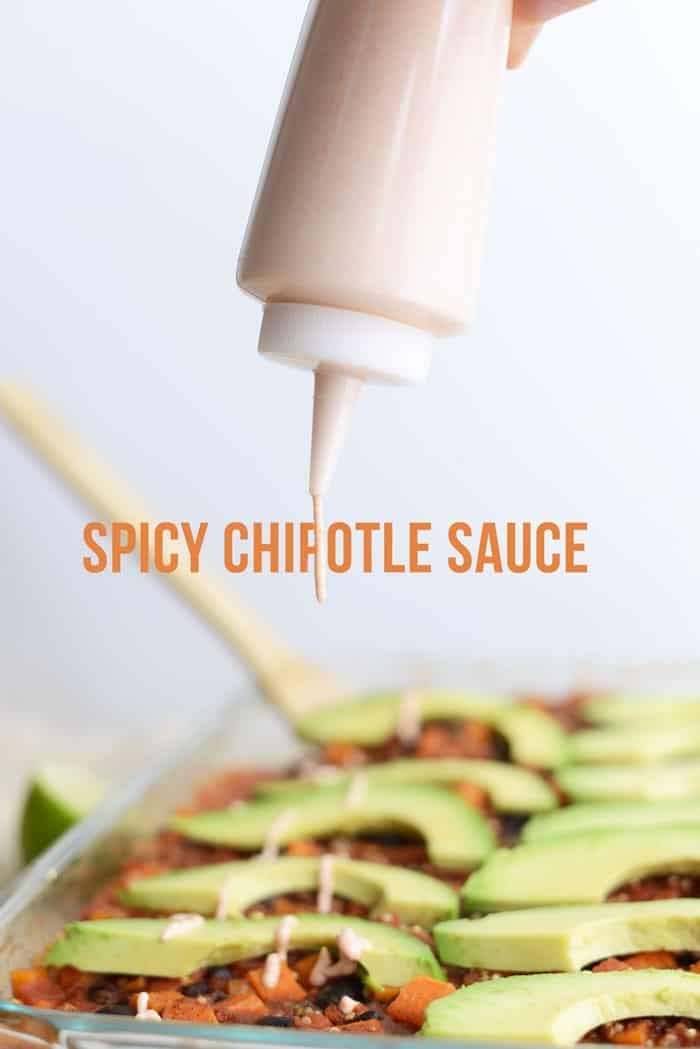 The chipotle sauce was a great addition. You know my obsession with mixing hot and cold things together. This does just that! I used a base of Greek yogurt and then added chipotle pepper seasoning (which I got from Penzey's) and some sriracha. Again- you can totally gauge the heat with your sauce by adding less of the spices.
The avocados I got were from a local grocery store chain here in Minneapolis called Cub Foods. They weren't kidding when they said they were "jumbo avocados." Seriously- they are the size of a softball, I KID YOU NOT! Not sure what's in the soil, these days.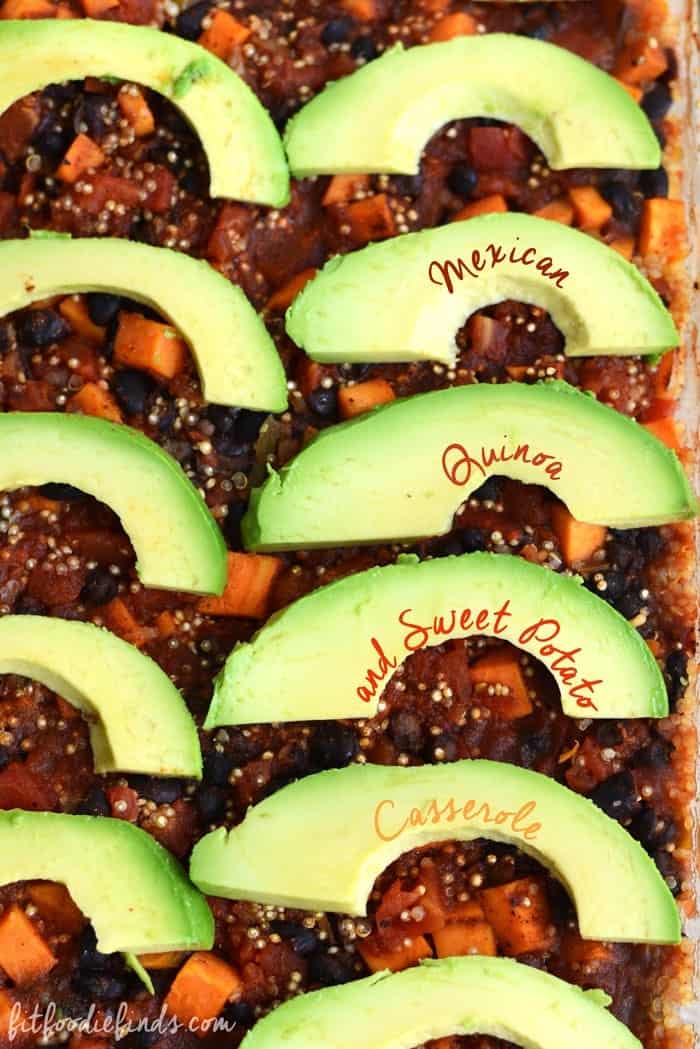 Mexican Quinoa and Sweet Potato Casserole with Chipotle Yogurt Sauce
Prep Time:

10 minutes

Cook Time:

1 hour 15 minutes

Total Time:

1 hour 25 minutes
Ingredients
For the Casserole
-1 cup quinoa, uncooked and risnsed
-1 cup vegetable broth (or chicken)
-2 cans black beans, rinsed (15 oz each)
-2 cans diced tomatoes + juices (15 oz each)
-1.5 cups salsa (I used mild)
-1 tablespoon chili powder (for less spicy cut in half)
-1 teaspoon onion powder
-1 teaspoon cayenne (for less spicy cut in half)
-2 large sweet potatoes, diced
For the Chipotle Yogurt Sauce
-1/2 cup Greek yogurt, I used 0% fat plain
-1 teaspoon chipotle powder
-2 teaspoons sriracha
Instructions
For the Casserole
Preheat oven to 350F. Then, spray a large baking dish with nonstick cooking spray and place all ingredients into dish. Mix until everything is evenly combined. Bake, covered with tin-foil, for about 75 minutes or until sweet potatoes are tender and quinoa is cooked (you should be able to tell).
For the Chipotle Yogurt Sauce
Mix together all ingredients until combined.
So awesome that you don't have to precook your quinoa! Saves so much time and mess. Confession- almost every single time I cook quinoa, it overflows 😀 An easy fix would be using a bigger pot.
How spicy do you like your food?