Amp up classic lasagna and pack it full of veggies for a hearty yet healthy dinner recipe that's perfect for Meatless Monday!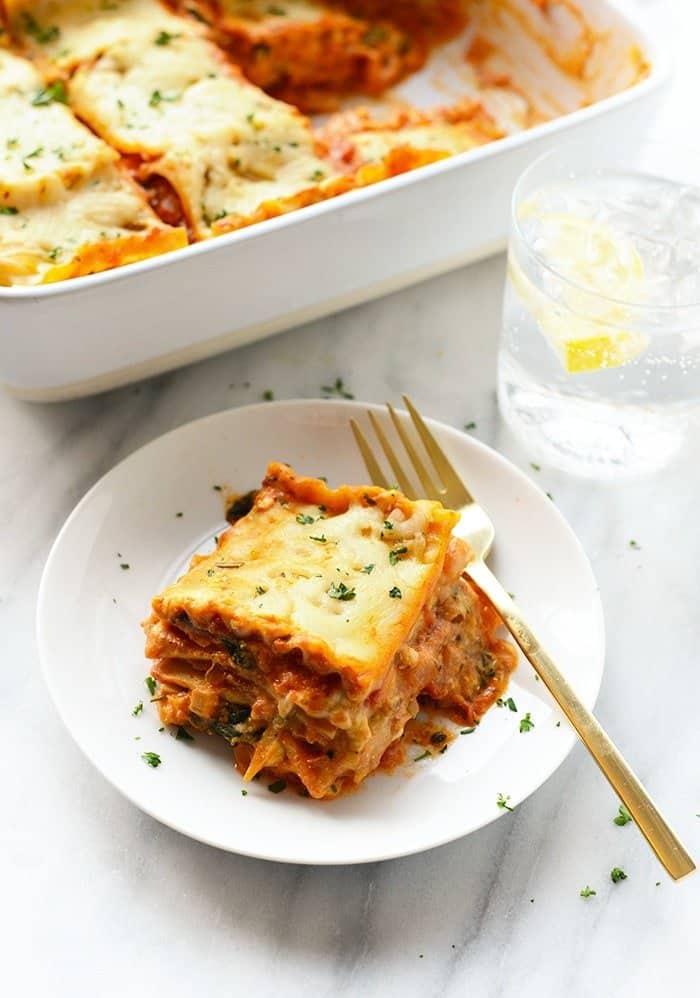 Can I just say that the casserole dish is seriously one of the best inventions EVER. It's just so. perfect. According to Wikipedia, casseroles are a "quintessential dish" in Minnesota. Yah know what…I would have to agree with that statement. I've got at least one casserole cooking up each week in my household.
I know what you're thinking….lasagna isn't a casserole. I'm here to tell you something different.
IT IS A CASSEROLE.
The internet tells me that a casserole is a deep dish meal slow cooked in the oven. It can, but doesn't have to contain meat. Therefore…lasagna = casserole.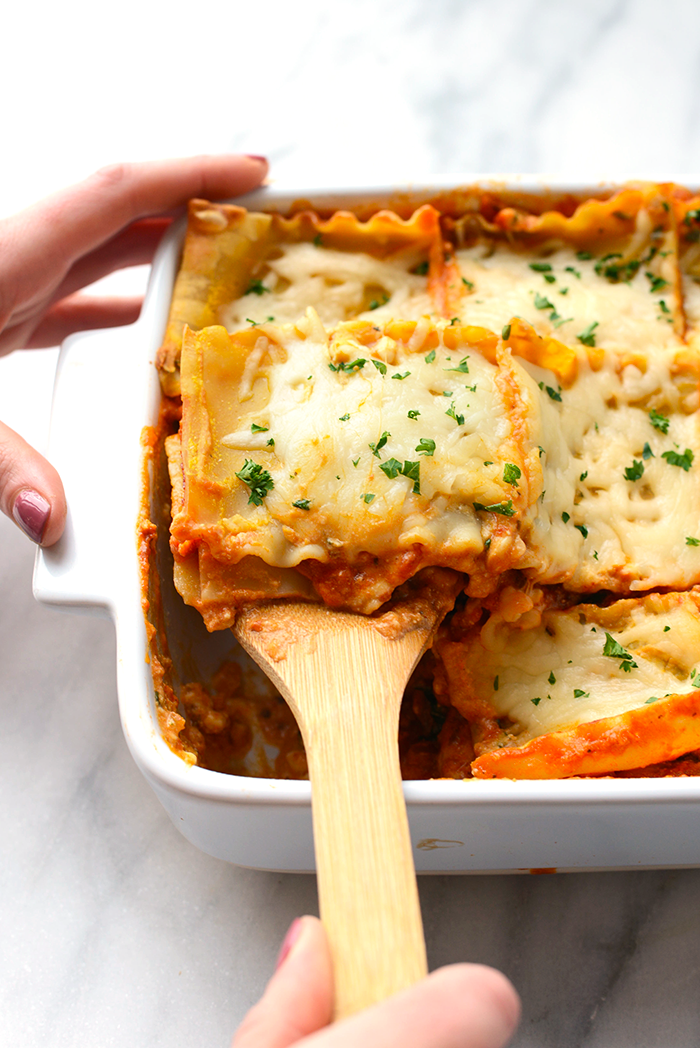 This isn't your average lasagna recipe. Why? It's packed with veggies (4 different kinds!). I amped up the tomato sauce (1) with some onion (2) and sautéed spinach (3) AND added pureed sweet potato (4) to the cheese mixture. Talk about an amazing combo of flavors.
Speaking of flavors, I'm excited to be partnering with Simply Organic today to properly spice this dish! I decided to keep things basic, but classic Italian when it came to the sauce. You really can't go wrong with a little…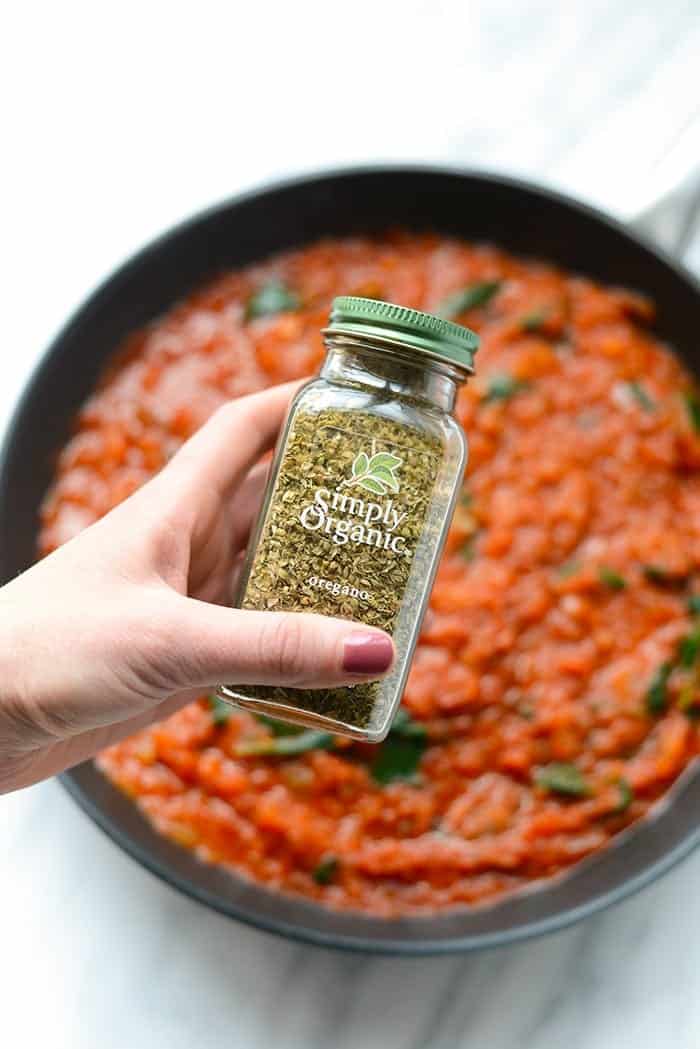 I lightened up the cheese by doing one part whole milk ricotta, one part low-fat cottage cheese, one part sweet potato puree. In case you are wondering- you can find pureed sweet potato at most grocery stores! Just make sure that you look for 100% sweet potato with no added sugar. If you can't find it…feel free to roast/boil your own and then puree in the food processor. Either method works!
How gorgeous is this cheesy sweet potatoey mixture?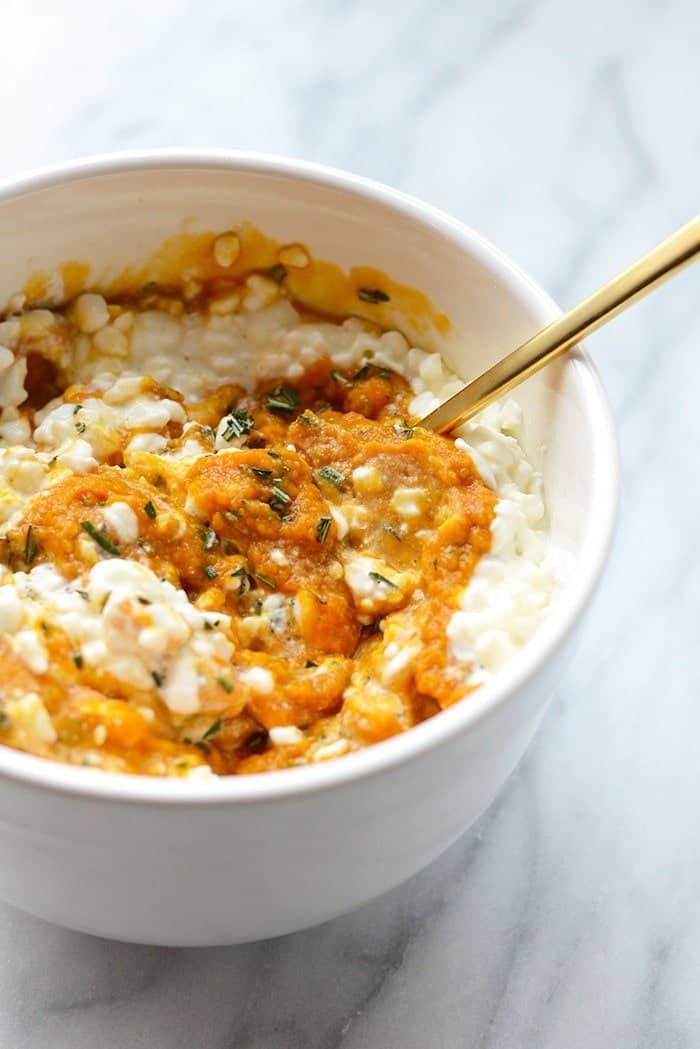 In general lasagna is pretty simple to put together. It looks like this:
noodles
cheese mixture
sauce mixture
REPEAT
You're more than welcome to use your favorite lasagna noodles, original or whole grain. I'm sure they even make gluten-free lasagna noodles these days! I really prefer original because I crave that white flour, glutenous texture…but that's just me!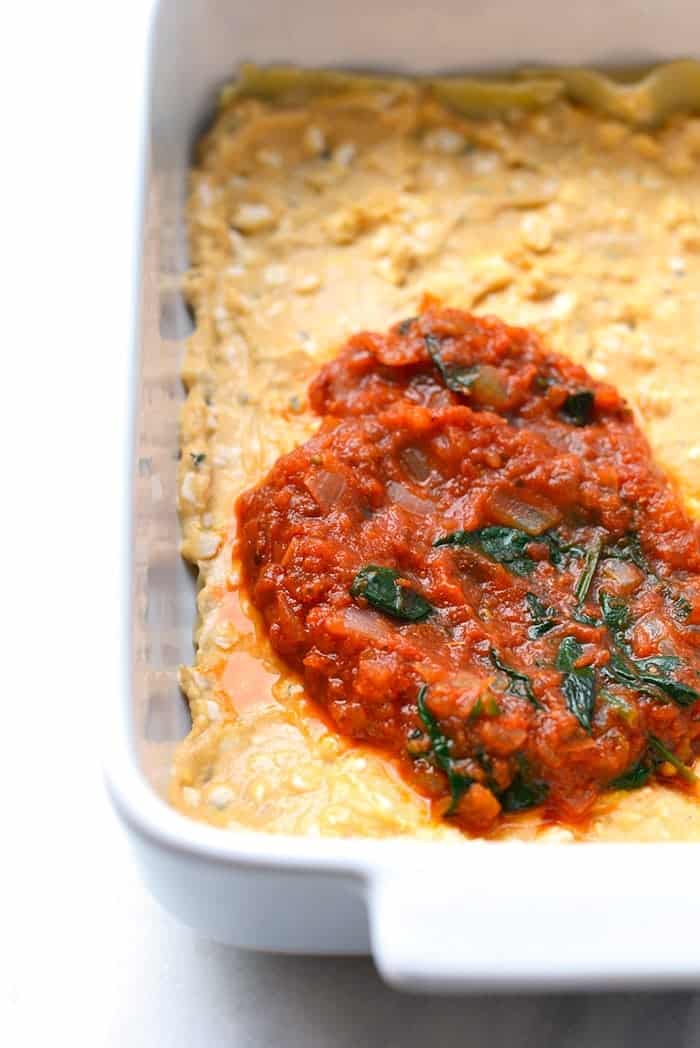 So much yum
No words.
Since everything is pre-cooked and there's no meat involved…all you have to do once everything is layered is pop it in the oven for about 30 minutes. Then it's time to DIG IN.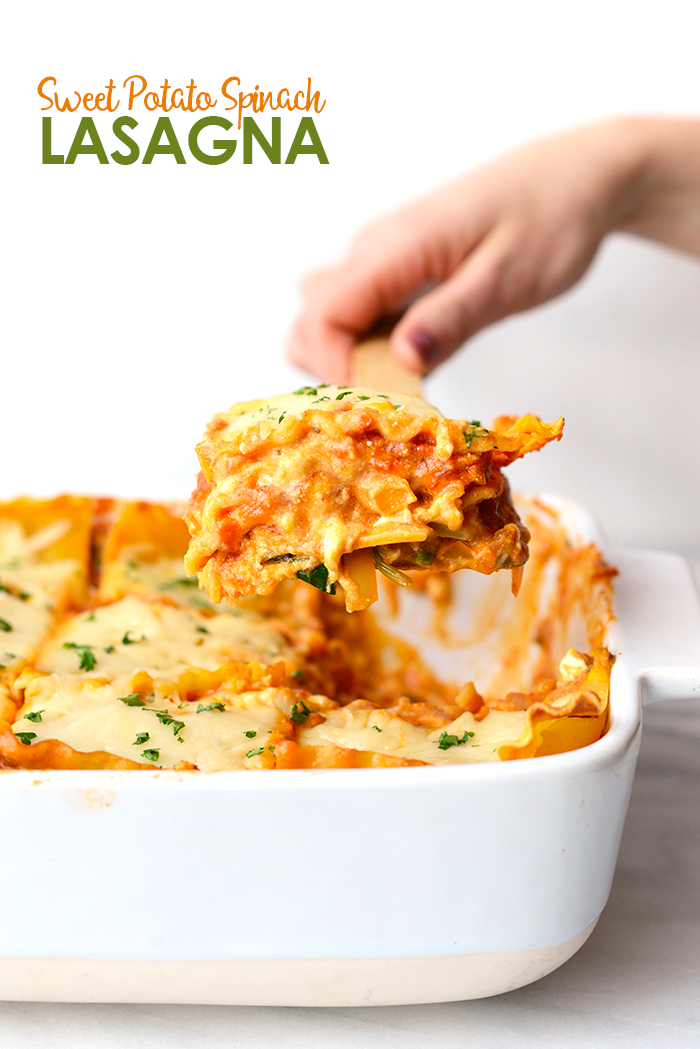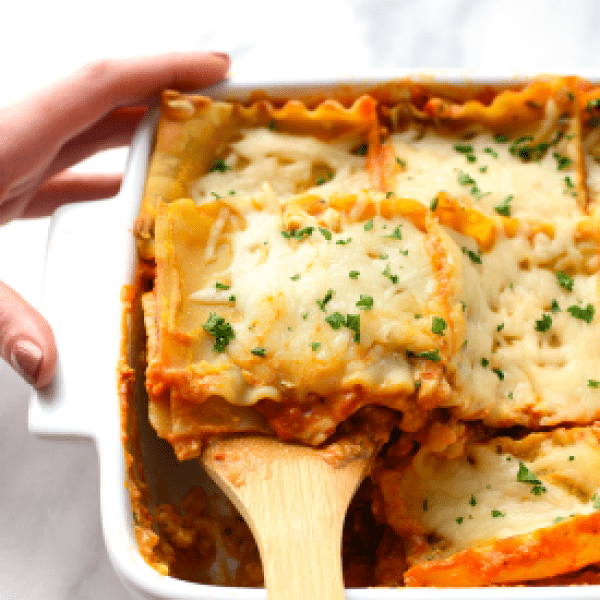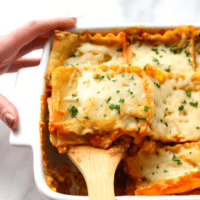 Sweet Potato Spinach Lasagna
Amp up classic lasagna and pack it full of veggies for a hearty yet healthy dinner recipe that's perfect for Meatless Monday!
Prep:
15 minutes
Cook:
35 minutes
Total:
50 minutes
Fat
16
Carbs
44
Protein
19
Ingredients
For the Sweet Potato Cheese
1.5 cups

whole milk ricotta

1.5 cups

low-fat cottage cheese

1

15 oz can sweet potato puree (~

1.5 cups

)

1 tablespoon

fresh rosemary, chopped
For the Sauce
2 tablespoons

olive oil

1

large yellow onion, finely diced

3

large handfuls of spinach

1

24 oz jar organic marinara sauce

1 tablespoon

dried oregano

2 teaspoons

garlic powder
pinch of black pepper
pinch of sea salt
Other
1/2 cup

mozzarella cheese
Instructions
First, preheat oven to 375ºF and spray a baking dish or cake pan with nonstick cooking spray.
Prep 12 lasagna noodles by following the directions on the box. Set aside.
Prep sweet potato cheese by mixing together whole milk ricotta, cottage cheese, sweet potato puree, and rosemary. Set aside.
Prep sauce by heating olive oil in a skillet. Then, add in onion and sauté for about 5 minutes or until almost translucent. Add spinach and sauté for an additional 2ish minutes until it has cooked down. Add marinara sauce and spice and let simmer for 2-3 more minutes on low.
Prepare lasagna dish by layering noodles, cheese, and sauce. You should end with a layer of noodles on the top.
Bake at 375ºF for 25 minutes Then, sprinkle on mozzarella cheese and bake for an additional 5-10 minutes.
Nutrition Facts
Serving Size:
1/8
Calories:
393
Sugar:
13
Sodium:
606
Fat:
16
Carbohydrates:
44
Fiber:
4
Protein:
19

This post is sponsored by Simply Organic. I was compensated and all opinions are my own. Thank you for supporting Fit Foodie Finds!