This vegetarian zucchini lasagna fuses all of the delicious flavors of Italian cooking with a midwestern, healthy twist!
Make this delicious Lasagna Zucchini Casserole for a protein and veggie-filled dinner that's vegetarian and easy to make.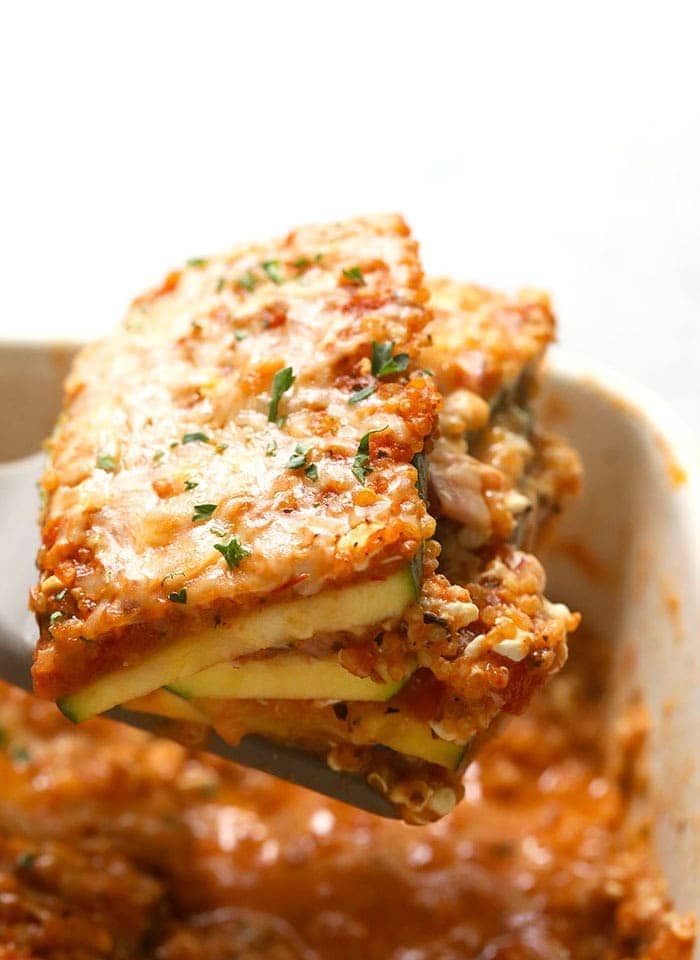 You know when you get SOOOO excited about something that you just have to tell everyone?! That's exactly how I feel about AncestryDNA. We are thrilled to be partnering with Ancestry today to not only chat all things DNA and heritage but lasagna zucchini casserole!
First and foremost, if you've never heard of AncestryDNA, they are a company that helps you uncover your ethnicity and heritage and find relatives and ancestors by a simple at-home saliva test. That's right, in just 6-8 weeks you can trace your lineage back generations to find out where you come from! Talk about a remarkable way to connect to where you come from!
Before the Test
My family has done a pretty good job keeping track of our family history and mapping out our family tree. My mom's side is pretty straightforward because my grandma is 100% Italian and my grandpa is 100% Polish. They are both 1st generation Americans and know down to the town where their parents grew up in Europe.
My dad's genes date back to Eastern Europe and Russia, specifically Hungary, Czech Republic, and Russia. Knowing all of this information, I've always told people that I was a mutt…25% Italian, 25% Polish, 12.5% Russian, 12.5% Hungarian, and 12.5% Czech Republic.
Are you ready for this?!
I was pretty dang close to what I thought my heritage was, but AncestryDNA gave me the accurate answer:
43% Eastern European Jewish: Lithuania, Latvia, Russia (paternal grandfather and paternal grandmother)
28% Europe East: Poland, Czech, Hungary (maternal grandfather, and paternal grandmother)
14% Europe South: Italian/Greece (maternal grandmother)
7% Caucasus: Armenia, Azerbaijan, Georgia, Iran, Iraq, Syria, Turkey (maternal grandmother)
8% Other (all?)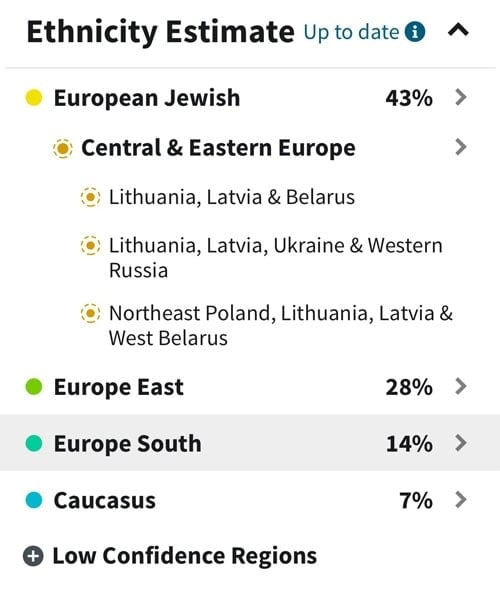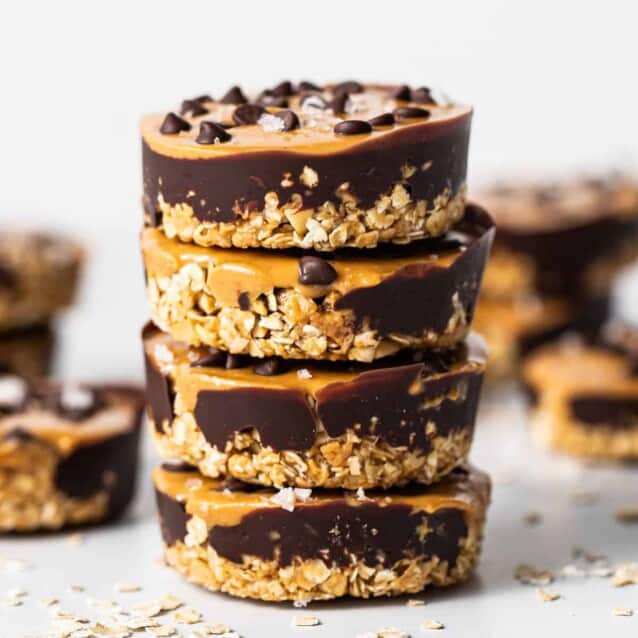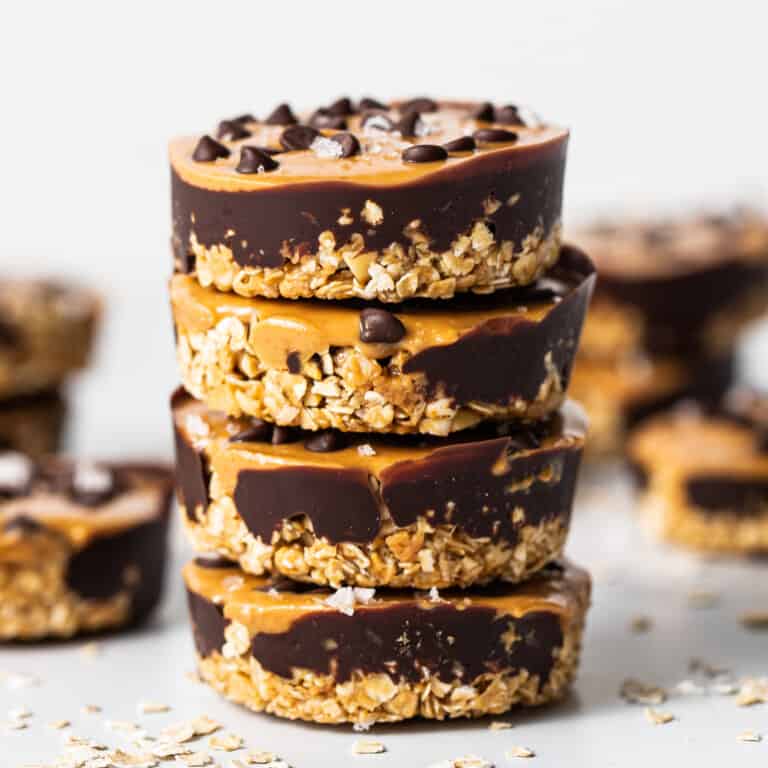 Get our Top 10 5-Star Recipes!
Join our email list for new recipes and BONUS: get our top 10 ⭐️⭐️⭐️⭐️⭐️ recipes e-book!
Everything in my DNA results makes so much sense other than the Caucasus. I guess even that makes sense because of the proximity to Italy. Because I did this test, I've done so much more research on my family history, and now all I want is the rest of my family to take this test! It will be so interesting to see how the percentages vary between my siblings and myself. Speaking of…
From now until August 20th, AncestryDNA is 40% off (excludes taxes and shipping). If you ask me, this is the best gift you can give a loved one! I'll for sure be buying a whole handful for my entire family so that we can start building our family tree inside the app!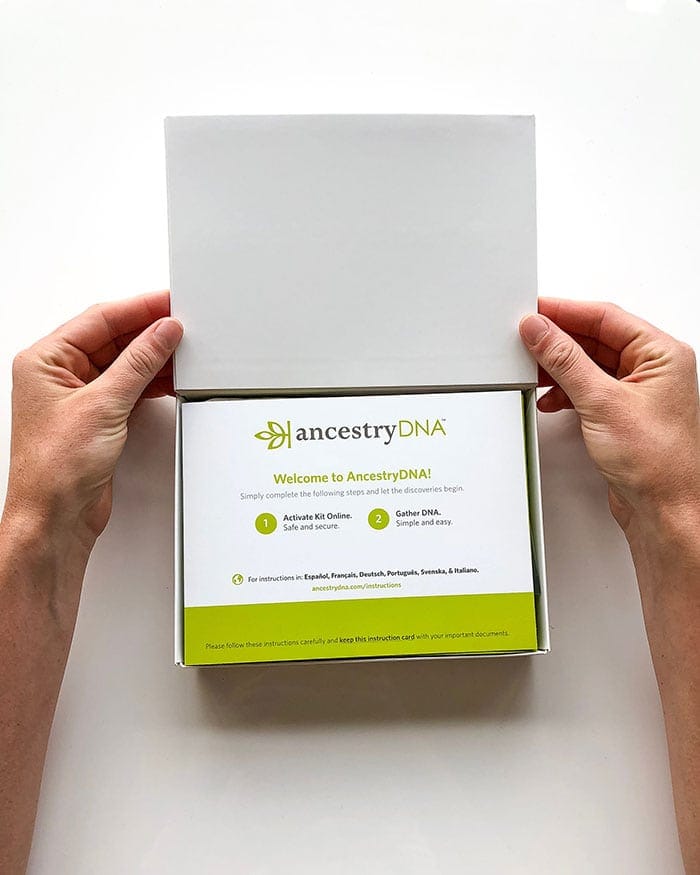 We love Zucchini Lasagna!
So how did I come up with Zucchini Lasagna recipe? Well, I've always LOVED my grandma's Italian cooking, so I thought we'd fuse together some Grandma Marie flavors with a midwestern twist…hence the casserole! Plus, it's zucchini season and if you have a garden, those things be growin' wild right now!
This healthy zucchini casserole is such a fun, wholesome twist on lasagna. Did I mention that it's vegetarian and made with quinoa? No noodles, no meat…but a lot of cheese! Girl, don't skimp on the cheese! What you need for this zucchini casserole recipe is quite simple:
Healthy Ingredients
zucchinis
marinara sauce
vegetable broth
quinoa
Italian seasoning
cottage cheese
mozzarella cheese
parmesan cheese
Sometimes the best things in life are simple, yet full of flavor…and heritage! I can't wait to make this delicious zucchini lasagna for my family…especially Grandma Marie so that she can get a taste of our Italian heritage with my midwestern cooking!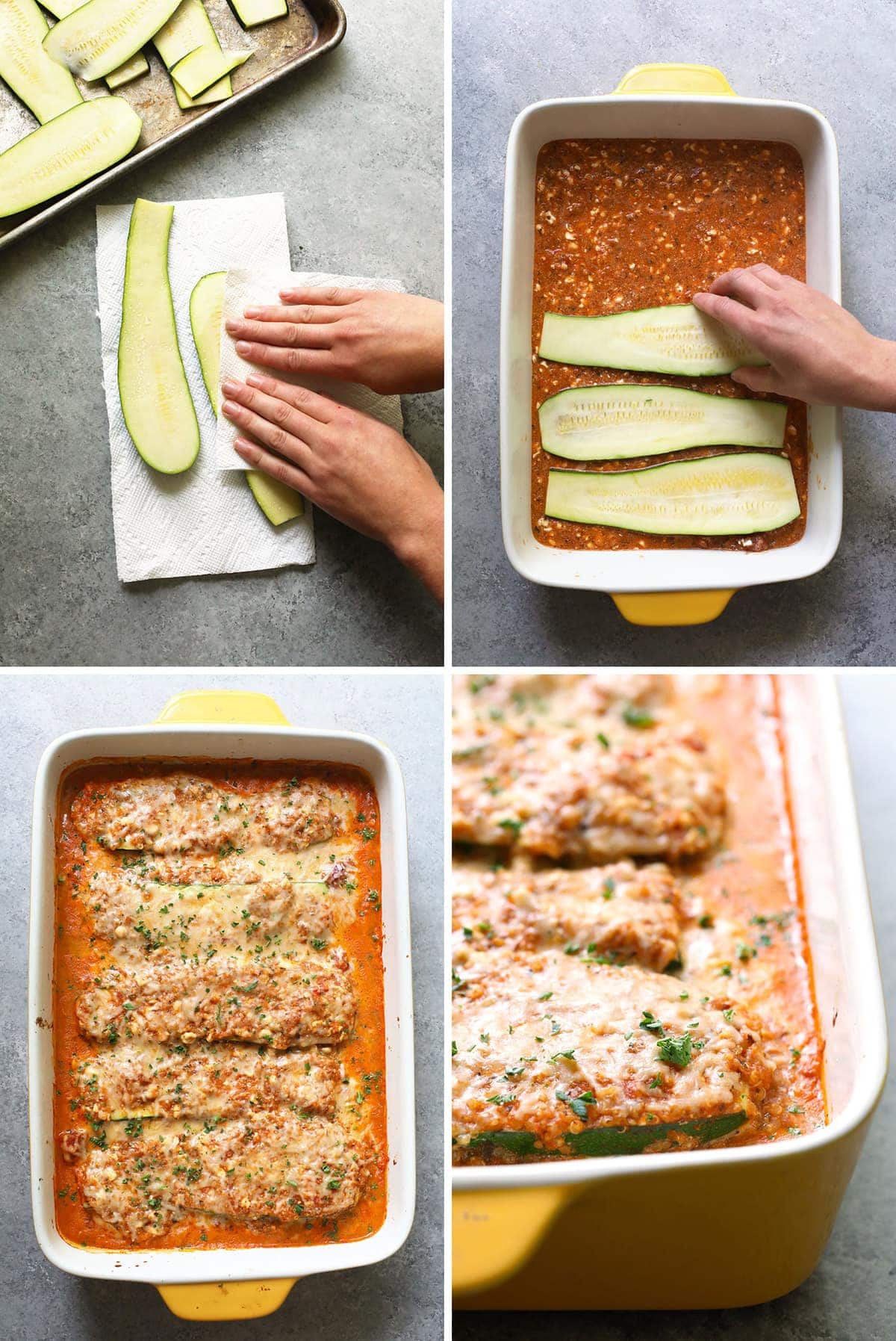 More Healthy Casseroles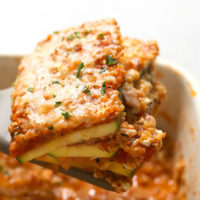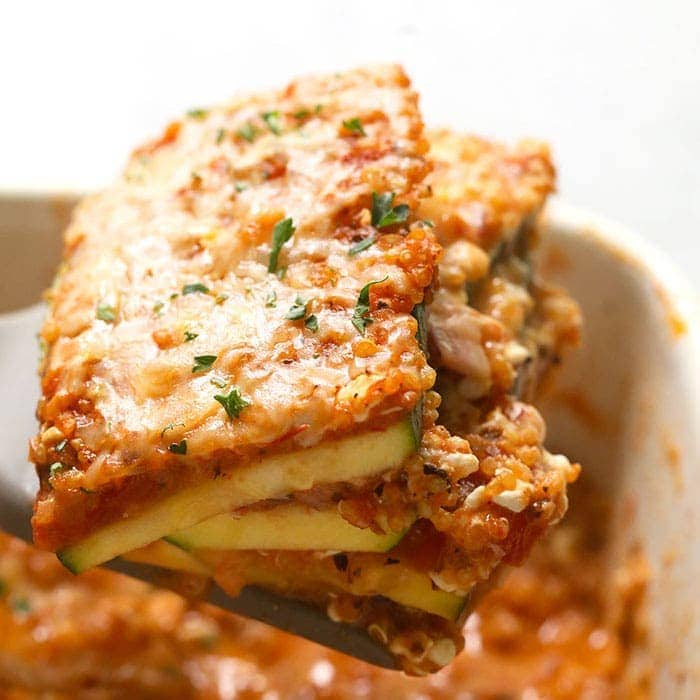 Zucchini Lasagna with Quinoa
This vegetarian zucchini lasagna fuses all of the delicious flavors of Italian cooking with a midwestern, healthy twist!
Ingredients
3

large zucchinis

24

oz.

jar marinara sauce

2.5 cups

2

cups

vegetable broth

or water

1

cup

uncooked quinoa

1

tablespoon

Italian seasoning

1/2

medium yellow onion

diced (any kind will work)

1.5

cups

4% cottage cheese

2

cups

shredded mozzarella cheese

1/3

cup

shredded parmesan cheese

fresh parsley

for topping
Instructions
Preheat oven to 400ºF and spray a casserole dish with nonstick cooking spray.

Slice zucchinis (the long way) into very thin strips. You should need 15 total strips. Lay zucchini onto a baking sheet and sprinkle with salt to draw out moisture. Set aside.

Next place marinara, broth, quinoa, and Italian seasoning into a large saucepan. Bring to boil, then turn heat to low, cover, and let simmer for 15 minutes.

Remove sauce from heat. Add cottage cheese and onion to the sauce and mix well.

Pat zucchini with a paper towel to absorb as much moisture as possible and then start to build your lasagna.

Pour a cup of sauce on the bottom of the pan for the first layer. Then, lay zucchini strips side by side on top of the sauce. We did 5 strips per layer. Add another cup of sauce and sprinkle 1/2 cup of mozzarella cheese over the sauce. Repeat two more times, creating 3 layers.

Top the whole lasagna with 1/3 cup of parmesan cheese and place in the oven. Bake for 20 minutes at 400ºF.

Remove from oven and let sit for 15-20 minutes*. Sprinkle with fresh parsley before serving.
Tips & Notes
When you first take the lasagna out of the oven, it will look very soupy, let it sit for 15 to 20 minutes to firm up!
Nutrition facts
Serving:
1
/6
Calories:
366
kcal
Carbohydrates:
32
g
Protein:
24
g
Fat:
16
g
Fiber:
5
g
Sugar:
6
g
More Ways to Use Zucchini
This recipe is sponsored by Ancestry. I was compensated and all opinions are my own. Thank you for supporting Fit Foodie Finds and making this website possible!