Do you have a bunch of zucchinis you have to use? Make yourself a loaf of healthy zucchini bread made with 100% whole grains and no butter! This zucchini bread is perfect for an easy breakfast or an easy snack in the afternoon!
If you love healthy bread recipes like this healthy zucchini bread, try some of our healthy banana bread recipes! We love this vegan banana bread, this chocolate chocolate chip banana bread, or this blueberry banana bread. You can't go wrong with any of these delicious loaves!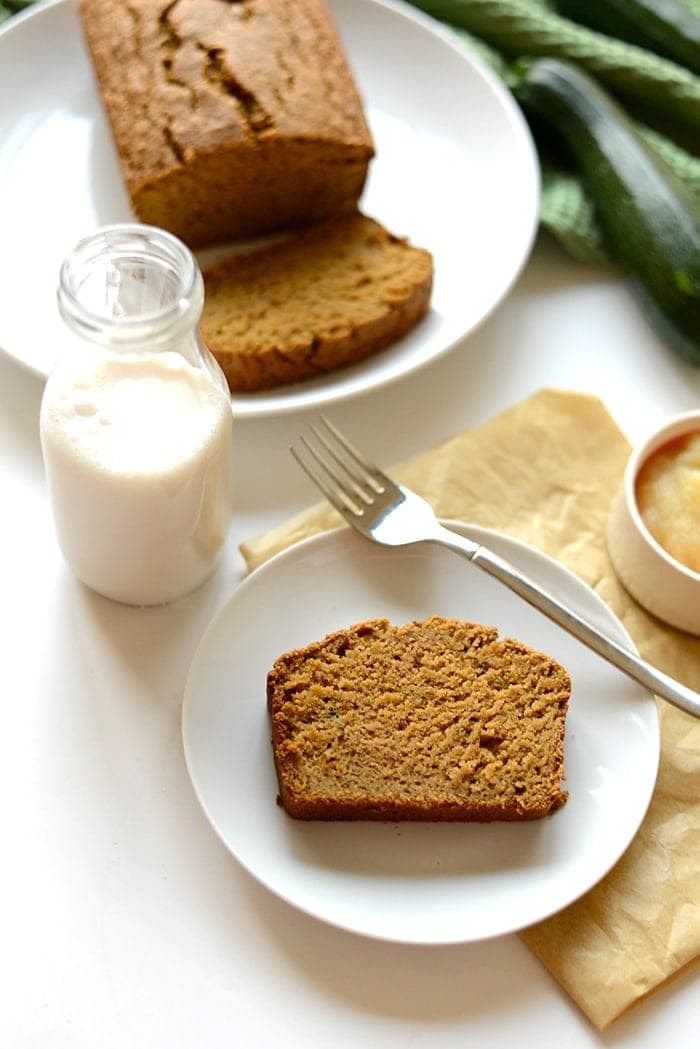 Healthy Snacking
Anyone else crave a giant cup of coffee and carbs come 2PM? It's like clockwork…every. single. day. Sometimes an energy ball just doesn't do the trick (did I just say that?) and I want something a little bit more hearty like a slice of bread!
Guess what, that's OK! Sometimes snacking gets a bad rap. I understand that you don't want to munch on food all day and night, but the answer isn't as simple as "snacking is bad". Everyone is different and if you're hungry during the day, your body is trying to tell you something.
It all boils down to intuitive eating. We talk a lot about intuitive eating in this post. As women, we are bombarded with what to do and what not to do every day when it comes to food. Intuitive eating is when you listen to your body rather than anyone else. You really get to know your body and what it needs. People, IT WORKS.
Part of my journey with intuitive eating involved healthy snacking. and figuring out what that meant to me. It means when 2:00 pm rolls around, I have a slice of healthy zucchini bread because I'm hungry!
As a kid, I wouldn't touch zucchini bread because of veggies + sweet = not possible. FALSE. I finally tried my mom's zucchini bread because she added chocolate chips and fell in love! This healthy zucchini bread recipe is a healthy twist on a classic!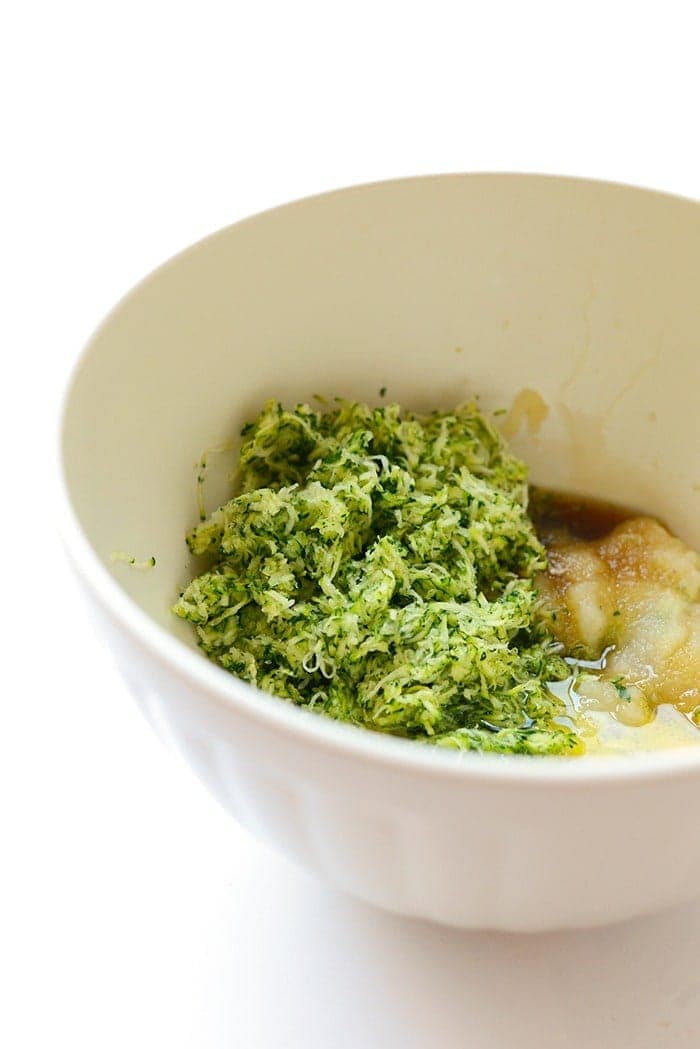 Adding Vegetables to Baked Goods
Now that I'm a big girl I have absolutely no problem with eating recipes with vegetables! Actually, one of our favorite things to do on FFF is sneak vegetables into recipes to give them an extra boost of the good stuff. Other great veggie-packed recipes are;
There is just something about knowing there is an extra serving of veggies in a muffin or a pancake that you've made. It's also a great way to use up vegetables that may go to waste! It's easy to freeze canned pumpkin or boiled beets for later and it's also super easy to freeze shredded zucchini from the garden!
How to Freeze Zucchini
Freezing zucchini is as easy as 1-2-3. If you have a plethora of zucchini from the garden or if zucchini is on sale at the grocery store freeze it for later!
All you have to do is wash the zucchini and shred it with a cheese grater. What grate you use depends on what you'd like to use it for. I use the smallest grate for zucchini bread. Grate the zucchini into a bowl.
Next, place zucchini in the middle of a tea towel or an in-between double ply paper towel and squeeze the water out of the zucchini.
Finally, place zucchini in a freezer safe container or bag. Label the container with the date and place in the freezer and leave the zucchini in the freezer for between 3-6 months.
When you are ready to use the zucchini, remove from the freezer, let it thaw, and repeat the process of squeezing access water out of the zucchini. Just like that your zucchini is ready for this healthy zucchini bread!
Zucchini Bread is the Best
In this zucchini bread recipe, I really wanted to focus on using as many whole ingredients as possible. Let's check out the lineup.
Apple Sauce
Zucchini
Almond Milk
I decided to ditch the processed sugar and naturally sweetened this zucchini bread with apple sauce and maple syrup. Feel free to use coconut sugar, agave syrup, or honey, too! Also, if you're not a fan of apple sauce, substitute the apple sauce with pureed banana. Both are delicious! I just love the warm flavor that maple syrup gives baked goods.
All you have to do is mix all of the ingredients for this delicious zucchini bread together, grease a loaf pan, and bake the bread for 50-60 minutes. Every oven is different, so if the top of your zucchini bread is browned and the middle isn't quite done, place a piece of tin foil over the top for the duration of the bake time!
Remove from the oven and let cool before you remove it from the pan and enjoy!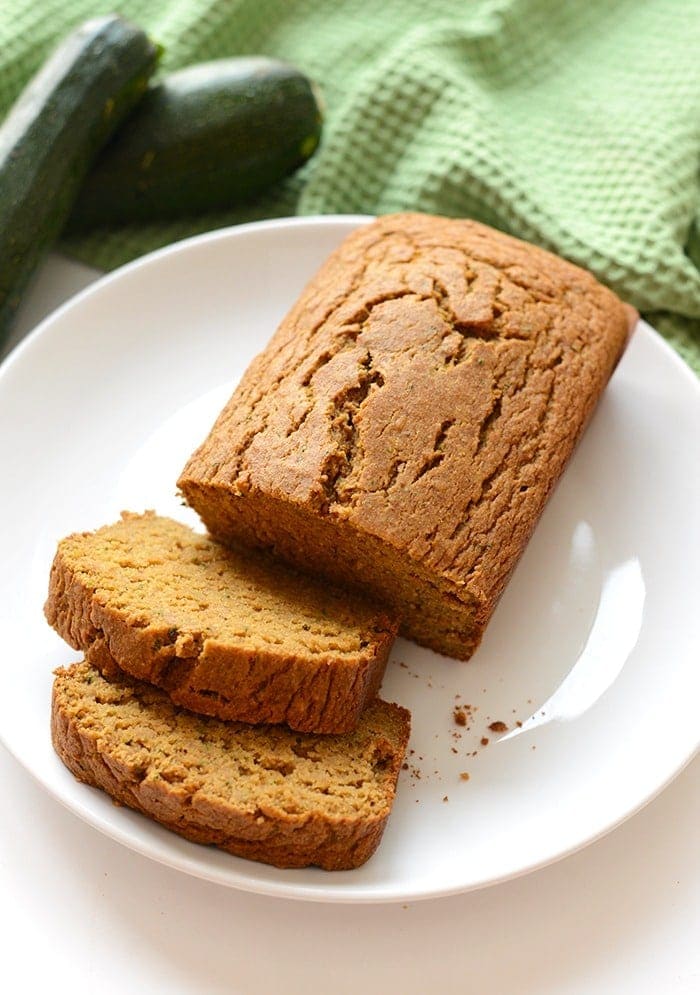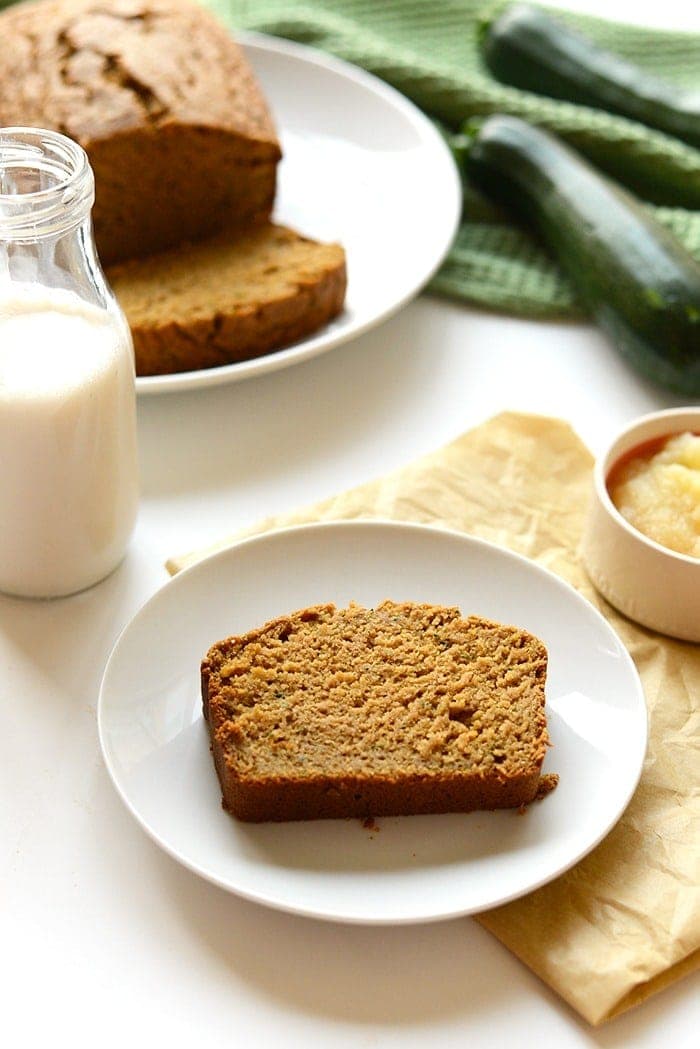 Healthy Zucchini Recipes
Whole Wheat Zucchini Chocolate Chunk Waffles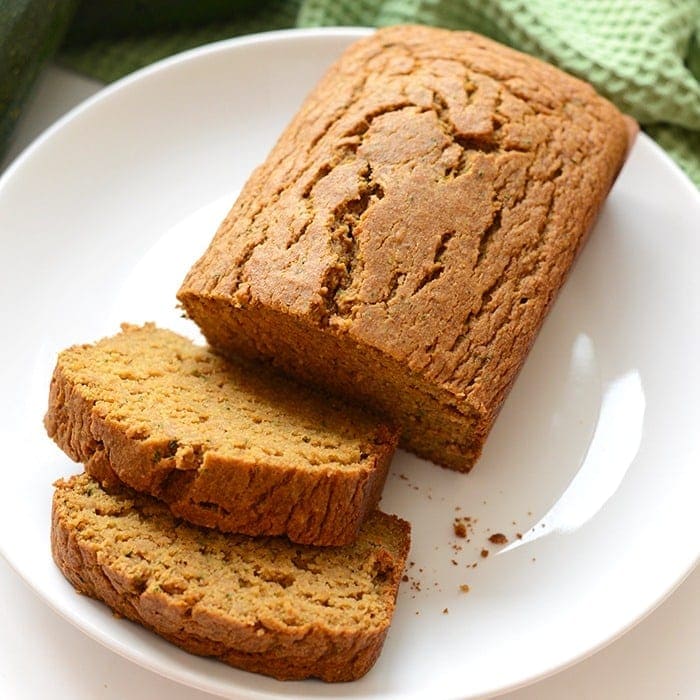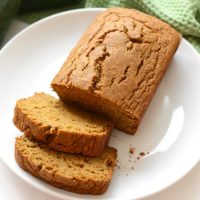 Zucchini Bread Recipe
Do you have a bunch of zucchinis you have to use? Make yourself a loaf of healthy zucchini bread made with 100% whole grains and no butter! This zucchini bread is perfect for an easy breakfast or an easy snack in the afternoon!
Prep:
15 minutes
Cook:
60 minutes
Total:
1 hour 15 minutes
Ingredients
Dry
1 cup

shredded zucchini, unpacked*

1.5 cups

white whole wheat flour

1/2 cup

coconut sugar

1/2 teaspoon

baking soda

1/2 teaspoon

baking powder

1/8 teaspoon

salt

1/2 teaspoon

ground cinnamon
Wet
1/3 cup

unsweetened apple sauce

1 teaspoon

vanilla extract

3 tablespoons

maple syrup

1

large egg, whisked

1.25 cups

unsweetened almond milk

1/4 cup

melted coconut oil
Instructions
First, preheat oven to 350ºF and spray a bread pan with coconut oil cooking spray. Set aside.
Next, place dry ingredients in a medium size bowl and mix until combined.
Prep zucchini by using a small cheese grater to shred it. Then, place shredded zucchini into your palms and squeeze as much water out as possible. You will have to do this multiple times as zucchini has lots of water in it!
Place wet ingredients in a large bowl and mix until combined. Then, slowly add dry ingredients to wet and mix until your batter is completely combined.
Pour batter into bread tin and bake at 350 for 50-60 minutes or until a toothpick comes out clean.
Tips & Notes
*Make sure you squeeze as much water out of the zucchini as possible! You can either squeeze it in your palm or use a cheesecloth or paper towel.
Nutrition Facts
Serving Size:
1/8
Calories:
222
Sugar:
18
Sodium:
734
Fat:
8
Carbohydrates:
33
Fiber:
2
Protein:
4
Category:
Snack
Method:
Oven
Cuisine:
American
Keywords: zucchini bread recipe