This Garden Veggie Scramble with Breakfast Sausage and Baked Eggs is protein-packed, flavorful, and a perfect dish to feed the entire family!
And that moment…..when you charge your camera battery and pack up your camera up for a vacation (camping) only to realize days later that you left your camera on and the battery ran out.
#worstdayever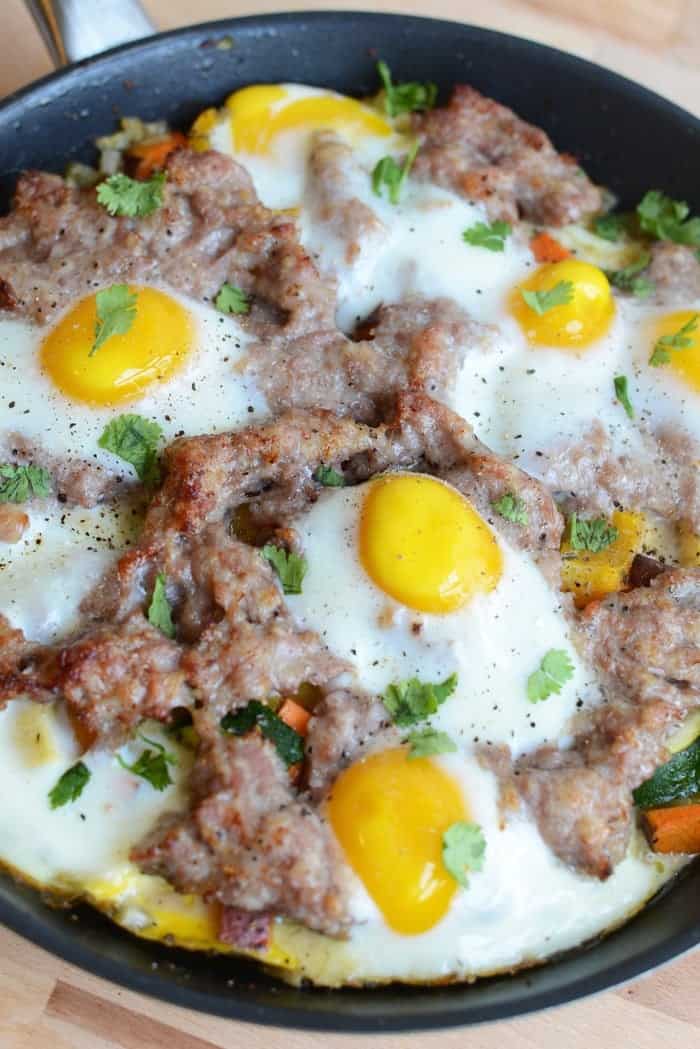 Thus 2 whole photos were taken all trip and then my camera stopped working.
#FAIL #FAIL #FAIL
I think that means I should order a spare battery so this doesn't happen again. Orrrr I'll wait until it happens 2 more times and then finally splurge?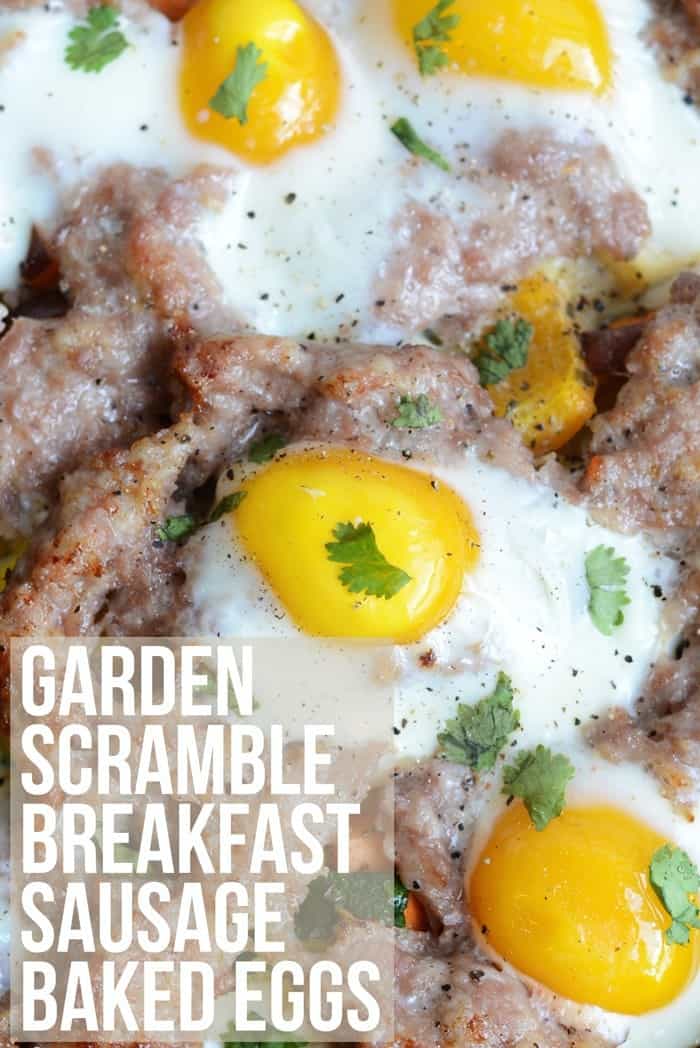 The reason I share this terrible, terrible story is because the photos I did get while camping were of our Garden Scramble with Breakfast Sausage. It's what inspired me to make this recipe in my own kitchen in the first place!
2 weeks ago Blake and I headed to Gooseberry Falls National Park in Northern Minnesota with our good friends Abbie and Jeff and their two little rascals Charlie and Kara. Blake and I are sort of amateur campers; I used to go when I was a kid and so did Blake, but it's been years since either of us have gone and we really don't have any gear at all. Thankfully Jeff and Abbie brought the motherload of camping gear, including a sweet camping stove. Which is legitimately the best thing ever.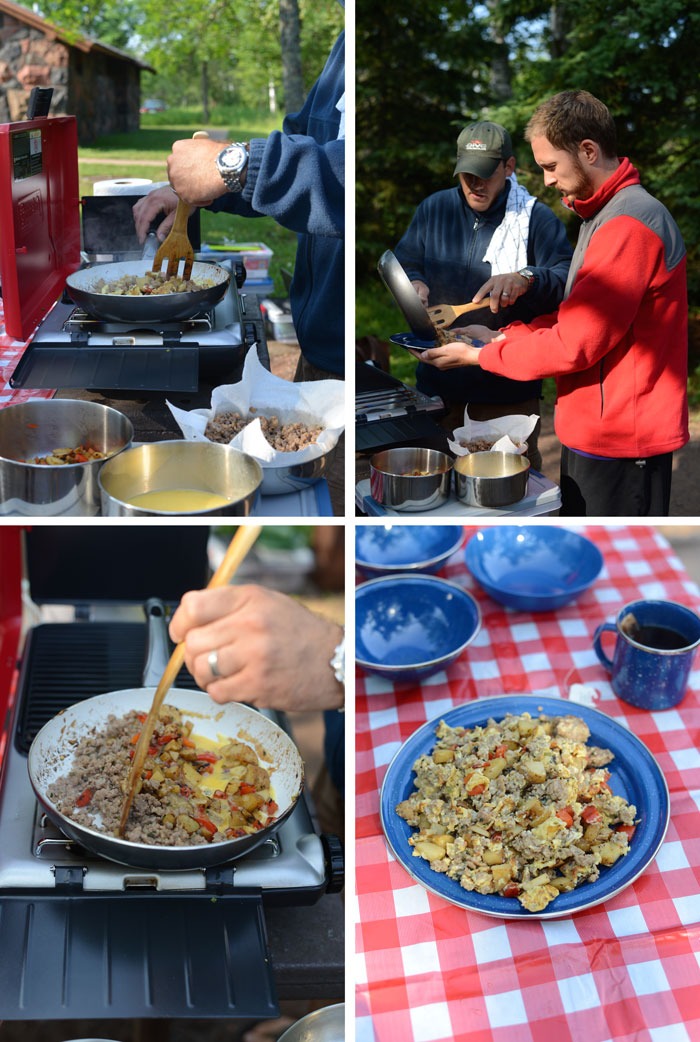 We put the guys in charge of this particular breakfast. Tasted so much better than it looks :D
Which is part of the reason I kept the eggs whole instead of scrambling. I just haven't nailed down how to make scrambled eggs look appealing. Baked eggs it is!
Recipe
Garden Veggie Scramble with Breakfast Sausage and Baked Eggs
This Garden Veggie Scramble with Breakfast Sausage and Baked Eggs is protein-packed, flavorful, and a perfect dish to feed the entire family!
Prep Time:

15 minutes

Cook Time:

40 minutes

Total Time:

55 minutes
Ingredients
1

pepper (any color)

2

medium sweet potatoes, yams, or potatoes

1

medium zucchini

1/2

yellow onion

1

pound breakfast sausage or Italian Sausage

6

–

8

eggs, large

1

–

2

tablespoons EVOO

1 tablespoon

minced garlic

1 teaspoon

basil

1 teaspoon

parsley
salt and pepper to taste
Instructions
First, preheat oven to 350ºF and prep veggies.
In a large oven safe sauce pan, heat 1-2 tablespoons of EVOO. Then spoon on a tablespoon of minced garlic. Next, add in sweet potatoes, onion, and pepper. Sauté for about 5 minutes. Then, add in zuchinni, season with spices, and sauté for 3-5 more minutes (making sure not to cook all the way!).
Remove from heat. Take chunks of sausage and evenly spread on top of veggies. Place in oven and bake for 15 minutes.
Remove from oven, crack eggs on top of sausage and season with salt and pepper. Bake for an additional 25 minutes or until the eggs are at the preferred consistency.
Nutrition
Serving Size:

1/6

Calories:

369

Sugar:

4

Sodium:

913

Fat:

25

Carbohydrates:

15

Fiber:

2

Protein:

19
Similar
Feel free to add whatever kind of veggies your little heart desires. Especially if you have certain ones in your garden that you need to use up.
One day I will have this problem. For now- I'll have to rely on what's in season :D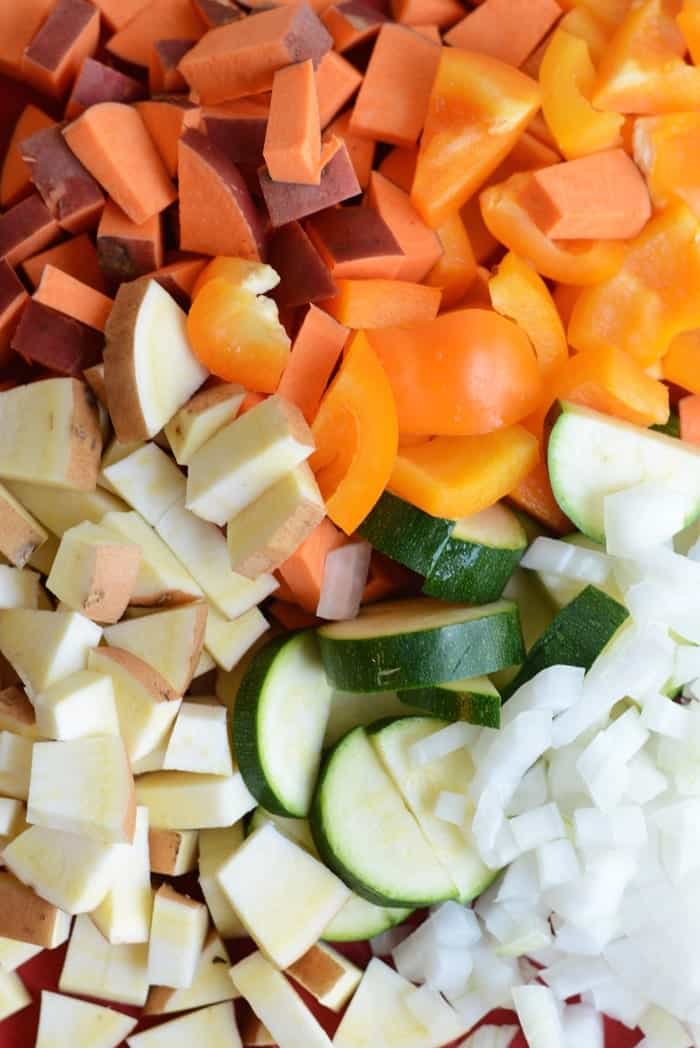 This was totally one of those meals that tasted better the second and third time consumed.
Bake eggs. I could eat you all day errrrry day!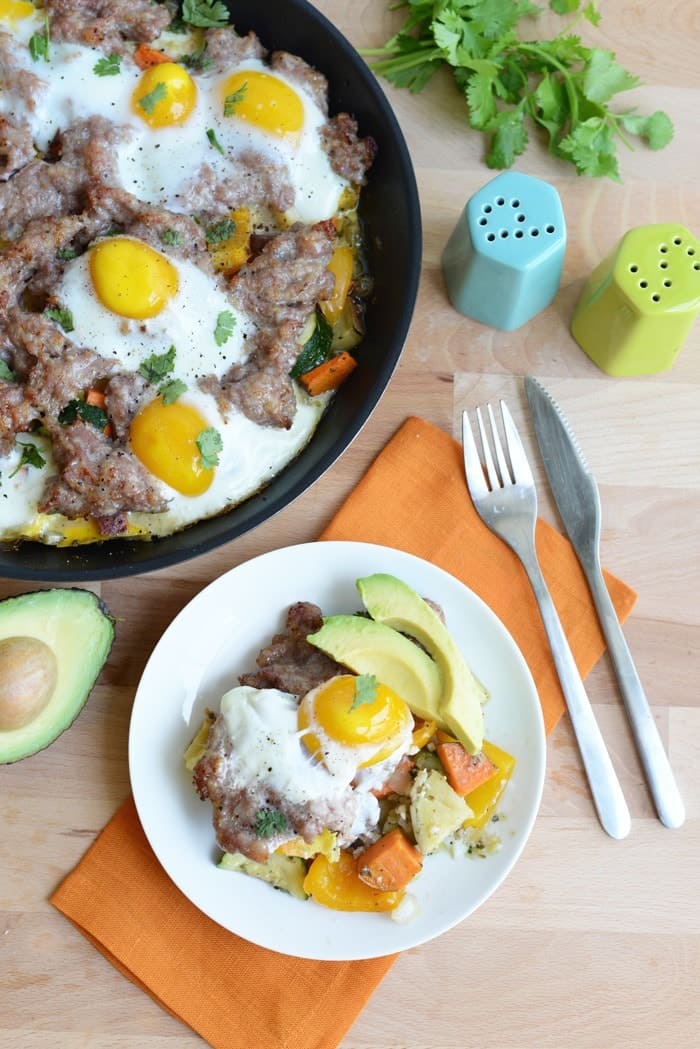 Do you have a garden?
Do you have any camera horror stories?