You read that correctly, HEALTHY Philly Cheese Steak Meal Prep Bowls! If you're craving red meat and tons of veggies, this balanced dinner meal prep recipe is for you.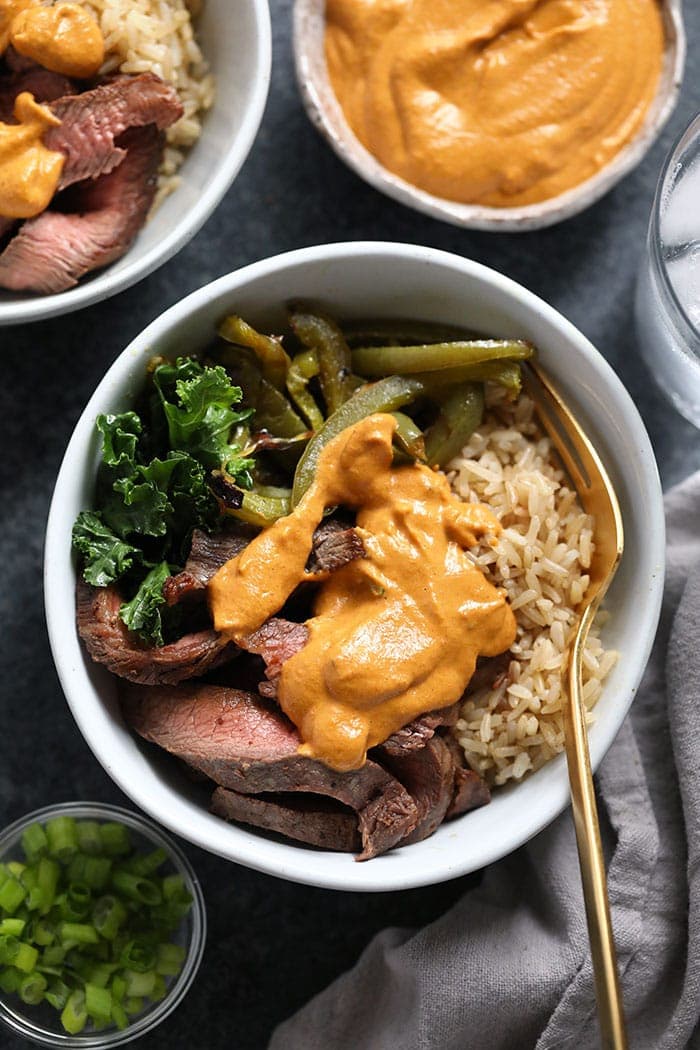 Winter is well on its way and you know what that means? It's time to transition from the grill to all things cast iron skillet. Using a cast iron skillet instead of the grill is my favorite method during the colder months because you still get that rustic flavor and a little bit of char…and all without going outside! Girl, you know I don't want to freeze my bum off in that harsh Minnesota winter just to eat some steak 😛 Don't have a cast iron skillet? Don't worry! They're not that expensive and you can get one for under $20.
Obviously, today's healthy Philly cheese steak recipe is made with that glorious cast iron skillet steak. For this recipe, we used flank steak because it cooks quickly and is rather inexpensive. Win-win. Making cast iron steak is very simple and doesn't take that much time or require a lot of ingredients at all. Check out my tips–
Cast Iron Skillet Steak Tips
High Heat – in order to get perfectly cooked steak on your cast iron skillet, you'll want to make sure that you have your burner set to high.
Oil – Make sure that your oil is fully heated up and fragrant before you put your steak on the pan! This will allow for a delicious medium rare cook.
Don't Over Cook – There's nothing worse than overcooked steak. Your flank steak only needs a few minutes on each side.
Seasonings – keep it simple with salt and pepper!
Once you've got your steak seared, let it rest for a few minutes before slicing. Patience is bliss.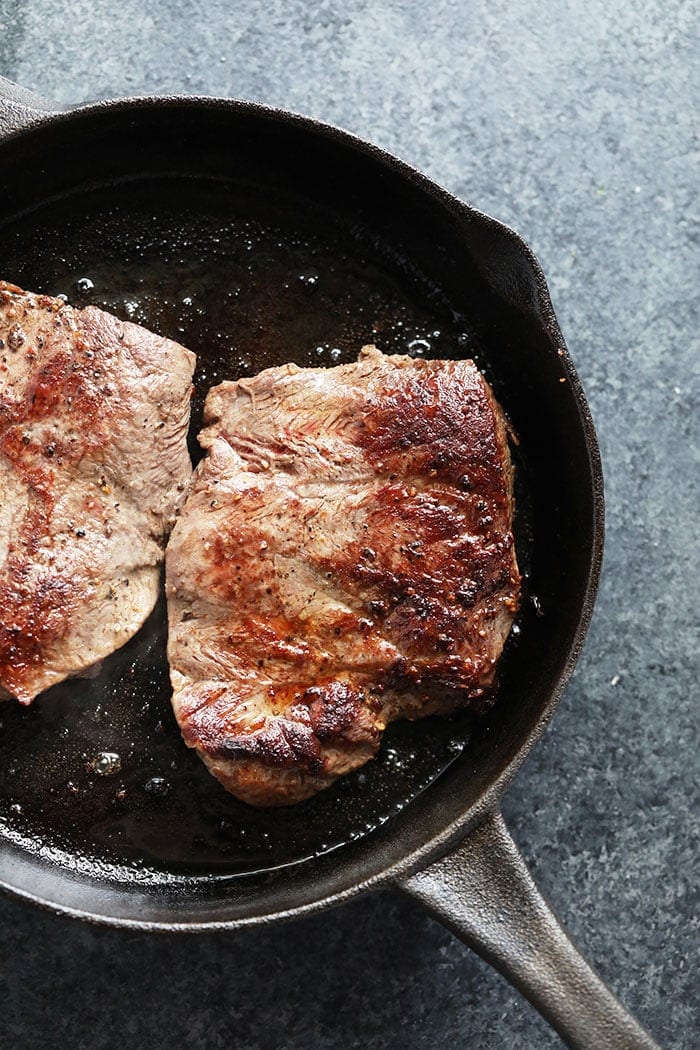 Okay, so now that we've got the main protein out of the way, what else do you need for this delicious dinner meal prep recipe?
Peppers and onions – keep it simple with green peppers and onions.
brown rice – any grain works!
Kale salad – gotta add in those greens!
Queso – we used our vegan queso because it's the best things on this planet, but any kind of queso works!
I love how simple all of the flavors are in this meal, and that it's so balanced! You get your whole grain, veggies, lean protein, and healthy fats all in one meal. If you do ONE thing in this recipe, it's making our vegan queso as the "cheese" part of this recipe. Yes, it's a little bit of work, but I promise you it adds SO MUCH FLAVOR and is so much better for you! It's cashew-based and made with roasted veggies, nutritional yeast, and lots of spices. Just do it and thank me later.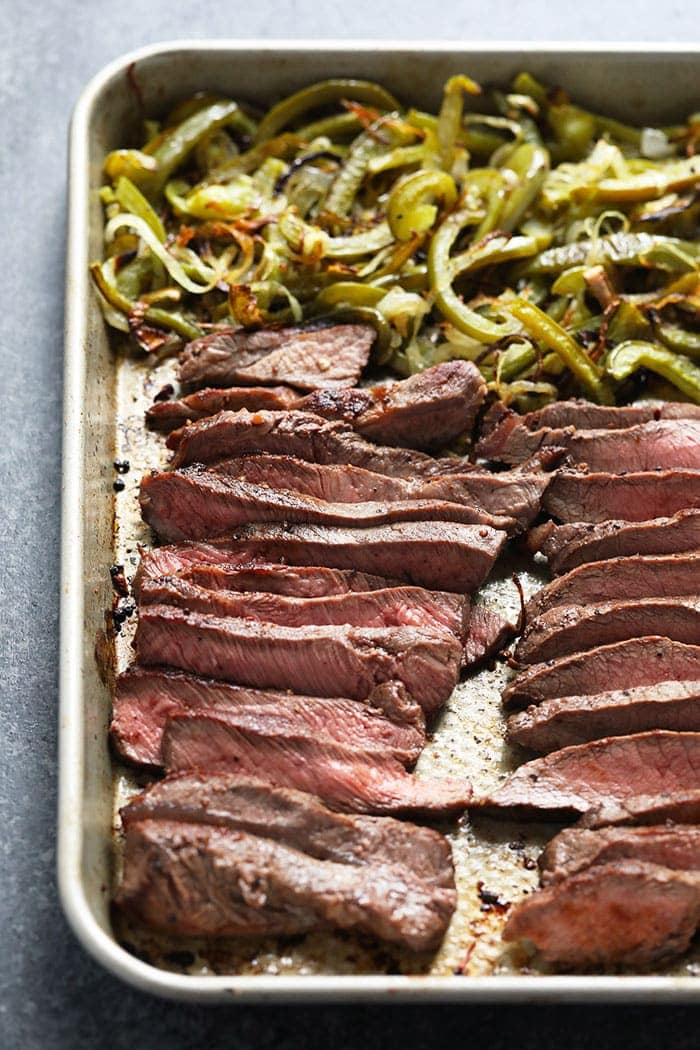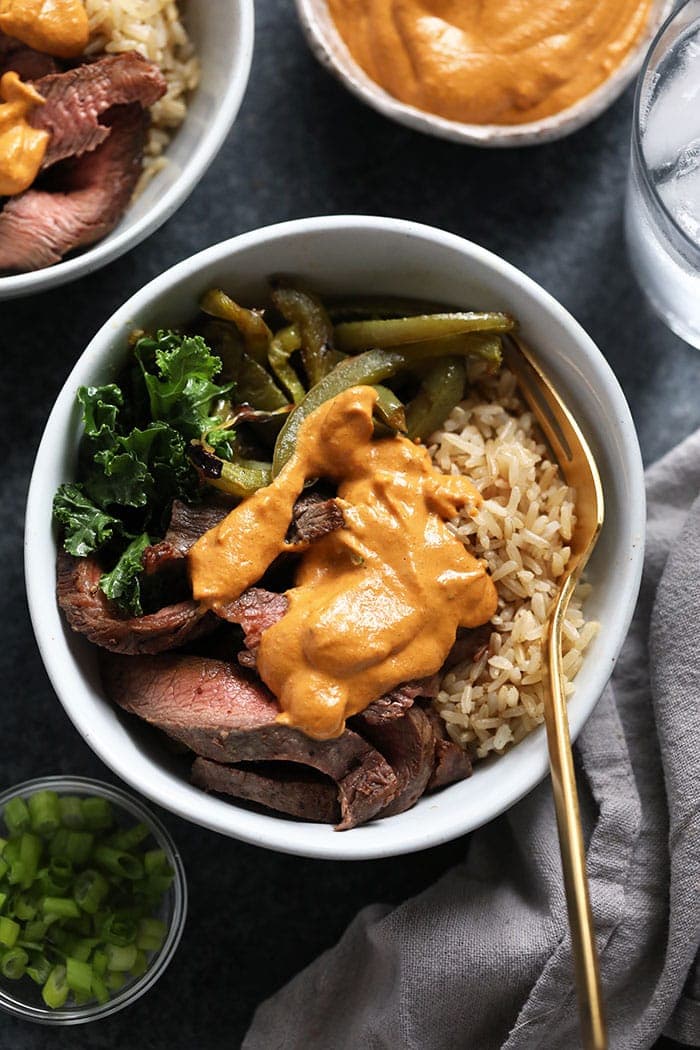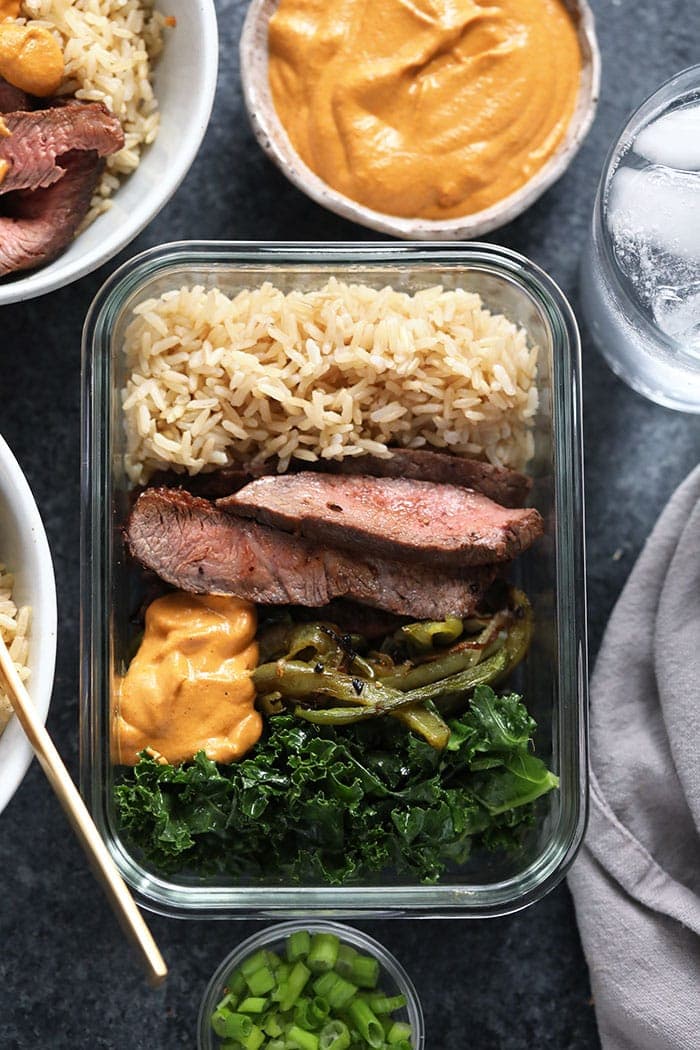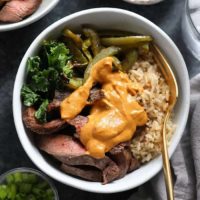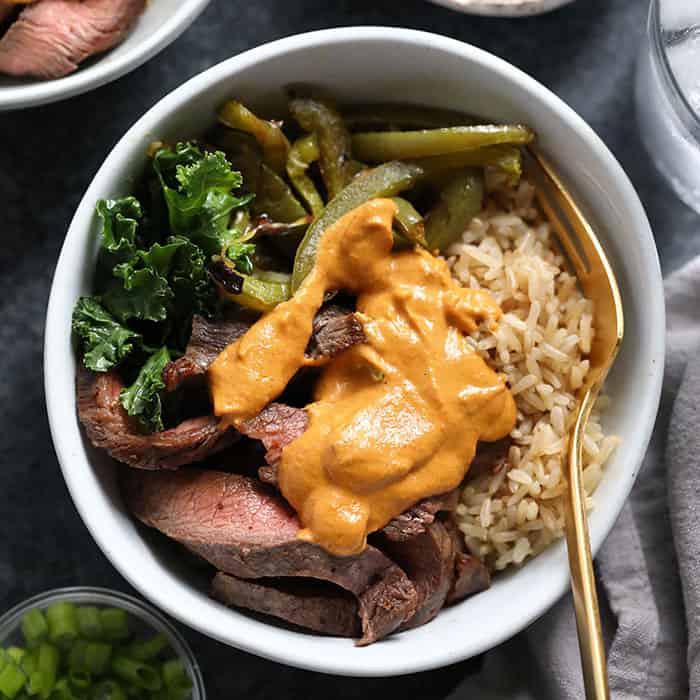 Philly Cheese Steak Bowls
You read that correctly, HEALTHY Philly Cheese Steak Bowls! If you're craving red meat and tons of veggies, this balanced dinner meal prep recipe is for you.
Ingredients
For the steak
1.5

lb.

flank steak

salt and pepper

to taste

1.5

tablespoons

olive oil
For the peppers and onions
3

large green peppers

thinly sliced

1

large yellow onion

thinly sliced

2

tablespoons

olive oil

salt and pepper

to taste
For the brown rice
1

cup

long grain brown rice

2

cups

water
Massaged Kale
4

cups

kale

de-boned and chopped

1

teaspoon

olive oil

pinch

of salt
Instructions
For the steak
Begin by drawing out the moisture in your flank steak. Place 2 pieces of paper towel on a large plate and set the flank steak on top. Then place two more pieces on top and use your hands to press so that the moisture draws out.

Season flank steak with salt and pepper to taste and let sit for 30 minutes.

Next, heat a large cast iron skillet over medium/high heat. Add olive oil.

When olive oil is fragrant, place flank steak onto the cast iron pan and let sear for 4 minutes. Flip and sear for an additional 2 minutes on the other side (for medium-rare steak). Let stand for 10-15 minutes.

Slice flank steak into thin strips and set aside.
For the Peppers and Onions
Preheat oven to 400ºF. Place peppers and onions on baking sheet and toss with olive oil, salt, and pepper.

Bake for 30 minutes and toss halfway through.

Remove from oven and set aside.
For the Brown Rice
Place 1 cup brown rice and 2 cups of water into a small pot. Turn heat to high and bring to a rolling boil.

Once boiling, reduce heat to low, cover, and let simmer for 30-40 minutes or until all water has absorbed.

Set aside.
For the Massaged Kale
Place kale into a large bowl and drizzle with olive oil and season with salt and pepper.

Massage oil, salt, and pepper into the kale with your hands for 3-4 minutes.
Philly Cheesesteak Bowls
Evenly distribute steak, peppers, queso, rice, and kale into four bowls and enjoy.
Tips & Notes
Nutrition does not include vegan queso.
Nutrition facts
Calories:
412
kcal
Carbohydrates:
34
g
Protein:
30
g
Fat:
19
g
Fiber:
4
g
Sugar:
5
g