This flank steak marinade is easy to make and packed with 7 flavorful ingredients. Use it to marinate any flank steak. Enjoy!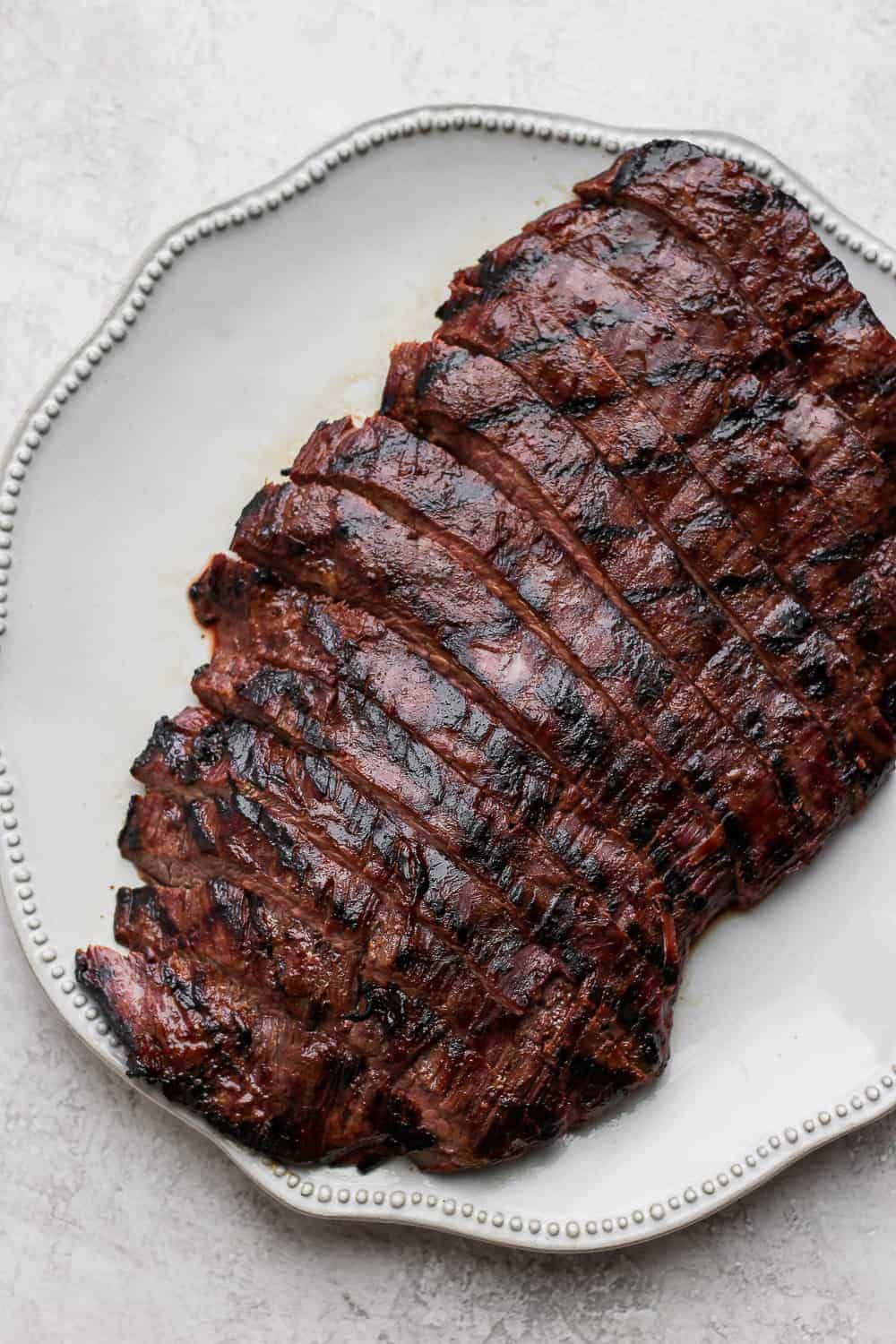 Go-To Flank Steak Marinade
Let's make our go-to flank steak marinade! It comes together simply with 7 easy-to-find ingredients, and marinates this affordable cut of beef to tender and flavorful perfection. Use this marinade for everything from grilled flank steak to flank steak tacos.
Why marinate your steak?
Tenderize: marinating your steaks in citrus and/or a vinegar-based product will help tenderize the meat. Perfect for flank steak!
Add flavor: this marinade will infuse your beef with tons of juicy flavors, complementing the steak's natural flavor.
Versatile: use this steak marinade for a classic grilled flank steak, or make them into our amazing steak burritos!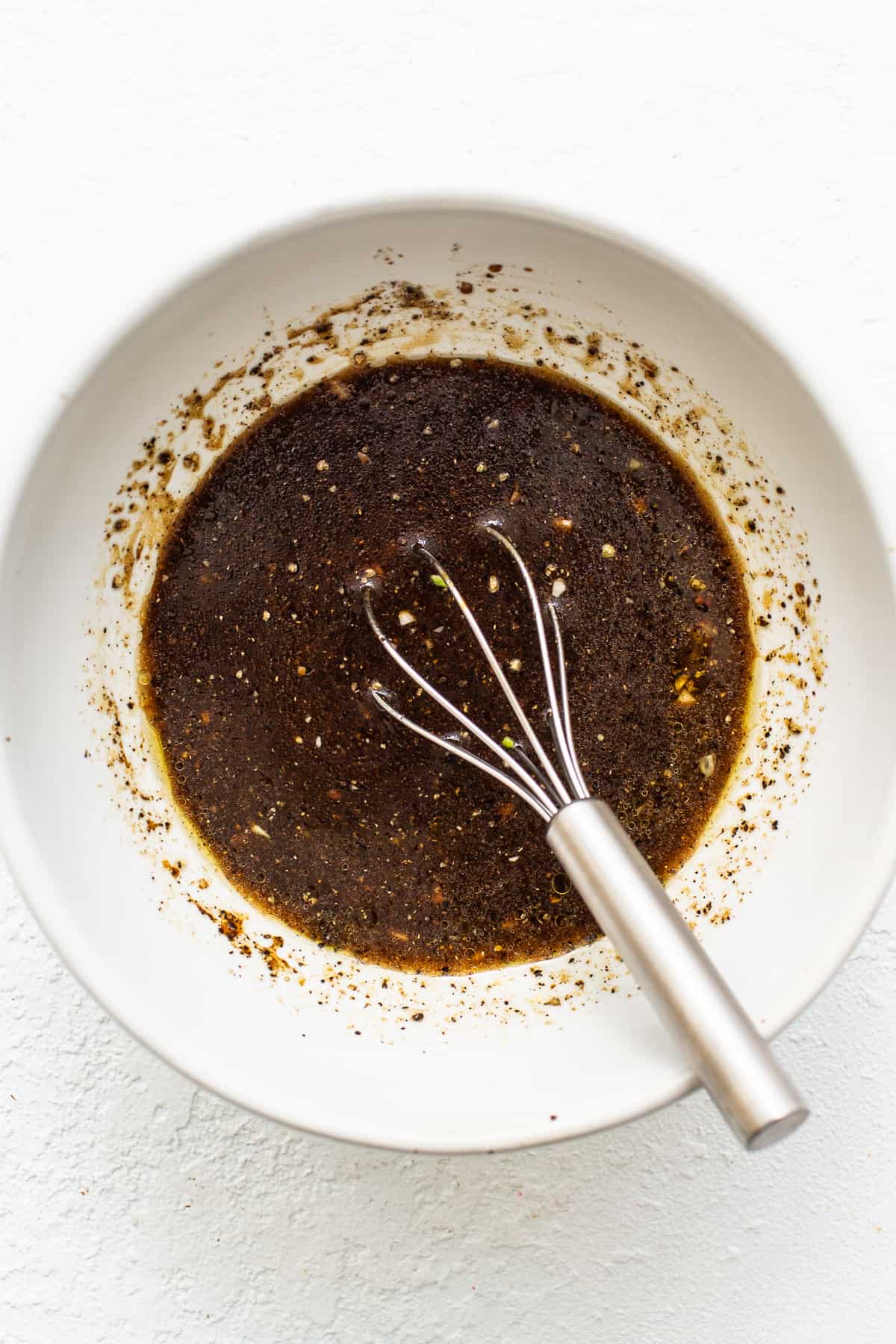 Flank Steak Marinade Ingredients
Worcestershire sauce: many steak marinades have Worcestershire in them and this flank steak marinade does, too. Because it is a vinegar-based sauce that has ingredients like anchovies, garlic and tamarind it makes for a salty sauce that pairs perfectly with steak.
Balsamic vinegar: balsamic vinegar not only provides a touch of sweetness without adding sugars, but the acid in the vinegar also helps to break down the meat to promote tenderness.
Minced garlic: adding fresh garlic to any marinade adds so much flavor. We don't recommend substituting for garlic powder.
Olive oil: the olive oil binds all of the steak marinade ingredients together.
Fresh lemon juice: a bit of lemon juice lightens up this marinade and aids in tenderizing the steak before you cook it.
Cracked pepper corns: we highly recommend using freshly cracked pepper corns in this marinade to infuse the flank steak with amazing peppery flavor.
Kosher salt: salt is necessary to help tenderize the meat as it marinates.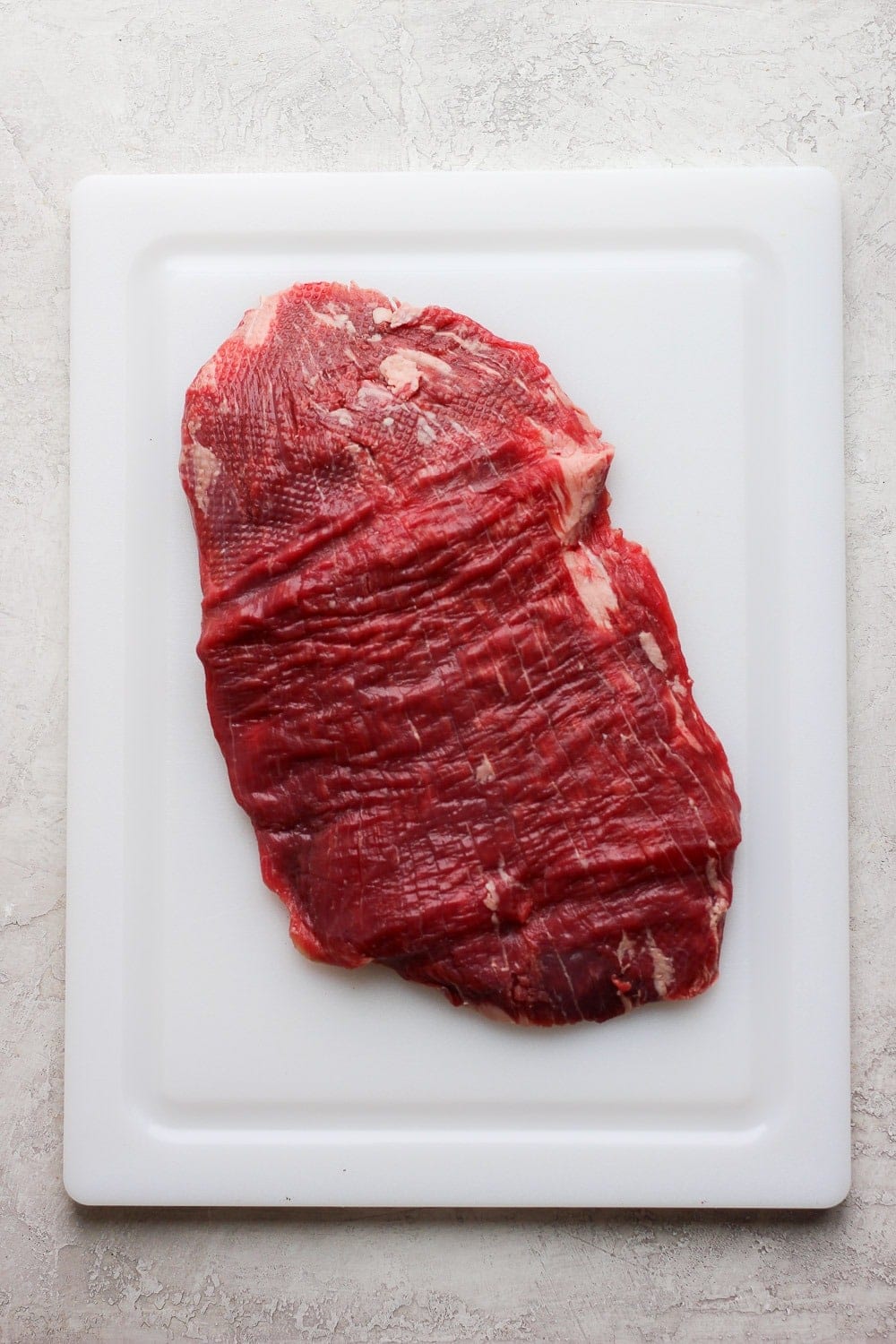 How to Make Flank Steak Marinade
Combine: simply combine all of the ingredients in a bowl or jar and mix to combine.
Marinate: Place your steak into a dish or large gallon-size bag and pour the marinade over it. Make sure that all sides are nice and coated.
Let sit: Let flank steak marinate for at least 30 minutes or as long as overnight. Refrigerate the steak if marinating for more than 30 minutes.
How long should steaks marinate?
We recommend marinating steak for at least 2 hours or as long as overnight. The longer you marinate steak the more tender your steak will be. Unlike salmon, you can marinate steak for a bit longer without lemon juice cooking the steak.
Is flank steak a good cut of meat?
I'm sure you've heard that flank steak is a tough cut of meat, and in some cases it can be. It can be tough and chewy because it is a very lean cut of beef, but when properly tenderized and flavored, flank steak is super flavorful and tender.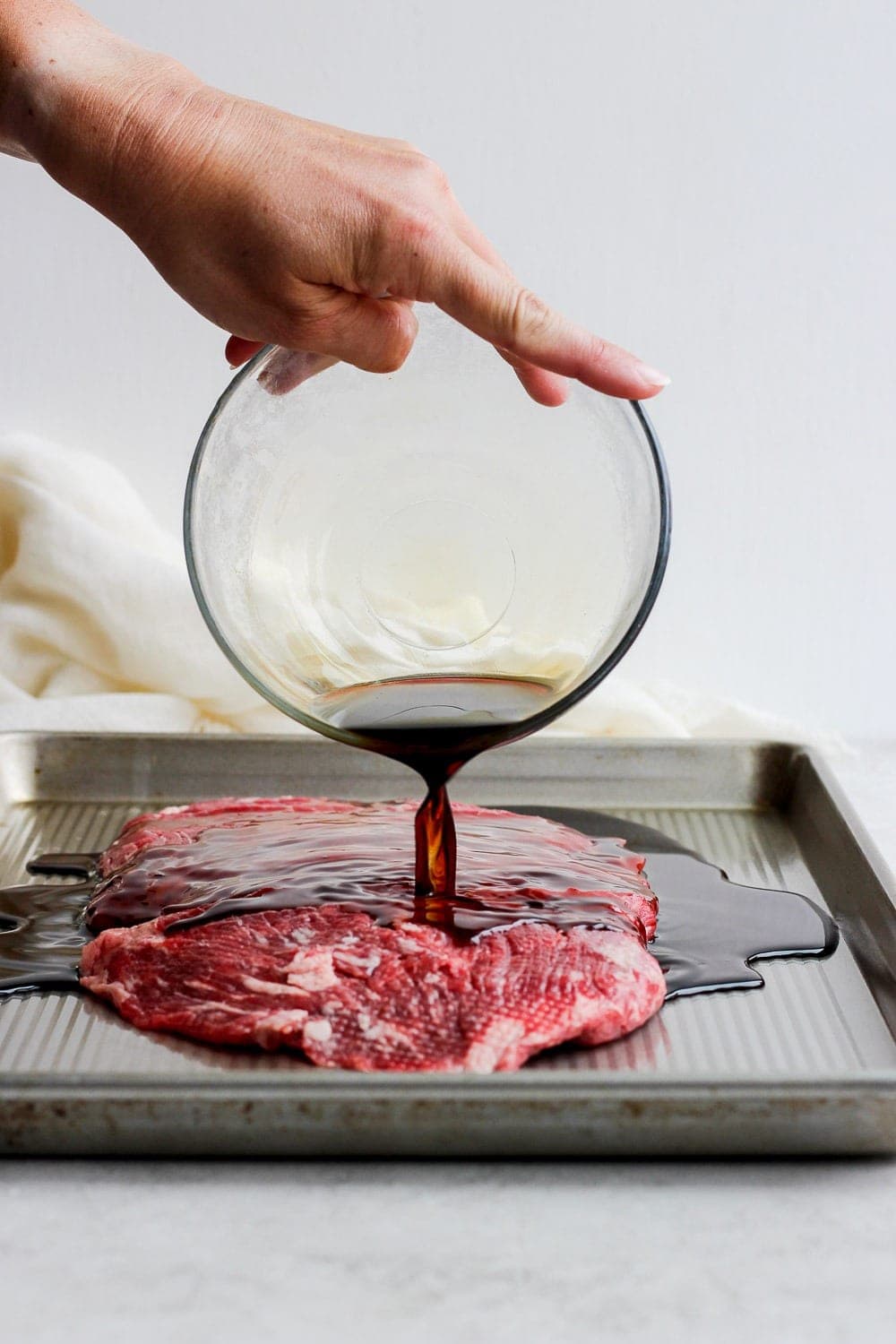 Top Tips
Don't skip the meat tenderizer: Not only is it important to pound flank steak so that it's all the same thickness and cooks evenly, but also helps to tenderize the steak so it's not as tough.
Use the textured side of the meat tenderizer to pound the flank steak until it is all the same thickness. Don't be afraid to put some elbow grease into it 😀
Allow for enough time to marinate: at a minimum, allow your flank steak to marinate for least 30 minutes. But please know that the longer flank steak marinates, the more tender it will be. Feel free to meal prep your flank steak and allow it to marinate in the fridge overnight.
Double or triple to serve a crowd: because this marinade is made with a short list of simple ingredients, it can easily be doubled or tripled if you're serving steak for a crowd.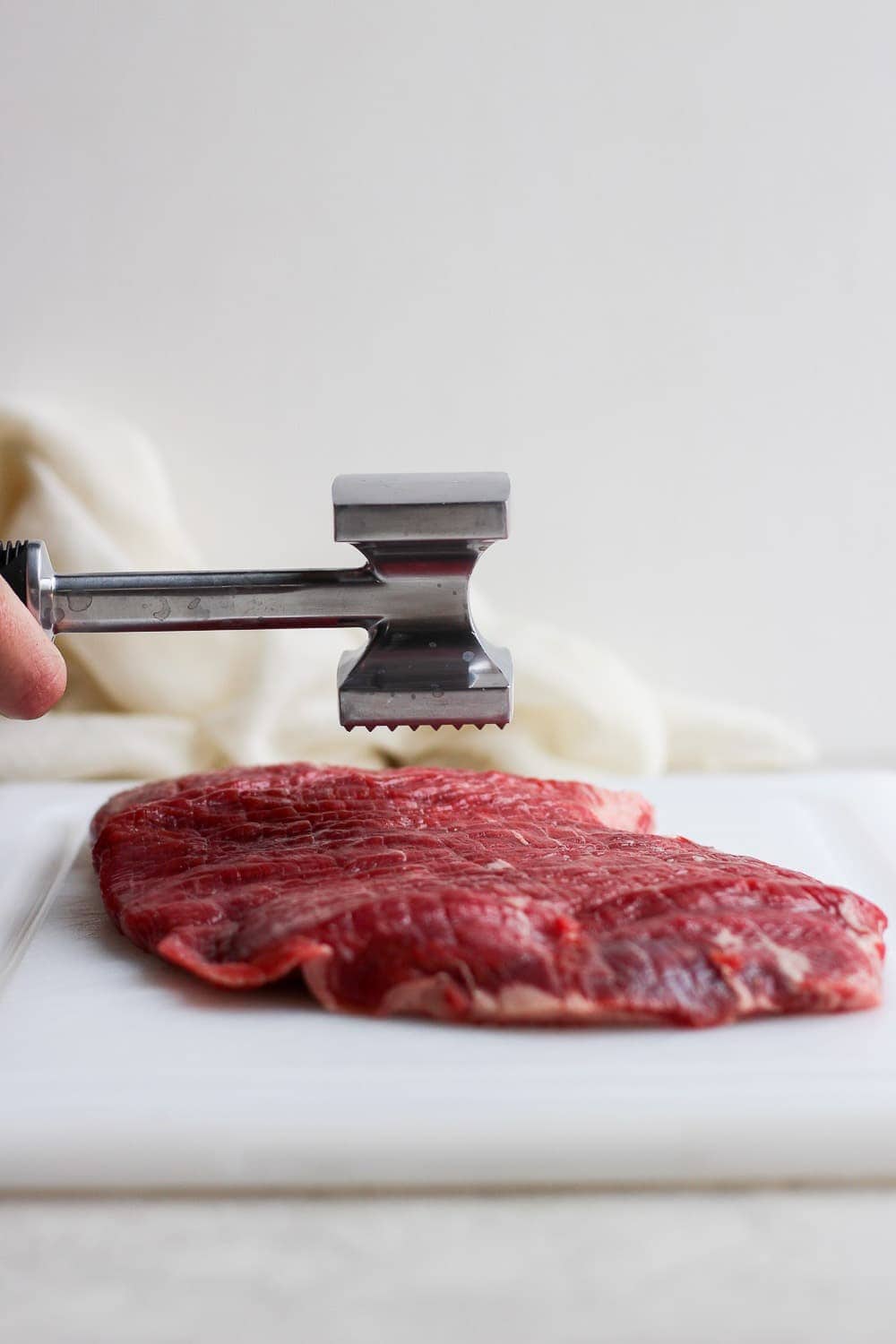 Steak Internal Temp
Everyone is different when it comes to how they like their steak. We are big fans of a medium-rare steak, but check the internal temperature of your steak when it's almost done.
Rare: 130ºF
Medium Rare: 140ºF
Medium: 155ºF
Well Done: 165ºF
Remember, as your steak rests after it's done cooking, the internal temperature will continue to raise around 5ºF.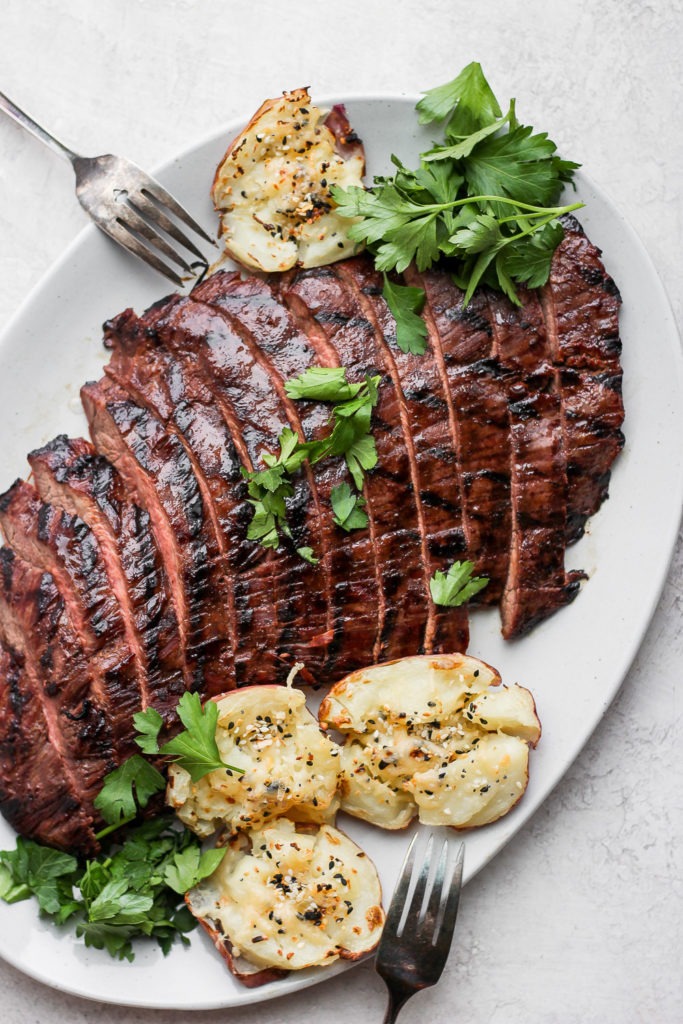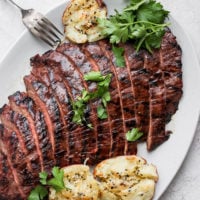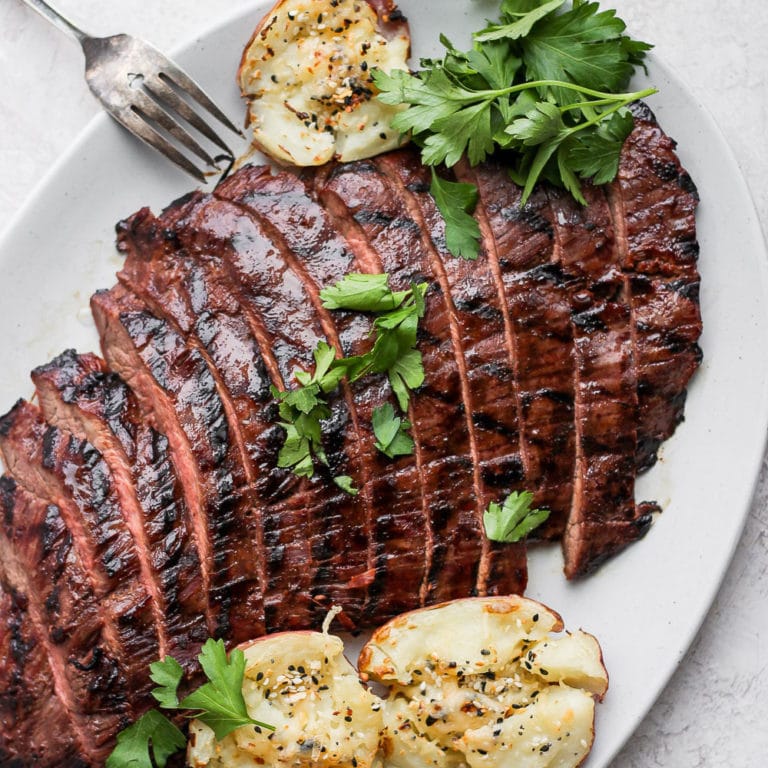 Flank Steak Marinade
This flank steak marinade is easy to make and packed with 7 easy-to-find ingredients. Use it to marinate any flank steak at home.
Instructions
Combine all of the ingredients for the steak marinade together in a small bowl or Pyrex and whisk to combine.

Then, pour the marinade on top of the steaks, remove as much air as possible and seal the bag. Squish the marinade around making sure it coats the steaks.

Place steaks in the fridge and let marinate for at least 30 minutes or up to 2 hours.

Once you're ready to cook your steaks, follow our How to Grill Steak post or use any method you wish.
Tips & Notes
Nutrition information does not include steak.