This watermelon smoothie is made with frozen watermelon, bananas, and strawberries. It is the most refreshing, creamy, and delicious smoothie.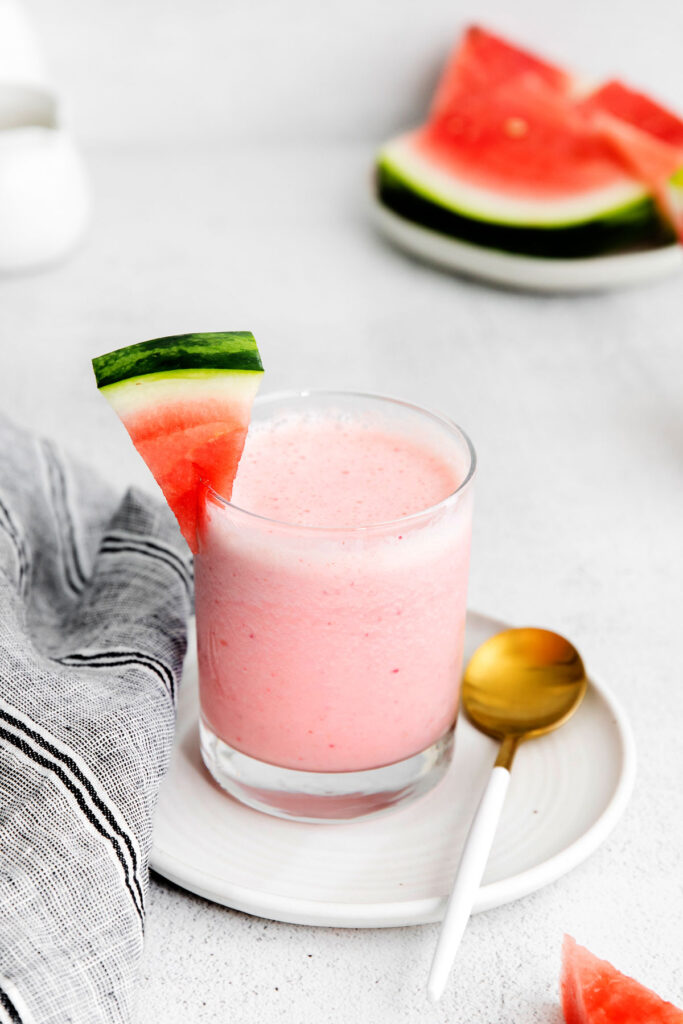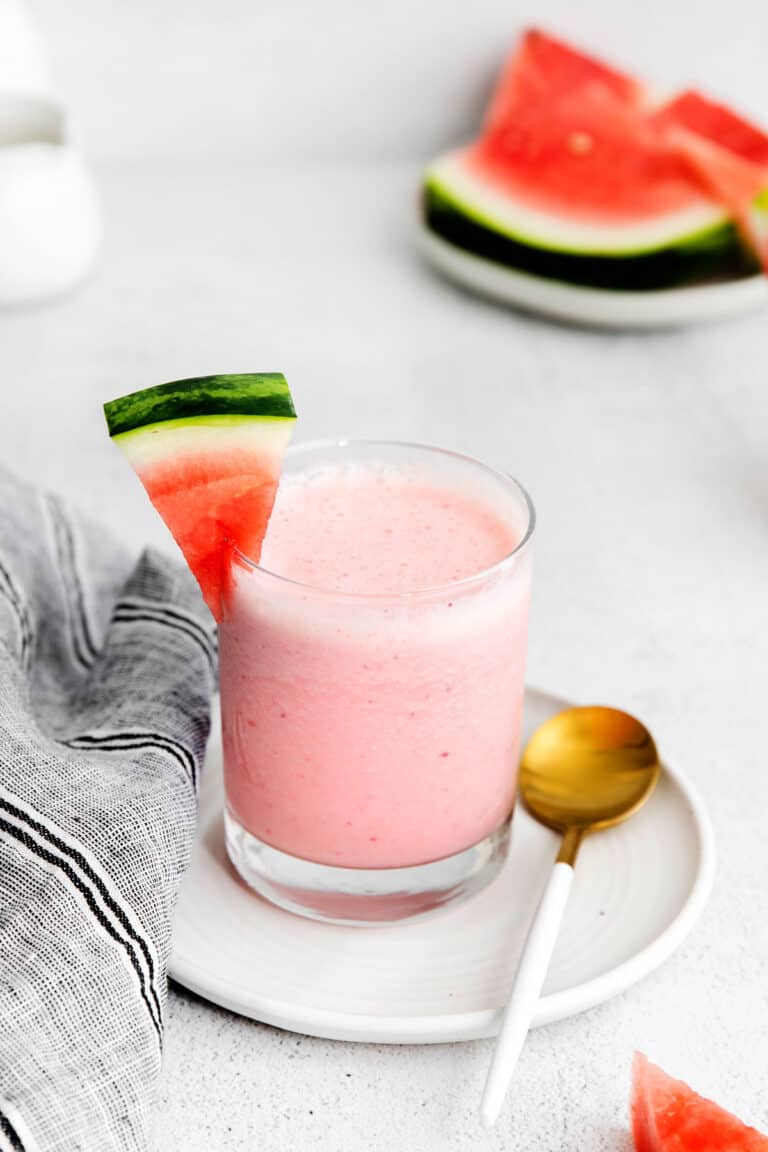 The BEST Watermelon Smoothie
Have you ever had a watermelon smoothie? There is nothing more refreshing on a hot summer morning than a delicious cold watermelon smoothie.
This smoothie is sweetened with frozen fruit (watermelon, bananas, and strawberries) and blended together to make a delicious breakfast smoothie or snack for any time of day!
Ingredients You Need
All of the ingredients for this watermelon smoothie are very simple and straight forward! Here is everything you will need!
watermelon chunks
strawberries
vanilla Greek yogurt
banana
unsweetened almond milk
vanilla extract
Smoothie Ingredient Swaps
Don't have some of the ingredients for this watermelon smoothie on hand? Don't worry, here are some easy ingredient swaps for you!
Greek yogurt–> any Yogurt
Almond milk–> any milk or orange juice
Frozen strawberries–> frozen raspberries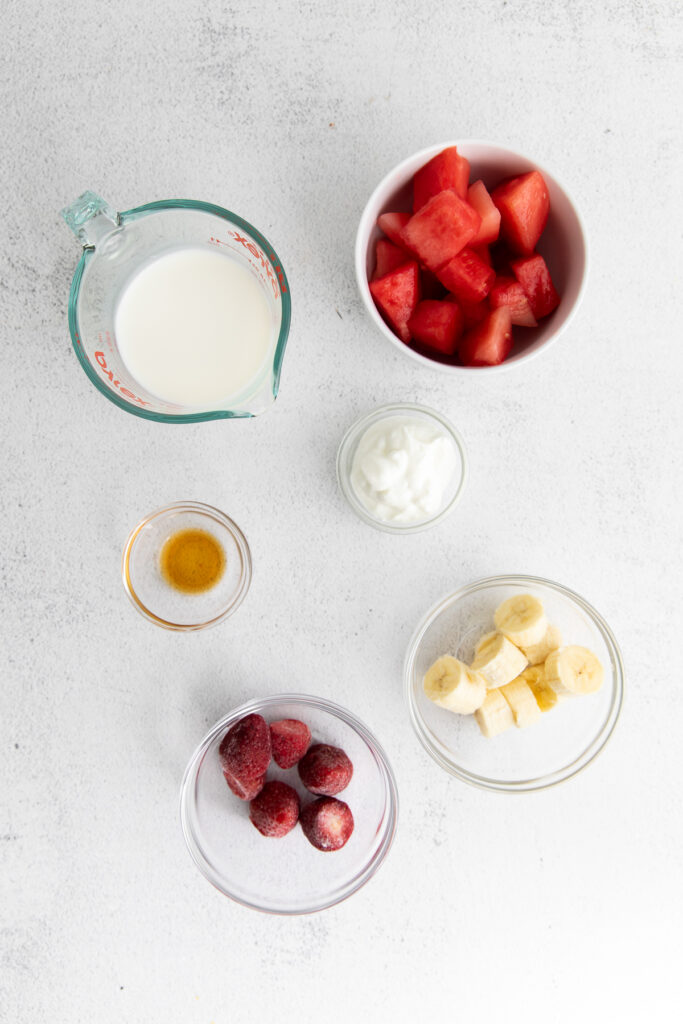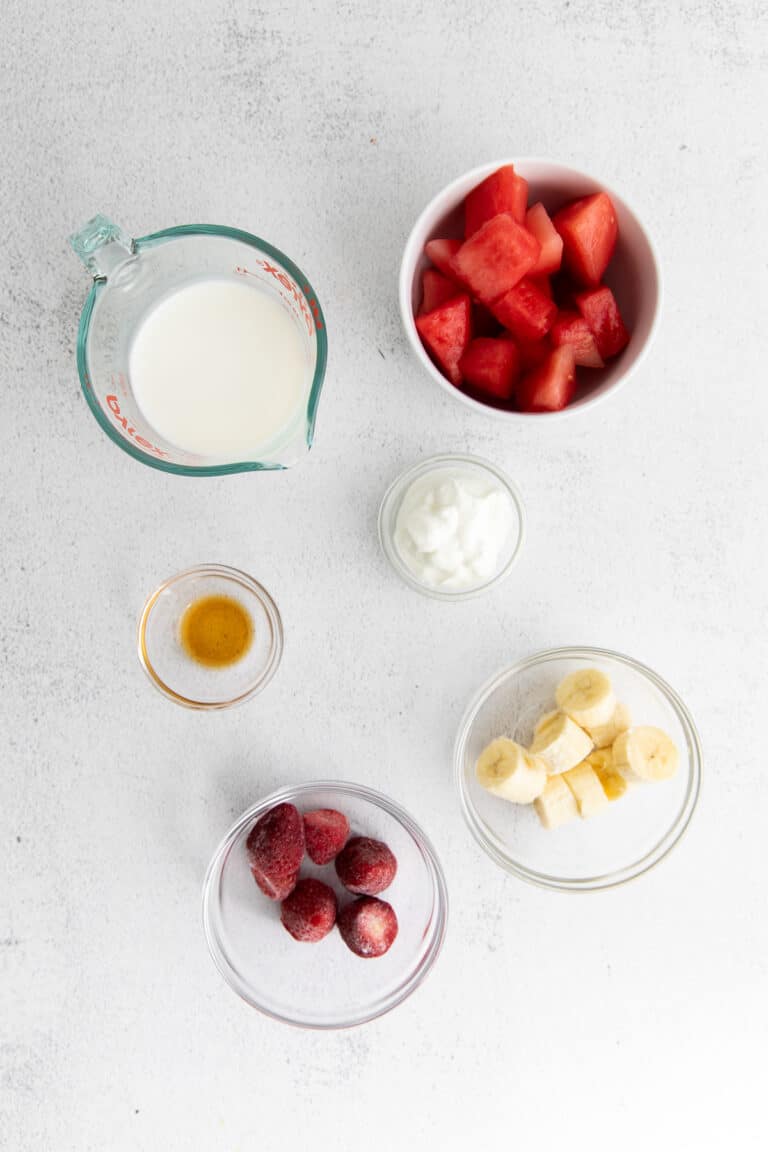 How to Make a Watermelon Smoothie
Prepare the watermelon by freezing it first!
Place all ingredients into a high-speed blender.
Blend on high for 1-2 minutes, stopping to scrape the sides.
Add more almond milk as needed depending on how thick you like your smoothies.
Serve immediately.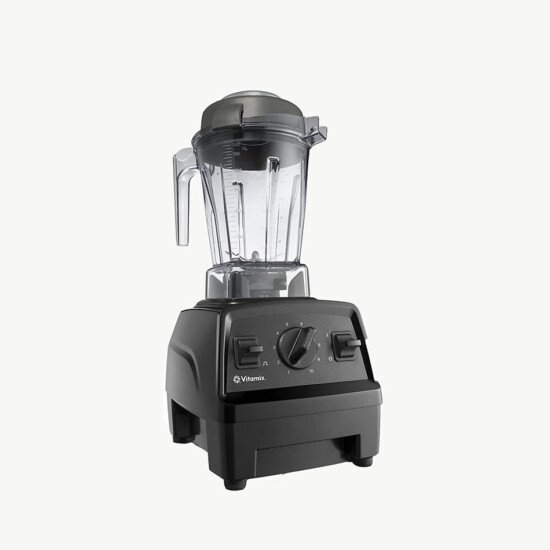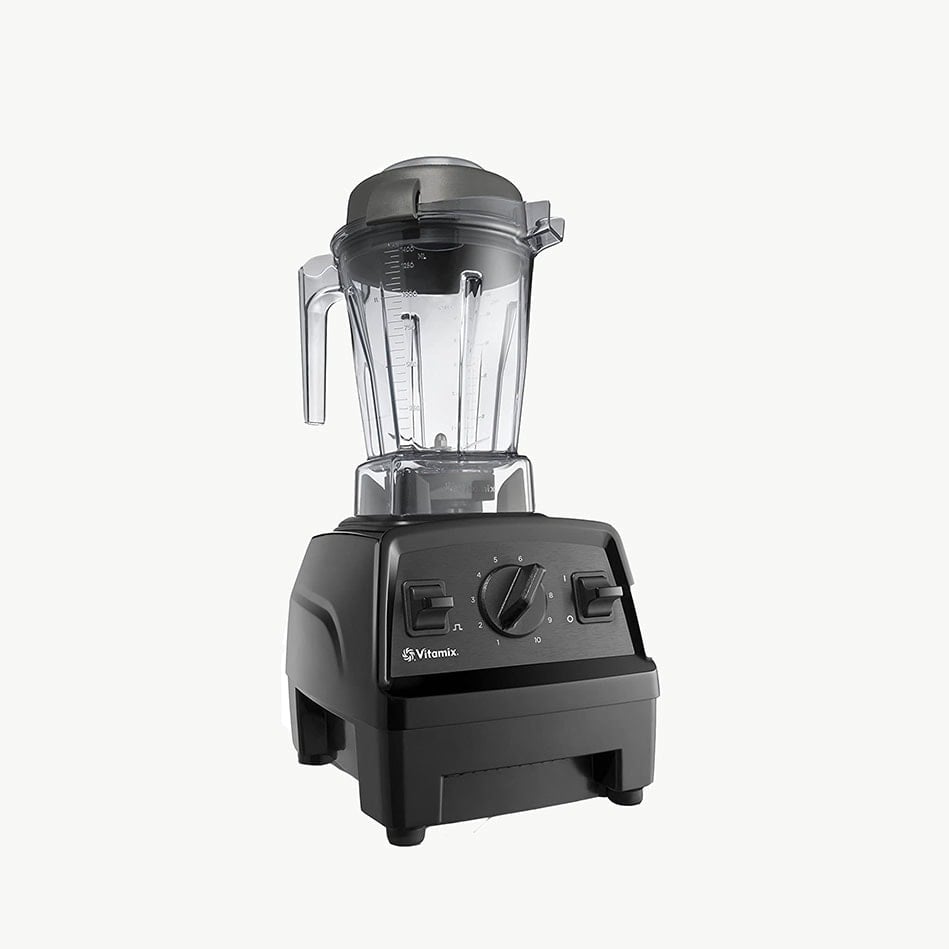 Our Favorite
Blender
Looking to upgrade your blender? Check out our favorite u003ca href=u0022https://rstyle.me/+MawyBo_J0smyQgaxdwtFDAu0022u003eVitamix Blenderu003c/au003e. It's our favorite high-speed blender perfect for making smoothies, soups, and nut butter.
Buy Now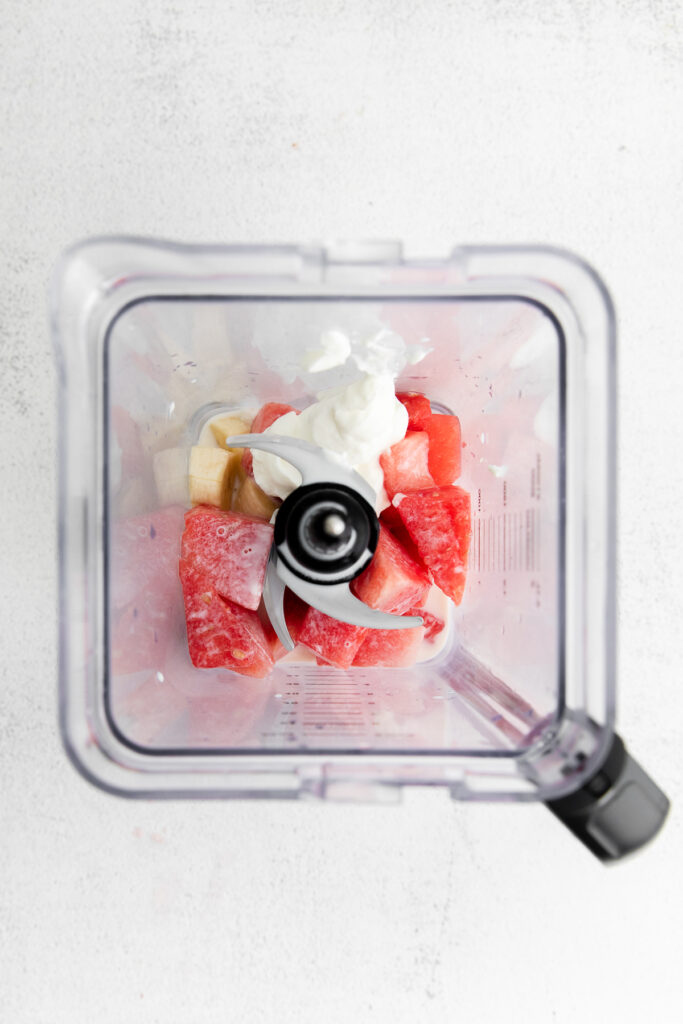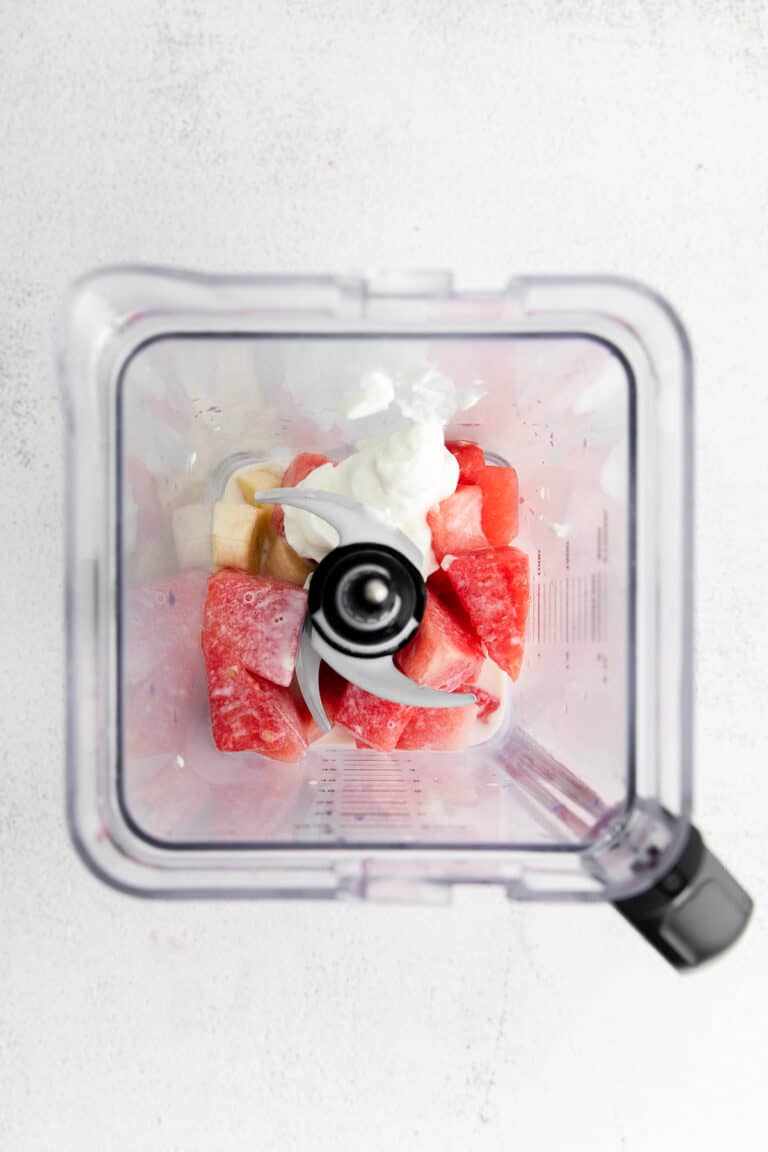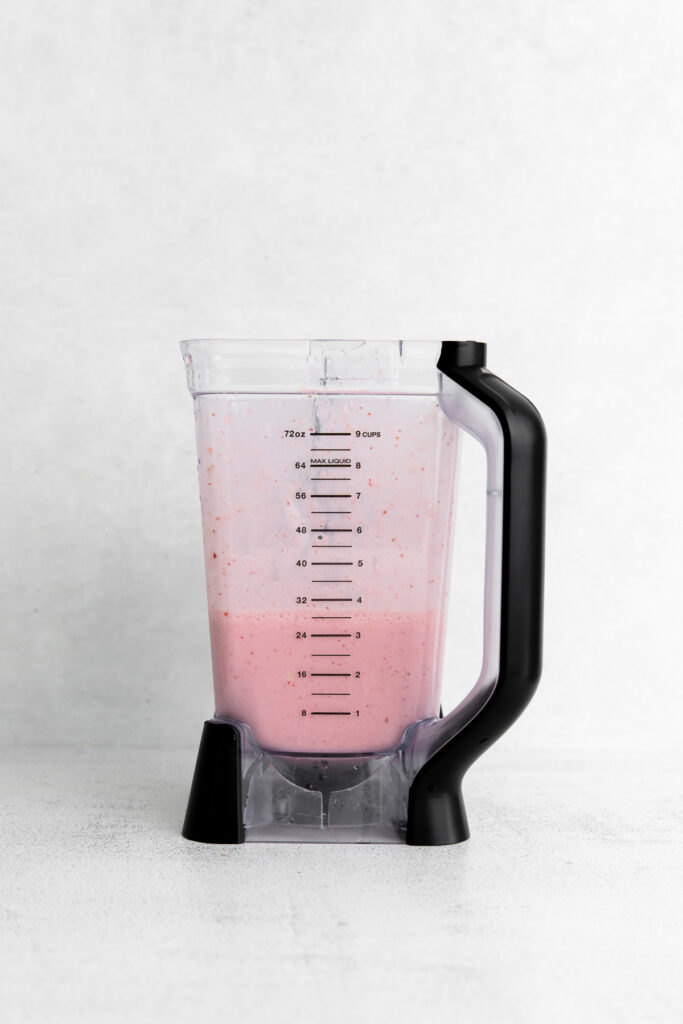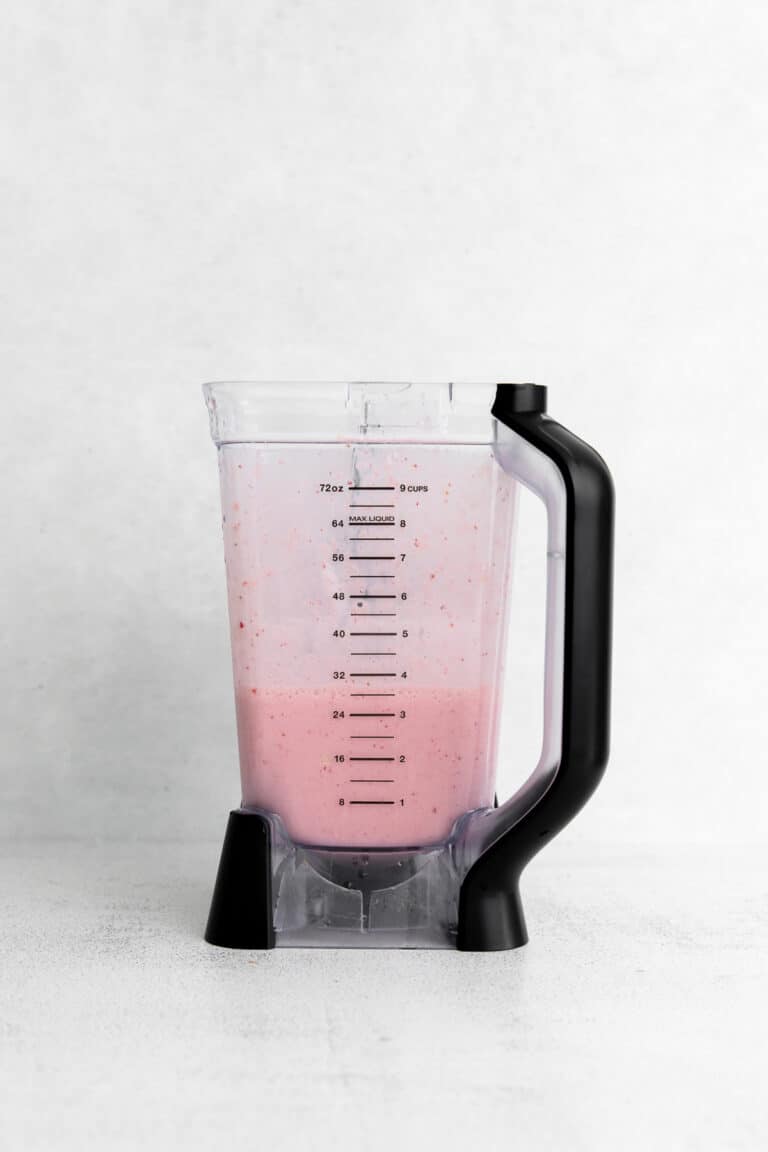 How to Freeze Watermelon for Smoothies
We highly recommend using frozen watermelon in this watermelon smoothie! Don't worry if you don't have your watermelon frozen already. Watermelon takes less than 30 minutes to freeze! Here is how to freeze watermelon.
Line a plate or small baking sheet with parchment paper.
Place the watermelon chunks onto the parchment paper. Be sure the watermelon is cut into small chunks (they will freeze faster).
Place the watermelon in the freezer for 20-30 minutes.
Remove the watermelon from the freezer and place in the blender or place the watermelon in a freezer safe bag and return it to freezer for later.
use frozen fruit, not ice!
We highly recommend using frozen fruit over fresh fruit or ice! Fresh fruit tends to omit more liquid than frozen fruit, making your smoothie more watery.
We also HIGHLY recommend avoiding ice, if possible! Ice also tends to produce a more water-y smoothie, plus, if you can achieve that thick and chilled texture by using nutrient-dense ingredients instead of ice, why wouldn't you!?
Keep a stash of frozen fruit in you freezer at all times or freeze extra berries or fruit that you have at home for DIY frozen fruit.
You only need to freeze your fruit for 30-60 minutes for it to be smoothie ready, so no need to worry if you're just popping your fruit into the freezer now! You'll be off and running with a delicious smoothie in no time 😀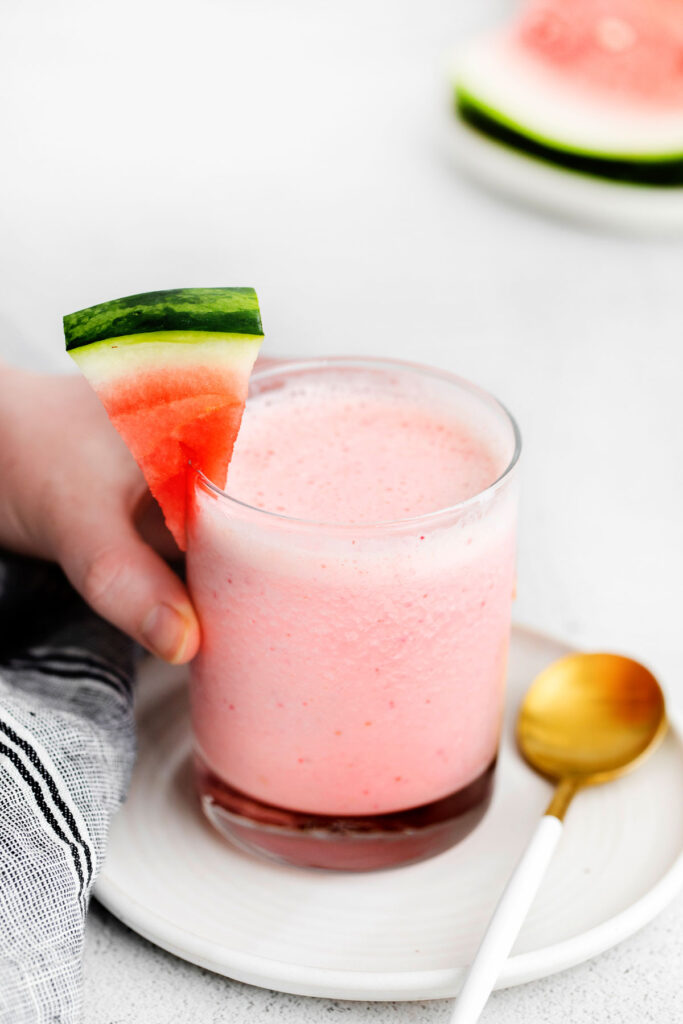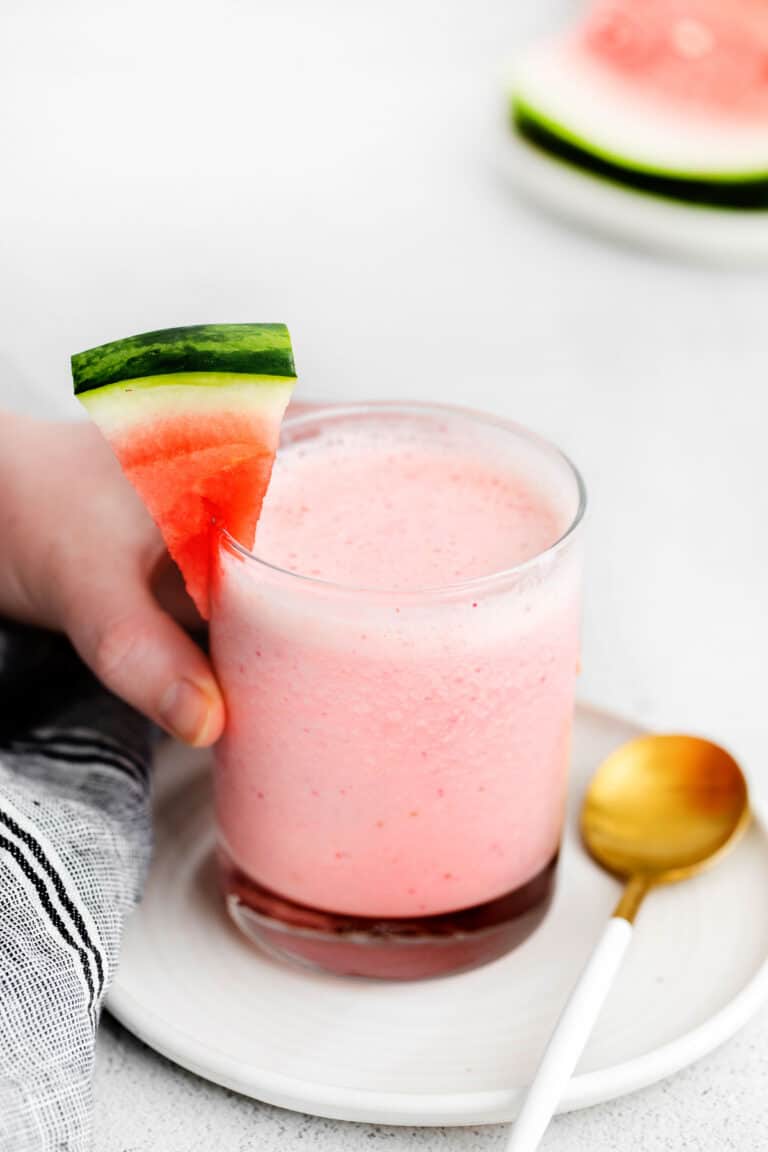 Tips for Watermelon Smoothies
add protein powder
If you are enjoying this watermelon smoothie after a workout or just want to beef it up a bit, feel free to add a scoop or two of your favorite protein powder. Check out our favorite protein powders here!
SPECIFICALLY, FROZEN BANANAS CAN'T BE BEAT
We are big fans of using frozen bananas as a base for many of our smoothie recipes. Not only are bananas cheap, and nutrient-dense, but when they are frozen and then blended, they are SO delicious and creamy!
Check out our post on how to freeze bananas for all of the best tips and tricks!
A LITTLE LIQUID AT A TIME, PEOPLE
One of the main tips we give people when making a smoothie is add the recommended amount of liquid a little bit at a time until the smoothie reaches your desired consistency.
Adding all of the liquid at once could leave you with a water-y smoothie! You can ALWAYS add more liquid, but can't take it out!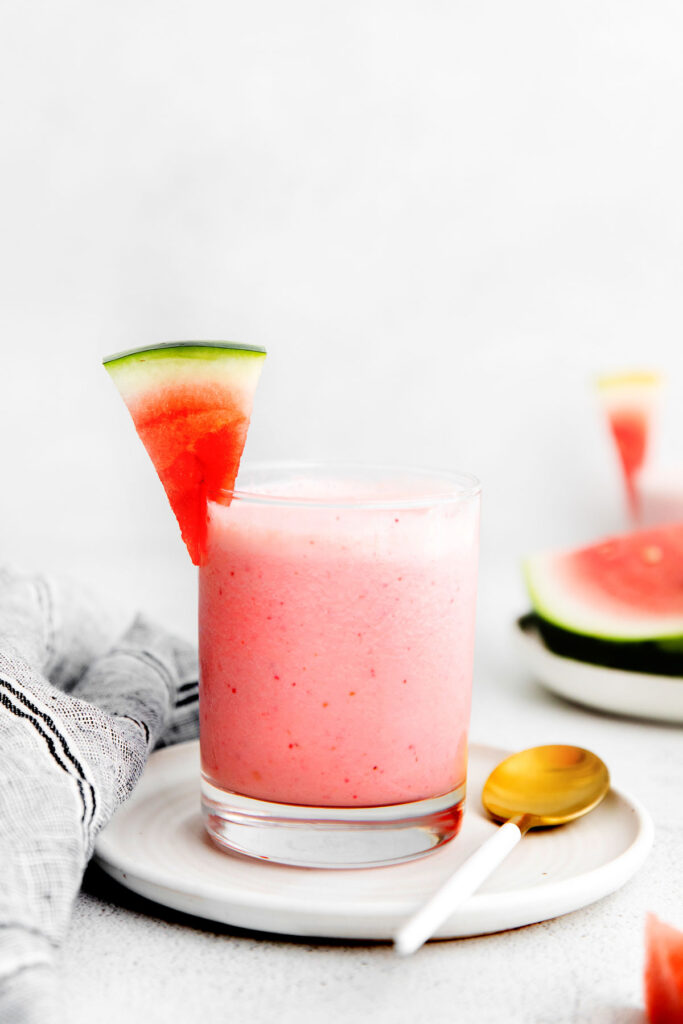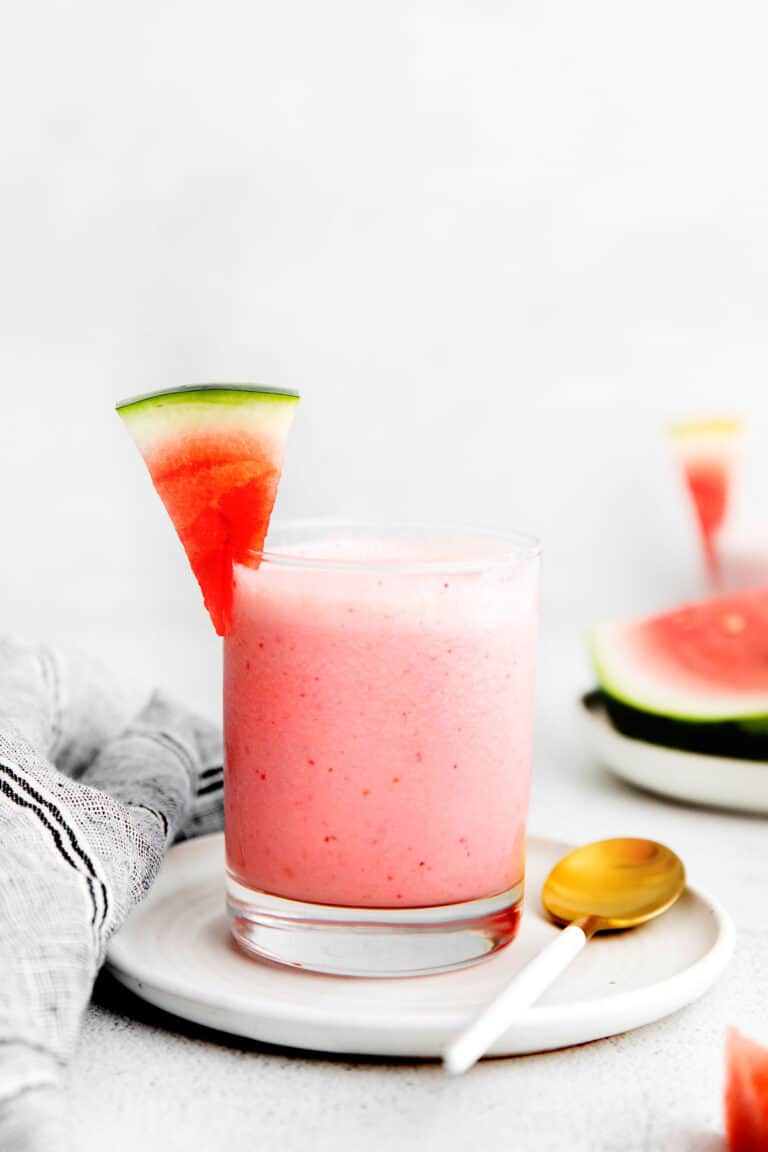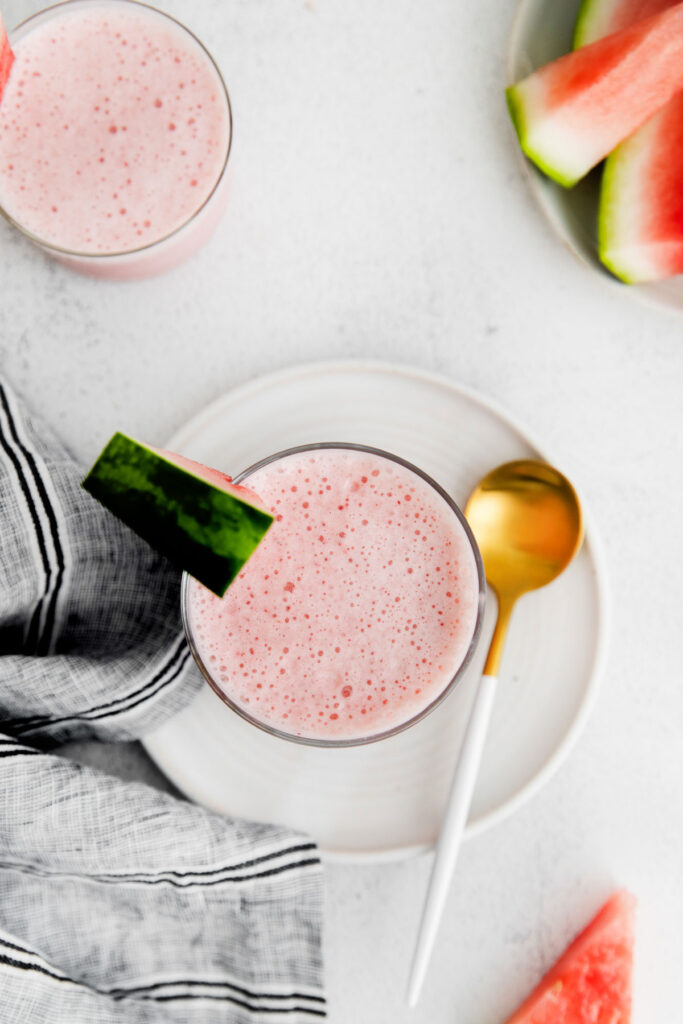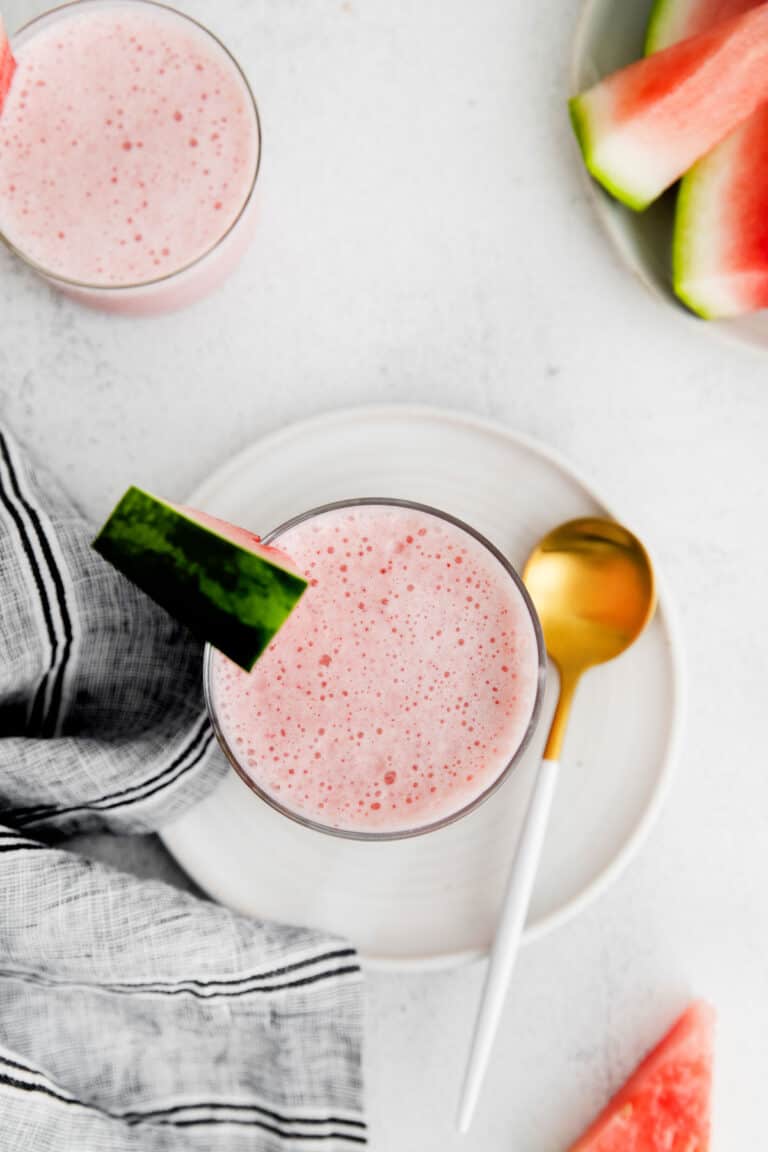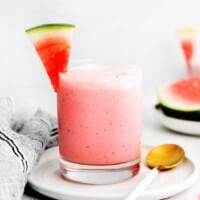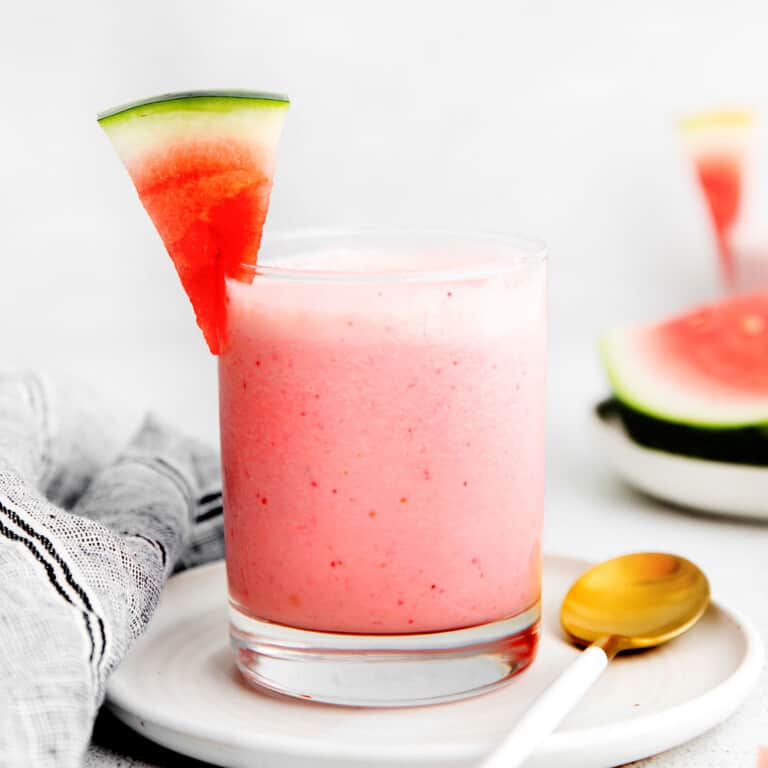 Watermelon Smoothie
Blend all of these refreshing ingredients together for the most delicious watermelon smoothie recipe. 
Ingredients
1.5

cups

frozen watermelon chunks

1/2

cup

frozen strawberries

1/4

cup

vanilla Greek

½

large banana

frozen or fresh

3/4

cup

unsweetened almond milk

1

teaspoon

vanilla extract
Instructions
Begin by freezing the watermelon. Line a baking sheet with parchment paper. 

Cut the watermelon into 1-1.5 inch chunks and place it on the lined baking sheet.

Place the watermelon in the freezer and freeze for at least 30 minutes. 

Remove the watermelon from the freezer and set aside 1.5 cups of the watermelon. Place the rest of the frozen watermelon into a gallon-size plastic bag and place it back in the freezer for later. 

Next, place the frozen watermelon, frozen strawberries, Greek yogurt, banana, almond milk, and vanilla extract into a high speed blender and blend until smooth. 

Pour into a glass and enjoy! 
Nutrition facts
Calories:
124
kcal
Carbohydrates:
24
g
Protein:
4
g
Fat:
2
g
Fiber:
2
g
Sugar:
17
g