These Almond Flour Blueberry Muffins are 100% gluten-free and refined sugar-free. But don't worry, there's no compromise on flavor or fluffiness in these GF muffins! Make a batch today.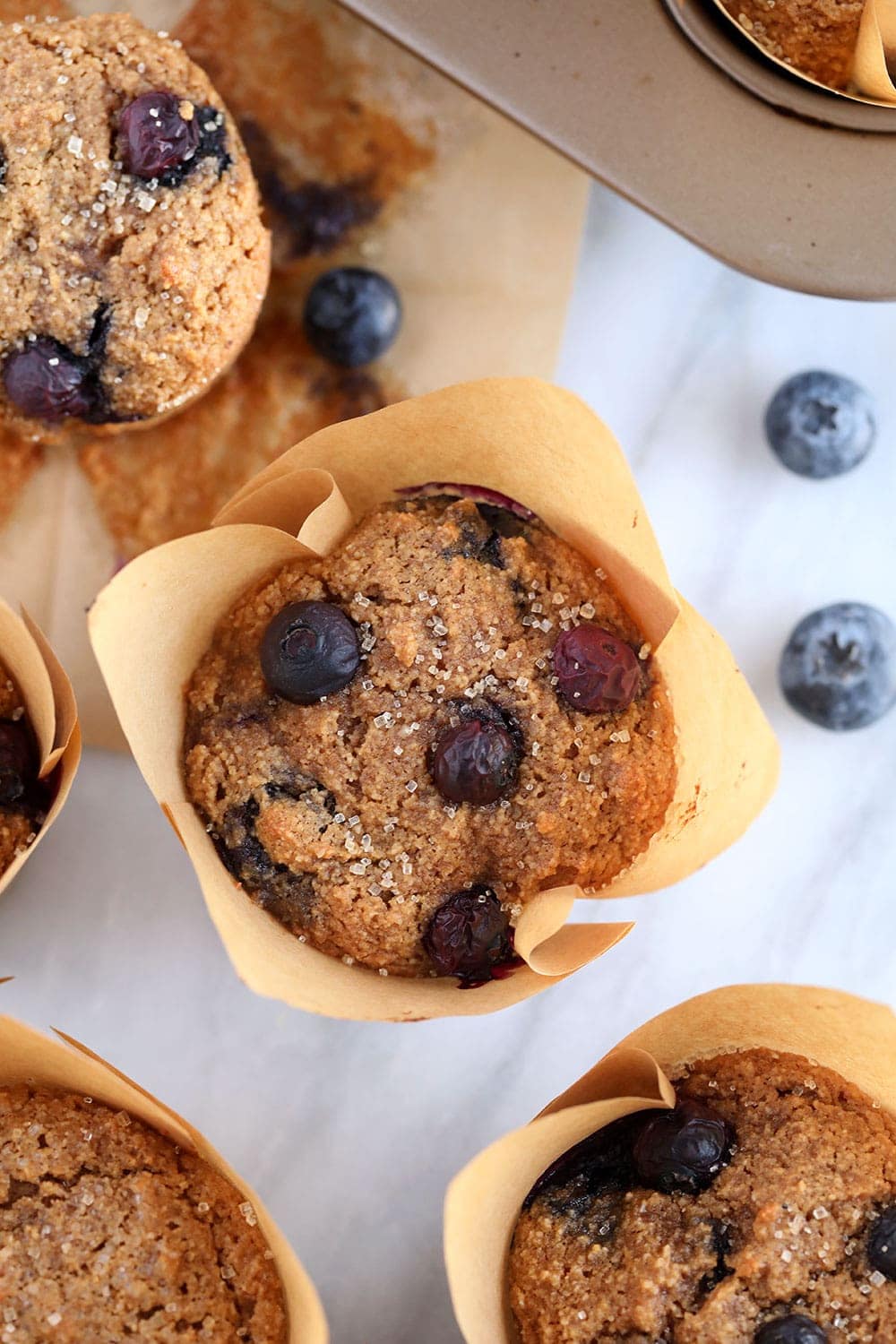 Calling All Gluten Free Muffin Lovers!
Blueberry muffins are a go-to in our house. Not only are they a healthy muffin option, they're packed with so much great flavor. AND now you can even have a GF option! But we promise, these almond flour blueberry muffins do not compromise anything in the flavor or fluffiness department. Let's get into it:
Blueberry Muffins Ingredients
These muffins are packed with whole ingredients, and come together to make the most fluffy and delicious GF blueberry muffins you ever did make.
Wet
L

arge eggs

V

anilla extract
Honey
Almond milk
Lemon zest
Coconut oil
Dry
Super-fine almond flour
Fresh blueberries
Baking powder
Coconut sugar
Optional: turbinado sugar for garnish!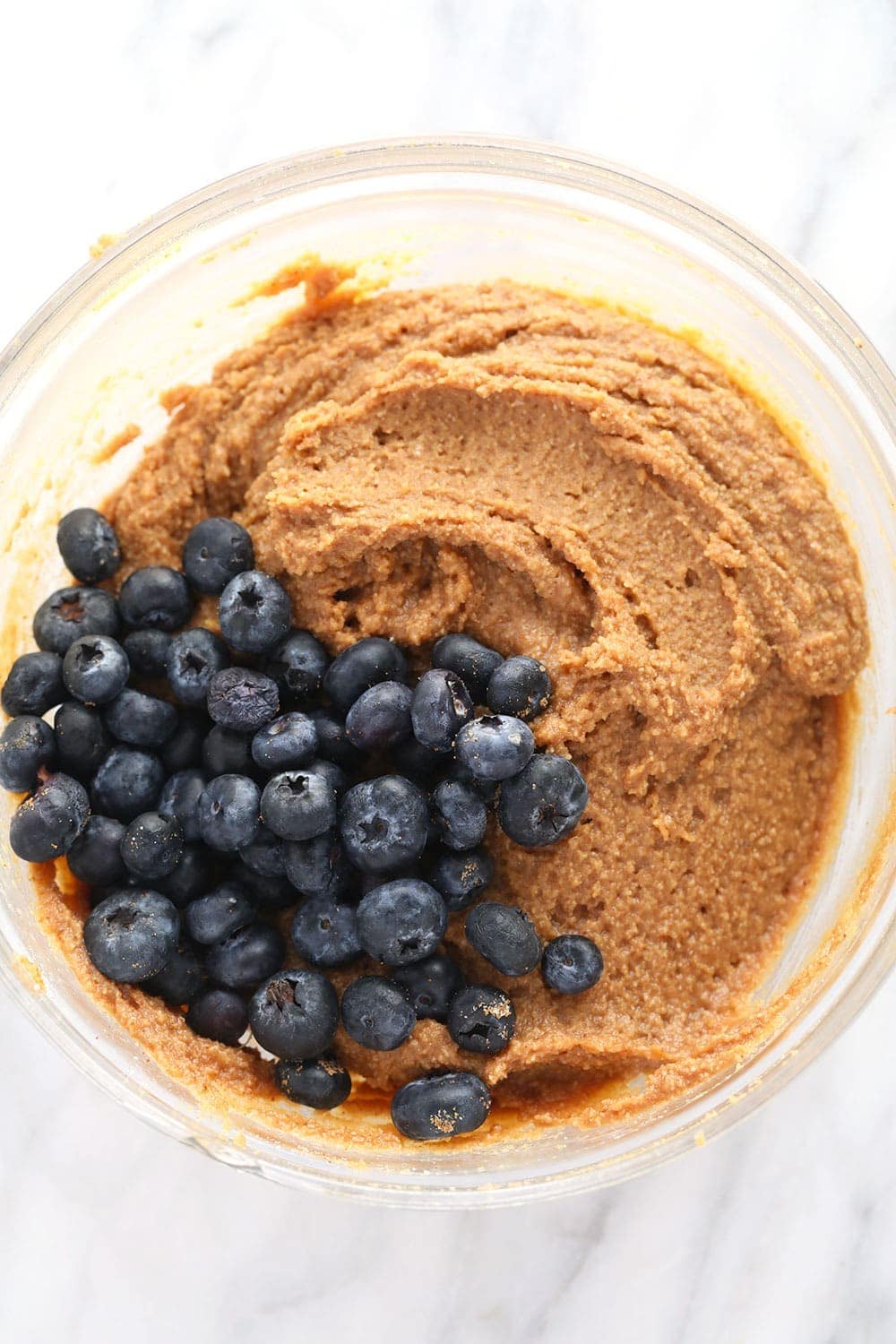 Can I substitute the almond flour with another flour?
It is hard to substitute flour in gluten free baking! Because of this, we do not recommend substituting any other flour in this recipe. If you are looking for other muffin recipes without almond flour, check out other healthy muffin recipes HERE.
Can I substitute coconut sugar with another sugar?
These muffins will work best with coconut sugar! But if you need to avoid it for whatever reason, brown sugar is going to be the best substitution.
Can I use maple syrup instead of honey?
Yes! If you prefer the taste of maple, or you're trying to avoid honey for whatever reason, these muffins will be just as delicious with pure maple syrup.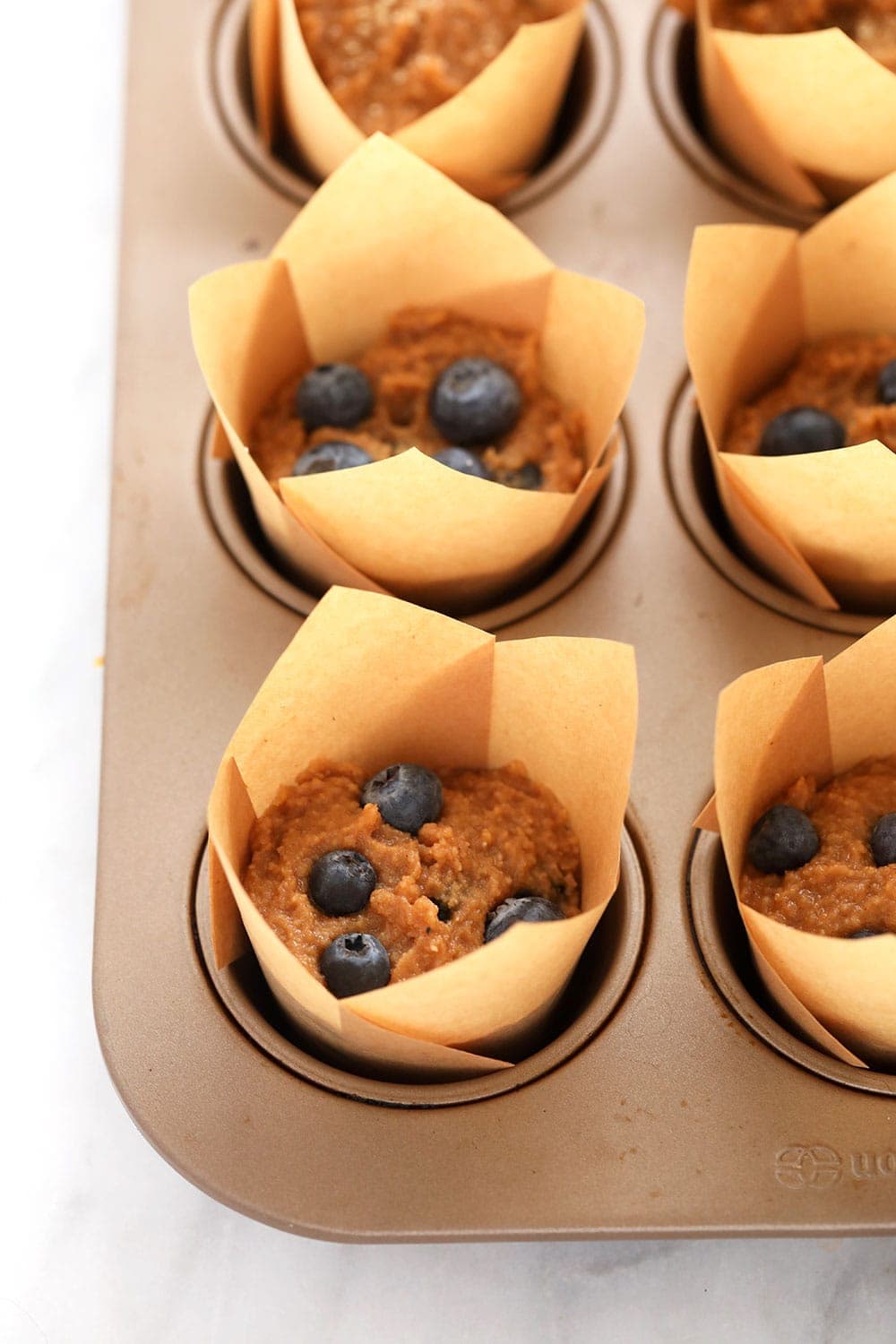 Can I use frozen blueberries?
Fresh blueberries will remain more whole and in-tact (how these photos look!), but if you only have frozen blueberries on hand, or fresh blueberries are not in season where you are, they will likely work just fine! No need to thaw the berries before placing in the batter.
Note: the muffins will appear a bit more "blue" as the skin on frozen blueberries becomes more soft and fragile spreading the color throughout the muffins.
We haven't tested this method in our kitchen, so let us know in the comments if you try this recipe with frozen blueberries!
Do I need to grease muffin liners?
Making a batch of muffins just to find out you can't get them out of the pan is devastating! Even when using muffin liners, we spray each one with a little cooking spray just in case! This will prevent your muffins from sticking either to the liners or the muffin tin.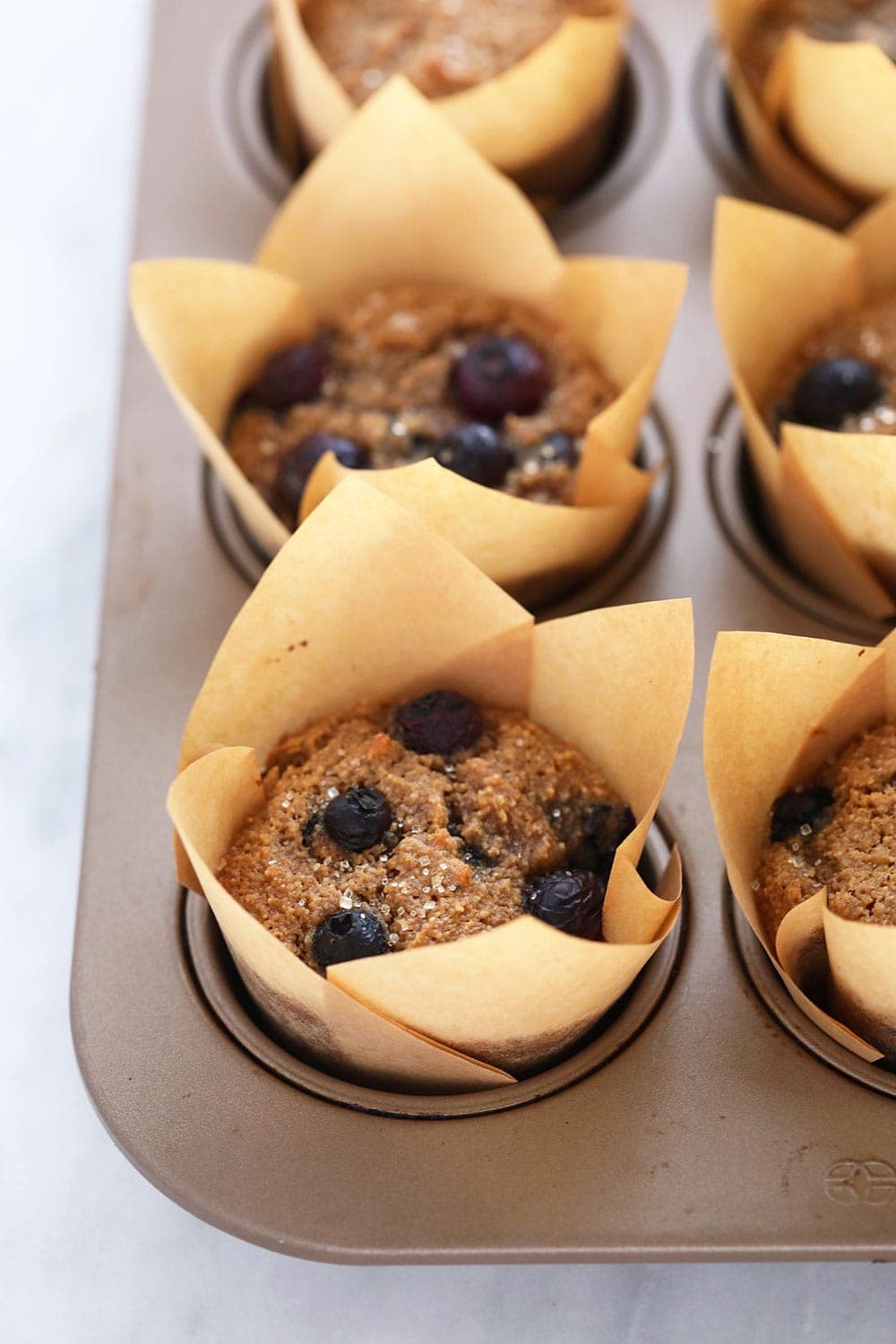 How to Freeze Muffins
If you love to have muffins on hand, but don't want them to go bad, this is a great recipe to make a double or triple batch and then freeze for later enjoyment. It's super easy:
First, let the muffins cool completely.
Then, place muffins on a baking sheet and place the baking sheet into the freezer.
Freeze for at least 2 hours.
Once the muffins are frozen, transfer into a freezer-safe, gallon-size bag. Then, remove as much air as possible and seal.
Write "Almond Flour Blueberry Muffins" on the front of the bag along with an "eat by date" 3 months from the time you made the muffins.
To thaw: Remove a frozen muffin from the bag. Then, let thaw on the countertop for 30 minutes OR defrost in the microwave for a few minutes, and enjoy.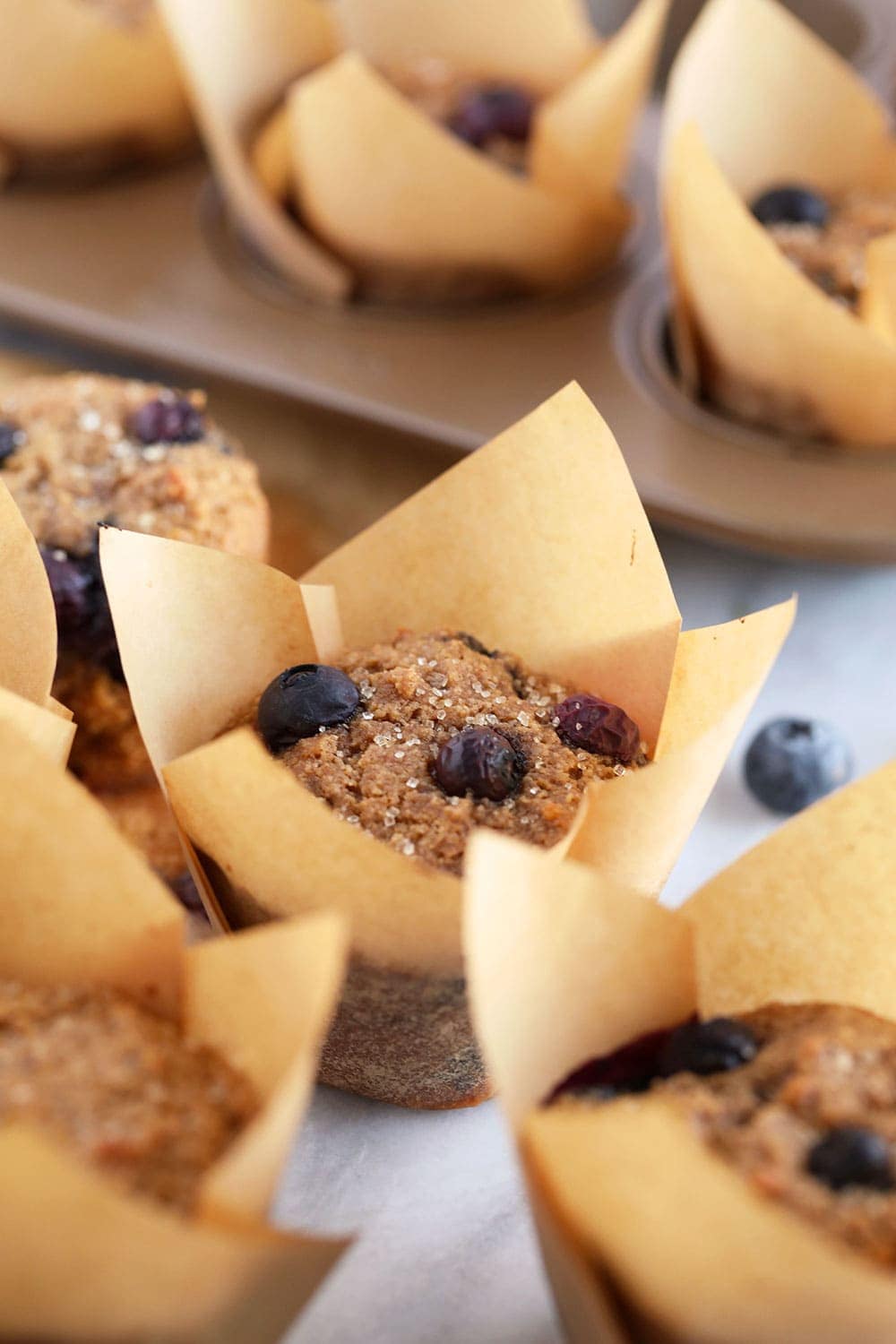 More Muffin Recipes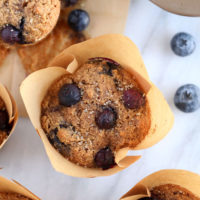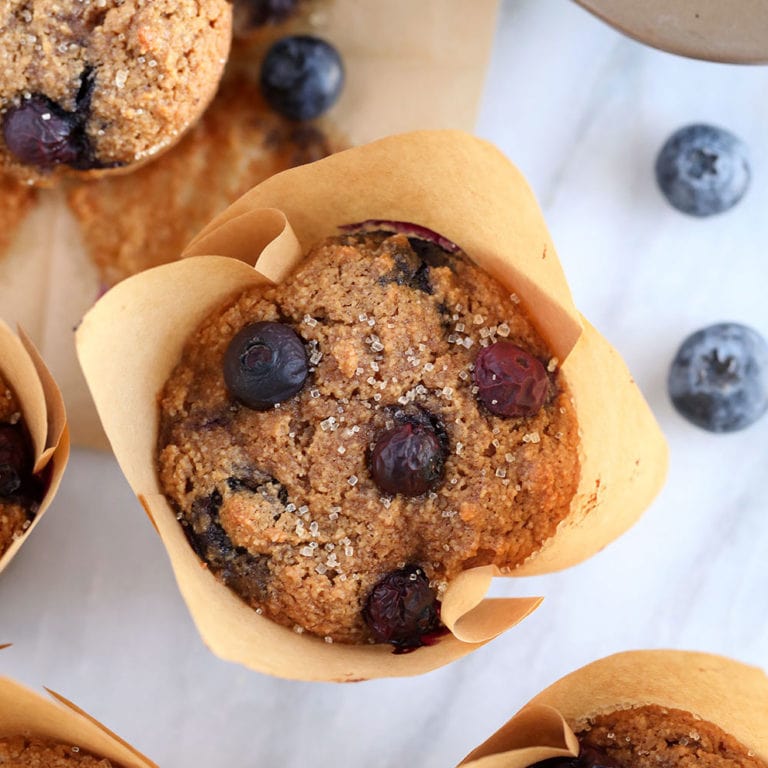 Almond Flour Blueberry Muffins
These Almond Flour Blueberry Muffins are 100% gluten-free and refined sugar-free. But don't worry, there's no compromise on flavor or fluffiness in these GF muffins! Make a batch today.
Instructions
Preheat the oven to 350ºF and line a muffin tin with muffin liners.

Next, mix all dry ingredients together in a medium-sized bowl.

In a separate large bowl, whisk eggs together and then add vanilla extract, almond milk, and lemon zest.

Slowly add the dry ingredients to the wet ingredients until everything is combined.

Lastly, fold melted coconut oil into the mixture.

Then, using a cookie scoop, fill each muffin cup 3/4 of the way full.

Sprinkle on a few fresh blueberries and optional turbinado sugar.

Place the muffin tin into the oven and bake for 28-32 minutes or until a toothpick comes out clean.

Remove from oven and let cool before eating.
Tips & Notes
*Nutrition does not include turbinado sugar garnish.
Nutrition facts
Calories:
268
kcal
Carbohydrates:
26
g
Protein:
10
g
Fat:
15
g
Fiber:
2
g
Sugar:
17
g