These Paleo Hot Cocoa Cookies are gluten-free, dairy-free, grain-free, and all around delicious! Whip em up in less than 30 minutes for the most delicious Christmas cookie there is!

I officially vote November and December the most fun months to bake and cook in the Fit Foodie Kitchen! I love making festive recipes…especially sweet treats 😀 I feel like I gain so many friends in the months of November and December, too because I hand out my goodies like candy so I don't gain 10 pounds…just sayin'. This month my blogger girls and I decided on Holiday Cookies- paleo style. I'm actually starting to prefer paleo baked goods sans refined sugar and grains. To me it tastes better and the flavor is so much more whole! Check it out…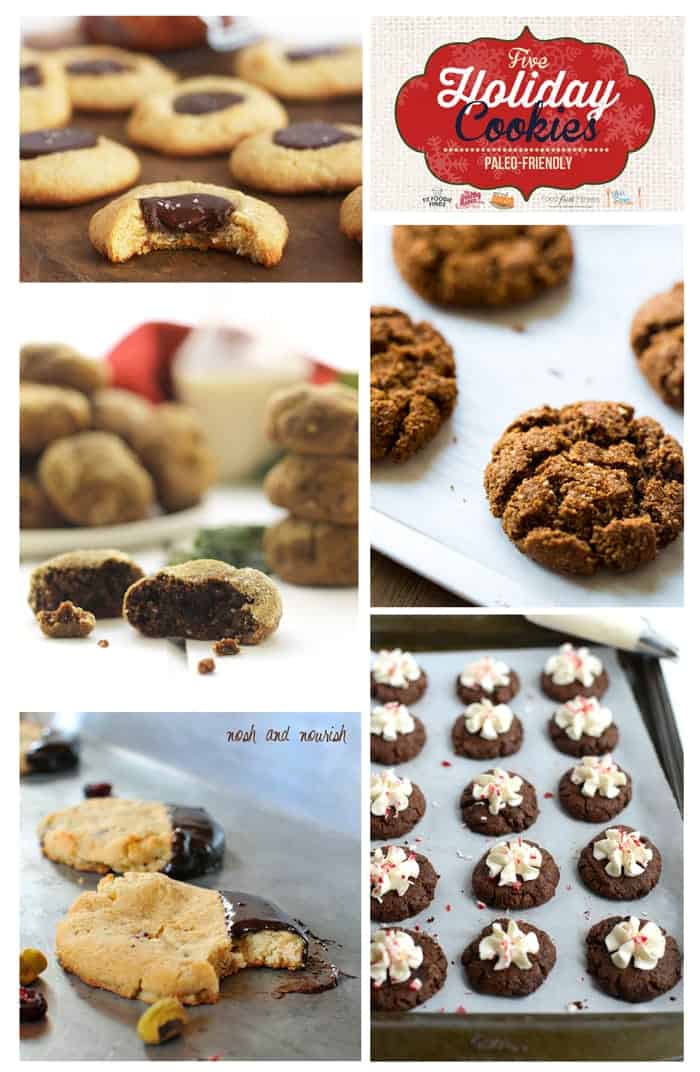 If only these lovely ladies were my neighbors…we'd have legit the most bad ass paleo cookie swap there is! Before we get to my Hot Cocoa Cookies….let's take a looksi at what Davida, Taylor, Kelly, and Lexi made.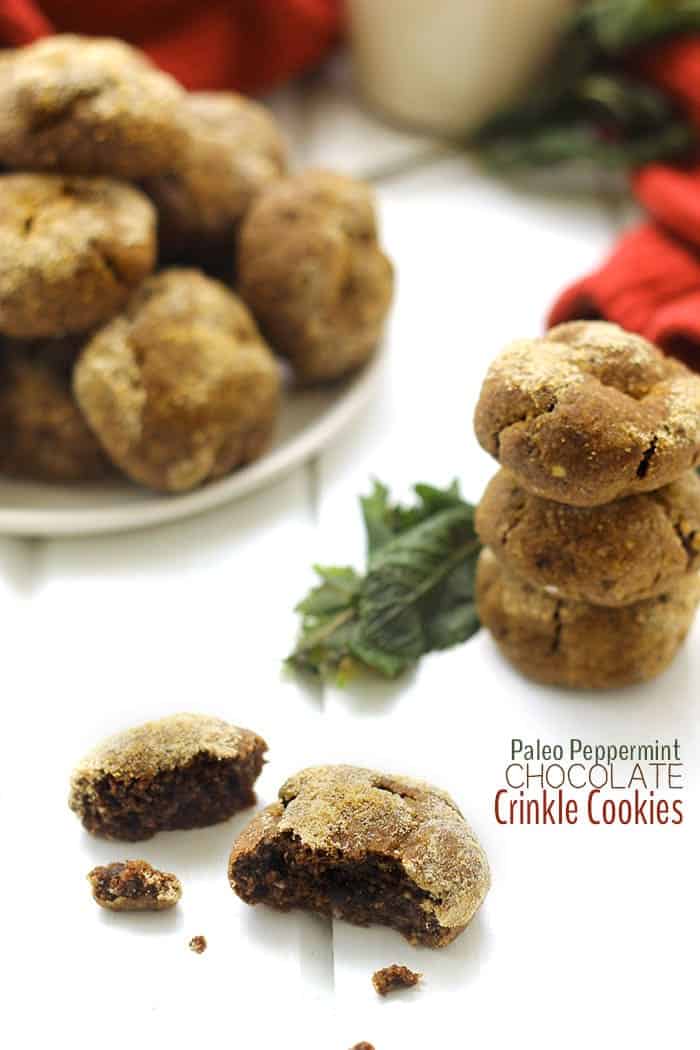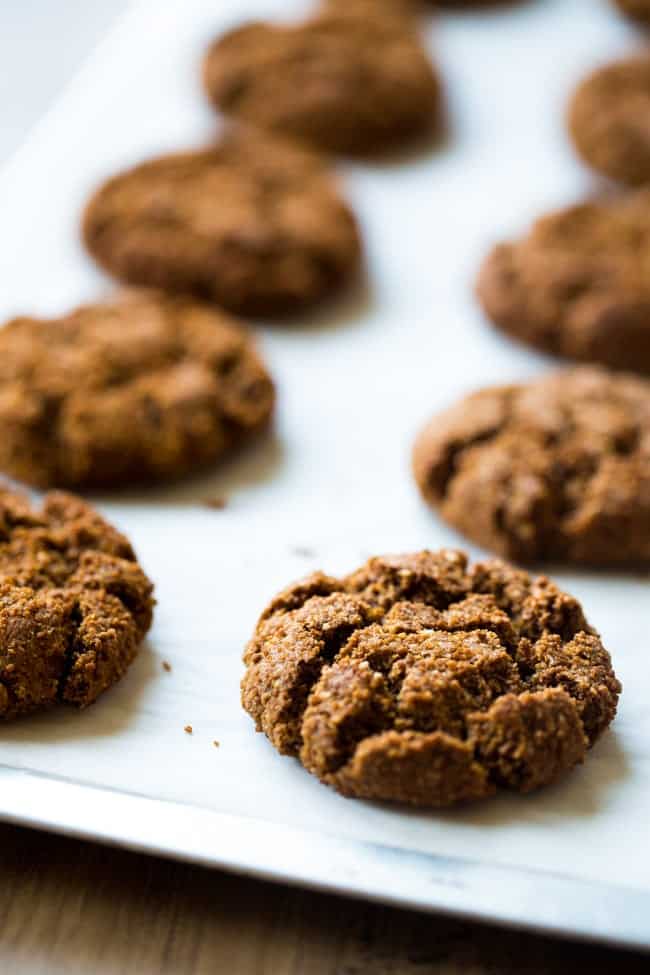 ---
---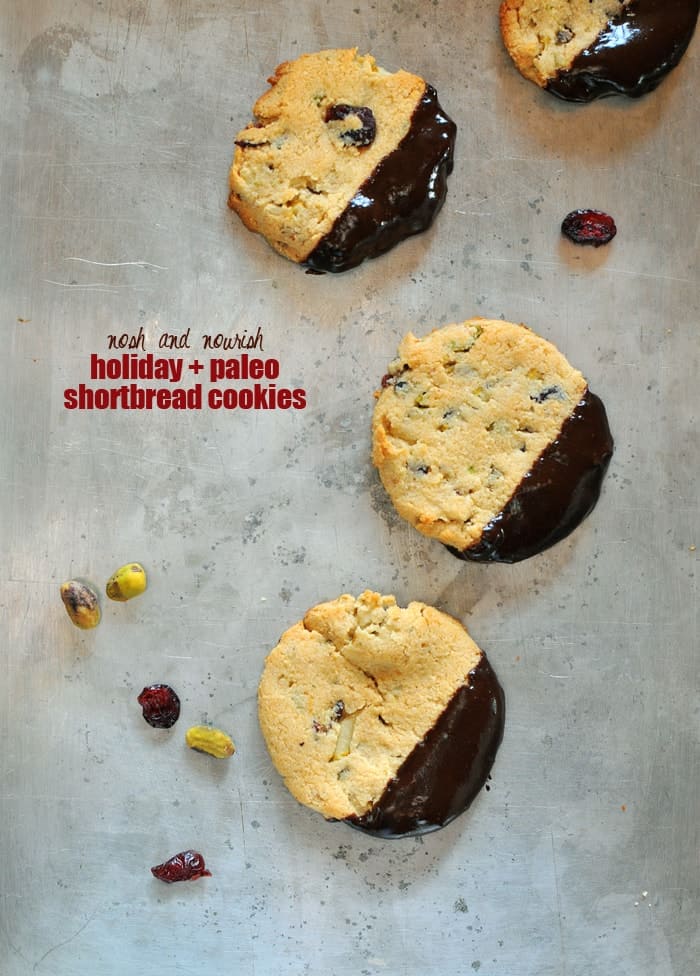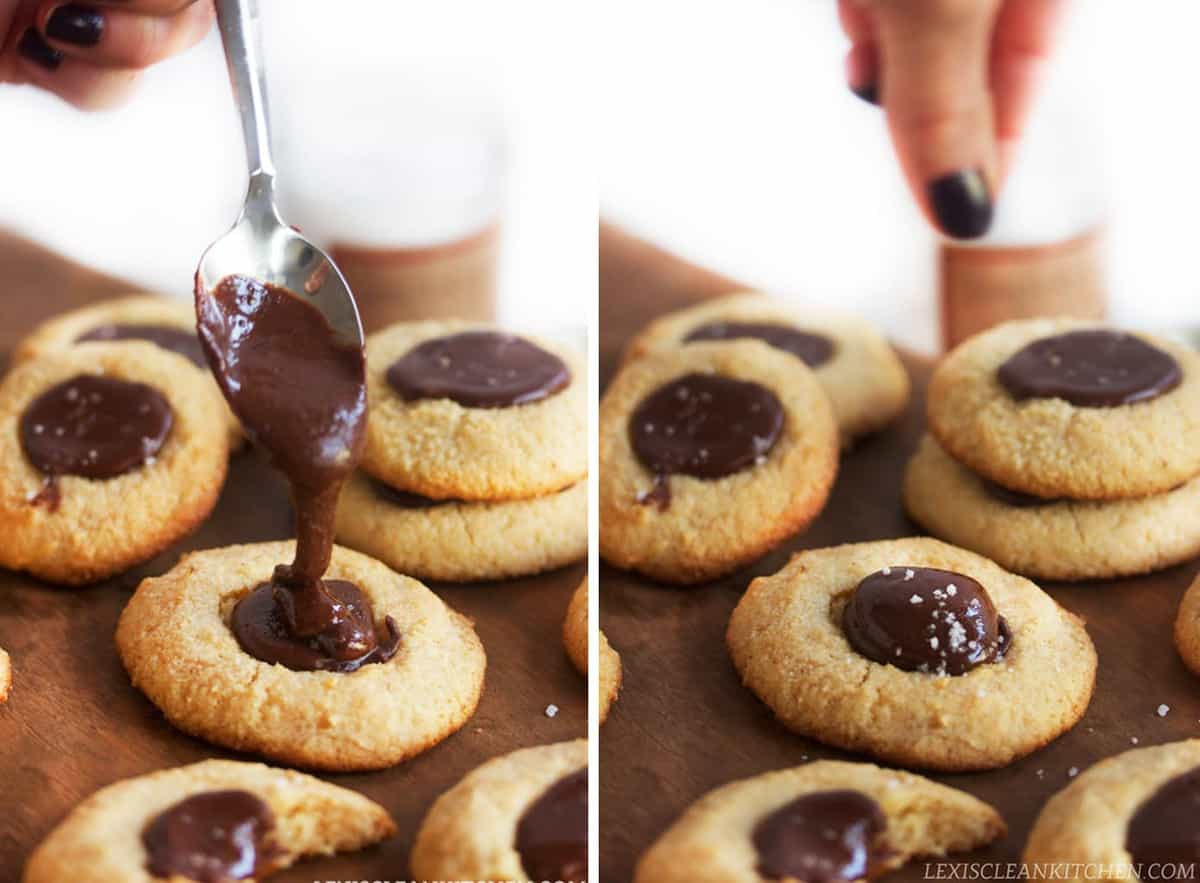 I am so proud of these cookies. First of all- I LOVE HOT COCOA. I recently posted a Vegan Chai Hot Chocolate recipe on FFF and it's gone bonkers on Pinterest ever since Buzzfeed linked to it last week! Apparently everyone else loves Hot Chocolate too. So these cookies legitimately taste like hot chocolate in cookie form. Best part is- there's no refined sugars involved or GRAINS!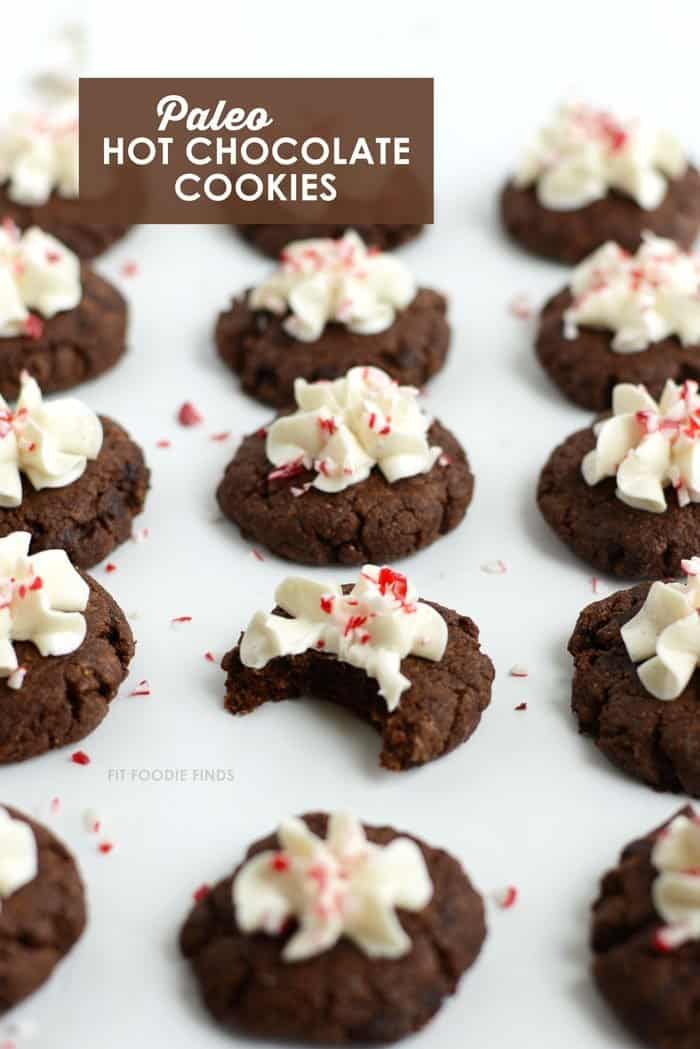 Hot cocoa is not hot cocoa without some whipped cream….aka frosting. I was struggling to find a frosting that wouldn't melt. Coconut whipped was my first choice because it's so easy to make, but it melts and that's no bueno! Lexi suggested I use Palm Shortening which is made from a blend of coconut and palm oils, GMO free, and paleo-friendly! It worked! WHOOP.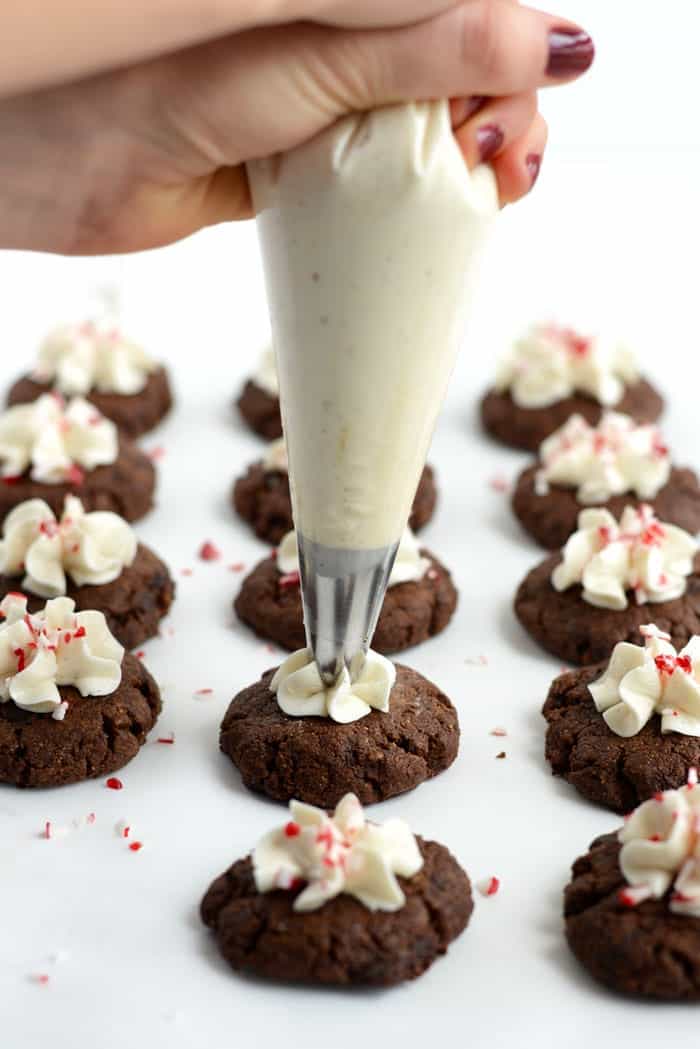 On top I sprinkled on some crushed candy cane. Unfortunately candy cane is not paleo, but as every food blogger says- I did it for the photo. It's true, I totally did it for the photo!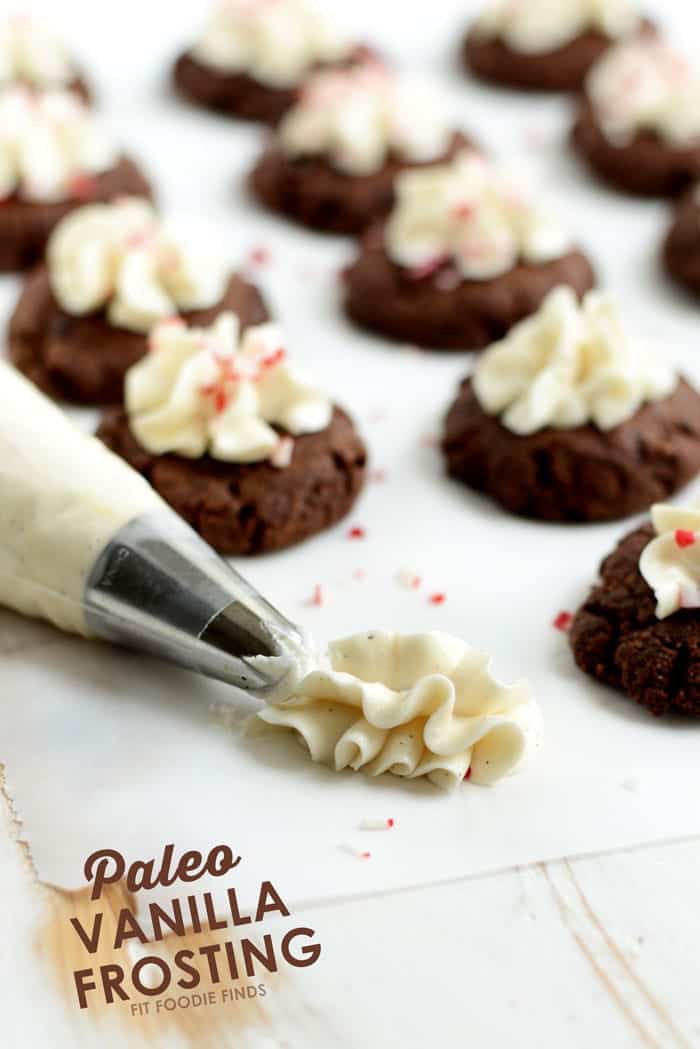 Paleo Hot Cocoa Cookies with Coconut Whipped Cream
Nutrition Per Cookie (WITHOUT frosting): 140 calories | 13g carbs | 9g fat | 4g protein | 8g sugar
Prep Time:

10 mins

Cook Time:

15 mins

Total Time:

25 minutes

Yield:

~16 cookies
Ingredients
For the Cookies
For a Paleo Vanilla Frosting
For a Butter Cream Vanilla Frosting
1 cup softened butter, unsalted
1/2 cup powdered sugar
1 vanilla bean, the paste
Instructions
For the Cookies
First, preheat oven to 350ºF and line a baking sheet with parchment paper.
Place all ingredients in a large bowl, mix until combined (should be very doughy!).
Scoop out about 2 tablespoons per cookie. Roll in the palm of your hand to create a ball, then flatten into a cookie shape. Place on baking sheet. Repeat.
Bake cookies at 350ºF for about 12-15 minutes. Then, let cool for at least 20 minutes.
For the Frosting (both of them)
Place all ingredients in a medium-size bowl. Then, using a hand mixer, whip for about 3-5 minutes until it is at desired consistency.
Transfer frosting into a piping bag and pipe onto cookies using any tip you like! Sprinkle with crushed candy cane (not paleo)!
Let's talk Christmas cookies here for a moment- what's your ALL TIME FAVORITE x-mas cookie?