These Almond Flour Sugar Cookies are both grain-free and sugar-free and such a fun way to jazz up the holiday season!
Are you baking up a storm?! Make these sugar cookie cutouts + these hot cocoa cookies + these shortbread cookies for the best cookie exchange ever!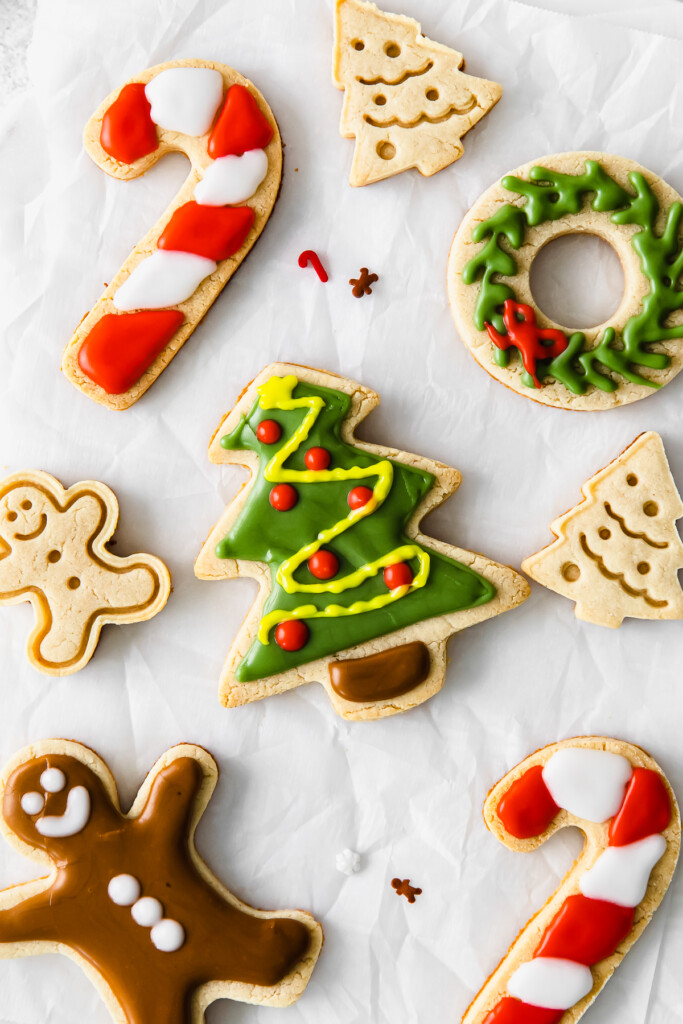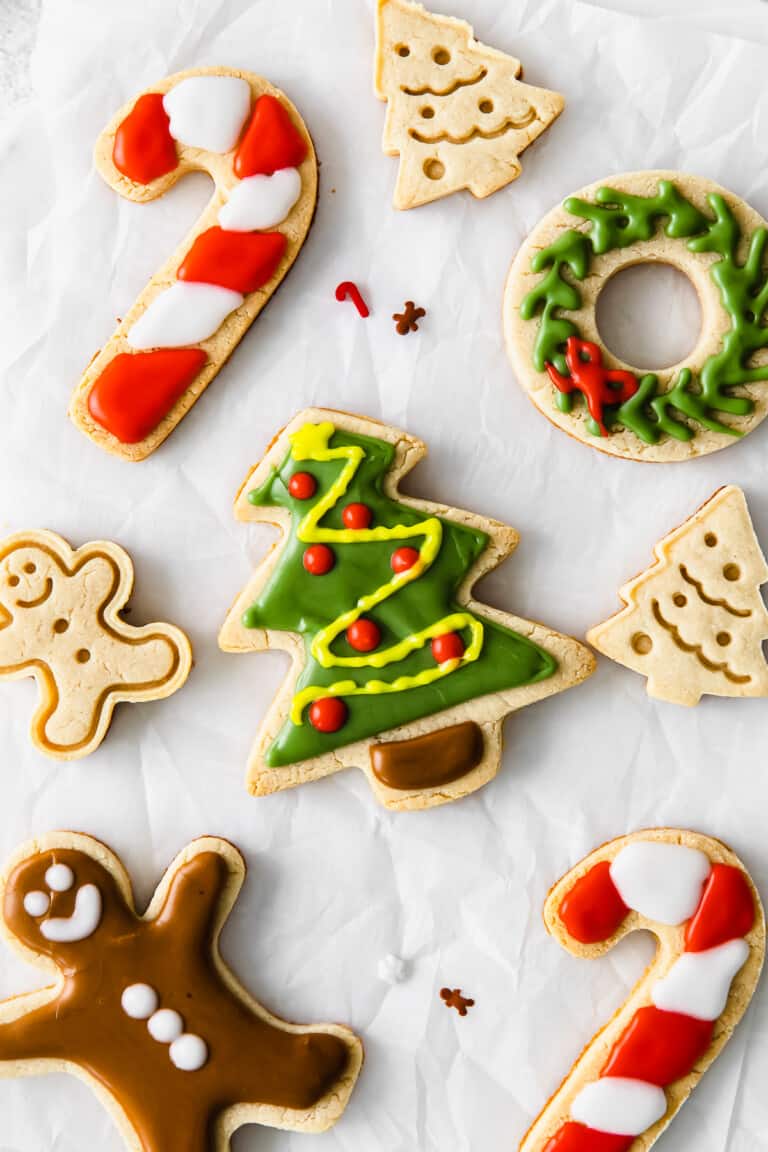 This recipe was formerly called Healthy Sugar Cookies. We updated the photos (same recipe) on December 7, 2022!
Easy Almond Flour Sugar Cookies
It's the most wonderful time of year and we have the most wonderful Christmas cookie recipe to share with you!
This Almond Flour Sugar Cookies recipe needs to be added to your yearly holiday baking. They're made without grains and white sugar! That's right, we're using almond flour and honey to make these grain-free and refined sugar-free.
Decorate them with your favorite icing, some holiday sprinkles, and you've got yourself a showstopping Christmas cookie recipe.
What is almond flour?
Almond flour is simply almonds ground into a flour — so, it's really not flour at all. For this recipe, we're using superfine, unblanched almond flour.
Why you'll love these cookies
Gluten-Free: For this recipe we used almond flour and coconut flour base, making this recipe 100% gluten-free.
Grain-Free: if you're looking for a grain-free Christmas cookie, you've come to the right place. These almond flour sugar cookies are made with coconut flour and almond flour.
Refined-Sugar Free: Bye-bye white sugar! For these cookies, we're using honey, which is an all-natural sugar and so delicious.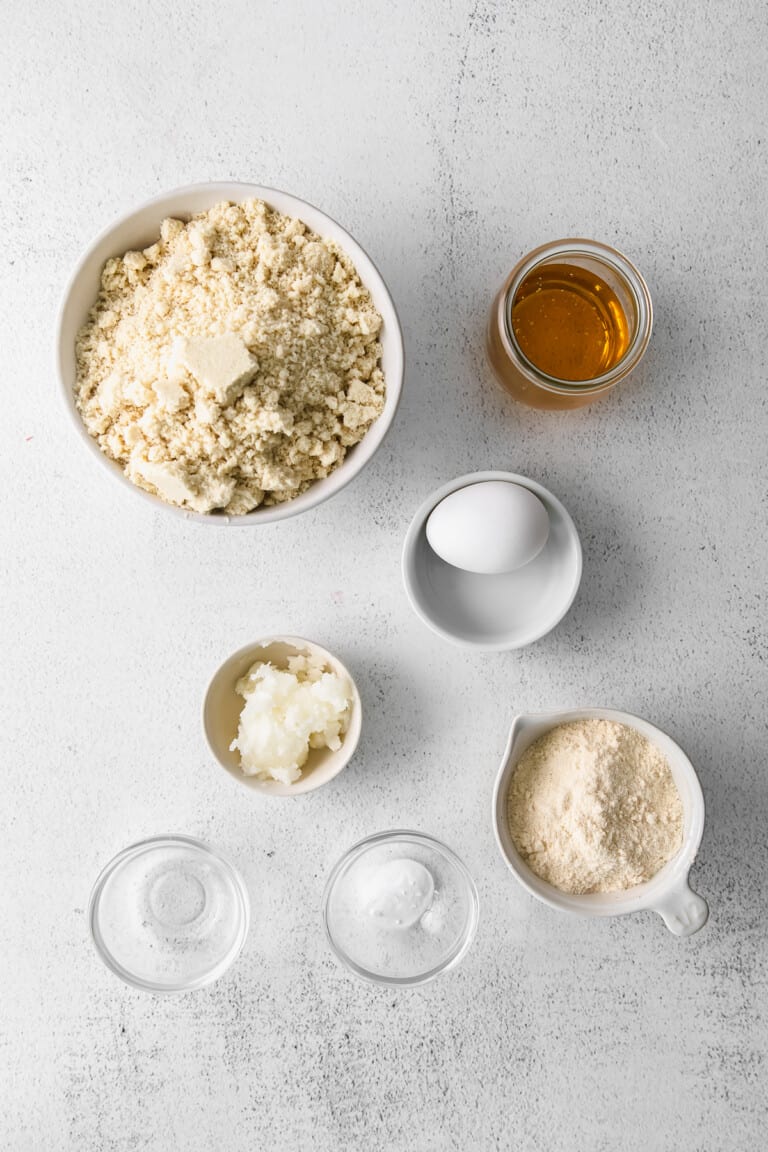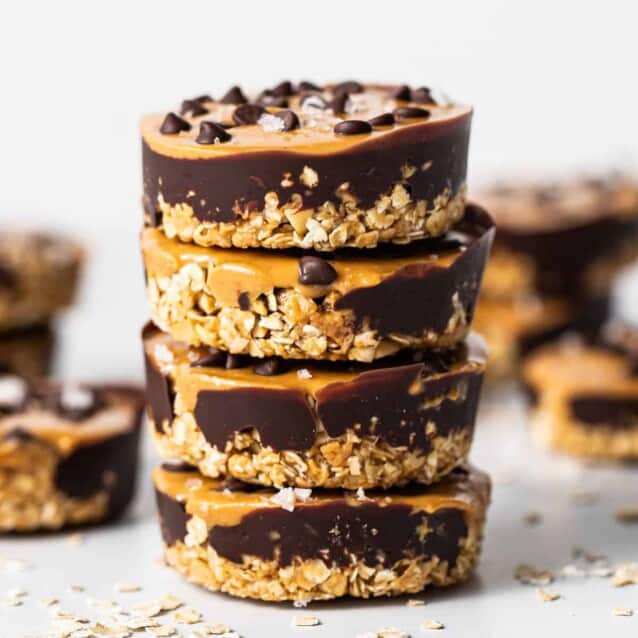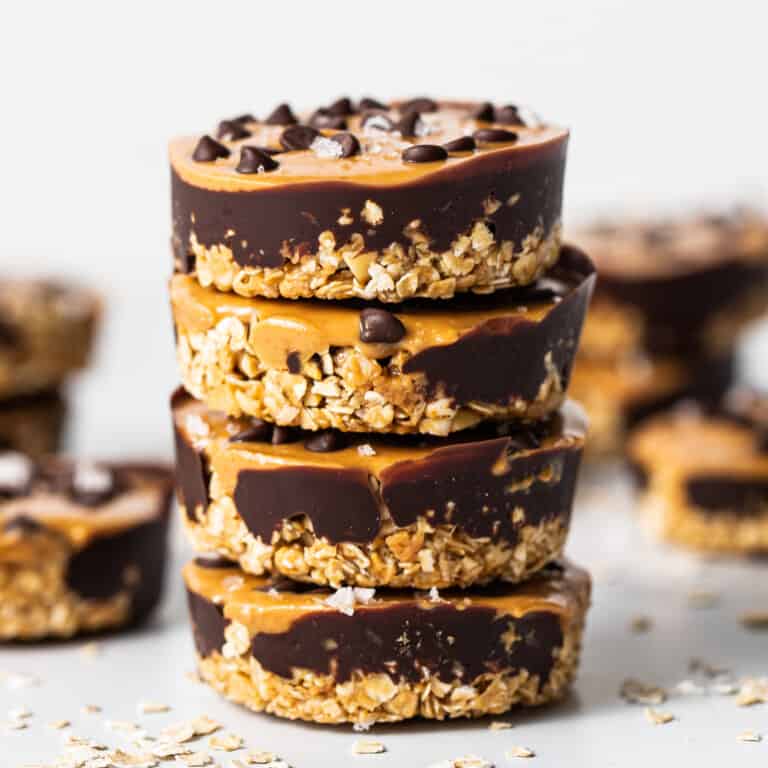 Subscribe!
Love desserts? Us too! Subscribe to our emails and get all of our best desserts straight to your inbox.
Ingredients You Need
Wet
Egg: egg is used as the binder in this recipe. We do NOT recommend swapping for a flax egg.
Almond extract: we love how almond extract adds a holiday vibe to these cookies. Feel free to swap for vanilla extract.
Honey: instead of using white sugar, we're using honey as our sweetener.
Coconut oil: coconut oil is the fat used in these cookies. Feel free to swap for butter instead.
Dry
Almond flour: superfine, unblanched almond flour is the basis of these sugar cookies. We recommend Bob's Red Mill.
Coconut flour: coconut flour is another grain-free flour. It's dense, so you don't need to use a lot.
Baking soda: baking soda is the levening agent.
Salt: salt helps bring out the delicious almond flavor of the extract and flour.
Can I swap a different flour?
Unfortunately, since almond flour and coconut flour have such unique properties, we do NOT recommend swapping either for a different grain-free or glutenous flour.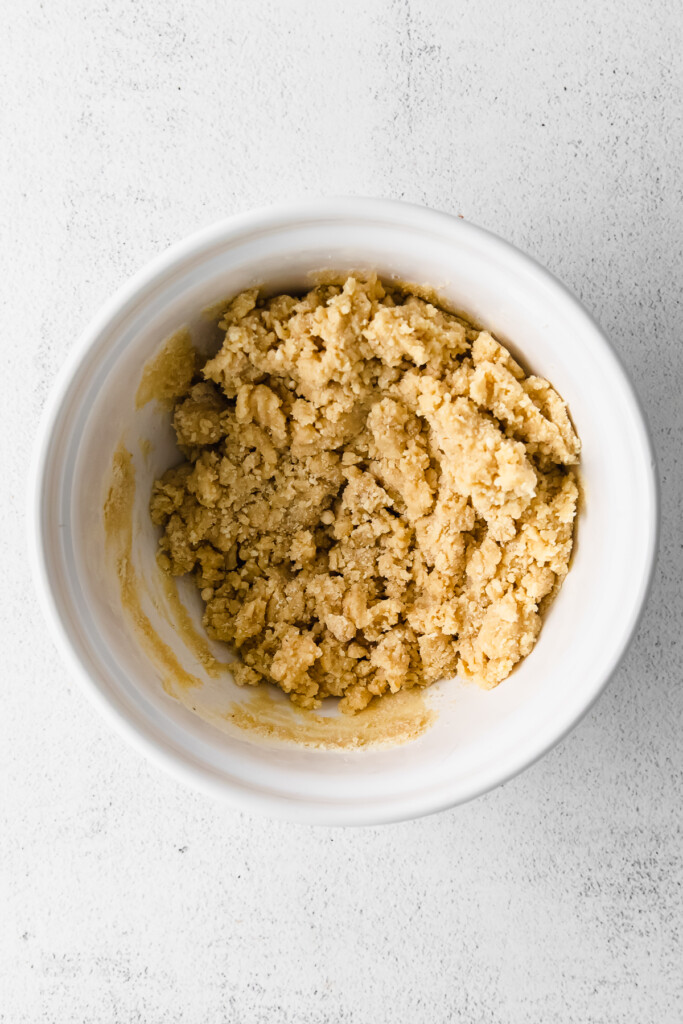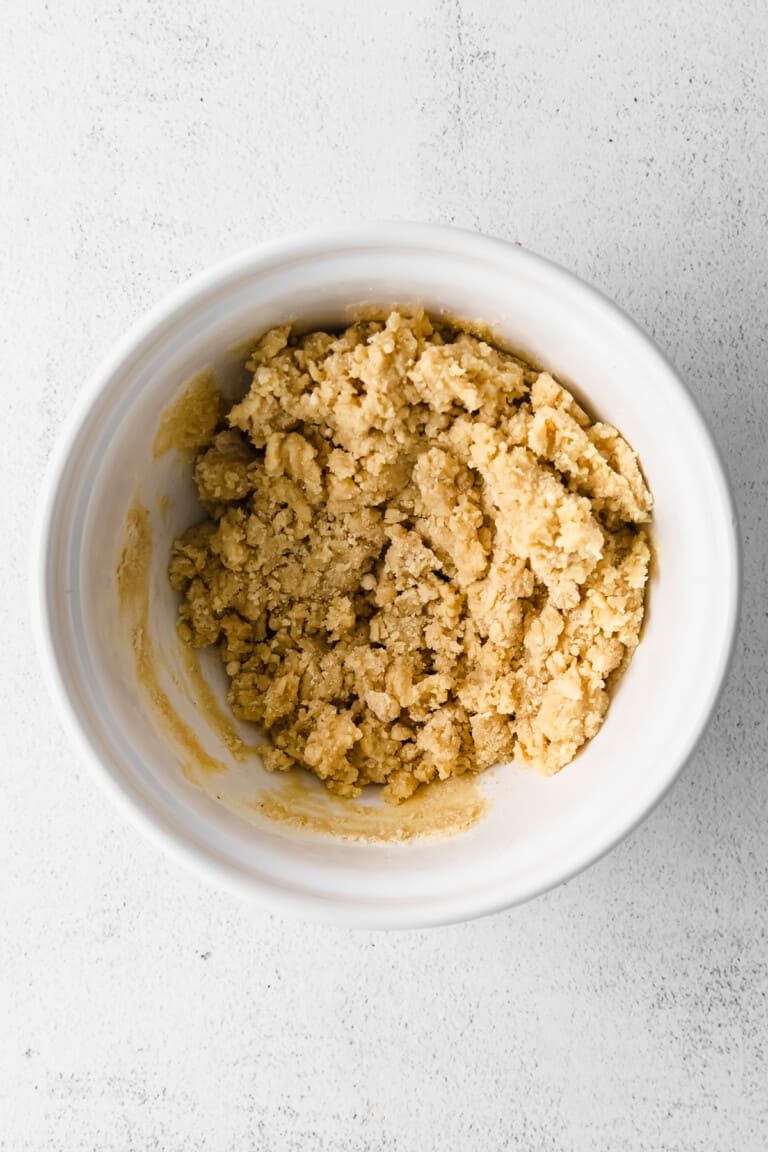 How to Make Almond Flour Sugar Cookies for Christmas
Mix Dry
Combine almond flour, coconut flour, baking soda, and salt.
Mix Wet
In a different bowl, mix together the whisked egg, almond extract, and honey. Then add in the melted coconut oil and mix again.
Combine
Slowly add the dry ingredients into the wet and mix. We recommend using your hands for this to knead all of the ingredients together.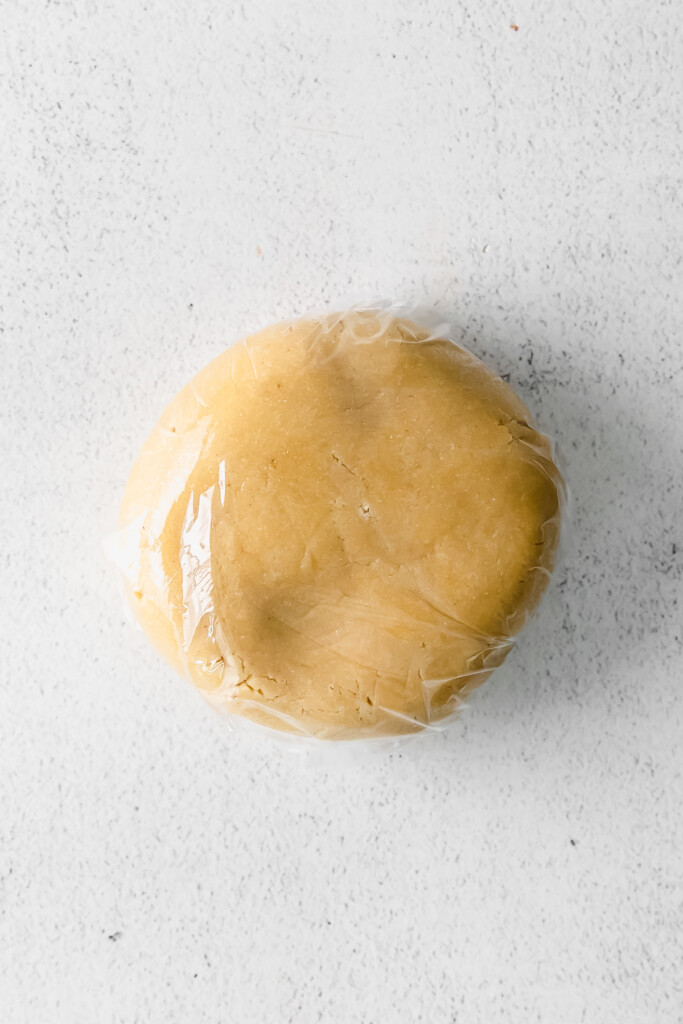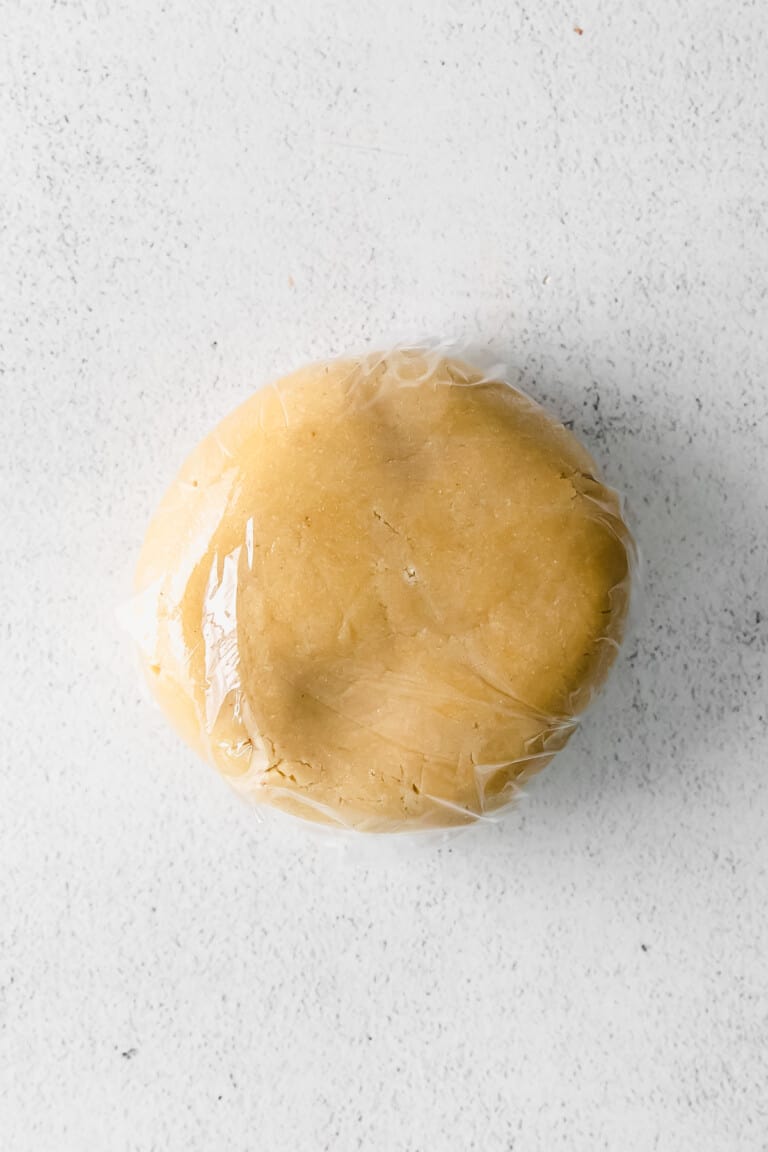 Refrigerate
Roll the dough into a ball and wrap it with plastic wrap. Then, chill in the fridge for 30 minutes.
Roll
Once the dough has chilled, flour a clean surface with coconut flour. Then, roll the sugar cookie dough out so that it's 1/4″ – 1/2″ thick.
Cut
Use your favorite small/medium cookie cutters to cut out your favorite holiday shapes.
Bake
Transfer the cutouts to a parchment-lined baking sheet and bake at 350ºF for 6-8 minutes.
Cool
Transfer to a wire rack and let cool for at least 30 minutes before frosting.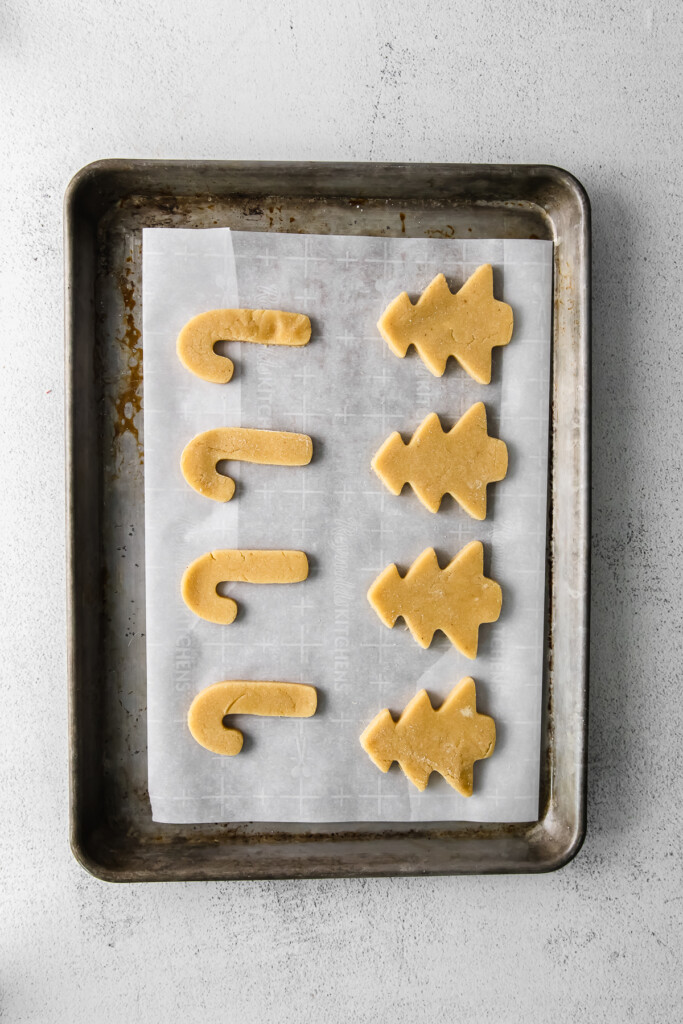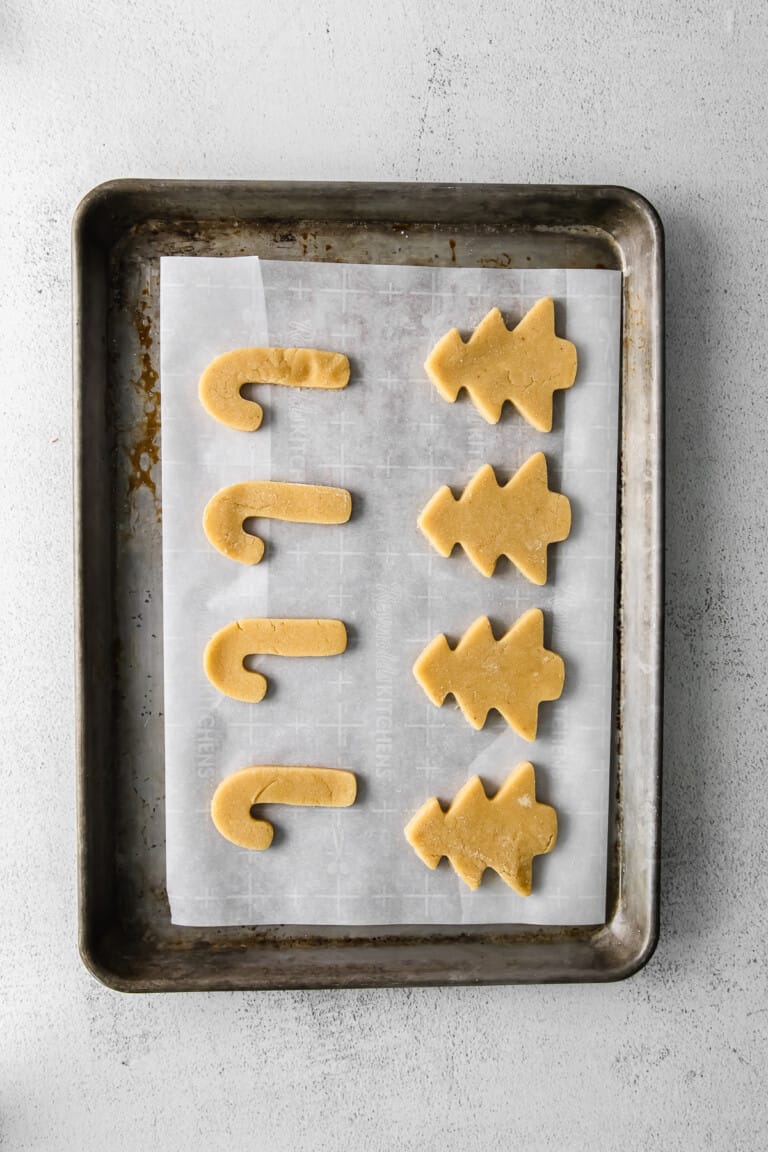 Simple Icing Recipe
If you're looking for a simple icing recipe, we kept things very classic with organic powdered sugar and water.
There are lots of refined-sugar free icing recipes out there and if that's your jam, we recommend using sir Google for that one 😀
Christmas Cookie Decorating Ideas
These sugar cookie cut-outs are the perfect canvas for whatever kind of decorating your heart desires. Some of our go-to's for the most festive-looking cookies include:
Edible glitter: silver and gold silver and gold!
Colored frosting: we like to put our frosting in a ziploc bag and cut the corner off, so you can pipe frosting onto your cookies!
Sprinkles: there are so many festive sprinkle options at major grocery stores. Get creative!
Crushed candy cane: dice a candy cane with a knife to make a festive and minty topping for your cookies.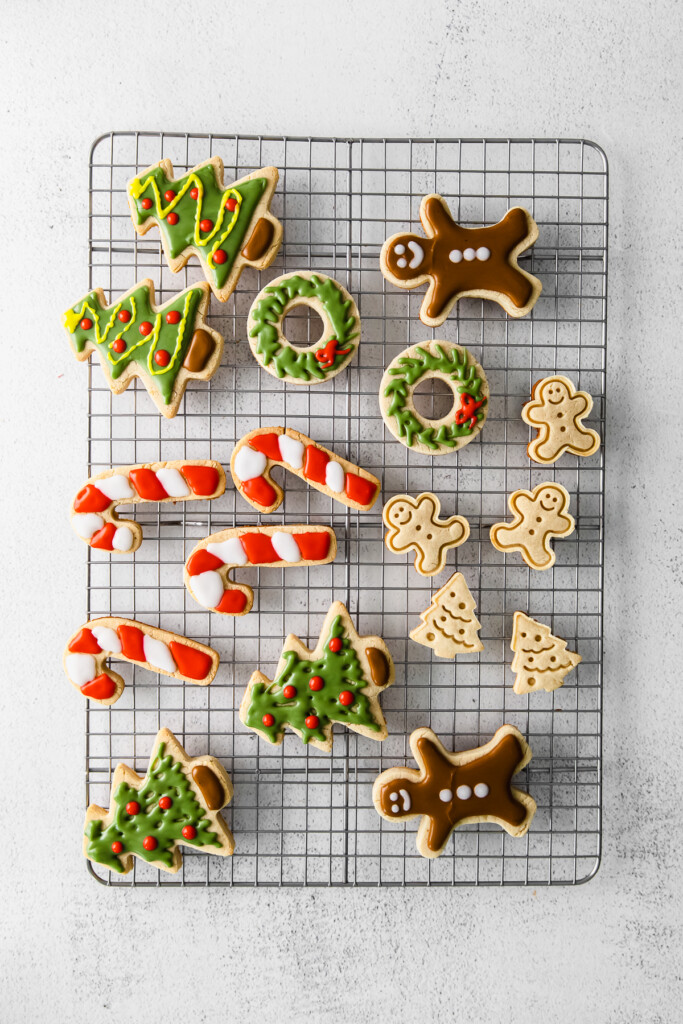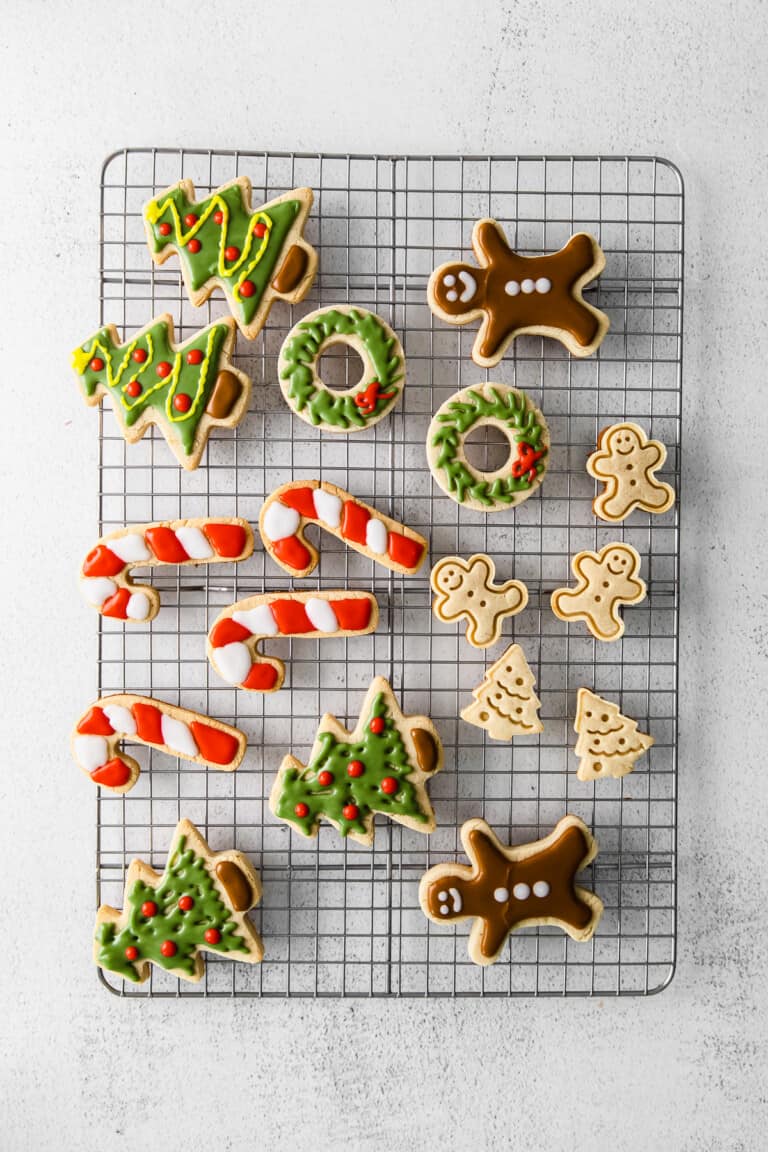 Storage Instructions
Layer cookies in an airtight container with a piece of parchment paper in between layers. Store in a cool, dark place for up to 3-5 days.
Freezer Instructions
Cookies will freeze well both frosted and unfrosted.
Layer cookies in a freezer-safe bag with a piece of parchment paper in between layers. Then, freeze for up to 3 months.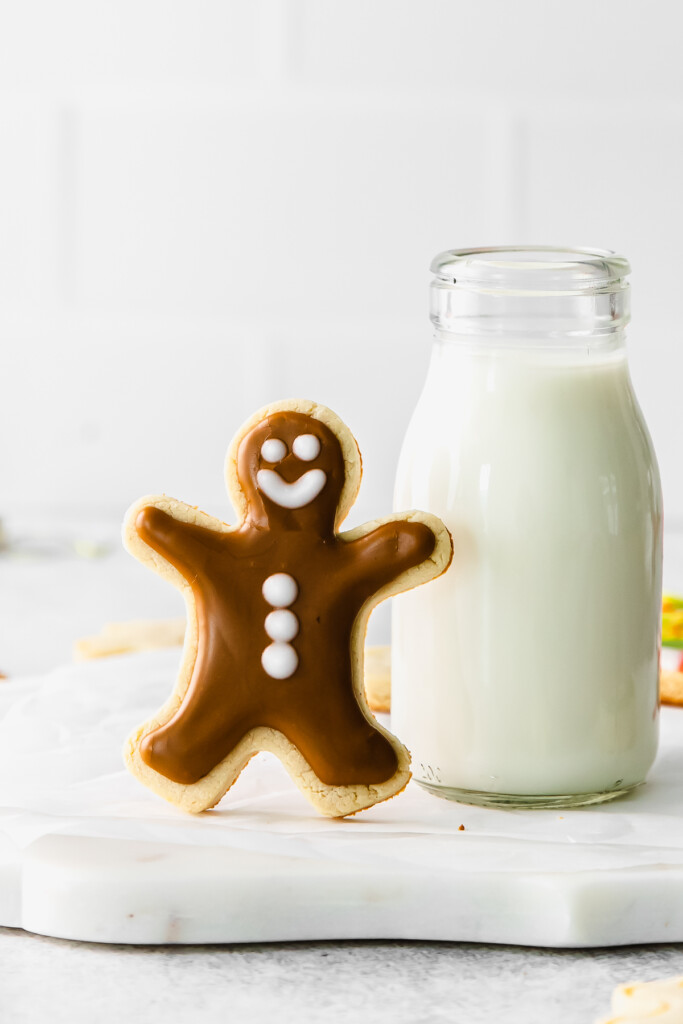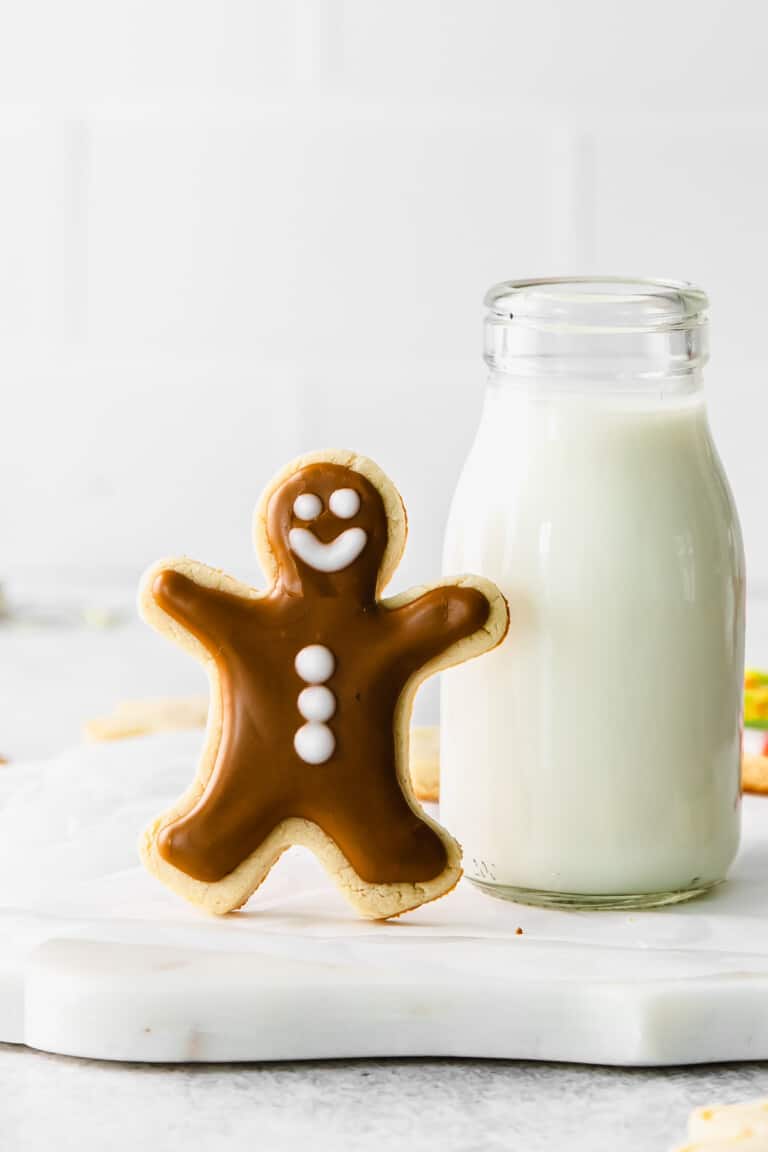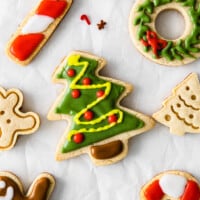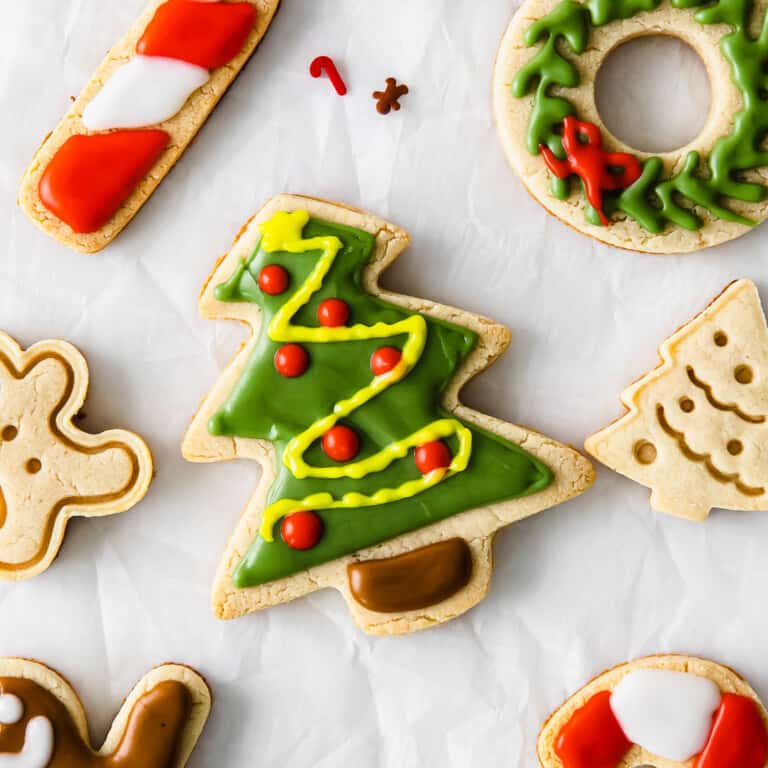 Almond Flour Sugar Cookies
Make Almond Flour Sugar Cookies for Christmas using your favorite cookie cutters and holiday decorations! This recipe features almond flour, coconut flour, and honey making them gluten-free and refined sugar-free.
Ingredients
Simple Icing
2

cups

organic powdered sugar

2-3

tablespoons

water

Optional: food coloring
Instructions
Preheat oven to 350ºF and line 2 baking sheets with parchment paper. Set aside.

In a medium-size bowl, whisk together dry ingredients and set aside.

In a large bowl, whisk together egg, almond extract, and honey. Then, add in melted coconut oil and whisk again.

Slowly add dry ingredients to wet until your dough is formed. Use a wooden spoon at first and then switch to using your hands. The dough may seem crumbly at first, but continue to knead dough together until it forms a ball.

At this point, you can add your food coloring. We suggest starting off with just a few drops and kneading the food coloring into the dough. You can also make multiple colors of dough by separating in half or thirds.

Create a ball with your dough and wrap with plastic wrap and place in refrigerator for 30 minutes.

Once the dough has cooled. Remove from fridge and sprinkle coconut flour onto a hard, cool surface as well as your rolling pin. Then, use rolling pin to roll out the dough so that it's around 1/4 to 1/2 of an inch thick. If it's sticking, sprinkle on some more coconut flour.

Use small/medium cookie cutters to create sugar cookie cut outs. Place shapes onto your parchment-lined baking sheet. Don't worry about spacing too much, the cookies will not expand that much.

Bake at 350ºF for 6-8 minutes or until cookies begin to brown. They cook fast, so be careful!

Immediately remove from hot pan and place on cookie rack. Let cool for at least 30 minutes before frosting.

For the icing: add water to powdered sugar one tablespoon at a time and mix. Add enough water, until you've reached your desired thickness. If you want to color your frosting, add a few drops of whatever color you desire. Then, transfer into a piping bag (or plastic bag) and frost away!

Frost cookies with icing and then decorate with sprinkles and edible glitter.

Will stay for up to 5-7 days in an airtight container.
Nutrition facts
Serving:
1
g
Calories:
160
kcal
Carbohydrates:
22
g
Protein:
3
g
Fat:
8
g
Fiber:
2
g
Sugar:
18
g