Lighten up your holiday season with these spectacular Healthy Soft Raspberry Thumbprint Cookies. They're grain-free and made with a delicious home raspberry filling.
Want some more healthy holiday cookies? Be sure to try our Shortbread Almond Flour Cookies and the No-Bake Protein Thumbprint Cookies.
How am I writing about Christmas cookies when it's been in the mid 50's the last few days. What in the world?! We had a brief cold spell in Minne for about 2 weeks when it got down into the 20's and 30's for highs, and now we're back into the 40's and 50's. I pulled out my parka back in early November and haven't needed it all week. It is amazing, minus the fact that Global Warming sucks.
Instead of going on a Global Warming tangent, let's talk about holiday plans! I feel like for my entire life I've always traveled over the holidays. Since we moved around a lot as kids, we always went "home" to Chicago, which is where both of my parents are from. I've lived in Minneapolis for almost 10 years (OMG crazy) and continue to go "home" to Chicago every single year for both Thanksgiving and Christmas. Now that Mark is part of my life, we split holidays between Milwaukee where his parents are from and Chicago. Good news is, Milwaukee and Chicago are only about an hour and a half apart, so sometimes we snag a car and drive between the two or train, both work swell. The bad news is Milwaukee and Chicago are about a 5 or 6.5-hour car ride from Minneapolis. I've made the drive over 20 times and let me tell you, I've seen some stuff go down on 94. After a bad car accident 5 years ago, I have a lot of anxiety in cars, especially during the winter. Hence the reason why I prefer to fly everywhere. Much safer.
This year we spent Thanksgiving in Milwaukee and will be spending Christmas in Chicago with my parents. We'll eventually drive up to Milwaukee for a day or so, but the majority will be spent in the windy city. For the first time in like 5 years, we will have ever member on my mom's side in town. That's hard to do with 9 cousins and a bunch with kids!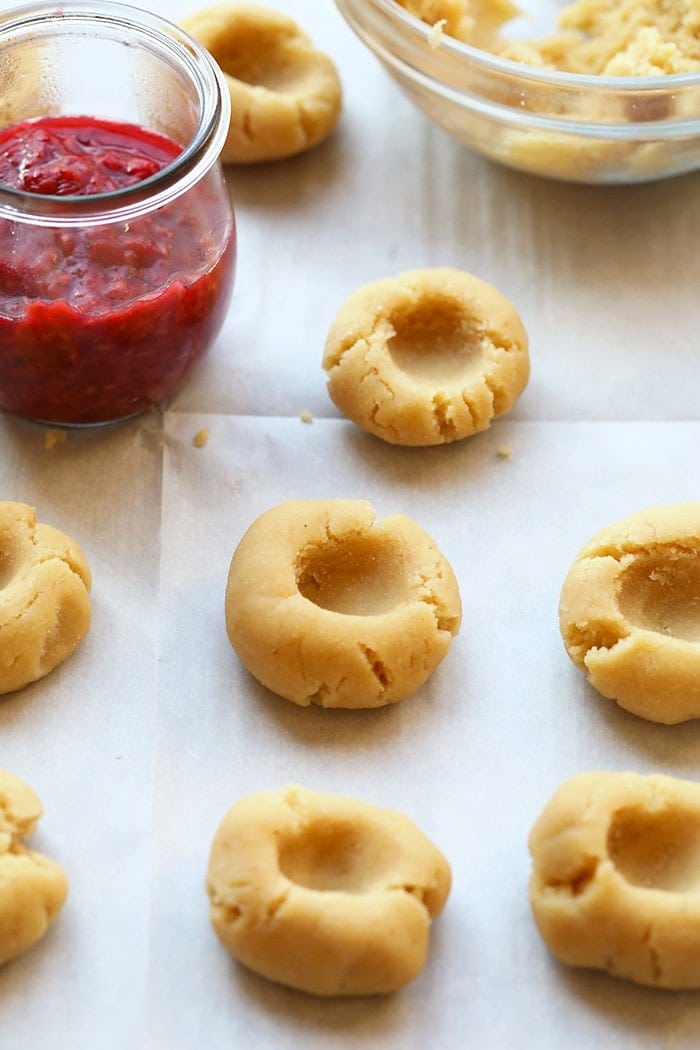 I clearly love Christmas for the food. I mean, I run a food blog for gosh sakes! I've been making Christmas cookies with Mama Hersh since I could stir and I am very excited about these soft raspberry thumbprints! A few weeks ago I learned how to make this delicious raspberry jam from Zoe Bakes. This isn't her exact recipe, but we took some tips from the pro! Guys, it's super simple to make. We used honey instead of sugar, to lighten things up and it's fabulous. We used the jam as our filling to these soft thumbprints, which are grain-free and made with almond meal.
That also means they are guilt-free, right?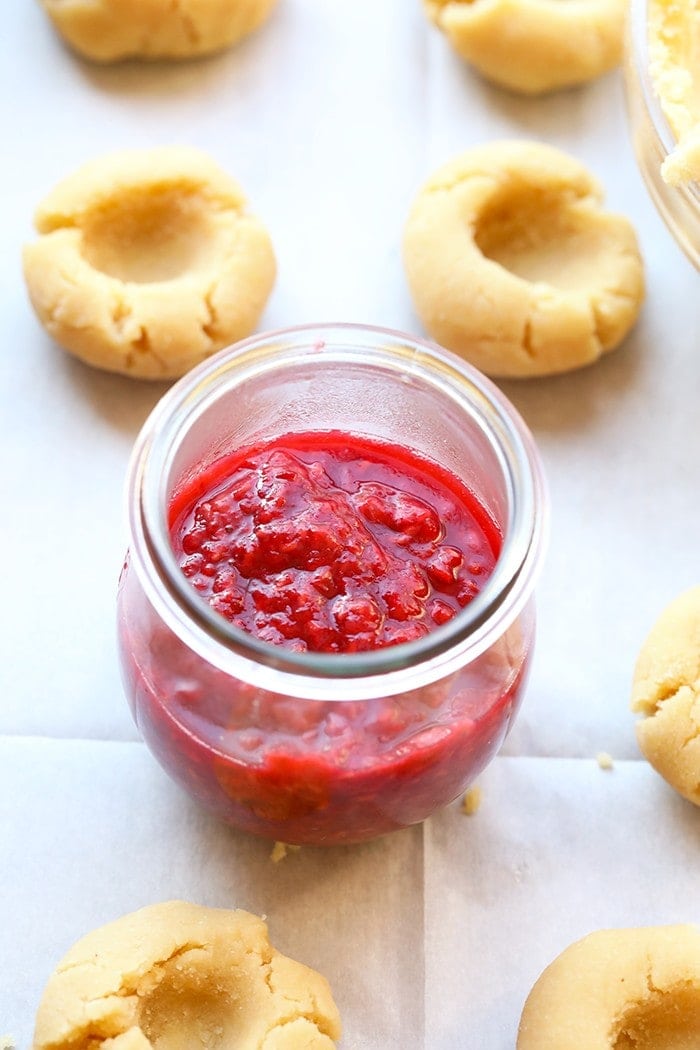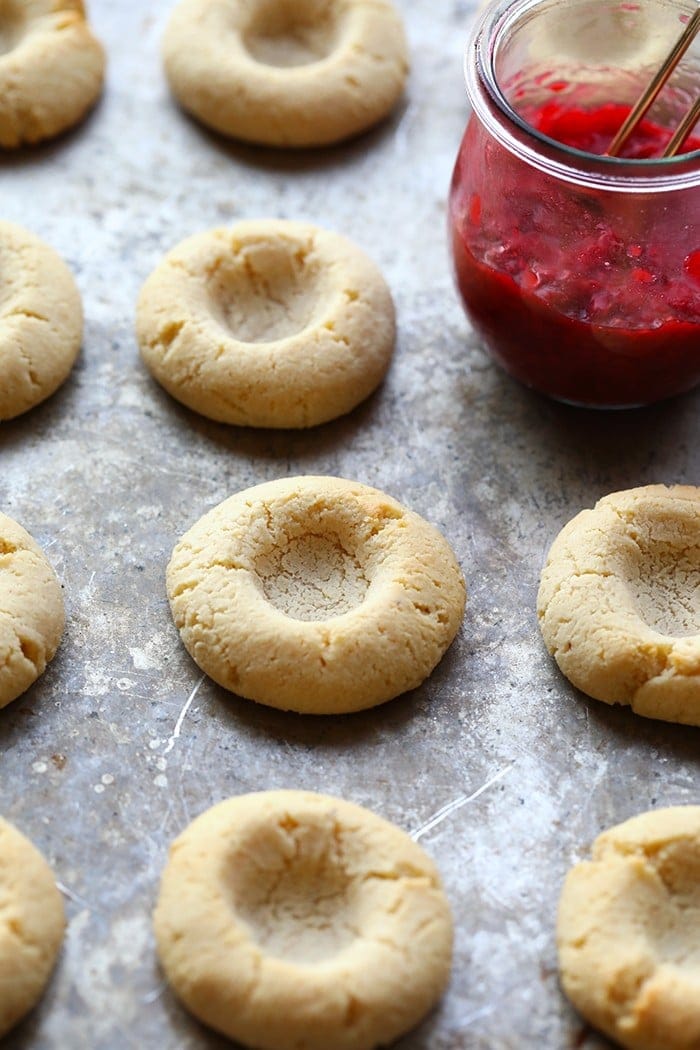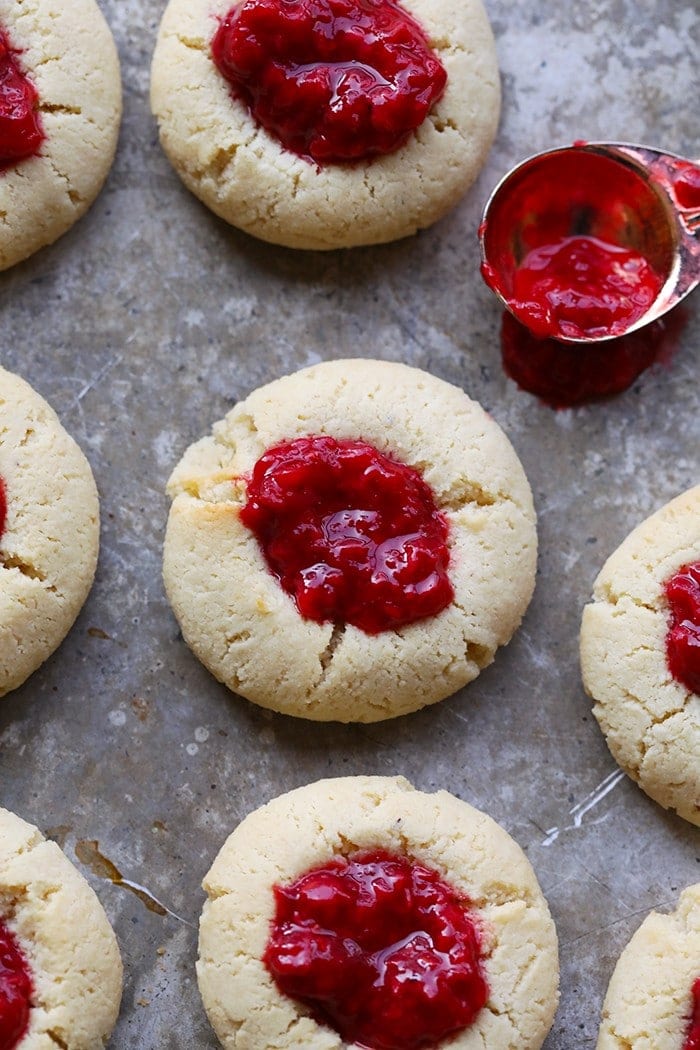 ViDEO: Healthy Raspberry Thumbprint Cookies
Lighten up your holiday season with these spectacular Healthy Soft Raspberry Thumbprint Cookies. They're grain-free and made with a delicious home raspberry filling.
Ingredients
Instructions
Preheat the oven to 350ºF and line a baking sheet with parchment paper.

Add all ingredients for the raspberry filling into a medium sized saucepan and cook over low/medium heat for 25-30 minutes, stirring occasionally. Remove from heat once raspberries have thickened to create a jam and let cool.

While raspberry filling is cooking, prepare cookies. In a medium bowl, mix together dry ingredients. Set aside.

In a separate medium bowl, mix together wet ingredients.

Slowly add dry ingredients to wet and mix until combined.

Carefully roll dough into a ball, wrap in parchment paper, and refrigerate for 30 minutes.

Once chilled, remove from refrigerator and use a tablespoon scoop to roll cookies into a ball. Place cookie on baking sheet. Then, using your thumb, press in the middle of the cookie to create your thumbprint. Repeat.

Bake for 9-11 minutes.

Remove from oven and carefully re-press down the middle of the cookie with a teaspoon.

Let cookies completely cool* and then fill the middle of the cookies with raspberry filling.

Enjoy!
Tips & Notes
*Make sure to let your cookies cool completely or the raspberry jam will bleed.
Nutrition facts
Serving:
1
g
Calories:
178
kcal
Carbohydrates:
17
g
Protein:
4
g
Fat:
12
g
Fiber:
3
g
Sugar:
13
g