It's the most wonderful time of year to make Chocolate Crinkle Cookies! These chocolate Christmas cookies are ooey-gooey on the inside and coated with powdered sugar on the outside.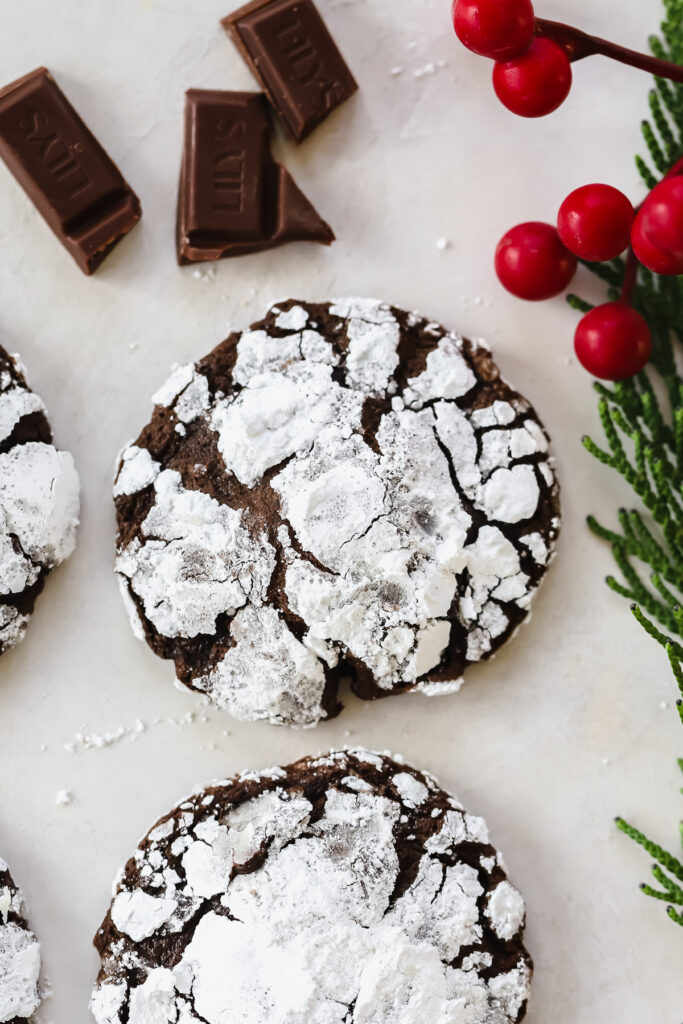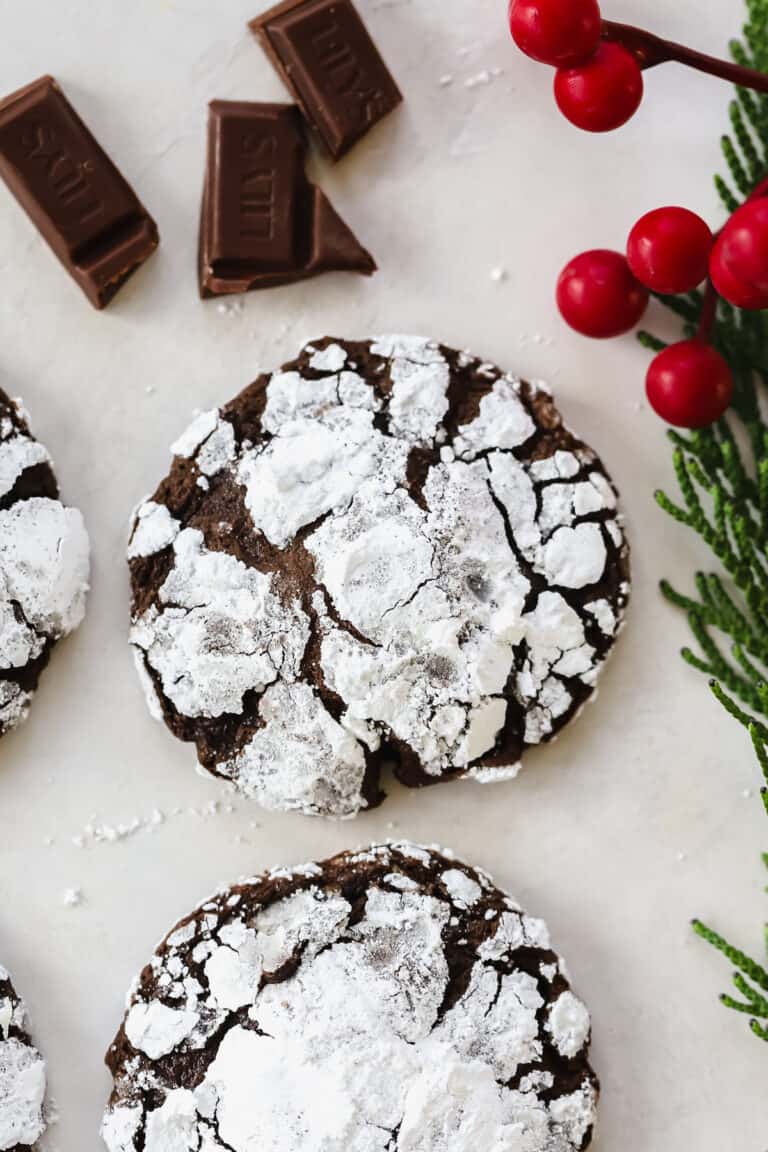 Chewy Chocolate Crinkle Cookies
Holiday baking is in full swing and Crinkle Cookies are in our cookie baking exchange this year.
We love chewy crinkle cookies because they're truly the ultimate chocolate Christmas cookie. Our crinkle cookie recipe is made with milk chocolate, dark chocolate, and cocoa powder.
Plus, they're finished off with a dusting of powdered sugar leaving them crinkly and delicious.
Why You'll love them!
Decadent: if you're looking for a decadent holiday dessert then you've come to the right place!
Chewy: we used melted chocolate and chocolate chunks to make sure these come out ooey-gooey.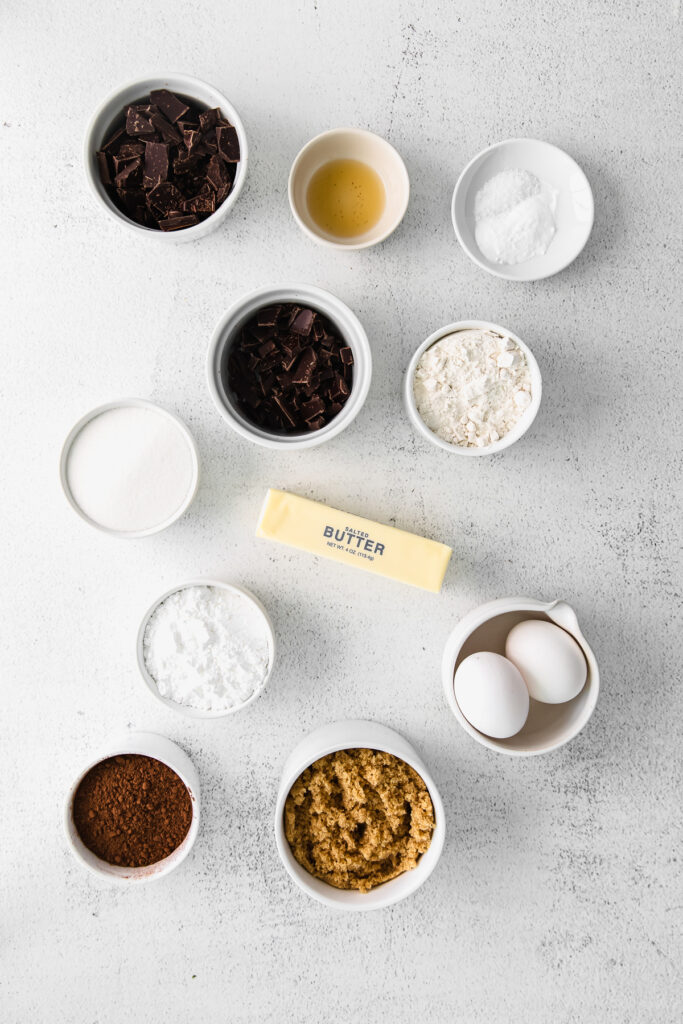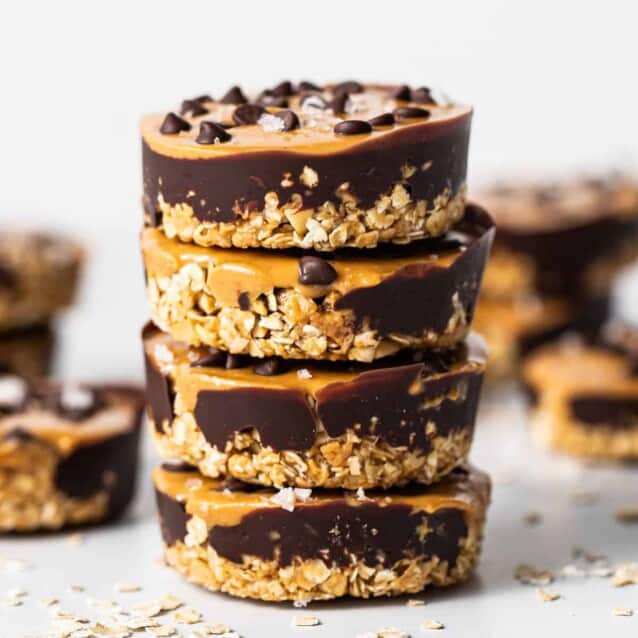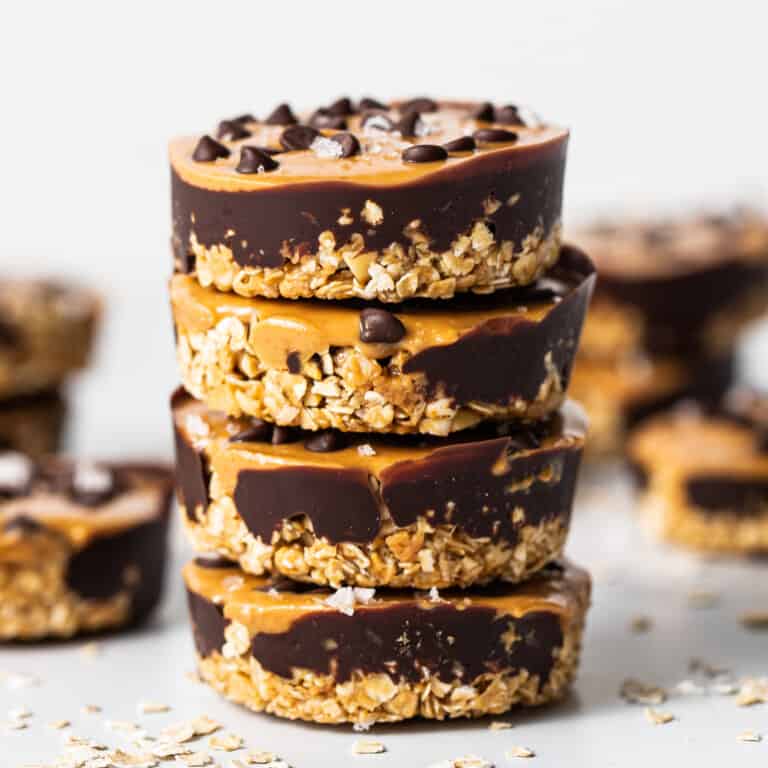 Subscribe!
Love desserts? Us too! Subscribe to our emails and get all of our best desserts straight to your inbox.
Cookie Baking Accessories
Make sure to grab all of your cookie baking essentials before you begin baking!
What You Need
Dark Chocolate: you'll be melting some dark chocolate to mix into the batter so that it comes out nice and chewy.
Cocoa Powder: cocoa powder is used so they come out extra chocolatey.
Flour: we're keeping things simple and using all-purpose flour.
Baking Soda: this is the levening agent.
Salt: salt is used to bring out the intense chocolate flavor of a crinkle cookie.
Milk Chocolate: milk chocolate chunks are mixed into the cookie batter before baking for bursts of sweet chocolatey goodness in every bite.
Butter: a little bit of butter does the soul good.
Egg: egg is used as the binder.
Vanilla: vanilla brightens up the flavors in these cookies.
Powdered sugar: before baking, the cookie dough balls are rolled into powdered sugar so that they come our crinkley and cute.
Granulated sugar: we granulated sugar because the granulated sugar prevents the powdered sugar from melting during baking.
Can I make these gluten-free?
While you are likely able to swap the all-purpose flour for a gluten-free all-purpose flour blend, we have not tested this and can't say.
Can I use different flour?
We do not recommend any flour substitutions.
Can I make these egg free?
Unfortunately, we do not recommend making these egg-free.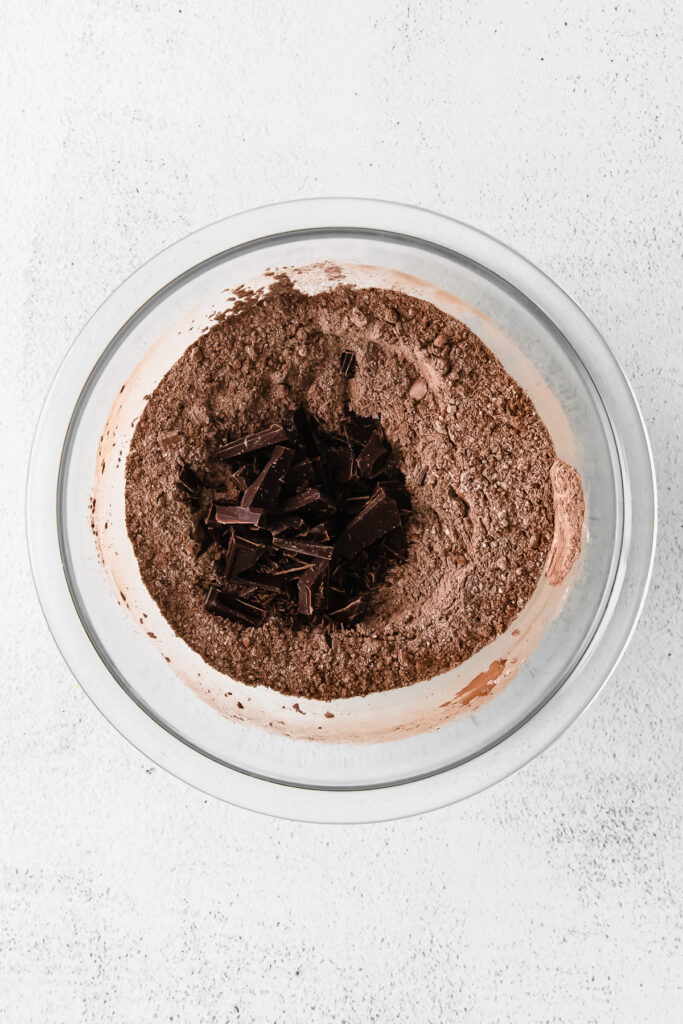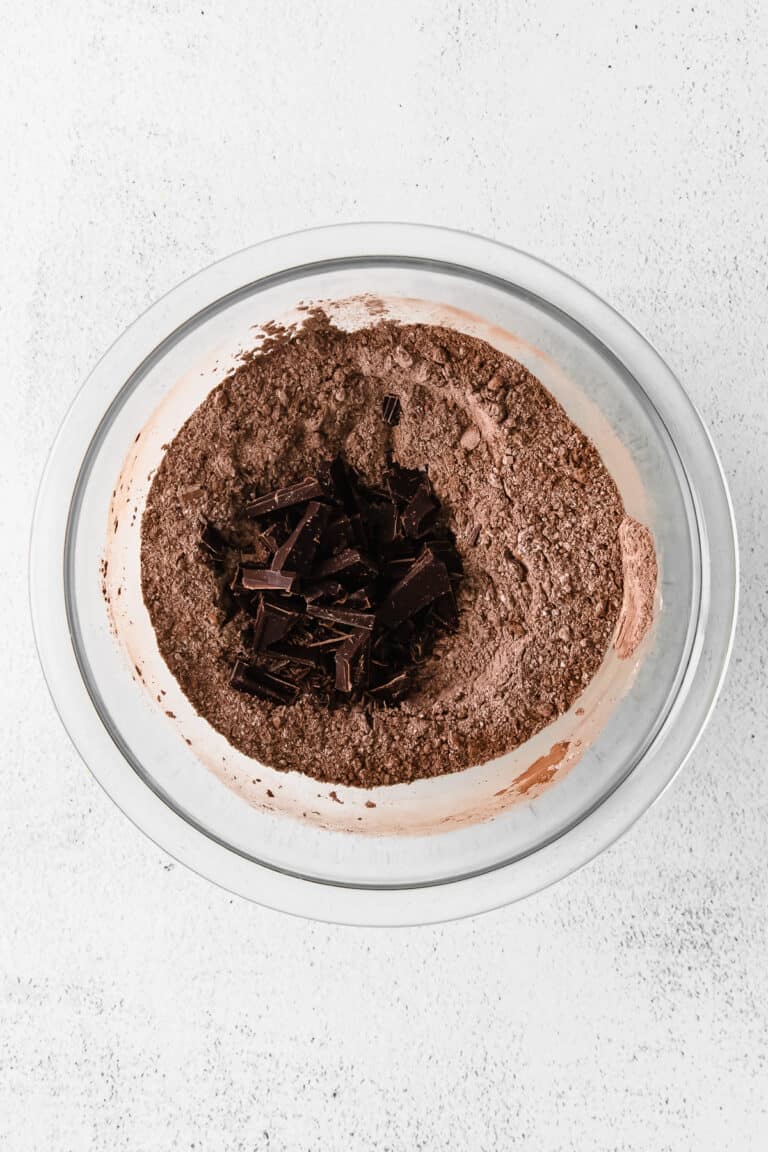 #1 Tip for Perfect Crinkle Cookies
Crinkle cookies come out too flat or not crinkly enough for you?
That's probably because you didn't chill your cookie dough long enough. Whatever you do, do not skip chilling the dough.
We recommend chilling your cookie dough for at least 3 hours or overnight if you can wait that long!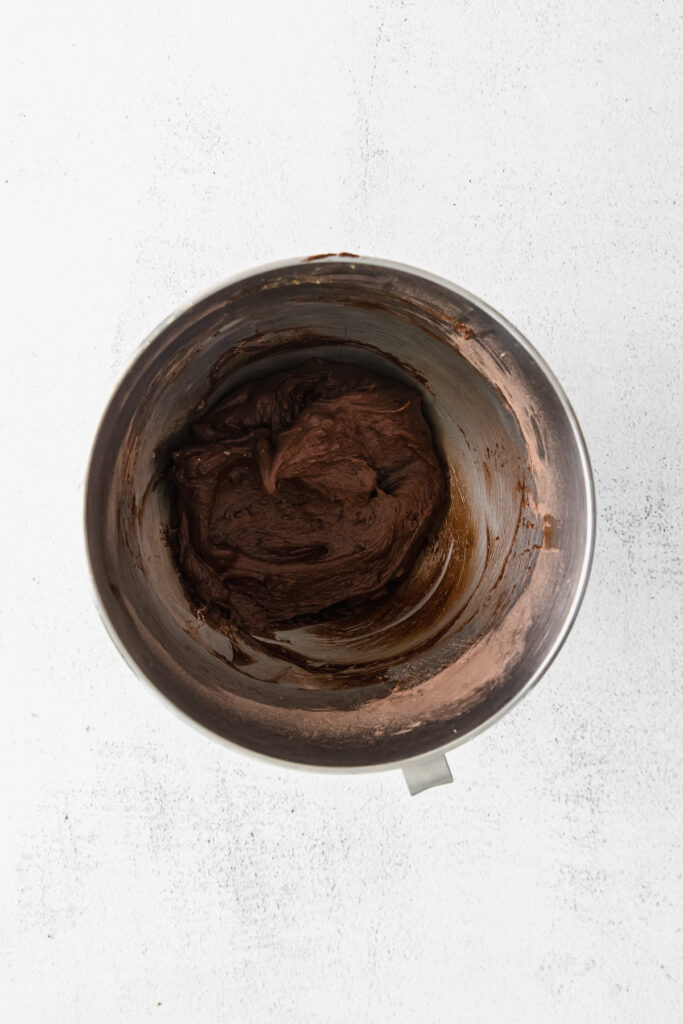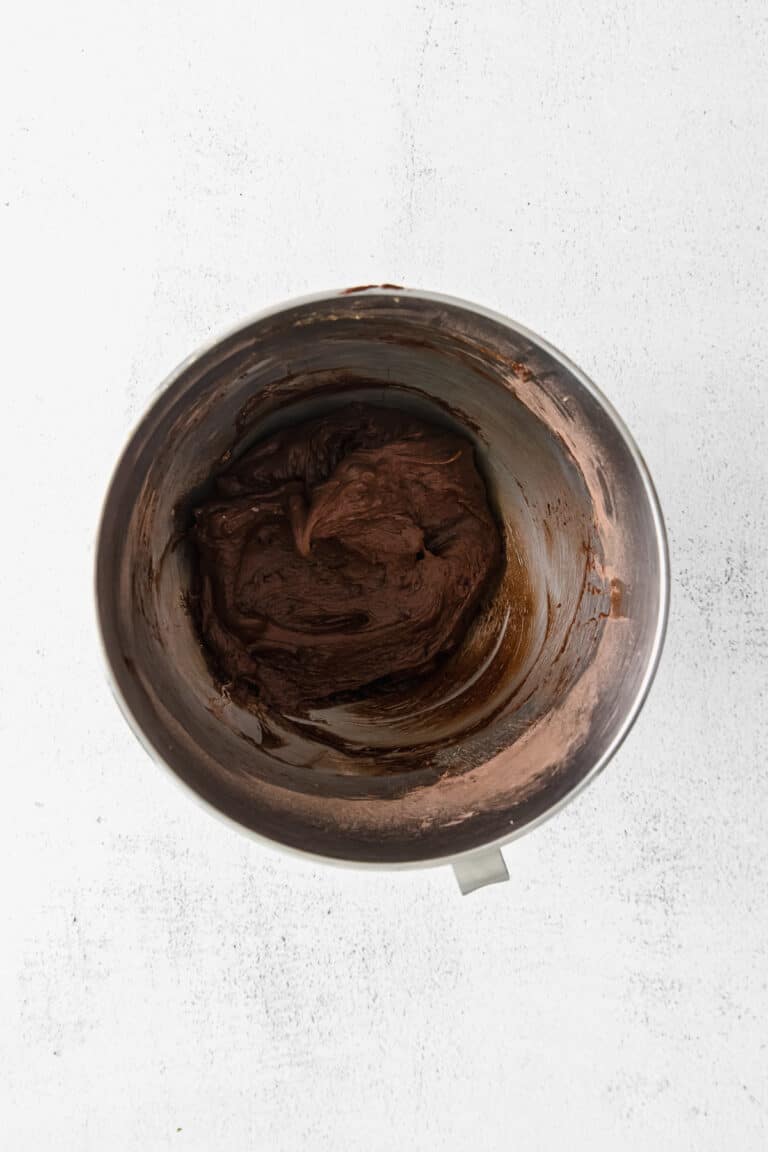 What makes these cookies chewy?
Just like our fudgy brownies, a little melted chocolate helps make these cookies super chewy on the inside.
Do I have to chill the dough?
YES. Yes. And, yes! Do not skip chilling the dough. In fact, if you can chill this dough overnight that is preferred. If you skip chilling the dough, your cookies will spread out too much and be very messy.
in a pinch?
If you are in a pinch, you can place the cookie dough in the freezer for 30 minutes but we highly recommend letting the cookie dough sit in the refrigerator for at least 3 hours or overnight.
Why do I roll the cookie dough in granulated sugar before powdered sugar?
This is a simple trick. The granulated sugar actually helps prevent the powdered sugar from soaking into the cookie and melting during baking. Don't skip this part.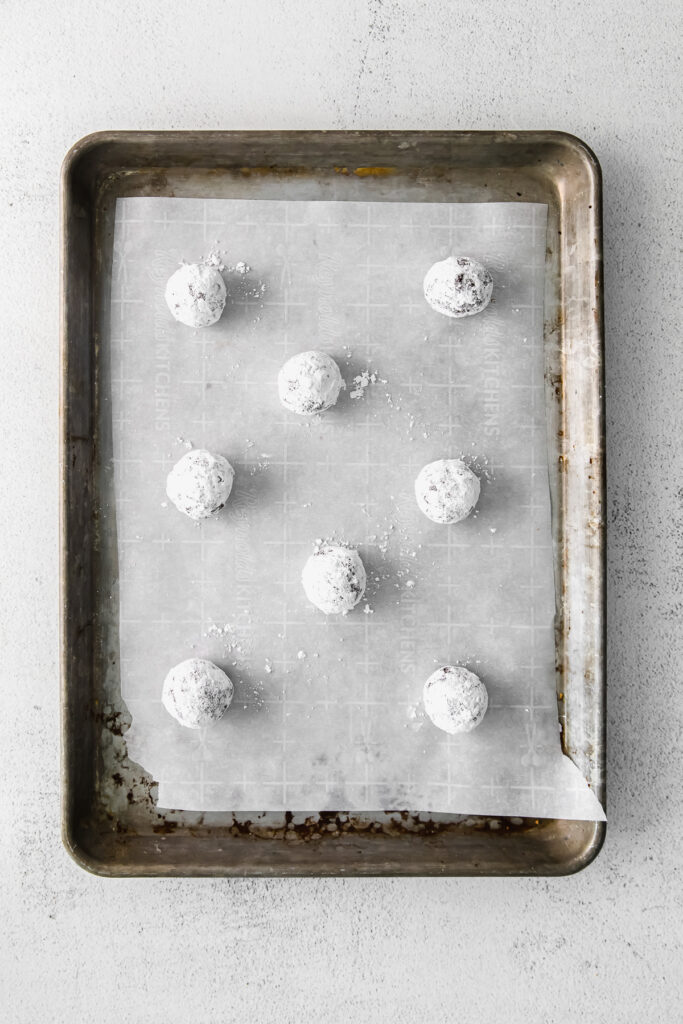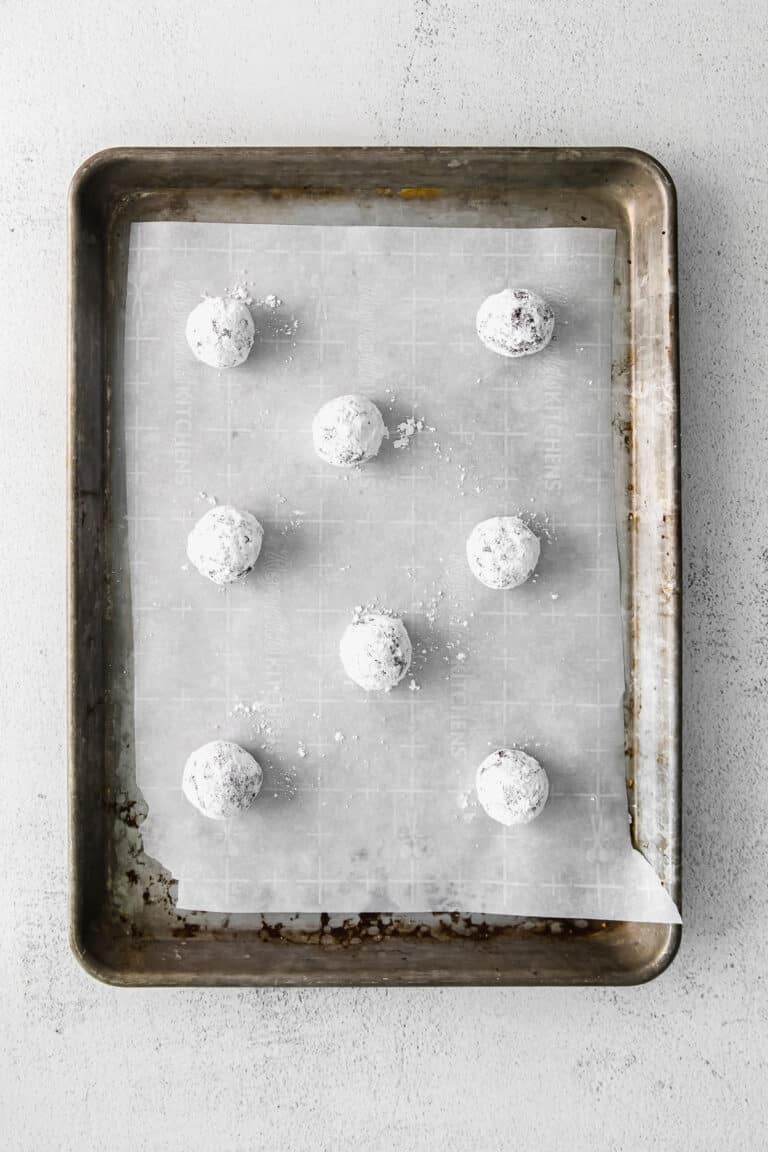 Storage Instructions
Let crinkle cookies cool completely on a wire rack. Then, layer them in an airtight container, separating each layer with parchment paper. Store in a cool, dark place for up to 3-5 days.
Freezer Instructions
Let crinkle cookies cool completely. Then, transfer them onto a baking sheet and freeze them for 30 minutes. Once they are partially frozen, transfer them into a freezer-safe gallon-size bag and freeze for up to 3 months.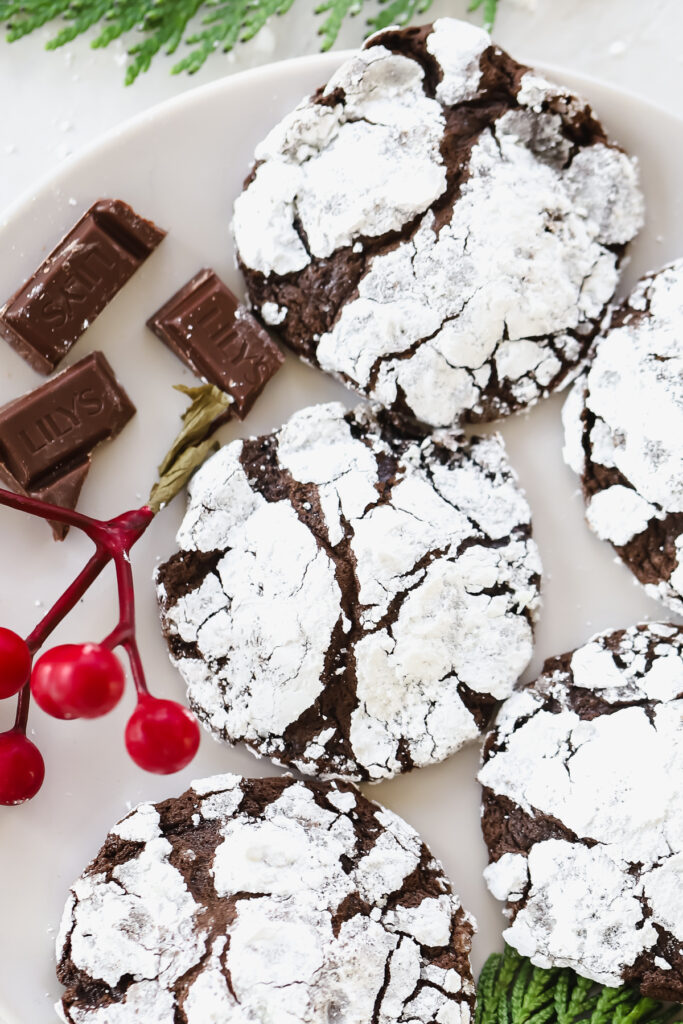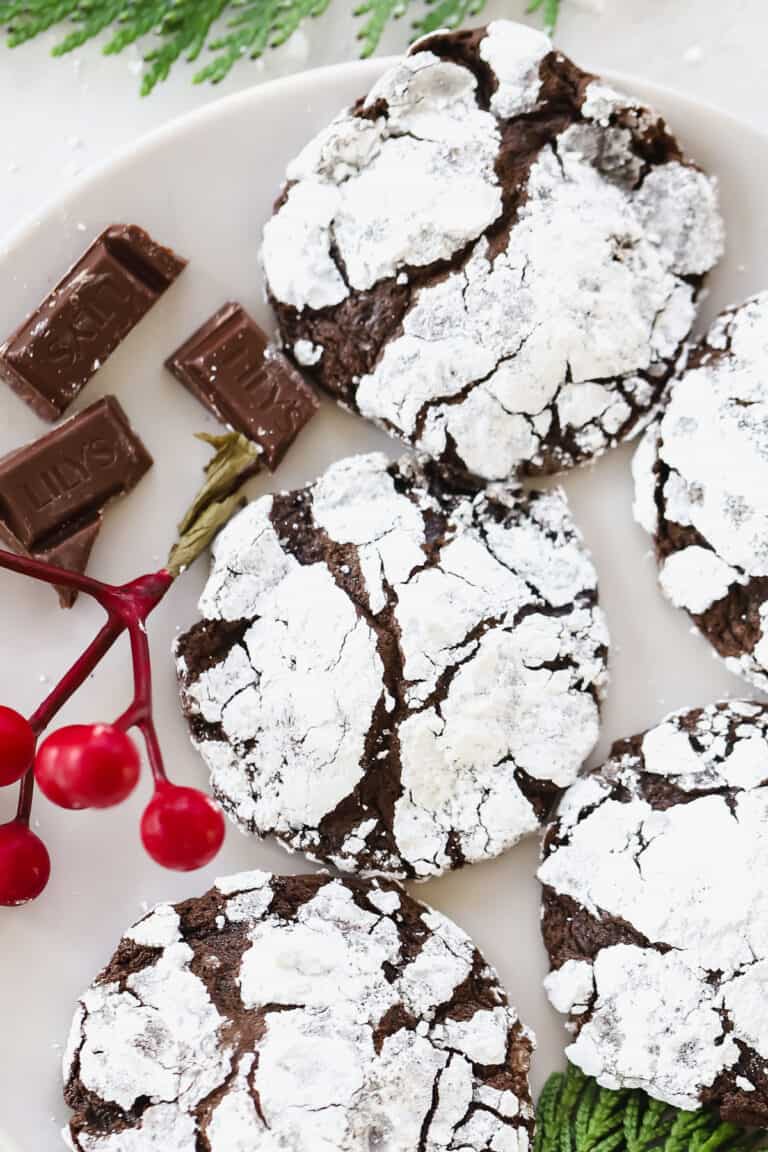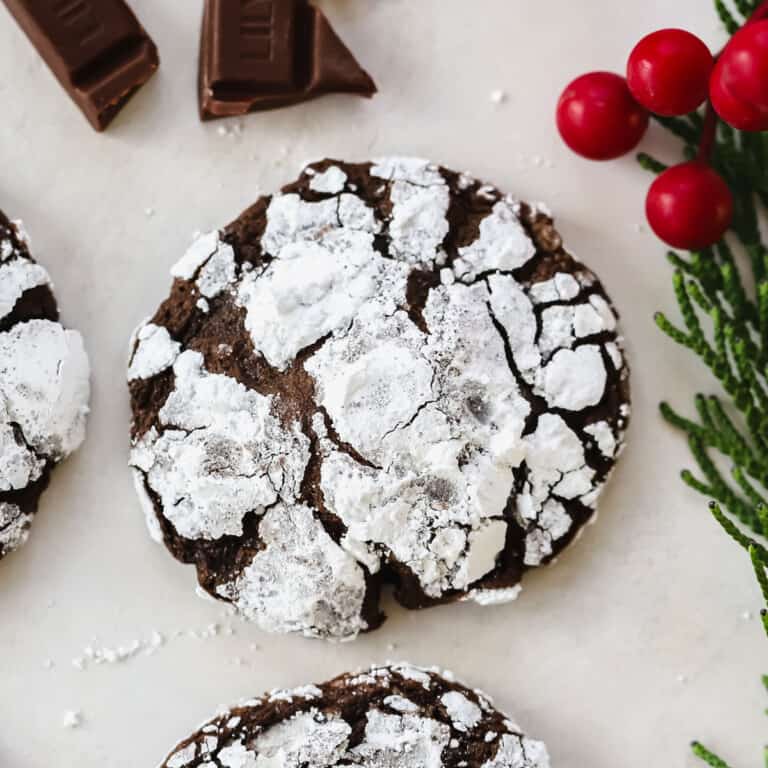 Chewy Chocolate Crinkle Cookies Recipe
These perfectly chewy crinkle cookies are made with 3 different kinds of chocolate and come out so crinkly on the outside!
Ingredients
Dry Ingredients 
4

oz.

dark chocolate

chopped up into pieces and divided (we used Ghirardelli Intense Dark 72%)

½

cup

cocoa powder

50g

½

cup

all-purpose flour

70g

1

teaspoon

baking soda

½

teaspoon

salt

2

oz.

milk chocolate

chopped up into pieces (I used a lindt chocolate bar)

1

cup

200g brown sugar
Wet Ingredients 
1/2

cup

unsalted butter

softened and separated

2

large eggs

room temperature

1

teaspoon

vanilla extract
Instructions
First, add 3-oz. of dark chocolate pieces (set the rest aside) and 2 tablespoons of butter into a bowl of a double boiler or a microwave safe bowl. Melt the chocolate until it is glossy and smooth.* Set aside. 

Next, mix the dry ingredients. Add the all-purpose flour, cocoa powder, baking soda, and salt to a bowl. Whisk all of the ingredients together until they are well combined. 

Add 1-oz. of chopped bittersweet chocolate pieces and all of the chopped milk chocolate pieces to the flour mixture. Toss into the flour and set aside. 

Add the rest of the butter and brown sugar to the bowl of a standing mixer. Beat on medium/high speed for 3-5 minutes until the mixture turns light in color and is creamed and fluffy. Be sure to scrape the sides throughout the beat time. 

Meanwhile, add the eggs and vanilla to a separate bowl and gently whisk the eggs together so the egg yolk, egg white, and vanilla are combined. 

Slowly add the egg mixture to the creamed butter and sugar and beat until the egg combines with the sugar and butter and becomes light and fluffy. 

Slowly add the dry ingredients to the wet ingredients and mix until just combined. Be sure there are no flour clumps at the bottom of the mixing bowl. 

Finally, add the melted chocolate to the cookie dough and mix the melted chocolate in with the cookie dough. 

Transfer the cookie dough into an airtight container and refrigerate the dough for at least 2 hours or overnight, for best results.

Remove the cookie dough from the refrigerator and let it sit at room temperature for 10 minutes. 

Preheat the oven to 350ºF and line a baking sheet with parchment paper. 

While the dough is sitting, add the granulated sugar to one bowl and the powdered sugar to a separate bowl. 

Use a tablespoon scoop to scoop a tablespoon of cookie dough into your hands and roll the dough into a ball. 

Roll the dough in the granulated sugar and then the powdered sugar until the ball is completely covered. Place the dough on the lined baking sheet and repeat until all the dough has been rolled in both sugars. 

Be sure to space the cookie dough balls far enough apart, these cookies do spread a little bit. 

Bake at 350ºF for 9-11 minutes. The crinkle cookies should begin to crack on the tops when they are almost done. 

Remove the cookies from the oven and transfer them to a cooling rack. 
Tips & Notes
Melting Chocolate Instructions 
In the microwave:

Add the chocolate pieces to a microwave-safe bowl and add 2 tablespoons of butter. Place the bowl in the microwave and heat on high for 30 seconds. Remove the bowl from the microwave and stir. Repeat this process 3-4 times or until the chocolate is melted and glossy.

In a double boiler:

Add the chocolate pieces to the top bowl of a double boiler. Fill the bottom pan of a double boiler with 1 cup of water. Heat over medium/low heat. Stir the chocolate periodically until the chocolate has melted and is glossy. 
Other Notes
Be sure to measure out all of your ingredients before you start. You don't want to find out you're missing something mid-recipe. 

We both measured with a cup by scooping the flour into the measuring cup with a spoon AND weighed the flour. You can use a cup or weigh your flour. 

When you are creaming the butter and sugars, be sure to beat them long enough that the color lightens. 

Do not skip refrigerating the cookie dough. We refrigerate the dough to both let the dough harden so that they spread less in the oven and to hydrate the flour in the cookie dough to produce moist cookies. 

If you are in a pinch, you can place the cookie dough in the freezer for 30 minutes but we highly recommend letting the cookie dough sit in the refrigerator for at least 3 hours or overnight.
Nutrition facts
Calories:
167
kcal
Carbohydrates:
25
g
Protein:
2
g
Fat:
7
g
Fiber:
1
g
Sugar:
19
g