The most amazing soft ginger cookies with a crinkly outside and soft and chewy inside. You'll never want to eat any other Christmas cookie again.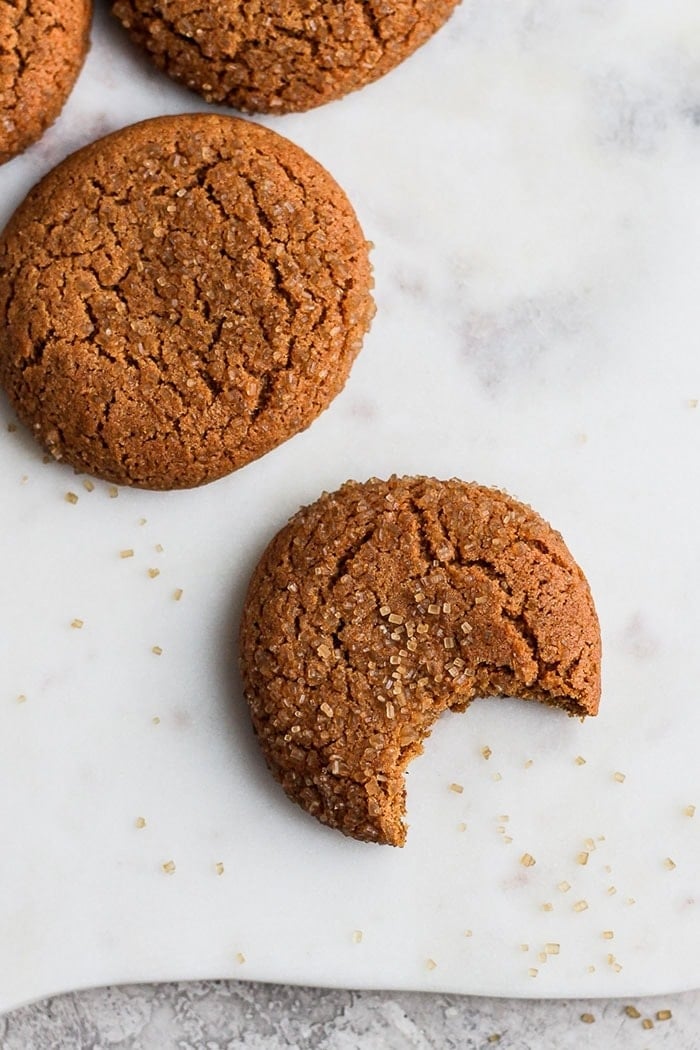 Best Soft Ginger Cookies!
It's officially post-Thanksgiving and time to start holiday baking. This chewy ginger cookies recipe is by far the best cookie recipe we've ever posted on Fit Foodie Finds.
When it comes to baking cookies, we're all about balance. We strive to find ways to make them better for you while keeping true to the traditional recipe! When we say traditional ginger cookies, we mean:
chewy and soft on the inside
crinkly sugary outside
We made sure to achieve both of those things with a few better-for-you swaps, all while NOT sacrificing flavor.
What do you call Ginger Cookies?
First things first, what do you call ginge cookies? The name is up for debate because I've asked around and everyone calls them something different!
Ginger Cookies
Ginger Molasses Cookies
Gingersnap Cookies
Ginger Snaps

Recommended Kitchen Tools
Ingredients You Need
We have made this recipe time and time again and we'd like to start off by sharing what you need to make these Christmas cookies.
flour: we used a blend of all-purpose and white whole wheat flour, the perfect combination for chewy cookies!
cloves, cinnamon, ginger: we didn't skimp on the spices for this recipe and you shouldn't either! I promise you'll love every bite.
butter: every cookie deserves a little butter and this recipe calls for an entire stick! Happy holidays 😀
coconut oil: we decided to swap out some butter for coconut oil and I just love the nuttiness it adds to these cookies!
brown sugar: we used light brown sugar in these cookies, but I did one test using 1/2 brown sugar and 1/2 coconut sugar and it worked just fine!
egg: unfortunately we don't recommend skipping the egg or swapping for a flax egg. It's much needed to get the crackly outside and soft inside.
molasses: a little molasses goes a long way! This recipe only calls for 1/4 cup of molasses and that's all they need to get that amazing spicy flavor a chewy texture!
Can I use all butter for this recipe?
We've tested and approved this! Feel free to use 1.5 sticks of butter for this recipe and ditch the coconut oil altogether.
Can I use all coconut oil for this recipe?
Unfortunately, we do not recommend omitting the butter altogether. You will sacrifice flavor and your cookies will likely spread out too much.
Do I have to refrigerate the dough?
We have made these ginger cookies both by refrigerating the dough and without. Both ways work, but we recommend refrigerating the dough so that they spread out less and come out thicker and chewier.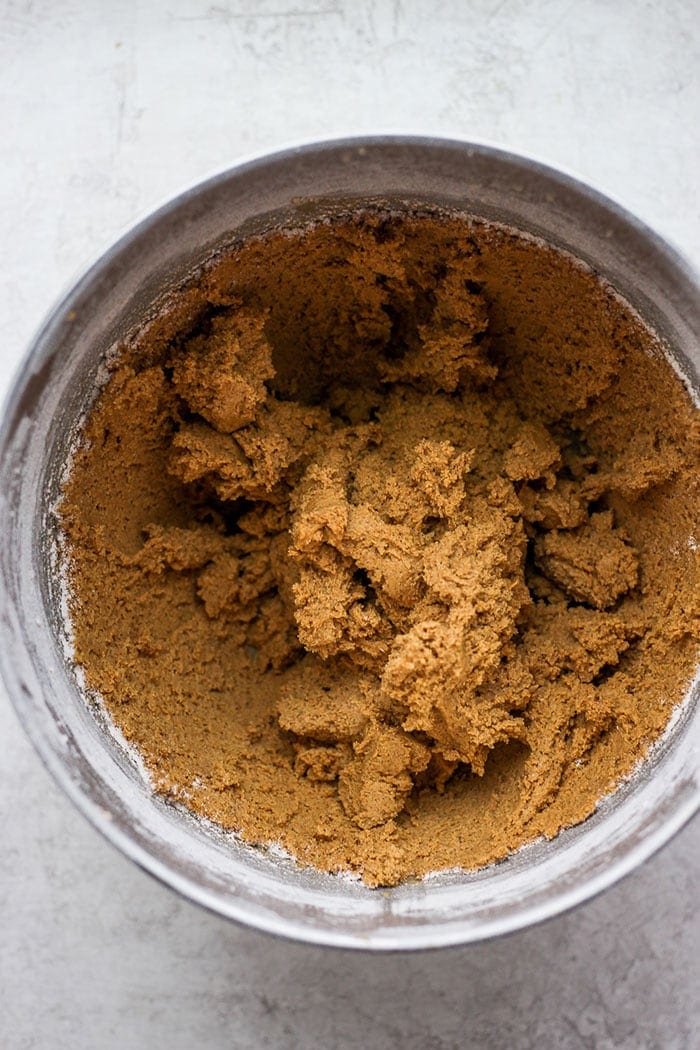 Tips and Tricks for Perfectly Chewy and Soft Ginger Cookies
Like we mentioned above, these are truly the best Christmas cookies on Fit Foodie Finds. That's because we've tested this recipe so many times. Here's what we found:
Stand Mixer: we've tested these cookies with both a stand mixer and hand mixer and let me tell you, a stand mixer is SO MUCH EASIER! If you do end up using a hand mixer, your shoulder might get a little sore creaming the butter 😀
We 100% do not suggest using just a spoon as it will take you hours to cream the butter.
Cold Butter: Make sure to use butter straight out of the fridge for this recipe.
Scoop Flour: we know that a lot of bakers spoon flour and even it out with a knife, but we scooped ou flour!
1.5 Tablespoon Cookie Scoop: make sure to use a 1.5 tablespoon cookie scoop to get the most perfectly sized cookies! If you use a smaller scoop, your bake time will be less and if you use a bigger scoop, it will be more!
Why do my ginger cookies go flat?
Your ginger cookies likely spread out too much because your dough got too warm. So, if you have the time, we recommend refrigerating the dough for at least 30 minutes before baking in the oven.
What Didn't Work?
Testing, testing, 123. We thought we'd share some fails that we encountered while testing these ginger cookies.
More fat: Using any more fat than the recipe calls for will lead you to a dough that is too thin.
Swapping flours: we don't suggest swapping out either flour in this recipe, especially for a grain-free flour like almond flour. We tested this recipe using only all-purpose flour and even that did not work as every flour is different and sucks up moisture differently.
If you do end up trying to use all all-purpose flour, you will likely need to use 1/4 cup to 1/2 cup more and your bake time will increase!
Doubling the recipe: we NEVER recommend doubling or tripling baked goods. Something happens in the science of multiplying eggs and baking soda, etc. that we just can't explain! But you will likely have issues if you try this.
Variations
Since so many of you love these cookies, we've gone ahead and developed some variations. You're welcome.
Ginger Molasses Whoopie Pies: we used the same cookie dough batter as this ginger cookies recipe to make a yummy, cream-filled whoopie pie! Elevated and gorgeous.
Soft Gingerbread Cookies: we used a very similar dough to make gingerbread cookie cutouts. Make classic gingerbread men or use festive cookie cutters such as a Christmas tree, star, and candy cane.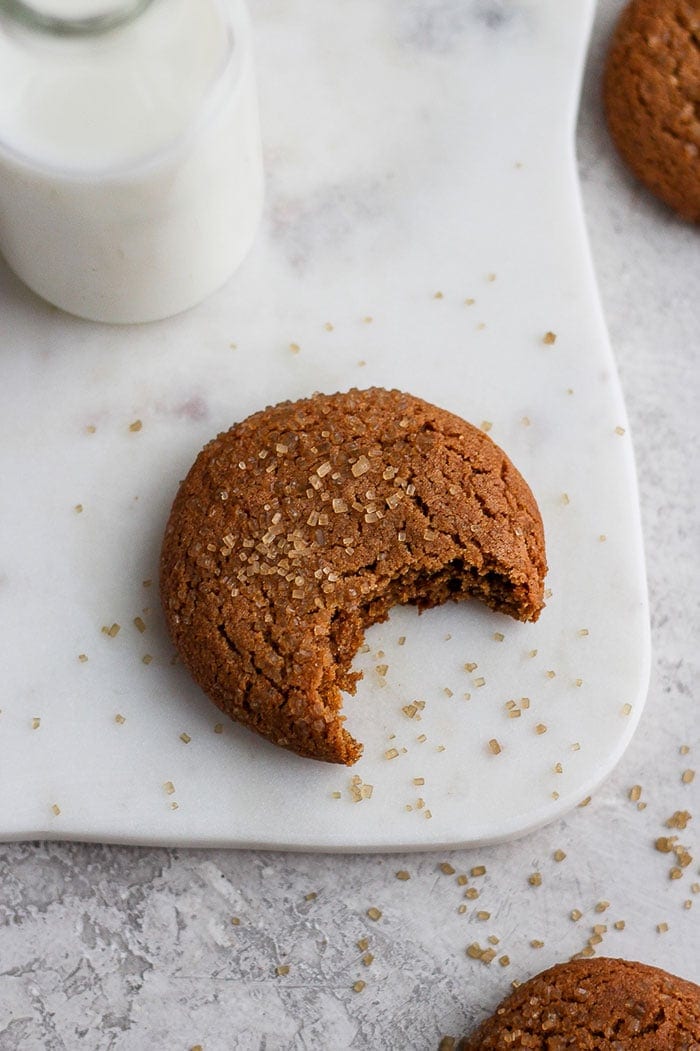 Storage
Let cookies cool completely. Then, transfer them into an airtight container or gallon-size bag and store in a cool, dark place for up to 5 days.
Can I freeze chewy ginger cookies?
You have two options when it comes to freezing this ginger cookies recipe.
Dough > Wrap dough in plastic wrap and then place in a freezer-safe gallon-size bag. Remove as much air as possible and freeze for up to 3 months.
Cookies > Let cookies cool completely and then transfer into a freezer-safe gallon-size bag. Remove as much air as possible and freeze for up to 3 months.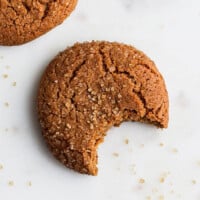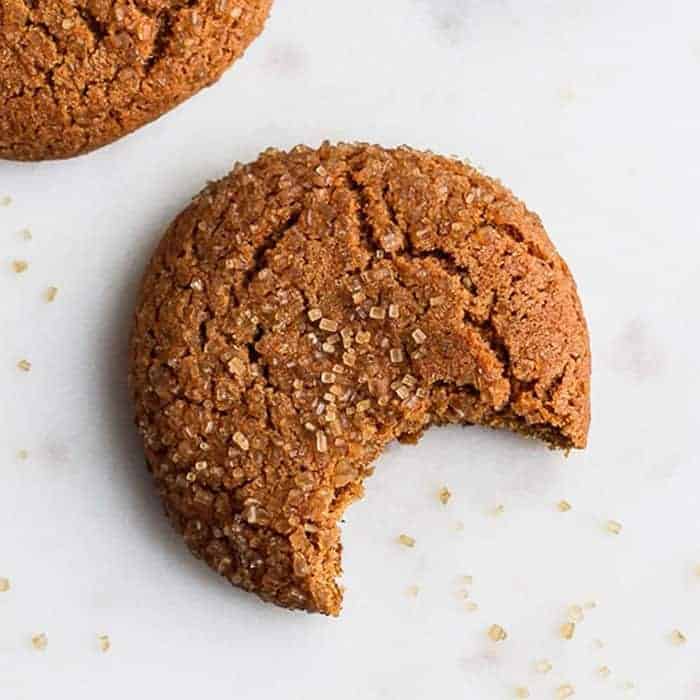 Best Chewy Ginger Cookies
Gorgeous chewy ginger cookies that have a crinkly outside and soft and chewy inside. This ginger cookies recipe is perfectly Christmas cookie to share.
Ingredients
Wet Ingredients
1/4

cup

coconut oil

soften not melted*

1/2

cup

butter

cold and cut into 1/2 tablespoon pats

1

cup

light brown sugar

scooped and leveled

1

large egg

1/4

cup

molasses
Optional (but recommended)
Instructions
Preheat the oven to 350ºF and spray a baking sheet with non-stick cooking spray.

Add all of the dry ingredients to a medium bowl and whisk until combined. Set aside for later.

Next, using a stand mixer* cream the coconut oil, butter, and brown sugar together at medium speed. This will take around 3-4 minutes.

Crack the egg into the creamed mixture and add molasses as well. Mix on medium until combined.

Finally, slowly add the dry ingredients to the wet ingredients with a 1/2 cup scoop at a time and mix on medium. Repeat until all dry ingredients are gone and the dough is combined. The dough should be a little thicker than normal cookie dough, but still be very easy to form a ball.

Wrap the dough ball with a piece of plastic wrap and then refrigerate for 30 minutes.

Using a 1.5 tablespoon cookie scoop, scoop cookie dough into hands and roll it into a ball.

Then, roll the dough in turbinado sugar* and place on the greased baking sheet. Make sure to leave 2 inches in between cookies becuase they will expand. Repeat until the baking sheet is full. 12 cookies will fit on a standard baking sheet.

Bake cookies at 350ºF for 10-12 minutes.

Remove from the oven, let sit for 2-3 minutes on the hot baking sheet and then transfer the cookies to a cooling rack.
Tips & Notes
Coconut oil: if your coconut oil is solid, we recommend microwaving it on high for 15 seconds.
Butter: if you want to use all butter and no coconut oil, we recommend 1/2 cup + 2 tablespoons.
Stand mixer: A hand mixer would work for this recipe as well. We do not recommend using a spoon to mix since the recipe calls for cold/hard butter.
Turbinado sugar: Rolling the cookies in turbinado sugar is optional. Feel free to skip the extra sugar.
Flour: we tested this recipe using all all-purpose flour and if you do this, you will likely need to use 1/2 - 3/4 cup more flour as all-purpose flour absorbs more fat than white whole wheat. The bake time will also change and you'll need to add 2-3 minutes on to bake time.
Nutrition information is for 22 cookies and DOES include the turbinado sugar.
This recipe was slightly updated on December 1, 2021, to include a chill time before baking.
Nutrition facts
Calories:
170
kcal
Carbohydrates:
25
g
Protein:
2
g
Fat:
7
g
Fiber:
1
g
Sugar:
18
g
Photography: photos taken in this post are by Erin from The Wooden Skillet.