Add these Shortbread Almond Flour Cookies to the menu for your next get together! These shortbread cookies are buttery, gluten free, and easy to whip up in no time. Enjoy!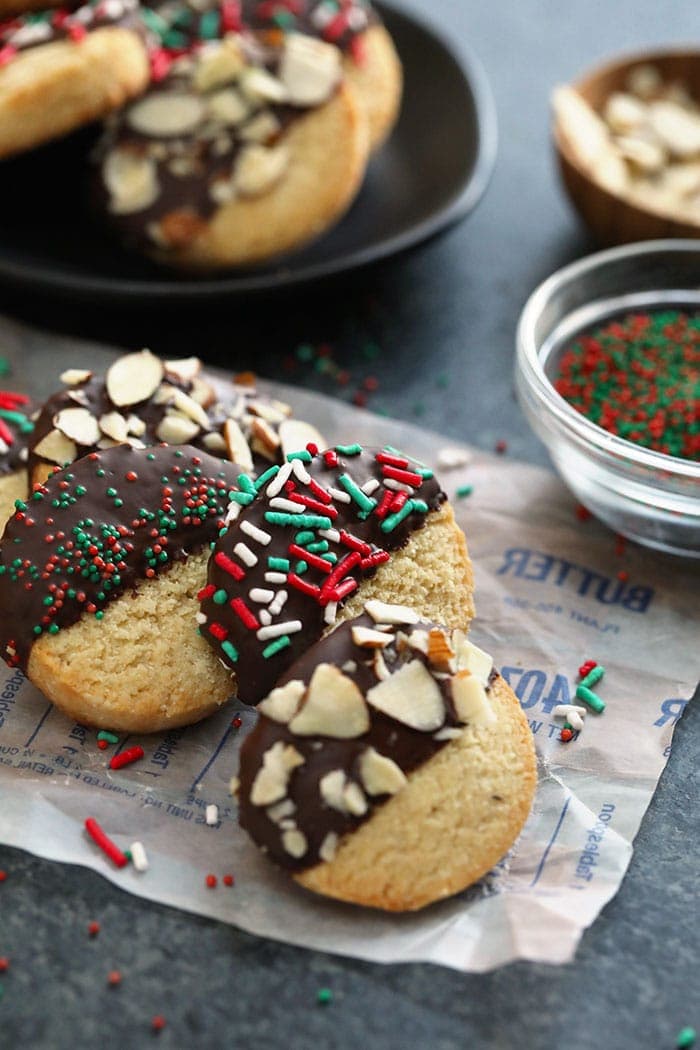 The Best Shortbread Cookies
Can't get in the holiday mood? Try baking some cookies! I have arrived home a couple nights this week to the sweet scent of cookies baking in the oven. The lights on our Christmas tree are on and I am reminded it's the holiday season.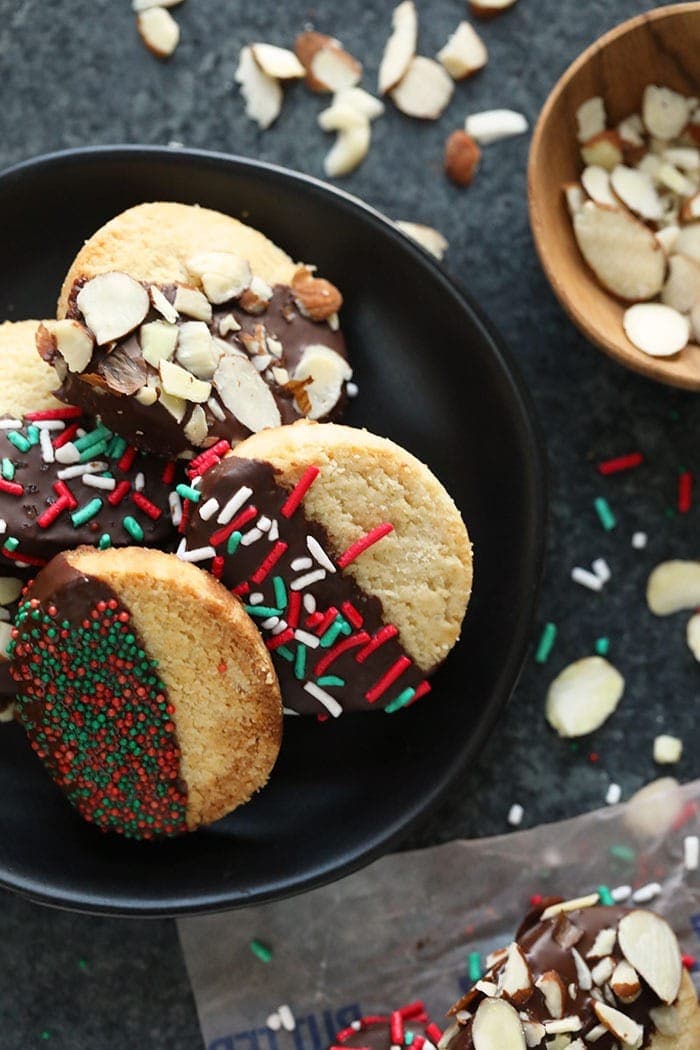 No matter if you celebrate a holiday this time of year or not, tis' the season for baking and being cozy. We have developed some pretty delicious cookie recipes this holiday season, like these Hot Cocoa Cookies and Healthy Holiday Buckeye Recipe. You just can't go wrong!
Sugar vs. Shortbread Cookies
These shortbread almond flour cookies are SUPER simple to make. Many people ask the question: what the difference is between sugar cookies and shortbread cookies? Sugar cookies (like our Christmas Gluten Free Sugar Cookie Cutouts) are generally a bit sweeter. Shortbread cookies tend to be a bit thicker and drier, and when I think of shortbread cookies, I think an almond extract flavor.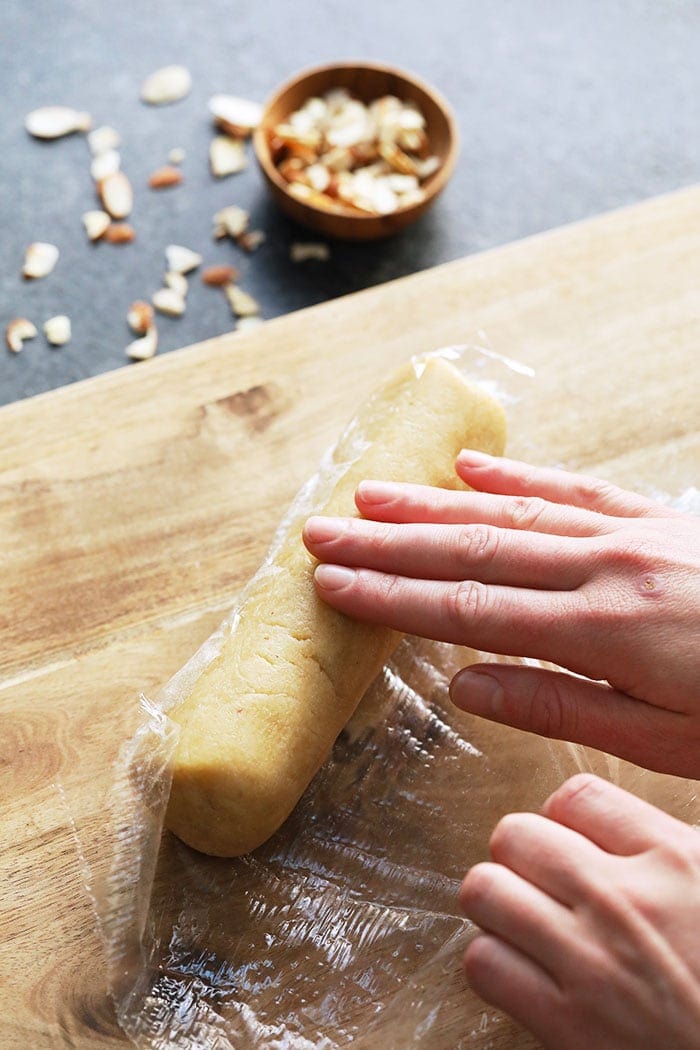 Pro Tips for Almond Flour Cookies
We used almond flour and almond extract in these shortbread cookies because we wanted them to be accessible to everyone! Even if you do enjoy a little bit of gluten in your diet, you won't miss it when you take a bite of these delectable almond flour cookies.
Let the Dough Set
The key to making these cookies is giving the dough enough time to set up in the fridge. Once you slice them into rounds and bake them, you have the very important job of deciding how you are going to decorate them.
Decorate like a Champ
We went for red and green sprinkles for obvious reasons. However, we also threw in some slivered almonds because they're beautiful. Feel free to dip these delicious cookies and chocolate and let them be, they are just as tasty!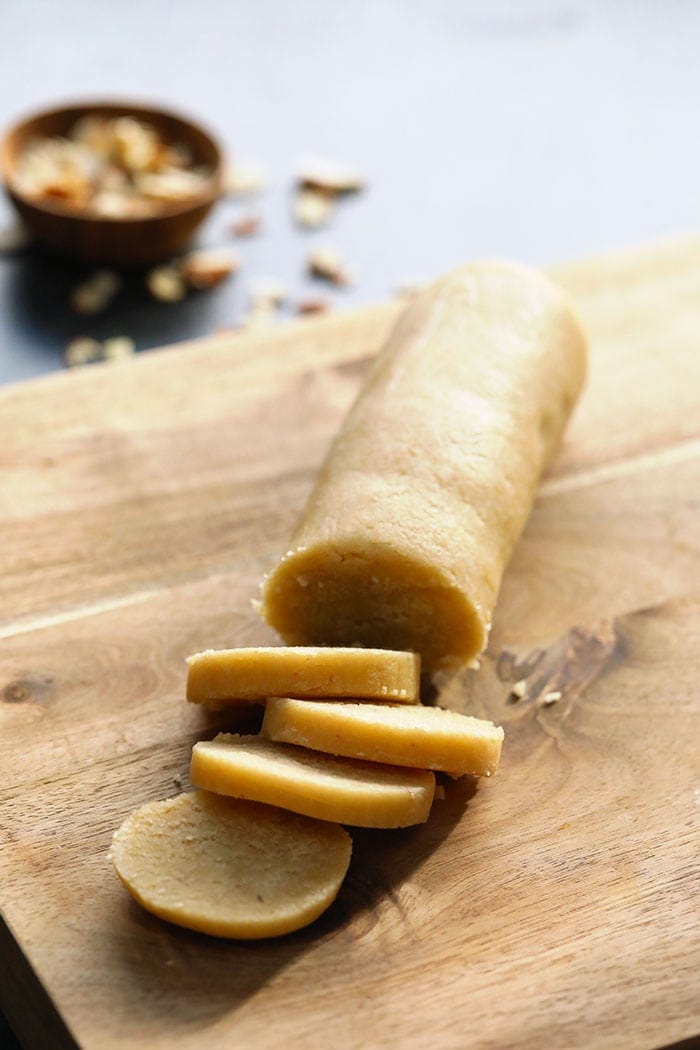 More Cookies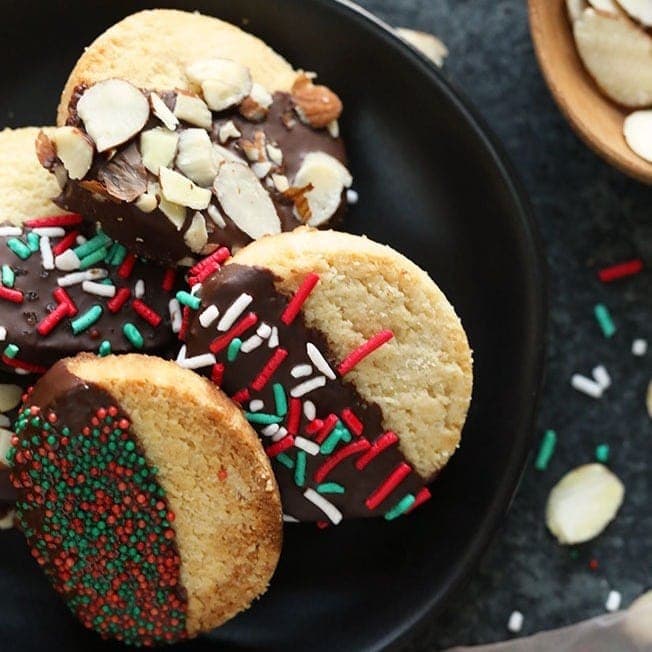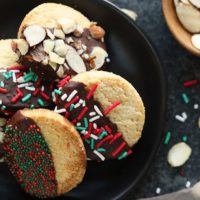 Easy Shortbread Log
Add these Shortbread Almond Flour Cookies to the menu for your next get together! These shortbread cookies are buttery, gluten free, and easy to whip up in no time. Enjoy!
Prep:
40 minutes
Cook:
12 minutes
Total:
52 minutes
Fat
12
Carbs
14
Protein
2
Ingredients
2.5 cup

almond flour

4 tablespoons

butter, melted

1/4 cup

maple syrup

1 teaspoon

almond extract

1/8 teaspoon

salt
Chocolate Layer
1/2 cup

dark chocolate chips

1 teaspoon

coconut oil
Sprinkles or nuts (optional)
Instructions
First, place all ingredients in a medium-sized bowl and mix. When ingredients are combined, use your hands to form the dough into a log (about 1.5 inches in diameter).
Roll your shortbread log into a piece of plastic wrap and place in the refrigerator for at least 15 minutes.
While your shortbread log is in the fridge, preheat oven to 350ºF and spray a baking sheet with coconut oil spray or cover with parchment paper.
Remove your shortbread log from the refrigerator and slice into 1/4 thick rounds. Repeat until you have cut through the whole log.
Place cookies on baking sheet and bake for 12-14 minutes.
Remove from oven and let cool completely.
Place chocolate chips and coconut oil into a small bowl and melt in the microwave or a double boiler.
Next, dip half of a shortbread cookie into the melted chocolate. Let access chocolate drip from the cookie and then sprinkle melted chocolate with sprinkles, nuts, or whatever topping you prefer! Repeat until all shortbread cookies are gone.
Let cool completely. Serve or store in the freezer.
Nutrition Facts
Serving Size:
1/10
Calories:
162
Sugar:
10
Sodium:
67
Fat:
12
Carbohydrates:
14
Fiber:
2
Protein:
2
Category:
American
Method:
Oven
Cuisine:
Dessert
Keywords: Shortbread cookies, almond flour