These healthy gluten free cookies are made with almond meal and honey for a grain-free, paleo-friendly sugar cookie! Make a batch today!
Do you have extra almond flour in the pantry? These almond flour blueberry muffins and 3 ingredient almond flour pancakes are healthy and delicious recipes!
The Best Almond Flour Cookie
These delicious almond flour cookies are paleo-friendly (minus the frosting!).
If you're wondering what the texture is like, they are a little harder on the outside and then soft and buttery on the inside. I can't get over how perfect these cookies turned out.
Best part is? You can make them for all holidays or even just because! All you have to do is change out your cookie cutters.
I literally could have sat there all day decorating these guys. So fun and so great to be able to put my hundreds of hours of youtube tutorial watching to good use.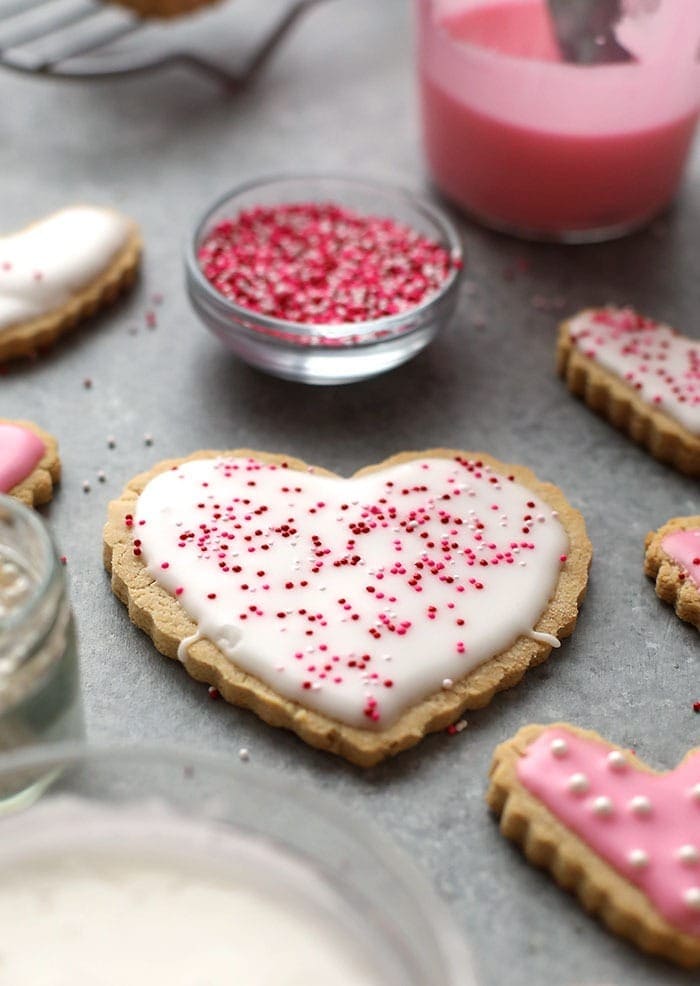 How to Make Sugar Cookie Cut Outs
Sometimes the thought of gluten free baking can be scary, but it doesn't have to be! These gluten free sugar cookie cut outs are easy to mix up and mold into the most delicious sugar cookies.
Let's dig our teeth into these cookies!
Make the Dough
First up is mixing up to cookie dough. Make sure you combine all of the wet ingredients first, whisking the honey until it has completely dissolved into the wet ingredients. Sometimes it can clump together.
Then, slowly add the dry ingredients to the wet ingredients and mix until combined! The goal is to form the dough into a ball, which can be a bit hard because it may be sticky!
Once the ball is formed, place the dough in the refrigerator so it can firm up before rolling it out!
Pro Tip–> If the dough is sticky while you're trying to roll it into a ball, wet your hands and try again. Place the dough onto plastic wrap and place it in the fridge.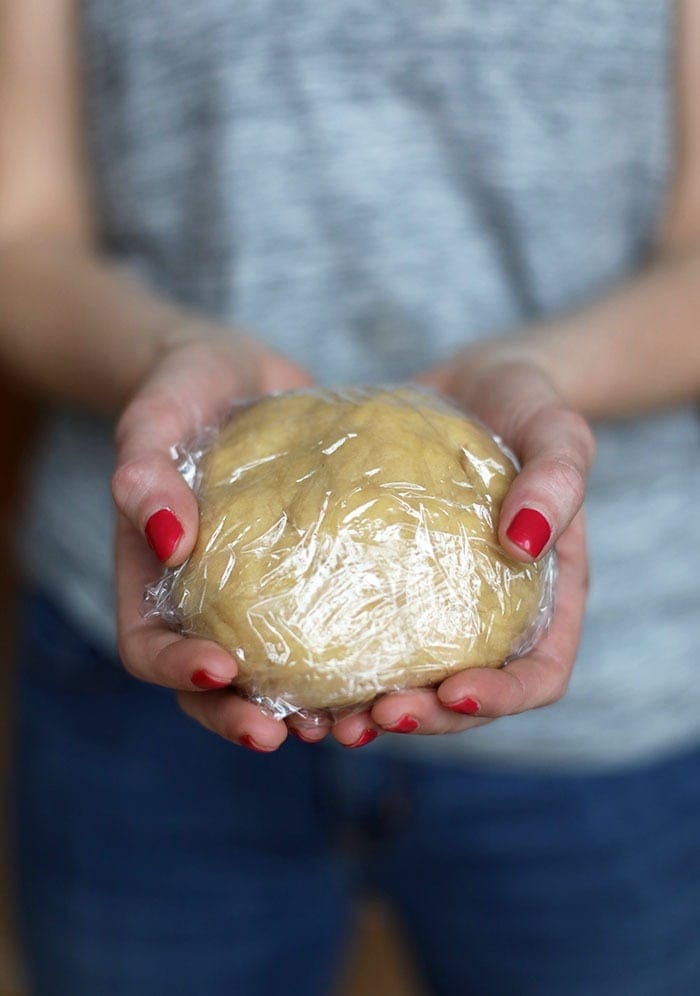 Roll + Cut
Once you remove the dough from the fridge it should be cold and malleable. Remove the plastic wrap and place the dough on a dusted counter service and use a rolling pin to roll out the dough.
Using sharp cookie cutters of your choosing, carefully use a cookie cutter to make as many cookies as you can.
Be careful not to roll out the cookies too thin, you don't want the cookies to fall a part before placing them on a baking sheet.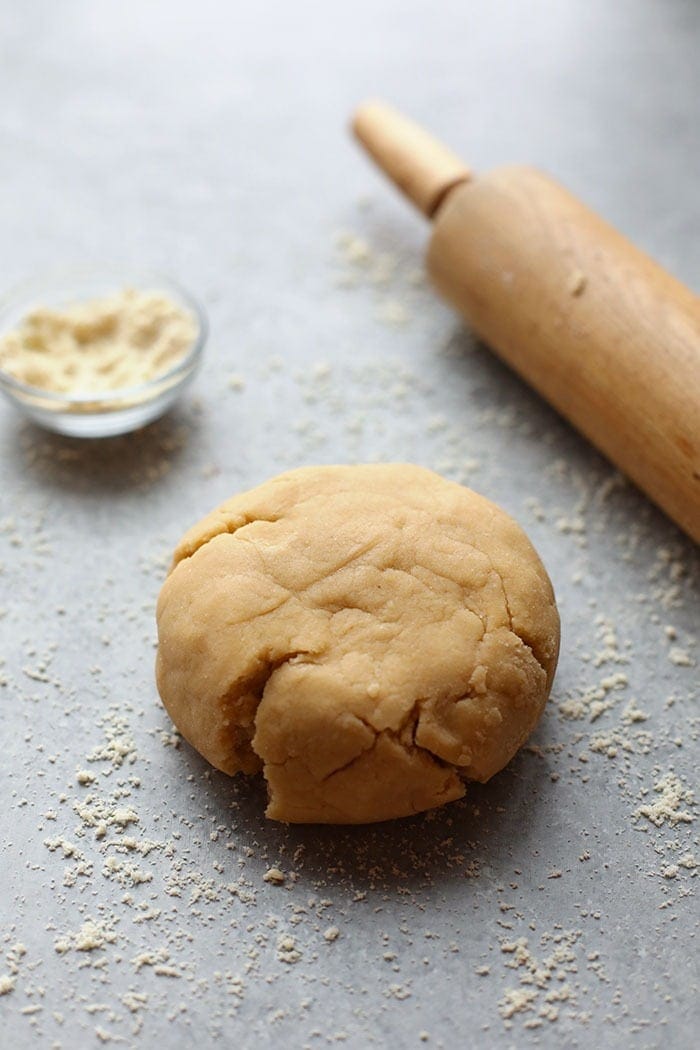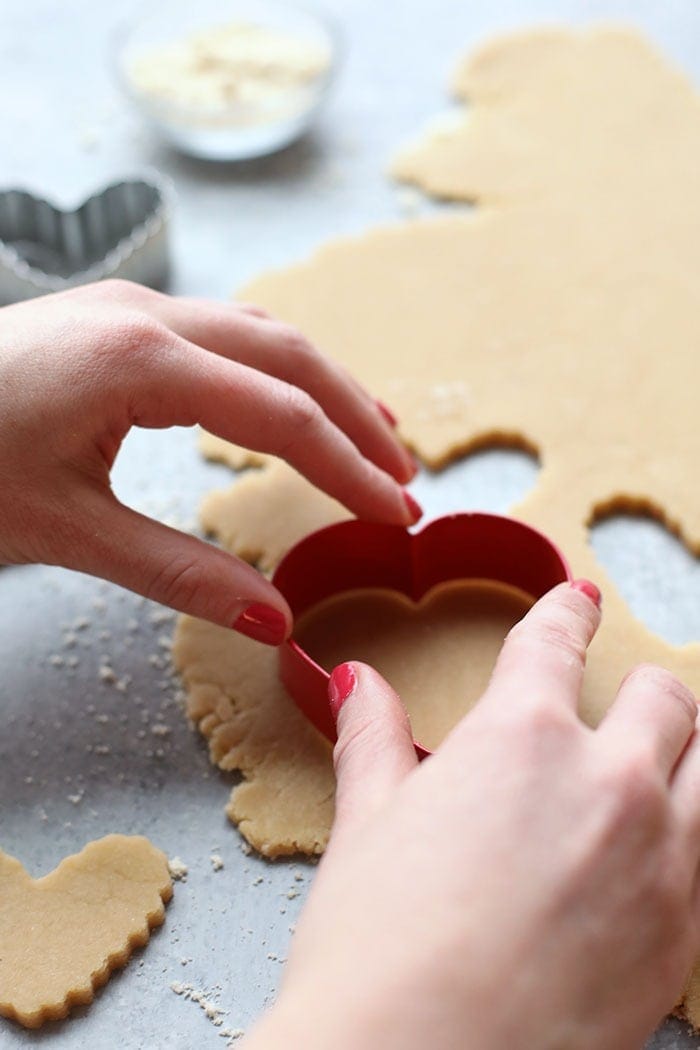 Bake + Frost
Once all cookies have been cut out, place the cookies on a greased baking sheet and bake for 8-10 minutes! Remove the cookies from the oven and let the cool completely before frosting them!
Frost cookies, add sprinkles, and let the frosting set!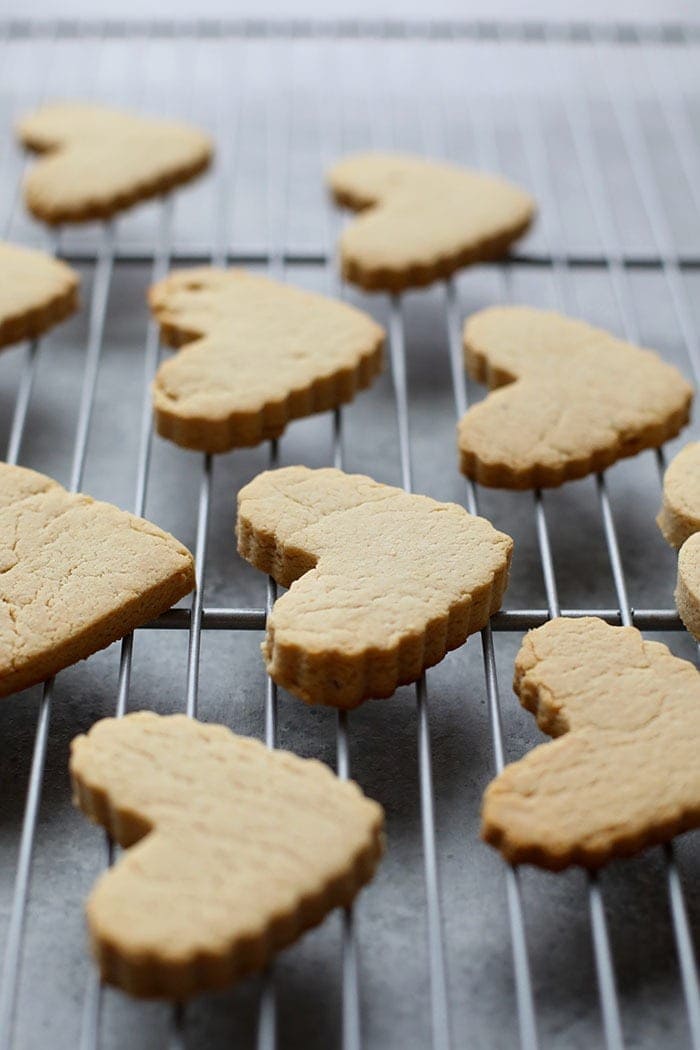 Everything You Need to Know
Can I substitute the almond flour?
We have only tested these sugar cookies with almond flour. We do not suggest substituting any other flour! Check out more of our cookie recipes for cookies with other flour options!
Can I freeze these cookies?
Yes, you can freeze these cookies! Be sure the cookies and the frosting have cooled completely before placing them in a freezer safe container. You can store them in the freezer for up to 3 months.
What are other recipes use almond flour?
When you buy almond flour for special recipes, you usually have some left over! We have other delicious almond flour recipes like these amazing paleo chocolate chip cookies and simple gluten free waffles that are delicious!
Check out more almond flour recipes here for other great gluten free recipes!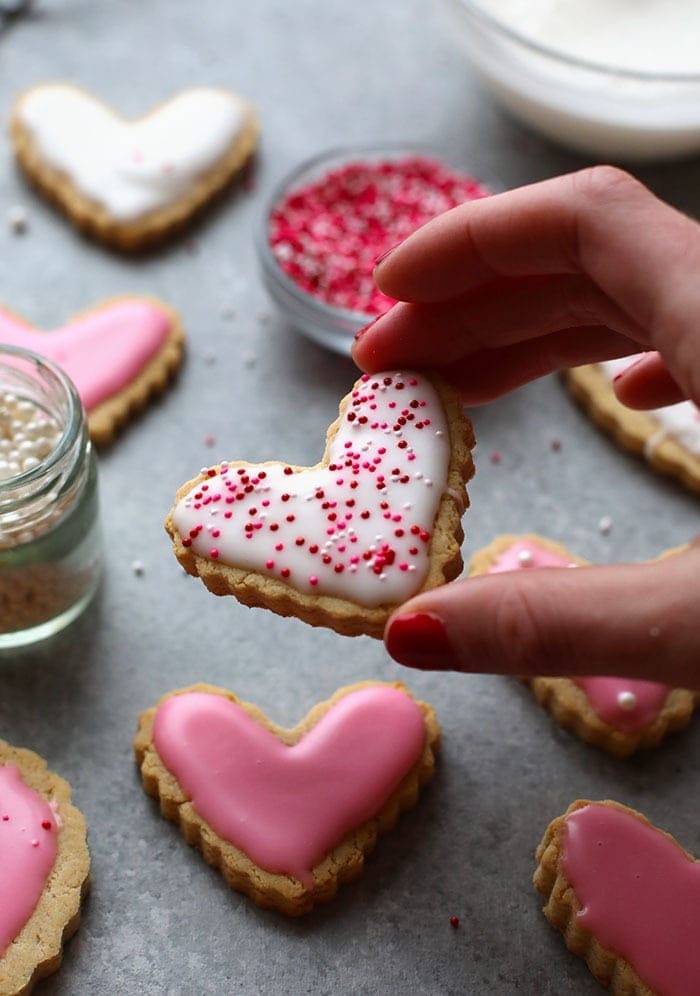 Healthy Gluten Free Cookies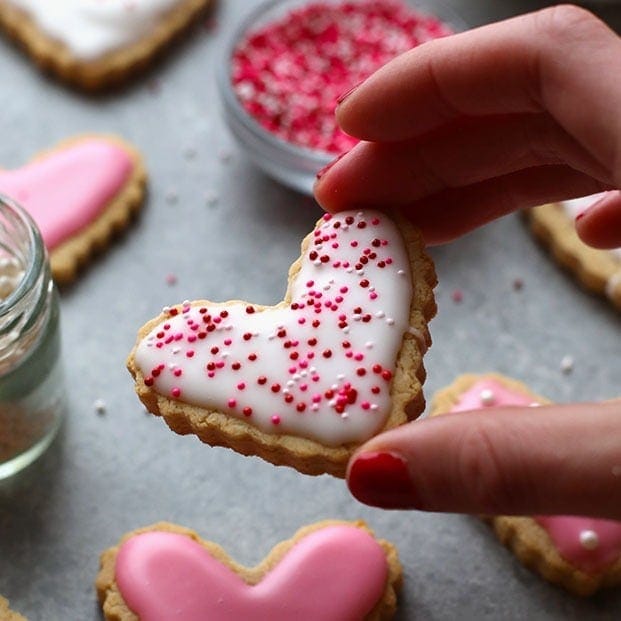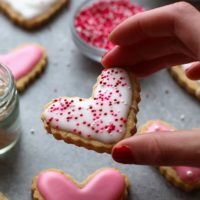 Healthy Sugar Cookie Cut Out Recipe
These healthy gluten free cookies are made with almond meal and honey for a grain-free, paleo-friendly sugar cookie! Make a batch today!
Prep:
45 mins
Cook:
10 mins
Total:
55 minutes
Yield
~20 small/medium cookies
Ingredients
Wet
Dry
For the Icing
2 cups

organic powdered sugar

2

–

3

tablespoons water

2

–

3

drops pink/red food coloring
Instructions
Preheat oven to 350ºF and line 2 baking sheets with parchment paper. Set aside.
In a medium-size bowl, mix together dry ingredients and set aside.
In a large bowl, whisk together wet ingredients. Then, slowly add dry ingredients to wet until your dough is formed. The dough may seem crumbly at first, but continue to knead dough together until it forms a ball. It helps if you use your hands.
Create a ball with your dough and wrap with plastic wrap and place in refrigerator for 30 minutes.
Once dough has cooled. Remove from fridge and sprinkle coconut flour onto a hard, cool surface. Then, use a rolling pin to roll out dough so that it's around 1/4 of an inch thick. If it's sticking, sprinkle on some more coconut flour.
Use small/medium cookie cutters to create sugar cookie cut outs. Place on parchment paper. Don't worry about spacing too much, the cookies will not expand that much.
Bake at 350ºF for 8-10 minutes or until cookies begin to brown.
Let cool for at least 30 minutes before frosting.
For the Icing
Add water to powdered sugar one tablespoon at a time. Add enough water (by the tablespoon), until you've reached your desired thickness. If you want your icing to be pink/red, add 2-3 drops of food coloring.
Store in an air tight container for up to 5 days.
Tips & Notes
Nutrition information does not include the frosting.
Nutrition Facts
Serving Size:
1 cookie
Calories:
99
Sugar:
4
Fat:
8
Carbohydrates:
8
Fiber:
2
Protein:
3
Category:
Dessert
Method:
Oven
Cuisine:
American