The most delicious iced oatmeal cookies perfect for any time of year. Bonus – these frosted oatmeal cookies are made with part whole wheat flour and coconut oil!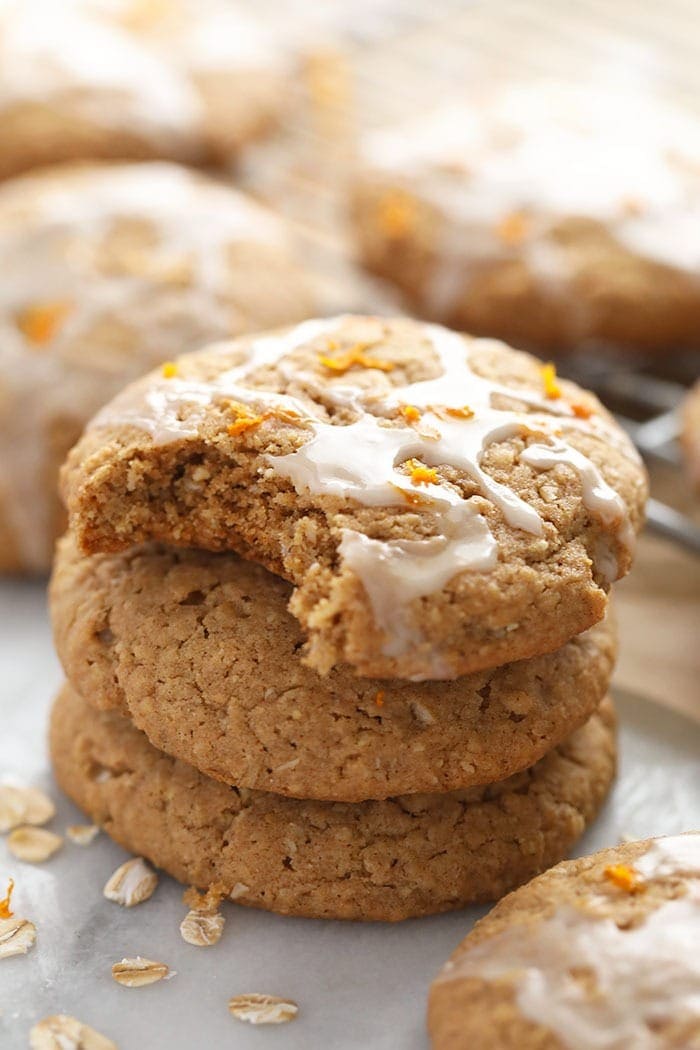 The Perfect Frosted Oatmeal Cookies
Whether they're for Christmas, an afterschool snack, or a summer treat, iced oatmeal cookies are always a good idea. But why should you make this iced oatmeal cookies recipe?
Slightly chewy
Healthier Cookie
Made in under 30 minutes
Buttery and sweet
We love healthy cookie recipes at Fit Foodie Finds and this recipe is no exception. They taste similar to our *famous* oatmeal chocolate chip cookies, but are sweeter in a different way thanks to the homemade icing!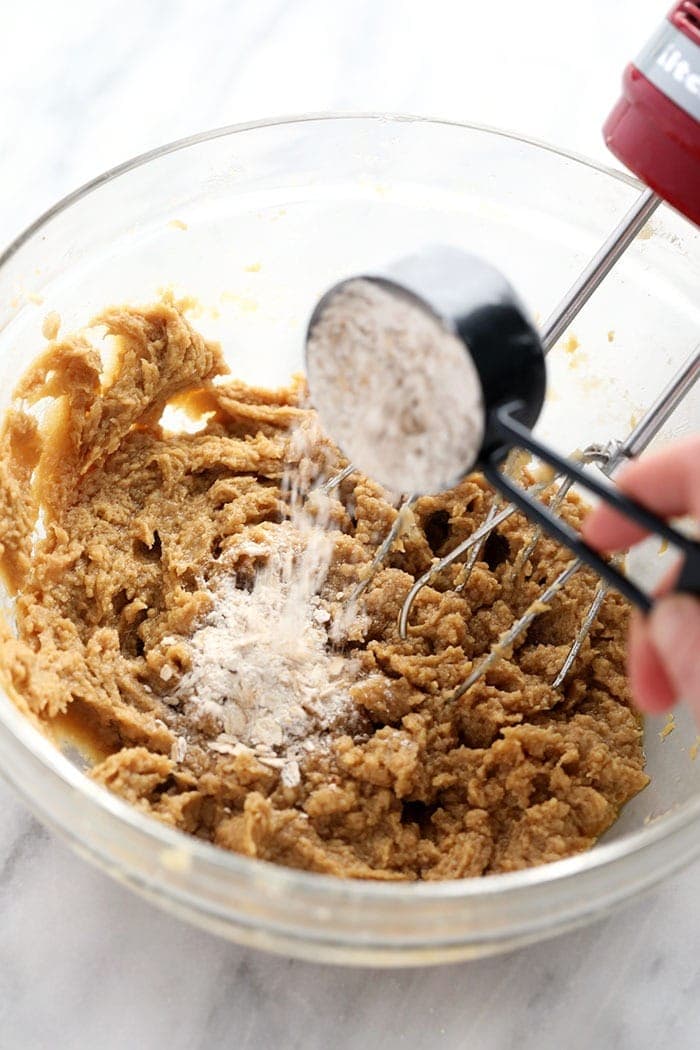 Whole Ingredients
The basis of these iced oatmeal cookies is a combination of rolled oats and flour. They're sweetened with brown sugar and are perfectly chewy >> thank you hint of molasses!
White Whole Wheat: we love baking with white whole wheat flour because it's slightly nutty and a great texture. Instead of using 100% all-purpose flour, we subbed out half for white whole wheat.
Coconut Oil: we swapped half the butter for coconut oil, which is slightly nuttier than butter and a tad sweet.
Rolled Oats: this recipe calls for rolled oats (AKA old fashioned oats) that actually end up getting partially pulverized so that it's easier to chew and digest. Rolled oats are a 100% whole grain and a fav to cook with!
Cinnamon: a touch of cinnamon adds a little warmth to this batch of cookies.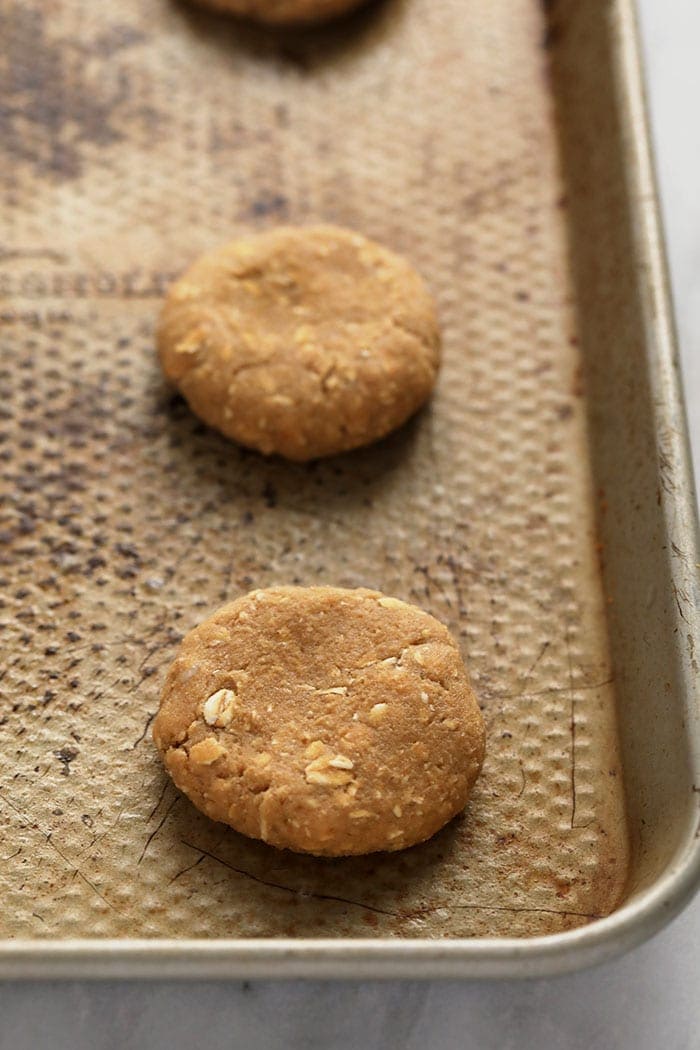 4 Iced Oatmeal Cookie Tips
Type of oats: we used old fashioned oats in this recipe and pulsed them a few times to break them down so that they turned into a partial oat flour/coarser substance. We don't recommend using all oat flour or quick-cooking oats as you really want to get that coarse texture with the pulverizing!
Scoop size matters: make sure to use a 1.5 tablespoon cookie scoop as this will matter for the bake time. Anything smaller will take less time and anything larger will take more time.
Give them a smoosh: make sure to ever-so-slightly press down the ball of dough so that the cookies spread out nicely. There's a nice photo above to show you how it should look on the pan.
Great for freezing: we tested freezing these cookies and it worked great! Let your cookies cool completely and then transfer them back onto a cooled cookie sheet. Place in the freezer and freeze for one hour. Then, transfer frozen cookies into a freezer-safe gallon-size bag. Remove as much air as possible and seal. Will last for up to 3 months.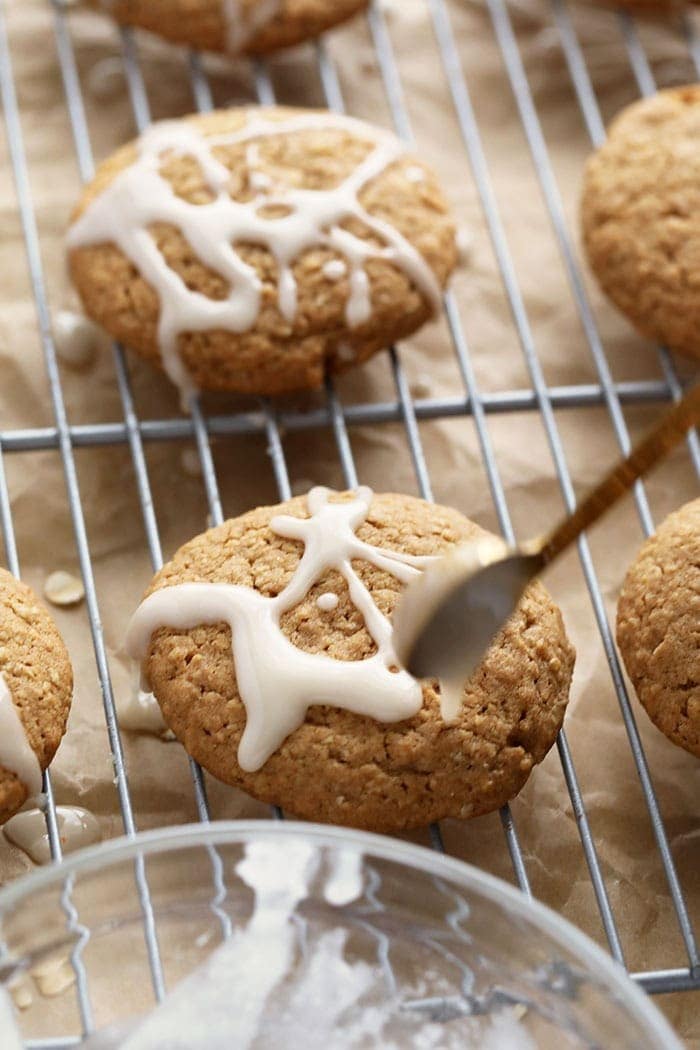 Easy Icing
This icing/glaze is made from 2 simple ingredients: powdered sugar and water (or any kind of liquid, really)
A little bit of liquid goes a long way with homemade icing. I always recommend starting slow with 1 teaspoon at a time.
Our recipe calls for 1/3 cup of powdered sugar to about 3 teaspoons of water. This will get you a thicker consistency so that your drizzle of icing doesn't slide right off.
idea!
If you're feeling fancy, you can try using orange or lemon juice in place of the water for another flavor blast!
Festive Topping Ideas
We thought it would not only be beautiful but delicious to add a little citrus to these cookies which is why we topped ours with orange zest. Here are a few more ideas:
shaved chocolate
sprinkles
raw oats
chopped nuts
plain!
sea salt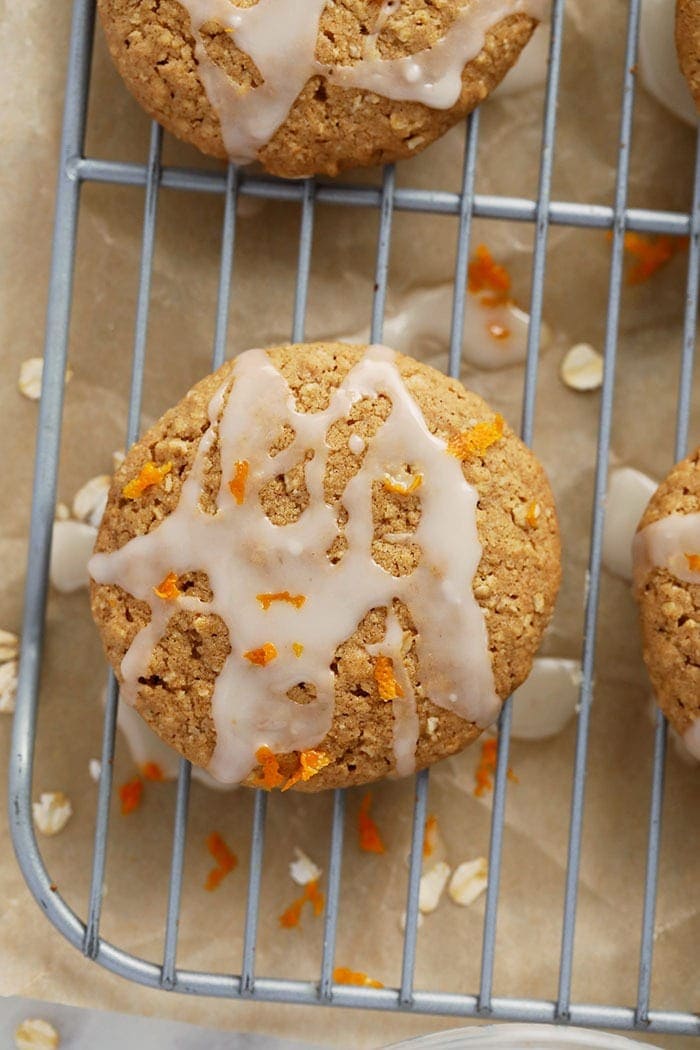 Storage
Let cookies cool completely after removing from the oven. Then, transfer cookies to a parchment lined container. Seal and store on the countertop for up to 3-5 days.
Freezer Instructions
Let cookies cool completely after removing them from the oven. Then, Place back onto a baking sheet and freeze for 15 minutes. This will help prevent the cookies from sticking together.
Once the cookies have hardened a bit, transfer them into a freezer-safe gallon-size bag. Freeze for up to 3 months.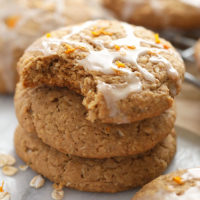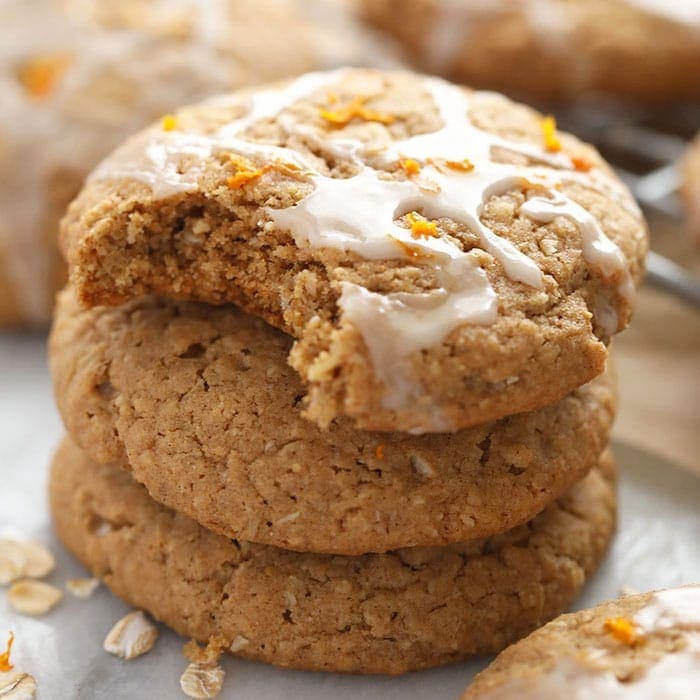 Iced Oatmeal Cookies
The most delicious iced oatmeal cookies perfect for any time of year. Bonus - these oatmeal cookies are lightened up with part whole wheat flour and coconut oil!
Ingredients
Wet
1/2

cup

unsalted butter

room temperature

1/4

cup

coconut oil

room temperature (not melted)

1

cup

organic light brown sugar

packed

1

large egg

2

teaspoons

molasses

1

teaspoon

vanilla extract
Instructions
First, preheat oven 350ºF and spray baking sheet with nonstick cooking spray.

Next, prepare oatmeal by placing 1 cup of rolled oats into a food processor. Pulse the oats 6-8 times to chop the oats. It should be coarser than oat flour. Transfer into a medium bowl.

Add the rest of the dry ingredients and mix until combined. Set aside for later.

Place butter, coconut oil, and brown sugar into a large bowl. Use a hand mixer (or stand mixer) to cream the butter. Turn the hand mixer to medium/high and combine everything until creamy. This should take a good few minutes few minutes.

Once creamed, add egg, molasses, and vanilla extract and mix again on medium until smooth.

Slowly add dry ingredients to wet and combine using the hand mixer on medium. We like to add around 1/2 cup of dry at a time. Repeat until everything is combined.

Use a 1.5 tablespoon cookie scoop to create cookies. Roll dough between your palms and then slightly flatten them. Place on cookie sheet and repeat until all of the dough is gone.

Bake at 350ºF for around 12 minutes.

Once fully cooked, immediately remove cookies from cookie sheet and place onto a cooling rack.

Let cool for at 10-15 minutes.

While the cookies are cooling, prepare icing. In a small bowl, mix together powdered sugar and water. Add water a teaspoon at a time so that it doesn't get too thin. You want to make sure that the icing is thick enough to hold shape.

Once you've made your icing, you can use a teaspoon to drizzle icing on top of each cookie. Top with optional orange zest.
Nutrition facts
Calories:
202
kcal
Carbohydrates:
26
g
Protein:
2
g
Fat:
10
g
Fiber:
1
g
Sugar:
15
g