These soft and chewy apple oatmeal cookies are healthy, delicious, and go perfect with a cup of coffee in the morning! Make a double batch of cookies so you have extra for the week!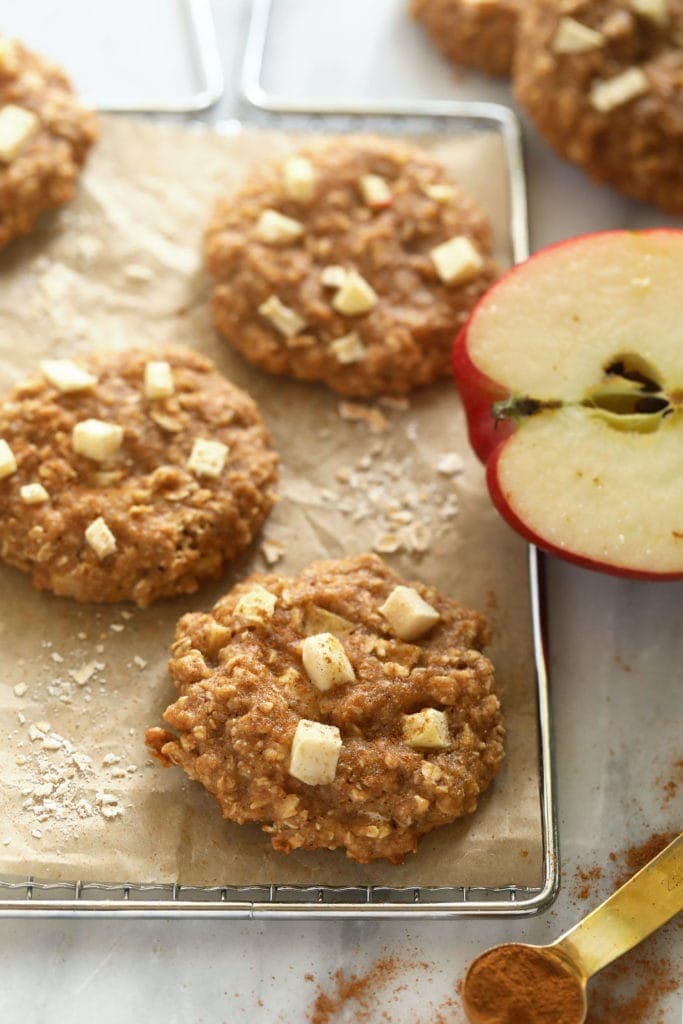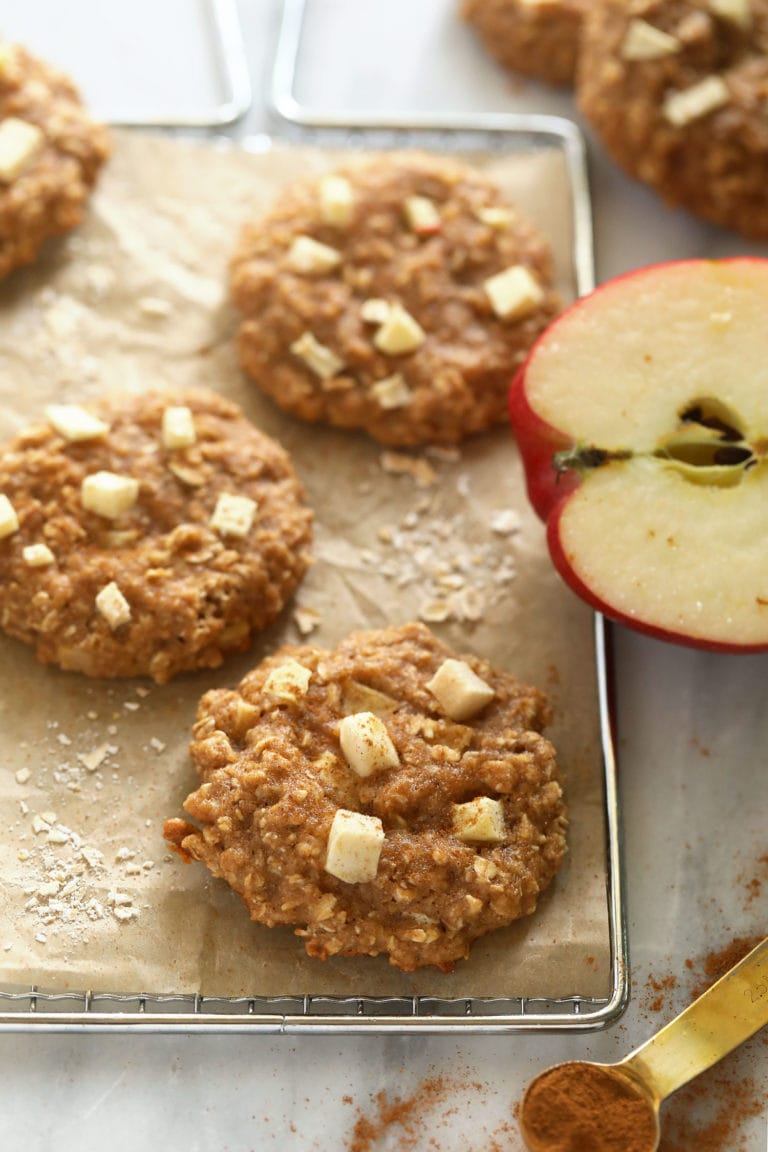 Healthy Apple Oatmeal Cookies
Say hello to the most delicious oatmeal apple cookies in all of the land. These cookies are perfect any time of year, but especially in the fall when there is an abundance of delicious apples.
We love incorporating apples and applesauce into our baked goods. They act as a natural sweetener and add extra moisture to whatever they're in.
Our cinnamon apple bread, apple cake, and delicious apple crisp are some of our favorite apple recipes right now!
Why you'll love them!
Why are these apple cookies so good and how are they healthy? Let me count all the ways.
These cookies are sweetened with applesauce and brown sugar. A little natural and a little sugar. It's the perfect combination.
You can eat these cookies for breakfast, yes BREAKFAST! They are packed with oats and apples and go great with a cup of coffee.
Making a double batch of these cookies is always a good idea! Pop half of these cookies in the freezer for easy access to delicious cookies forever!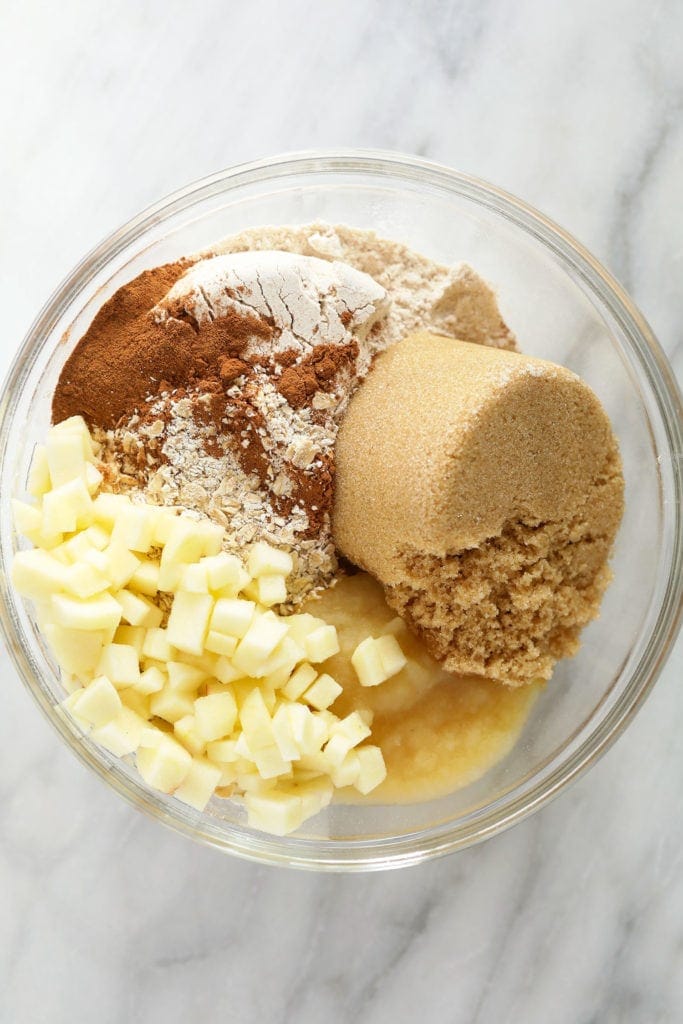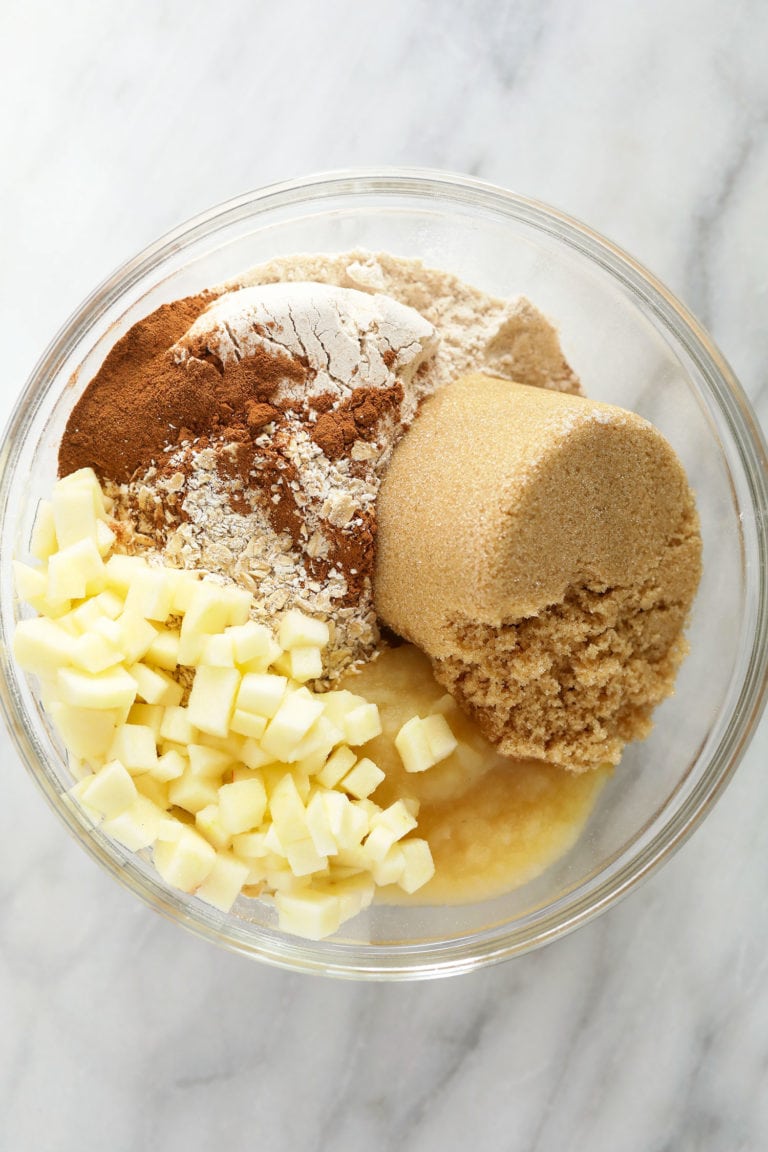 Everything You Need for these Oatmea Apple Cookies
Have no fear, all of the ingredients in these cookies are accessible and easy to find! Here is everything you'll need!
White whole wheat flour
Baking powder
Ground cinnamon
Apples
Unsweetened applesauce
Brown sugar
Eggs
Vanilla extract
Coconut oil
What kind of apples should I use?
Since these apple cinnamon oatmeal cookies are supposed to be a sweeter cookies, we recommend using a naturally sweet apple variety. Here are some options:
Gala
Red Delicious
Honeycrisp
Fuji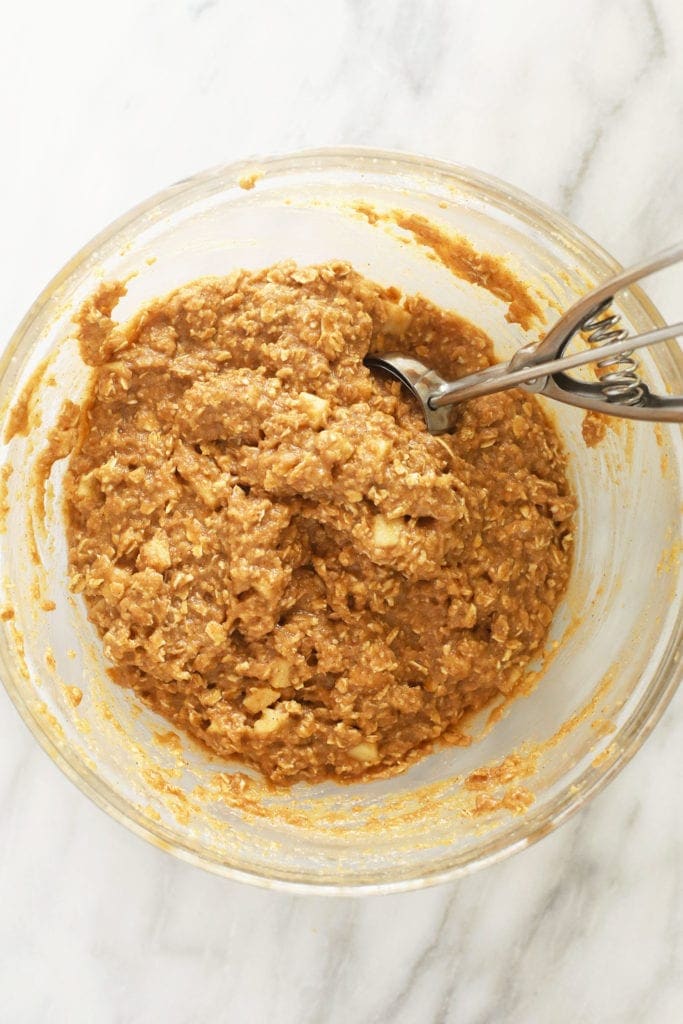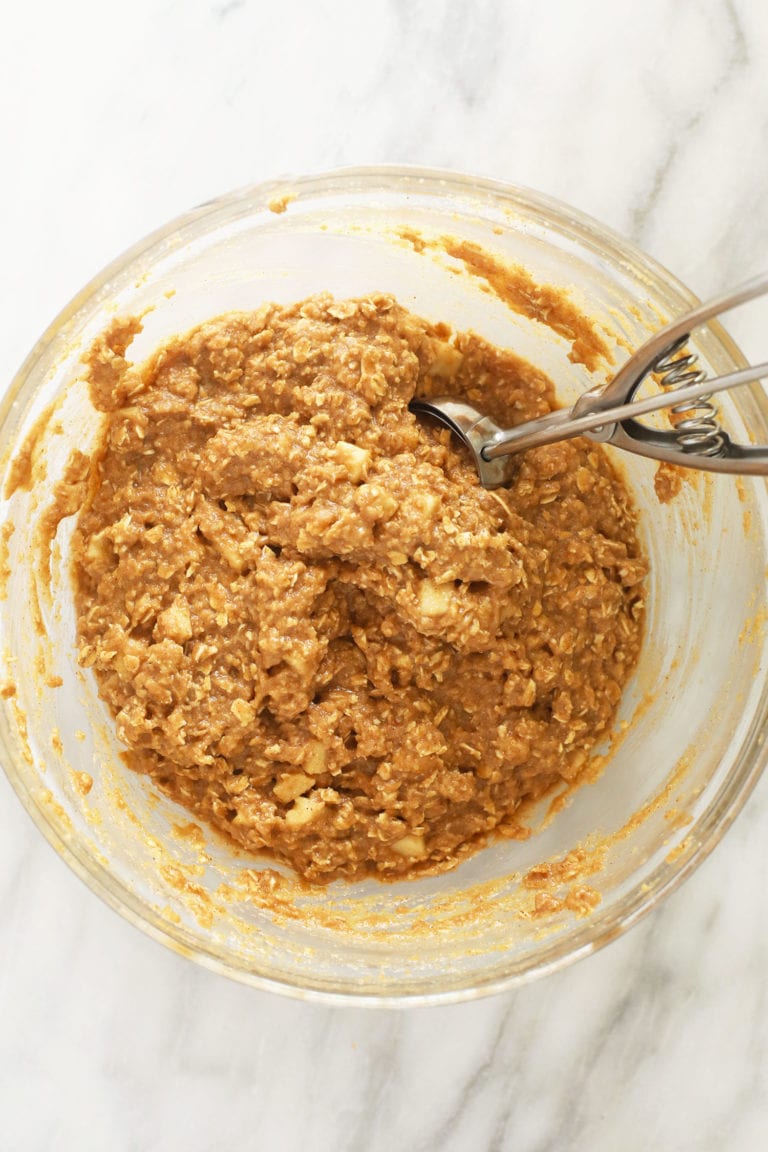 Ingredient Swaps
Don't have some of the ingredients on the list above? That's ok, there are very easy ingredient swaps.
White Whole Wheat—-> All-Purpose Flour
Rolled Oats—> Quick Cooking Oats
Unsweetened Apple Sauce—> Mashed Banana
Brown Sugar—> Coconut Sugar
Apple Oatmeal Cookies 101
How do you prepare apples for apple oatmeal cookies?
To get your apples ready to put in these cookies, we recommend peeling your apples and then dicing them up into small chunks.
What type of apples should I use in these cookies?
You can use any apple that you have in these cookies. We used gala apples!
What can I add to these apple oatmeal cookies?
The sky is the limit when it come to mix-ins for these apple oatmeal cookies! Here are some of the mix-ins that we would add into these cookies: raisins, craisins, mini chocolate chips, or flax seed.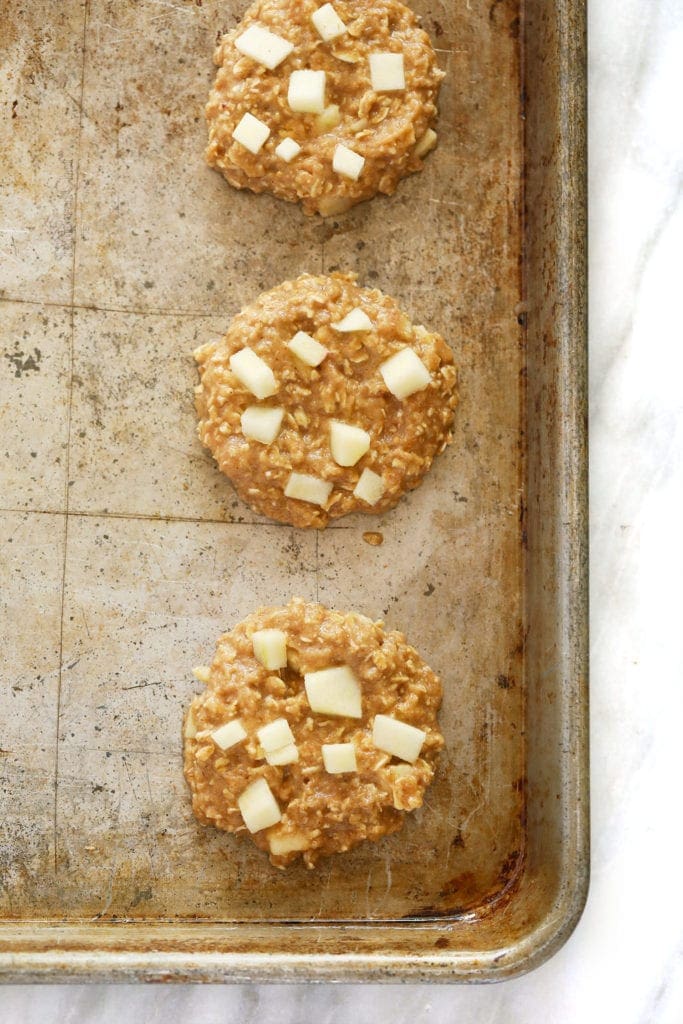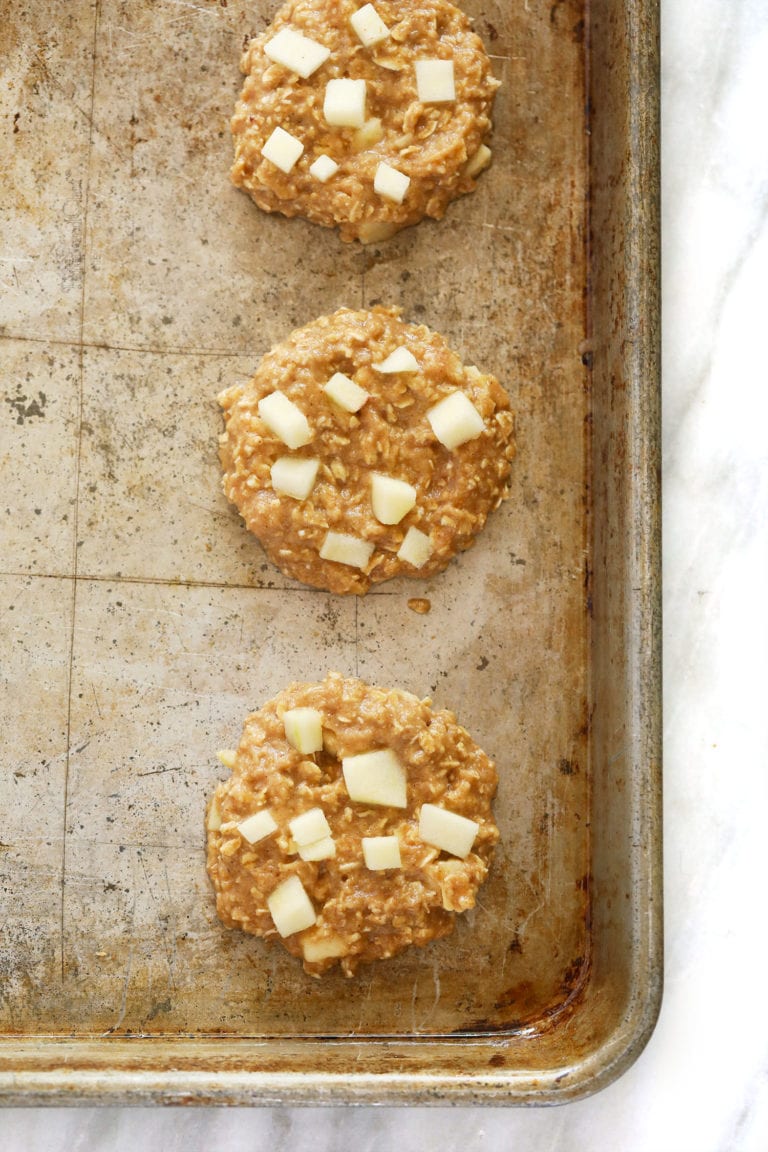 Storage
Because these cookies are soft and chewy, we recommend storing them in the refrigerator in an airtight container.
Make sure to let your cookies cool completely before transferring them into a container for storage. Will last up to 3-5 days.
Freezer Instructions
Let cookies cool completely and then place apple oatmeal cookies on a baking sheet. Freeze for 30 minutes before transferring into a freezer-safe gallon-size bag.
Will last up to 3 months.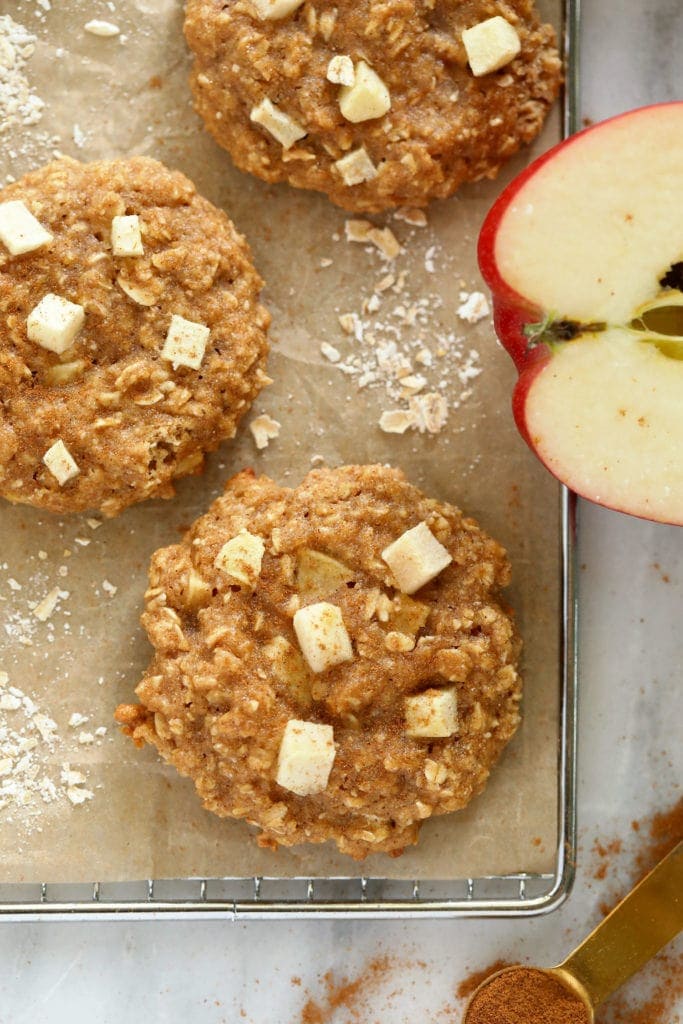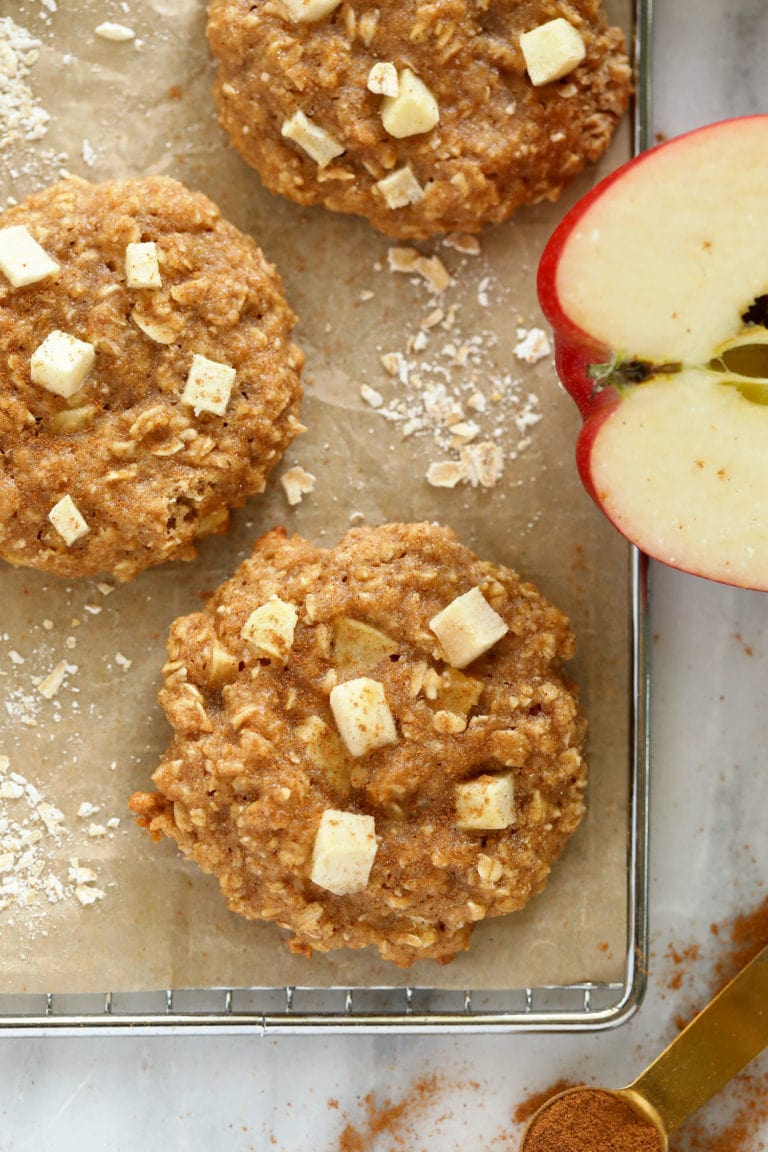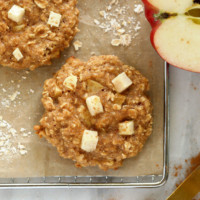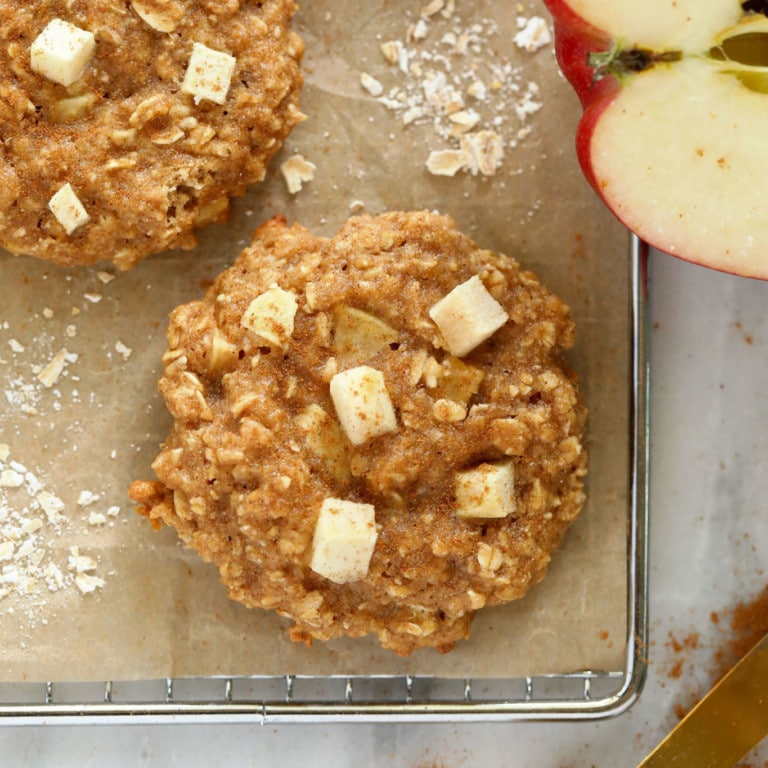 Apple Oatmeal Cookies
These soft and chewy apple oatmeal cookies are healthy, delicious, and go perfect with a cup of coffee in the morning! They're a combination of oatmeal cookies and baked oatmeal.
Instructions
First, preheat oven to 350ºF and spray a baking sheet with nonstick cooking spray.

Next, add dry ingredients into a large bowl and mix to combine.

Then, add wet ingredients (minus the melted coconut oil) into a medium bowl and whisk to combine. Add wet ingredients to dry and mix again. Finally, add in melted coconut oil and mix one more time. Your batter should be thinner than normal cookie dough and similar to a thick oatmeal.

Next, use a 1.5 tablespoon cookie scoop to scoop the batter onto the baking sheet. Use your hands to flatten cookies as they will not expand much while baking. Place diced fresh apple on top, if desired.

Bake at 350ºF for 12-16 minutes (depending on your oven) or until the bottoms begin to brown. Remove from oven and immediately transfer to a cooling rack.

Before serving, dust cookies with ground cinnamon.
Nutrition facts
Calories:
107
kcal
Carbohydrates:
21
g
Protein:
2
g
Fat:
2
g
Fiber:
2
g
Sugar:
12
g