Delicious oatmeal carrot cake cookies are the perfect cookie to eat anytime! They're made with oats, white whole wheat flour, grated carrots, cinnamon, nutmeg, and raisins.
Do you have a big bag of carrots to use? Make this healthy carrot cake recipe or our carrot cake overnight oats after you've popped these cookies in the oven!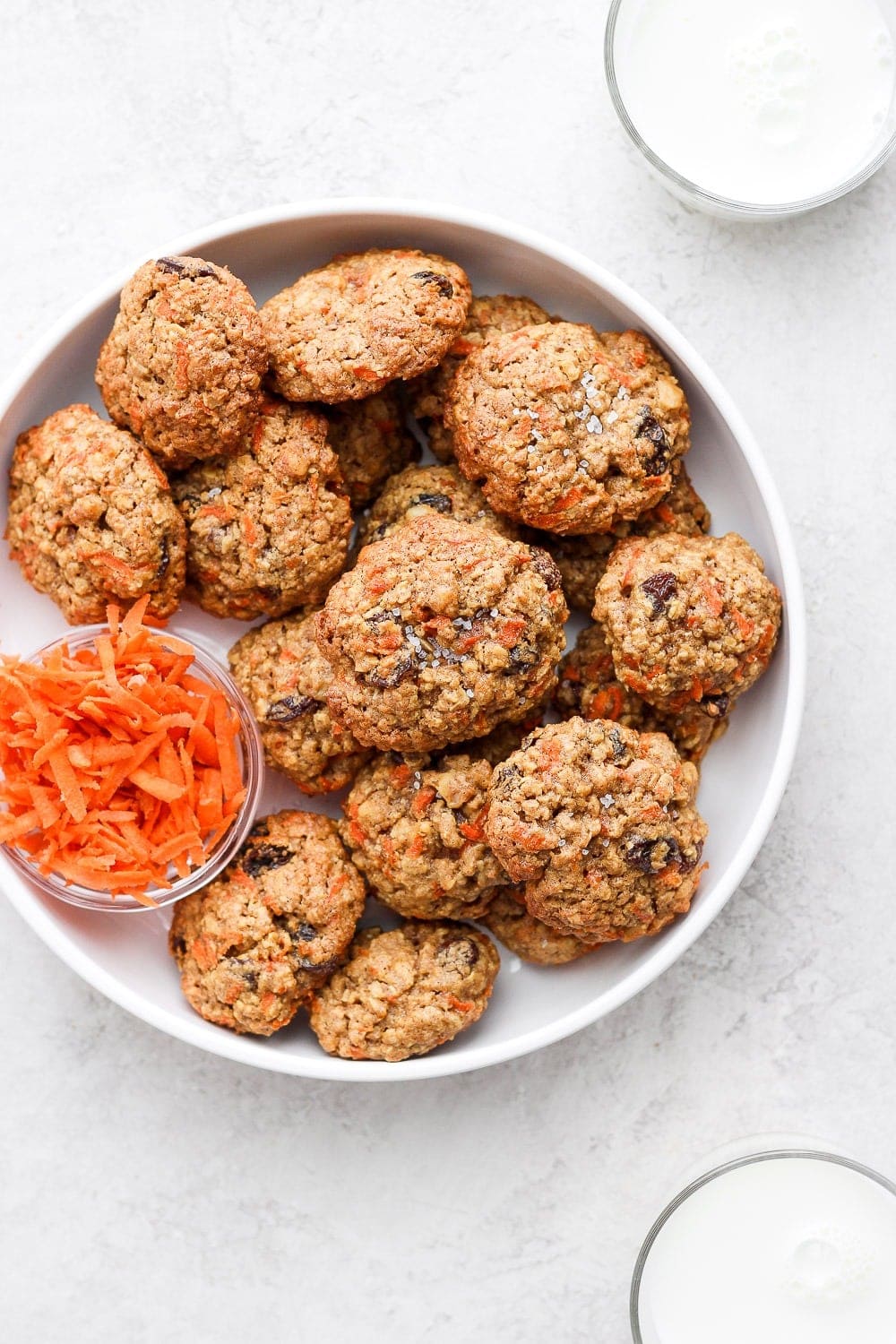 Healthy Cookies (It's the CARROTS)
It's no secret that adding pureed or shredded vegetables to baked goods is a great way to get a couple extra servings of veggies into your diet.
We have snuck vegetables into these beet brownies, zucchini waffles, and these sweet potato pancakes. Do you know what they all have in common other than having a bunch of veggies in them? They are all very moist and delicious!
The vegetable puree or shredded veggies all add moisture to delicious goodies like cookies, pancakes, breads, and waffles! The beauty is that you don't have to use as much oil or fat because the vegetable adds all you need!
Other than the vegetable puree, these cookies are packed with fiber from the oatmeal and omegas from the walnuts! These cookies are nutrient dense and delish.
How to Make these Cookies
These cookies are pretty easy to mix up and pop in the oven! Here are some extra details on what to look for when you are following the instructions in the recipe card!
Here's a tip—> Before you start to mix ingredients together, measure all of your ingredients out so everything is ready to go. This is helps to avoid making measuring errors white you are mixing!
Step 1: Mix Wet Ingredients
In some cookies, mixing the wet ingredients and the dry ingredients separately is not that big of a deal. That is not the case for these carrot cake cookies.
Creaming the butter and sugar is a key part of making sure these cookies turn out just the way you want them! After creaming the butter and sugar add the egg and beat just until mixed.
Do not over beat the egg, you will end up with dense cookies.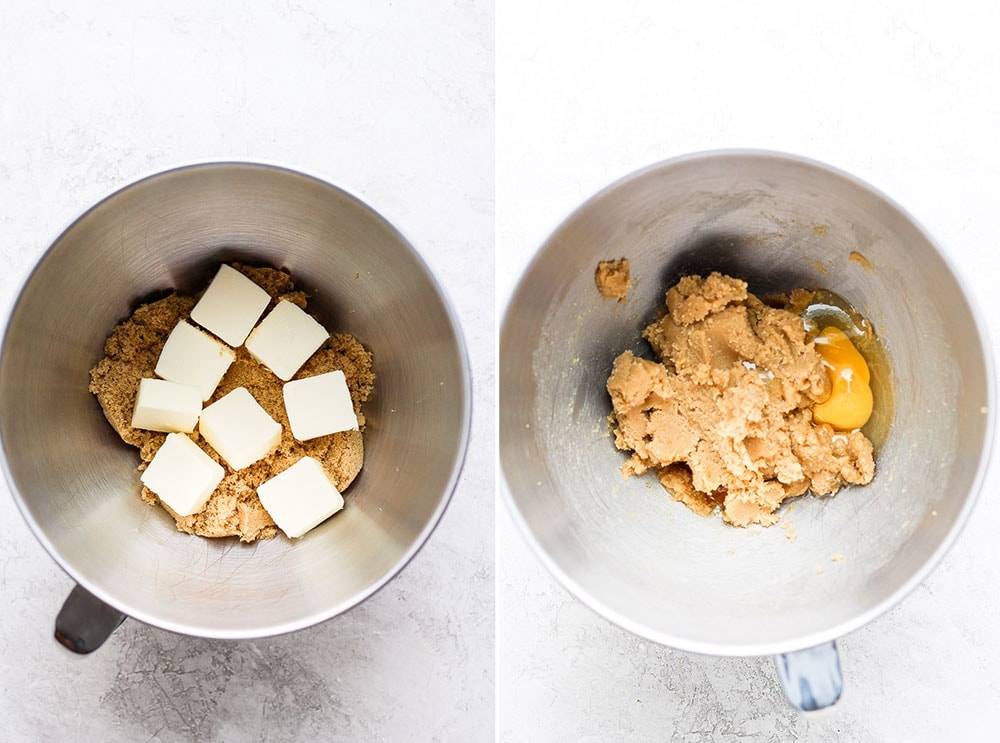 Step 2: Mix Dry Ingredients
We suggest mixing the dry ingredients in a separate bowl before slowing adding them to the wet ingredients! You want to add the dry ingredients to the wet ingredients slowly so that all of the ingredients are mixed equally!

Step 3: Roll those Cookies
Before rolling the cookies into balls, be sure that you spray your baking sheet with non-stick baking spray! Don't forget to do this! It is the absolutely worse when cookies get stuck to a baking tray.
After spraying the baking sheet, we recommend using a 1.5 tablespoon cookie scooper to scoop out the dough. We use this scoop!
Roll each cookie dough ball and then carefully flatten the dough in your hands to create a circle! Place it on the baking sheet and repeat until the baking sheet is full.
These cookies do not spread out, so don't worry too much about the cookies spreading into each other!
Step 4: Bake Bake Bake
The bake time for these cookies is about 12-14 minutes! There is a range in the bake time because every oven is different! Also, the environment where you are baking the cookies matter.
Remember that if you like your cookies softer, bake them for fewer minutes. If you like a nice and crunchy cookie, bake them bit longer!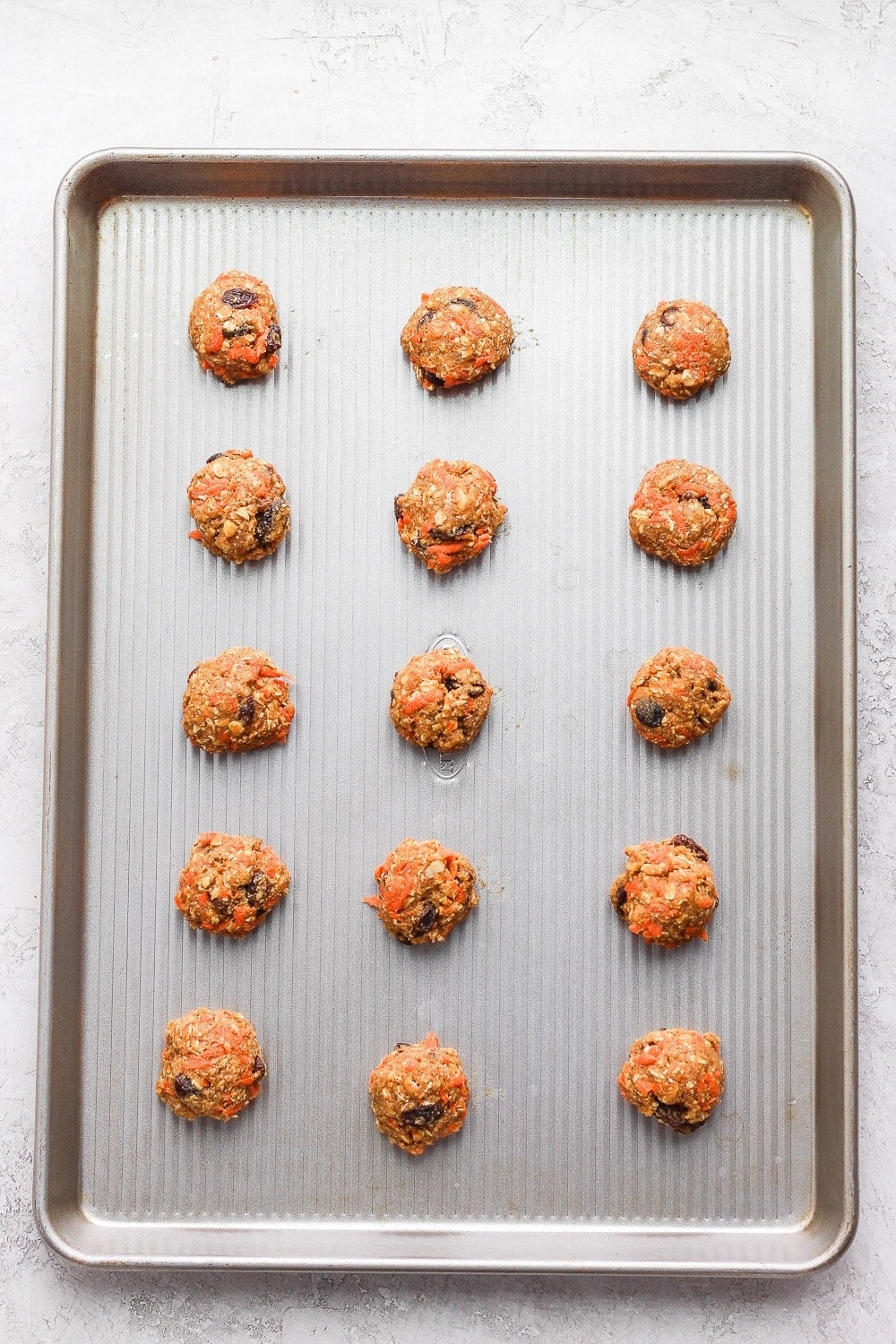 Tips + Tricks
Buy a Kitchen Aide.
This is no joke. Whether you buy yourself a kitchen aide or another stand mixer, we recommend investing in a stand mixer! It really just makes baking a heck of easier!
We tried making these cookies with a hand mixer and our arms were exhausted. When you have to beat sugar and cold butter together a stand mixer saves the day!
Great substitution options.
Though we think these oatmeal carrot cake cookies are perfect the way they are, there are substitution options if you need them! Here are some of our recommendations below!
White Whole Wheat Flour–> All purpose flour
Walnuts–> Almonds or Pecans
Rasins–> Dried cranberries or chocolate chips
Carrots–> We don't recommend substituting the carrots!
Butter–> Coconut oil
Don't over-bake.
If you like your cookies a little crispier, go for baking these cookies for about 14 minutes. Just be sure not to completely over bake these cookies because they will turn into little carrot cake bricks.
One way to avoid over baking is to remove the cookies from the baking sheet when you remove them from the oven. Transfer them to a cooling rack and you'll be good to go!
Here's how to store these cookies.
We recommend storing these cookies in the refrigerator for up to five days in an air-tight container or in the freezer for up to three months (we love doing this!)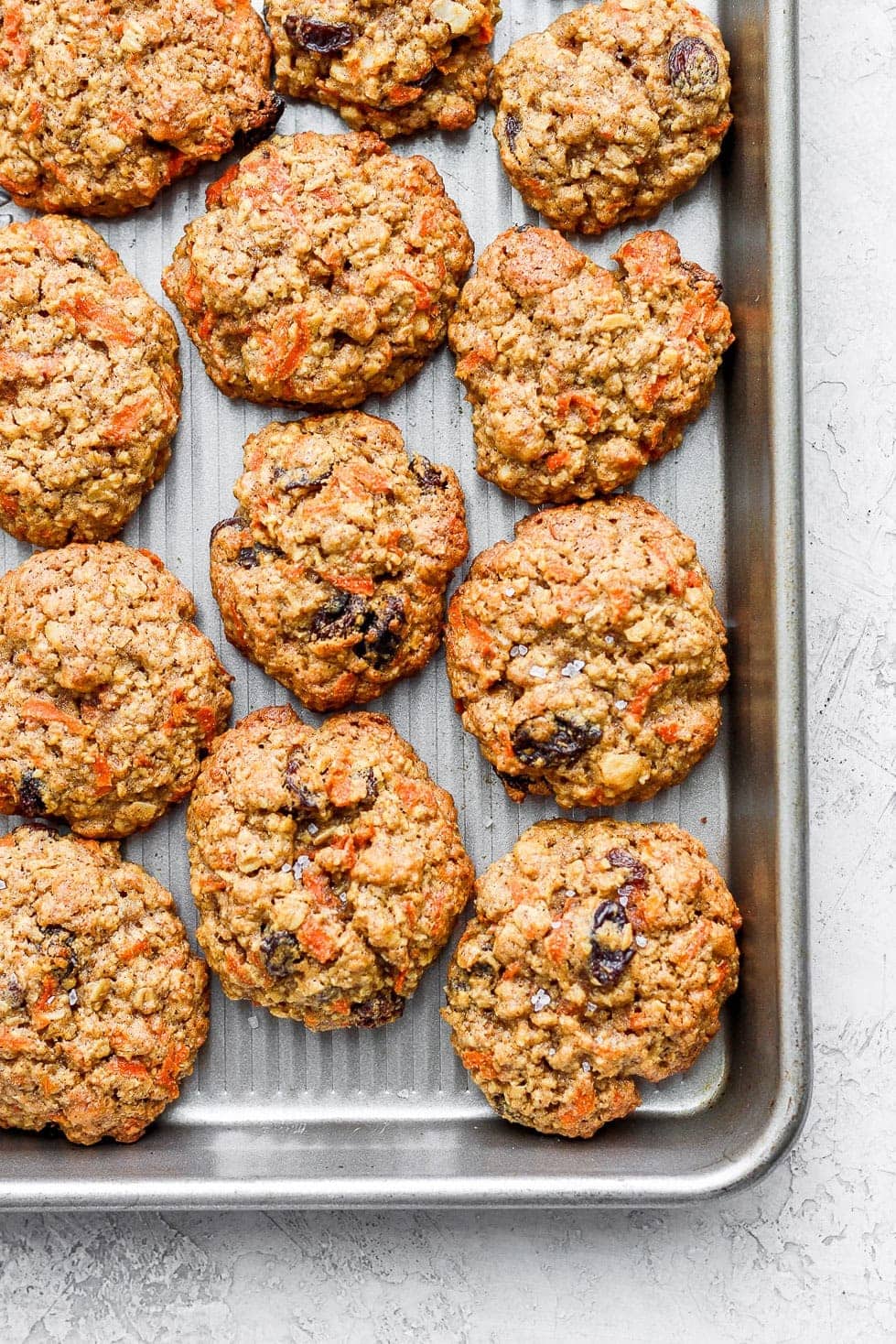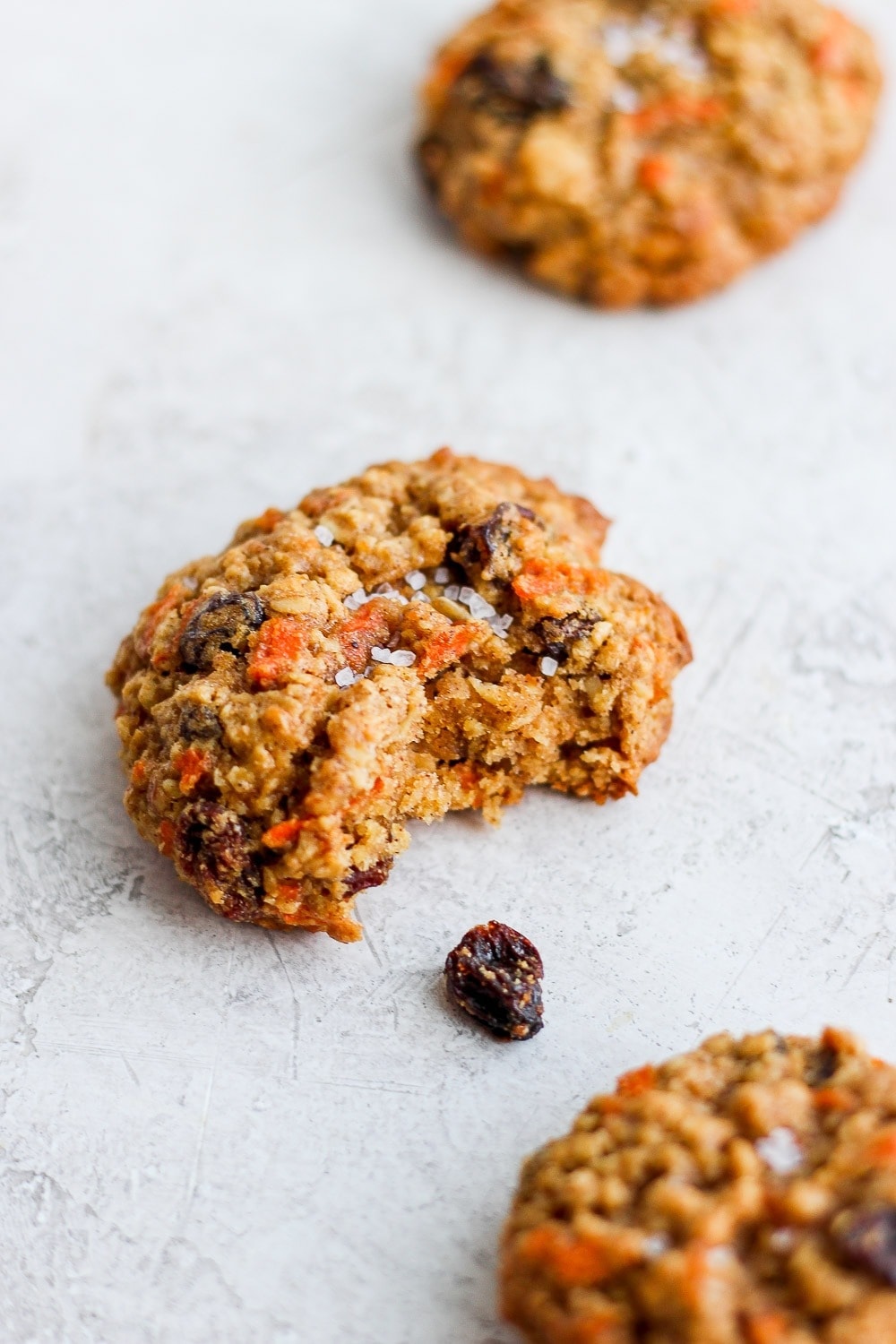 Carrot Cake Inspired Recipes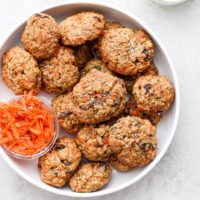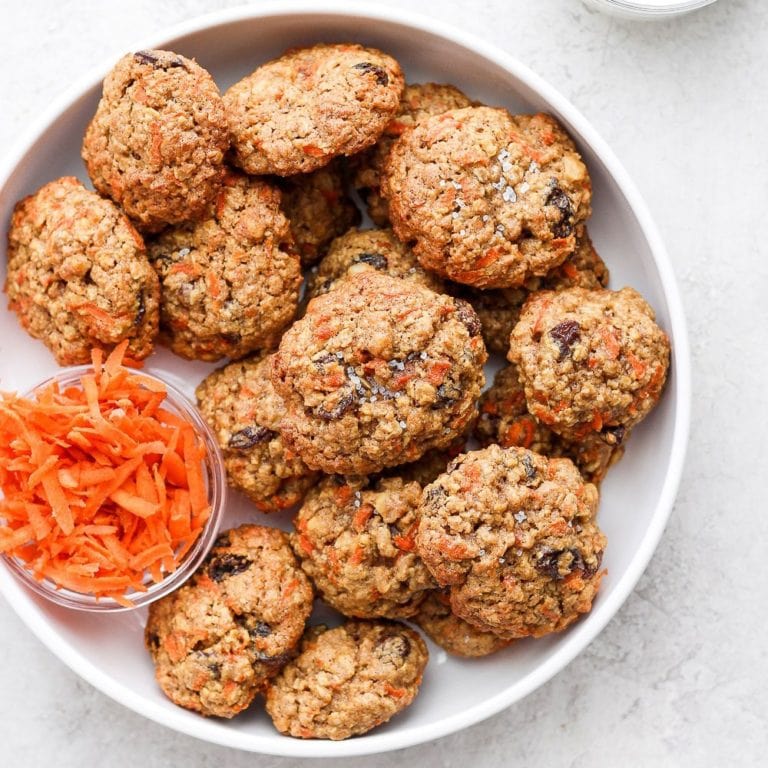 Carrot Cake Cookies
Delicious oatmeal carrot cake cookies are the perfect cookie to eat anytime! They're made with oats, white whole wheat flour, grated carrots, cinnamon, nutmeg, and raisins.
Instructions
First, preheat oven to 350ºF and spray a baking sheet with nonstick cooking spray.

Next, cut cold butter into 1-tablespoon pads and place into a stand mixer.

Add brown sugar and then turn your stand mixer on to medium.

Cream butter and sugar together until there are no more lumps of butter and the consistency is smooth. This should take around 5 minutes.

While the butter is creaming, lightly pulverize rolled oats in a food processor. The goal here is to still have some chunks of oatmeal, but also have some oat flour. Then, transfer into a large bowl.

Add white whole wheat flour, baking powder, ground cinnamon, allspice, nutmeg, and salt to the same large bowl and mix until combined.

Once the butter has creamed, add egg and vanilla extract and mix on medium until combined. Make sure not to over mix!

Slowly add the dry ingredients to wet and mix on medium until a dough has formed. You may need to stop to scrape the bottom of your mixer. The consistency should be a little bit sticky, but have the ability to form into a ball.

Finally, add in grated carrot, walnuts, and raisins, and mix one final time on medium to combine.

Use a 1.5 tablespoon cookie scoop to scoop dough into your hands. Roll into a ball and then slightly flatten between your palms to create a cookie shape. Place on a cookie sheet and repeat.

Bake at 350ºF for 12-14 minutes.

Once the bottoms are golden brown, remove from cookie sheet immediately and transfer to a cooling rack.

Top with optional sea salt before serving.
Nutrition facts
Calories:
198
kcal
Carbohydrates:
27
g
Protein:
3
g
Fat:
9
g
Fiber:
2
g
Sugar:
16
g