This coconut flour brownie recipe is fudgy and made with wholesome ingredients that are all gluten-free! There's no oil involved thanks to the secret ingredient of beet puree.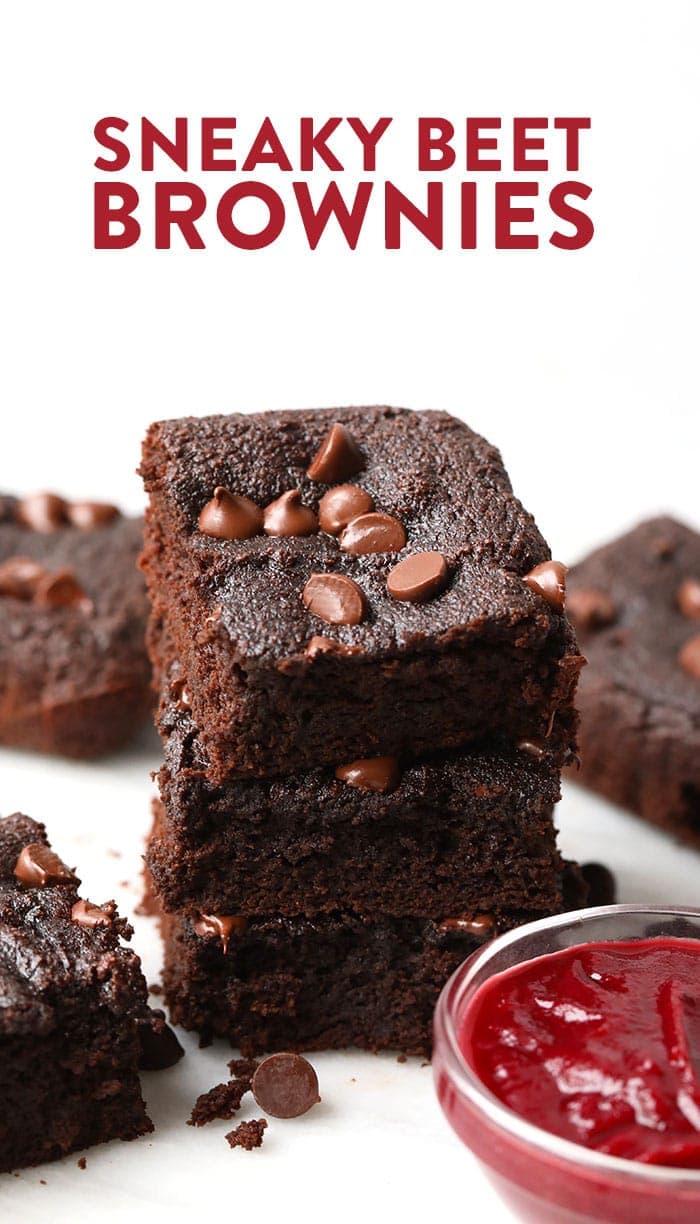 Just Have a Brownie
When life gets crazy, have a brownie! When you a celebrating, have a brownie! When you feel like having a brownie, have a brownie! I think you're catching what I'm throwing. Eat the damn brownie.
These fudgy healthy brownies are made with whole, healthy ingredients including beet puree! They are an amazing healthier option when it comes to baked goods. We are quite proud of how fudgy and delicious these brownies turned out.
How gorgeous are pureed beets? Our team is split when it comes to beets. I happen to love beets in every meal. Em and Lee, not so much! Thankfully, these beet brownies (though made with beets) taste nothing like beets!
Insert –> Sneaky Beet Brownies.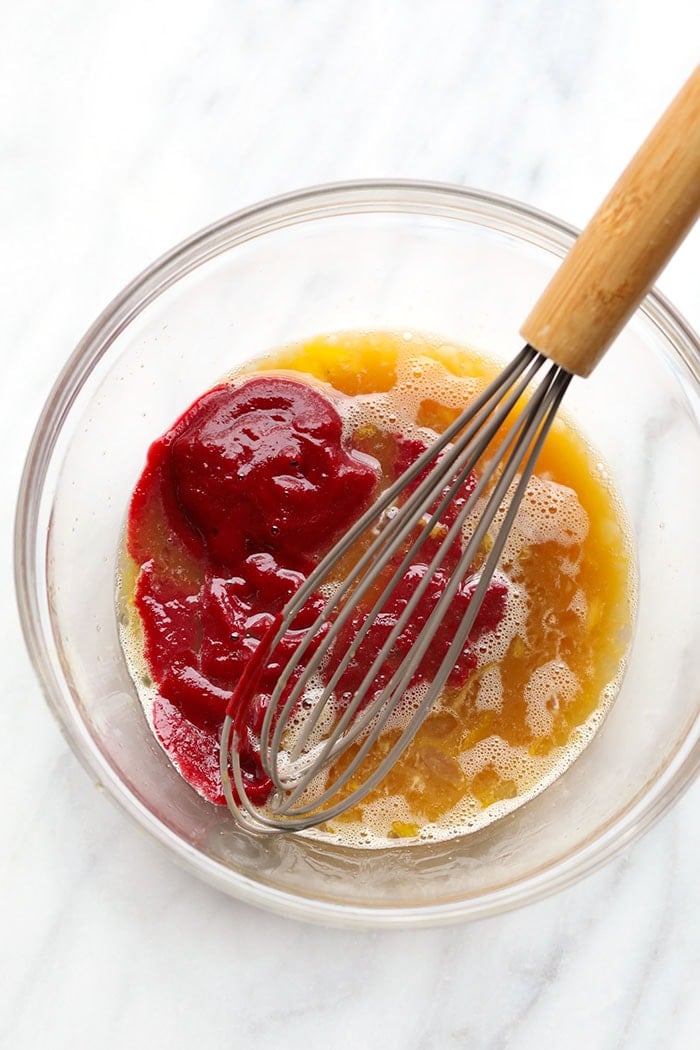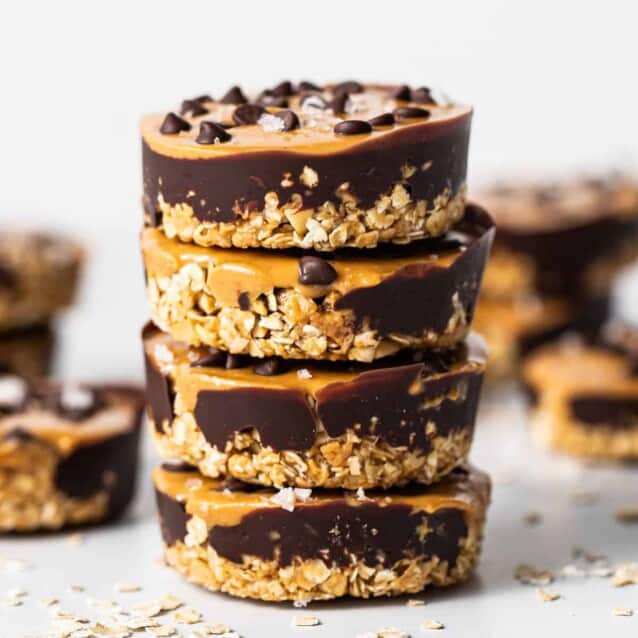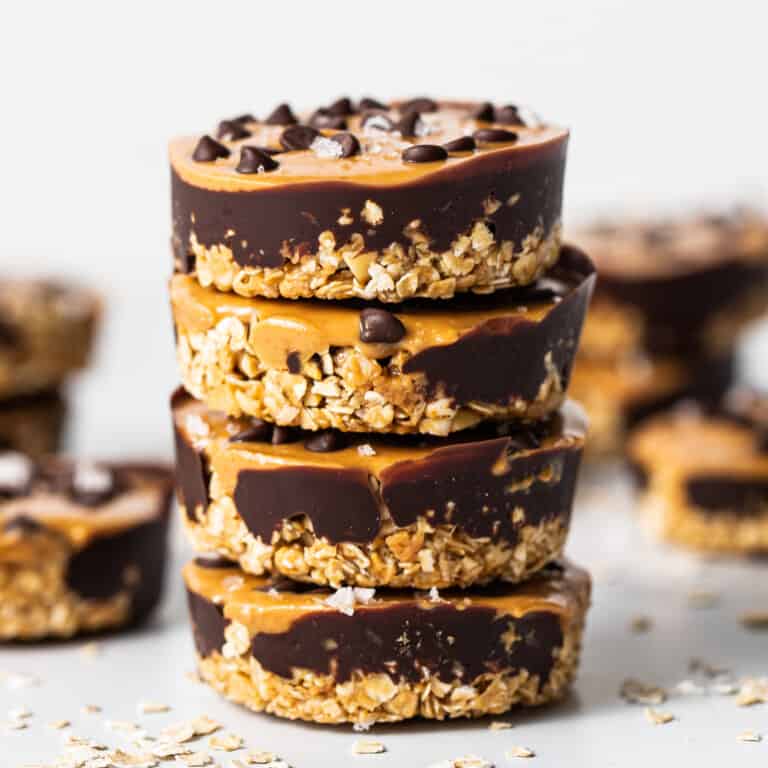 Subscribe!
Love desserts? Us too! Subscribe to our emails and get all of our best desserts straight to your inbox.
What makes these brownies so amazing?
Grain-free made with a mixture of coconut flour and almond flour.
Refined-sugar free made with maple sugar and your choice of dairy/free or sugar/free chocolate chips.
VEGETABLES – made with 2 full pureed beets OMG.
I'd say the beet flavor in these brownies is subtle and not super overpowering, which I prefer. Every time we've made this recipe we do one of those, OMG this is the best thing we've ever made. You can even ask Brita, the amazing woman who creates all of our recipe videos. She's more obsessed than we are.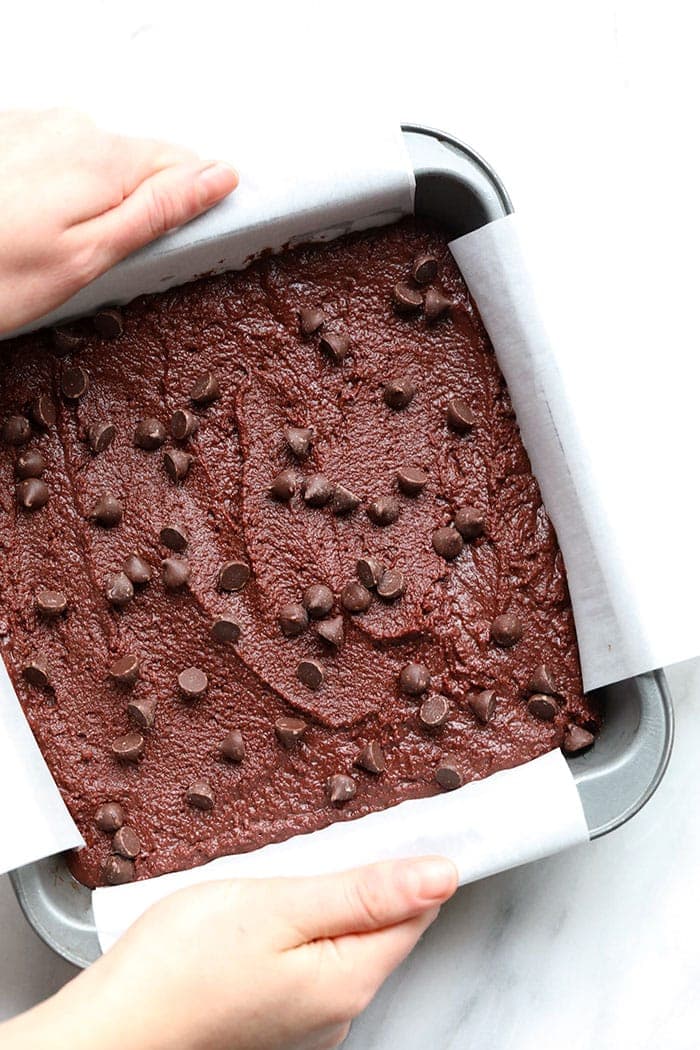 Everything You Need to Know!
Can brownies be healthy?
Yes, brownies can be healthy! Like anything you eat, make sure you eat these brownies in moderation. Too much of anything can be an issue! However, you will get a serving of vegetables if you choose these brownies rather than a different brownie recipe.
Can I substitute the beet puree with a different puree?
Yes, you can substitute the beet puree with any vegetable or fruit puree! Some options could be apple sauce, banana puree, sweet potato puree, etc.
What are the best mix-ins for these brownies?
The beautiful part of these brownies is that you can make them your own by adding mix-ins! Here are some great mix-in options!
Sliced almonds
Walnuts
White chocolate chips
How do you make brownies fudgy?
We make these brownies fudgy by folding in melted chocolate chips! Adding melted chocolate chips into a batter creates clumps of thick fudgy goodness once it's baked.
Can I freeze these brownies?
Yes, you can freeze these healthy brownies. To freeze these brownies, let them cool completely before cutting the brownies into pieces and wrapping them in plastic wrap or placing them in an air tight container. You can keep these brownies in the freezer for up to three months.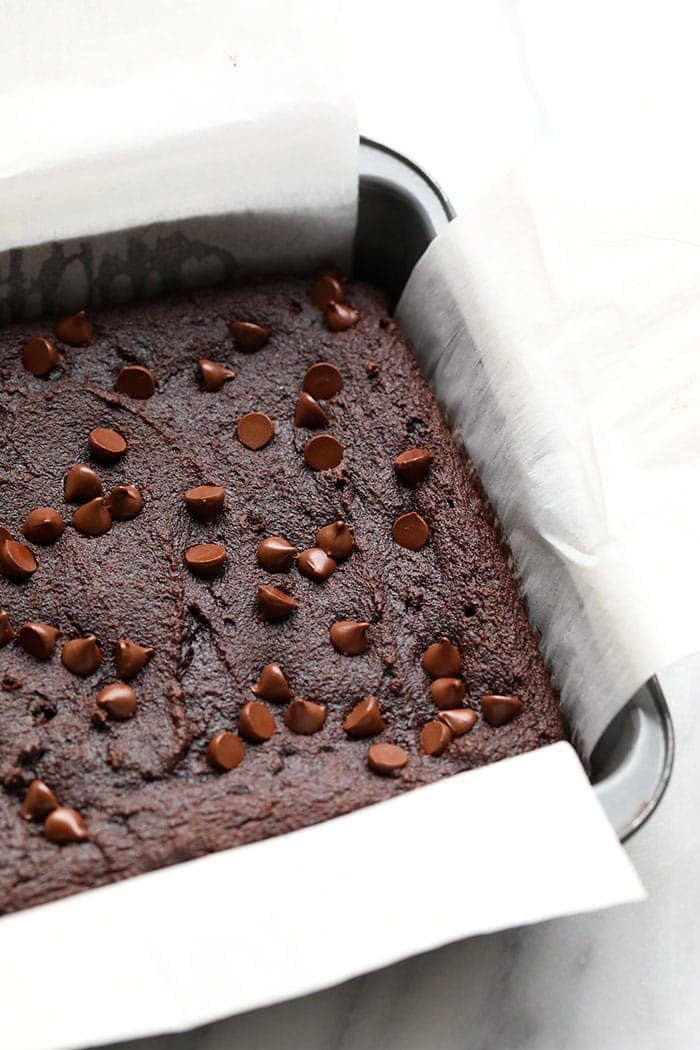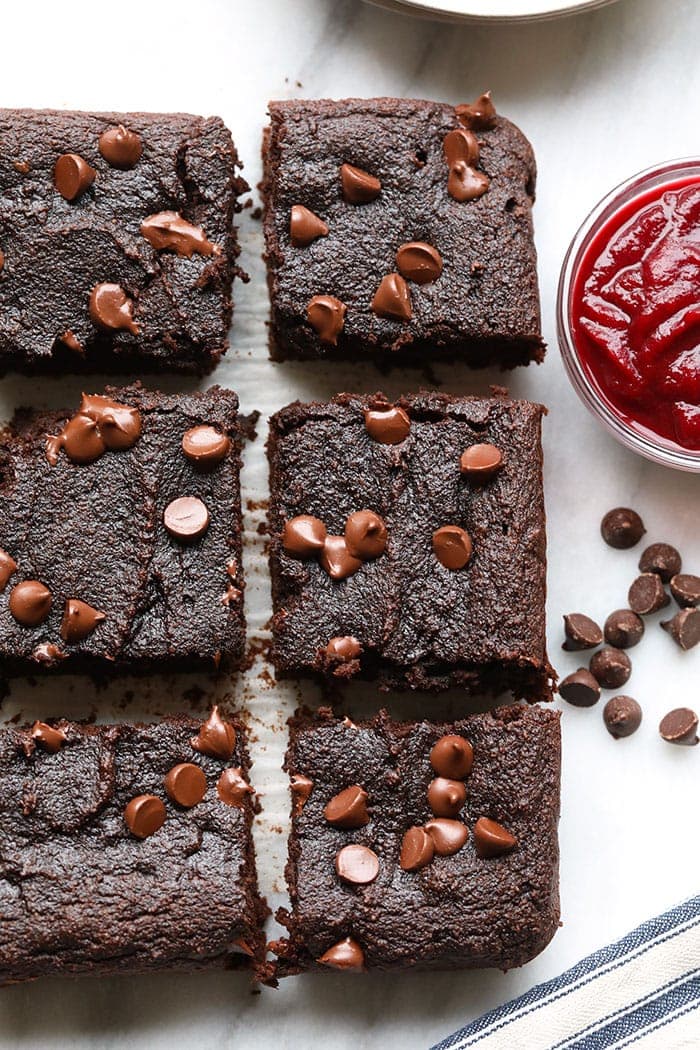 Healthy Brownie Recipes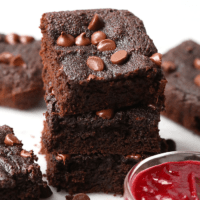 Healthy Brownie Recipe made with Beet Puree
This coconut flour brownie recipe is fudgy and made with wholesome ingredients that are all gluten-free! There's no oil involved thanks to the secret ingredient of beet puree.
Instructions
Preheat oven to 350ºF and spray an 8x8-inch pan with cooking spray OR line with parchment paper. Set aside.

Mix all dry ingredients (except for chocolate chips) in a medium-sized bowl and set aside. The 1/4 cup of chocolate chips will be used on top.

Prepare beet puree by placing 2 cooked beets into a food processor for 2-3 minutes or until you've formed a puree.

In a separate bowl, mix together all wet ingredients except for 1/2 cup of chocolate chips (you be melting these for later). Add dry ingredients to wet ingredients and mix.

Place 1/2 cup of chocolate chips into a small, microwave-safe bowl and heat on high for 1 minute and 30 seconds, stirring every 30 seconds. When chocolate chips are melted, fold them into brownie batter.

Pour brownie batter into pan and spread evenly with a spatula. Top with chocolate chips.

Bake for 18-21 minutes (depending on how gooey you want them).
Tips & Notes
* You can buy pre-cooked beets in some grocery stores. To make beet puree with uncooked beets, preheat oven to 400ºF. Wrap beets in tin foil and bake for 45-60 minutes. Remove from oven, let cool, and remove skin. Place beets in a food processor for 2-3 minutes until pureed.
Nutrition facts
Calories:
186
kcal
Carbohydrates:
20
g
Protein:
6
g
Fiber:
3
g
Sugar:
14
g