These delicious, 4-ingredient protein peanut butter cookies are the perfect post-workout or mid-day snack!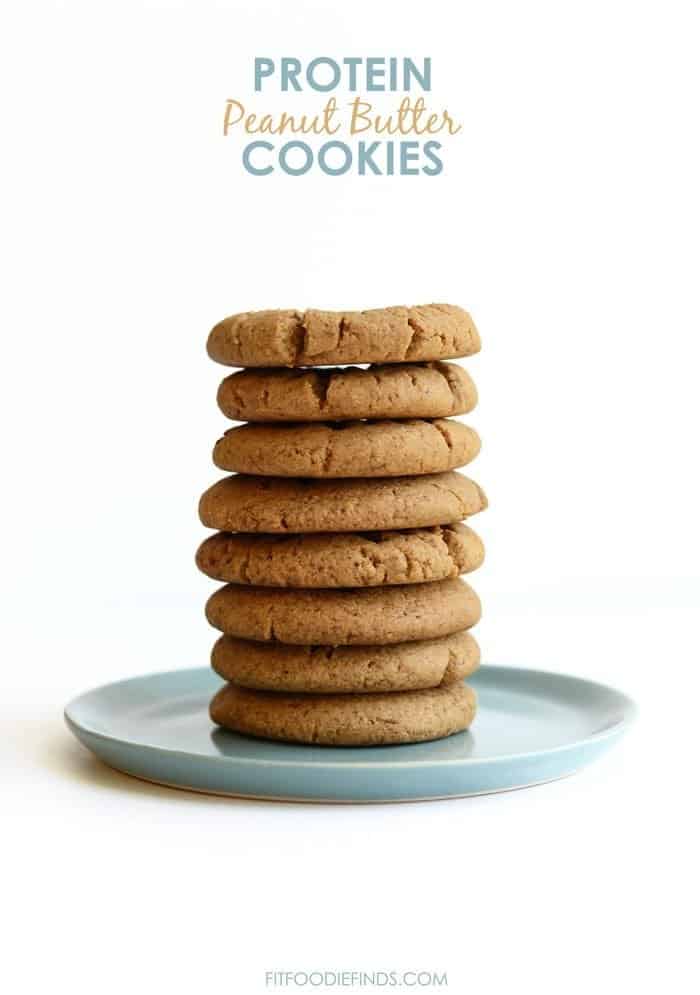 It just hit me that I'm only going to be able to run/walk/frolic outside for a few more months (comfortably). I really do enjoy running to the gym, lifting, and running back. Or taking a stroll around Lake Harriet after dinner. I'd say summertime is the #1 reason why I love Minnesota. Winter is the #1 reason why I dislike (majorly) Minnesota.
Speaking of running to the gym. I have an awesome workout coming up later this week that I did last week :D I'm still sore. #toomanyreps
That workout is what sparked me to make some cookies that are protein-packed. This girl loves her PB cookies…so why not add a few protein shots to make the cookie worthwhile!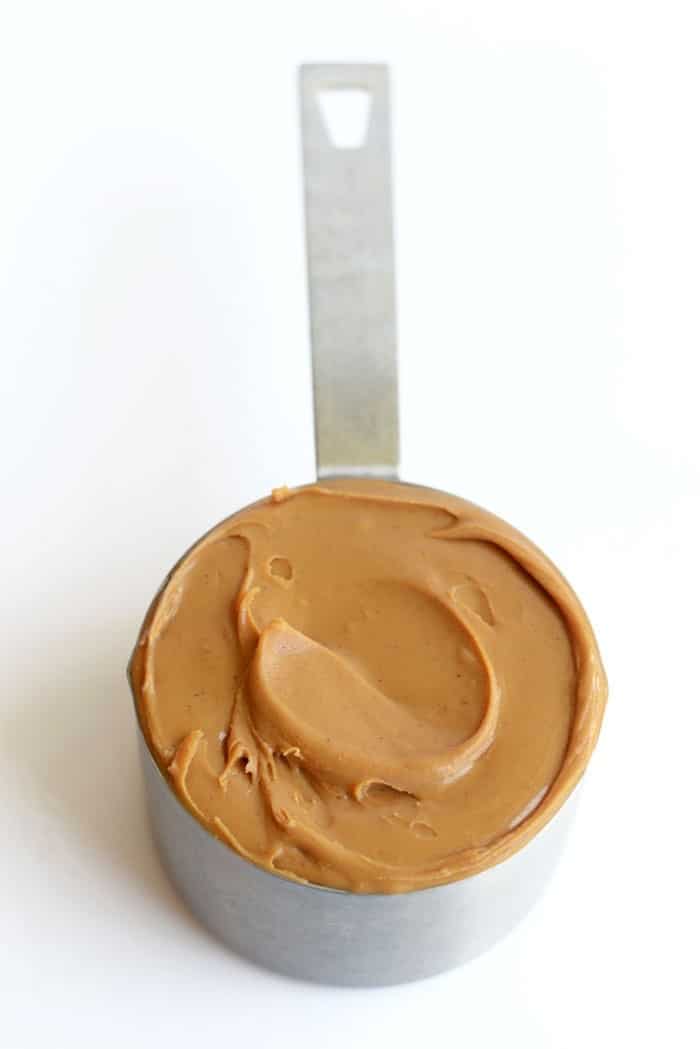 I have a confession. I know I am supposed to be this "fit foodie," but I have a huge thing for Jiff All Natural Peanut Butter. Ra ra ra ra you can tell me that it has bad stuff for you in it (and I know that!), but it's what I grew up on! I LOVE IT and no one is going to change my mind! #momslikeyouchoosejif
I'm not even a mom and I choose Jif.
This recipe is a spin-off of my Grain-Free Peanut Butter Cookies I made last year. Those were good, but these are better :D Just saying. If you want- you can always mix the two together and add in some chocolate chips!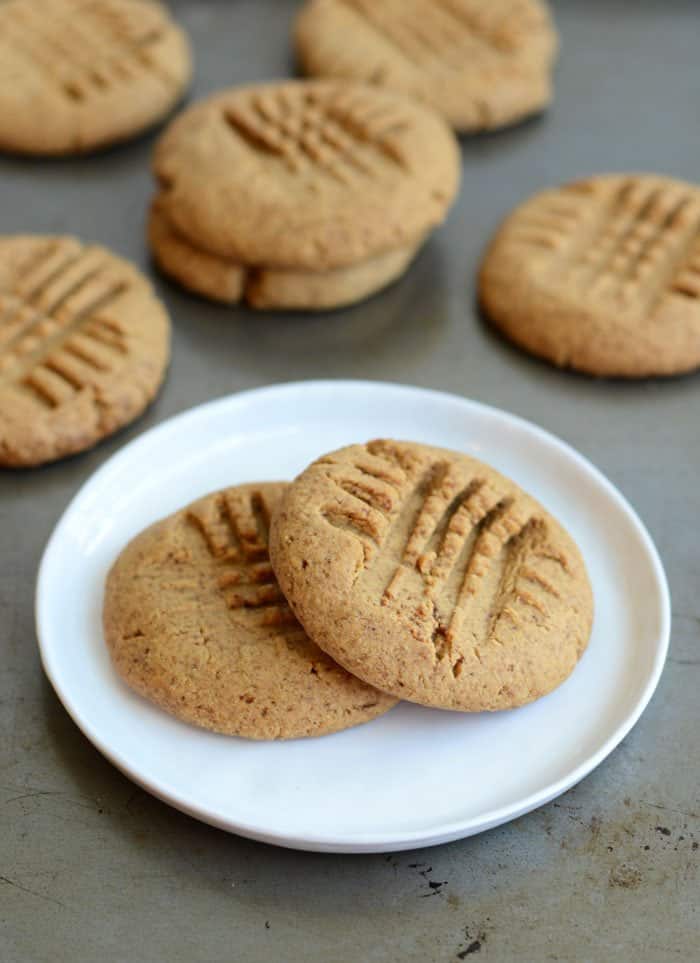 Recipe
Grain-Free Protein Peanut Butter Cookies
Prep Time:

5 minutes

Cook Time:

10 minutes

Total Time:

15 minutes
Instructions
First, preheat oven to 350ºF and line a baking sheet with parchment paper.
Place all ingredients in a medium-sized bowl and mix until your consistency is like cookie dough. Depending on the thickness of your peanut butter, you may need to add a few more tablespoons of protein powder.
Spoon out 2 tablespoons of dough into your palms and roll into a ball. Flatten between your palms and place on a baking sheet. Use a fork to create classic peanut butter cookie criss-cross marks on your cookie.
Bake at 350 for 10-12 minutes or until the edges begin to turn golden brown.
Let cool for 10-15 minutes so that the cookies can harden!
Nutrition
Serving Size:

1 cookie

Calories:

189

Sugar:

13

Fat:

11

Carbohydrates:

17

Protein:

8
Similar
I'm savoring these bad boys. I ate one of them right away and put the rest in a ziplock bag and into the freezer. This way I don't eat the entire batch in one day! It really does work. I still have some 3-Ingredient Brownies left :D :D Good thing Blake rarely goes in the freezer. All for me, none for him.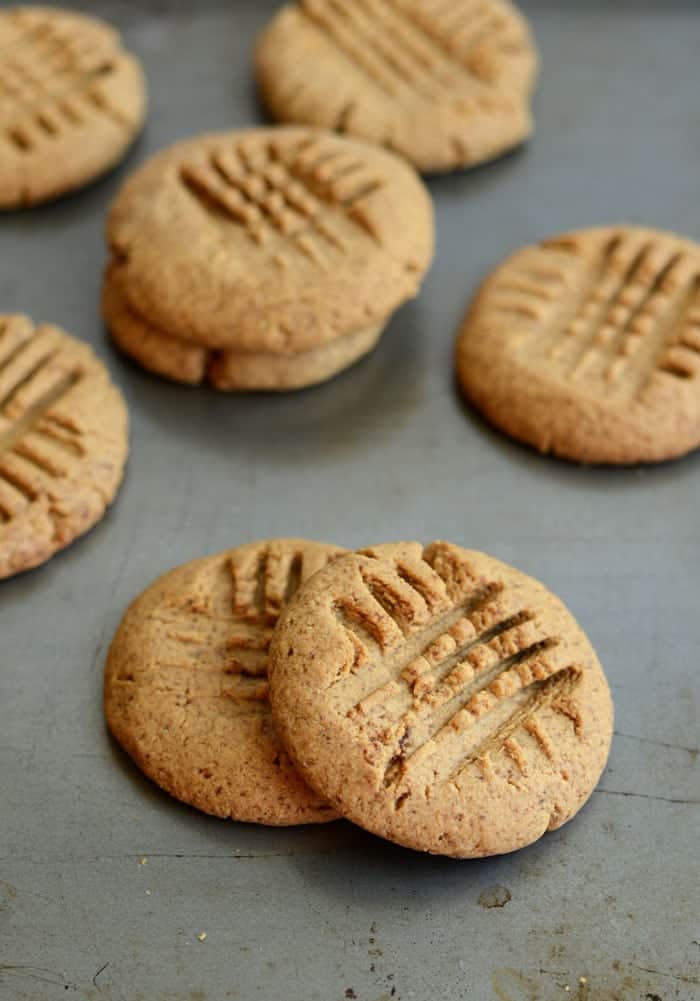 Love peanut butter? Try some of my favorite FFF peanut butter recipes…
Pin for later!