Say hello to the perfect cookie! This no bake protein thumbprint is a great healthy cookie option for the holidays or when you want a sweet treat to eat throughout the week!
Do you love no bake recipes? Check out some of our other favorite no bake treats like these healthy peanut butter no bake cookies or these peppermint bark fat combs!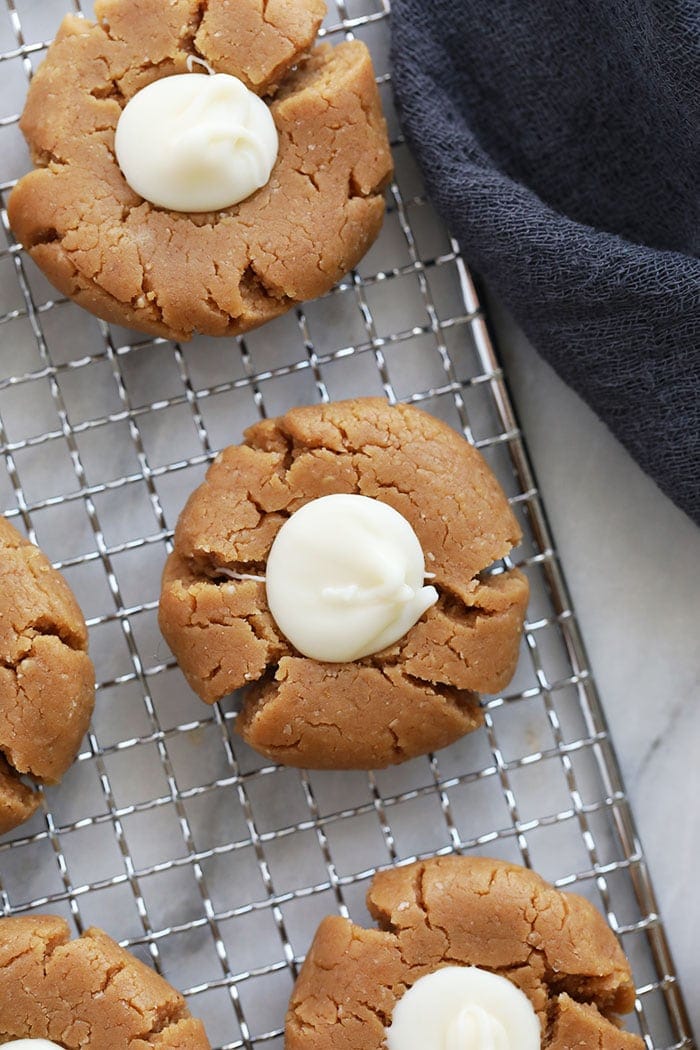 No Bake Desserts for the Win
Whether you are looking for a cookie for the holidays or a cookie to have on hand for a sweet treat, no bake desserts are an amazing option!
We love no bake desserts for so many reasons. Just to name a few….
If you have an oven heavy day when preparing for a party or meal prep, a no bake dessert is no oven required! You are able to save the oven for other things!
No bake desserts have a long shelf life, whether you store them on the counter, refrigerator, or freezer!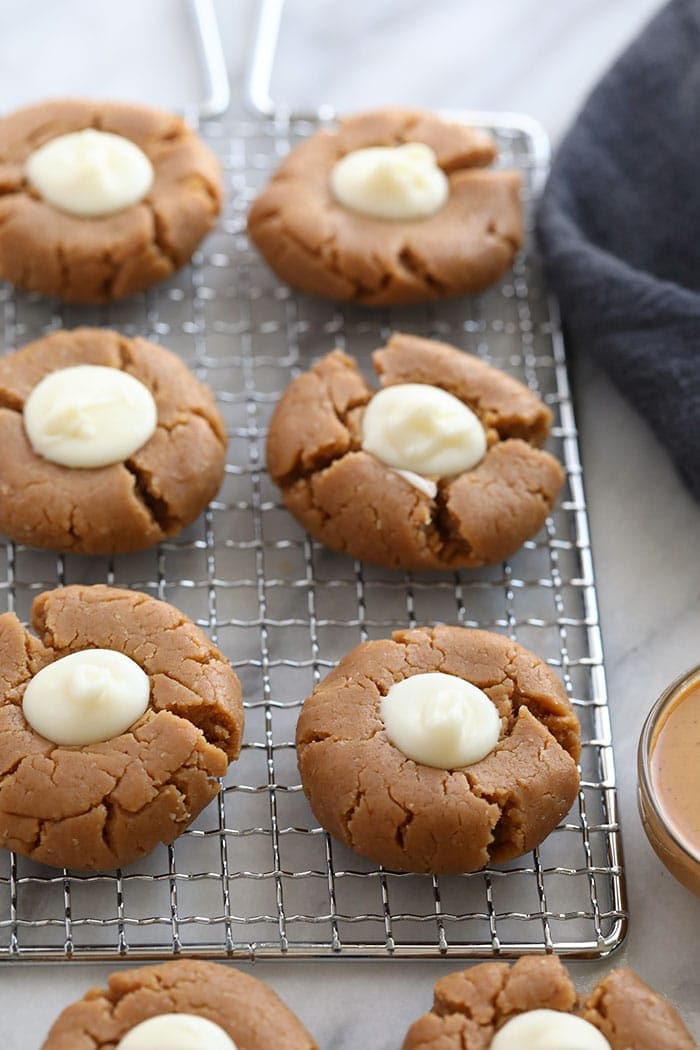 Thumbprint Cookies 101
It's all about the ingredients.
When you whip up a batch of these no bake cookies, we can't emphasize enough how important quality ingredients are for this recipe. We also have some pointers on how to choose ingredients for these cookies and some substitution options!
Rolled Oats. Rolled oats add a good amount of fiber to these cookies and they also act as a binder that holds these no bake cookies together! Old fashioned rolled oats or quick cooking oats will work in this recipe.
Protein Powder. There are so many different protein powders out in the world (check out our post on A Guide to Protein Powder for our favorite protein powders) and it's hard to know which ones taste good.
Different protein powder brands also use different ingredients so different protein powders sometimes turn out different results in recipes.
We used Sun Warrior Vanilla Protein Powder in this recipe! However, you can use whatever your favorite protein powder is, just be aware it may slightly change the recipe.
Here's a tip–> Sometimes different protein powder brands can make recipes a bit chalky. If that is the case with your protein, add a little more water or honey.
Drippy Peanut Butter- We can't stress enough how important it is to use drippy peanut butter in this recipe. The drippy peanut butter acts as both moisture and a binder for this recipe. Our favorite drippy peanut butter is from Trader Joes or Kirkland Brand!
If you don't have drippy peanut butter, but have other nut butters on hand, feel free to use them! Drippy cashew butter or almond butter would work in this recipe, too!
Pure Honey- We used honey in this recipe because it is a natural sweetener that pairs well with peanut butter! If you are out of honey, feel free to use maple syrup!
Vanilla Extract- Every good cookie deserves vanilla extract! It is a perfect flavor enhancer for any cookie!
White Chocolate- We added white chocolate to these thumbprint cookie for an extra festive flare! Feel free to use dark chocolate or milk chocolate in the enter of these, too! You do you!
What if my dough is too dry?
If your dough is too dry, there are a couple of different steps you can take.
Before adding anything else to the food processor, be sure to blend all the ingredients together enough so that the oils are able to seep out of the nut butter you use.
If you have blended the ingredients together long enough and your dough is still too dry, try adding a teaspoon of water to the dough at a time until the dough is malleable but not crumbly!
Great storage options.
We support making a large batch of these thumbprint cookies and saving them for later! You can store them in the freezer for up to three months! Make your protein thumbprints and let the chocolate harden completely.
Then, place them in a large tupperware or gallon sized bag and pop them in the freezer!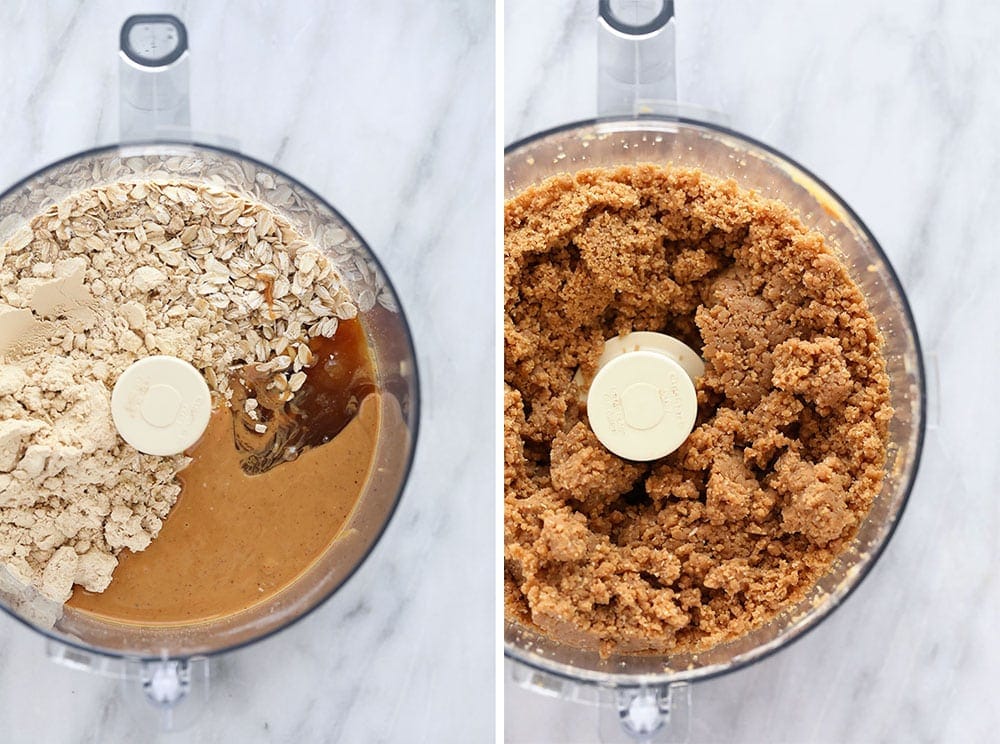 How to Make the Perfect Thumbprint
How do you make the perfect thumbprint in the middle of a thumbprint cookie? Psst, we have a secret—> we don't even use our thumbs!
For the perfect thumbprint shape we use a 1/2 teaspoon. The size of teaspoon may vary by how large you want your cookies, but for these protein thumbprint cookies we found a 1/2 teaspoon worked the best!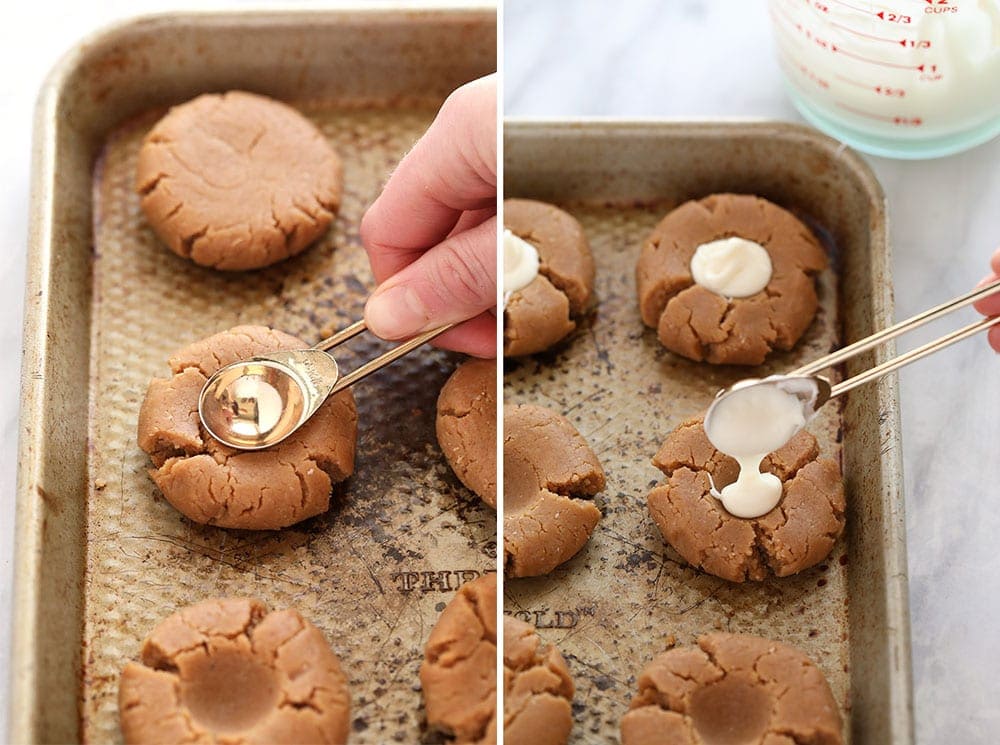 No Bake Desserts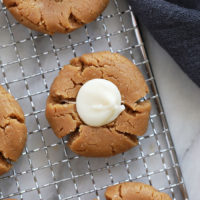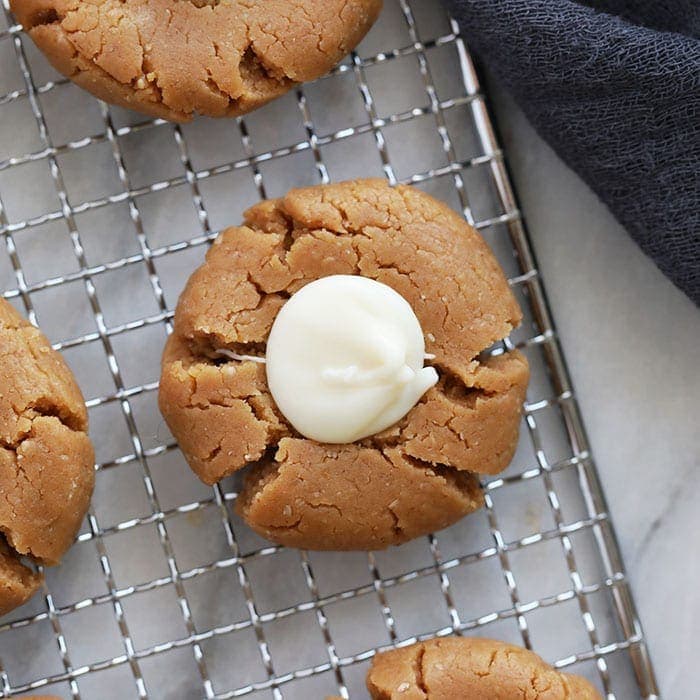 No Bake Thumbprint Cookie Recipe
Say hello to the perfect cookie! This no bake protein thumbprint is a great healthy cookie option for the holidays or when you want a sweet treat to eat throughout the week!
Ingredients
2

cups

rolled oats

1/2

cup

vanilla protein powder

1

cup

all-natural drippy peanut butter

1/2

cup

honey

1

teaspoon

vanilla extract

1/4

cup

water + 2 tablespoons*

1/3

cup

white chocolate
Instructions
Place all ingredients into a high-speed blender.

Blend on high for 2-3 minutes, stopping to scrape the sides as needed.

Add more water by the tablespoon as needed in order to form a doughy ball. The goal here is for the cookies to hold shape, but to be soft enough to press your thumb into for the thumbprint.

Once you've gotten the desired texture, use a 1.5-tablespoon cookie scoop to scoop dough into your hands.

Roll into balls and place onto a baking sheet. Repeat until all dough is gone.

Use a teaspoon or finger to press a hole into each ball to create the thumbprint.

Next, melt 1/3 cup of white chocolate in a microwave-safe bowl.

Use a 1/2 teaspoon to spoon melted white chocolate into the center of each thumbprint.

Place entire baking sheet into the freezer and freeze for a half hour to set the white chocolate.
Nutrition facts
Calories:
99
kcal
Protein:
5
g
Fat:
2
g
Fiber:
1
g
Sugar:
9
g