What's better than a peanut butter cup? A peanut butter cup amped with extra protein! Make these delicious protein peanut butter cups with just a few ingredients!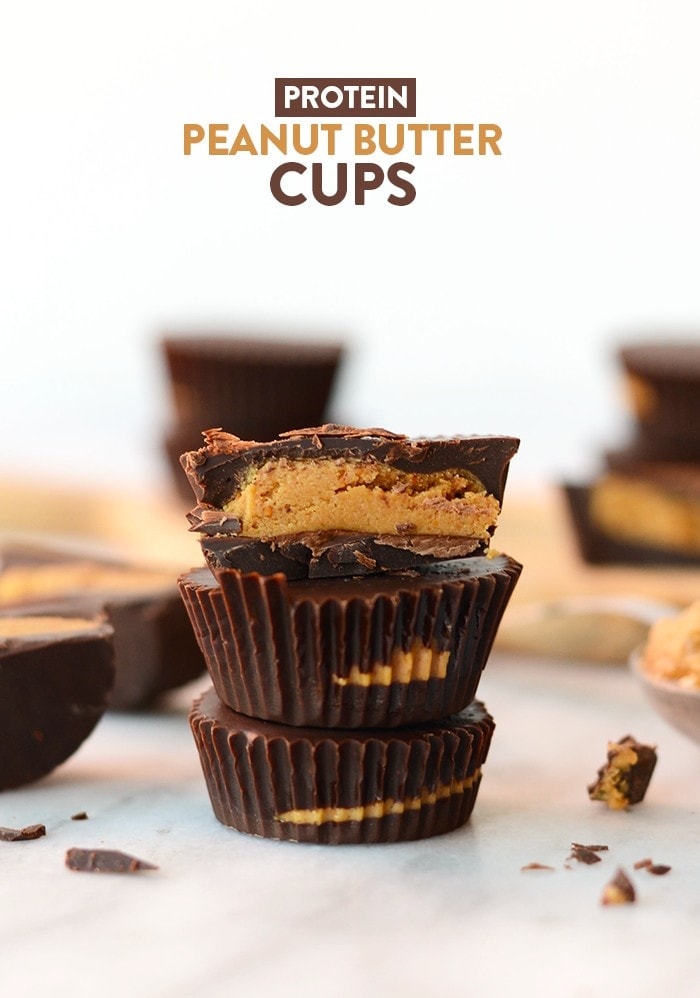 Fun Fact Friday: My wifi router is called "Peanut Butter Lover."
So if you're my neighbor….that's me!
In all honesty though- I have LOVED peanut butter since I can remember. I literally put that shit on everything. Cross my heart, hope to die, stick a needle in my eye…if my kids are allergic to peanut butter I might have a heart attack. I don't know what it is these days, but the number of peanut allergies has seemed to go through the ROOF. One of my girlfriends is a kindergarten teacher and she was telling me that her room is a "no nut room." SAD FACE.
So I am a total I NEED DESSERT AFTER DINNER kind of person…and if I'm going to go for the peanut butter cup, I might as well go for a protein peanut butter cup made with dark chocolate AMIRIGHT?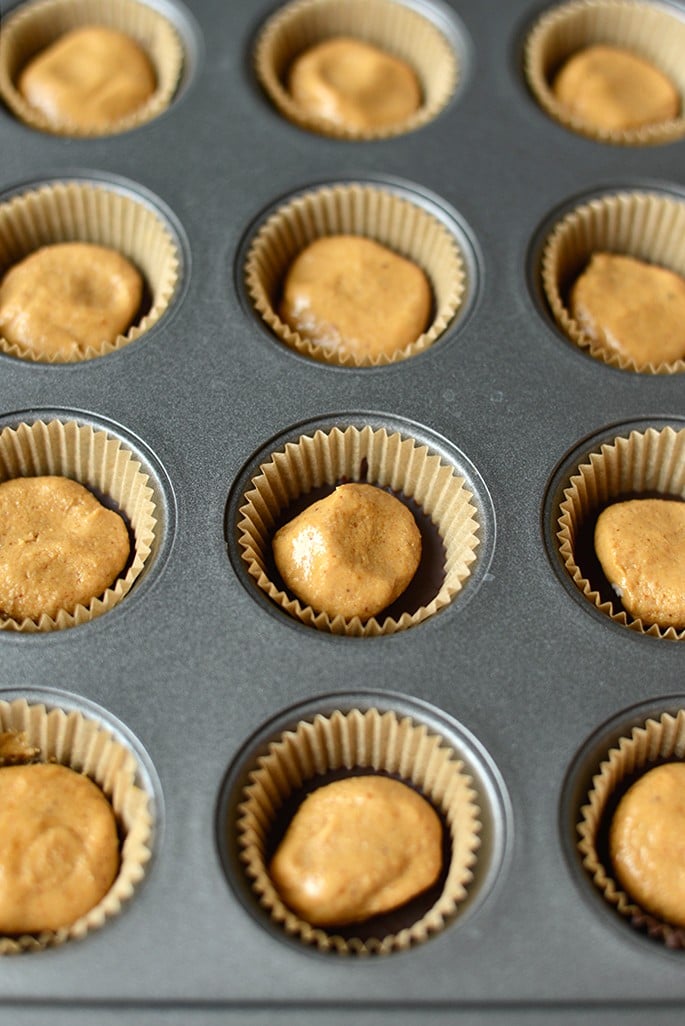 Guys.
You only need a few ingredients to make these puppies.
I used Designer Protein – 100% Vanilla Whey Protein Powder. I prefer the taste and flavor of whey protein in comparison to others (but I don't discriminate!). Thus- I haven't tried any other protein powders for this recipe 🙂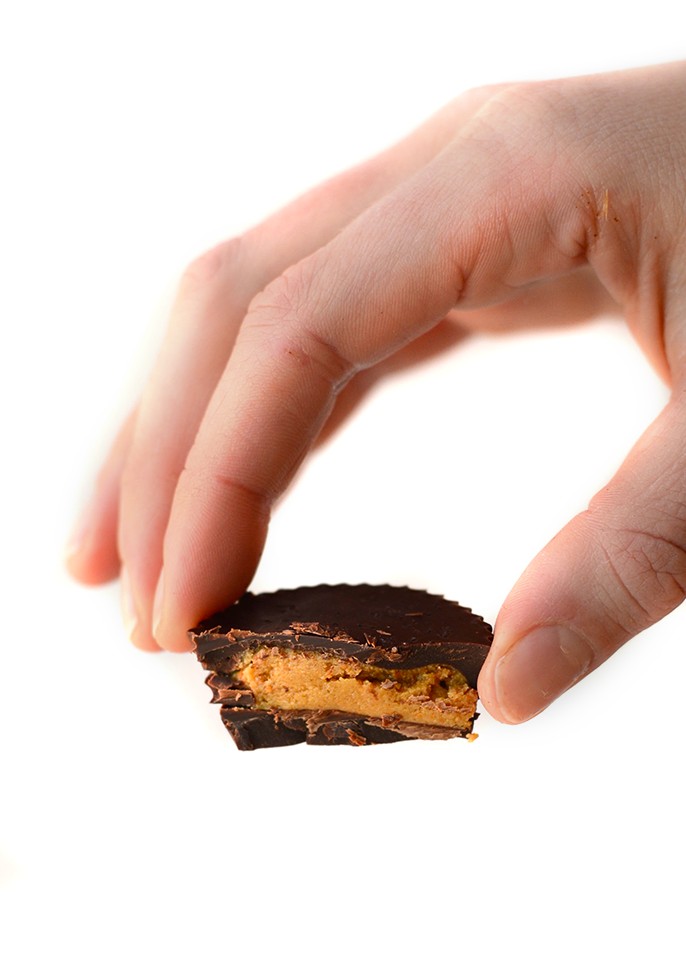 Feel free to use any nut butter for this recipe OR to use vegan/semi-sweet chocolate chips.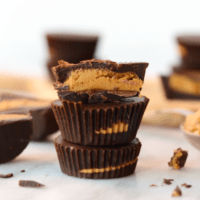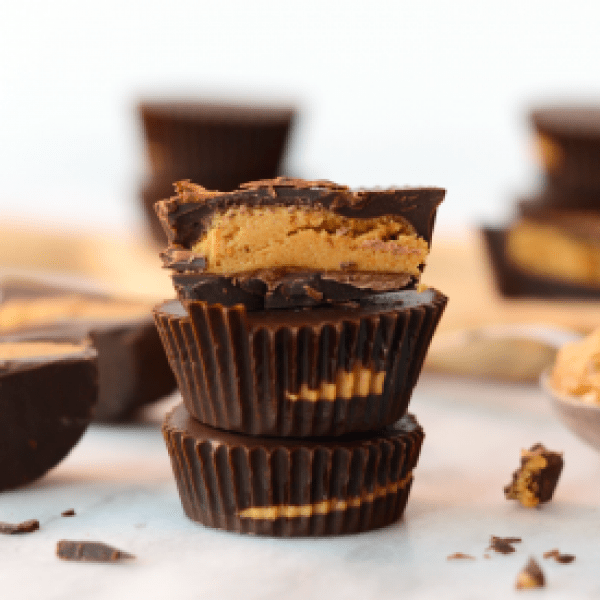 How to Make Healthy Peanut Butter Cups
Instructions
In a

medium-size bowl

mix peanut butter and protein powder together. Start with 2 tablespoons of protein powder and go up from there. The amount of protein powder depends on how drippy your peanut butter is to begin with.

Next, separate the peanut butter and protein mixture into 12 marble sized balls (~1 teaspoon), and set aside.

In a microwave-safe bowl, melt dark chocolate chips and coconut oil, stirring every 45 seconds until chocolate is smooth.

Scoop one teaspoon of the chocolate mixture onto the bottom of each muffin liner. Then, place muffin tin into the freezer for about 10-15 minutes or until chocolate hardens.

Next, place one protein peanut butter ball on top of each hardened chocolate, carefully flattening the ball with your finger until it has a smooth top.

Finally, add two more teaspoons of the melted chocolate on top of the peanut butter to each liner to complete your peanut butter cup

Place muffin tin in the freezer for another 10-15 minutes until chocolate is hardened.

Enjoy!
Tips & Notes
Store these cups in the freezer in an air-tight container or gallon-size ziplock.
Nutrition facts
Serving:
1
g
Calories:
92
kcal
Protein:
3
g
Fat:
6
g
Sugar:
6
g

HEY. I was on tv talking all about CHICKEN and how I love cooking chicken in the crock-pot! You can watch FFF's segment on The Jason Show HERE.