Say hello to monster cookie protein balls! These yummy protein balls are made with classic monster cookie ingredients in addition to protein powder for an extra boost of nutrition.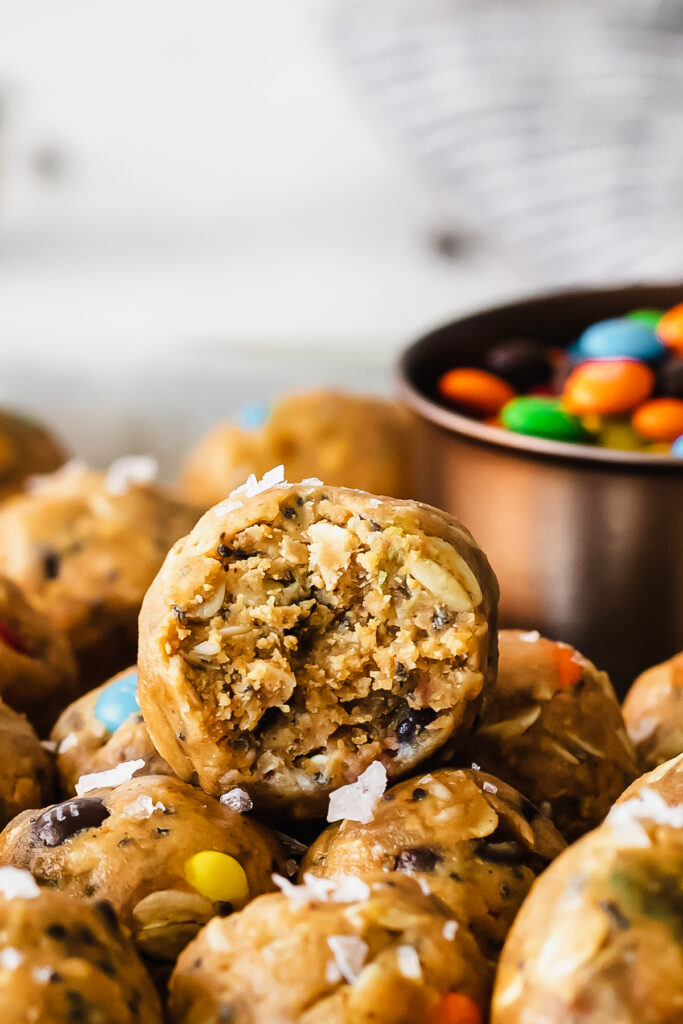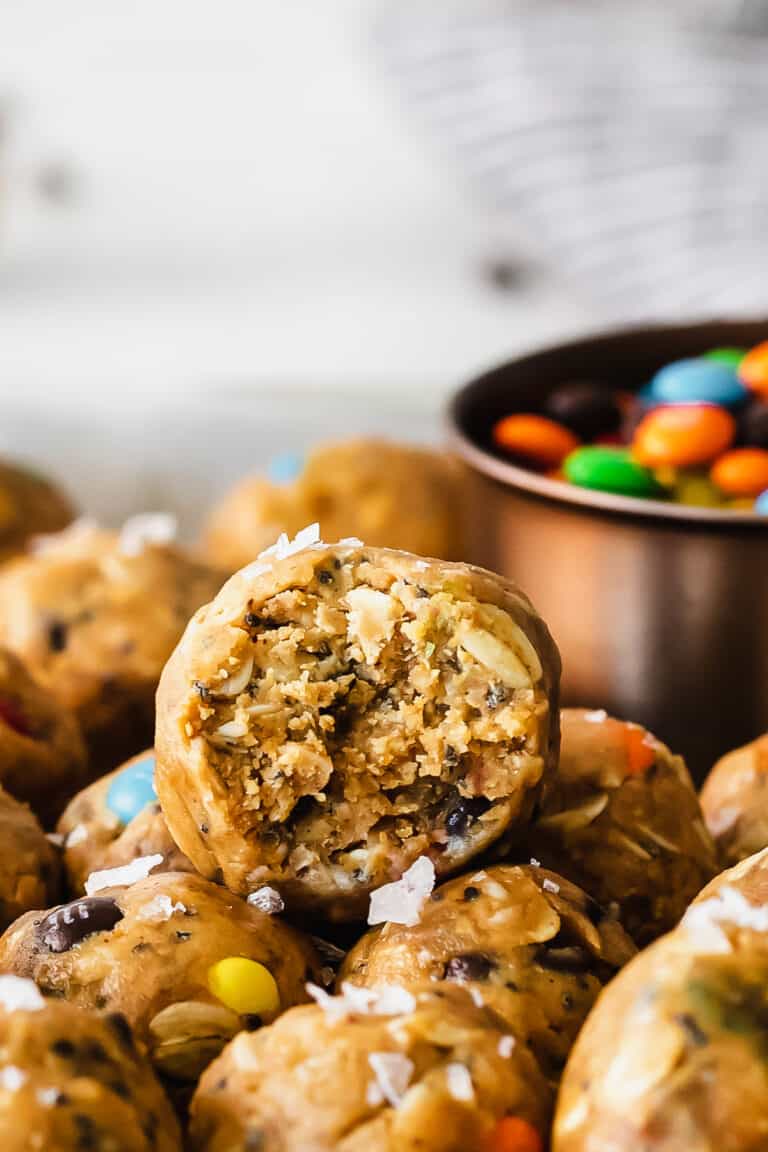 Protein Balls + Monster Cookies
Protein balls and monster cookies are two of our favorite things and we're not mad about it. When you combine them into one, you get one epic high-protein snack that everyone will adore.
These monster cookie protein balls are made with all-natural peanut butter, oats, chocolate chips, m&ms, chia seeds, and your favorite vanilla protein powder.
You can easily modify this recipe to make them gluten-free and plant-based, depending on your dietary needs.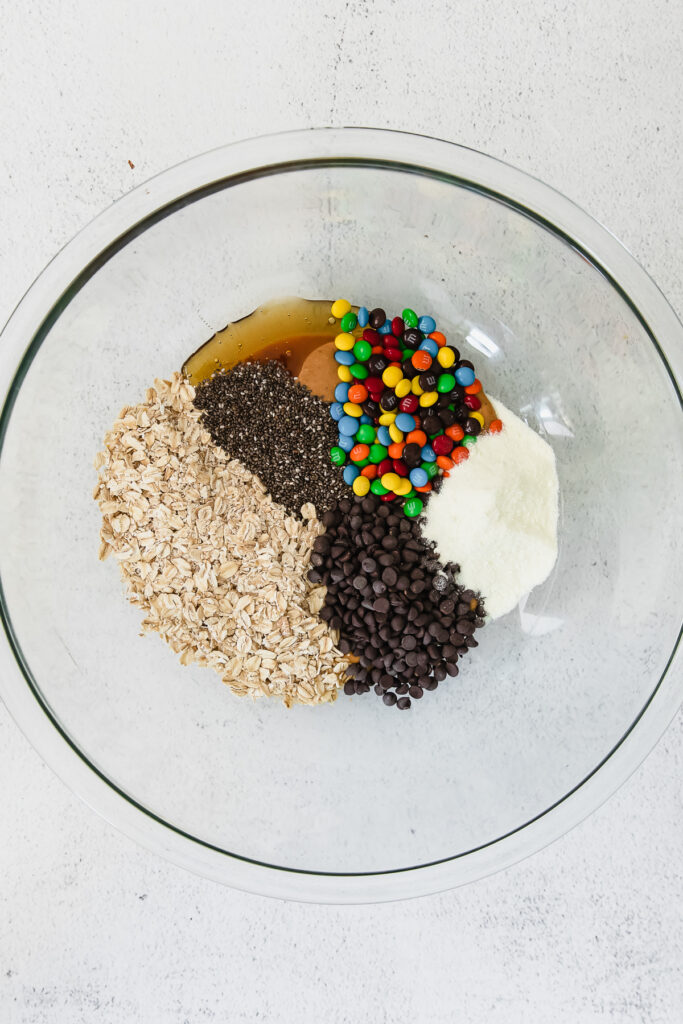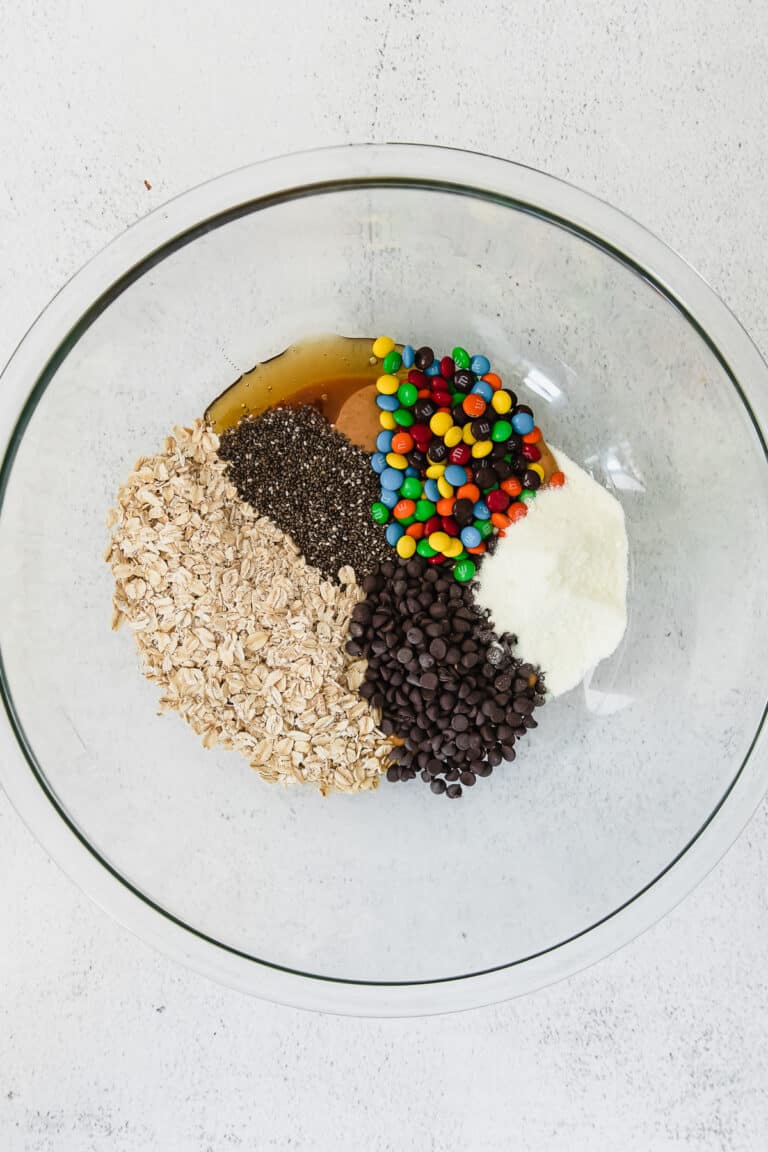 What You Need
Peanut Butter: this recipe calls for all-natural peanut butter to emulate what is in monster cookies, but any kind of nut butter will work.
Protein Powder: make sure that you like the taste of your vanilla protein powder as it adds flavor and sweetness to your balls. Check out our favorite protein powders here.
Rolled Oats: rolled oat are a classic monster cookie ingredient. They add whole grains and give these balls a nice bite.
Chia Seeds: while chia seeds aren't classically in monster cookies, we decided to up the nutrition with them.
Honey: honey adds all natural sweetness to your balls. We don't recommend swapping this for anything else as honey is naturally sticky and helps hold your balls together.
Vanilla: a little vanilla extract brings out the peanut butter flavor.
Mini Chocolate Chips and Mini M&Ms: whatever you do, do not skip either of these! They are classic monster cookie ingredients and oh-so necessary for this recipe.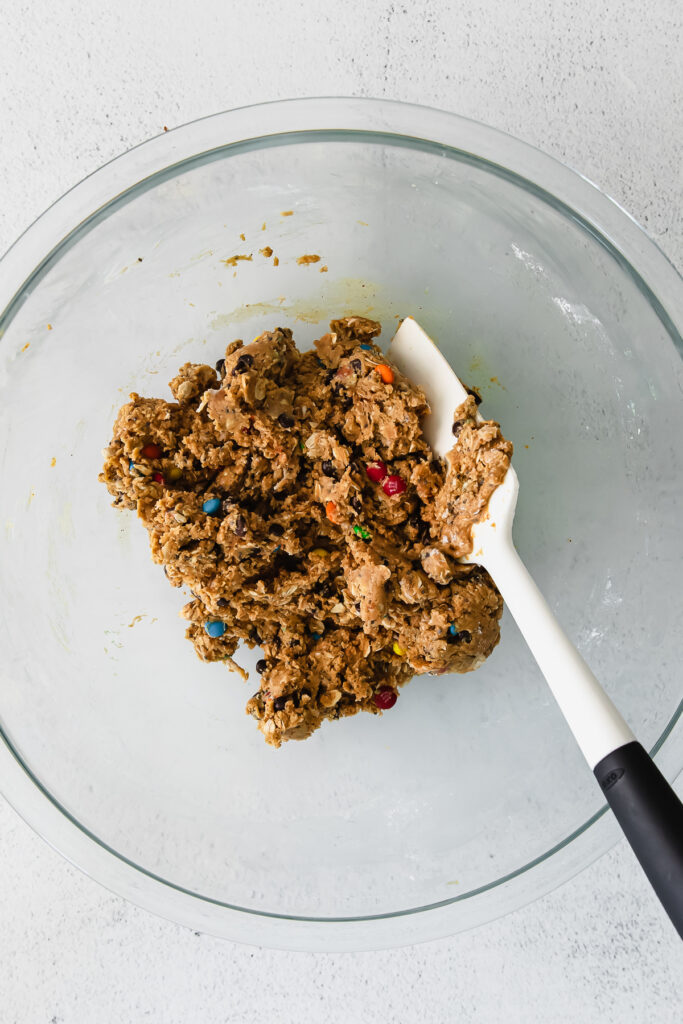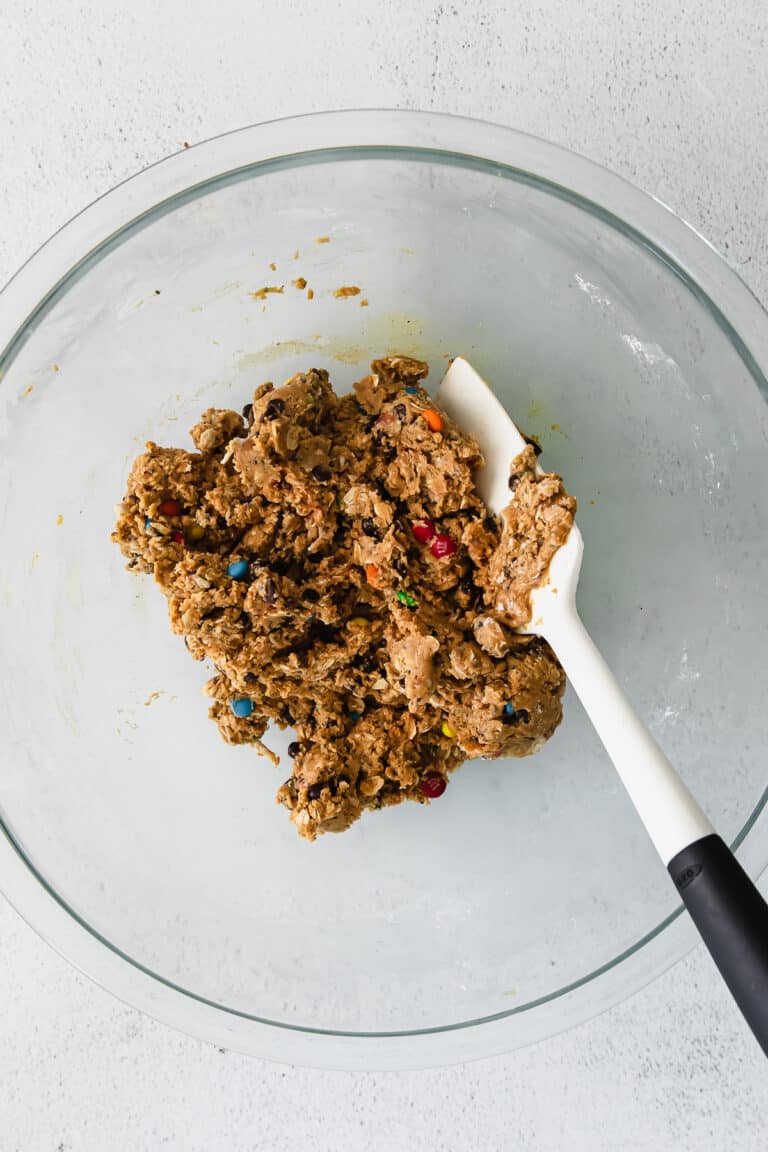 Simple Instructions
Add: add all of the ingredients into a large bowl.
Mix: mix to combine, adding water by the teaspoon until you've reached a cookie dough-like consistency.
Roll: use a 1 tablespoon cookie scoop to scoop dough into your palm. Roll them into balls and repeat.
Store: Store balls in the fridge for up to 2 weeks or in the freezer for up to 3 months.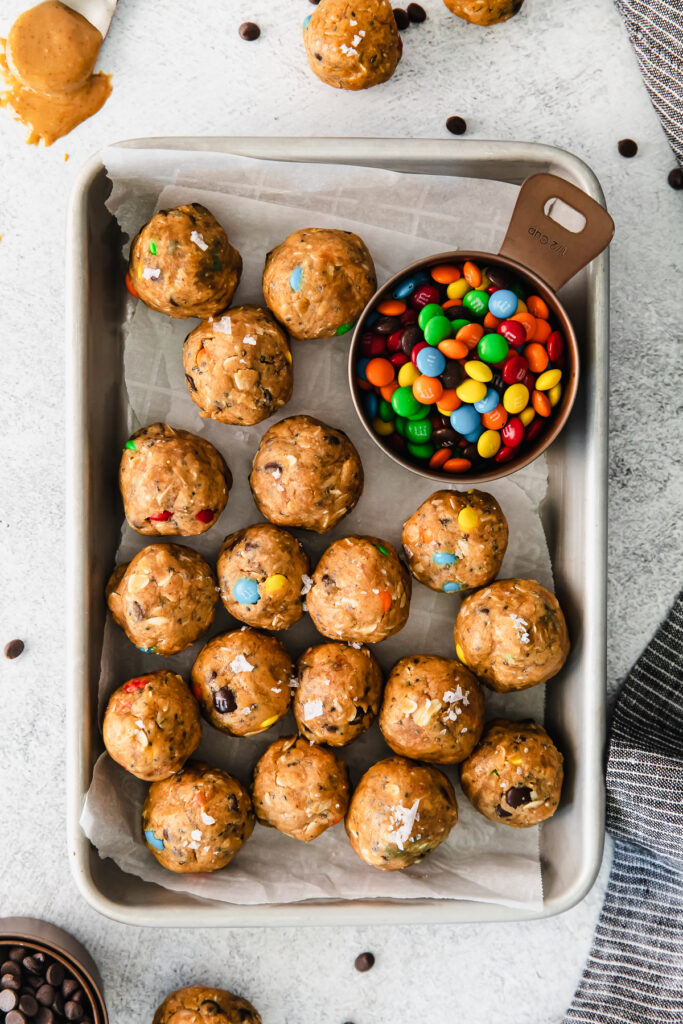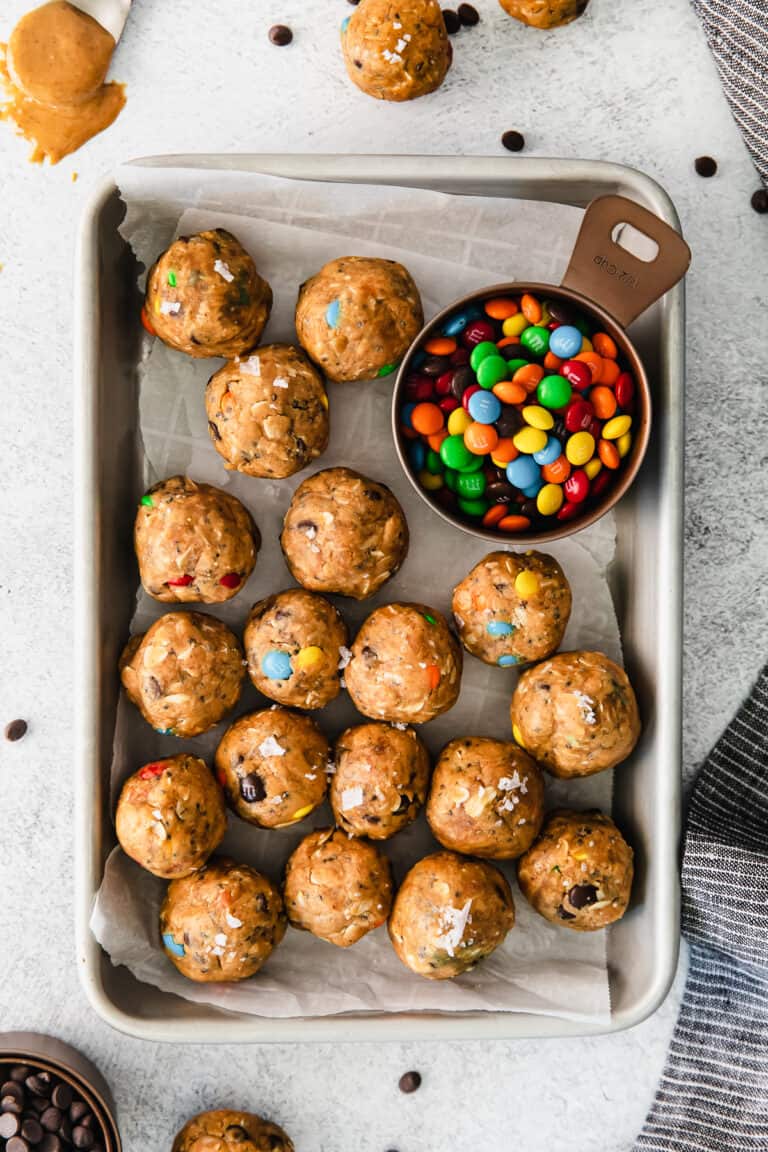 Protein Ball Variations
Peanut Butter + Chocolate Chips: keep it classy with just peanut butter and chocolate chips for our famous peanut butter protein balls.
Chocolate Sea Salt: swap the vanilla protein powder for chocolate and add a few tablespoons of cocoa powder. Then, top them with sea salt.
Cake Batter: make cake batter protein balls with cashew butter and rainbow sprinkles.
Make Bars: turn these balls into bars! Follow similar instructions to our homemade protein bars recipe.
Storage
You can either store these balls in an airtight container in the fridge for up to 2 weeks or in the freezer for 3 months.
Freezer Instructions
Place protein balls into a parchment-line baking sheet, making sure they aren't touching.
Freeze for 30 minutes to 1 hour. You do this so that they don't stick.
Then, tranfer them into a gallon-size plastic bag.
Store in the freezer for up to 3 months.