The most flavorful Skillet Cornbread made healthier with finely-ground cornmeal, white whole wheat flour, honey, and coconut oil.
Serve this delicious homemade cornbread next to beef chili recipe, Instant Pot Pork Roast, or Hamburger Soup!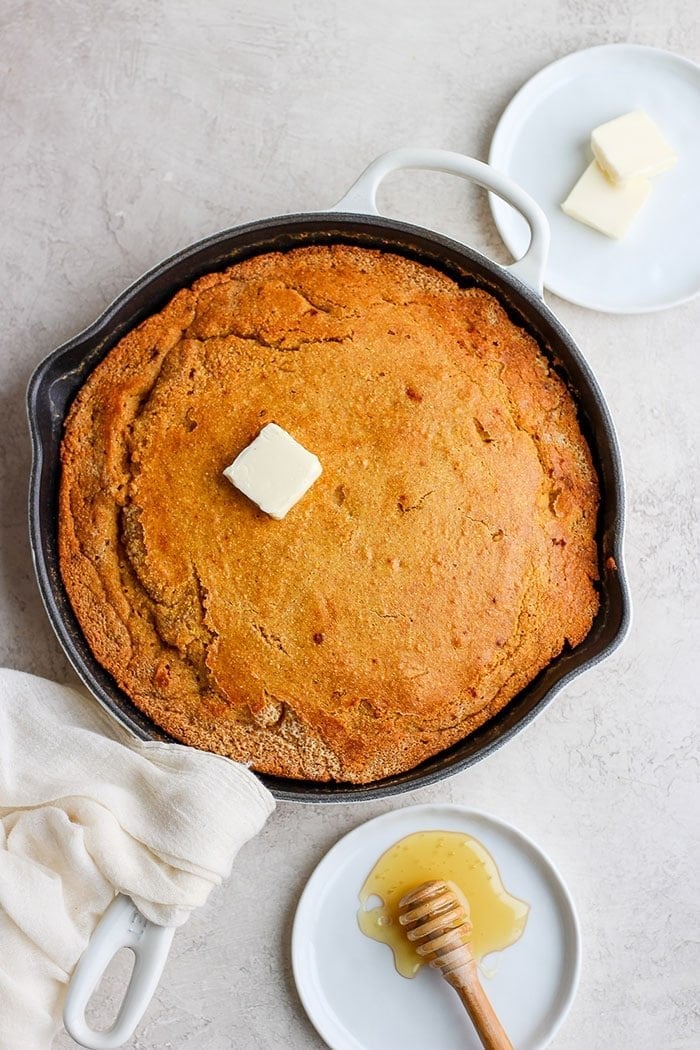 Why Make Homemade Cornbread?
Homemade isn't always easier, but it is typically healthier and better for you. This definitely goes for cornbread, which is typically made with white flour, granulated sugar, and vegetable oil. Here are reasons why you will love this homemade cornbread!
10 ingredients
Made in less than an hour
Favorite chili topper
Amazing leftovers
Easily gluten-free
Is this cornbread healthy? In this recipe, we're giving you simple swaps to make your homemade cornbread recipe a little bit healthier, but equally delicious.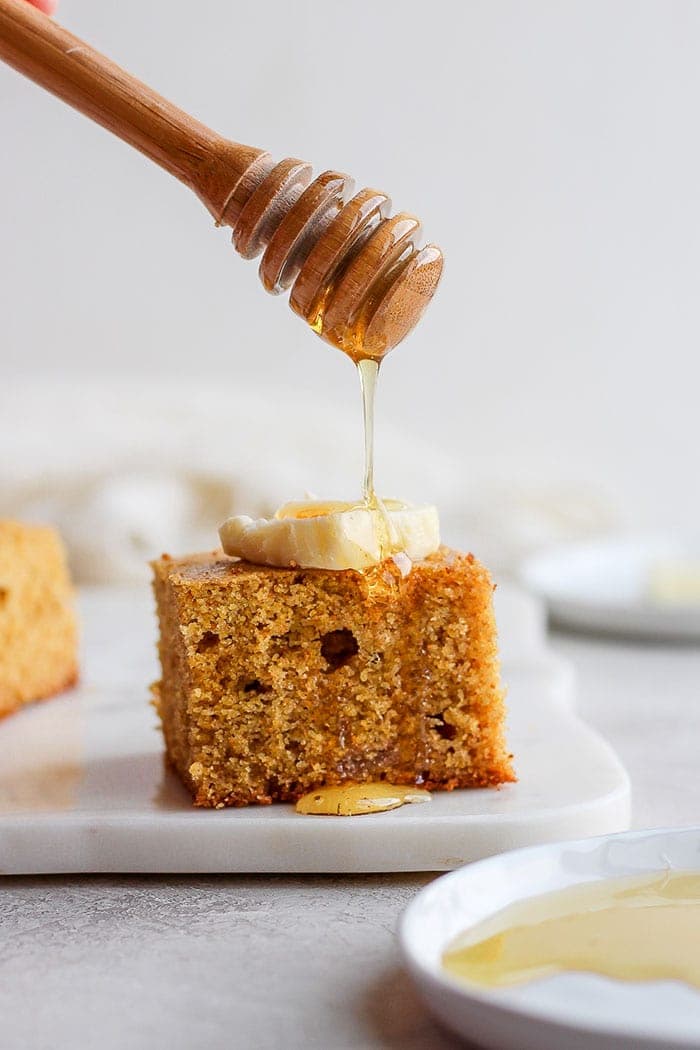 How to Make Cornbread – Healthier
As always, first things first when making any of our recipes…assemble your ingredients so that it takes you less time in the preparation stages!
Fat: when it comes to any kind of bread, including cornbread, fat is an important part in how moist the bread ends up. Our recipe calls for a combo of butter and coconut oil. Feel free to swap one for the other.
Flour: the flour combination we went with for this recipe is ground cornmeal and white whole wheat flour. Most cornbread recipes call for all-purpose flour, but we thought we'd add more whole grains with white whole wheat.
Substitution: Option to sub the white whole wheat flour with all-purpose or even a gluten-free flour blend.
Honey: I absolutely love how the honey tastes in this recipe. If you're hoping for a super sweet cornbread, then this isn't your recipe! Honey adds a nice subtle, sweet flavor, but it's not too overpowering.
Greek yogurt: Greek yogurt is a great way to add moisture while not adding more fat. This is a classic swap for sour cream, so if you have that on hand, you can use that instead, too!
Almond milk: Any kind of milk will work for this recipe, but we prefer almond milk because it's slightly nutty and silky smooth.
Leavening agents: For this cornbread, we're using a combo of baking powder and soda. Don't skip this part as it's important to help this bread rise in the oven!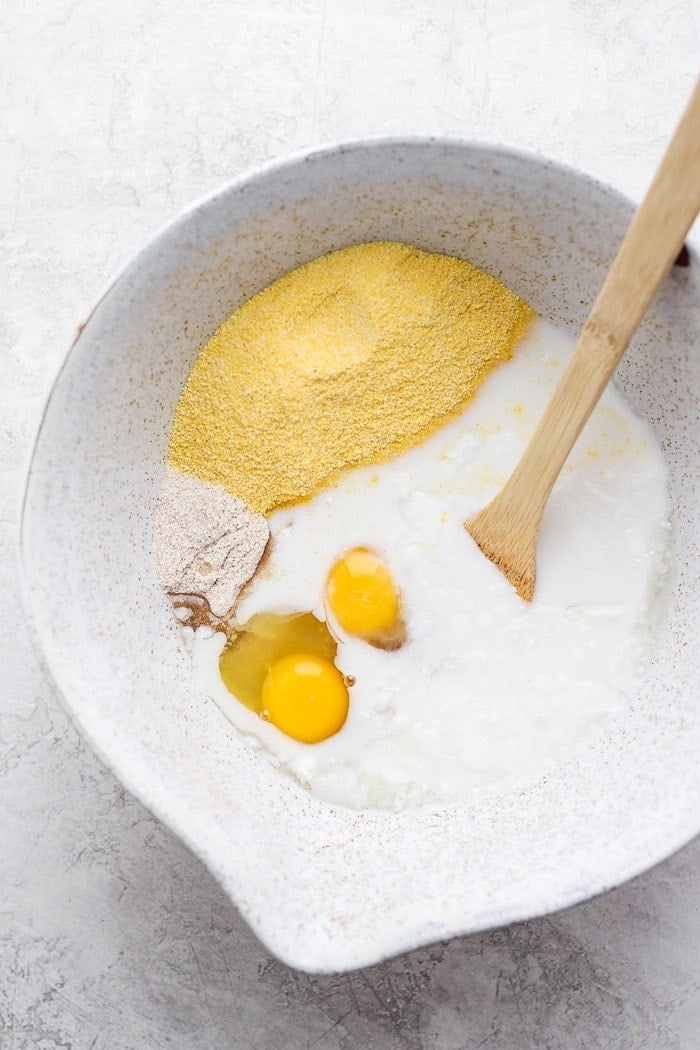 How to Cook Cast Iron Cornbread
Once you've mixed your batter together, it should be nice and thick, similar to pancake batter. This recipe calls for a 10-inch cast-iron skillet. Do note that if you're using anything smaller, your bake time will need to increase and if you're using anything larger, your bake time will decrease.
Flavor trick- before transferring the batter into the cast-iron skillet, we're doing a sneaky flavor trick to really enhance the flavor and texture of this bread!
Place 2 tablespoons of butter on the bottom of your skillet and then place the skillet into the oven as it preheats. This will melt the butter and also grease your cast-iron skillet so that nothing sticks when baking!
Once the butter has melted, make sure the entire bottom of the pan is covered and then transfer the batter into the skillet. Use a spatula to spread it out evenly and now it's time to bake!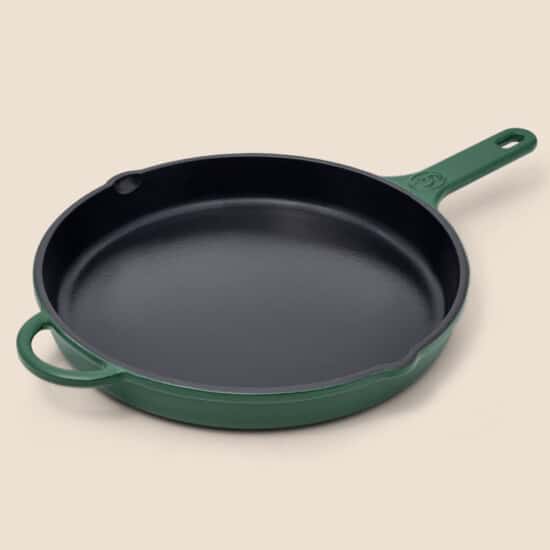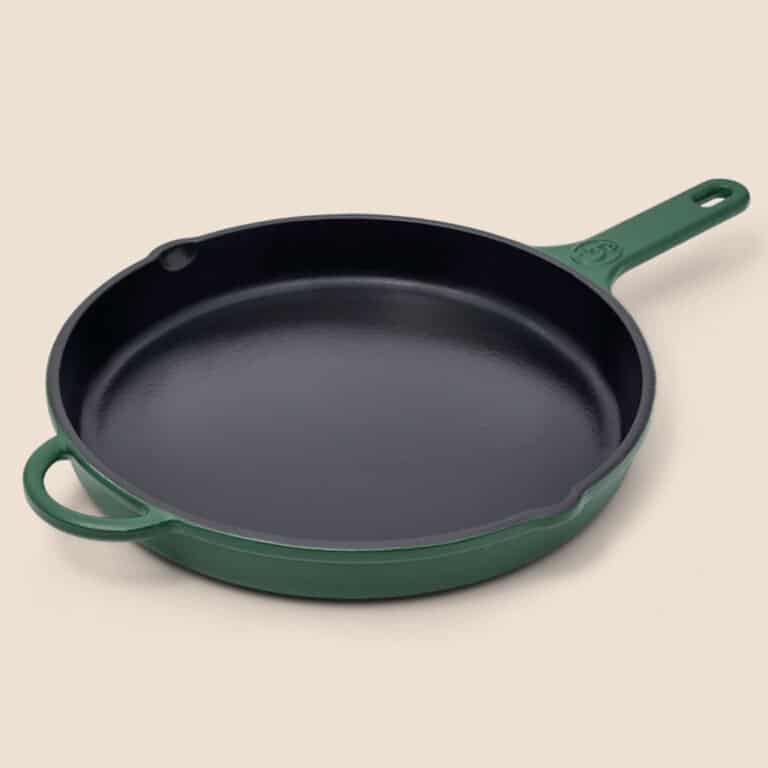 Great Jones
Cast Iron Pan
The Great Jones King Sear is our favorite cast iron pan. It's definitely worth the splurge to add to your kitchen collection!
Buy Now
Flavor Variations
Jalapeno & Cheese: add roasted jalapenos before baking and then when there are 5 minutes left, add cheddar cheese to the top. Try our Jalapeño Corn Pudding!
Honey Thyme: make a honey thyme butter spread by mixing together butter, honey, and freshly minced thyme for the most delicious topping.
Maple Pecan: swap the honey for maple syrup and add about 1/2 cup of chopped pecans to the batter before baking. This will create more of a dessert cornbread.
Cornbread Serving Suggestions
One of the best things about cornbread, in my opinion, is that it's amazing on its own. Am I the only one who enjoys eating cornbread with a pad of butter and honey? Mmmm mm that sounds like a glorious afternoon snack to me!
If you're looking to pair your cornbread with a main course, here are some suggestions for you.
Storage
Store cornbread in an airtight container or plastic bag in a dark, cool place for up to 5 days.
Can you freeze cornbread?
You can absolutely freeze cornbread. Once your cornbread has fully cooled, remove it from the cast-iron skillet. Then, tightly wrap it in a piece of plastic wrap and remove as much air as possible. Then, wrap it again with a piece of tin foil. *Will last up to 3 months.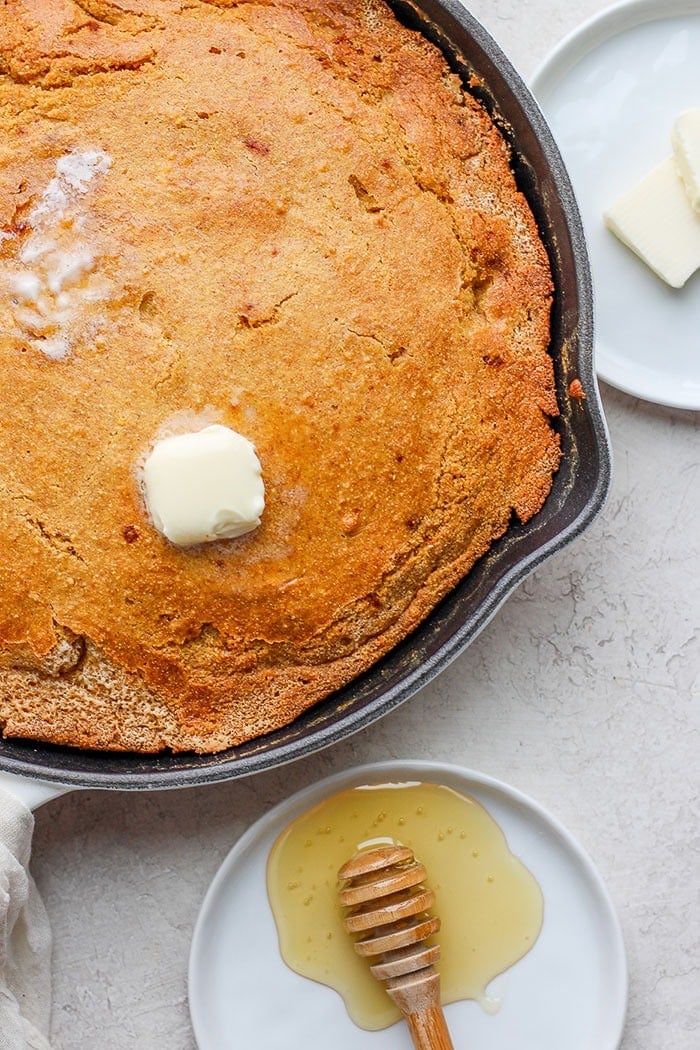 Other Ways to Eat Cornbread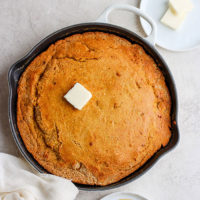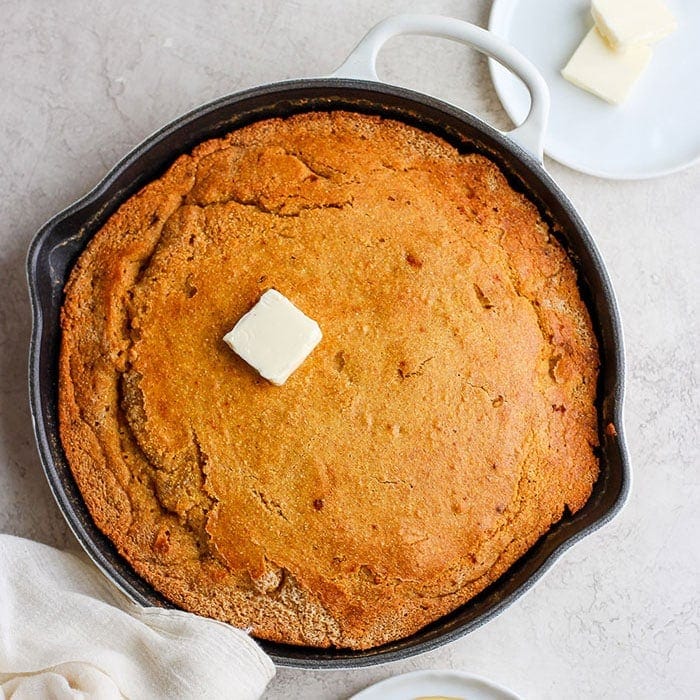 Healthy Skillet Cornbread
The most flavorful Skillet Cornbread made healthier with finely-ground cornmeal, white whole wheat flour, honey, and coconut oil.
Instructions
First, preheat the oven to 350ºF and place 2 tablespoons of butter on the bottom of a 10-inch cast iron pan. Then, place it in the oven to preheat with the oven.

Next, add all of the cornbread ingredients into a medium-sized bowl and mix until combined. The consistency should be like a thick pancake batter.

When the oven is preheated, carefully remove the castiron skillet from the oven using an oven mit.

Pour the cornbread batter into the castiron skillet and use a spatula to evenly spread it out.

Place the skillet back into the oven and bake at 350ºF for 20 minutes.

Remove from oven, cover the skillet with a piece of tin foil and then bake for another 10-12 minutes or until the center is fully cooked.*

Remove from the oven and let cool for at least 10 minutes before slicing.
Tips & Notes
*Time may vary by oven or by how hot the cast iron skillet was when started
Nutrition facts
Calories:
205
kcal
Carbohydrates:
25
g
Protein:
5
g
Fat:
10
g
Fiber:
2
g
Sugar:
10
g