It's time to kick the refined grains and sugar and make these delicious and healthy banana oatmeal bars! This amazing oatmeal bar recipe is made with a mixture of ground oat flour and buckwheat flour and sweetened with banana and honey.
If you love oatmeal breakfast bars then you're also going to be smitten over our oatmeal peanut butter cookie bars, lemon blueberry crumble bars, and healthy strawberry oatmeal bars.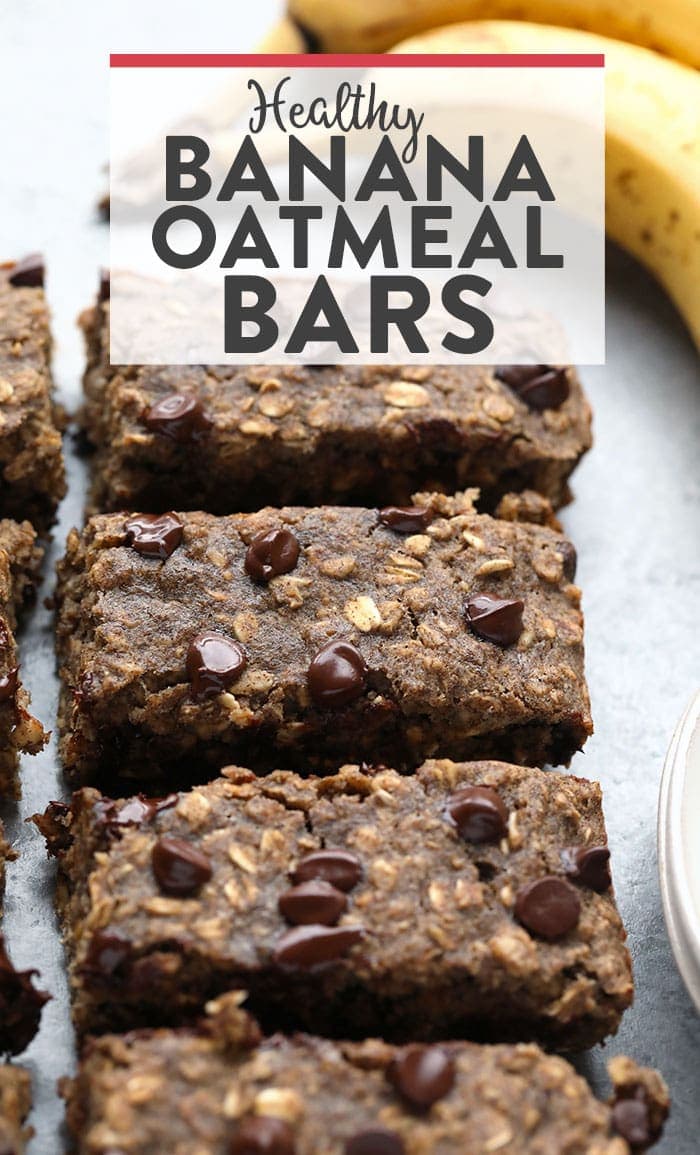 We Love Oatmeal Bars!
Who's ready for the most delicious way to start your day? AKA Banana Oatmeal Breakfast Bars! We also refer to these guys as Oatmeal Chocolate Chip Bars because…well, they have chocolate chips and we wouldn't have it any other way.
We first posted these bars back in 2015. The photos were sub-par and the recipe needed some tweaking. So? We're bringing them back and making them better than ever! Honestly, we didn't have to do THAT much to this oatmeal bars recipe to make it even better. The flavors are on point and they're super moist for a GF flour blend.

Make Your Own Oat Flour
The base of this recipe is a combination of ground oat flour and buckwheat flour. Instead of spending a lot of money on ground oat flour, I actually make my own at home! All you need is a high-speed food processor and some rolled oats. Genius, right? These bars are sweetened with banana (duh), a little bit of honey, and applesauce. No need for refined grains or coconut sugar in these babies! Yeehaw. We did choose to use dark chocolate chips, but you can leave them out or use whatever kind of chocolate or cacao chip you prefer.
Here's What You Need
rolled oats
chocolate chips
banana
applesauce (option to sub more mashed banana)
honey (option to sub maple syrup)
egg whites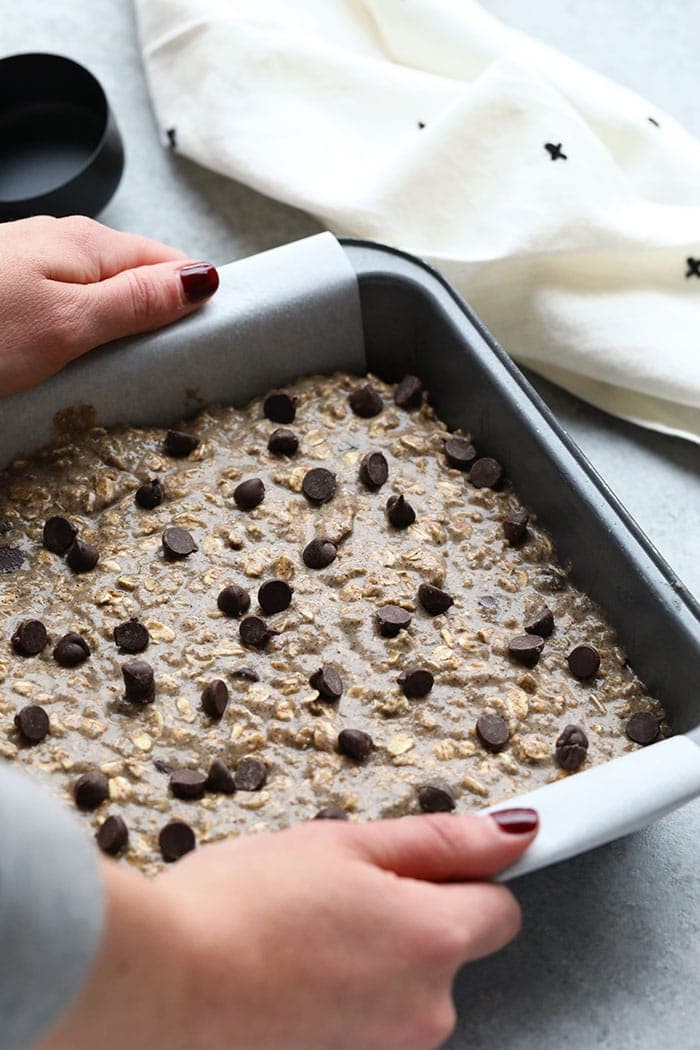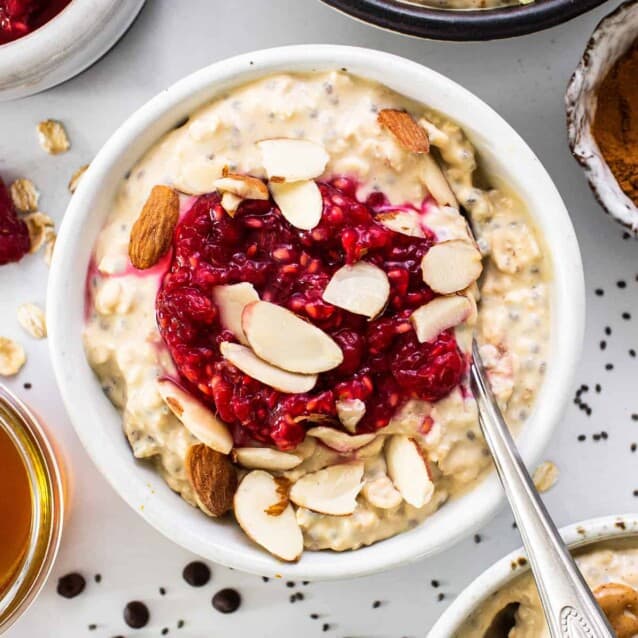 Need Breakfast Inspo?
Subscribe to our emails and get all of our best breakfast recipes straight to your inbox.
Banana Oatmeal Bars Tips
Here are some tips and tricks for making the most perfect healthy oatmeal bars!
Parchment paper
If you're an avid baker then you know that parchment paper is what's up! We highly recommend lining your square pan with parchment paper AND spraying it with nonstick cooking spray for the best results.
How to check if they're done baking
No one likes an overcooked baked good. Use a toothpick and stick it in the middle of your bars. If it comes out clean, you know your bars are done. If you see some batter on the toothpick, keep on baking.
How to store banana oatmeal bars
To store these baked oatmeal bars, let them cool completely. Then, transfer them into an airtight container or gallon-sized plastic bag and store them in the refrigerator for 3-5 days or in the freezer for up to 3 months.
Can I eat banana oatmeal bars for breakfast?
Good news! These can actually be considered oatmeal breakfast bars because they are THAT healthy! Made with 100% whole grains and unrefined sugar, you bet your bippy you can eat these for breakfast.
I don't have applesauce, what should I do?
Don't have applesauce? Just use a 1/4 cup more mashed banana and you're good to go!
I don't like banana, what can I swap it with?
Not a banana fan? Option to swap 1 medium mashed banana with about 1/2 cup of applesauce or another pureed fruit.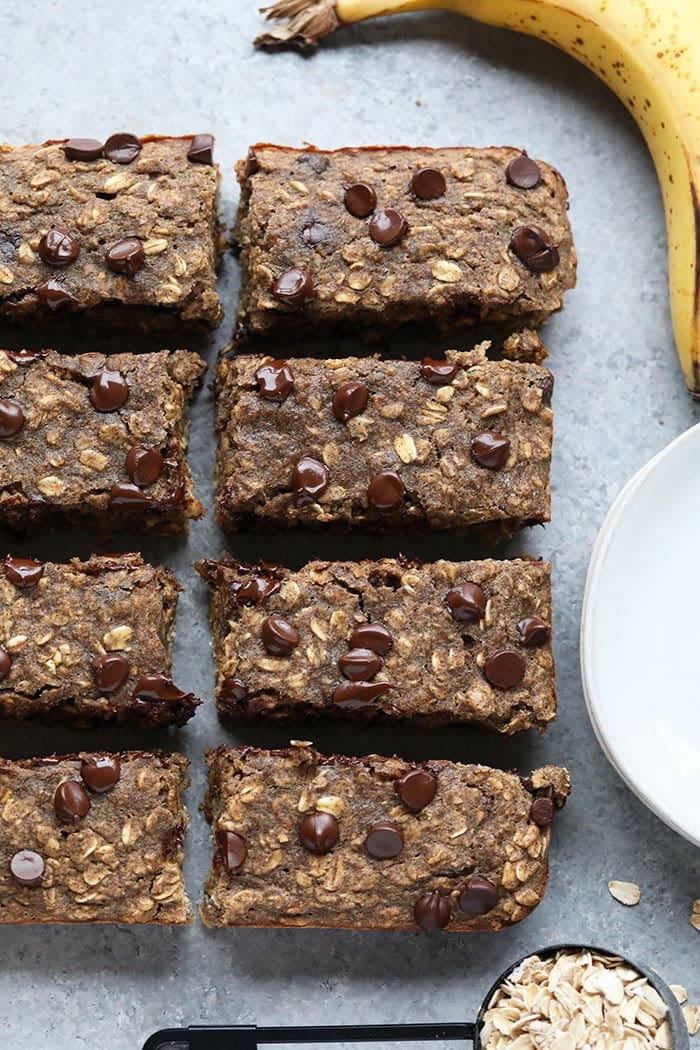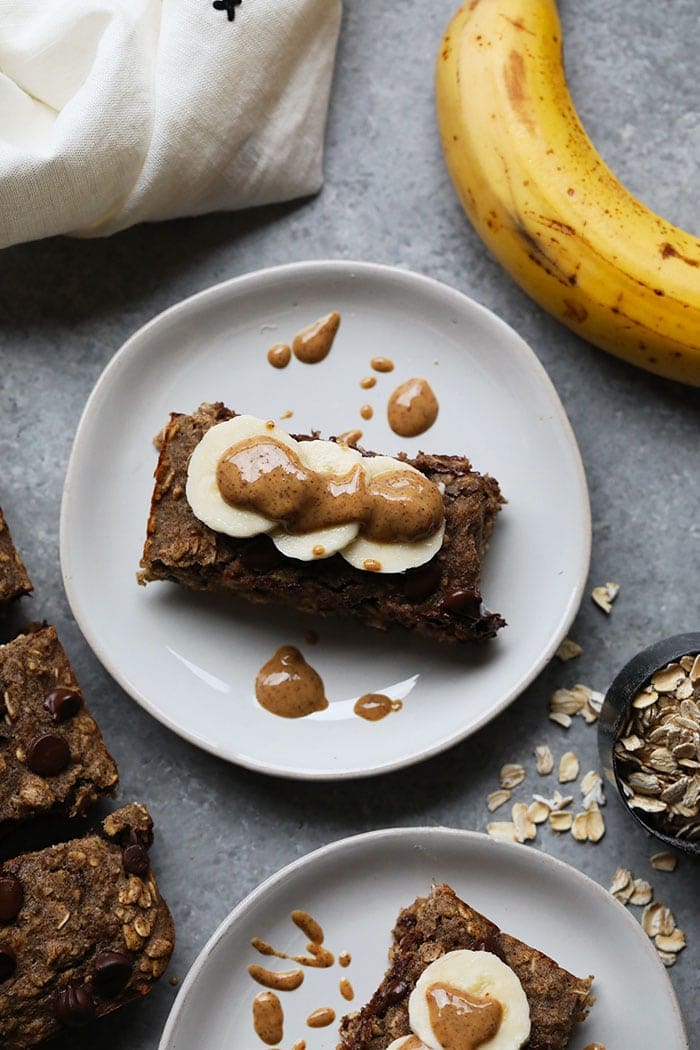 More oatmeal bar recipes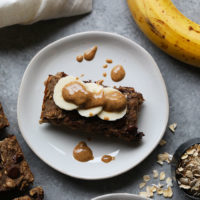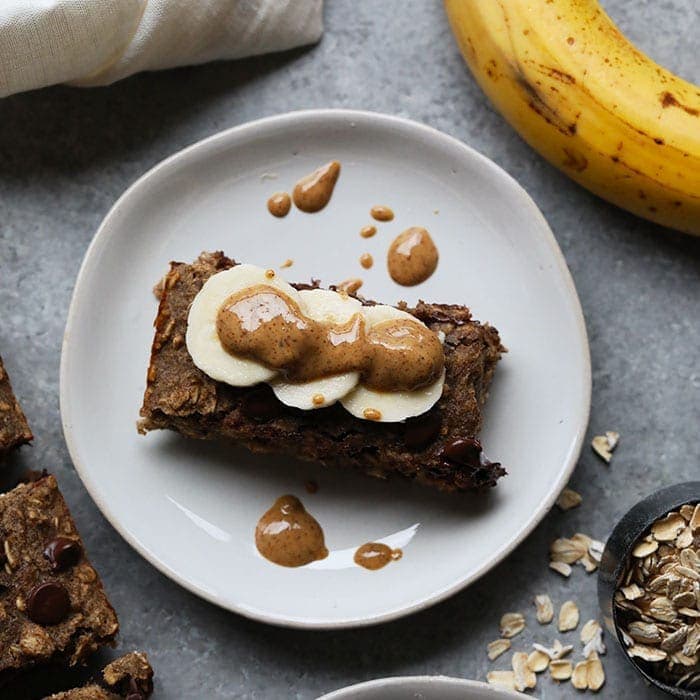 Healthy Banana Oatmeal Bars
It's time to kick the refined grains and sugar and make these delicious and healthy banana oatmeal bars! This amazing oatmeal bar recipe is made with a mixture of ground oat flour and buckwheat flour and sweetened with banana and honey.
Ingredients
Wet Ingredients
2

large egg whites

1

medium banana

ripe and mashed

2

tablespoons

honey

1/4

cup

applesauce

1/4

cup

uplain, nsweetened almond milk

3

tablespoons

coconut oil

melted
Instructions
First, preheat oven to 350ºF and an 8×8-inch* pan with parchment paper. Spray with coconut oil cooking spray.

Next, in a large bowl mix together dry ingredients, minus the chocolate chips, you'll add those last.

In a medium-size bowl, mash the banana until pureed and then mix in the wet ingredients, minus the coconut oil.

Combine the wet and dry ingredients and mix until combined. Add melted coconut oil and dark chocolate chips and mix one more time.

Transfer batter into baking dish and option to add more chocolate chips to the top. Bake at 350ºF for about 20-23 minutes.

Let cool for 30 minutes to an hour before slicing. Enjoy with nut butter and fresh banana slices.
Tips & Notes
You can make your own oat flour by placing rolled oats into a high-speed blender or food processor and processing until ground into a fine flour.
If you only have a 9x9-inch pan, you will need to decrease the bake time by a few minutes.
Nutrition facts
Calories:
270
kcal
Carbohydrates:
41
g
Protein:
7
g
Fat:
10
g
Fiber:
4
g
Sugar:
17
g
Helloooo Sunday Fun Day! I thought I would chat a little bit about our 2018 plans for Fit Foodie Finds. We've been having some really great conversations with other food bloggers and experts in the industry. One of the main topics as of late is something called SEO, search engine optimization. Basically, it's an acronym to determine how searchable your website is AKA how easy is it for readers to randomly stumble upon FFF recipes on Google and Pinterest.
Fit Foodie Finds is 7 years old and you know what that means? We've got a lot of content on this website (thousands of posts and hundreds of recipes!)! A bulk of this year is going to be spent on going back to those hundreds of recipes and making them better. If you look back at recipes like THIS and THIS…you can see that 1. I didn't really know how to write a recipe let alone test and develop one and 2. my photography is hilariously hideous.
We're also going to be focusing on adding the macros (nutrition) to every recipe on FFF. Get excited. Oh, and this doesn't go JUST for recipes, it goes for lifestyle posts, round-ups, and workouts! Don't worry, we've still got lots of brand new recipes and workouts in the pipeline. So, here's to 2018 and making something that's good even better!