These healthier chocolate chip cookie bars are made with an almond butter base and are paleo-friendly! Did I mention they're epically gooey and irresistible?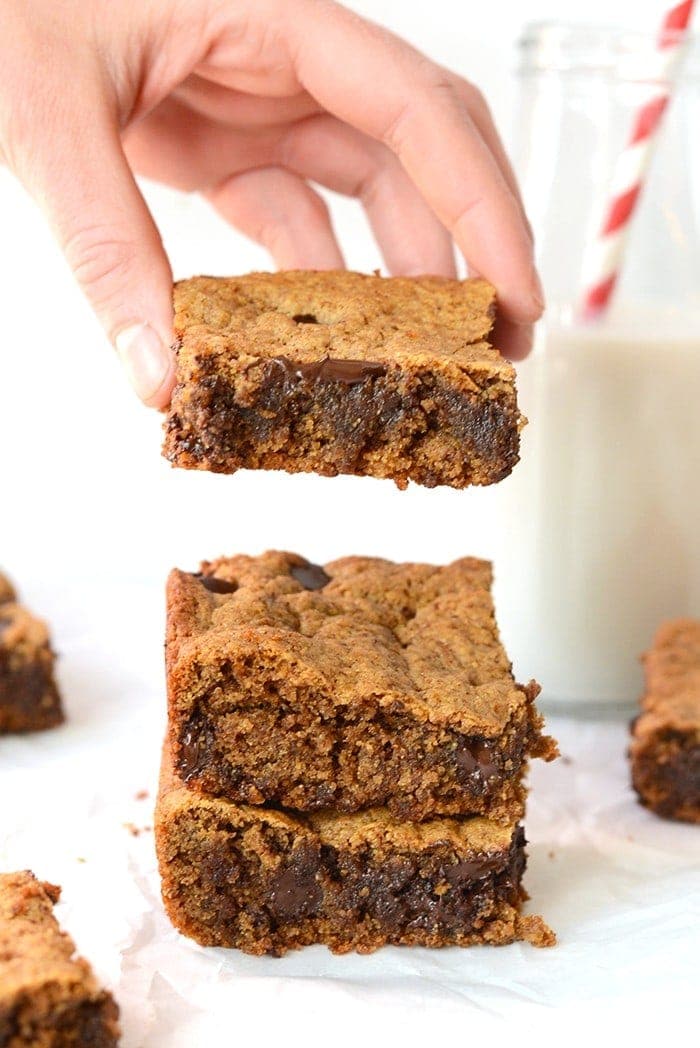 I get asked all the time what kind of diet I follow. My response? I EAT EVERYTHING. Seriously I will pretty much eat anything unless it's a cricket dipped in chocolate or something weird. And even then, I'd prolly do it for 5 bucks. I prefer to eat gluten-free and as healthy as possible…but I would also die if I didn't allow myself to eat ice cream. I LOVE ICE CREAM. Fun fact: I don't remember a day where I didn't eat dessert. Yup. I think dessert deserves to be eaten every single day and sometimes…multiple times per day. Why? Because it's good for the soul.
LIKE THESE BARS. My mom makes these epic cookie bars called Congo Squares. These remind me a lot of those except this recipe is WAY healthier. If you follow me on Snapchat…you know that I made about 142 batches of paleo chocolate chip cookies before giving up and turning the recipe into bars. GRAIN-FREE BAKING IS HARD PEOPLE and I have no idea how paleo bloggers do it!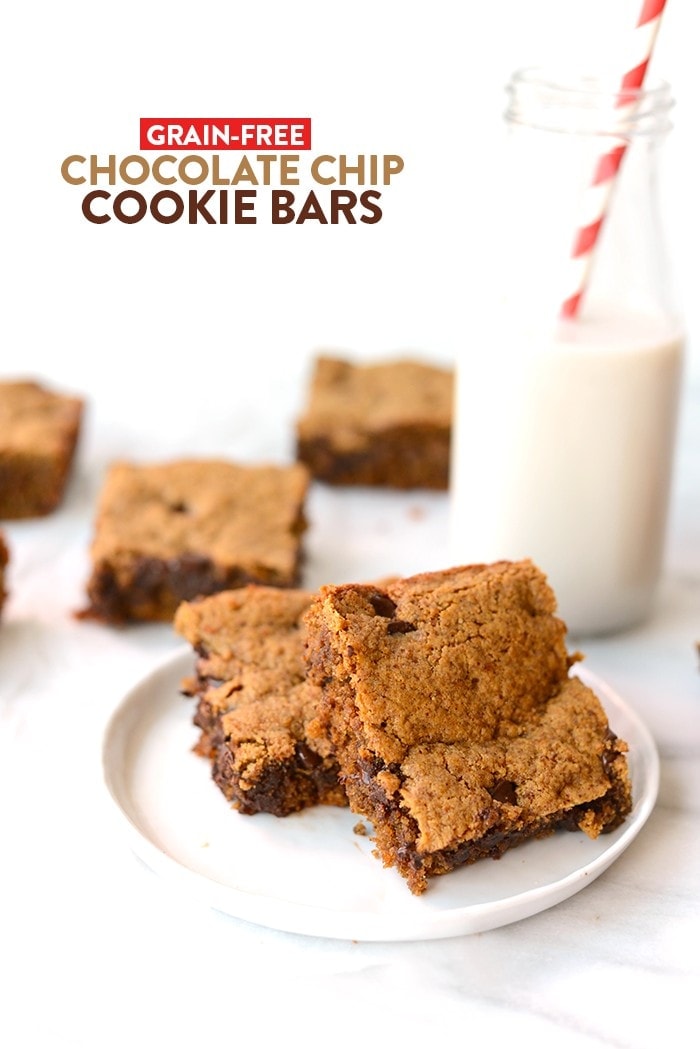 You only need a few staple ingredients to whip up a batch of these bars.
ER MER GERD. Could you imagine these with peanut butter? or cashew butter? I should rename this recipe to Better Than Sex Bars. But then FFF haters would get mad and say that's inappropriate.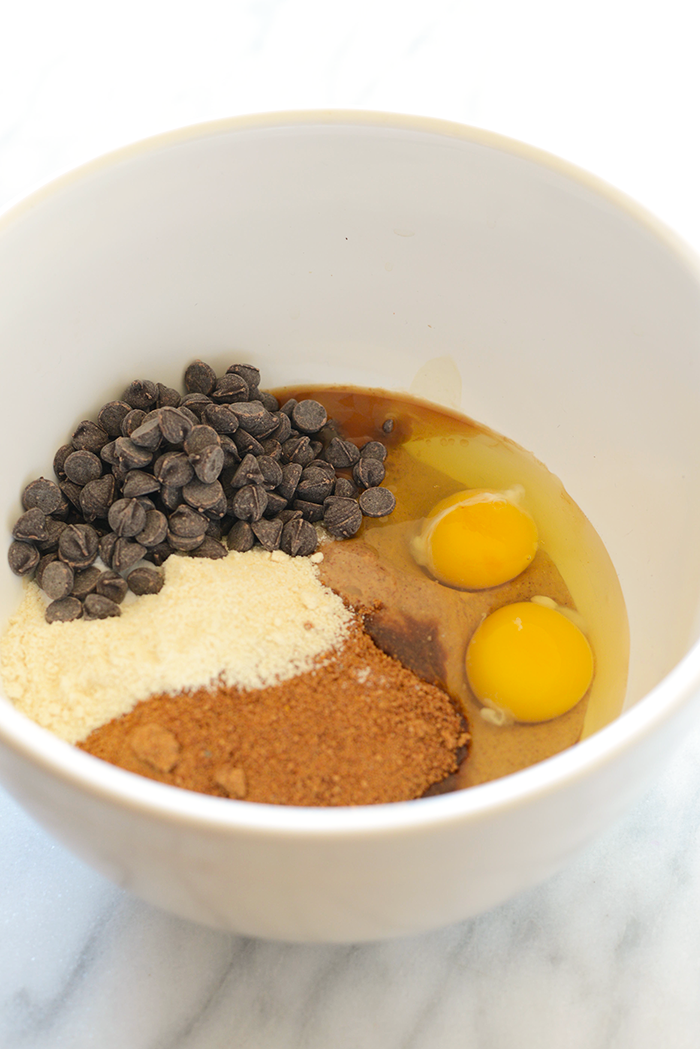 It is very important that for this recipe you use DRIPPY almond butter. Why? Because the almond butter counts as a liquid, meaning that if you use rock hard almond butter- there's not enough oil, which is what helps thin out your batter. I suggest using the Kirkland brand or Trader Joe's. In the end, your dough should be very similar to cookie dough.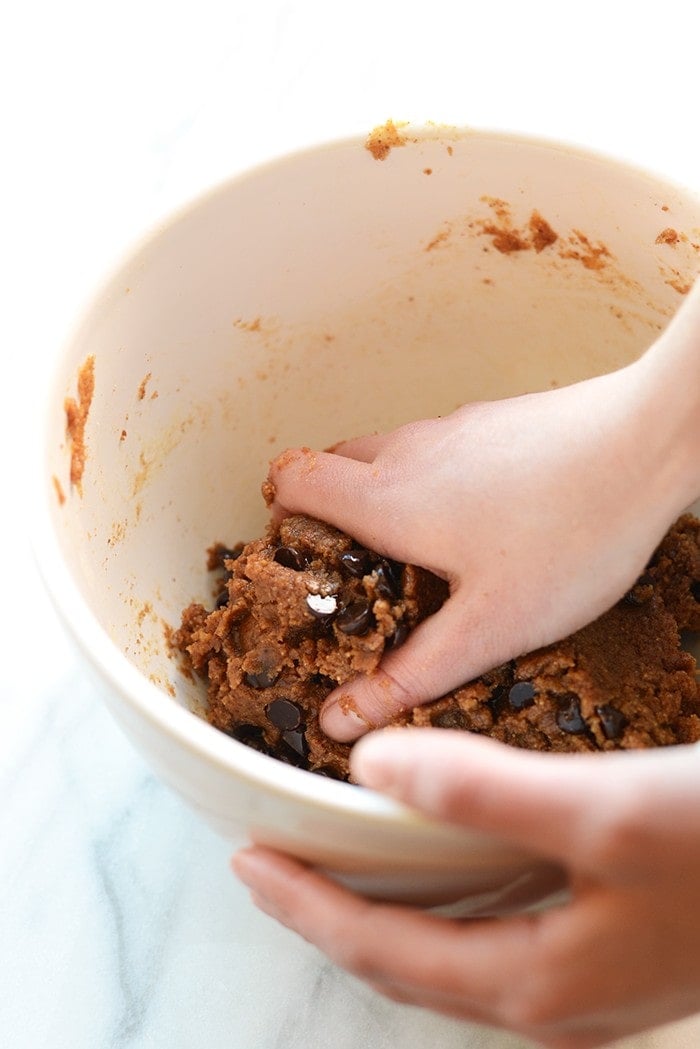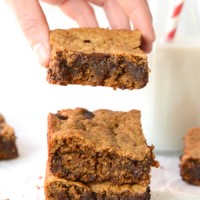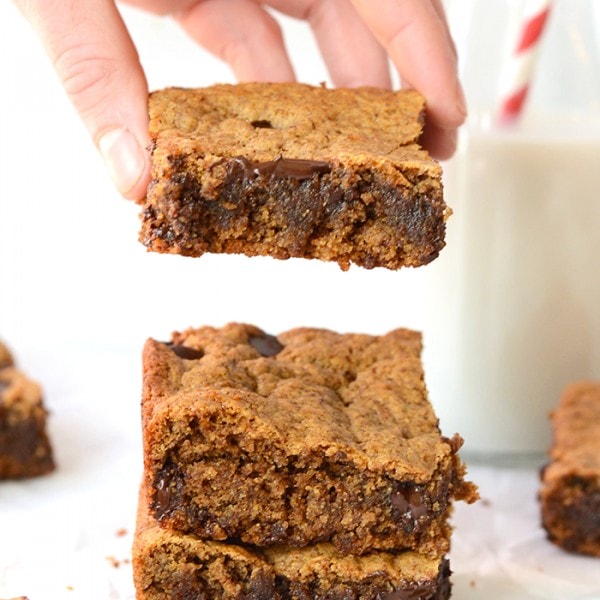 Grain-Free Chocolate Chip Cookie Bars
Prep:
10 mins
Cook:
15 mins
Total:
25 minutes
Fat
17
Carbs
24
Protein
7
Ingredients
Wet Ingredients
Dry Ingredients
Instructions
First, preheat your oven to 350ºF and spray a 9×9 inch cake pan with coconut oil cooking spray.
Place almond butter, eggs, and vanilla extract in a large bowl. Mix until combined. Place coconut palm sugar, coconut flour, baking soda, and sea salt in a medium bowl and mix until combined.
Add dry ingredients to wet and mix until combined. Add in chocolate chips and mix again. Your batter should have a cookie dough consistency.
Transfer dough into a 9×9 inch pan and use your fingers or a spatula to evenly spread out into the pan. If you notice that there is a lot of oil on the top of your dough, this is normal! Simply use a piece of paper towel to blot as much of it off it as possible.
Bake at 350ºF for 15 minutes.
Let cool for at least 30 minutes before cutting and serving.
Nutrition Facts
Serving Size:
1
Calories:
276
Sugar:
18
Fat:
17
Carbohydrates:
24
Fiber:
4
Protein:
7
WOOOO COOKIE BARS!