Say hello to the ultimate harvest dessert! These Pumpkin Cheesecake Bars with a gingersnap crust and a delicious pumpkin pie cheesecake filling are perfect for wowing your dinner guests, but easy enough for a simple night in.
Bars on bars on bars! Whether you're making these delicious pumpkin cheesecake bars or our cherry cobbler bars or our lemon vegan cheesecake bars, you truly can't go wrong!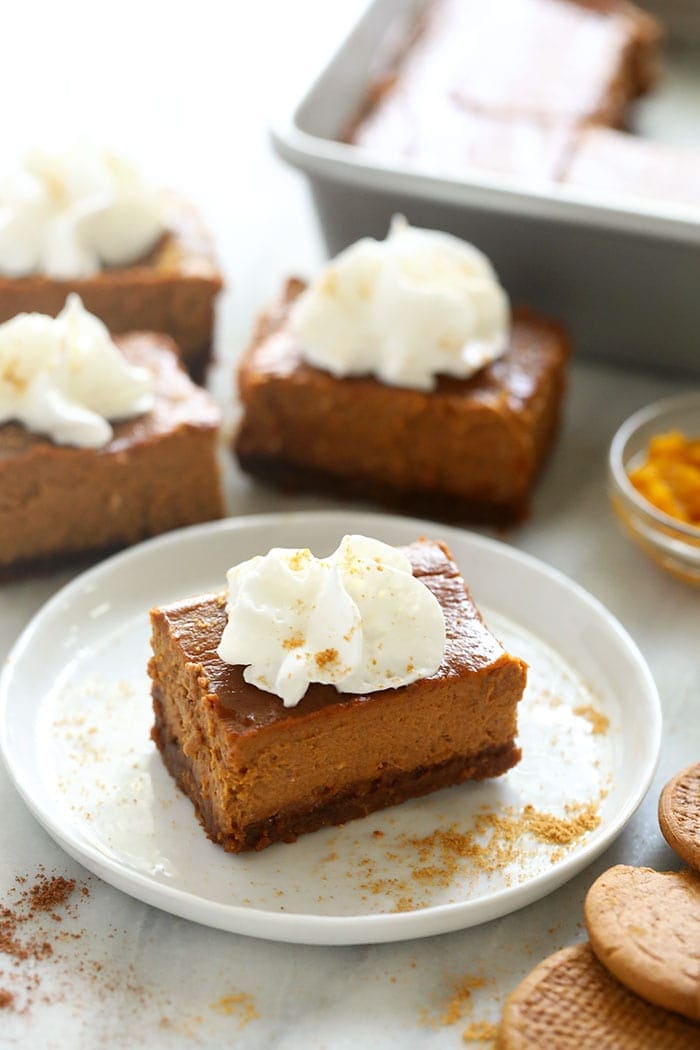 Hello, Fall Desserts!
We're just over here enjoying all things FALL, and that definitely includes some seasonal sweet treats like this oh so yummy pumpkin cheesecake bars. It's everything we love about cheesecake, but in a nice little hand-held bar form you can take anywhere 😀 Whether that's dinner at home with the fam, or your next work potluck, we promise these won't disappoint.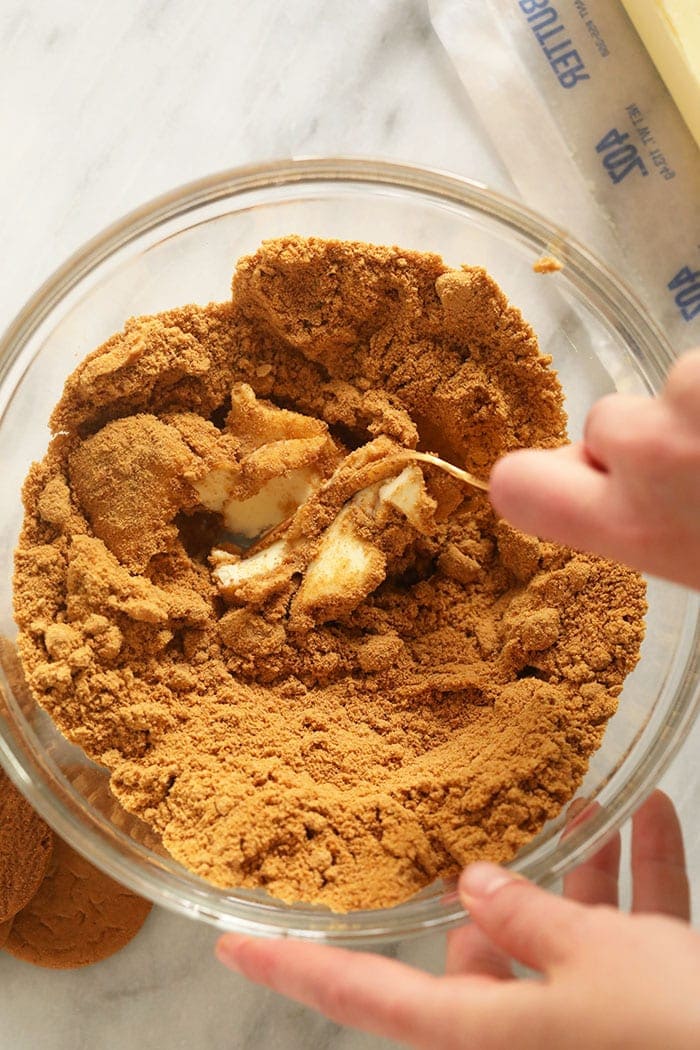 The Perfect Cheesecake Bar Crust
The key to this perfectly chewy and crunchy cheesecake bar crust is: GINGERSNAP COOKIES. Crumbled up gingersnap cookies to be exact 😀
And as long as you find crunchy gingersnap cookies, and not soft gingersnaps at the grocery store, you're good to go! We used Nabisco's Ginger Snaps, which are available at most major grocers, as well as on Amazon.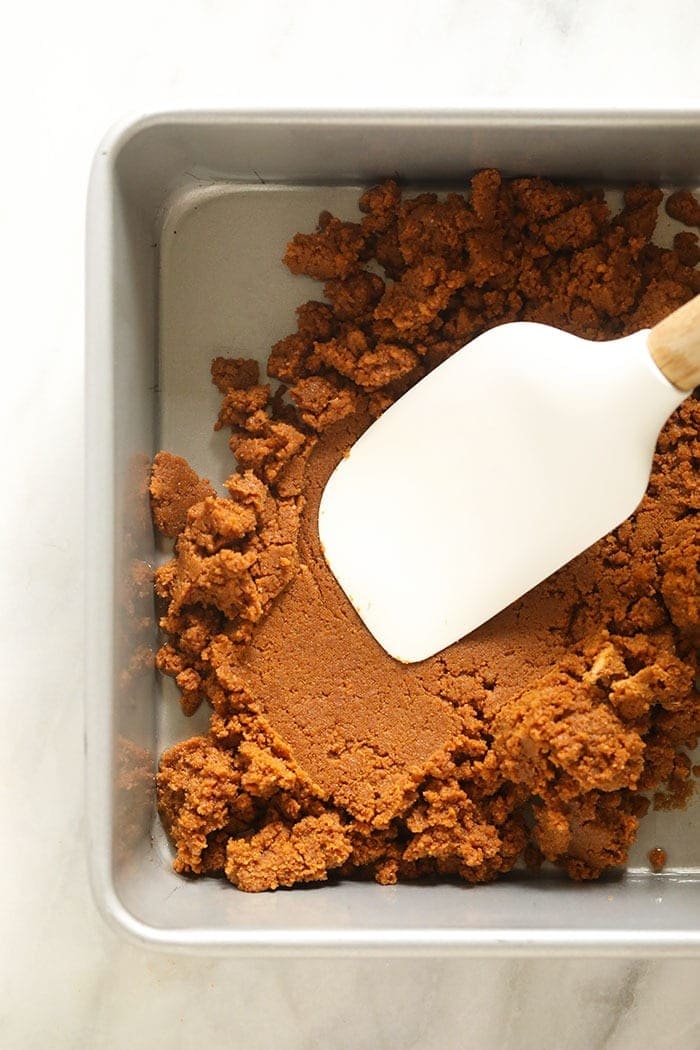 Back to this crust! Simply crumble the gingersnap cookies by placing them in a food processor, and processing into crumbs until smooth. Then, combine with:
Room temperature butter
Room temperature coconut oil
Next, fold together until the crust can hold its form. Once you do this, you'll spray your pan with a nonstick cooking spray and then press the crust into the bottom of the pan using a spatula or your hands.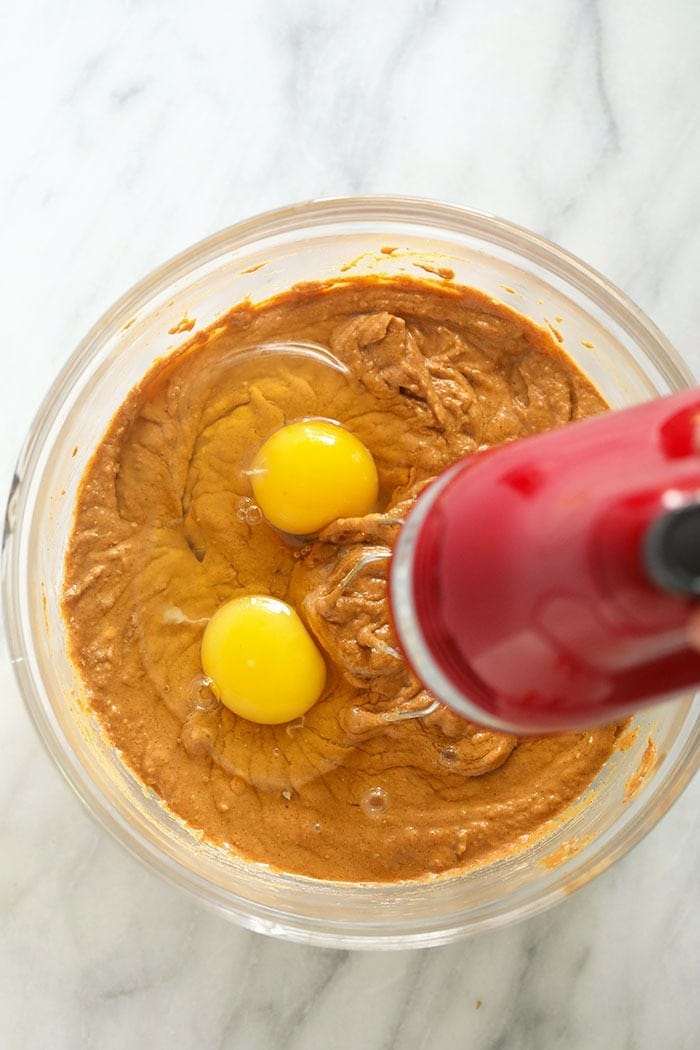 Toppings for Cheesecake Bars
These cheesecake bars are oh so delicious sans toppings, but if you're looking to jazz them up a bit, we recommend one (or all!) of the following:
Whipped cream
Ice cream
Chopped walnuts or pecans
Caramel
Dusting of gingersnap crumbs
All of the above!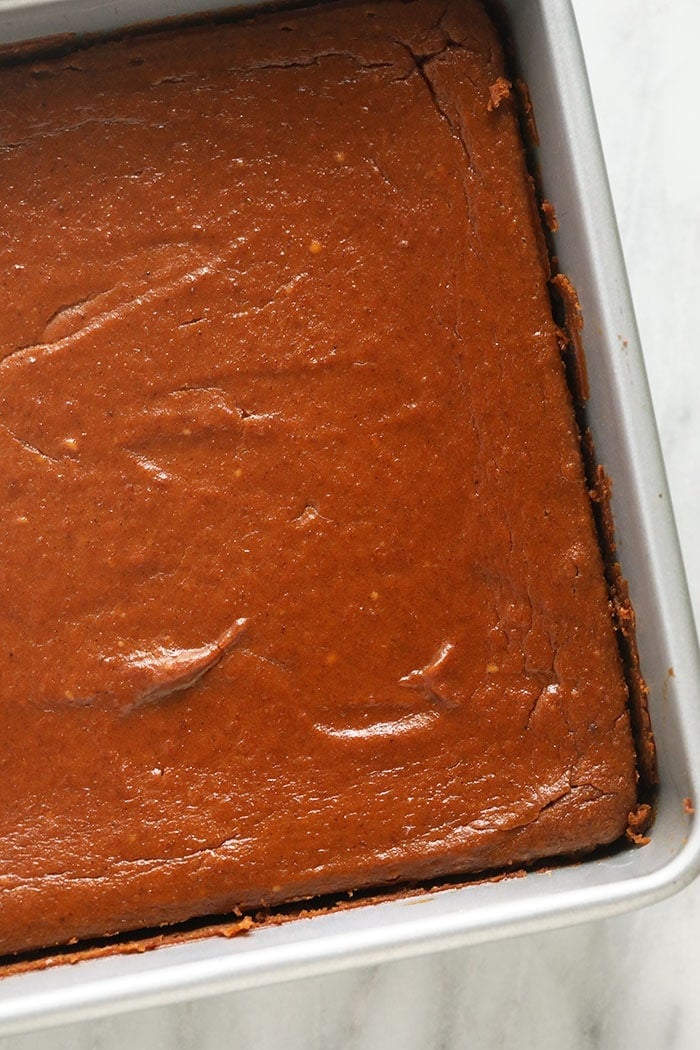 How Long do Cheesecake Bars Last?
These cheesecake bars will last 3-5 days in an air-tight container in the refrigerator. But we're guessing you'll have them all gobbled up far before then 😀
Can I Freeze Cheesecake Bars?
Should you decide to freeze these cheesecake bars, simply cut them into squares after they're fully cooled, and place onto a baking tray and put them in the freezer until fully frozen. Then remove the bars from the freezer, wrap individually in aluminum foil or saran wrap to prevent freezer burn, and place into an air-tight container before putting back in the freezer. Frozen pumpkin cheesecake bars will last up to 3 months.
More Pumpkin Deliciousness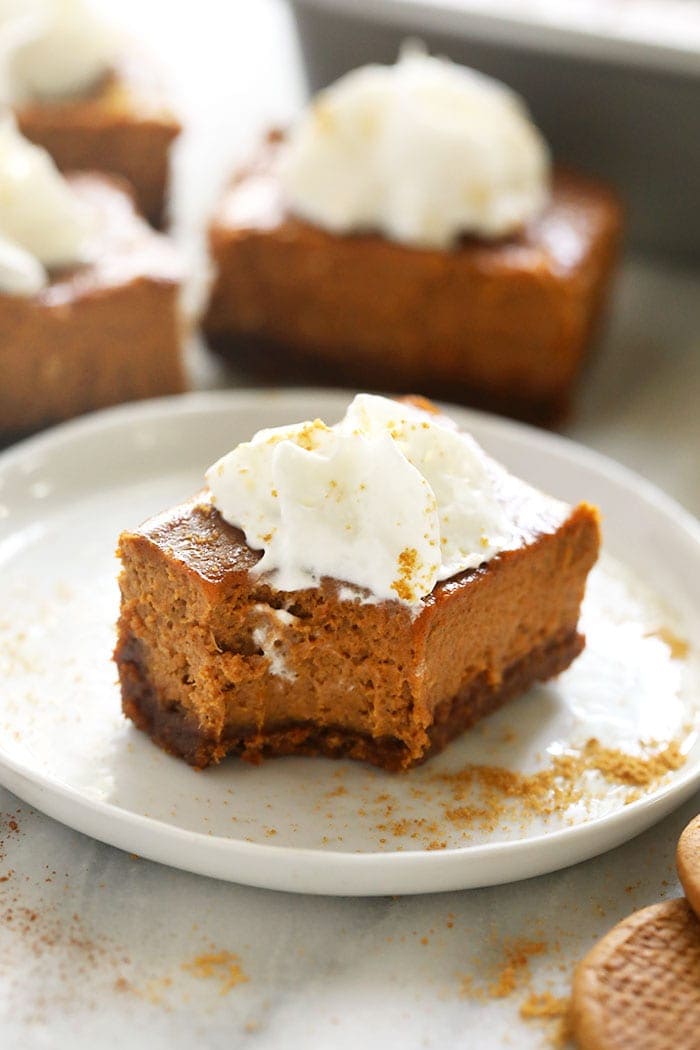 More Bars Recipes
Pumpkin Cheesecake Bars Recipe Video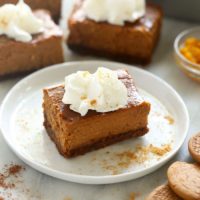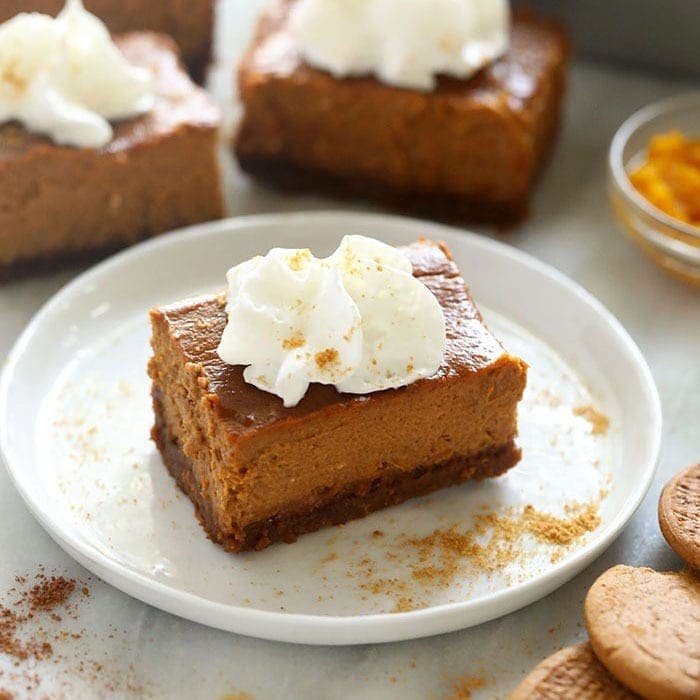 Pumpkin Cheesecake Bars
Say hello to the ultimate harvest dessert! These Pumpkin Cheesecake Bars with a gingersnap crust and a delicious pumpkin pie cheesecake filling are perfect for wowing your dinner guests, but easy enough for a simple night in.
Prep:
20 minutes
Cook:
1 hour
Total:
1 hour 20 minutes
Fat
14
Carbs
25
Protein
3
Ingredients
Gingersnap Crust
1.5 cups

gingersnap cookie crumbs*

4 tablespoons

butter, room temperature

2 tablespoons

coconut oil, room temperature
Pumpkin Cheesecake Filling
1

15-oz. can organic pumpkin puree

8 oz

. cream cheese

2 teaspoons

pumpkin pie spice*

2 tablespoons

maple syrup

1/2 cup

coconut sugar

2 tablespoons

white whole wheat flour

2

large eggs, room temperature
Instructions
Gingersnap Crust
First, preheat the oven to 325ºF and grease an 8-inch x 8-inch baking dish with coconut oil.
Then, prepare your gingersnap cookie crumbs by placing gingersnap cookies in a food processor and process for about a minute or until they turn into into crumbs.
Prepare the crust by placing the gingersnap cookie crumbs, butter, and coconut oil into a large bowl. Use a spatula (or your hands) to mix all the ingredients together until the crust can hold its form.
Spray the pan with nonstick spray, and then transfer crust into pan and use spatula to flatten it to the bottom of the pan to create the crust.
Bake at 325ºF for 10 minutes. Then, remove from the oven and let rest for at least 10 minutes.
Pumpkin Cheesecake Filling
Prepare the pumpkin cheesecake filling by placing all ingredients (except for the large eggs) into a large bowl.
Mix with an electric mixture on low/medium speed until smooth.
Next, crack the eggs into the bowl with the pumpkin filling and use the electric mixer to mix the eggs into the filling on the lowest speed. Only mix until eggs are just combined (careful not to over mix!).
Pour pumpkin filling over the crust, making sure it's evenly spread out.
Bake at 325ºF for around 38-40 minutes or until the center of the pumpkin cheesecake bars are gelatin-like.
Remove bars from the oven, let cool completely, and then place them in the refrigerator for at least 2 hours (or until chilled) before cutting into bars.
Top with your favorite whipped cream and a dusting of gingersnap crumbs.
Tips & Notes
Gingersnap cookies: make sure the gingersnap cookies you buy are hard and crunchy. The soft kind will not work for this recipe. HERE is the product we tested this recipe with.
Update 11/27/2019: we had a typo in the recipe saying 2 tablespoons of pumpkin pie spice. We've decreased it to 2 teaspoons, which is the correct amount!
Nutrition Facts
Serving Size:
1/12 recipe
Calories:
238
Sugar:
16
Sodium:
147
Fat:
14
Carbohydrates:
25
Fiber:
1
Protein:
3
Category:
Dessert
Method:
Oven
Cuisine:
American
Keywords: pumpkin cheesecake bars