Make these cherry cobbler bars the next time you need a little sweet treat! These cherry cobbler bars are made with fresh cherries and a delicious almond flour crust. Have no fear, cherry season is here!
Can't get enough dessert bars? These strawberry oatmeal bars or these healthy lemon bars are some of the most popular bars on FFF!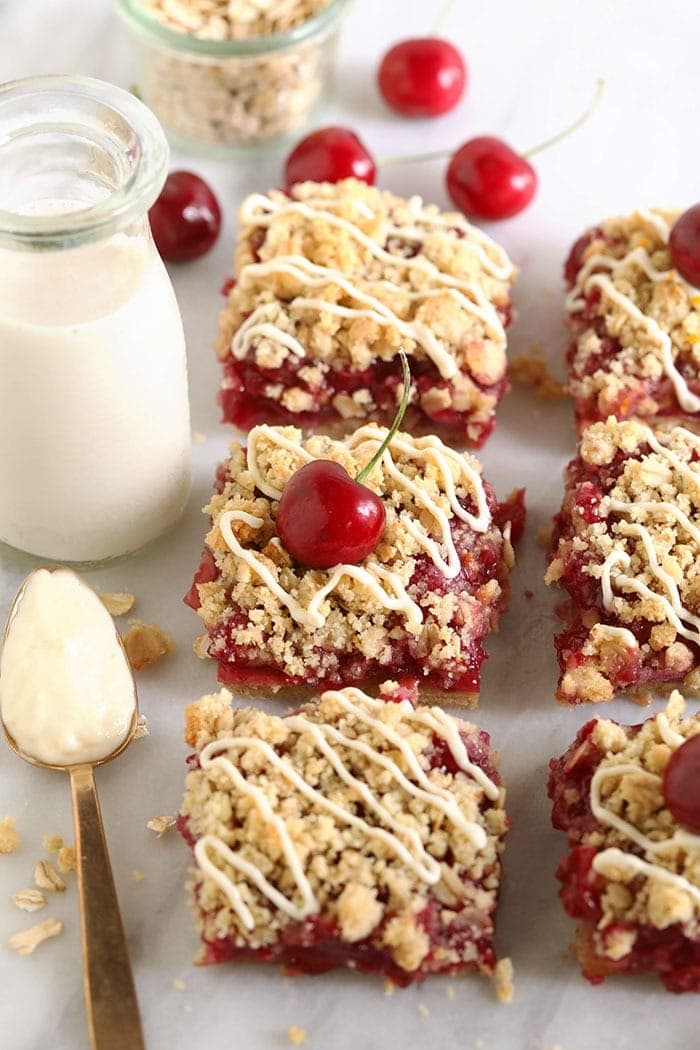 It's All About the Bars
It is no secret that we love bars on Team Fit Foodie. We have healthy bar recipes for every occasion and made with a variety of different ingredients!
Now, when I say healthy bars, I mean healthier. We strive to make FFF recipes that are a healthier option compared to other recipes.
We want people to know they can enjoy a sweet treat without using only white sugar and butter. We love developing dessert recipes that are naturally sweetened and leave the conscience guilt free!
One of our favorite things to hear is "wow, I never would have thought of that". We love surprising ourselves with delicious crust recipes made with almond flour or fruit fillings that can, in fact, be made without adding a ton of corn syrup. It can be done!
There are amazing healthier substitutions for dessert ingredients. We like to have the ingredients below in our cupboards at all time just in case we are in the mood to bake!
THIS Instead of THAT
If you are looking for a way to make a dessert recipe healthier or if you are allergic to something and need a substitution, there is a way! Below are some ingredients that we use in our healthy dessert recipes.
Remember, baking is a science, so the ratio of what you are substituting may be a bit different than the original ingredient, so make sure you look up the correct ratio!
maple syrup or honey instead of white sugar
white whole wheat flour instead of all purpose flour
flax egg instead of normal eggs
apple sauce instead of oil
coconut oil instead of vegetable oil
tapioca flour instead of corn starch


Cherry Cobbler Bars
These cherry cobbler bars are the perfect combination of a cherry pie recipe and a crumble. I am not going to lie to you, sometimes cherry desserts freak me out.
When you buy cherry desserts at the store, they taste like a sugary science project. Do you feel me? Some cherry desserts are so over processed I can barely stand it.
These cherry cobbler bars are made with FRESH cherries. No canned or jarred maraschino cherries in this recipe! And why would you?! Fresh cherries are accessible when they're in season and they are OH so delicious.
If you ask me, cherries should always be paired with almond extract. The combination is out of this world! We used about a teaspoon of almond extract in the crust of these bars and I'm so glad we did. The crust is crunchy and almondy and the naturally sweetened cherry filling tastes like cherry heaven.
Now, don't be nervous about making these bars, we have gathered all of the MUST know details of this recipe to make sure you can make this recipe in a jiffy without any hiccups.

Everything You Need to Know
How do I store fresh cherries? We all know that sometimes cherries can be expensive when they are not in season. Don't worry, we have a tip. When cherries are in season, buy a TON of them and freeze them for later!
All you have to do is buy a couple of pounds of cherries, pit them all, and lay them out on a baking sheet lined with parchment paper. Freeze the cherry halves for at least 30 minutes and then transfer them to a freezer safe bag or container and date it (we also do this with bananas in this how to freeze bananas post).
This way you can have fresh (frozen) cherries all year long. To use them in recipes all you have to do is take the cherries out about an hour before you need to use them and let them thaw!
Be patient with the cherry filling. You may think that having two steps to cooking these cherries is too much, but it is SO necessary. Cherries have high water content and if you don't boil them a little bit before you bake the bars you will end up with a mushy crust!
Boil the cherries down until you have a cherry soup. Next, add the one tablespoon of tapioca flour at a time, being careful not to just dump in the flour, but sprinkle the flour to avoid clumping.
Remove the cherry filling from the heat and dump over a cooled crust. Don't worry if the filling seems a bit soupy still, the tapioca flour will do the rest of its job in the oven!
Keep the crust crunchy. Keep your crust crunchy by making sure you bake the crust enough for the first bake and letting it cool before you pour the cherry cobbler filling over the top for a second bake.
Storage. Let the cherry cobbler bars cool completely before storing them in the fridge for up to 7 days. You can also cool these bars and place them in a freezer safe bag and freeze them for up to 3 months in the freezer!
Healthy Dessert Bar Recipes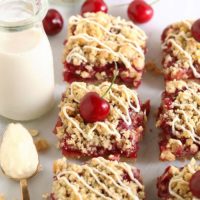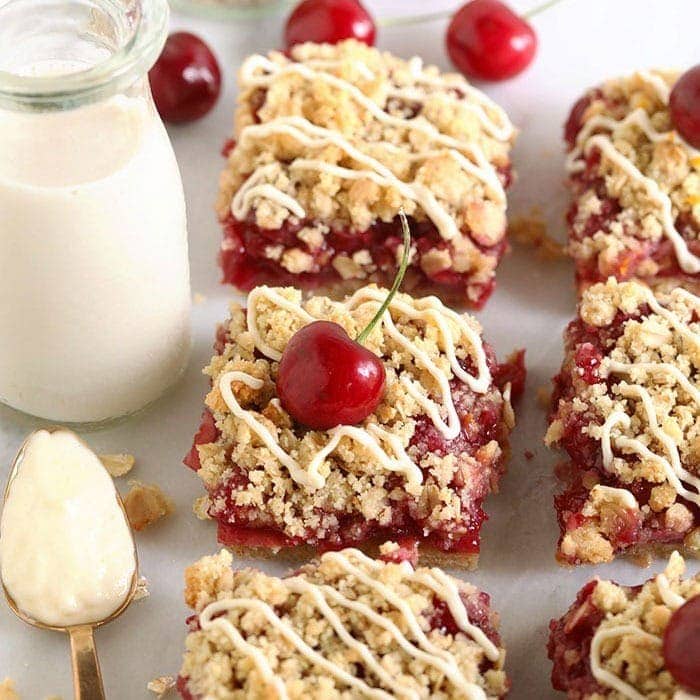 Cherry Cobbler Bars
Make these cherry cobbler bars the next time you need a little sweet treat! These cherry cobbler bars are made with fresh cherries and a delicious almond flour crust. Have no fear, cherry season is here!
Ingredients
Crust and Crumble Topping
Cherry Filling
3

cups

quartered pitted

fresh cherries

3

tablespoons

fresh lemon juice

2

tablespoons

maple syrup

pinch

of salt

2

tablespoons

tapioca flour
Drizzle
2

teaspoons

powdered sugar

3

tablespoons

cream cheese

1

teaspoon

orange juice
Instructions
First, preheat oven to 350ºF and line an 8x8-inch pan with parchment paper and set aside.

Next, create your crust and crumble.  Mix all crumble ingredients together. You're going to want to make sure that the coconut oil is slightly melted, but not liquid. You do this so the dough is more of a crumble, but can still be pressed together into a crust.

Then, take 2/3 of the mixture and press it evenly onto the bottom of your pan. Set the rest of the crust/crumble mixture aside. This is what you will use for the crumble topping.

Bake crust at 350ºF for 10 minutes. Remove crust and set aside.

Next, place all ingredients for the cherry filling (except for the tapioca flour) into a medium saucepan. Turn heat to medium/high and bring the filling to a boil, stirring often and breaking up the cherries. Once boiling, turn the heat down to low and let simmer for 20 minutes (don't skimp on this! It's important to break down the cherries or your bars will be too wet.). Continue stirring.

Once the filling has cooked for 20 minutes and has become liquidy with cherry chunks, add in 2 tablespoons of tapioca flour and stir until there are no more clumps and the cherry filling has thickened.

Pour filling on top of the crust and spread out evenly. Then, sprinkle the rest of the crumble mixture over the top of the cherry filling.

Bake for another 20 minutes at 350ºF.

While bars are baking mix everything together for the drizzle into a small bowl and transfer to a Ziploc bag or a pastry bag. If you are using a Ziploc bag, snip the tip of the bag. The smaller the hole, the smaller the drizzle. Set aside,

Let cool for 20 minutes before drizzling the cherry cobbler bars with drizzle. Place into the fridge for at least 2 hours (or for best results, overnight) to let the filling set. Slice and enjoy!
Nutrition facts
Calories:
353
kcal
Protein:
11
g
Fat:
22
g
Fiber:
6
g
Sugar:
10
g