I feel like it's been a million years since my boggling babez (literally what we refer to each other as) have done a group post! I can't believe we started doing these posts almost 2 years ago. WHERE THE HECK HAS TIME GONE? Gina, Davida, Lexi, Britt, Taylor, and I are back to share some recipes that require NO BAKING. Seriously these ladies inspire me so much and keep my creative juices flowing! I still haven't met Lexi or Taylor in real life. One day the time will come.
4 ingredients is all you need to make these Raw Walnut Brownies. They're gluten-free, vegan, paleo and refined-sugar-free but still taste incredible! Plus they take just 5 minutes to whip up.

A healthy frozen treat, these banana ice cream bars are topped with date caramel, sprinkled with walnuts and coated with a crunchy chocolate magic shell. They're absolutely delicious, vegan, gluten-free and paleo!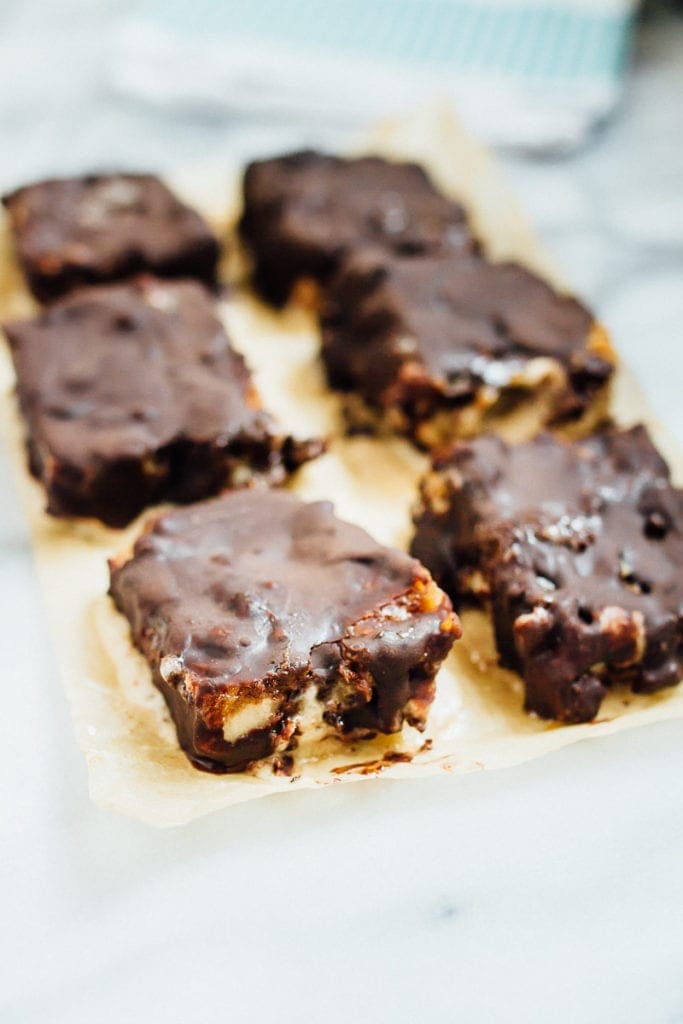 These salty-sweet, super easy, no-bake bars taste like a frozen Almond Joy! They're the perfect healthy summer treat that's paleo and vegan friendly!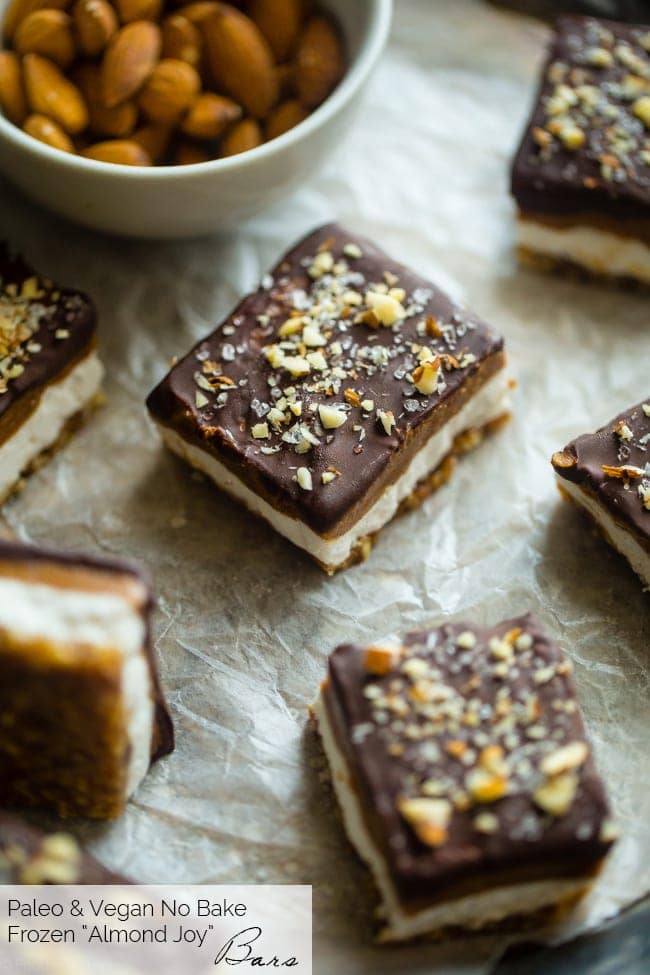 These puffed millet cookies are a no bake treat coated in dark chocolate and filled with dried cranberries and toasted macadamia nuts.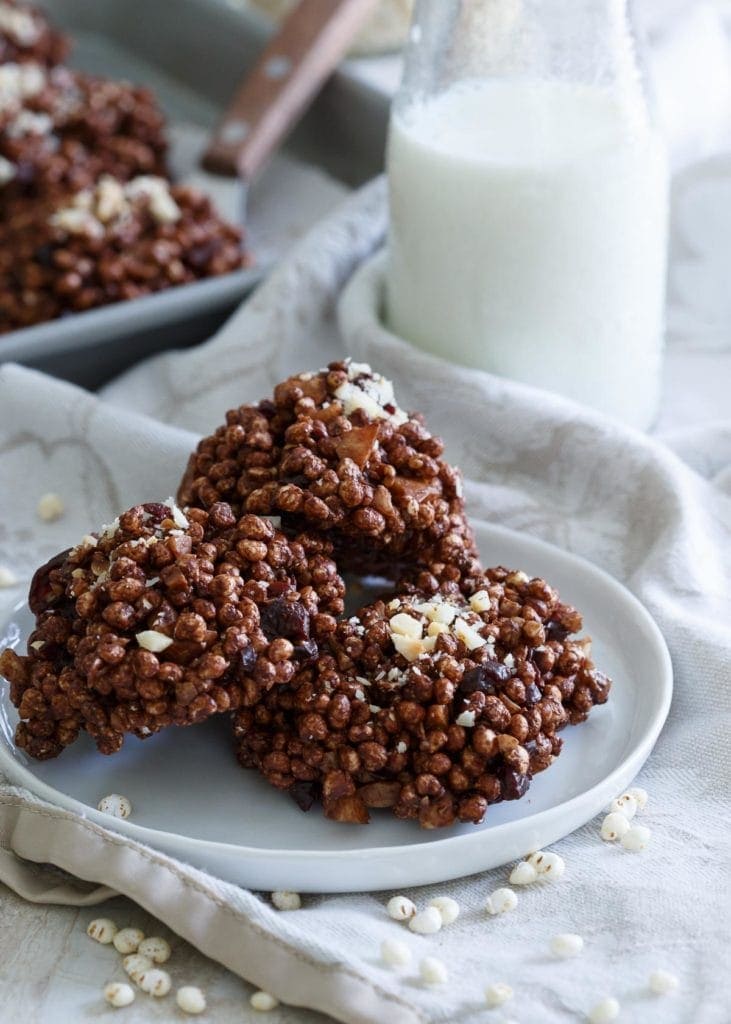 Description: Easy, customizable, and totally perfect for the summer months these Kiwi pops or bites are coated in chocolate and drizzled with your favorite toppings!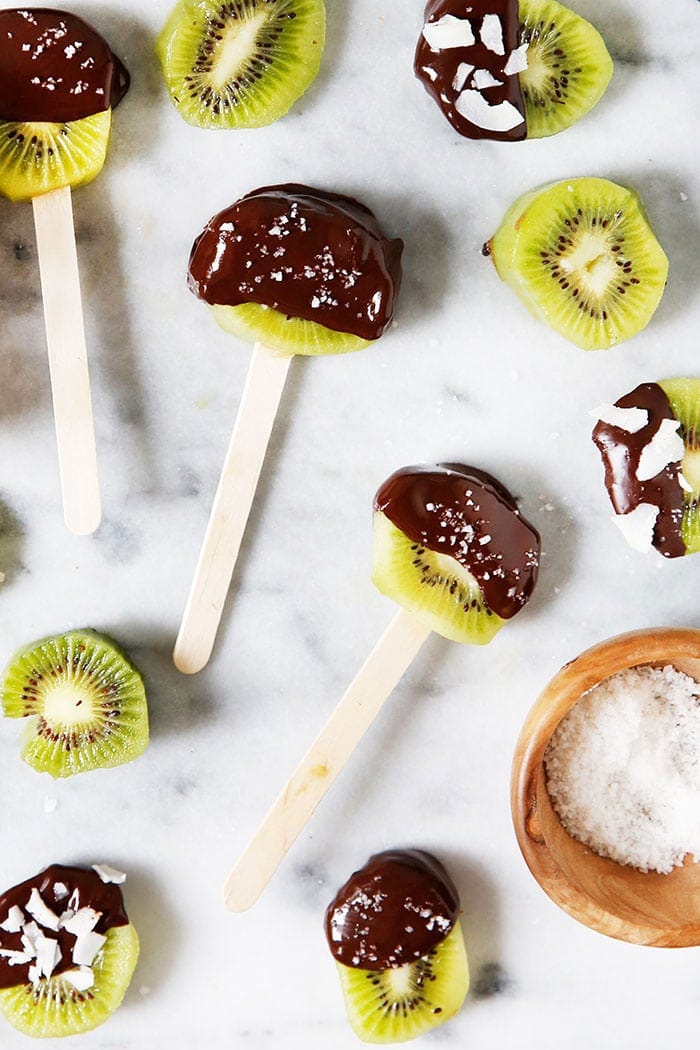 So what did I make?! Lemon Coconut Bars made with a raw cashew crust and they're AH MAY ZING. Want to know a secret? The crust is actually based off of FFF's
Copycat Cashew Cookie Larabars
.
These raw Lemon Coconut Cheesecake Bars are naturally sweetened, gluten-free, vegan, paleo, and a perfectly refreshing dessert!
The coconut lemon filling is very cheesecake-like. I've been meaning to make one of Minimalist Baker's Vegan Cheesecakes…and this recipe is definitely inspired by Dana! It's a coconut cream and raw cashew base sweetened with honey and flavored with lemon juice. SOOOOOOOO good…I just wanted to eat it right out of the food processor.
Oh wait, I did.
These are best eaten straight out of the freezer or fridge. If you eat them frozen, they are like an ice cream bar and if you eat them partially thawed from the fridge, they're more like cheesecake! It's all about preference people.
What's my choice? FREEZER.
Recipe
Raw Lemon Coconut Bars
Prep Time:

7 hours

Total Time:

7 hours
Ingredients
For the Crust
For the Lemon Coconut Filling
2 cups raw cashews, soaked
1 cup coconut cream
2 tablespoons coconut oil
2 tablespoons honey
juice from 1 lemon (~1/3 cup)
pinch of sea salt
Instructions
First, place two cups of cashews into a medium/large size bowl and cover them with boiling water. Let them soak for 4-6 hours or over night. These cashews are for the filling.
Next, place crust ingredients (pitted dates, raw unsalted cashews, and salt) into a high-speed food processor and process until crumbly.
After ingredients are blended, spray a 9×9 inch pan with coconut oil cooking spray. Gently press crust evenly into the bottom of the pan. Set aside.
Once cashews have soaked for the appropriate amount of time (cashews should be soft and squishy) place all ingredients for the lemon filling (except coconut oil) into a high-speed food processor and blend until smooth.
When ingredients are mixed well and the filling is a smooth consistency, add coconut oil and mix one more time.
Pour filling contents on top of crust. Spread evenly with a spatula and place pan into the freezer for 1-2 hours to set.
When bars are hard and ready to eat. Remove from freezer, top with shredded coconut and lemon zest.
Notes
*Store bars in the freezer for more of an ice cream bar texture or un the fridge for more of a cheesecake texture.
Nutrition
Serving Size:

1/9

Calories:

269

Sugar:

12

Fat:

18

Fiber:

2

Protein:

6
Similar
Happy HUMPPPPIE DAY.