Freeze fresh strawberries in now time. Learn how to freeze strawberries for smoothies, cakes, ice cream, and more!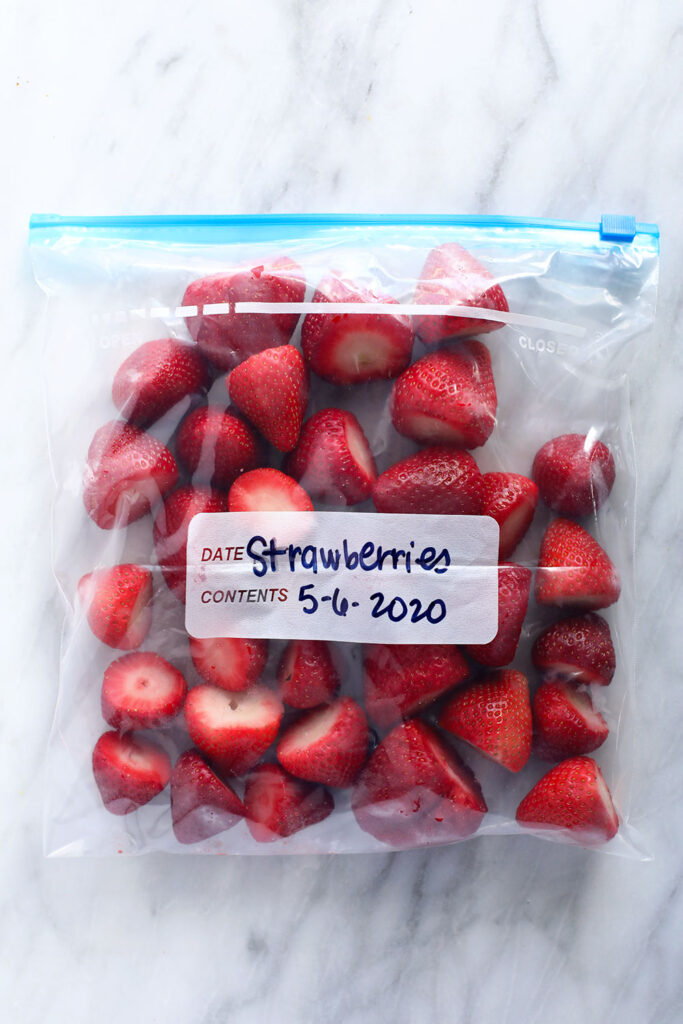 Why Freeze Strawberries?
Is anyone else guilty of overbuying strawberries during the summer? We are! There is no need to put ay strawberries to waste, just freeze them.
We love to freeze fresh strawberries because it logs in the delicious freshness of the strawberries when they are at their best!
recipes You Can Make with frozen strawberries
Not sure what you can make with frozen strawberries? You can use them in anything from a strawberry smoothie to strawberry banana bread.
Here are all of the recipes you can make with frozen strawberries right out of your freezer.
Strawberry Daiquiri- Blend up your own strawberry daiquiri recipe at home for the most delicious frozen cocktail ever. This strawberry daiquiri is made with frozen strawberries, rum, and a simple syrup.
Strawberry Margarita- Looking to mix up your margarita flavor? Try this incredible frozen strawberry margarita recipe made with frozen strawberries, lime juice, tequila, and triple sec!
Strawberry Oatmeal Bars- Thaw your frozen strawberries and make a batch of these strawberry oatmeal bars!
Strawberry Protein Nice Cream- Get out some of your frozen strawberries and throw all of the ingredients into the food processor and you've got yourself a protein-packed dessert in under 20 minutes!
Strawberry Protein Shake- This protein powder smoothie recipe is made with just a few simple ingredients: frozen strawberries, bananas, vanilla protein powder, Greek yogurt, and almond milk.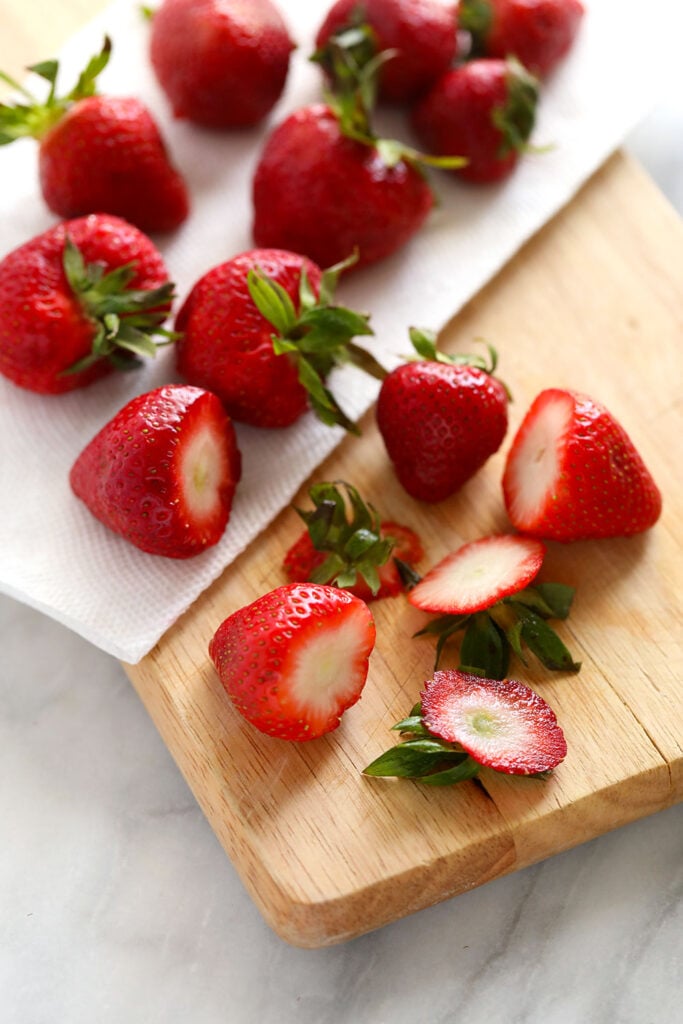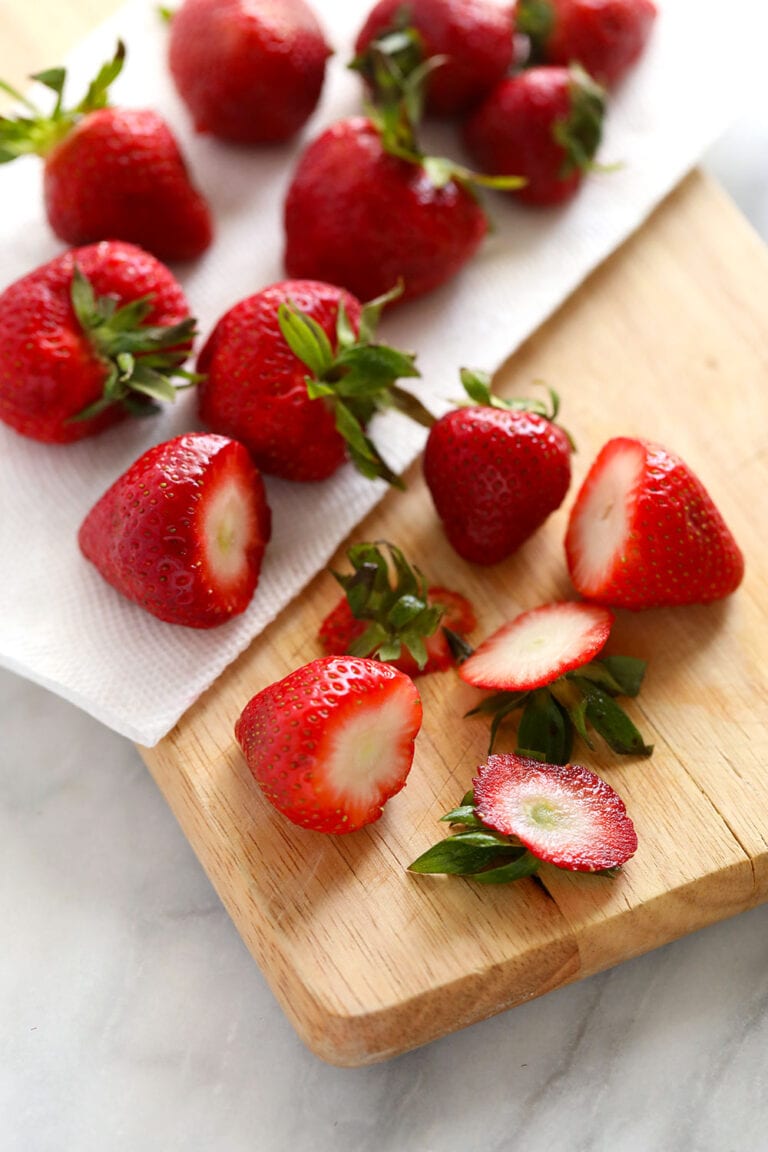 How to Freeze Strawberries
Freezing strawberries seems like a no brainer, but there is a certain way you can freeze strawberries so they don't stick together and last longer in the freezer without freezer burn. Here's how to do it.
Prepare the Strawberries
There are a few steps you have to take to get your strawberries ready to be frozen.
Rinse them in the sink with cold water. Wash off all that dirt and get them ready for the freezer.
Dry the strawberries with a clean dish towel and make sure all the moisture is removed. This is important because if you put wet strawberries in the freezer they will stick together and are more likely to get freezer burn.
Cut the green stems off of the strawberries so that they are all ready to use right out of the freezer.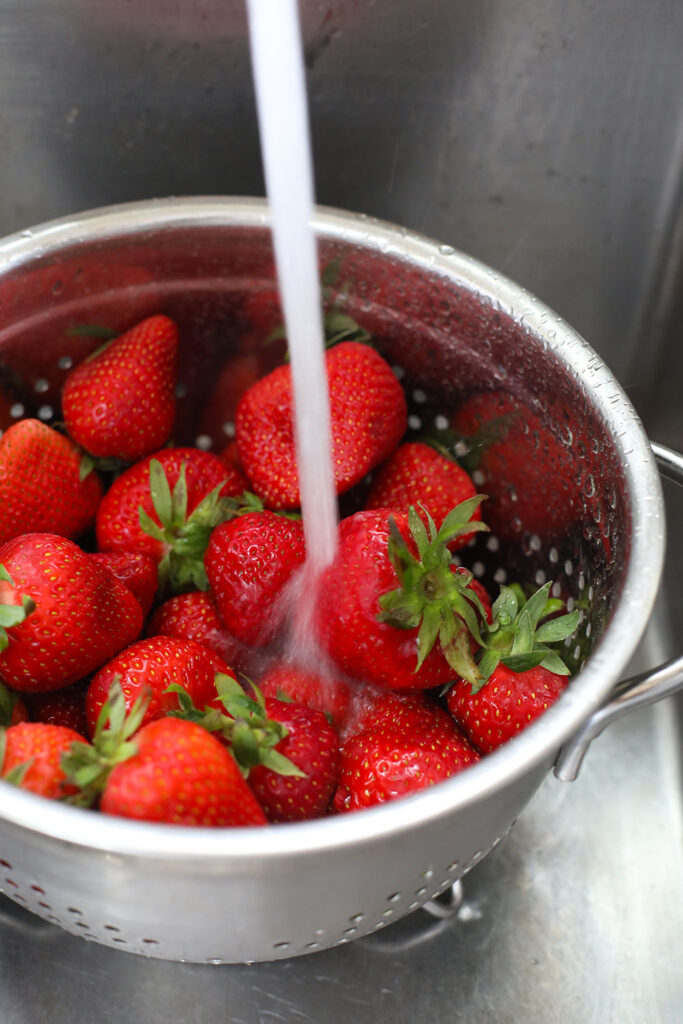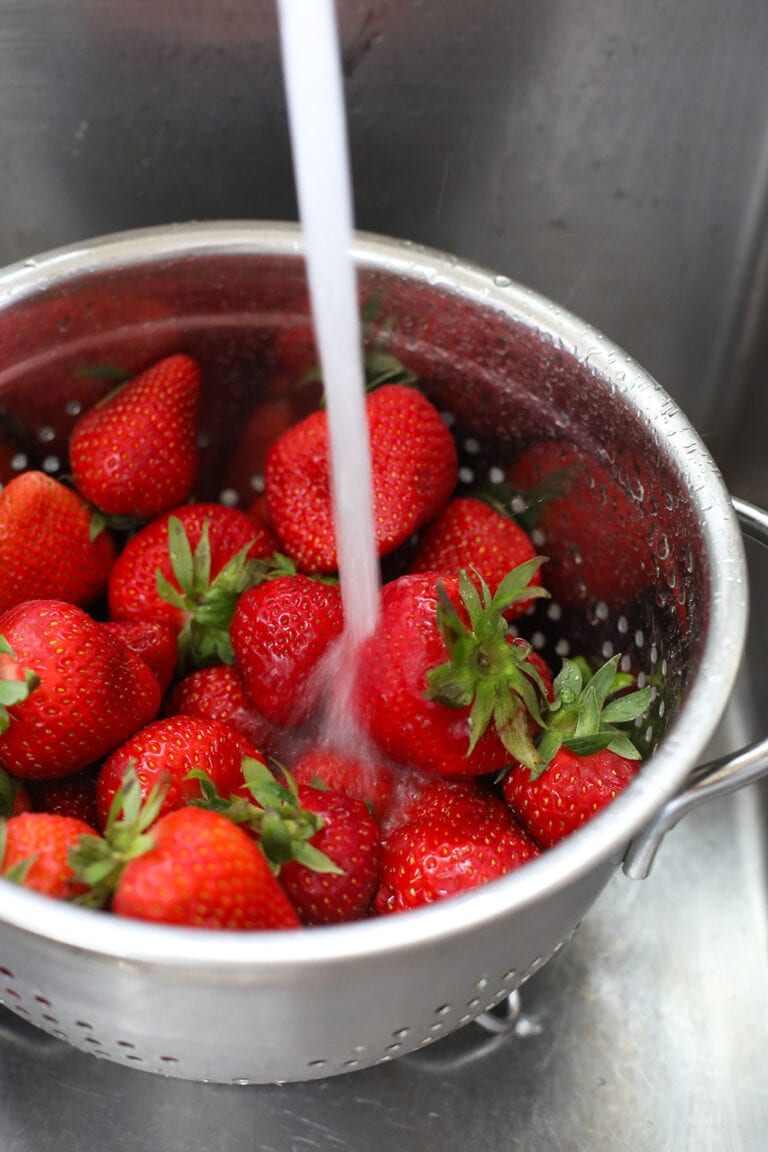 Lay them on a Baking Sheet
Once the strawberries are prepped, place them on a half baking sheet or plate. Be sure the strawberries are spread out.
Place them in the freezer for 15-30 minutes or until they are partially frozen and won't stick to each other later!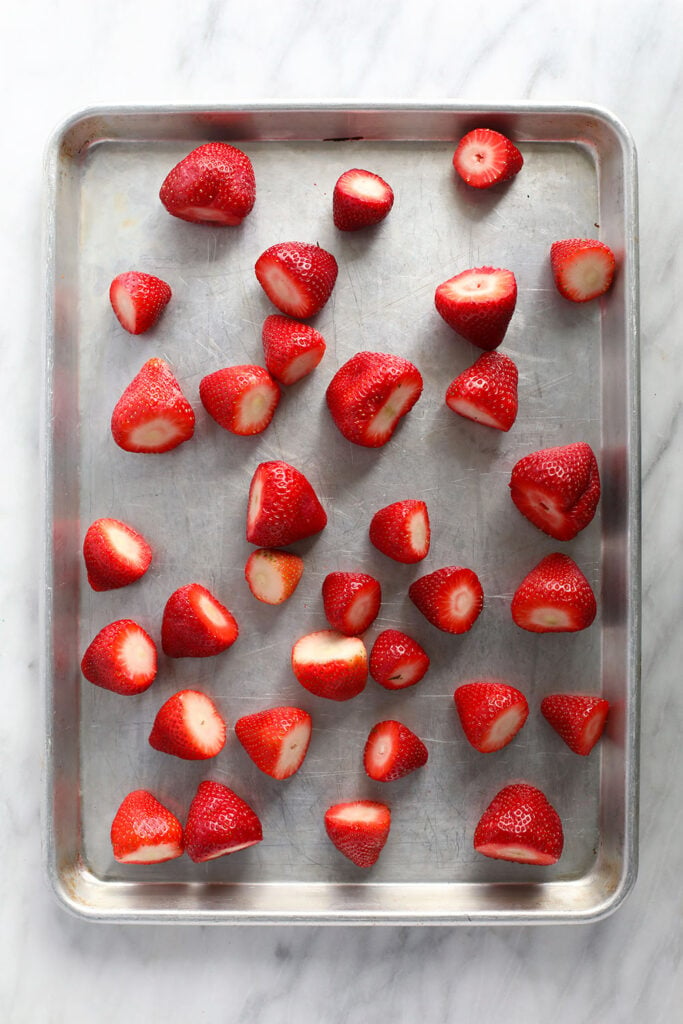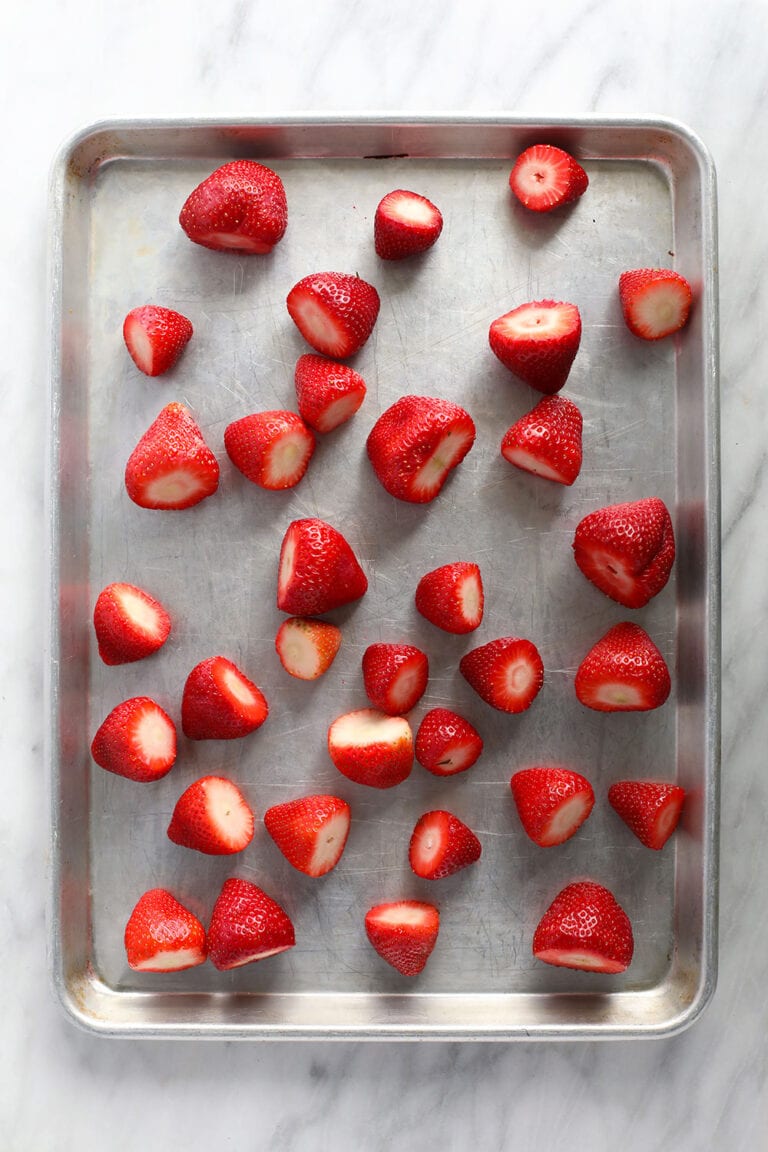 Store them in a freezer bag
Remove the strawberries from the freezer and place them in a freezer safe bag and place them back in the freezer for easy access to delicious strawberries all year round!
How Long Do Frozen Strawberries Last?
Frozen strawberries can last up to 12 months in the freezer if they aren't thawed out multiple times!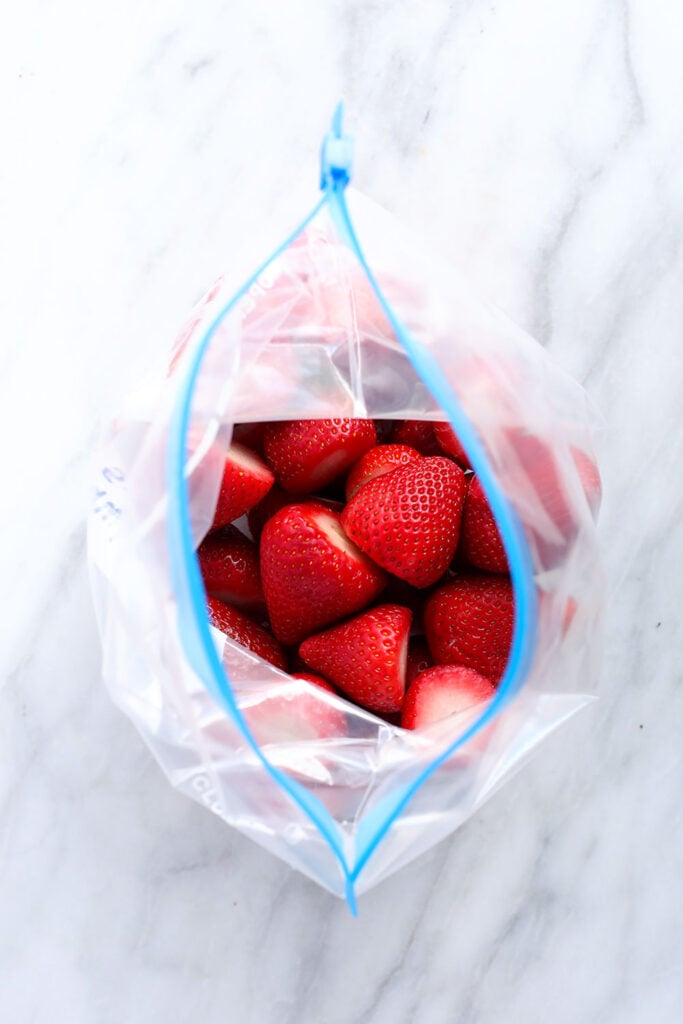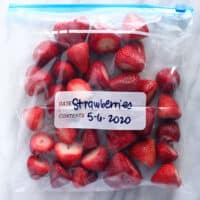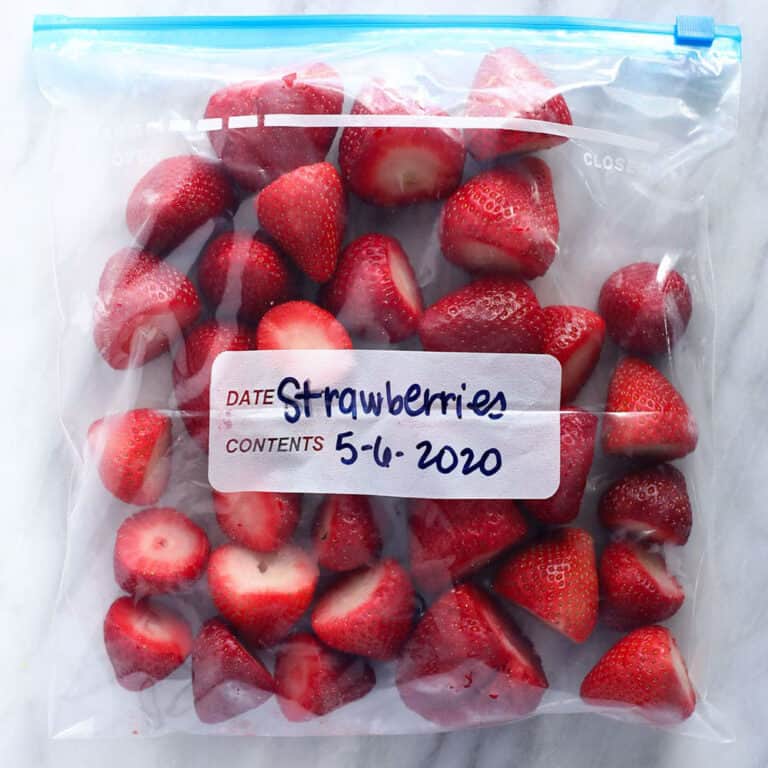 How to Freeze Strawberries
Freeze fresh strawberries at home for easy access to delicious strawberries all year round! 
Ingredients
1

lb.

fresh whole strawberries
Instructions
Prepare a baking sheet by laying a piece of parchment paper flat onto a baking sheet.

Next, remove the green top from each strawberry and rinse the strawberries under cold water. 

Pat the strawberries dry and place them on the parchment paper. Make sure all strawberries are laying flat and not touching each other.

Place into the freezer for at least 30 minutes or until strawberries are hard and completely frozen.

Remove from the freezer and use a spatula to scrape frozen strawberries off of the baking sheet.

Place strawberries into a freezer safe bag. Remove all air from your freezer safe bag and seal tightly.

Finally, store the strawberries in your freezer for easy access to frozen bananas throughout the week.
Nutrition facts
Calories:
36
kcal
Carbohydrates:
9
g
Protein:
1
g
Fat:
0
g
Fiber:
2
g
Sugar:
6
g