Wondering how to freeze blueberries? In this post, we're giving you a quick tutorial for freezing blueberries! Use them in smoothies, pies, or baked goods.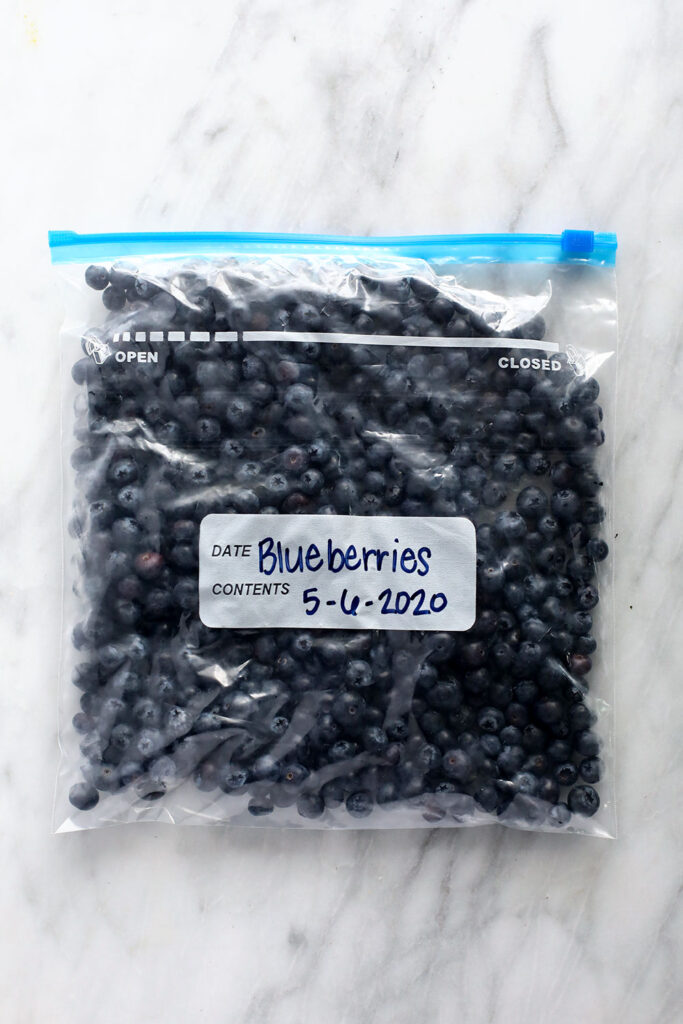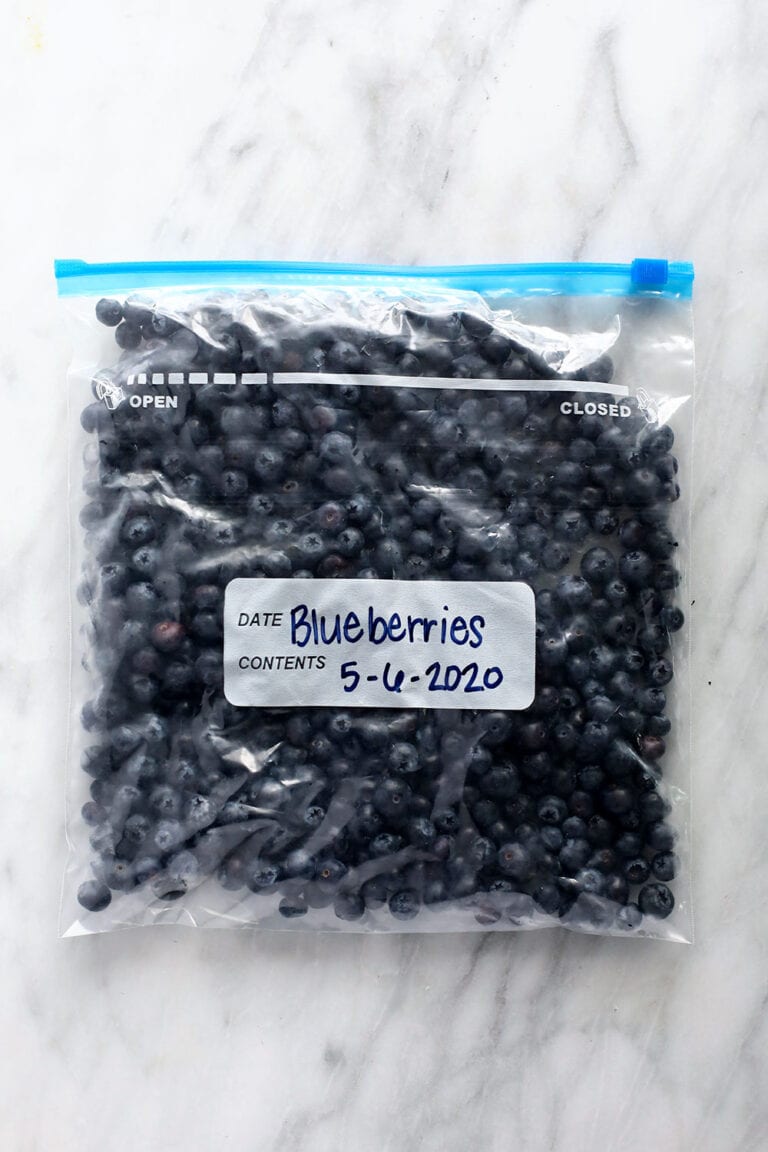 Whether you got a stellar deal on blueberries at the grocery store or farmers' market or grow your own blueberries, freezing them is super simple!
We love having frozen blueberries on hand for easy access to smoothies and baking. While you can buy pre-frozen blueberries, freezing fresh blueberries is 100x better!
In this post, we're teaching you how to freeze fresh blueberries, how to thaw them, and ways to use them. Enjoy!
Why you should freeze your blueberries
It's no secret we love blueberries here at Fit Foodie Finds. We use them in healthy desserts, m, and everything in between. Here's why you should freeze them:
Save Money: during the summer months, fresh blueberries can be as low as $1/pint. Buy then while they are cheap and save money year-round!
Easy Access: no food in the fridge? Stock your freezer with frozen blueberries for easy access to smoothies and baking
Kitchen Tools For Freezing Blueberries
Here's what you need in order to freeze fresh blueberries:
How to Freeze Blueberries (step by step)
STEP 1: PREPARE A BAKING SHEET
You don't want to pour your fresh blueberries directly into a freezer-safe bag before freezing because you'll end up with one giant clump of blueberries all frozen together. Speaking from experience here.
So, start with a clean baking sheet with at least a 1/2-inch. lip to ensure your berries don't spill all over your freezer.
STEP 2: PREPARE AND WASH BLUEBERRIES
It's time to wash those berries to make sure they're all clean and free of dirt and germs before freezing.
Place blueberries into a strainer. Then, run cold water on top of them. Remove any stems that were missed when they were packaged. Next, discard any overly ripe blueberries.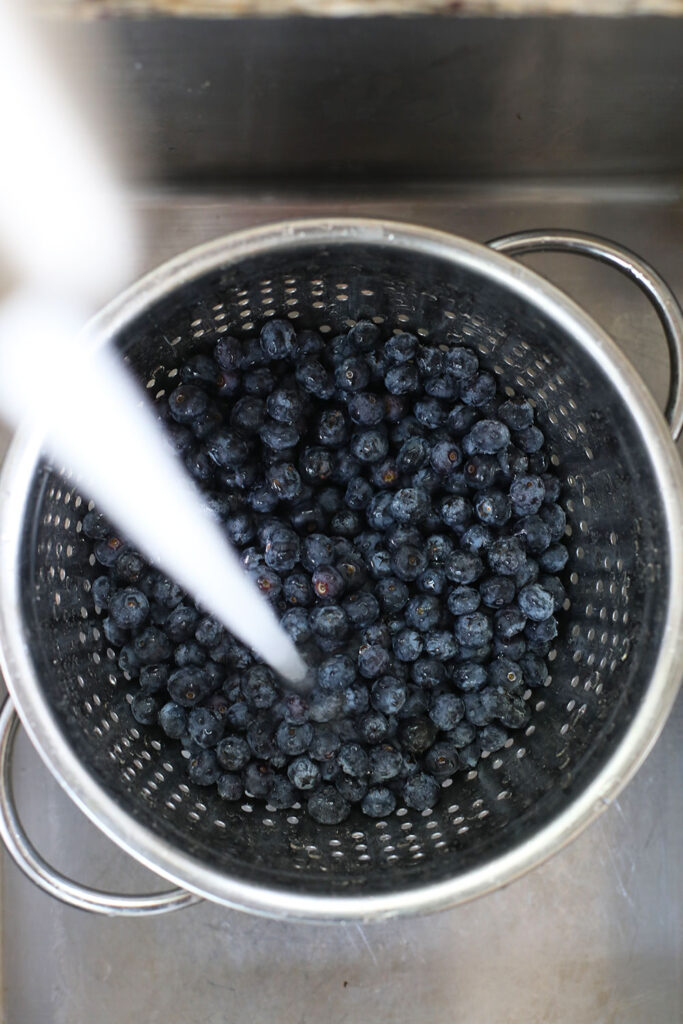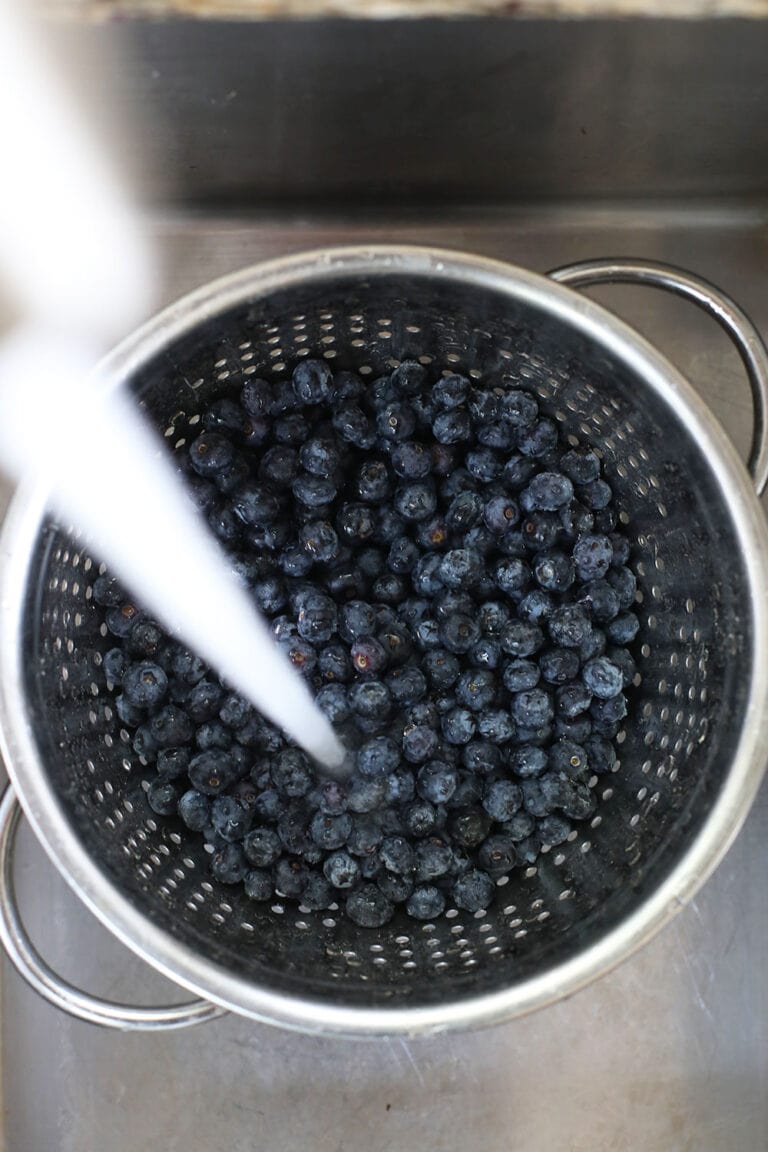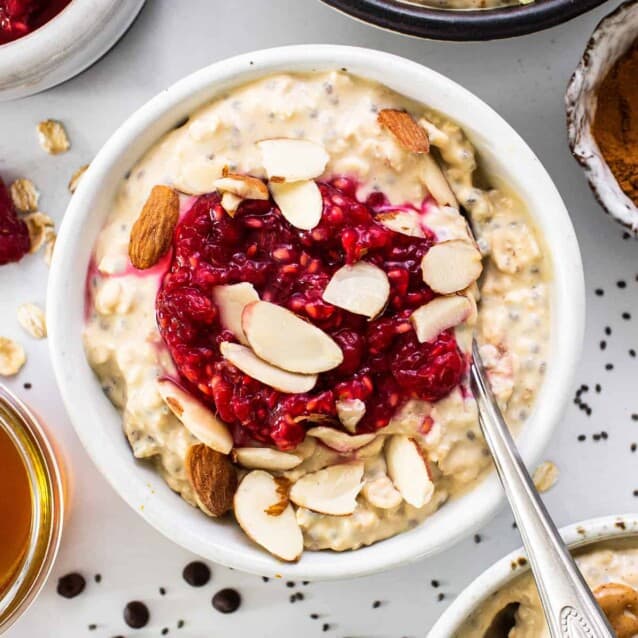 Need Breakfast Inspo?
Subscribe to our emails and get all of our best breakfast recipes straight to your inbox.
STEP 3: LET BLUEBERRIES DRY
Once the berries are washed and prepared, make sure to let them dry FULLY on paper towels (or darker dish towels you don't mind coloring bleeding from the juicy blueberries!) before placing them on a baking sheet to freeze.
This will ensure your berries don't carry that extra water with them in the freezing process, which can cause freezer burn!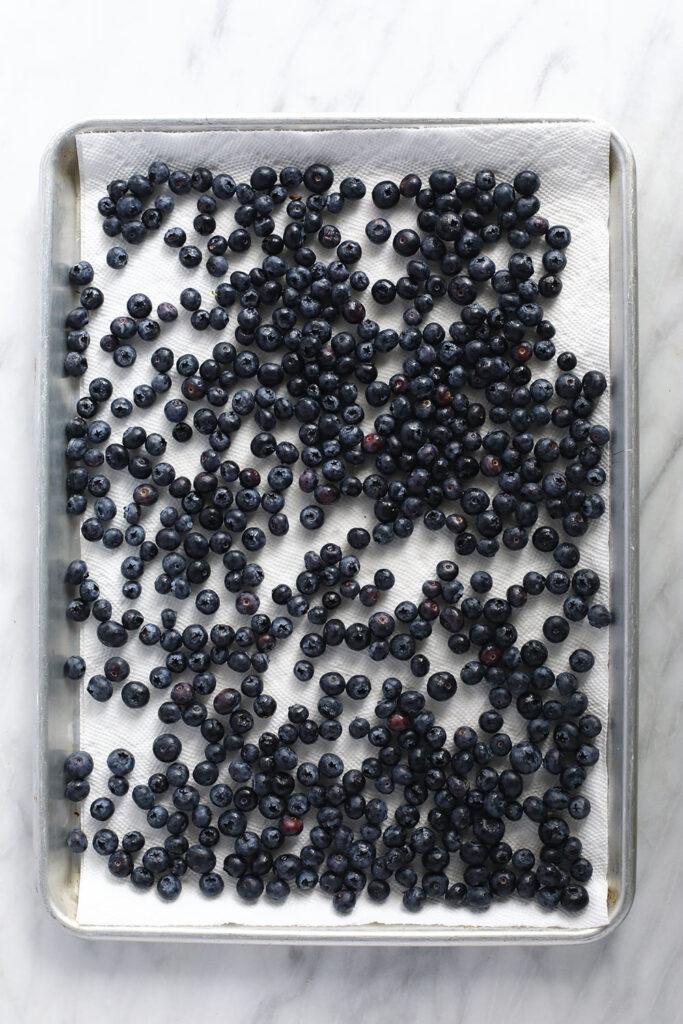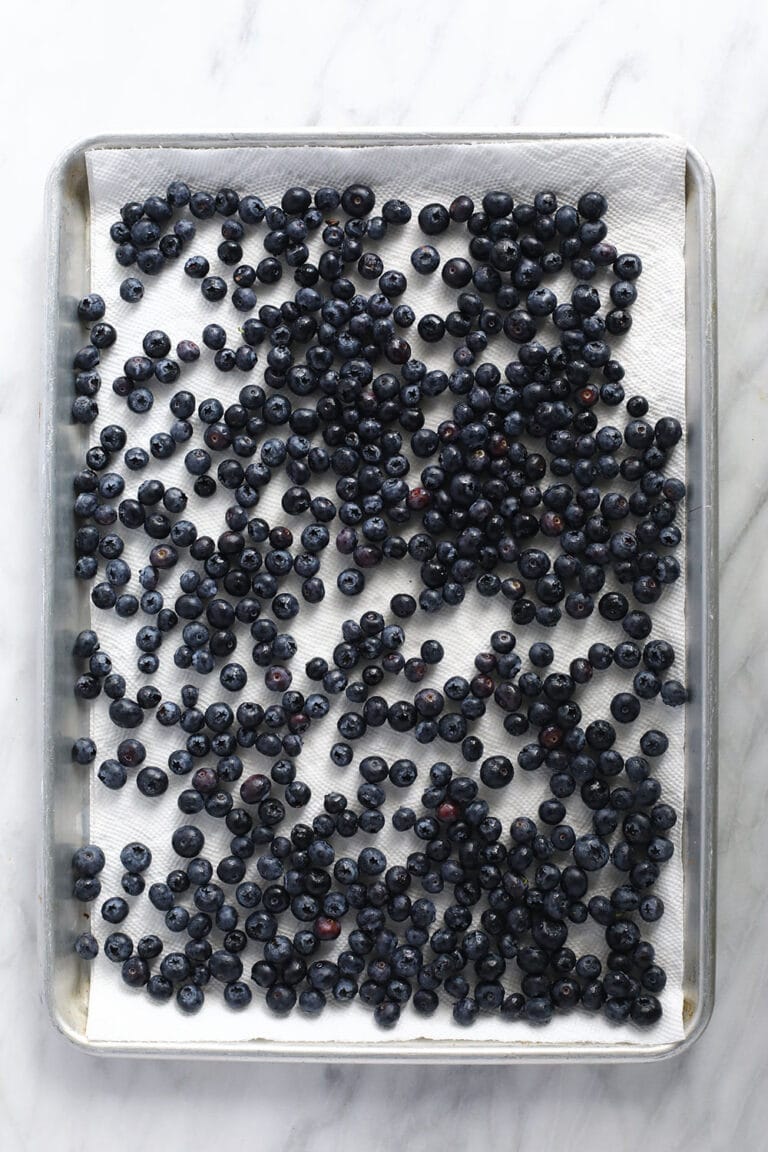 STEP 4: FREEZE BLUEBERRIES ON A BAKING SHEET
Place your blueberries on a baking sheet, spreading them out evenly. This will ensure each of your beautiful little blueberries freezes individually instead of together with the berries touching each other.
Place the baking sheet in the freezer for at least 30 minutes, or until all the berries are completely frozen. Because blueberries are a smaller berry, they won't take as long to freeze as blackberries or whole strawberries.
STEP 5: TRANSFER TO FREEZER-SAFE CONTAINERS
Lastly, remove the baking sheet from the freezer and use a spatula to remove the blueberries from the baking sheet if any have frozen to it. Immediately place your frozen berries into a freezer-safe bag, remove air from the bag or container as much as possible, seal, and place in the freezer for easy access to perfectly frozen berries any time!
Feel free to use Ziploc bags, Stasher bags, or glass or plastic meal-prep containers for storing the berries in the freezer.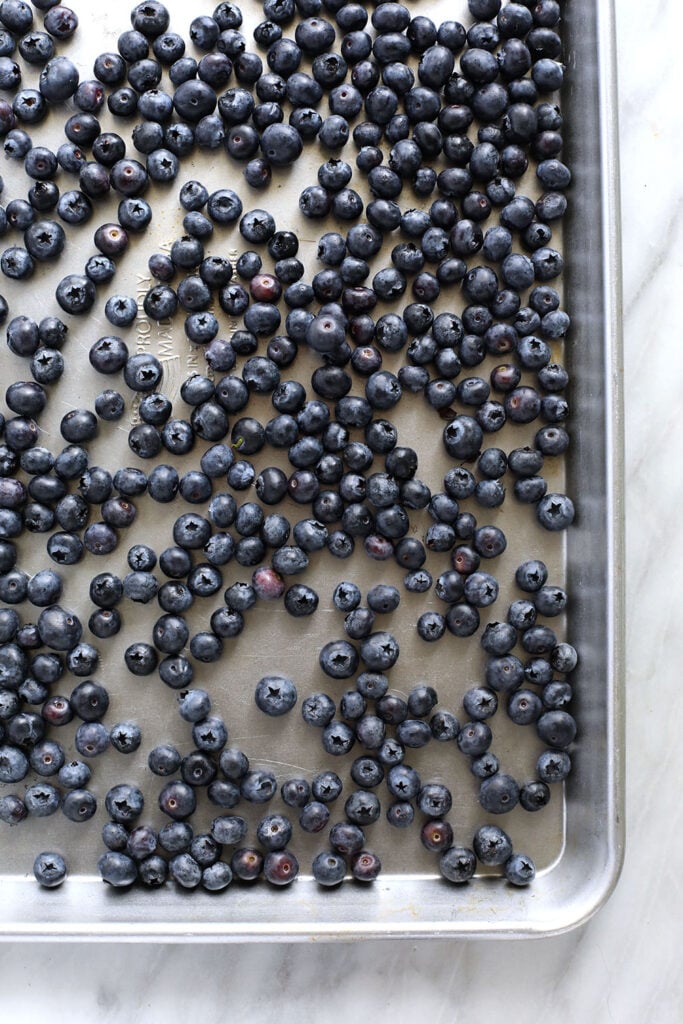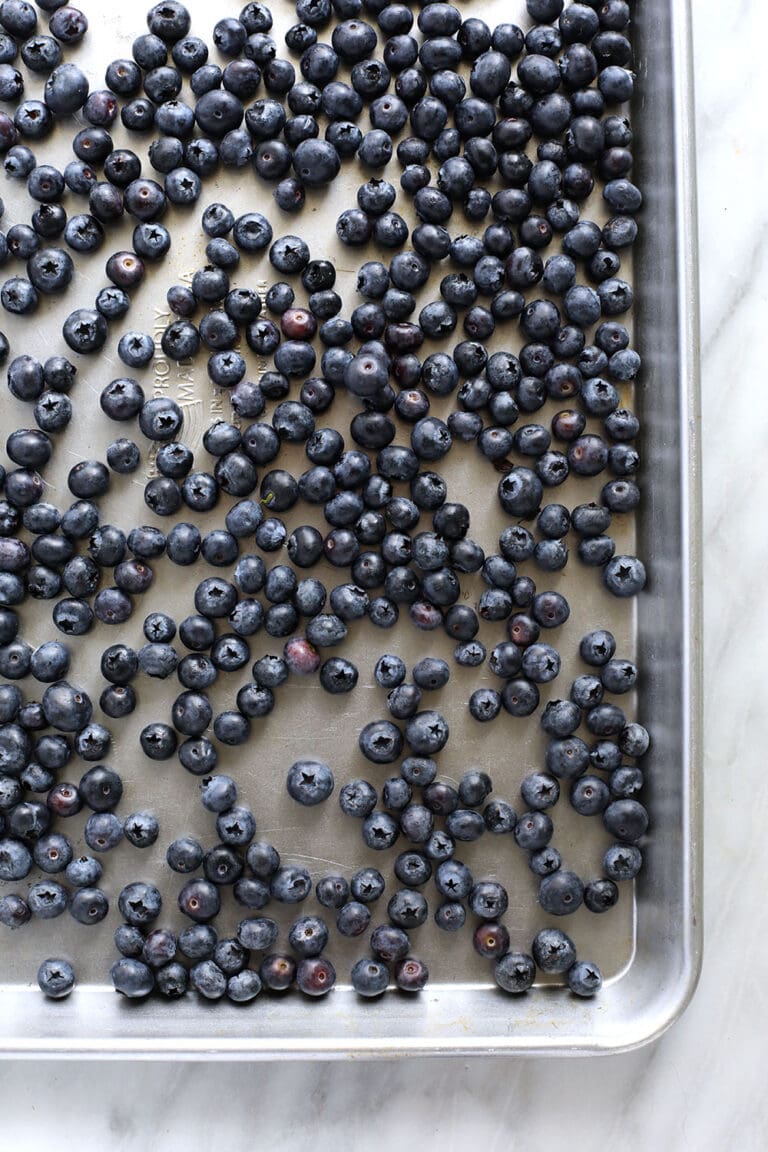 How to Thaw Frozen Blueberries
Thawing frozen blueberries is super simple. Here's how to do it:
Remove blueberries from freezer.
Break blueberries up by squishing the bag.
Line a baking sheet with paper towel and then pour the frozen blueberries onto the paper towel.
Let sit in the countertop for around 30 minutes to thaw.
PS: some recipes such as smoothies or nice cream don't even need to be thawed! You can even get away with using frozen blueberries in muffins. So, keep that in mind.
How to Use Frozen Blueberries
Now, there are endless ways to use frozen blueberries! So, don't you worry if you're at a loss for ideas.
Blueberry Crisp: Our blueberry crisp is perfectly sweet and has the most amazing golden brown and buttery topping.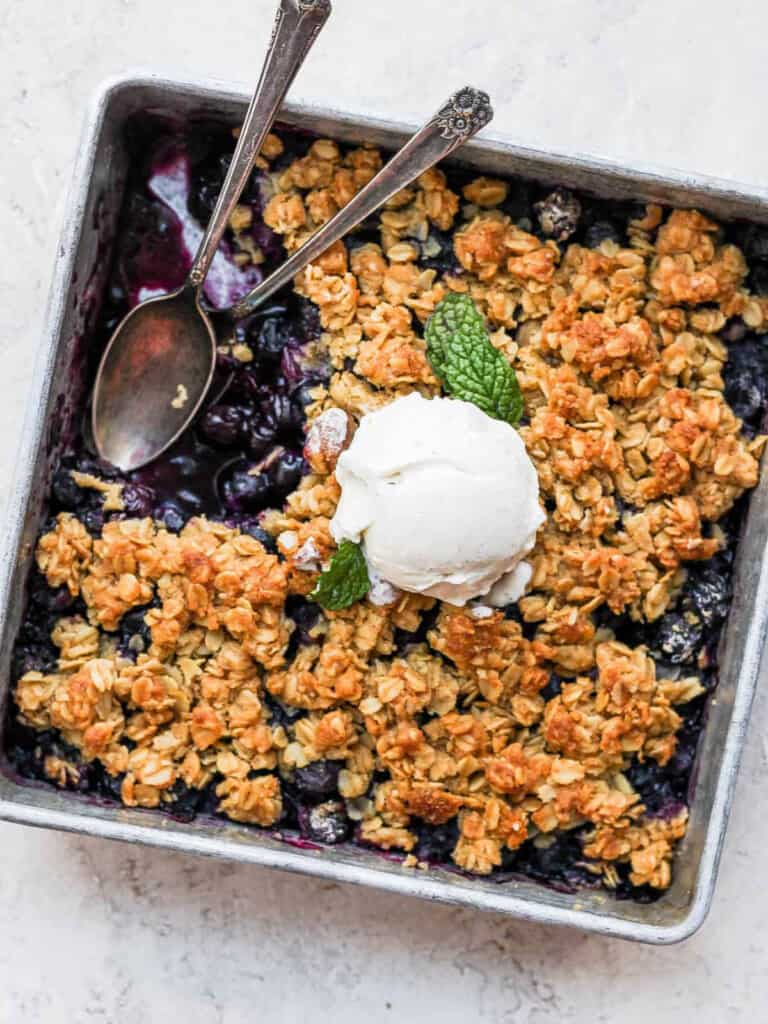 Smoothies: Smoothies are our go-to when it comes to frozen blueberries. They're ready in 5 minutes and blueberries add a delicious natural sweetness. Here are some of our favorites: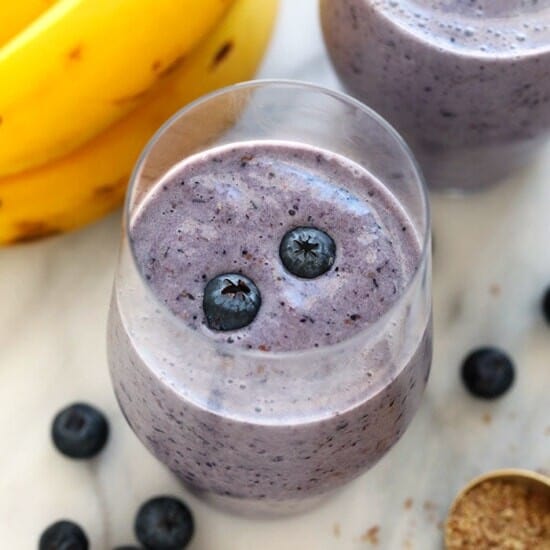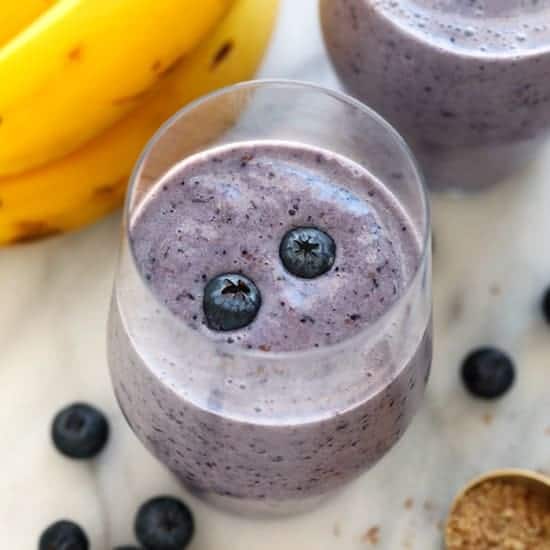 Try it!
Blueberry Banana Smoothie
This blueberry banana smoothie is thick, healthy, and perfect for a quick breakfast or a tasty snack
Get Recipe
Blueberry Muffins: There's nothing better than a blueberry muffin. Our recipe is naturally sweetened and so yummy.
Blueberry Banana Bread: Frozen blueberries are an easy addition to any banana bread recipe. Try our blueberry banana bread. You'll love it.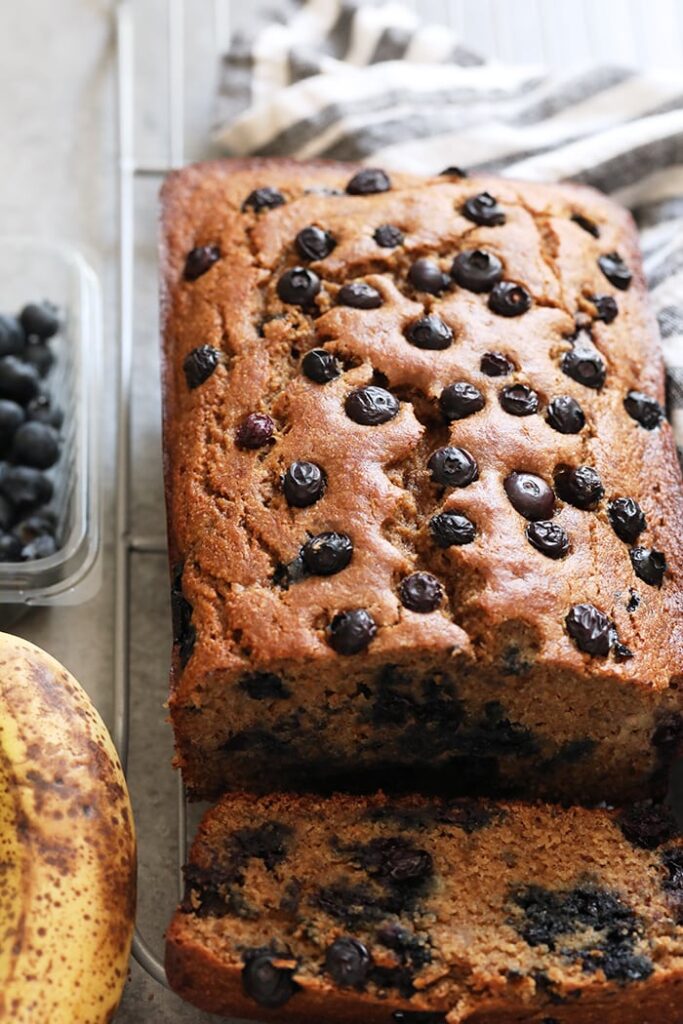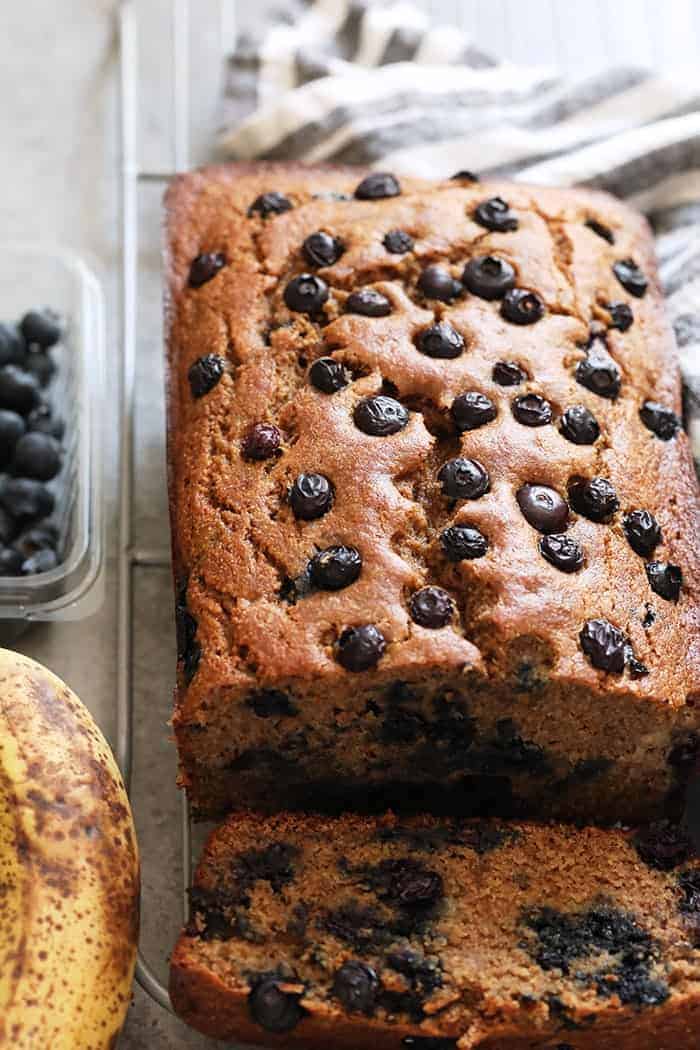 Blueberry Pancakes: add blueberries to your next pancake batter or top them with it! Try our blueberry protein pancakes recipe.
Blueberry Crumble Bars: You seriously can't go wrong with our Blueberry Crumble Bars. The main ingredient is blueberries!
Blueberry Muffin Banana Soft Serve: blend up your frozen blueberries with frozen bananas to make this vegan frozen treat.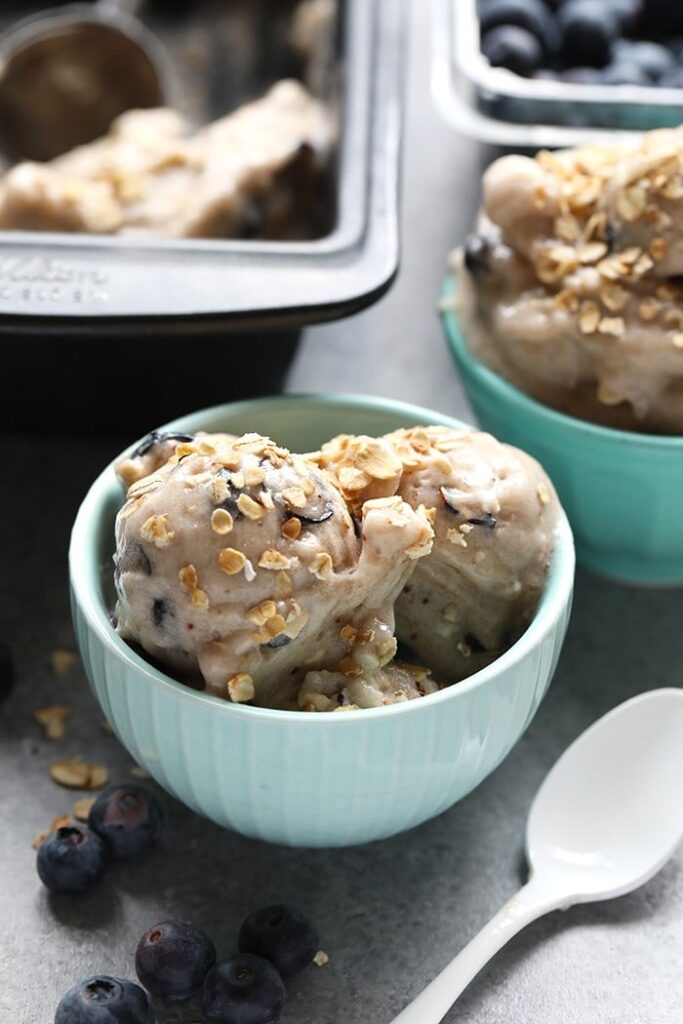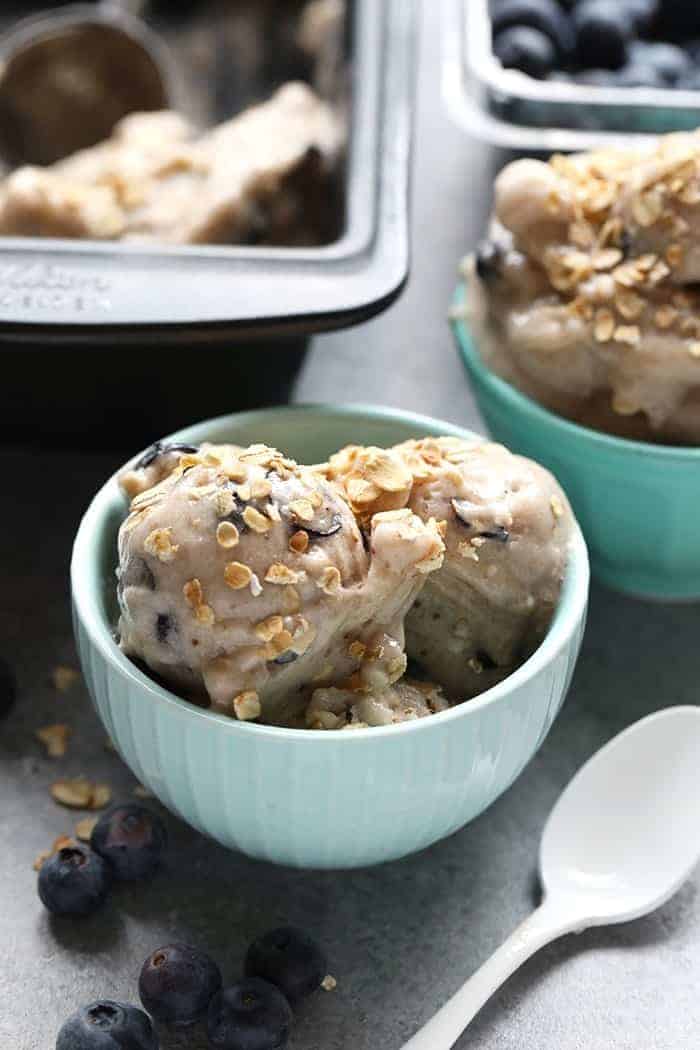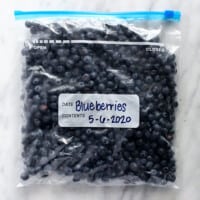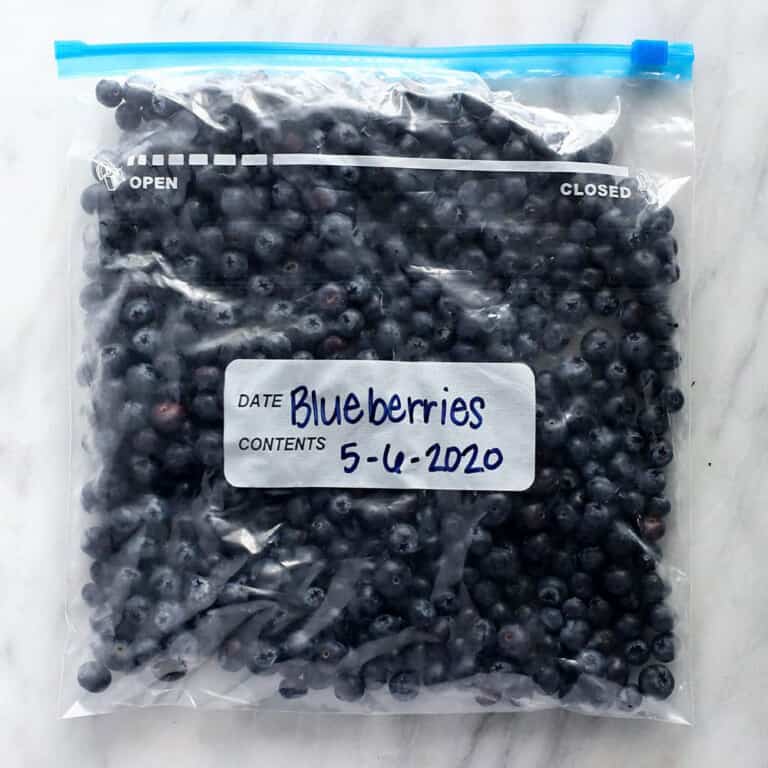 How to Freeze Blueberries
A super simple tutorial for how to freeze blueberries. Frozen blueberries are great for smoothies, baking, and desserts!
Ingredients
1

pint

2 cups blueberries (or more)
Instructions
Prepare a baking sheet (with at least 1/2 in. lip) by laying a piece of parchment paper flat onto the baking sheet.

Wash berries with cold water or fruit wash, and transfer them onto paper towels and allow them to dry completely.

Once dry, prepare berries by removing stems, leaves, and any overly ripe berries.

Transfer berries onto the baking sheet, making sure to spread them out evenly. It's best if the berries are not touching one another so that they don't freeze together.

Freeze for around 30-60 minutes or until berries are hard and completely frozen.

Remove from the freezer and use a spatula to scrape frozen berries off of the baking sheet.

Transfer blueberries into a freezer-safe gallon-size bag. Remove as much air from the bag as possible and seal tightly.

Store berries in the freezer for easy access to smoothies and baking for up to 3 months.
Tips & Notes
Feel free to freeze as many pints of blueberries as you wish.
Nutrition facts
Calories:
42
kcal
Carbohydrates:
11
g
Protein:
1
g
Fat:
0
g
Fiber:
2
g
Sugar:
7
g