There is nothing like a big mug of hot apple cider. Make yourself a cup of homemade apple cider this season and make it in the Instant Pot!
If you are in the mood for more hot drinks, give our vegan chai hot chocolate or this spiced raspberry mulled wine recipe a try!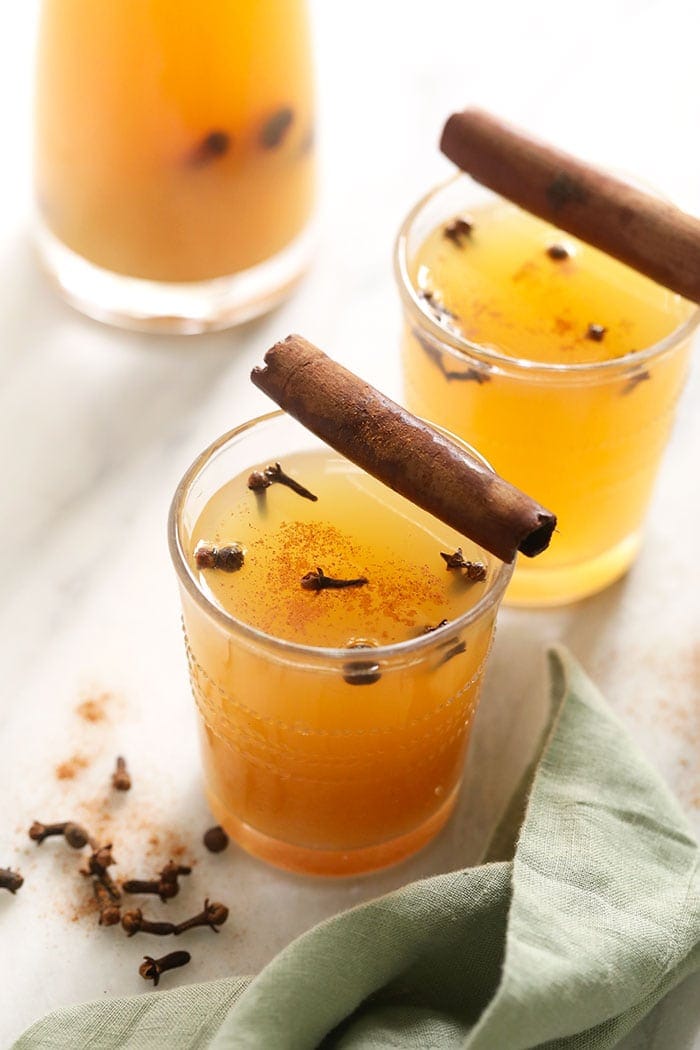 The Best Fall Drink
If you're like me, when the leaves start turning color and you have to put on your first pair of wool socks, it's APPLE CIDER TIME. We have so many amazing apple orchards here in Minnesota, so great apple cider is always available at every coop in town.
I recognize that not everyone has access to fresh apple cider, but that doesn't mean you can't enjoy your very own mug of homemade apple cider.
Today we are introducing this Instant Pot Apple Cider. Making homemade apple cider in the Instant Pot is so easy!
Here's What You'll Need
Fresh Apples- It doesn't matter what kind of apples you use! We love to use a mixture of sweet and tart apples, but we vote no apple left behind. Use what you have or what is on sale!
Fresh Orange and lemon- A little citrus goes a long way in apple cider. It helps preserve the apple cider as well as offers a little extra tartness to apple cider.
Warming Spices- Warming spices include spices like cinnamon sticks, whole cloves, whole allspice, nutmeg, and cardamom. When these spices are pressure cooked in this apple cider, it deepens the delicious apple cider flavors we all love.
Natural Sweetener (we used maple syrup and a little coconut sugar)- Feel free to use your favorite natural sweetener. We thought maple syrup complimented apple cider nicely!
Water- Water is the base of this recipe! Once everything as been pressure cooked in the Instant Pot the water will have soaked in all that delicious fruit, spices, and sweeteners.
Kitchen Tools You'll Need
There are a few tools you will need to gather before you make a batch of this homemade apple cider! Make sure you have everything you need before starting this recipe!
Instant Pot
Cheesecloth, fine mesh strainer, or a thin tea towel (we recommend a fine mesh strainer!)
Wooden Spoon, Potato masher
Pitcher or a large mason jar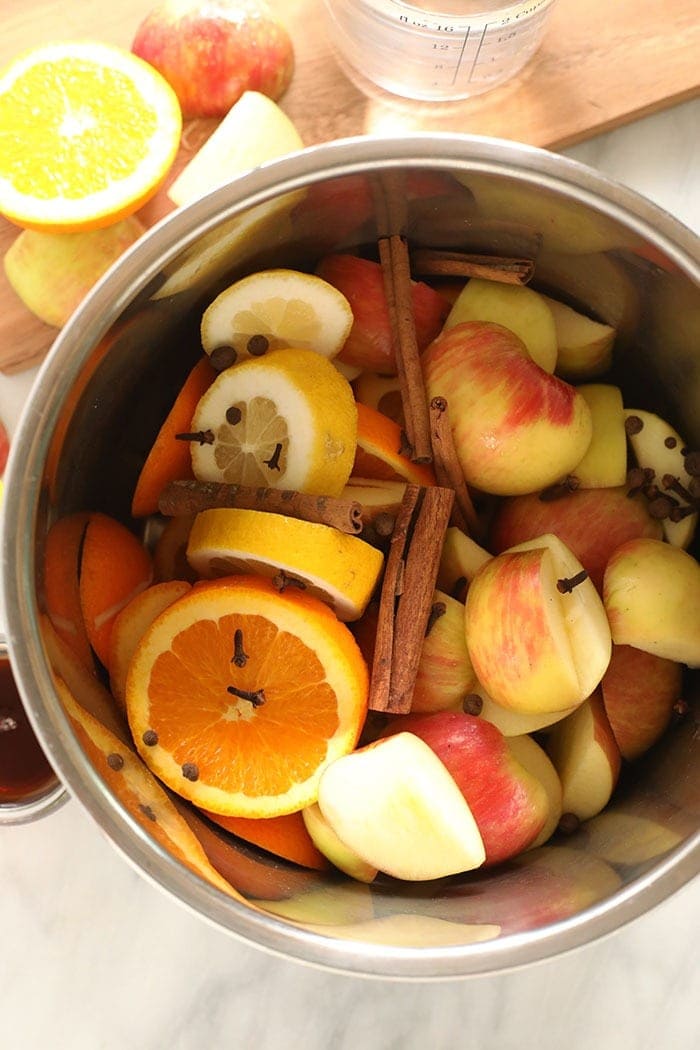 How to Make Homemade Apple Cider
Decide on Fruit. After you have decided what apples to use, decore the apples and places them into the Instant Pot. Then, slice up the orange and lemon and place them in the Instant Pot, too.
Add Warm Spices + Sweetener. Next, add cloves, allspice, cinnamon sticks, pumpkin spice seasoning, and sweeteners to the pot and mix well.
Cover with Water. Cover everything with water and cover the Instant Pot.
Cook. Next, seal the Instant Pot pressure valve. Cook apple cider on high for 20 minutes. Keep in mind that the pressure will take about 15-20 minutes to build before the timer will start.
When the cook time is over, quick release the pressure and uncover the Instant Pot.
Mash. Use a wooden spoon or a potato masher and mash up the cooked fruit and spices until it turns into applesauce like consistency. Let the apple cider sit for at least 30 minutes. The longer the better!
Strain. Once the apple cider has cooled, it's time to strain the liquid from the fruit. Use a fine-mesh strainer to strain the fruit from the liquid. Strain the liquid into a pitcher.
Enjoy. After you have strained the apple cider from the fruit puree, discard the fruit and place the cider in the refrigerator or serve hot and enjoy.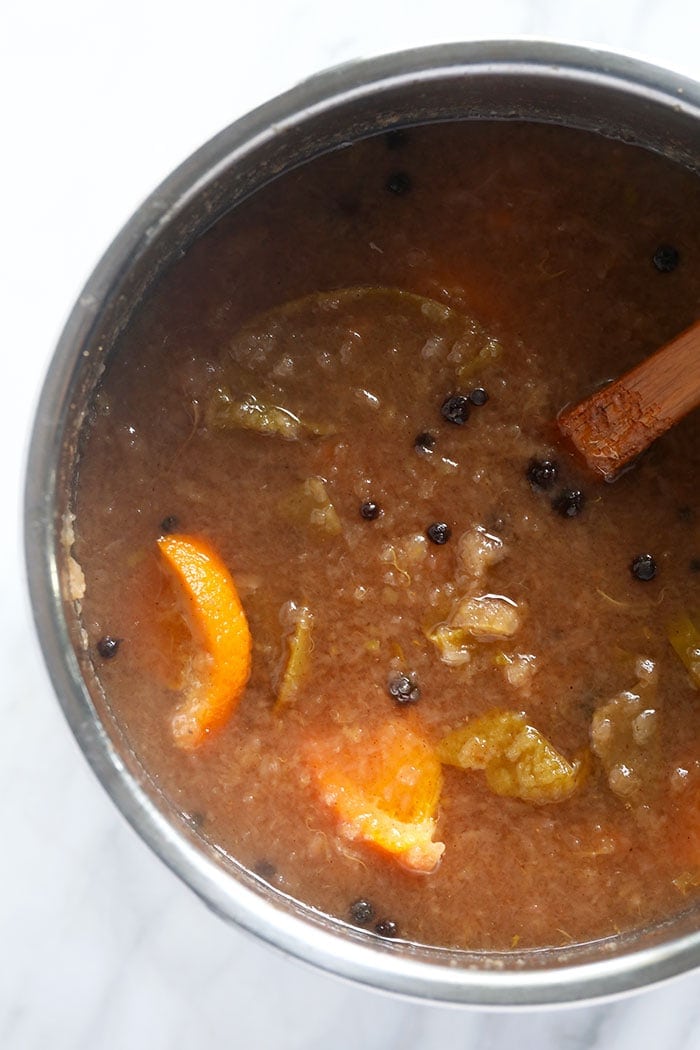 Hot Drink Recipes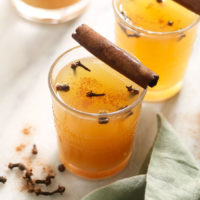 Instant Pot Homemade Apple Cider
There is nothing like a big mug of hot apple cider. Make yourself some homemade apple cider this season and make it in the Instant Pot!
Ingredients
14

apples

cored and quartered

1

large orange

sliced

1

lemon

sliced,

1/4

cup

maple syrup

1

tablespoon

whole cloves

1

tablespoon

whole allspice

1

tablespoon

pumpkin spice seasoning

1

tablespoon

coconut sugar

1

vanilla bean

1/8

teaspoon

salt

8

cups

water
Instructions
Place all ingredients in the Instant Pot.

Place the cover on the Instant Pot and turn the pressure valve to seal.

Set Instant Pot to high pressure and set the timer for 20 minutes (it will take the Instant Pot about 15 minutes to build pressure and for the timer to start since there is so much liquid).

Quick release pressure and uncover the Instant Pot. Use a potato masher or a big wooden spoon to mash up all the apples, oranges, and lemons.

Next, let the apple cider cool (that will take about an hour).

Once apple cider is cool pour the apple cinder through a small sieve, catching the apple cider in a large bowl or pitcher.

Taste test the apple cider and add in any additional sweetener if you would like.*

Place apple cider in the refrigerator and enjoy cold or hot!
Tips & Notes
* Add a teaspoon of maple syrup at a time until it reaches desired sweetness.