This hot chocolate combines a rich, decadent dark chocolate with a touch of sweetness from maple syrup, cocoa powder, and a finishing note of salt from sea salt. Curl up with a mug of this delicious maple sea salt hot chocolate.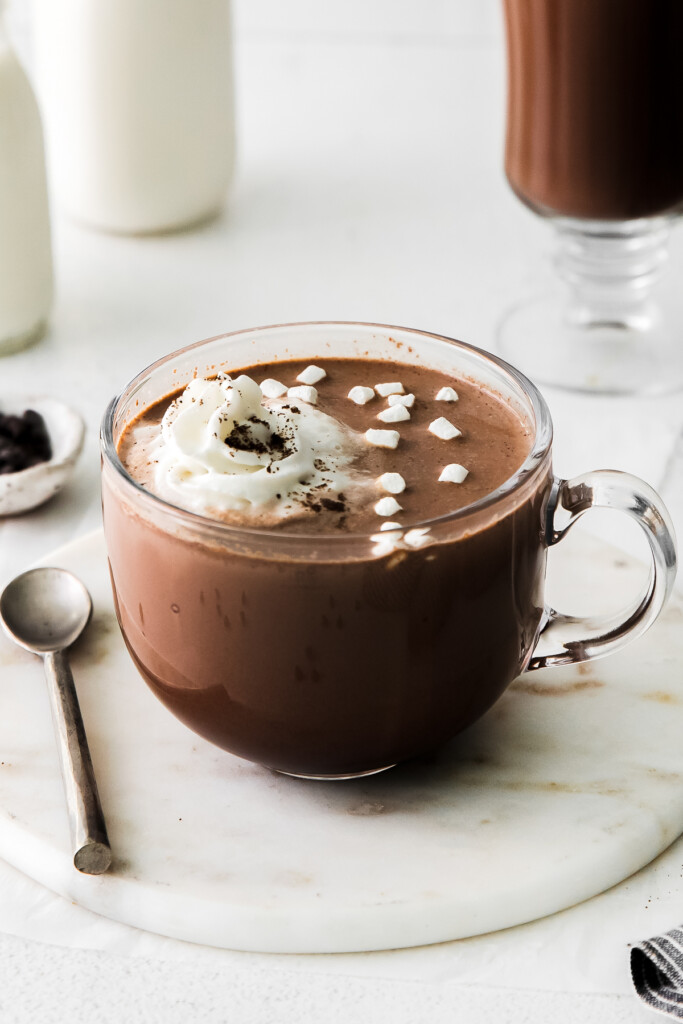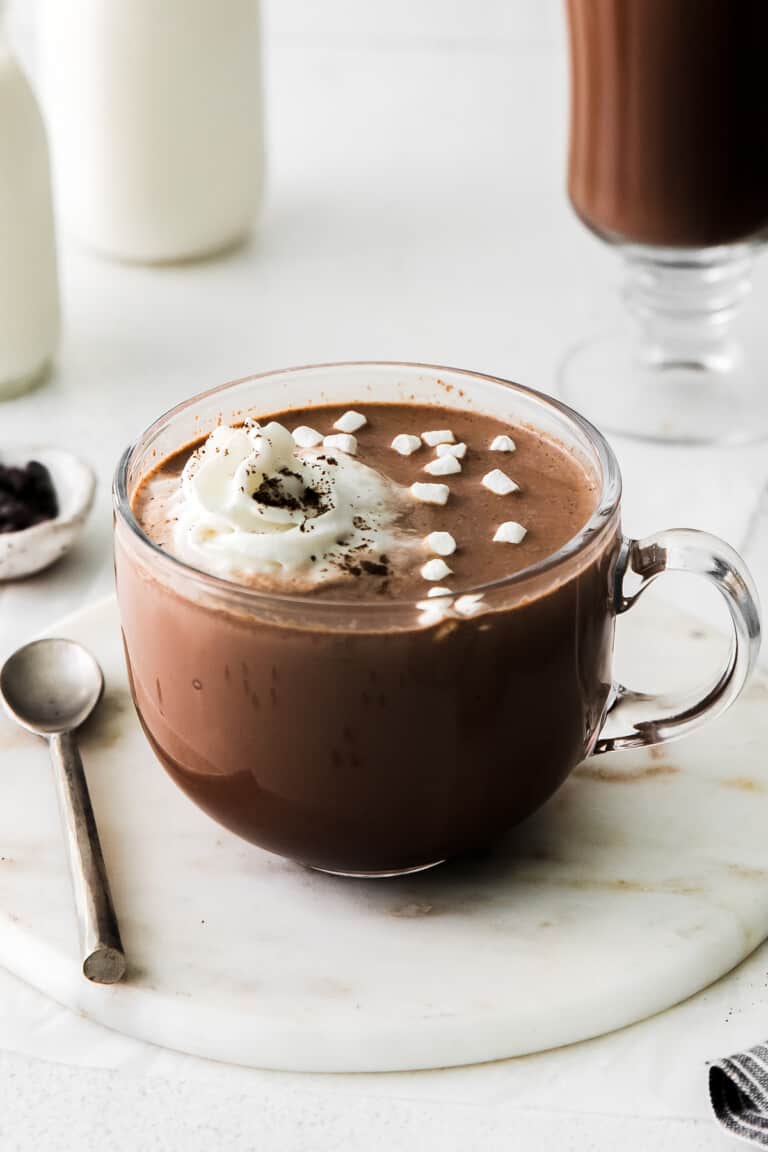 Maple Sea Salt Hot Chocolate
Forget the hot cocoa mix that comes in packets and make yourself homemade hot chocolate at home. This homemade hot chocolate recipe is perfectly sweet with maple syrup and topped with flaked a little bit of flaked salt.
Who doesn't love the perfect combination of sweet and salty? Make a big cup of these naturally sweetened hot cocoa when you're craving a sweet drink.
why we love this hot chocolate
You only need 5 ingredients.
This hot chocolate is ready in under 10 minutes.
There are not artificial sweeteners.
It's the perfect creamy and hot drink when it's cold out.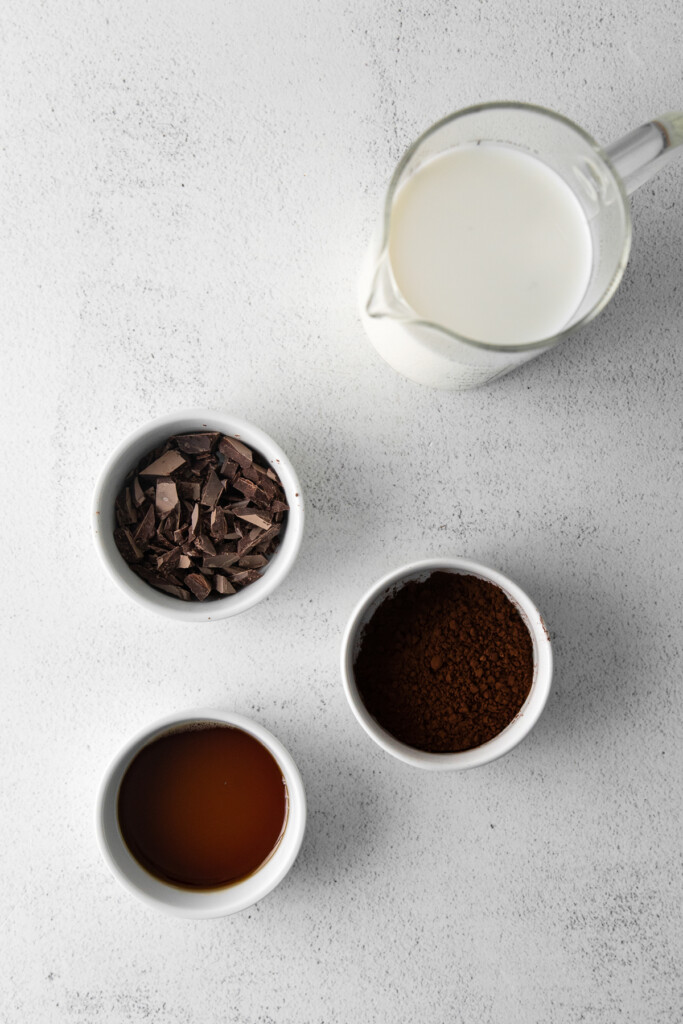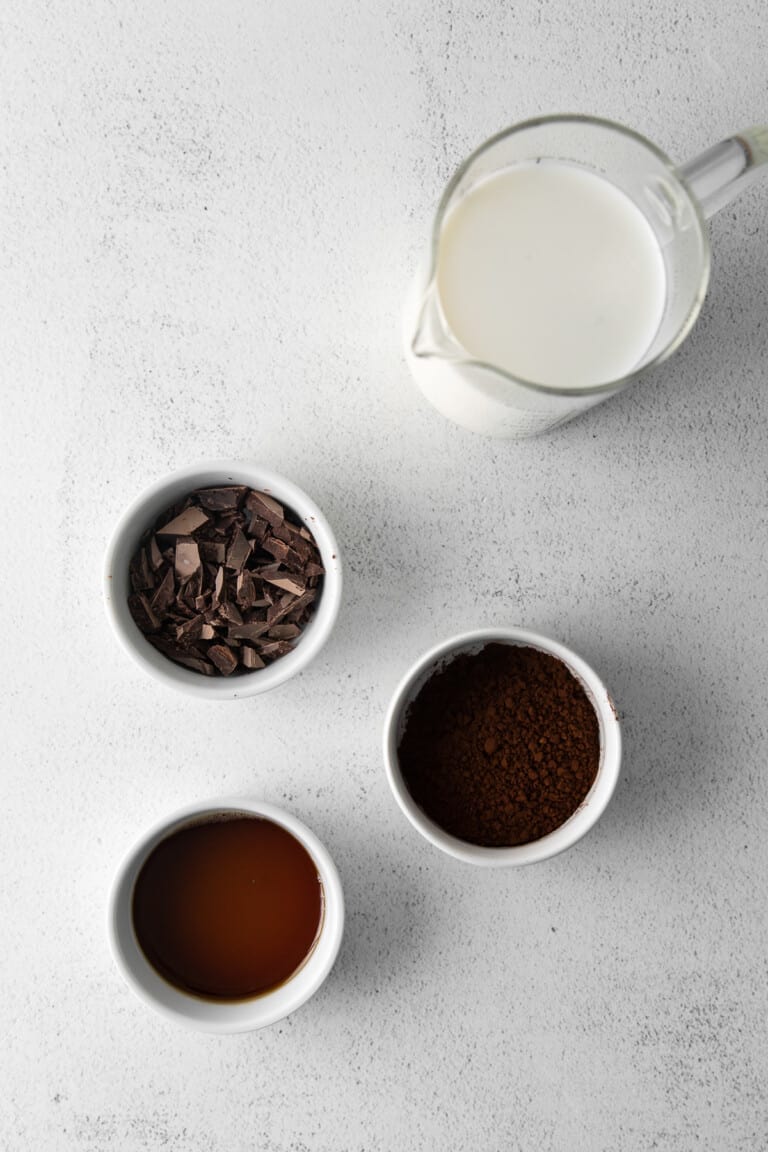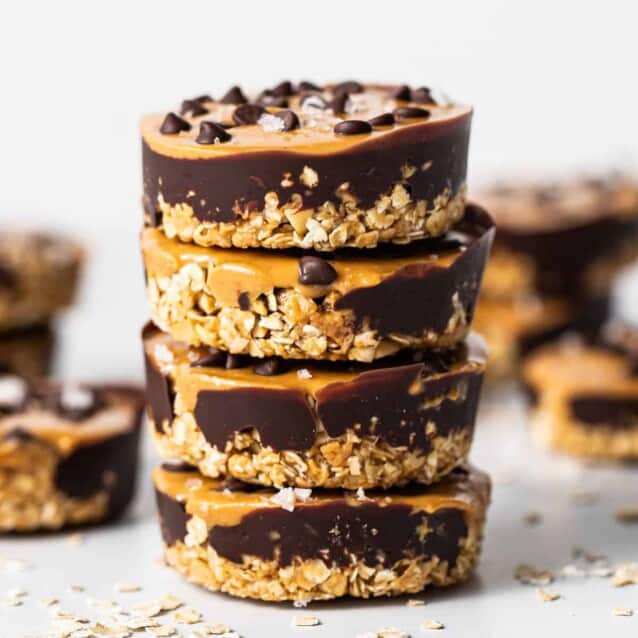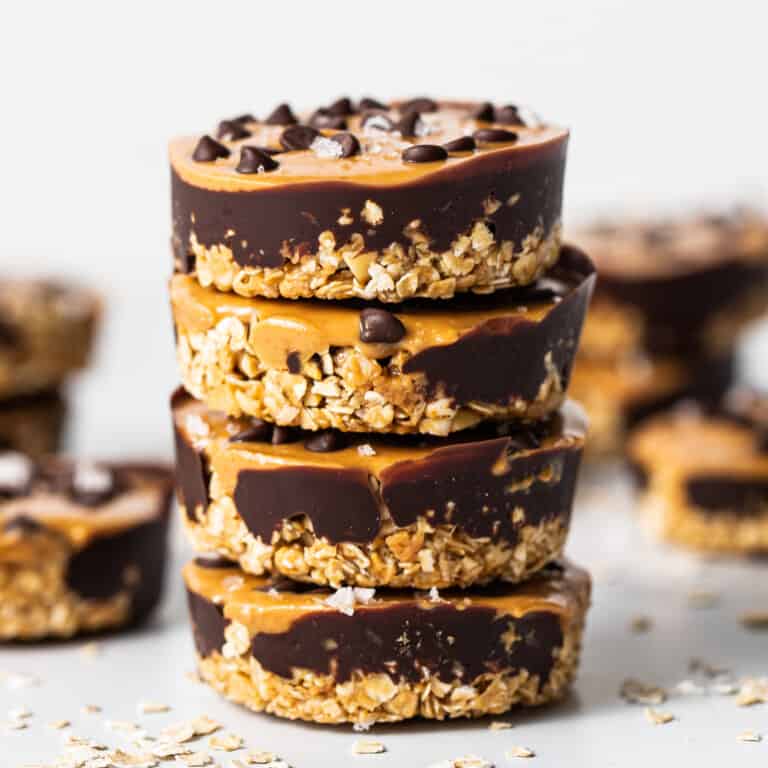 Subscribe!
Love desserts? Us too! Subscribe to our emails and get all of our best desserts straight to your inbox.
Ingredients You Need
You only need 5 ingredients to mix up this delicious hot chocolate. It is a simple recipe with simple ingredients.
Milk: We used unsweetened almond milk to make this hot chocolate. Be sure to used unsweetened milk so you can determine how sweet your hot chocolate is.
Dark chocolate: Get yourself high quality bittersweet chocolate or dark chocolate. The better the chocolate the better your hot chocolate will be.
Cocoa powder: This is another ingredient where the higher the quality, the better your hot chocolate will be.
Maple syrup: The sweetness to this hot chocolate comes from delicious maple syrup.
Sea salt: You add a little bit of sea salt to this hot chocolate for the perfect salty and sweet combination.
Ingredient Swaps
If you don't have all the ingredients on this list, there are some great ingredient swaps.
almond milk —> vanilla soy milk, oat milk, 2% milk
dark chocolate –> semi-sweet chocolate, milk chocolate, quality chocolate chips, or any chopped chocolate.
sea salt–> if you're not craving a salty hot chocolate try adding a tsp ground cinnamon instead. You can also add a teaspoon of vanilla instead.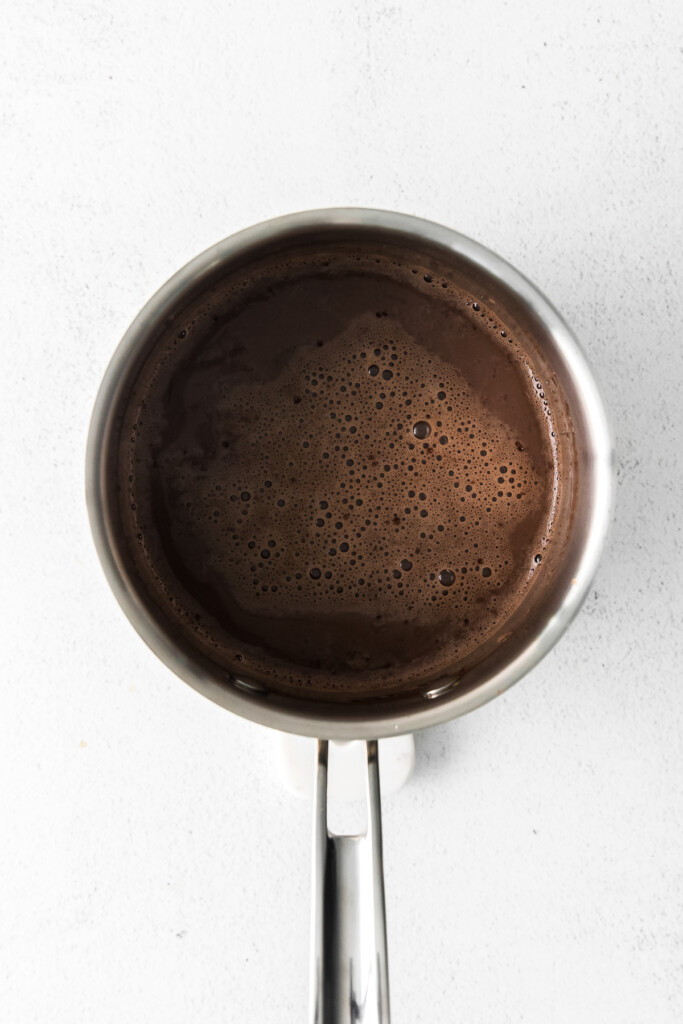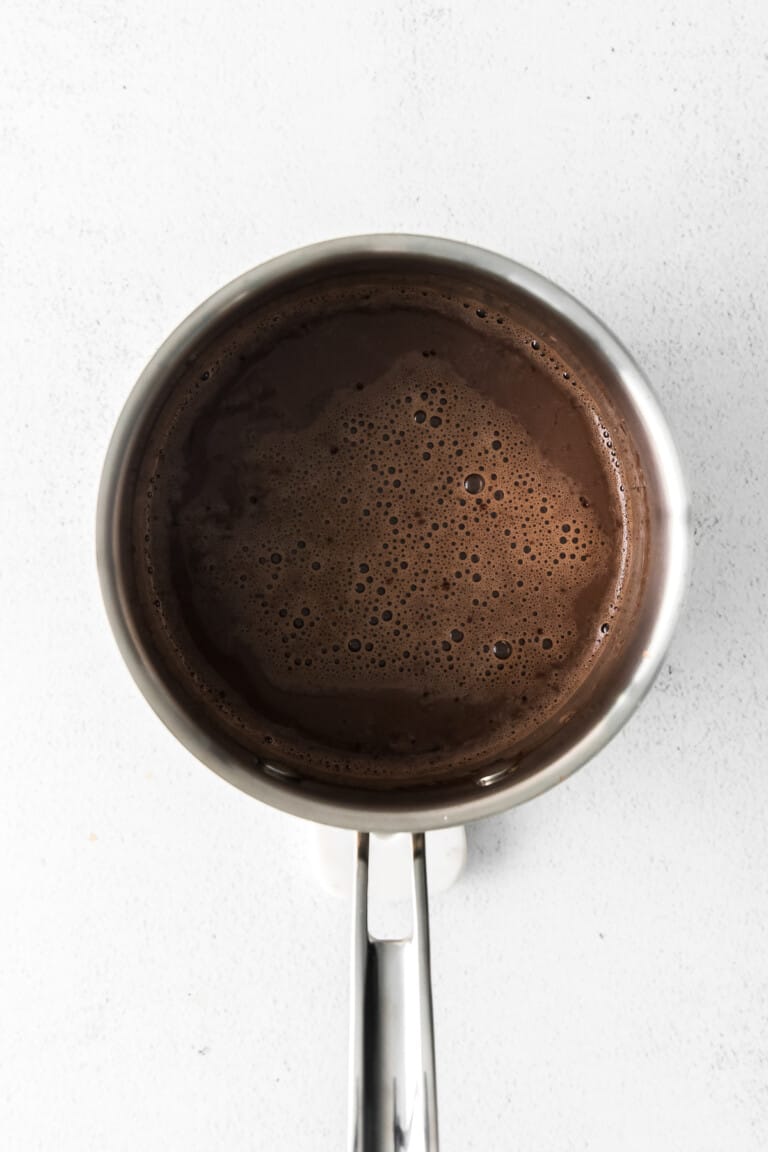 How to Make Maple Sea Salt Hot Chocolate
Warm almond milk. Add your almond milk to a saucepan and heat over medium heat. Be sure not to heat the milk over high heat or else the milk will burn.
Add other ingredients. Whisk the chopped chocolate, cocoa powder, and maple syrup together until the chocolate has melted and the ingredients are combined.
Heat the hot chocolate. Once all the ingredients are combined, heat them over medium heat until they come to a gentle simmer or the hot chocolate reaches your desired temperature.
Add toppings. When the hot chocolate is ready to serve, pour it into a mug and top it with whipped cream or marshmallows.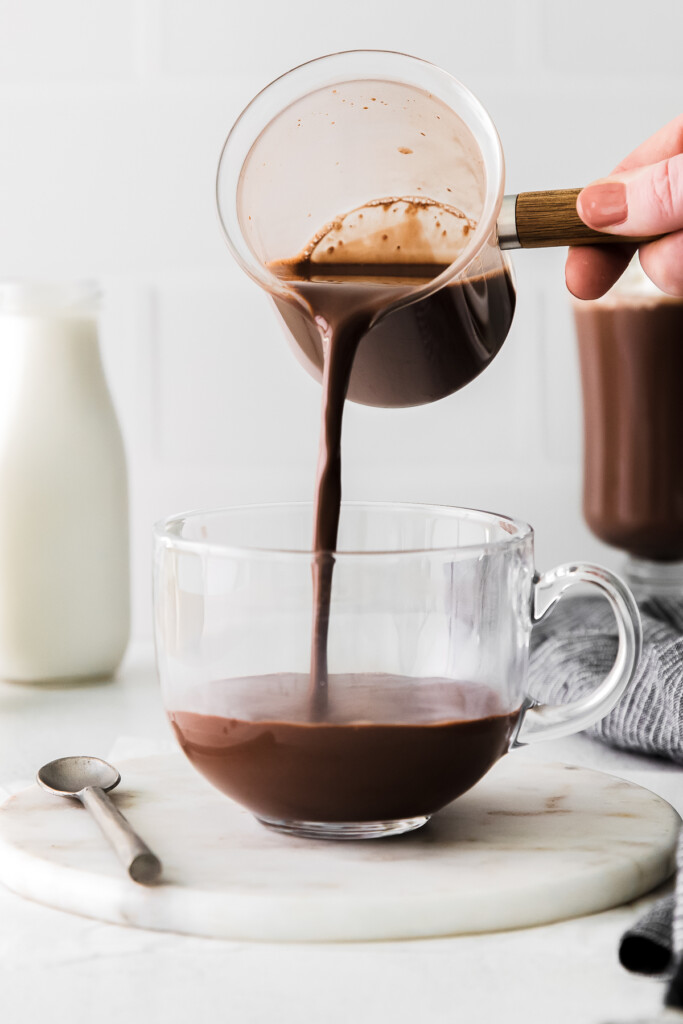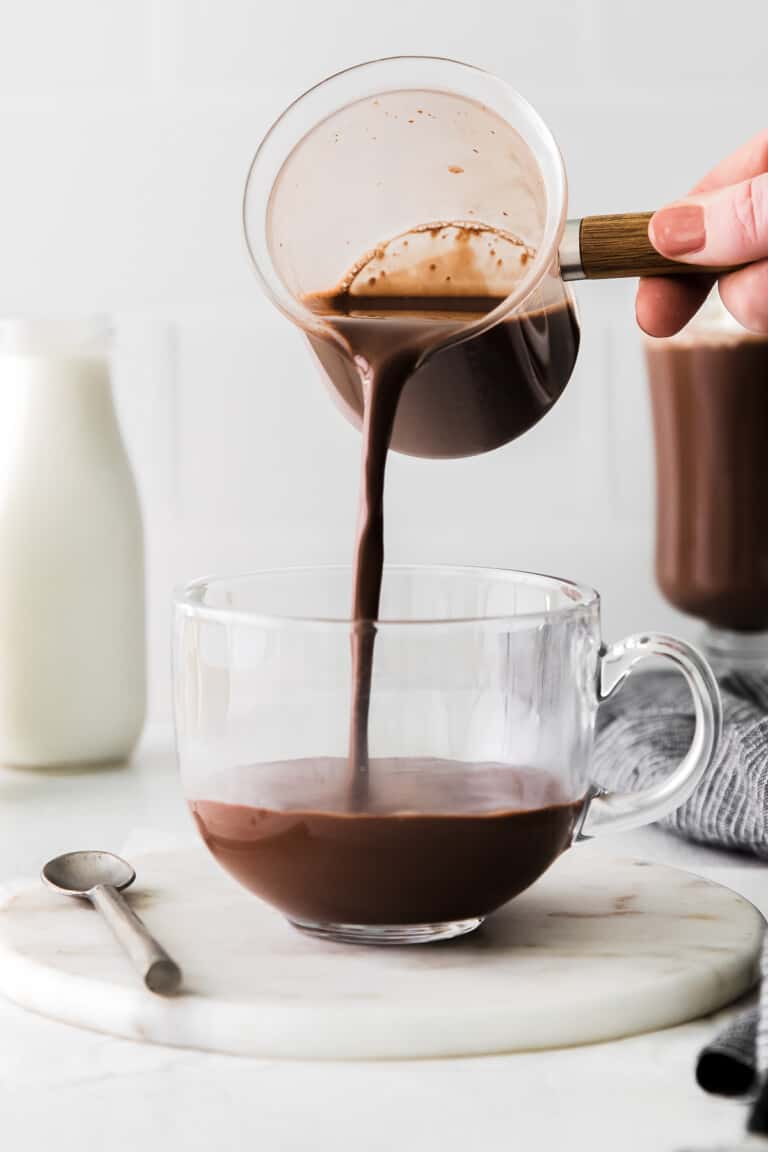 Flavor Variations
Add some spice. Have you ever heard of adding a little cayenne pepper to hot chocolate? It's divine. Add 1/4 teaspoon to the hot chocolate when you add the rest of your ingredients.
Make it richer. If you want a thick and rich hot chocolate use half and half or coconut milk instead.
Go with different toppings. If you are looking for an alternative to whipped cream or marshmallows try coconut whipped cream. You can also sprinkle bits of peppermint chunks, chocolate shavings, or even sprinkles.
fun ways to serve this hot chocolate
Add espresso. If you need a little caffeine add a shot of espresso. It's basically a mocha.
Serve it over ice. Feeling like you want a cold beverage instead? Pour cooled hot chocolate over ice and serve it as a cold beverage.
Storage
If you make a bit old batch of hot chocolate you can store it in an air tight pitcher or mason jar with a cover and reheat it when you are craving hot chocolate again.
How to Freeze Hot Chocolate
To allow your hot chocolate to last longer, pour the cooled off hot chocolate into ice cube trays and freeze them. Transfer the hot chocolate ice cubes to a plastic freezer bag.
To reheat the ice cubes add them to a small saucepan and heat them over low heat. Let them melt and then turn the heat to medium heat.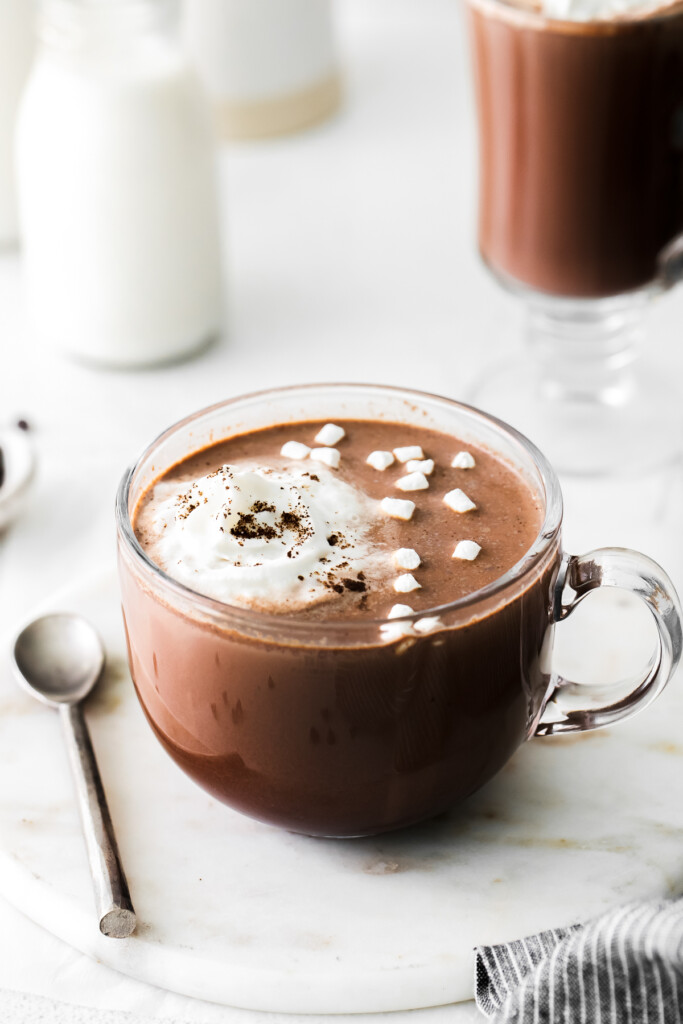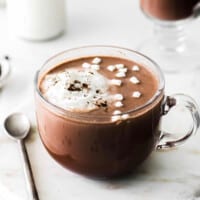 Maple Sea Salt Hot Chocolate
This maple sea salt hot chocolate is made with dark chocolate, cocoa powder, and milk. It is sweetened with maple syrup and sprinkled with delicious sea salt.
Ingredients
2

cups

milk

any kind (we used unsweetened almond milk)

1-

oz.

dark chocolate

3

tablespoons

cocoa powder

3

tablespoons

maple syrup

or more, to taste

pinch

of Himalayan sea salt
Instructions
Place almond milk into a small saucepan. Heat over medium/high heat.

Once warm, add dark chocolate, cocoa powder, maple syrup, and a pinch of sea salt. Use a whisk or handheld milk frother to mix until the cocoa powder is dissolved and combined.

Continue heating and whisking hot chocolate over medium/high heat until just before boiling. You want to make sure not to burn the milk, but that the dark chocolate melts and combines.

Once the dark chocolate has fully melted and the hot chocolate is hot, serve with your favorite whipped cream and enjoy!
Nutrition facts
Serving:
1
/2
Calories:
178
kcal
Protein:
4
g
Fat:
8
g
Sugar:
21
g