Say hello to the most delicious BBQ Chicken Salad. This salad is crunchy, tangy, and everything in between. BBQ chicken salad makes a great weeknight dinner or a great meal prep lunch for the week!
Looking for more healthy salad recipes? Check out this Buffalo Chicken Mason Jar Salad or this Simple Asian Salad!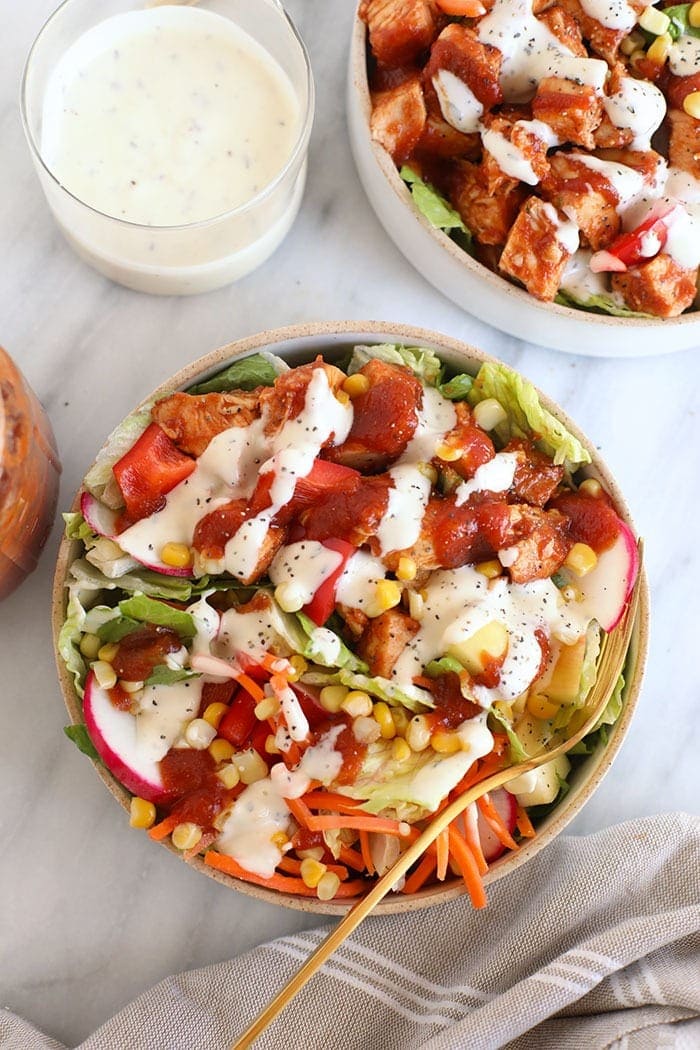 Make Life Easier
Life is all about balance. Do you feel me? Everything is moving a thousand miles an hour. Sometimes you have your schedule AND your family's whole schedule to manage and things can get crazy.
One thing you can't escape no matter how busy you are is food. Whether you eat to live or live to eat you need sustenance. I live to eat, but don't always have time to make my favorite elaborate meals. What's a girl to do?
I have learned to whip up meals with what we have in the fridge in a short amount of time as well as prep meals for the week that are easy AND flavorful (you can have both).
This BBQ Chicken Salad is one of those meals that taste great and can be made in so fast! We use our BBQ Chicken Recipe to create the most delicious summer salad!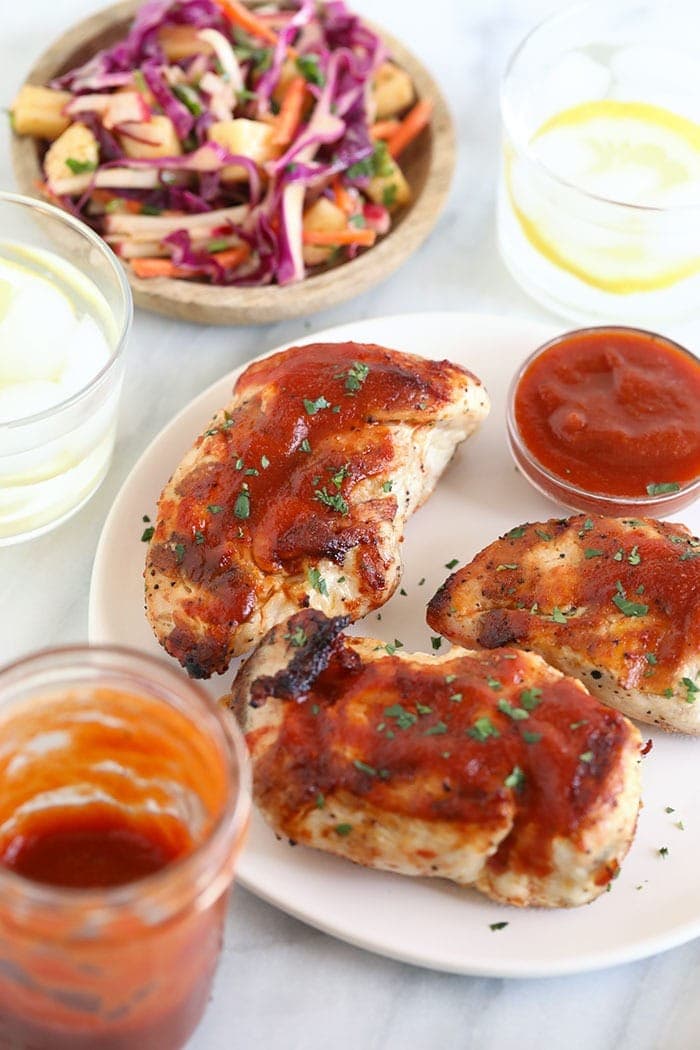 How to Assemble a BBQ Chicken Salad
This bbq chicken salad is made up of all of your favorite things at a bbq, but all chopped up and tossed in a bowl!
BBQ Chicken (check out our BBQ chicken recipe here)
Grilled Corn
Crunchy Lettuce
Ranch Dressing
All the Summer Veggies
The key to making the perfect bbq chicken salad is to not overthink! We used all of our favorite vegetables in this salad. We love adding different textures to all of our salads because…balance!
Using radishes for crunch and flavor seemed right and you can't beat grilled corn straight off the cob. However, if you don't like the peppery flavor of radishes or don't have corn on hand, use your favorite vegetables instead!
Step-By-Step
Step One: Are you using leftover bbq chicken or are you making this bbq chicken salad with new chicken that you just purchased? This recipe is easy to adapt with any bbq leftovers, so you do you.
Fire up that grill and grill the chicken first. Take your freshly grilled chicken or your leftover bbq chicken and cut it into 1-inch cubes. Everyone has their sauciness preference, so add extra bbq chicken if that's your thing!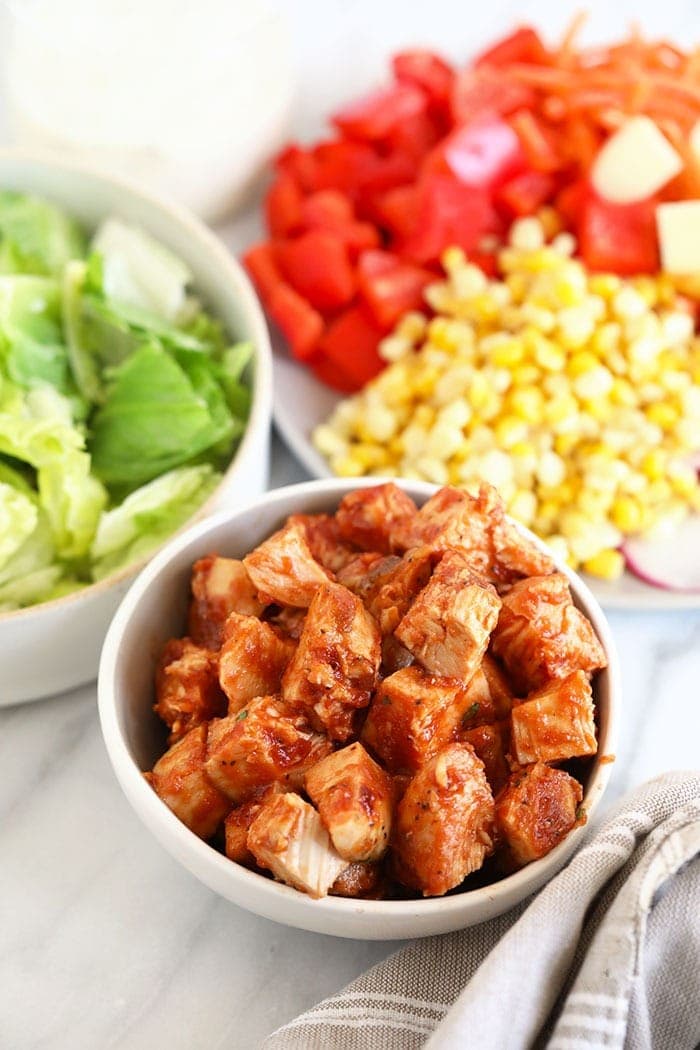 Step Two: What type of greens get you excited? We used romaine hearts in this recipe because romaine is light and crunchy. It doesn't wilt when you load it up with all of the other salad fixings! Feel free to use your favorite greens in place of the romaine, too.
Place greens in the bottom of a bowl or in a meal prep container. This recipe serves four, so distribute greens evenly into four separate containers!
After you've distributed the greens, evenly distribute the chicken and the rest of the vegetables evenly into four containers!
Step Three: Finally, dressing. There are so many different options when it comes to dressing. We used are healthy homemade ranch dressing, because it compliments the homemade bbq sauce we use on the chicken!
If you are looking for different salad dressing options, check out some of our favorites below!
If you are going to serve the bbq chicken salad immediately add one tablespoon of dressing to each bowl.
If you are meal prepping the bbq chicken salad for the week, wait to add the salad dressing until right before eating. You don't want to end up with mushy veggies!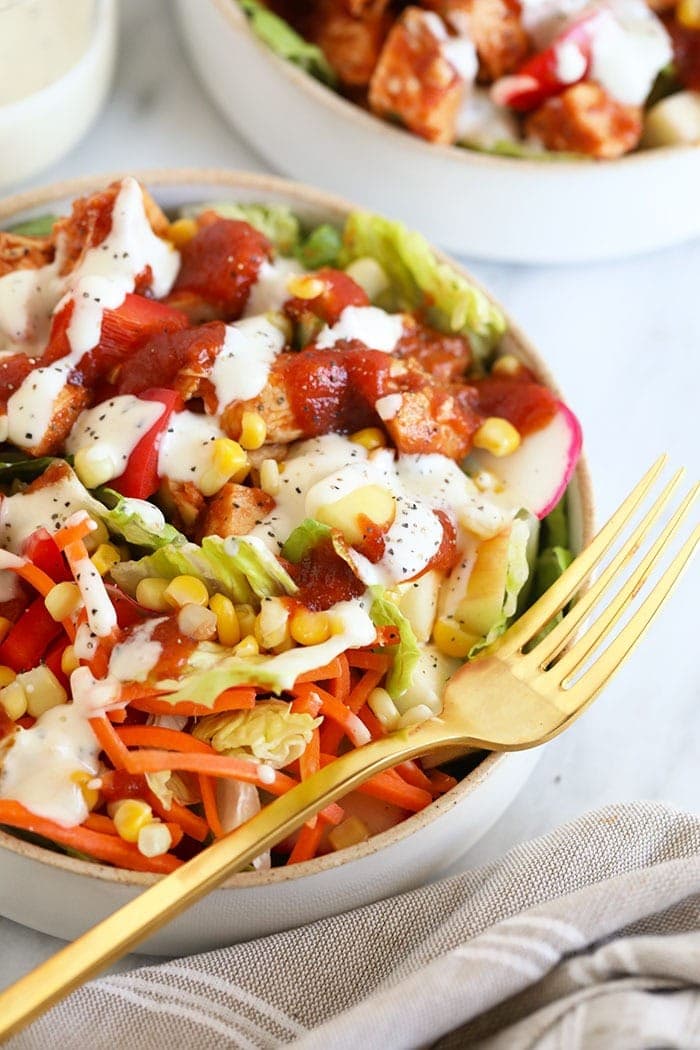 Healthy Chicken Salad Recipes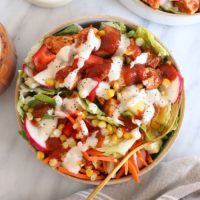 BBQ Chicken Salad
Say hello to the most delicious BBQ Chicken Salad. This salad is crunchy, tangy, and everything in between. BBQ chicken salad makes a great weeknight dinner or a great meal prep lunch for the week!
Ingredients
1.5

lbs.

BBQ chicken

cubed (check out our BBQ Chicken recipe here)

9

oz.

romaine lettuce

1

cup

matchstick carrots

1

large red pepper

chopped

1

medium apple

chopped

1

cup

chopped radishes

(3 large radishes)

1

cup

sweet corn

1/4

cup

dressing
Instructions
Evenly distribute ingredients into four bowls or meal prep containers.

Drizzle with dressing immediately before serving and enjoy!
Nutrition facts
Calories:
373
kcal
Carbohydrates:
32
g
Protein:
41
g
Fat:
12
g
Fiber:
6
g
Sugar:
19
g