Our creamy cucumber salad is a healthy summer salad option made with lemon, fresh dill, and a little Greek yogurt!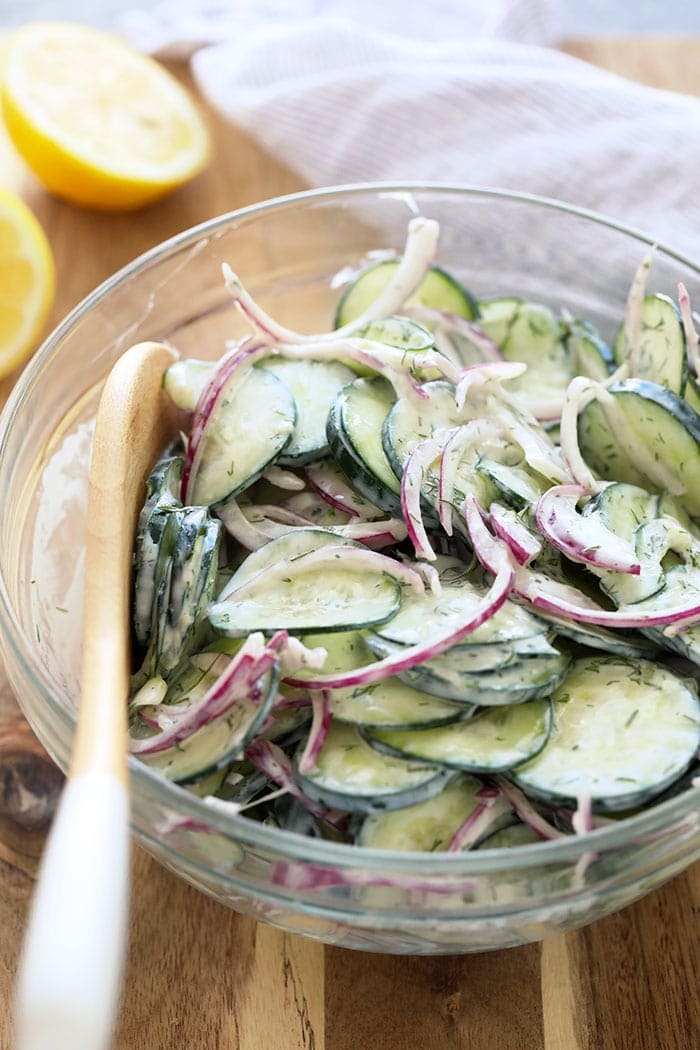 The BEST Creamy Cucumber Salad
I love a good BBQ. Getting together with friends and family and spending time outside is my perfect summer night. Whether we are hosting a bbq with grilled chicken, grilled ribs, or burgers, my favorite part of a bbq is always deciding on the bbq sides (and the drinks too)!
We know a thing or two when it comes to bbq sides. People love our Thai chili corn salad and our foil pack grilled red potatoes because they are easy to make and very tasty.
This creamy cucumber salad is an amazing bbq side salad and we are pretty excited about it.
why you'll love it
Refreshing: this creamy cucumber salad is the perfect summer side dish that tastes oh so refreshing.
Easy peasy: this cucumber salad is ready to serve in 30 minutes flat!
Homemade creamy sauce: the homemade creamy salad dressings is the perfect complement to the fresh crunch of fresh cucumbers and red onion. We're offering a few variations if you'd like to make any ingredient substitutions too 😀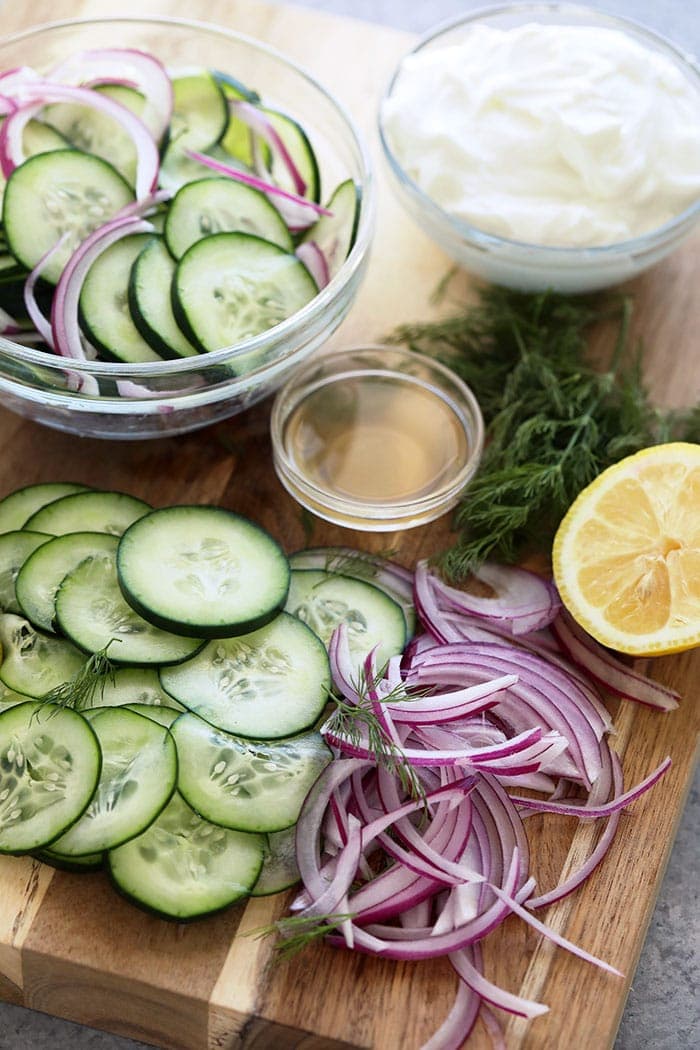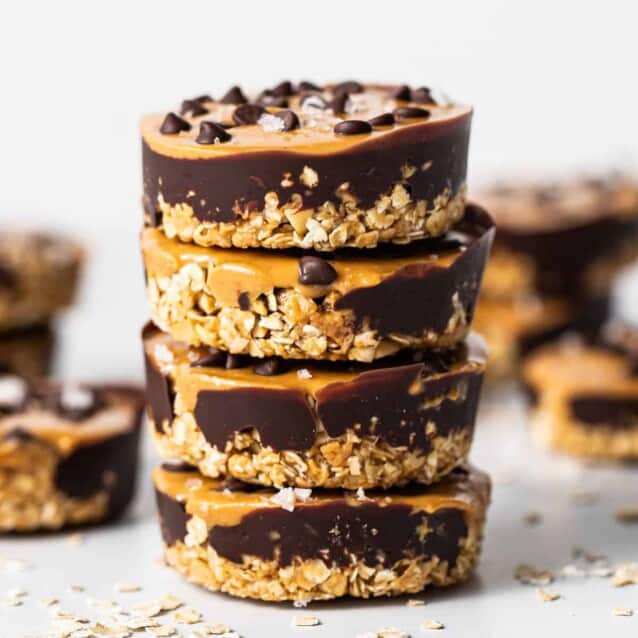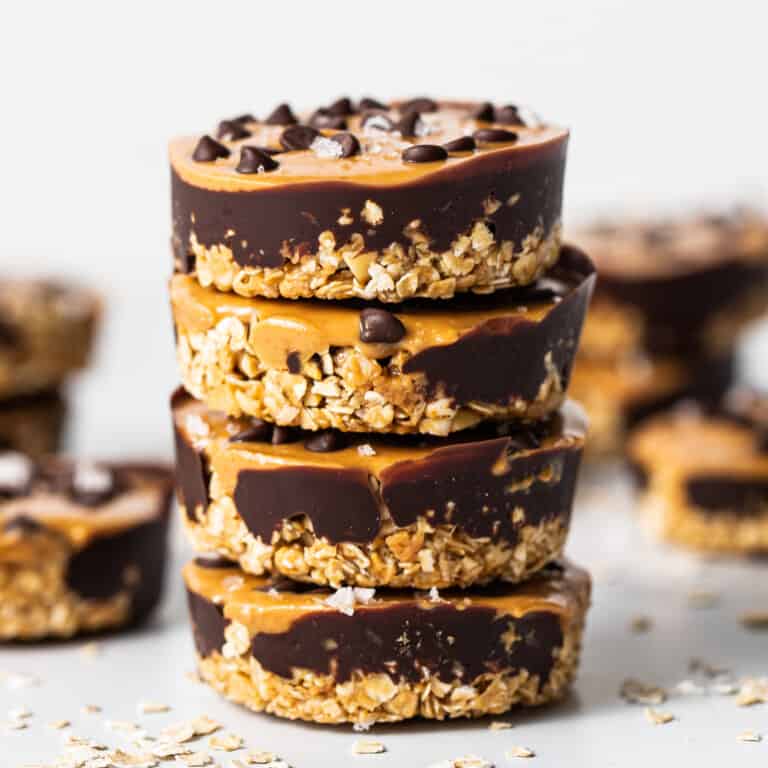 Get our Top 10 5-Star Recipes!
Join our email list for new recipes and BONUS: get our top 10 ⭐️⭐️⭐️⭐️⭐️ recipes e-book!
Cucumber Salad Ingredients
Let's chat about the amazing ingredients in this creamy cucumber salad!
Cucumber- If you're looking for a vegetable with a satisfying crunch that is also hydrating, a cucumber is for you! Cucumbers are a great veggie to add to any pasta salad, buffalo chicken salad, or even in infused water!
Red Onion- The red onion is a polarizing vegetable. Some people love it and some people hate it. We are huge fans of red onion here on Fit Foodie Finds because it adds so much flavor and crunch to any recipe. Red Onions are high in sulfur compounds and are packed with vitamin B.
Greek Yogurt- We substituted classic mayonnaise for Greek yogurt in this creamy cucumber salad, not only because Greek yogurt is packed with protein, but it gives this creamy cucumber salad a delicious tartness!
Apple Cider Vinegar- Apple cider vinegar is known for aiding in weight loss, lowering cholesterol, and more. However, we love the tang that it gives salads and other dishes! It gives a great bit to this creamy cucumber salad!
Lemon Juice- A little citrus goes a long way when it comes to salads! We love using lemon juice in place of salt because it can brighten up any dish!
Honey- Naturally sweetening dressings is one of our favorite things to do! Forget the white sugar and use honey. When there is a bit of tartness in some recipes, it's nice to cut that with a little sweet!
Dill- Does any herb scream summer more than dill? I want to pot a huge pot of dill this summer and will be glorious! Did you know that dill is a forever plant? Which means it will take over your garden and reseed itself if you let it?
So, when you plant dill, make sure it is in a pot or it's own garden bed! Other than being a forever plant, fresh dill makes every salad it's in taste fresh and delicious!
Garlic- The more garlic the better. Not only does garlic add amazing flavor to any dish, but it is also known for its medicinal properties. Garlic is said to promote respiratory problems and digestion!
A Few Tips
Get the perfect sliced cucumbers
We love using a mandolin slicer to get a perfectly even slice for each cucumber.
What can I use instead of Greek yogurt?
If you don't have Greek yogurt on hand feel free to use any of the ingredients below in place of the Greek yogurt.
Sour cream
Plain yogurt
Mayo
Don't have apple cider vinegar?
Feel free to sub 1:1 for white vinegar or white wine vinegar.
How do you keep cucumbers from getting watery?
You keep cucumbers from releasing more water into the cucumber salad by salting the cucumbers before making the salad to release excess water. When you let cucumbers sit in salt it draws the water out that would usually come out as the salad sits.
Be sure to rinse the cucumbers before adding them to the salad so they aren't too salty!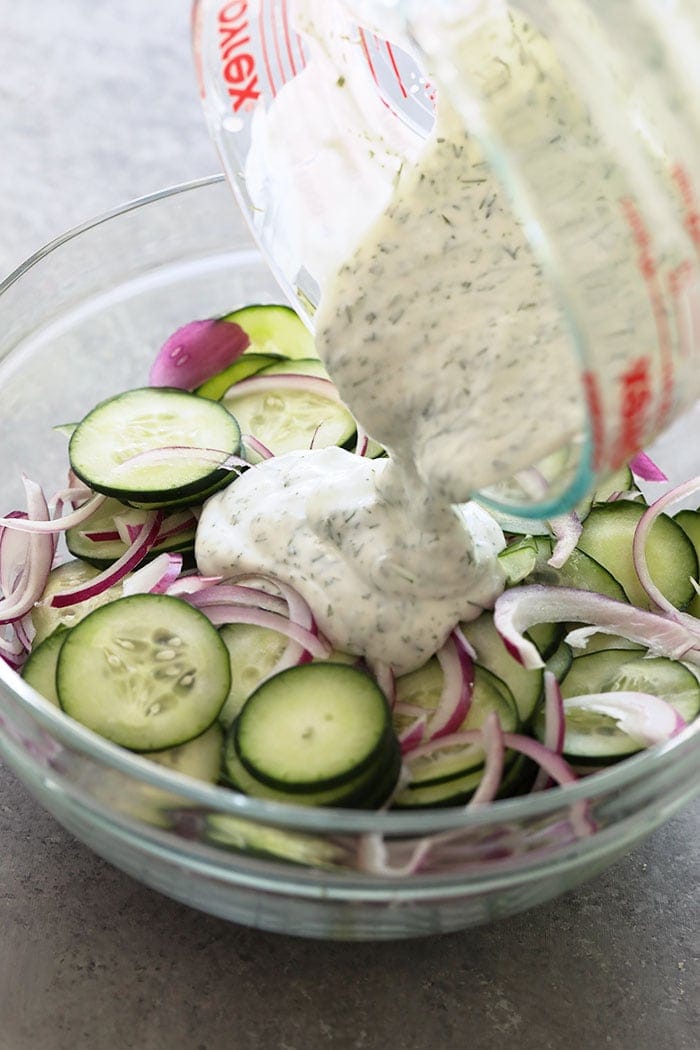 Creamy Cucumber Salad Qs
Do you peel cucumbers for salad?

We do not peel the cucumbers for this cucumber salad. Just make sure the cucumbers slices are thin enough so the skin isn't tough. If you don't like cucumbers skin, feel free to peel the cucumbers before slicing.
How long does cucumber salad last in the fridge?

This creamy cucumber salad will last in the fridge for 2-3 days. The cucumbers will release a little bit of moisture, so make sure to stir before serving.
How do you keep cucumbers from getting watery?

You keep cucumbers from releasing more water into the cucumber salad by salting the cucumbers before making the salad to release excess water. When you let cucumbers sit in salt it draws the water out that would usually come out as the salad sits.
Serving Suggestions
This creamy cucumber salad is the perfect side for so many dishes. You can serve it alongside burgers, chicken, or have it all on it's own for lunch. Here are some of our recommendations for what to serve with cucumber salad.
Grilled BBQ Chicken Breast- Grilled BBQ Chicken is hands-down one of my favorite summer meals. Whip up this healthy grilled chicken breast recipe on the grill with your favorite bbq sauce!
Lemon Dill Salmon Burgers– These are the most delicious salmon burgers made with flakey salmon, fresh lemon, and dill. Grill them, pan fry them, or bake them!
Sous Vide Steak- Sous vide steak is the ONLY way to eat steak. We are obsessed with the perfectly cooked goodness of sous vide steak. It's as easy as 1-2-3.
Roasted Garlic Black Bean Burgers- There has never been a more delicious black bean quinoa burger in all the land. Why is this black bean quinoa burger special? Because it is made with perfectly roasted garlic and is packed with veggies, protein, and dynamic flavor. Give it a try today!
Grilled Chicken Thighs Recipe- These are the best grilled chicken thighs because the skin gets nice and crispy on the outside while the inside is tender and juicy.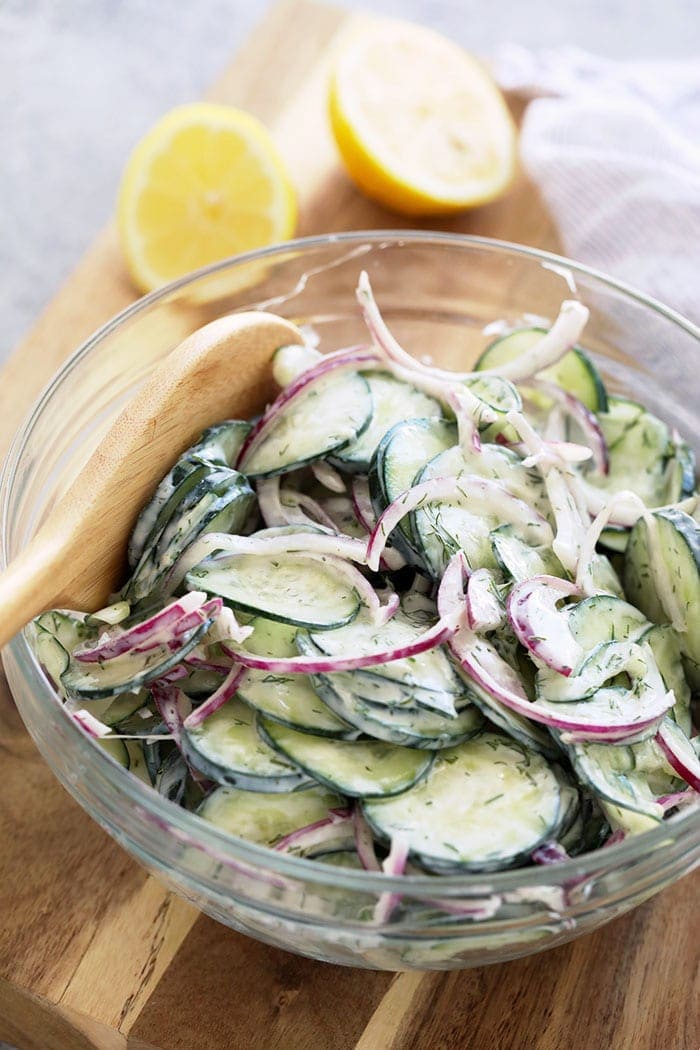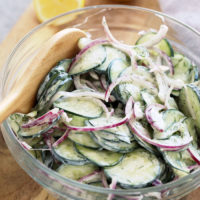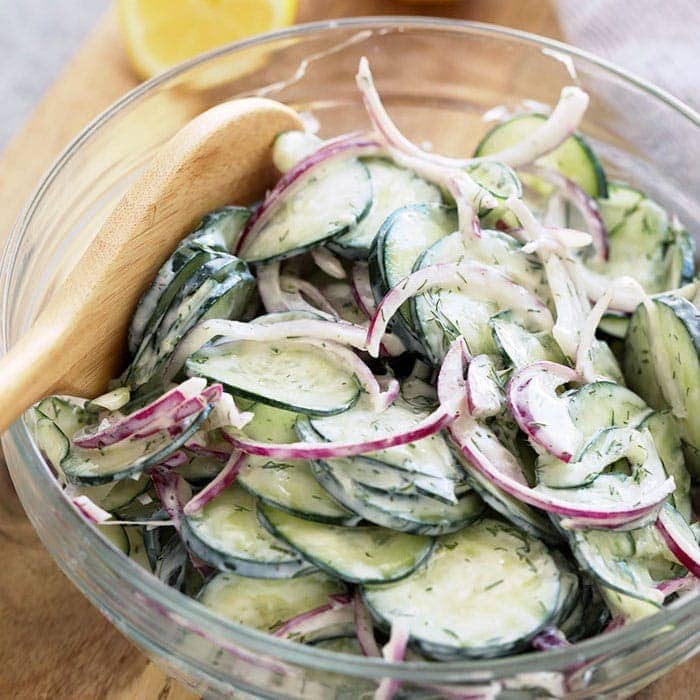 Creamy Cucumber Salad
This creamy cucumber salad recipe is easy to make with simple ingredients! Make it for your next summer side tonight! 
Ingredients
2

medium cucumbers

thinly sliced (8 cups sliced)

1/2

large red onion

sliced (1 cup sliced red onions)

1/2

cup

plain

nonfat Greek yogurt

2

teaspoons

apple cider vinegar

2

tablespoons

lemon juice

1

teaspoon

honey

3/4

teaspoon

salt

separated

1/2

teaspoon

garlic powder

1/4

teaspoon

pepper

3

tablespoons

chopped fresh dill
Instructions
Begin by slicing the cucumber and placing it in a strainer. Sprinkle the cucumber with 1/2 teaspoon salt and mix. Place the strainer in a bowl and let the cucumbers sit for at least 15 minutes to draw out the water. Set aside.

Next, make the creamy cucumber sauce. Place Greek yogurt, apple cider vinegar, lemon juice, honey, 1/4 teaspoon salt, garlic powder, and pepper into a large bowl and whisk the ingredients together. 

Add red onion and fresh dill to the sauce and mix. 

Once the cucumbers have sat long enough rinse them with water (so they aren't too salty). Pat them dry with a paper towel and add the cucumbers to the Greek yogurt sauce. 

Mix everything together until the cucumbers are covered in sauce.

Serve immediately or place in the refrigerator to chill. 
Tips & Notes
This recipe was modified on May 10, 2021
Nutrition facts
Calories:
30
kcal
Carbohydrates:
4
g
Protein:
3
g
Fat:
0
g
Fiber:
0
g
Sugar:
3
g