Our creamy cucumber salad is a healthy summer salad option made with lemon, fresh dill, and a little Greek yogurt!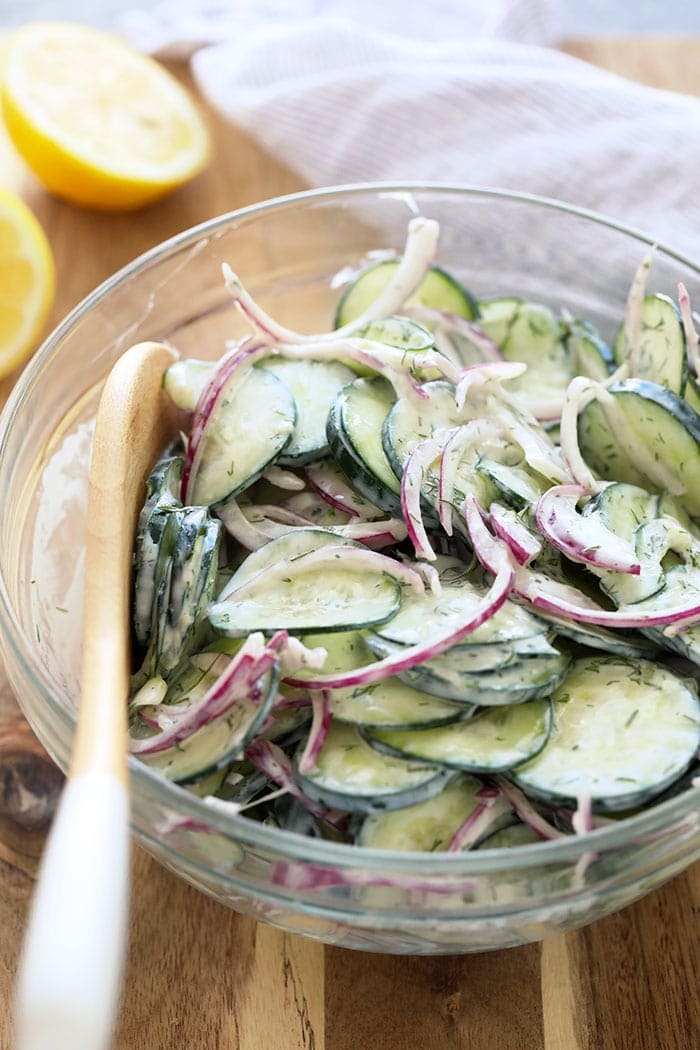 The Perfect Salad for a BBQ
I love a good BBQ. Getting together with friends and family and spending time outside is my perfect summer night. Whether we are hosting a bbq with grilled chicken, grilled ribs, or burgers, my favorite part of a bbq is always deciding on the bbq sides (and the drinks too)!
We know a thing or two when it comes to bbq sides. People love our Thai chili corn salad and our foil pack grilled red potatoes because they are easy to make and very tasty. This creamy cucumber salad is our newest bbq side salad and we are pretty excited about it.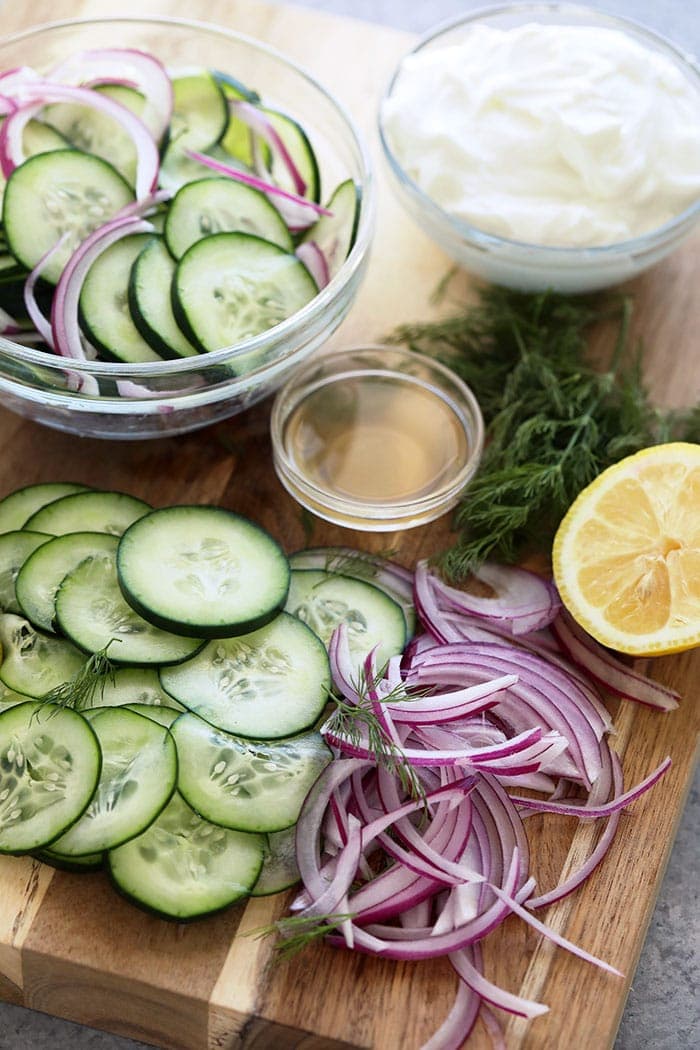 We love cucumbers!
If you are looking for a healthy salad to eat this summer that is a great addition to any dish, go with this healthy creamy cucumber salad! It's versatile, delicious, and made with nutritious ingredients.
This cucumber salad is a bright and flavorful salad that is the perfect salad to make when cucumbers are in season. Plus, cucumbers are inexpensive and delicious. It goes well with BBQ chicken, or tacos, or even on the side of scrambled eggs!
Cucumber Salad Ingredients
Let's chat about the amazing ingredients in this creamy cucumber salad!
Cucumber- If you're looking for a vegetable with a satisfying crunch that is also hydrating, a cucumber is for you! Cucumbers are a great veggie to add to any pasta salad, buffalo chicken salad, or even in infused water!
Red Onion- The red onion is a polarizing vegetable. Some people love it and some people hate it. We are huge fans of red onion here on Fit Foodie Finds because it adds so much flavor and crunch to any recipe. Red Onions are high in sulfur compounds and are packed with vitamin B.
Greek Yogurt- We substituted classic mayonnaise for Greek yogurt in this creamy cucumber salad, not only because Greek yogurt is packed with protein, but it gives this creamy cucumber salad a delicious tartness!
Apple Cider Vinegar- Apple cider vinegar is known for aiding in weight loss, lowering cholesterol, and more. However, we love the tang that it gives salads and other dishes! It gives a great bit to this creamy cucumber salad!
Lemon Juice- A little citrus goes a long way when it comes to salads! We love using lemon juice in place of salt because it can brighten up any dish!
Honey- Naturally sweetening dressings is one of our favorite things to do! Forget the white sugar and use honey. When there is a bit of tartness in some recipes, it's nice to cut that with a little sweet!
Dill- Does any herb scream summer more than dill? I want to pot a huge pot of dill this summer and will be glorious! Did you know that dill is a forever plant? Which means it will take over your garden and reseed itself if you let it? So, when you plant dill, make sure it is in a pot or it's own garden bed! Other than being a forever plant, fresh dill makes every salad it's in taste fresh and delicious!
Garlic- The more garlic the better. Not only does garlic add amazing flavor to any dish, but it is also known for its medicinal properties. Garlic is said to promote respiratory problems and digestion!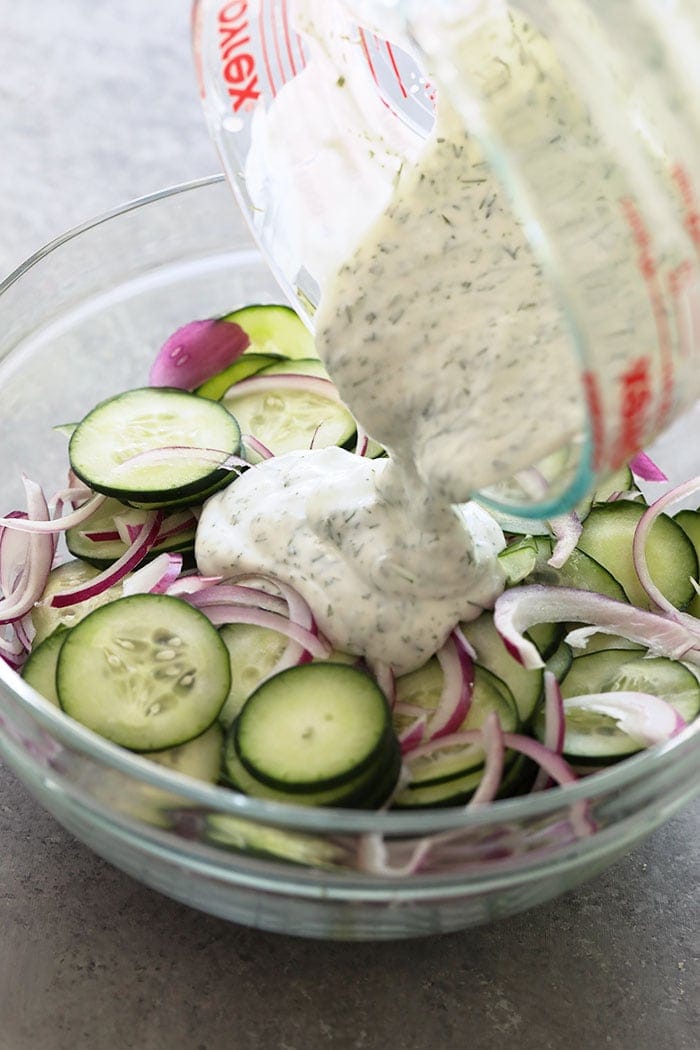 How long does this last in the fridge?
This creamy cucumber salad will last in the fridge for 2-3 days. The cucumbers will release a little bit of moisture, so make sure to stir before serving.
What can I use instead of Greek yogurt?
If you don't have Greek yogurt on hand, you can use normal, plain yogurt instead! Really, any kind of yogurt will work for this recipe!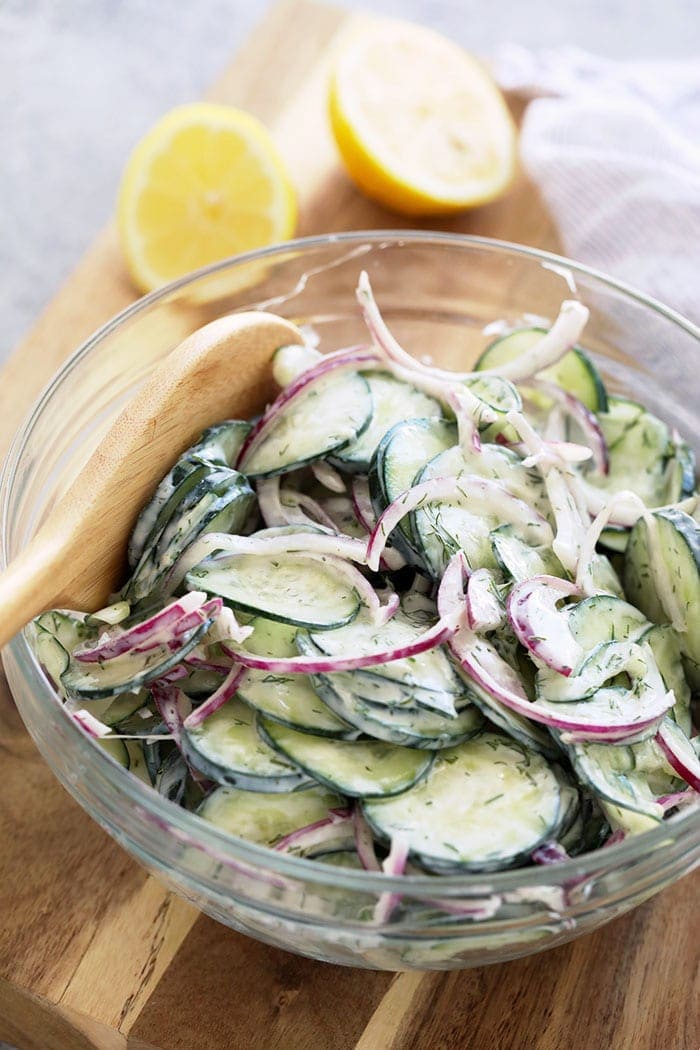 Pairs Well With…
Healthy Salad Recipes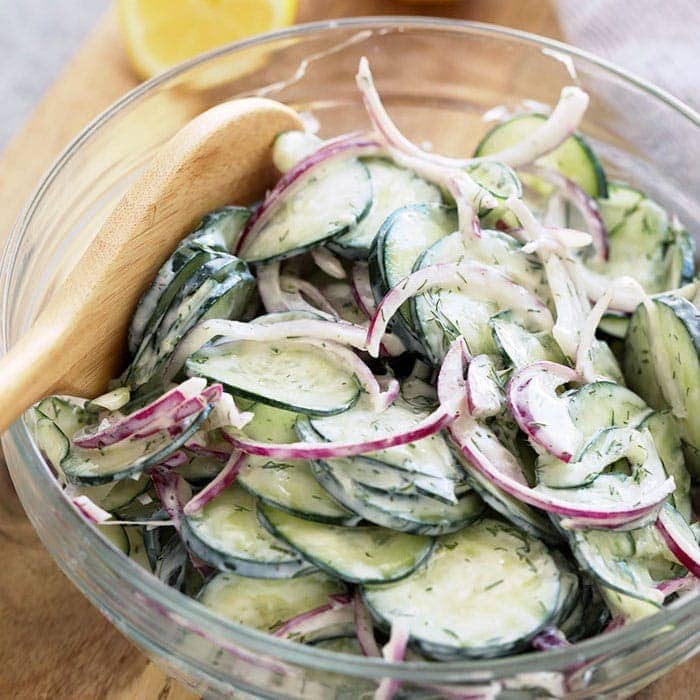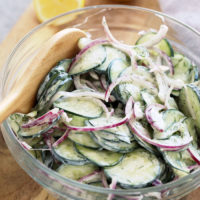 Healthy Creamy Cucumber Salad
If you are looking for a healthy side salad for your next BBQ or a healthy salad for meal prep, look no further! This creamy cucumber salad is simple, flavorful, and delicious.
Prep:
15 minutes
Cook:
0 minutes
Total:
15 minutes
Ingredients
2

medium cucumbers, thinly sliced (

8 cups

sliced)

1/2

large red onion, sliced (

1 cup

sliced red onions)

1/2 cup

plain, nonfat Greek yogurt

2 teaspoons

apple cider vinegar

2 tablespoons

lemon juice

1 teaspoon

honey

1/8 teaspoon

salt

1/2 teaspoon

garlic powder
pepper, to taste

2 tablespoons

chopped fresh dill
Instructions
First, begin by making your creamy cucumber sauce. Place Greek yogurt, apple cider vinegar, lemon juice, honey, salt, garlic powder, and pepper into a medium bowl or Pyrex and mix.
Then, mince about 2 tablespoons of fresh dill and add to the mixture and mix. Set aside.
Thinly slice 2 medium cucumbers and slice 1/2 large red onion. Add to a large bowl.
Pour dressing on top of veggies and mix until everything is fully coated.
Enjoy!
Nutrition Facts
Serving Size:
1/4
Calories:
30
Sugar:
3
Fat:
0
Carbohydrates:
4
Fiber:
0
Protein:
3
Category:
Salad
Method:
No Bake
Cuisine:
American
Keywords: Creamy Cucumber Salad