Get festive this winter and make these delicious and refreshing Cranberry Mojitos! They're made with rosemary simple syrup, cranberry juice, mint, and rum! They are simply delicious.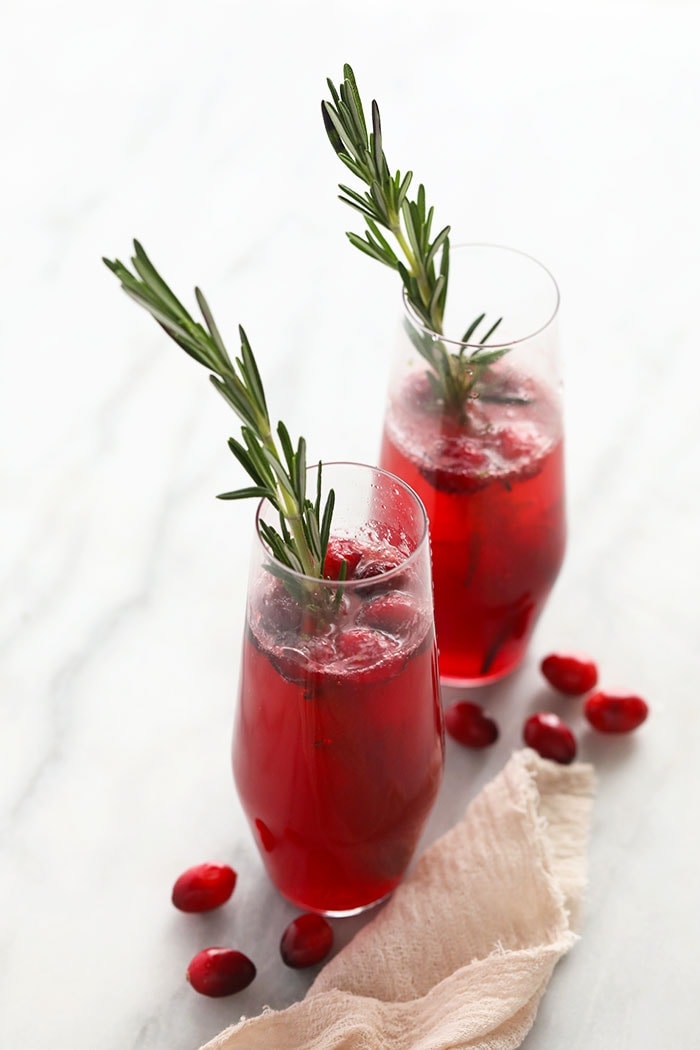 Tis the Season for Cocktails
Whether you enjoy celebrating the holidays at a big holiday party or just at home with your loved ones, there is no better way to add a little extra holiday cheer then with a fun drink!
You can make holiday cocktails or mocktails to set the mood for just about any occasion! This cranberry mojito recipe is a perfect cocktail because of it's holiday flavors and fantastic holiday color (yes, the way the drink looks makes it that much more amazing!).
Jazz Up Drinks for the Holiday Season
There are many ways you can dress up a classic cockatil recipe for the holidays! We took a classic mojito recipe and made a few fun tweeks to make it the perfect holiday cocktail. Here are some fun ways to take your holiday cocktails up a notch!
Add classic holiday flavors. What the heck are holiday flavors? Think mulling spices like cloves, allspice, and anise! Or herbs like rosemary and thyme! You can infuse cocktails, simple syrups, and more by just getting a little bit creative!
We made a simple rosemary simple syrup that really took this mojito up a festive notch!
Garnish. Garnish. Garnish. Nothing screams the holidays more than GREENERY. Use fresh herbs in your cocktails like you do a garland on your mantle. A little green goes a long way! Adding a sprig of rosemary or thyme to any cocktail for color will draw in any party-goer at your next holiday party.
We also love using fresh fruit like pomegranate seeds, fresh berries, and orange slices as garnishes for cocktails. It adds great color and aromatics!
Use pretty glassware. You could serve a miller lite in a champagne glass and call it a holiday cocktail (hehe). But really, what you serve your cocktails in can really set the tone for a holiday party. If you are having a fancier get together, get out your best glassware!
Make it into a punch. This cranberry mojito recipe only serves two people, however it would be a great cocktail to serve to the masses! You can make any cocktail recipe into a punch by scaling it to how many people you have to serve.
For larger groups, you can multiply the ingredient list by how many people you are going to have and serve it out of a beautiful vase. Sometimes the drink can change in taste, so be sure to taste test and add any final touches before serving it to guests!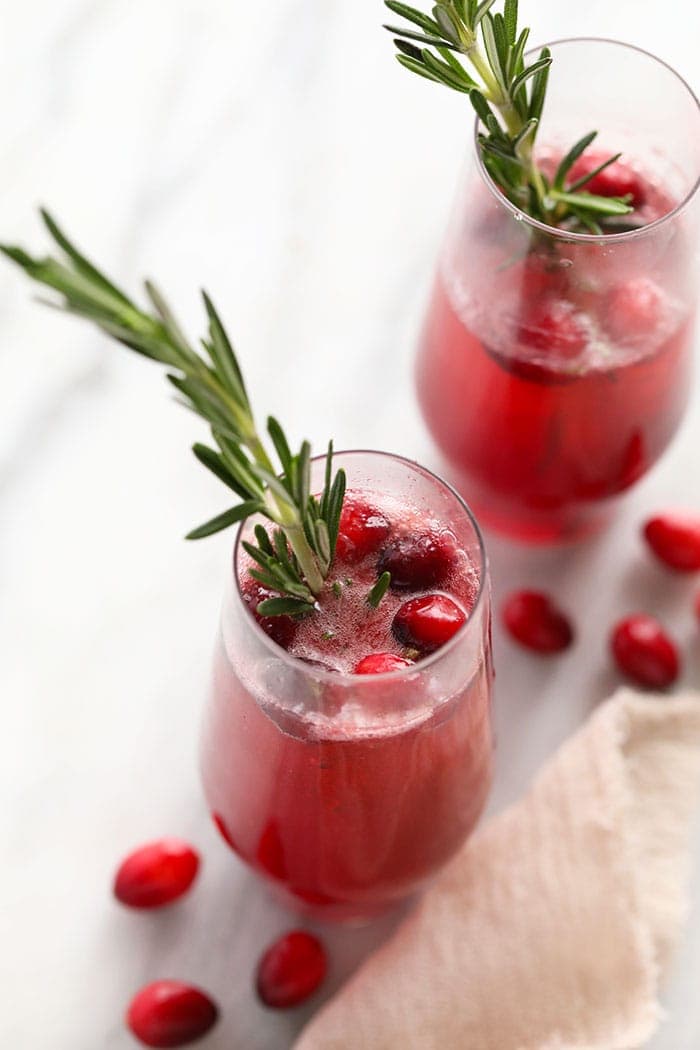 Everything You Need to Know
How much alcohol is in a mojito?
1.5 ounces of alcohol is technically a shot. We make our mojitos with one shot per serving (our recipe serves two people so it calls for 3 oz. of alcohol).
How many tablespoons are in a shot?
There are 3 tablespoons in 1.5 ounces (which is a shot). If you don't have an official shot glass, feel free to use a tablespoon!
What is the difference between mojito and virgin mojito?
A mojito is made with rum and a virgin mojito is made with no alcohol!
Which rum is best for mojitos?
Classic mojitos generally use a white rum!
What kind of mint is in a mojito?
You can use a classic fresh mint that you find in the grocery store! If you want to spice things up you can use different kinds of mint to change up your mojitos flavor!
How to Make a Cranberry Mojito
This cranberry mojito is a simple recipe that can be whipped up in no time!
Simple Syrup 
Start off by making the rosemary simple syrup! We just took our honey simple syrup recipe and added a few sprigs of rosemary to the pan and it turned out SO good. You could really use any herb and make simple syrups of all different flavors!
Add 1:1 water to honey to a small sauce pan along with 2-3 rosemary sprigs and bring to a boil over high heat, stirring frequently. Once boiling, turn heat to low and let the simple syrup simmer for 10 minutes and remove from heat.
Here's a tip–> Double the syrup recipe to store in the refrigerator to use later!
Mulling + Shaking
Now it's time to mull all of the cocktail ingredients together! Place the mint leaves and lime juice in a jar or a cocktail shaker and use the end of a wooden spoon or a muller to crush the mint leaves into the lime juice.
When the mint leaves are fragrant, add simple syrup, cranberry juice, and a handful of ice to the jar or cocktail shaker and shake for 20-30 seconds.
Pour the cocktail into cocktail glasses, top with sparkling water, and dress up the cocktail with your favorite garnish!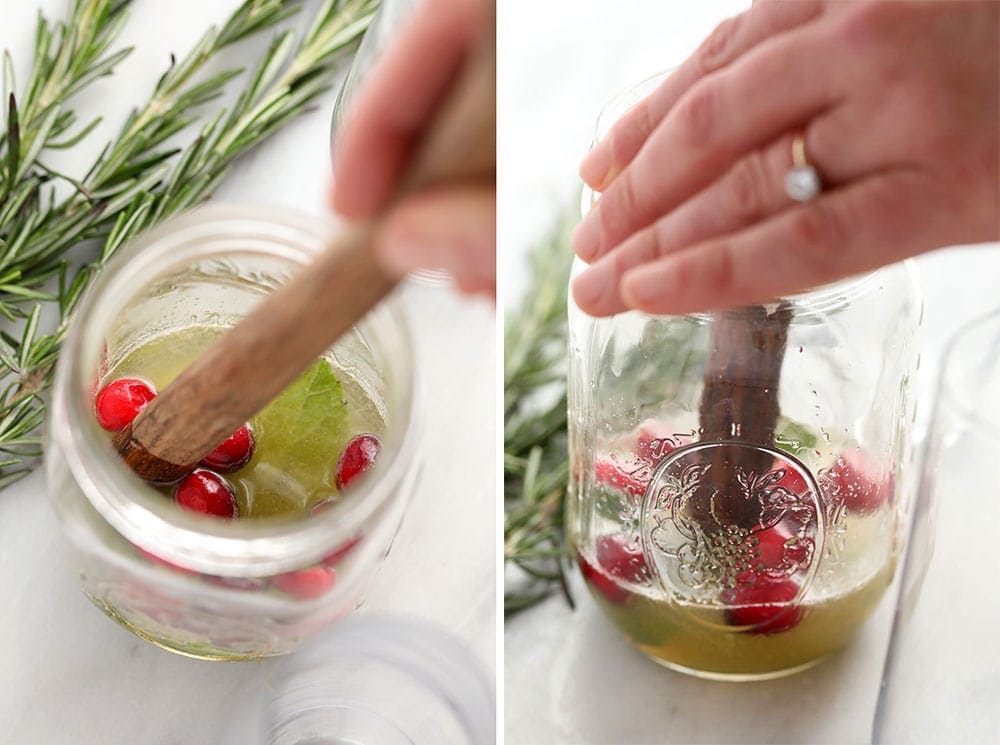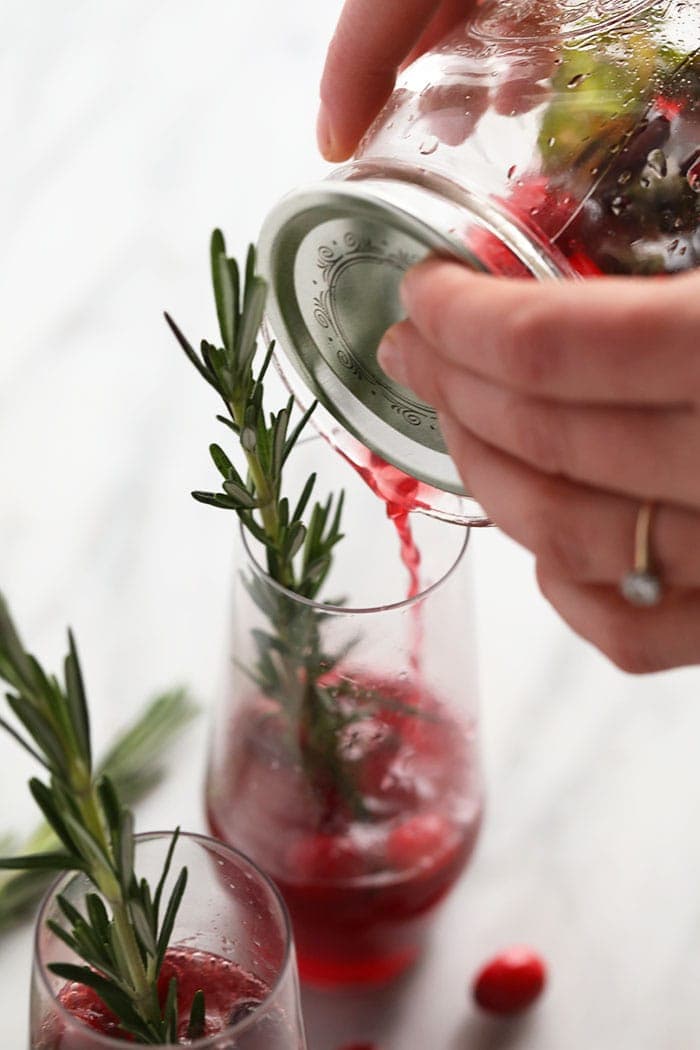 Holiday Cocktail Recipes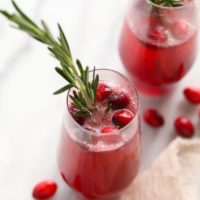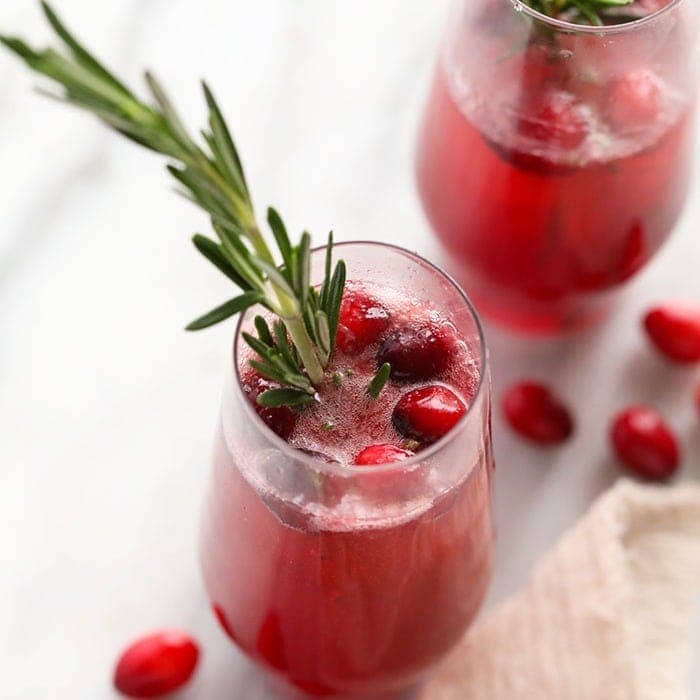 Holiday Cranberry Mojito Recipe
Get festive this winter and make these delicious and refreshing Cranberry Mojitos! They're made with rosemary simple syrup, cranberry juice, mint, and rum! They are simply delicious.
Ingredients
Rosemary Simple Syrup
1/4

cup

honey

1/4

cup

water

2

sprigs of fresh rosemary
Mojito Ingredients
6

large mint leaves

1/4

cup

lime juice

1/4

cup

100% cranberry juice

3

oz.

white rum

2

cups

of ice

1/4

cup

plain sparkling water

Garnish

fresh cranberries

fresh rosemary
Instructions
First, prepare rosemary simple syrup. Place honey, water, and rosemary in a small saucepan. Turn heat to medium/high and bring to a boil.

Once boiling, turn down to low and let simmer for 10 minutes. Set aside.

Next, place mint leaves and lime juice in a mason jar and muddle mint leaves in the lime juice to release flavors.

Then, add the rosemary simple syrup, cranberry juice, rum, and a handful of ice. Put the top on and shake, mixing everything together.

Fill 2 glasses with ice and then pour cranberry mojito equally into the glasses.

Top off both drinks with sparkling water.

Garnish with fresh cranberries and a sprig of rosemary.
Nutrition facts
Calories:
202
kcal
Protein:
0
g
Fat:
0
g
Fiber:
0
g
Sugar:
28
g