Welcome to December 2022's edition of Fit Foodie Cooking Club — our famous peanut butter kiss cookies! You'll absolutely love these holiday cookies.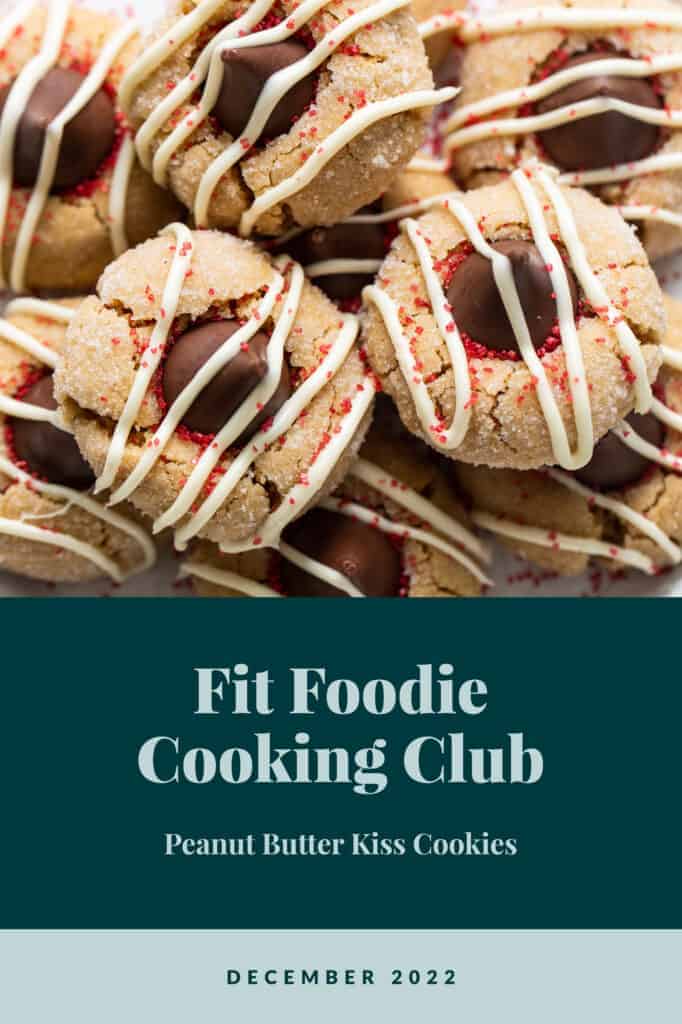 What is Fit Foodie Cooking Club?
The Fit Foodie Cooking Club is a monthly cooking challenge to get you in the kitchen cooking from scratch!
We thought there was no better way to bring our virtual community together than to all make the same recipe each month to celebrate real food.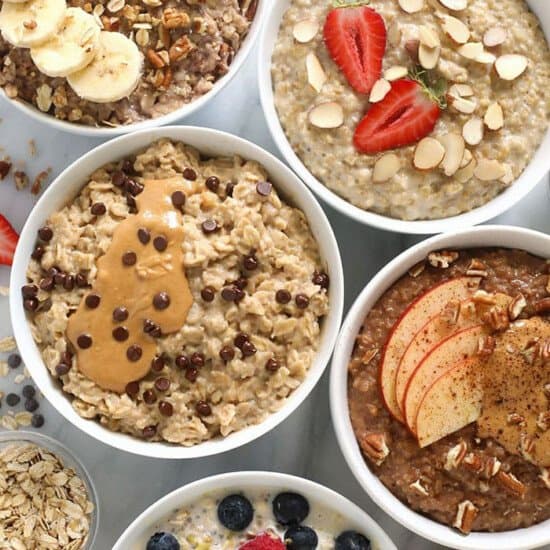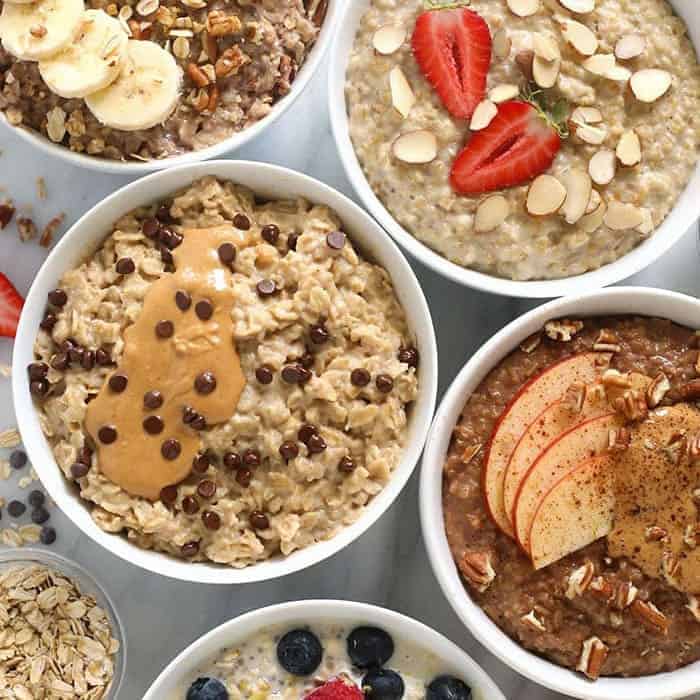 Join the Club!
Fit Foodie Cooking Club
Be the first to know about the recipe of the month + get other Fit Foodie Cooking Club announcements right to your inbox!
Subscribe
December 2022 – The Details
Read the below details VERY carefully as we want to make sure your entry counts! If you have questions, please leave them in the comments of this post.
Recipe of the Month: Peanut butter kiss cookies
Holiday baking is in full swing, and we're so excited about these perfect peanut butter kiss cookies! They're perfectly chewy with just the right amount of chocolate from a Hershey's kiss on the top.
Why you'll love 'em!
Classic holiday cookie recipe!
Option to make dough ahead of time, and freeze for later.
Use whatever variety of Hershey's kisses you prefer! These cookies would be amazing with peppermint, dark chocolate or white chocolate kisses.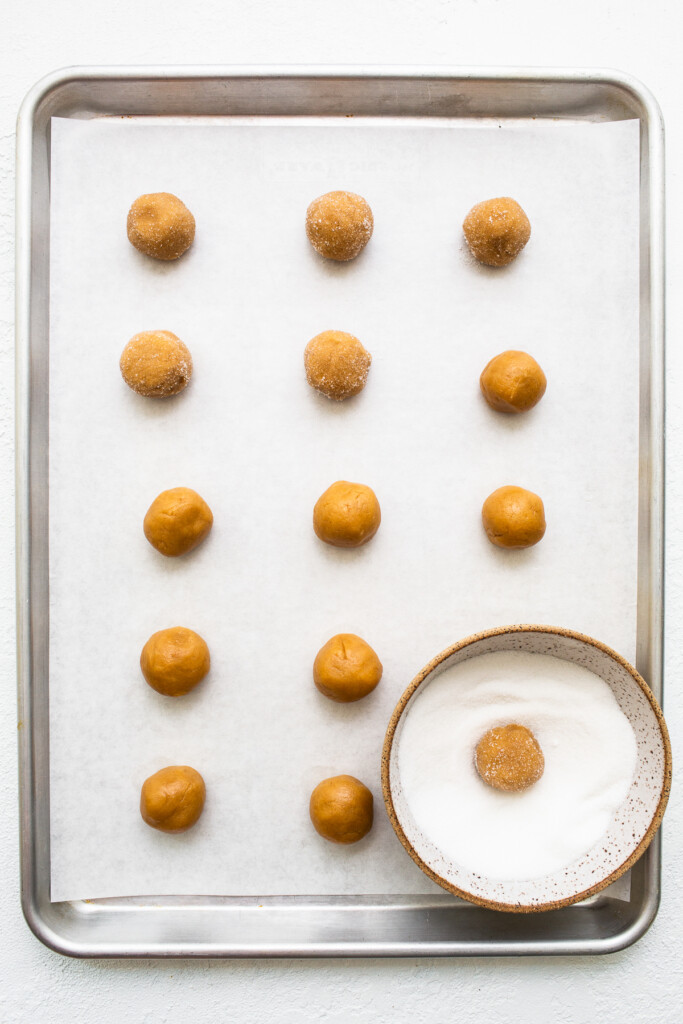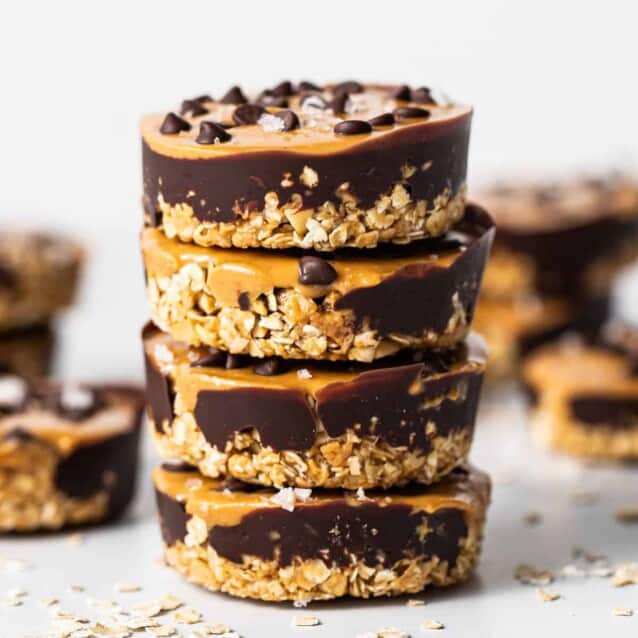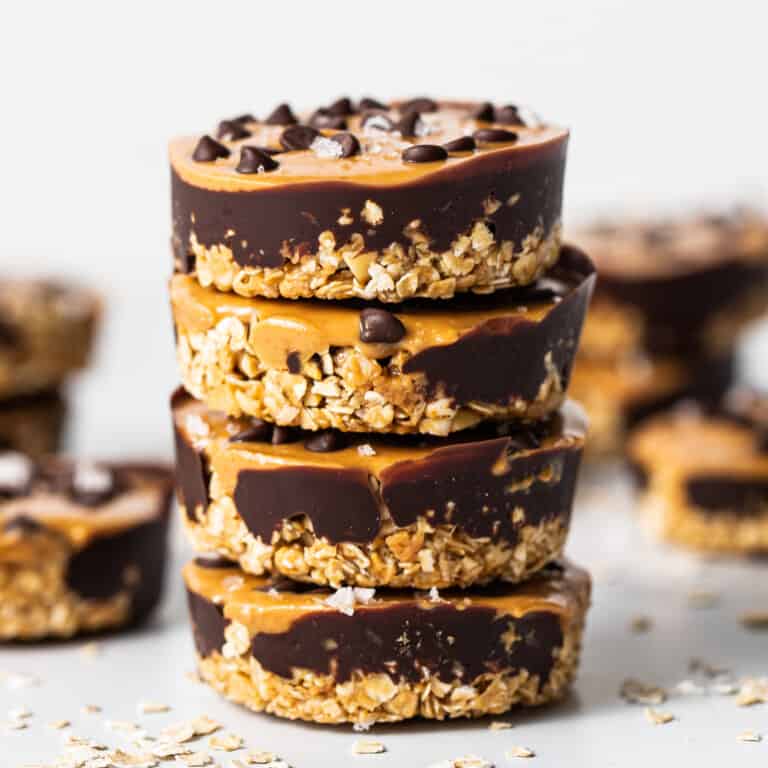 Subscribe!
Love desserts? Us too! Subscribe to our emails and get all of our best desserts straight to your inbox.
All About Peanut Butter Kiss Cookies
Ingredients You'll Need
Dry Ingredients
All-purpose flour
Baking powder
Kosher salt
Wet Ingredients
Unsalted butter softened
Light brown sugar
Vanilla extract
All-natural drippy peanut butter
Egg
Milk
Toppings
Granulated sugar
Hershey's Kisses
Drizzled white chocolate almond bark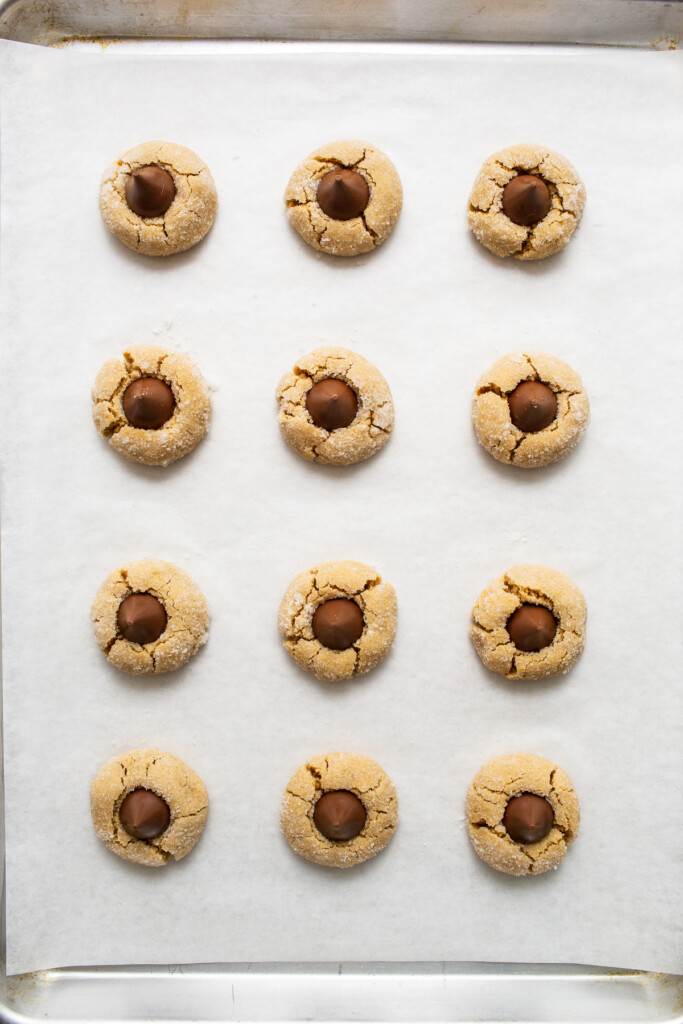 a few tips
Drippy peanut butter vs. non-drippy: If you use peanut butter that is similar to the original Skippy or Jiff, then start with 1 cup of peanut butter and go up from there. You will likely need less peanut butter than if you are using drippy peanut butter.
Don't skip the milk: The milk is added to hydrate the flour so that the cookies don't fall apart after baking.
Choose your favorite Hershey's kiss: Feel free to use dark chocolate, milk chocolate, mint chocolate kisses or whatever variety you prefer!
Skip the sugar rolling if you'd like: Rolling the cookie dough ball in granulated sugar is a traditional step when making a peanut butter blossom, feel free to skip it if you don't want added sugar.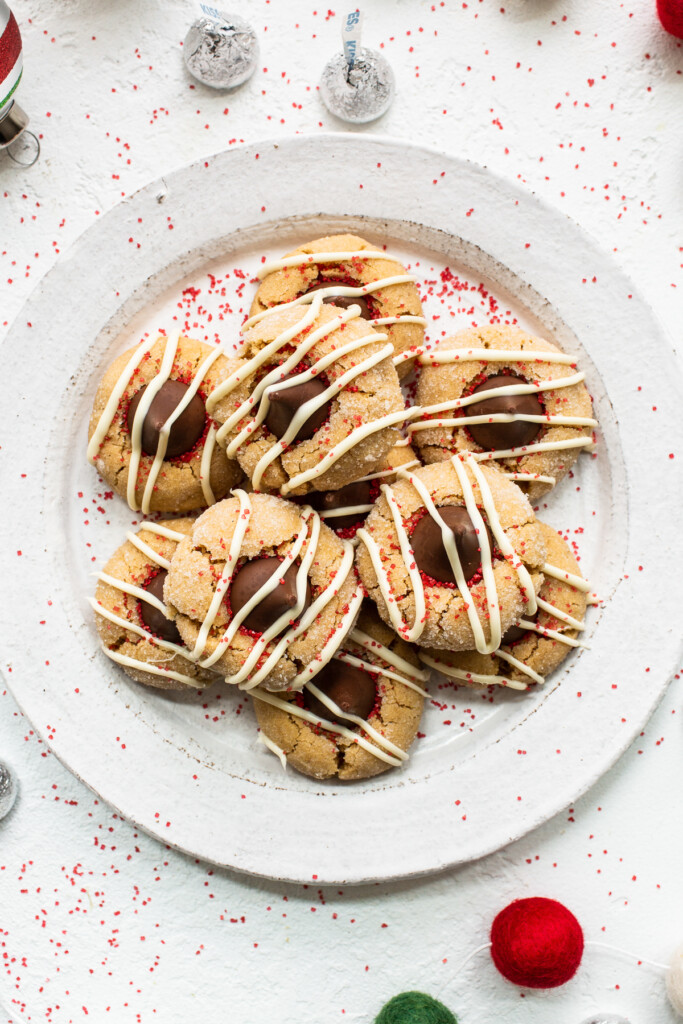 How to Enter
Now that you know how to make the recipe, it's time to submit your creation!
Go to the Peanut Butter Kiss Cookies blog post.
Make the recipe and snap a photo of it.
Leave a comment on the Peanut Butter Kiss Cookies blog post with a photo of your creation letting people know how it went. We'd love a star rating, but it's not required. Make sure to leave your name and email in the comment form because this is how we'll contact the winners!
join the fit foodie cooking club on facebook!
Join in on the Fit Foodie Facebook fun and become a member of our FREE Facebook Group. The Fit Foodie Cooking Club group on Facebook is a way to share your cooking creations and make new like-minded friends online.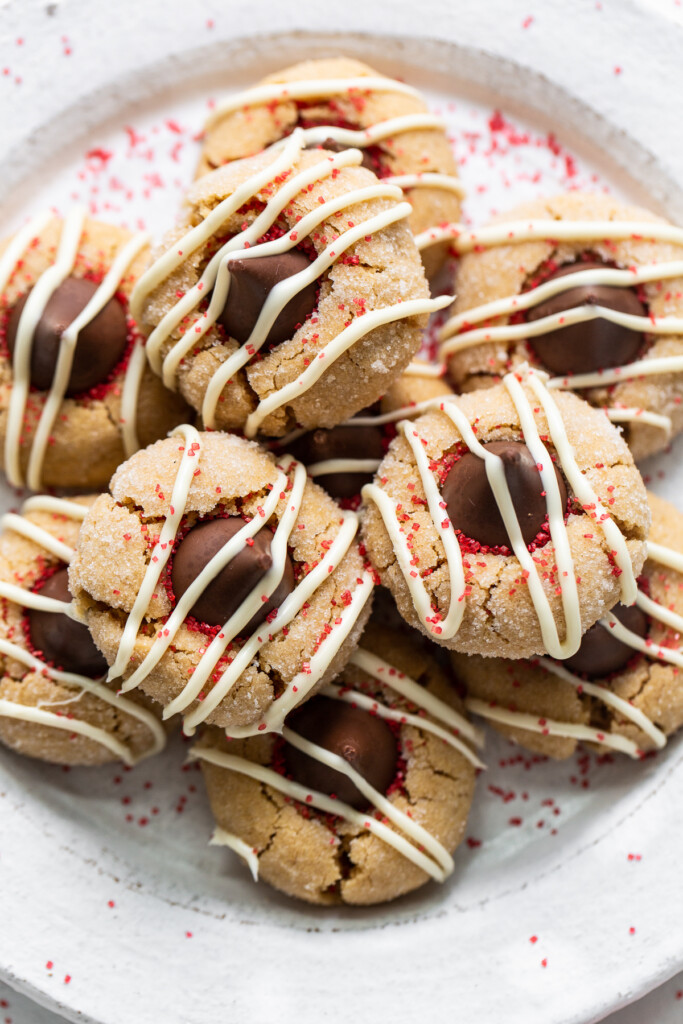 Important Dates
Tuesday, December 6, 2022 – the first day you are eligible to submit an entry.
Tuesday, December 27, 2022 – the last day to submit your photo and comment.
Wednesday, December 28, 2022 – the winners will be randomly selected and announced in this blog post and on social media.
The Prize
2 participants will each win a $100 lululemon gift card. The selection will be random and based on comments that are received between December 6 and December 27, 2022.
Winners will be announced on the last Wednesday of the month (December 28, 2022) via social media and blog post.
Charity of the Month
Each month we choose a charity to support. This month we supporting People Serving People. Families are fighting homelessness all over the world. This month we chose a Minnesota non-profit to support a non-profit fighting homelessness in our very cold state of Minnesota.
People Serving People works to keep families together while experiencing homelessness. Every family deserves a roof over their head, People Serving People works around the clock to find families shelter.
We'll be doubling the match from our giveaway winners to donate $400 to People Serving People.
DONATE
We would love for you to support our monthly charity and donate what you can.
If you feel so inclined, donate to People Serving People on your own.