I named this post "My Bright & Airy Master Bedroom" for a reason…because I officially have so much light pouring in and it feels so good. Read to the end to find out how to win two VELUX skylights like these plus installation.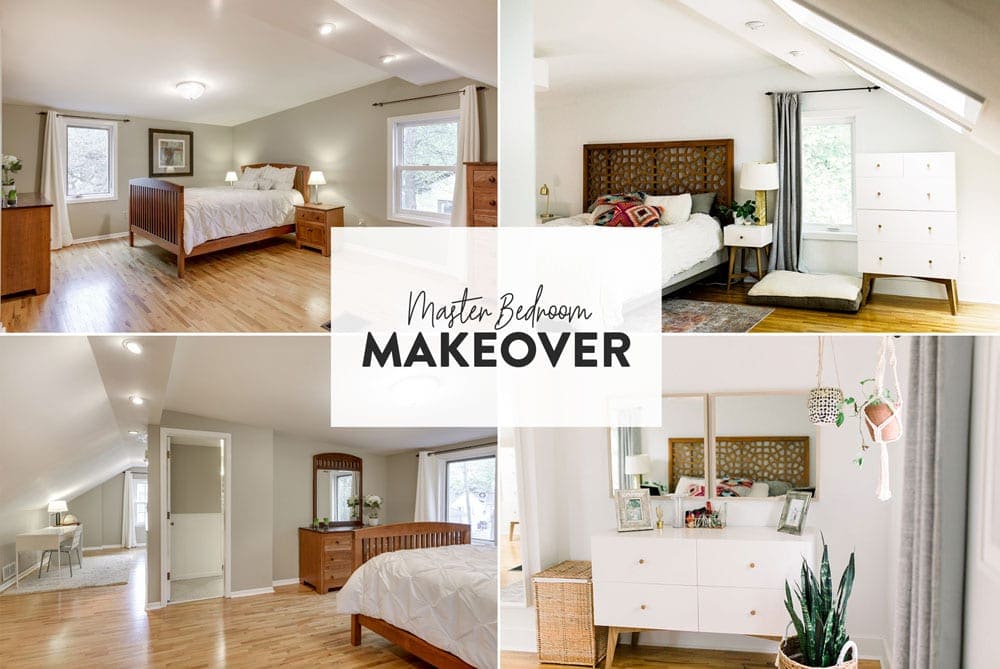 I'm excited to finally be doing a master room & bath reveal! Just over a year ago I posted an empty home tour video when we first bought our house. We weren't even moved in yet so you could really see what the bare bones of the house looked like.
I remember immediately thinking, we must get more natural light into this house. You see, we are canopied by trees, so if there aren't any windows, it's pretty much pitch black inside of our house. Insert, the amazingness of VELUX Skylights! Today's post is in partnership with VELUX. If you remember, we installed 3 skylights into my kitchen last fall and am so excited about the skylight additions to my master bedroom!
Adding skylights to our master bedroom and bathroom is hands down my favorite addition we've made to our house since we bought it. Nothing beats natural light especially in a space you spend a lot of time in. And, let's get real. I take a lot of selfies, so the natural light is really clutch.
Mark and I decided to install 2 gorgeous No Leak Solar Powered Fresh Air Skylights into our master bedroom. Like our kitchen skylights, these can be opened and closed with the push of a button (or app!) and we installed blackout blinds so it's conveniently dark when we want it to be.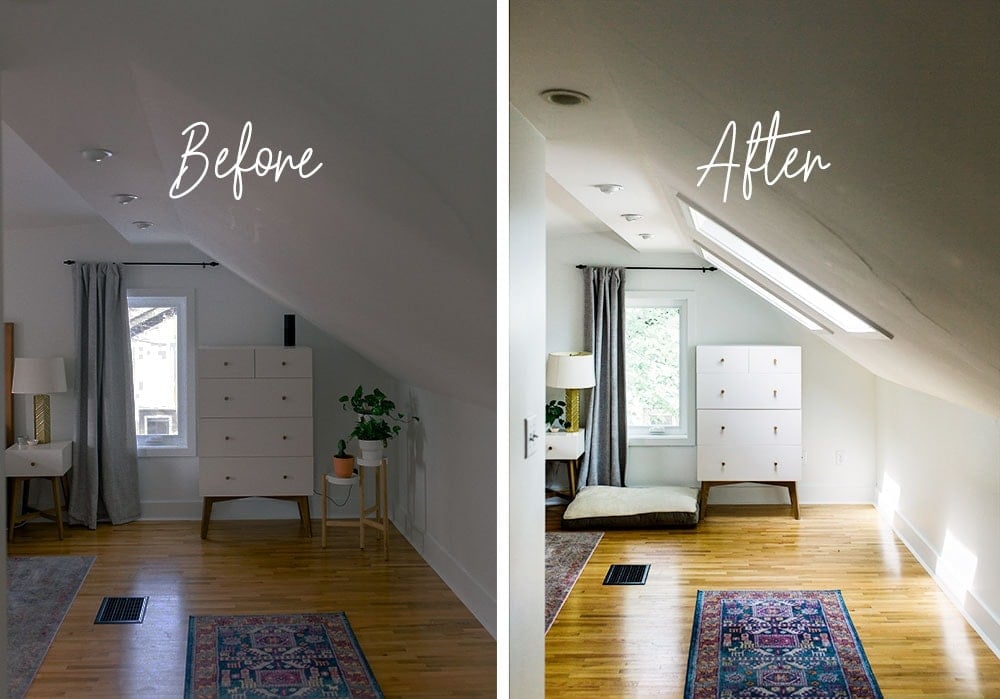 Skylight Features
Here's a great reminder of all the amazing features VELUX Skylights can offer your space!
No natural light? No problem! Not only do VELUX Skylights let in light, but they are venting skylights so that fresh air is easily let in when you open them. Plus they have removable screens, so bugs won't get let in.
These skylights are solar-powered and do not require any wiring. Even on cloudy days, the solar panels on the skylights are still charging. BONUS – because they're solar-powered, they are eligible for a 30% federal tax credit…HECK YES!
The skylights and blinds can both be opened and closed using remote controllers or through the VELUX Active System app on your phone.
At the first sign of rain, the skylights will close themselves. They have a rain sensor, but it's like MAGIC.
They come with a no-leak promise. VELUX calls their skylights No Leak and they come with a 10-year warranty on product and installation.
I didn't have to do any of the installation. A VELUX skylight installer came to my home and completed all the work in just a few days, which was so great! If you're interested, find a VELUX installer in your area here.
Sun Tunnels RULE!
In addition to the venting skylights in our master, we also decided to add a Sun Tunnel skylight to our master bathroom, which was windowless before this magical skylight came into play. Ever try to put makeup on without natural light? It's not fun at all!
I seriously can't believe what this little Sun Tunnel as done to our bathroom. We literally don't turn the lights on anymore and the best part is that it's super cost-effective. In total (without labor) this 10-inch sun tunnel rings in at under $300. Worth. Every. Penny.
Check out how bright our bathroom is now. PS: the lights aren't even turned on!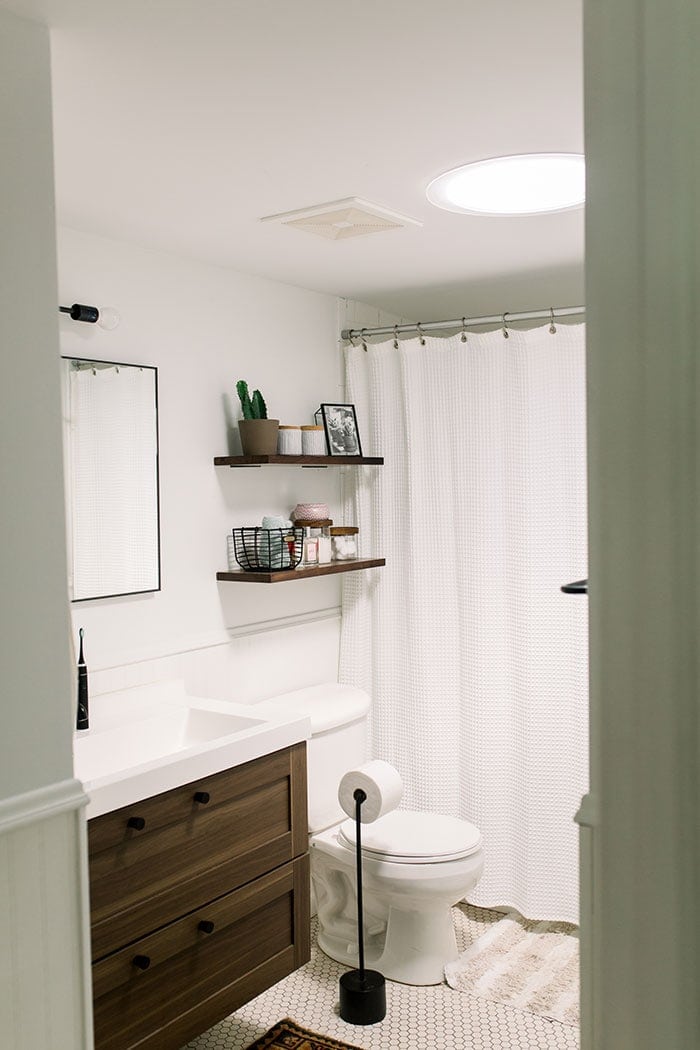 VELUX Active System
One of my favorite features of my new skylights are the VELUX ACTIVE with NETATMO system that comes with it! The VELUX ACTIVE System is basically our own climate controller. It monitors temperature, humidity and CO2 levels and uses that information to decide when to open and close the skylights and blinds to make the air quality better inside our home.
While the sensor-based ventilation is all done automatically, I also love that I'm in complete control of opening and closing the skylights and blinds right from my phone. AND, if I've ever forgotten to close my skylights and the rain sensor detects rain, they'll close automatically. Peace of mind, my friends.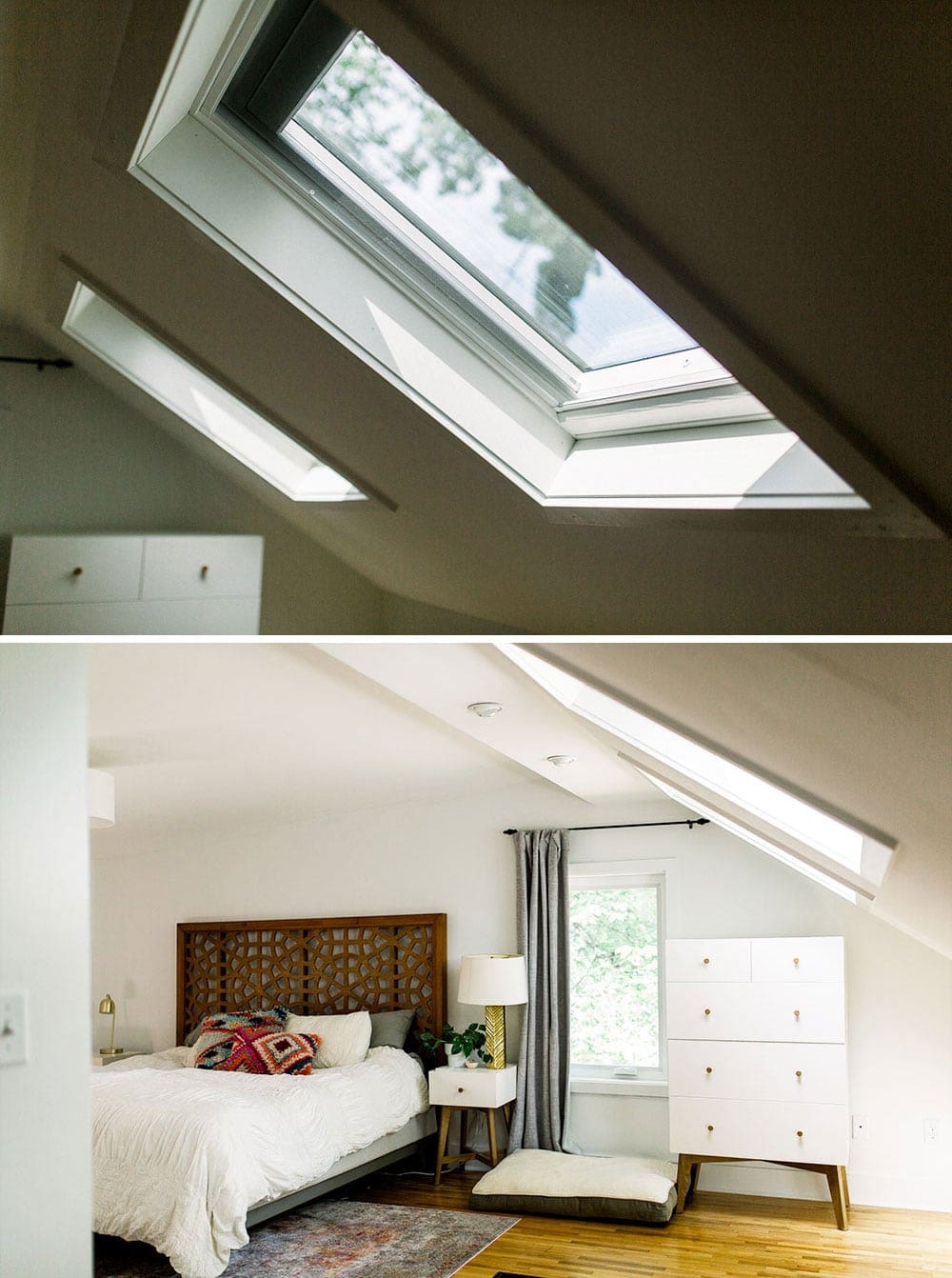 How Much do VELUX Skylights Cost?
While every space and geographic location is different, I thought I'd give you the basic rundown of how much VELUX Skylights actually cost. There are a few components that go into the installation of your skylights and they go as follows:
Skylight product cost: obviously the bigger your skylight, the more expensive it will be. You also have to consider the type of skylight and whether or not you want a window or a sun tunnel. For reference, the two skylights + blinds in my master bedroom were just over $3,000 total whereas the Sun Tunnel in my bathroom was $271 total.
Labor: someone has to install your beautiful skylights and installation of a single skylight typically costs about $1,500. It's more expensive to install standard flat glass skylights (like the ones in my bedroom and kitchen) in comparison to a Sun Tunnel because there's more labor required to install flat glass skylights. An experienced installer can complete a Sun Tunnel installation in about 90 minutes.
Remember: these skylights and the Sun Tunnel with a pre-installed solar-powered night light are eligible for a 30% tax credit, which is a great write off!
Bright & Airy Modern Master Bedroom
In addition to my amazing new skylights, I'm excited to give you the rundown of the rest of my bedroom, too! I get lots of questions about where my decor is from so I thought I'd write it all down for you so you can reference it at any time.
For this room I went "light and airy." I tend to be a super black and white kind of girl, but I went white with pops of color. It's tranquil, calming, and one of my favorite rooms in the whole house. PS: our paint color for both the walls and trim is Pure White by Sherwin Williams!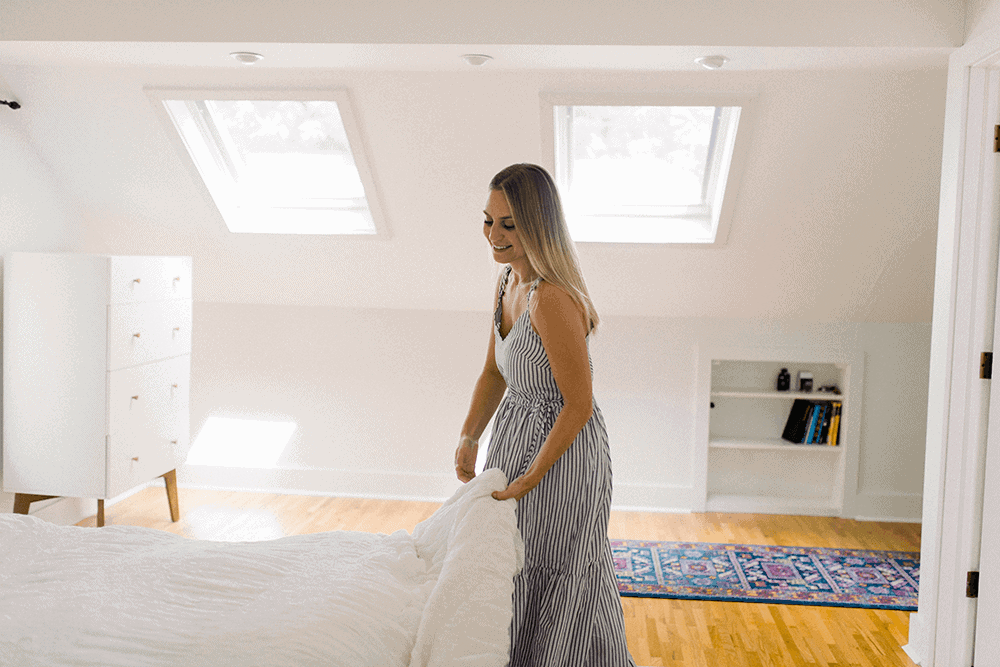 Furniture
My biggest piece of advice when it comes to furniture is quality matters. We went this route for our Mid-Century office too! I'm sure you're thinking that quality = $$, but don't you worry! Every piece I've purchased for my bedroom has been on sale. I love scouring websites like West Elm, CB2, Target, and Wayfair for deals on deals and only purchase when it's on sale.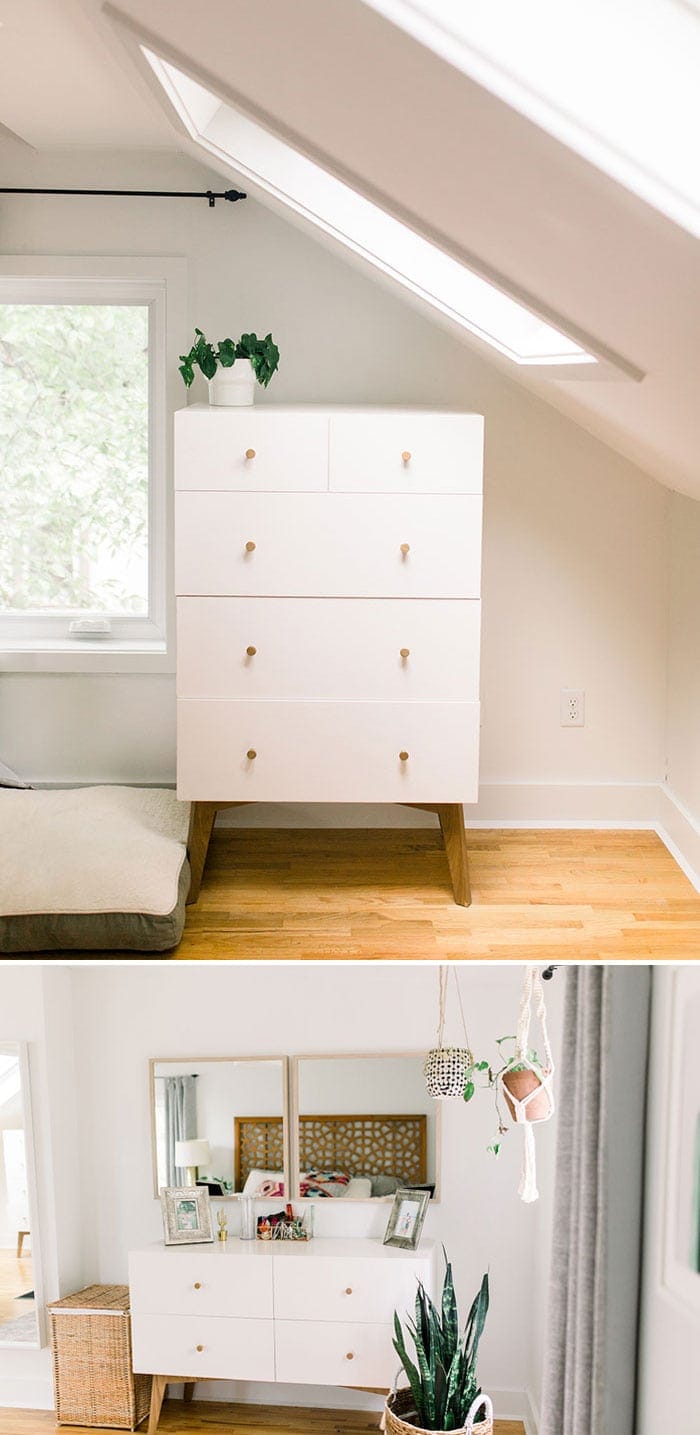 Tall Dresser: My dresser is part of the West Elm Modern collection, however, it's an older model. I love the mid-century, light walnut legs. *Similar: West Elm Modern Dresser
Wide Dresser: Like my tall dresser, my wide dresser is part of the same Modern Collection from West Elm. Try swapping out the hardware for something softer to get my look! *Similar: West Elm Modern Dresser
Night Stands: I'm a sucker for consistency. Both of our nightstands are also part of the West Elm Modern Collection. They don't have this one anymore, but they do have a slightly larger one Oh, and Target sells one that is very similar and less expensive! *Similar: West Elm Modern Nightstand OR
Bed/Bedding
I love my bed so much. We went for the base + headboard combo instead of doing one large bed frame. That way, we can easily switch out either one when we get sick of them! Check it out below.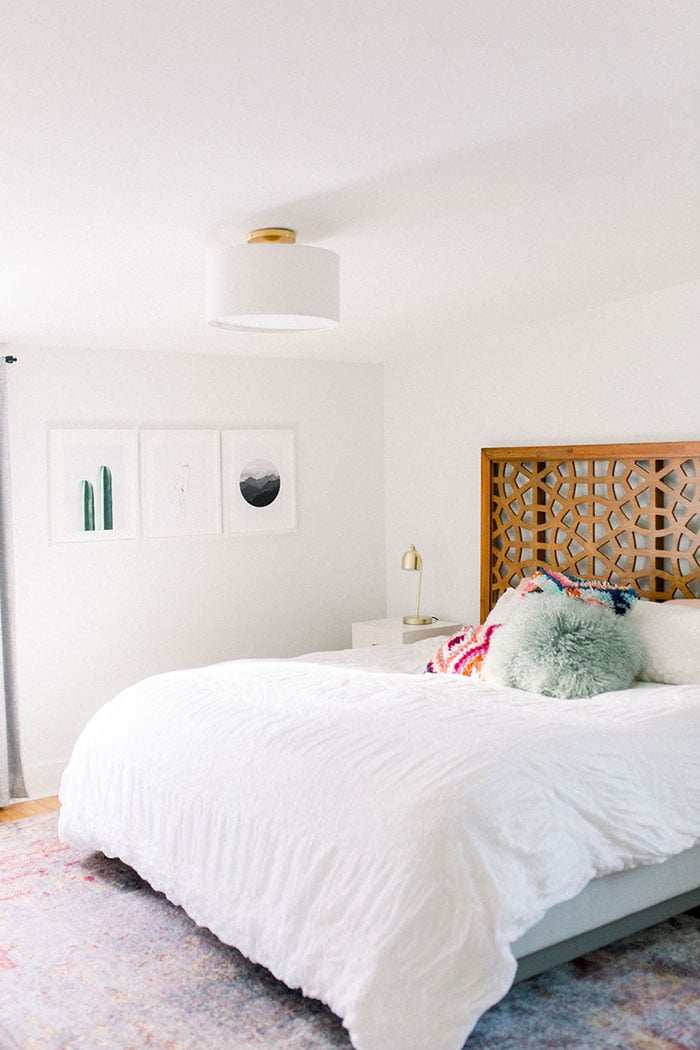 Headboard: This Florentine Geometric Headboard was purchased years ago from Wayfair and they unfortunately no longer have it in stock. If I ever find it again, I'll come back here and drop a link!
Bed: The bed we own is a king-size Sleep Number It Bed. We also own the accompanying metal base. We've had this bed for a few years and are loving every second of it…mostly because you can control the firmness like most other Sleep Number beds.
Duvet Cover: I'm a sucker for white duvets and this number happened after an Anthropologie Sale. They don't have this exact one, but they do have a handful of amazing ruched white duvets right now. Check it: Toulouse Duvet (closest one), Textured Chevron Duvet, Joey Washed Percale Duvet, and Ruched Hampshire Duvet.
Sheets: I love love love West Elm's cotton sheet sets. I've been rotating between a pink set and a grey set. They're basic, but yummy and affordable when they do one of their bedding sales!
Accent Pillows: For accent pillows I usually scour for deals at Target, West Elm, and Anthropologie. I love the geometric colorful pillows on my bed right now. They are from Anthro and similar to these. I picked up a super soft Mongolian Lamb pillow from West Elm (the blue fuzzy one) when it was on sale and I'm tempted to get one more!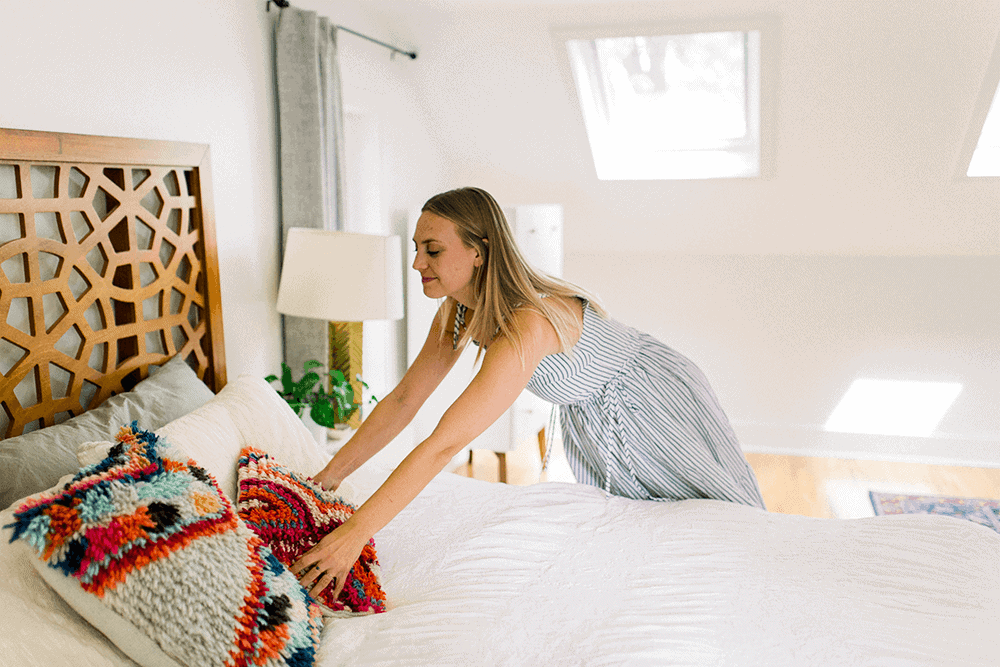 Decor
Square Mirrors: I've had the 2 square mirrors above my dresser for about 6 years now. They were a super find at IKEA. It looks like they have a similar one currently in black.
Artwork: The prints I have hanging on my wall are from an Etsy shop called Printable Studio. They are very reasonably priced, but you have to print them yourself! I hung them in a few Target frames that I then removed the glass from so there was no glare. Cheap, simple, and adds a pop of color!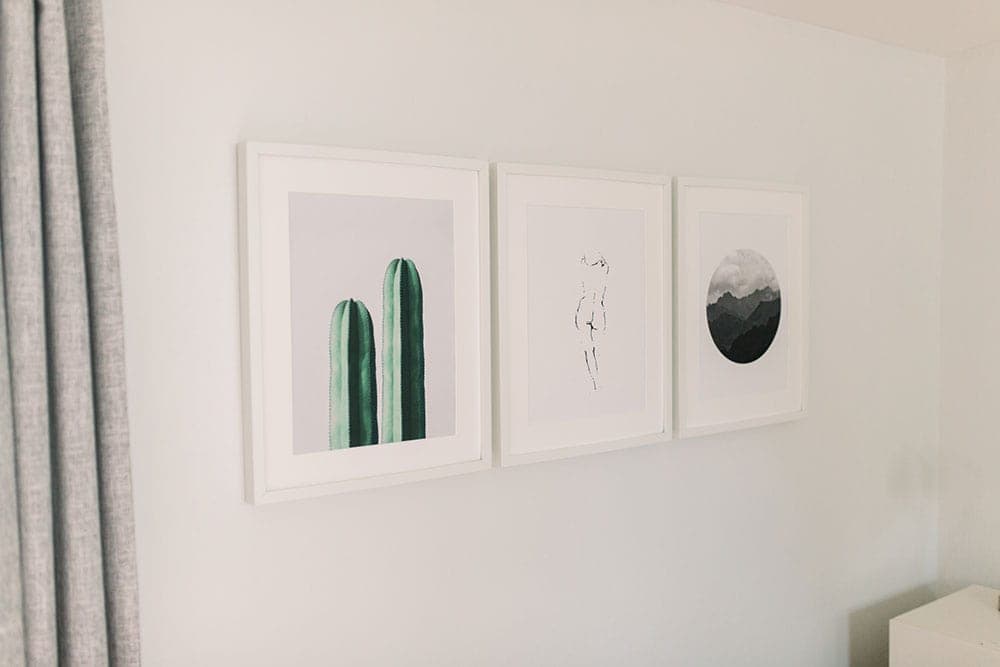 Light: The day I updated my light fixture was the best day ever! This Flushmount Fabric Shade was only $99 from West Elm.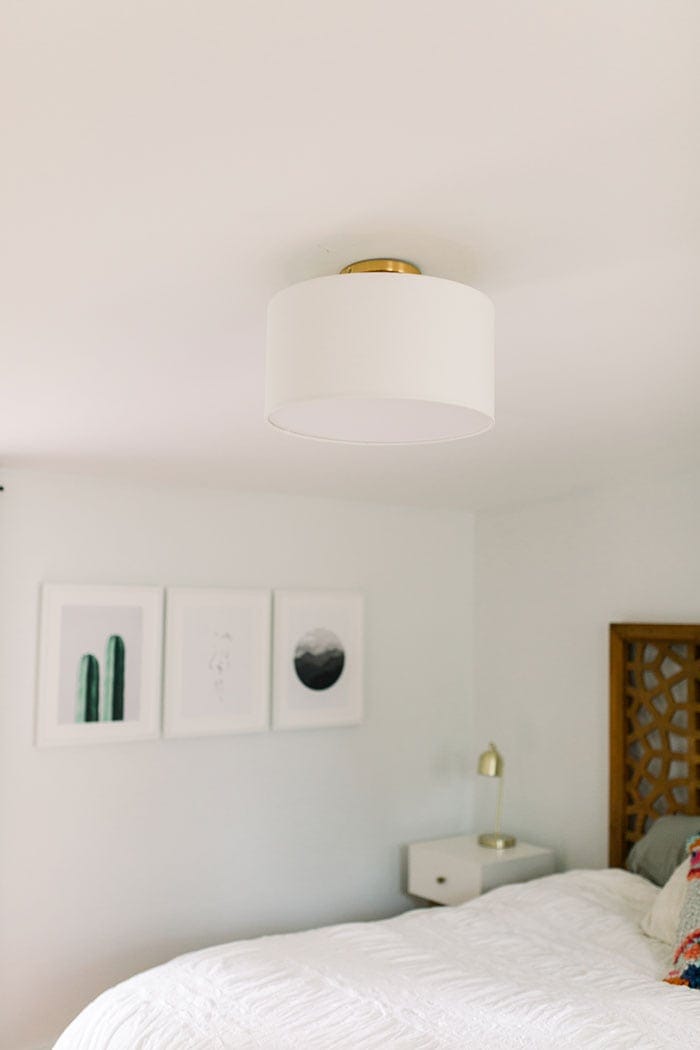 Lamp: Another sale find, this table lamp was purchased a few years ago from West Elm on sale!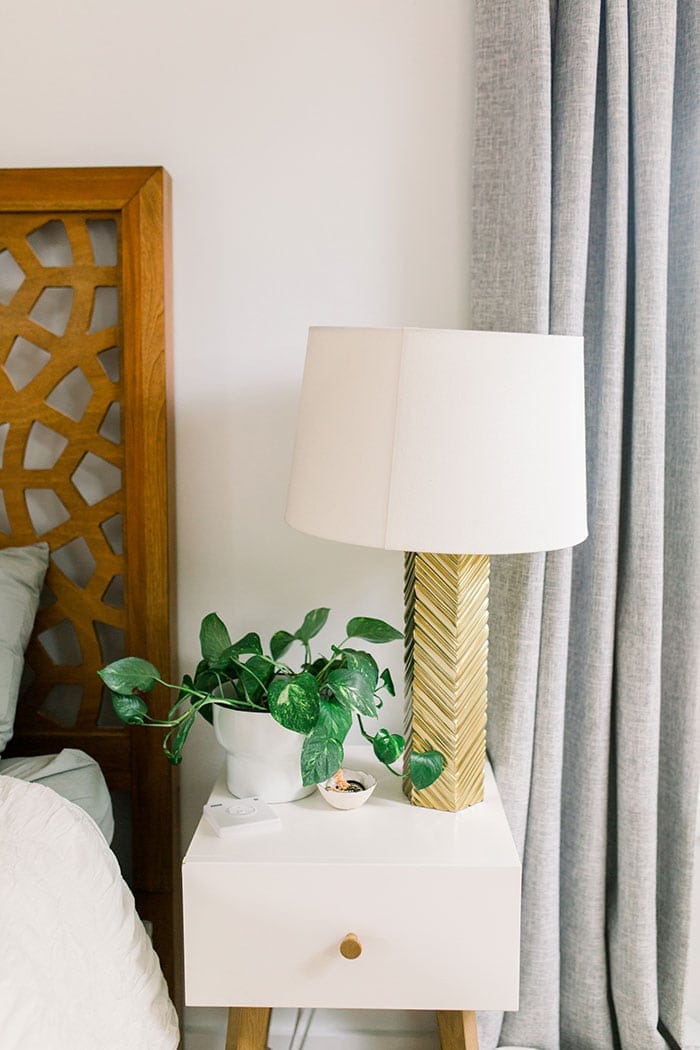 Plants/Pots
No room is complete without a plethora of PLANTS! Of course, all of the plants in our master bedroom are thriving now with all the newfound light. I also carefully picked out plants that are hard to kill. You can find all of our recommendations for hard-to-kill indoor plants HERE.
Plants: We have a few hanging plants in our master and these are both hearty pothos. I've also got 2 more pothos plants scattered on nightstands and dressers because I love them so much. A cactus lives in our bathroom and our star plant is the below mother-in-law's tongue. I love the color and it gives our space some height!
Pots/Baskets: I mentioned above that we have 2 hanging planters. These were purchased on Overstock and can be found HERE. I got most of the pots in our master bedroom from IKEA. These seem to rotate out fairly often, so you should just check out your local IKEA. As for larger plants. I love keeping those plants in their original baskets and placing them inside of a large basket. Here are some of my favs: seagrass basket, rope woven basket, and tapered basket.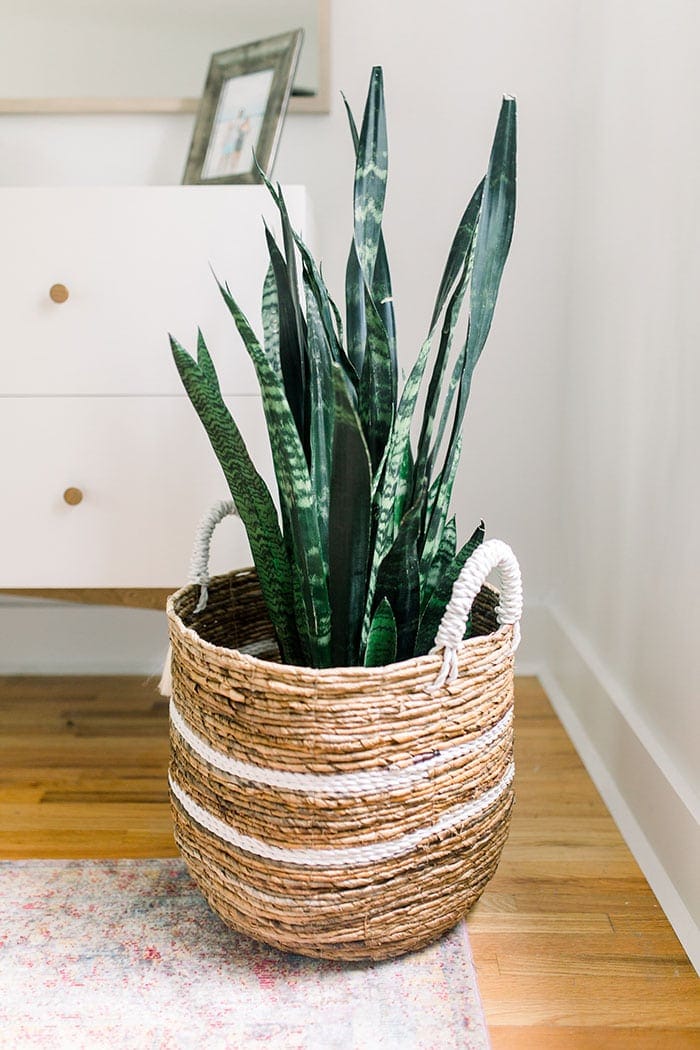 VELUX Skylights Giveaway
I've partnered with VELUX for a super awesome giveaway. Enter the VELUX Daylight Renovation Sweepstakes to be eligible to win two VELUX No Leak Solar Powered Fresh Air Skylights with solar powered blinds and installation! *
*NO PURCHASE NECESSARY. Void where prohibited. Ends on 8/13/19. Open to legal residents of U.S./D/C,18+ and who own their own home. Official Rules at www.whyskylights.com/daylight-renovation-sweeps Sponsor VELUX America, Inc.
Disclaimer: This post is sponsored by VELUX. I was compensated an all opinions are my own. Thank you for supporting Fit Foodie Finds.