This one pot pasta is a simple, yet elevated pasta recipe made with dry pasta, roasted red peppers, and mushrooms baked in the oven. That's right, there's no pre-cooking your pasta in this recipe.
There is no shortage of pasta recipes on Fit Foodie Finds. This creamy vegan pasta is a crowd please and you just can't go wrong with our mushroom stroganoff recipe.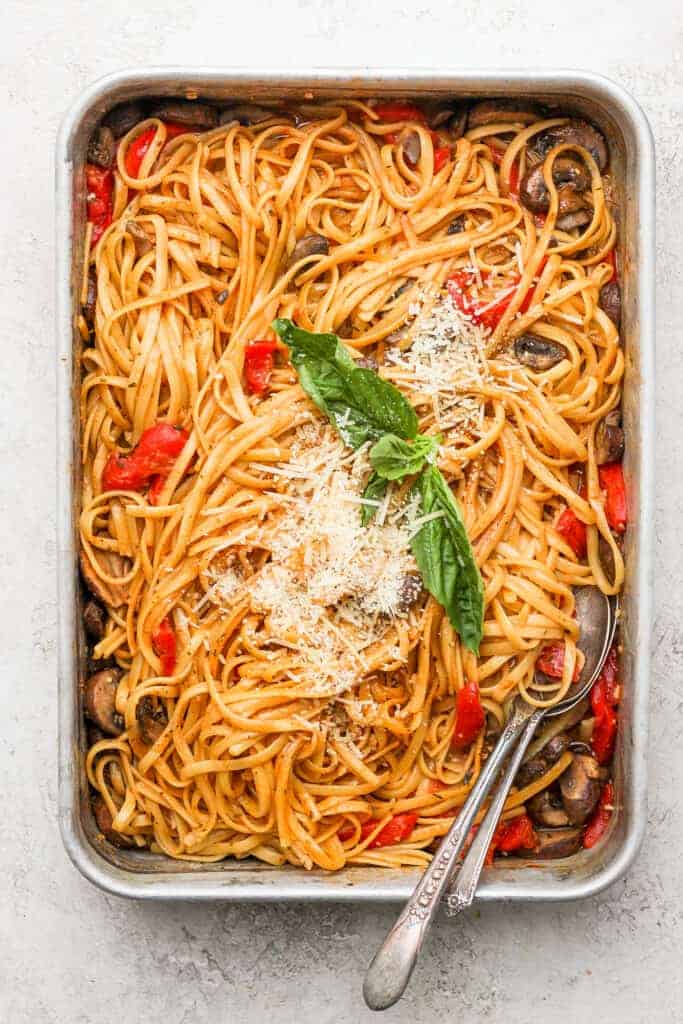 Easy One Pot Pasta in the Oven
There is no question that pasta dishes are some of the post loved and popular dishes on FFF and (really) all the world. When you are in a pinch, sometimes there just isn't time to sauté, mix, and boil. You need a quick fix.
This easy one pot pasta is made in the oven (yes, the oven!). You add all of your ingredients to a casserole dish or dutch oven and bake it until creamy.
why we love this recipe
You only need one dish to mix this recipe up (casserole dish or dutch oven).
It's a great meal for a weeknight dinner or to serve a crowd.
You can use any pasta you want.
It's easy to switch up the recipe based on what you like.
Ingredients You Need
Dried pasta- you can use any type of dried pasta that you would like. We were feeling linguine, but use whatever your heart desires.
Roasted red peppers- the roasted red peppers add a delicious sweetness to this pasta. We recommend buying them already roasted. Just drain the liquid from the roasted red peppers and you're all set.
Mushrooms– the mushrooms in this pasta soak up all of the delicious flavors in the pasta sauce while they're baking. SO good.
Chicken broth- you need some kind of liquid to cook the pasta. Using some kind of broth adds so much more flavor than just using water. We used chicken broth, but beef broth or veggie broth would work, too.
Tomato paste– the tomato paste thickens the sauce while it cooks along with the starch from the pasta.
Garlic- pasta isn't pasta without garlic!
Salt – the salt enhances all of the flavors in the whole dish, don't skip it.
Spices ( pepper, dried thyme, dried oregano, garlic powder)– this simple spice mix adds
Heavy Cream– you add a little bit of heavy cream to the pasta dish after the pasta is baked and mixed. It creams it up just right.
What Pan Can Should I Use?
We used a 9×13 casserole dish with a cover because it fit our linguinie noodles. . It is a great option for a baked one pot pasta.
You can also use a large dutch oven. It all depends on what pasta you use and if your pan or pot is long enough for your pasta of choice.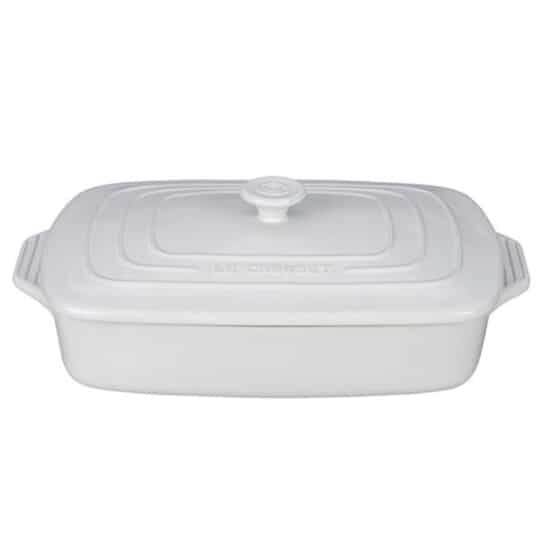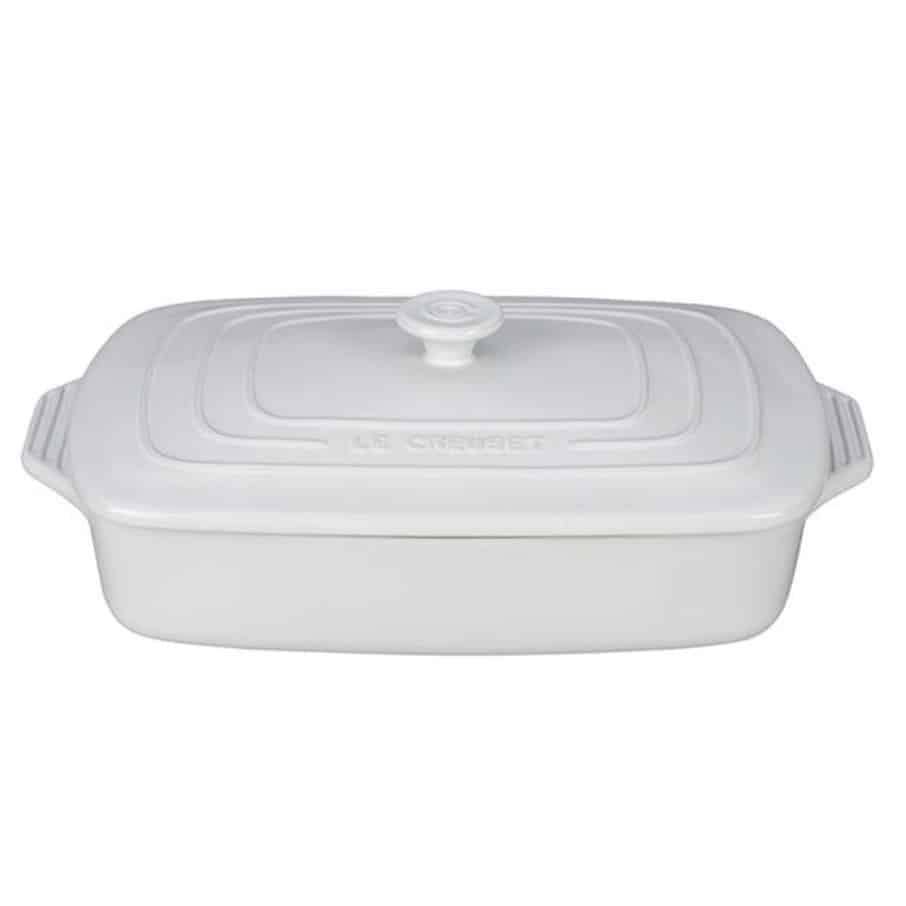 Our Favorite
Casserole Dish
We love this le creuset casserole dish because it is oven safe AND has a cover. It is the perfect casserole dish for this baked one pot pasta dish!
check it out!
Can I Make this on the Stove Top?
Yes you can make this recipe on the stove top! Place all of your ingredients in a large stock pot over medium/high heat and bring to a boil. Turn heat to low and let simmer for 7-10 minutes or until your pasta is al dente.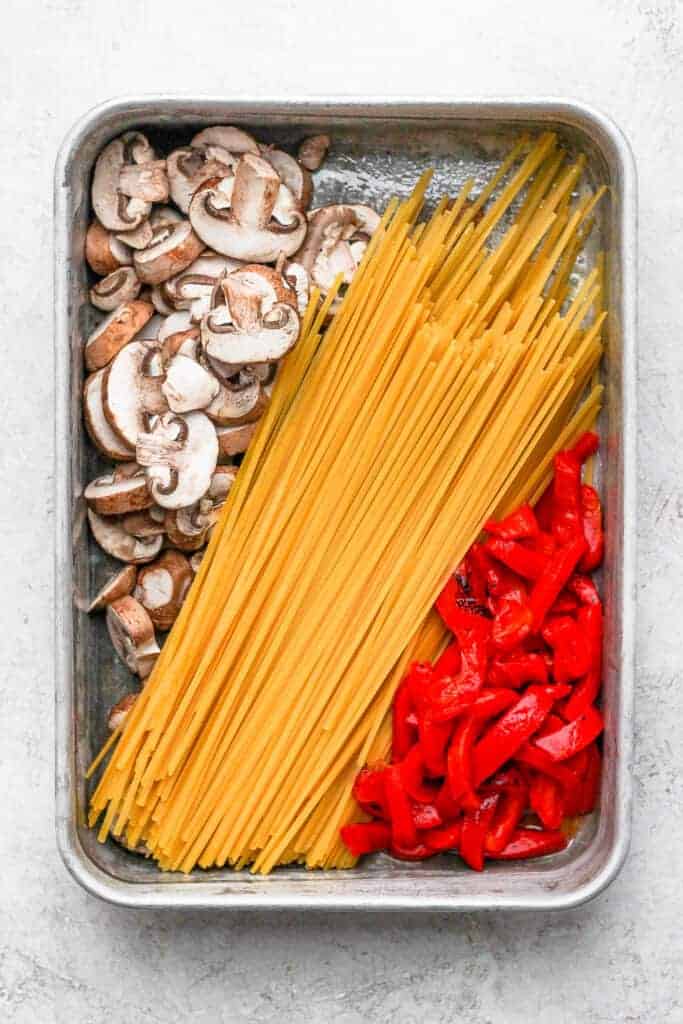 At a Glance: How to Make this One Pot Pasta
Choose a pot or pan. After you have decided what pasta to use, choose a pot or pan with a top that is oven safe. Spray the pot with non-stick cooking spray.
Add ingredients to the pot. Add all of your ingredients to your pot and stir, making sure that the pasta is under all of the liquid.
Bake. Cover the pot and bake at 400ºF and bake for 30 minutes. We highly recommend stirring your pasta a few times within that 30 minutes to be sure the pasta isn't sticking together.
Add cream. Remove the pasta from the oven and add cream to the dish. Toss all of the ingredients together until combined.
Let sit. Cover the pasta one last time and let the pasta sit for 2-3 minutes to thicken.
Mix + Enjoy. All that's left is a good mix and to top your baked pasta with whatever your heart desires! We topped ours with parmesan cheese and fresh basil.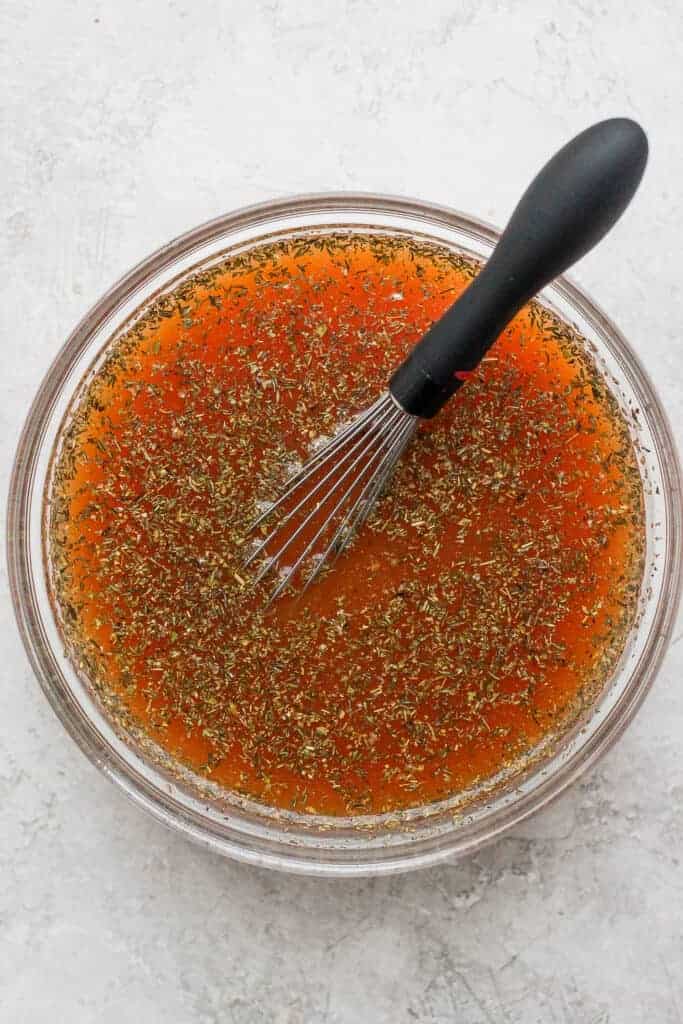 Tips + Tricks
Make the sauce separately
We highly suggest whisking the broth and tomato paste in a separate bowl or in the casserole or pot before adding the rest of the ingredients. You want to be sure that the tomato paste is dissolved into the broth.
Be sure to stir the pasta
Once you combine all of the ingredients together be sure to stir the pasta and spread it out evenly throughout the dish so that it doesn't stick together during the cooking process.
Change up the ingredients
Don't like mushrooms? No problem, use bell peppers or cherry tomatoes. Forgot to buy roasted red peppers? Use sun dried tomatoes. The point here is that you can use your favorite veggies, ingredients in this recipe are very easy to substitute.
Make it Spicy
Add a little heat to this recipe by adding 1 teaspoon of red pepper flakes to the broth.
Storage Options
Let your pasta cool completely before placing it in an airtight container and place it in the fridge for to 5 days.
To reheat the pasta, add the pasta to a skillet and add 1-2 tablespoons of broth to the pan. Heat the pasta over medium/low heat until it reaches your desired temperature.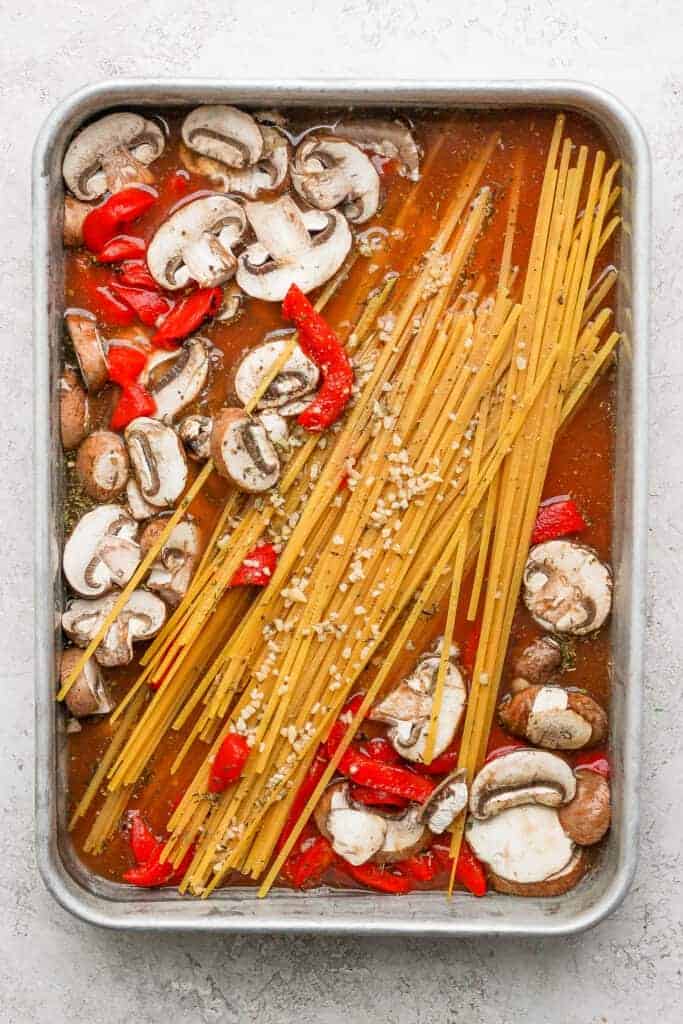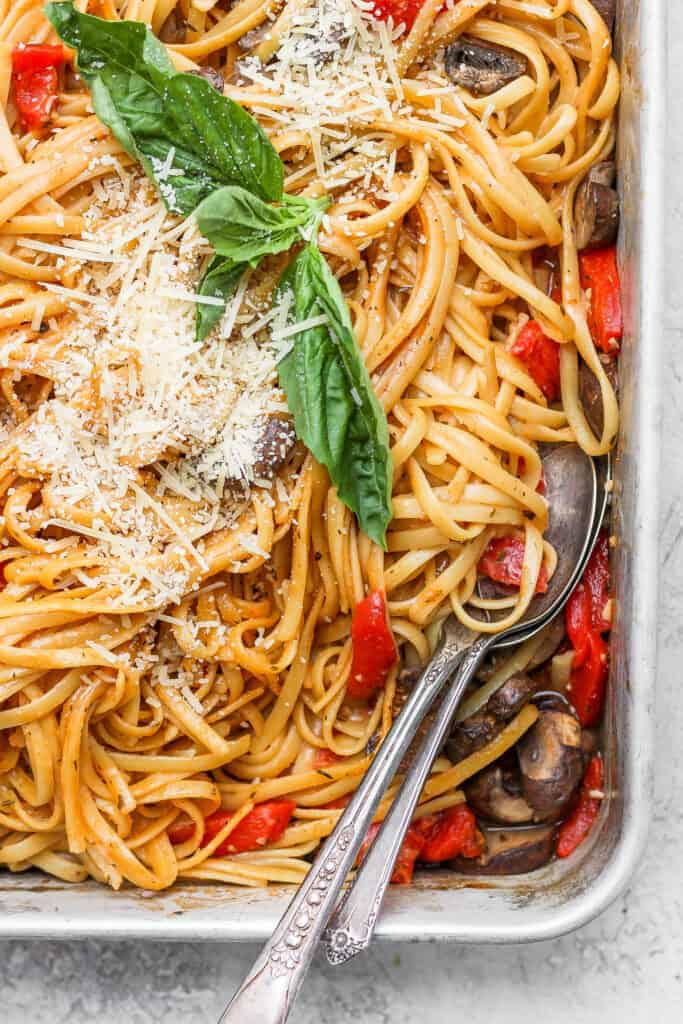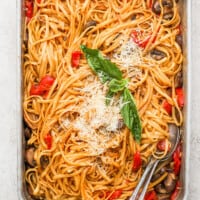 Oven Baked Pasta
This pasta recipe is made with roasted red pepper, mushrooms, and other delicious veggies. All the ingredients boil in broth and you add a bit of heavy cream at the end to make it the perfect creamy pasta. 
Instructions
Preheat the oven to 400ºF and spray a 9x13-inch casserole dish with cooking spray. 

Place the dried pasta, roasted red peppers, and mushrooms in the baking dish, mix together and set aside. 

Add the chicken broth, tomato paste, garlic, salt, pepper, thyme, oregano, and garlic powder to a bowl with a pouring spout. Whisk all the ingredients together and then pour the chicken broth mixture over the pasta and vegetables. 

Stir the ingredients around so that the pasta is spread out as much as possible in the baking dish. 

Cover the baking dish with a cover or tin foil and bake for 30 minutes, stirring halfway through. 

Remove the baking dish from the oven when the pasta is al dente. 

Stir all the ingredients together and slowly add the heavy cream, stirring constantly as the heavy cream creams the pasta sauce. 

Cover the pasta and let it sit for 3-5 minutes. 

Top with fresh basil and parmesan and serve.
Nutrition facts
Calories:
372
kcal
Carbohydrates:
63
g
Protein:
15
g
Fat:
4
g
Fiber:
3
g
Sugar:
3
g