This creamy Mushroom Stroganoff recipe is what dreams are made of. The flavor combo between the mushrooms and savory stroganoff sauce is unbelievable.
This Mushroom Stroganoff is made with hearty mushrooms, Greek yogurt/sour cream, broth, and fresh thyme that are folded in with egg noodles to create the most comforting dinner.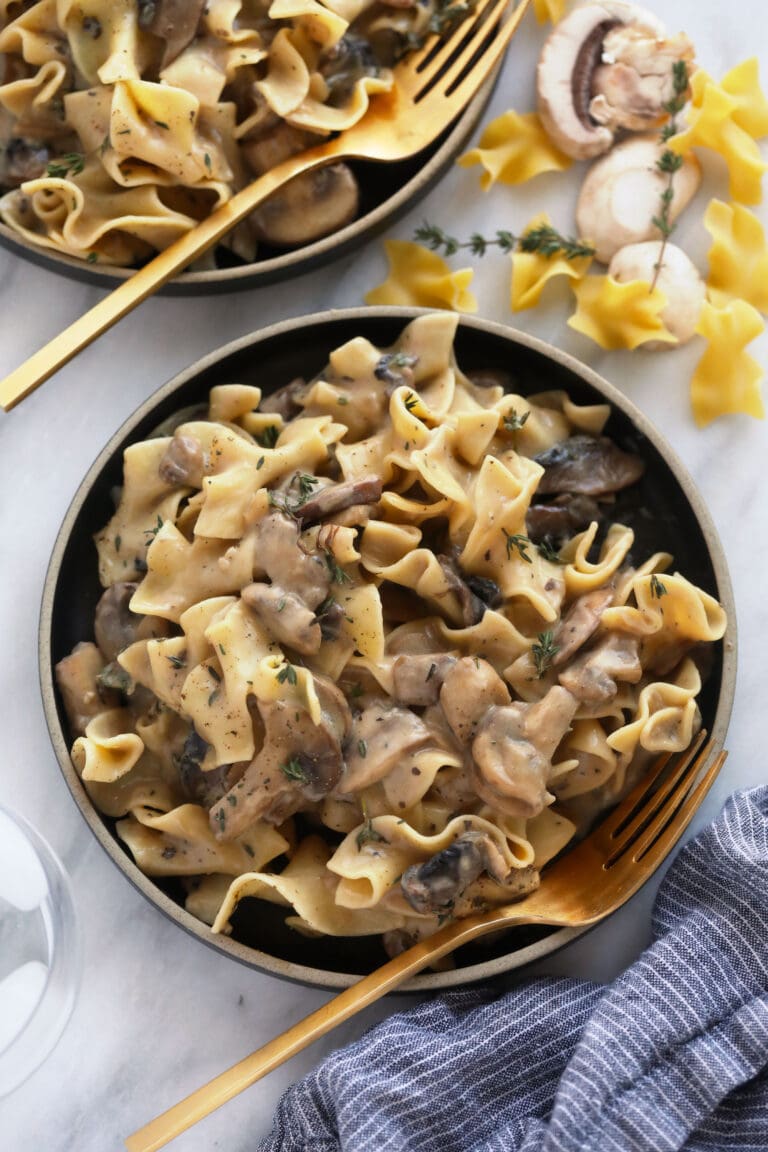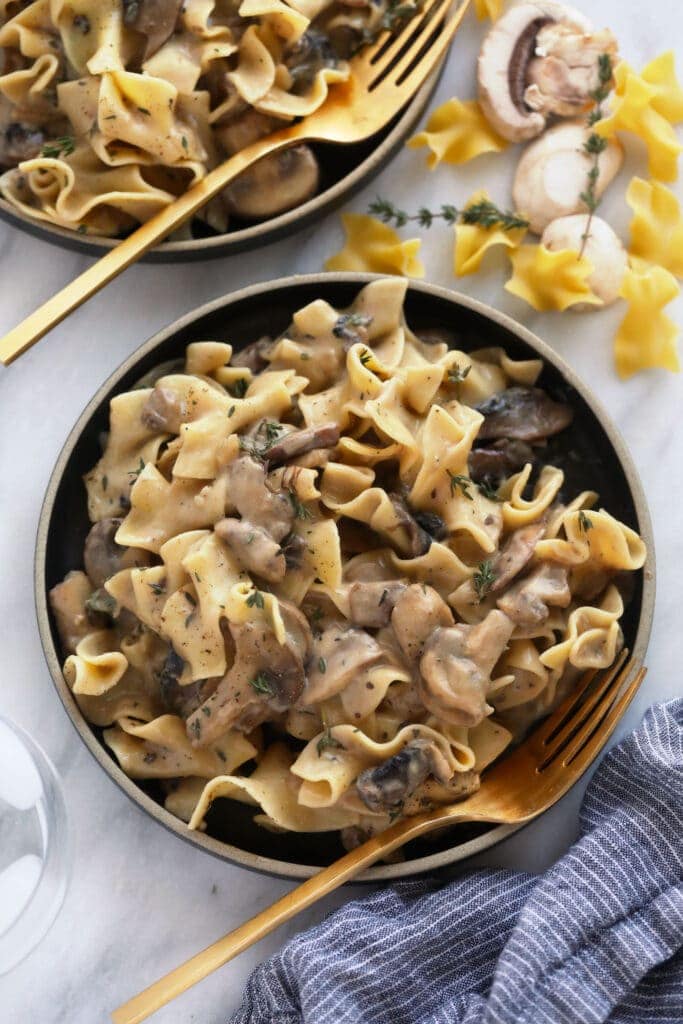 Mushroom Stroganoff = Healthy Comfort Food
Everyone has that one meal that they choose when they crave comfort food. Nothing screams comfort food more than stroganoff! This mushroom stroganoff is a classic vegetarian comfort food dish that will leave you happy and full.
Why make this mushroom stroganoff?
Vegetarian: not only is this recipe vegetarian, but it's also veggie-packed! We used at least double (or more) the number of mushrooms that most other mushroom stroganoff recipes use.
Healthier: we like to make simple swaps to make traditional meals a little healthier. In addition to adding more veggies, we also used Greek yogurt in place of sour cream.
Ready in 30 Minutes: dinner is ready to go in 30 minutes. Yes please.
What is in mushroom stroganoff sauce?
Stroganoff sauce is traditionally made with sour cream and a roux, which is a mixture of butter, flour, and milk or broth. Most stroganoff sauces have onion, mushrooms (even beef stroganoff), and Worcestershire sauce.
We went with a healthier version of a creamy and delicious sauce for this mushroom stroganoff with triple the amount of mushrooms and delicious greek yogurt!
What We Used
Here is what you'll need to make the stroganoff sauce.
Vegetable broth
Onion
Garlic
Mushrooms
Worcestershire sauce
Greek yogurt (sour cream works too!)
Flour
How do you make the sauce thick? Instead of a roux we thicken this mushroom stroganoff with a slurry of flour and broth.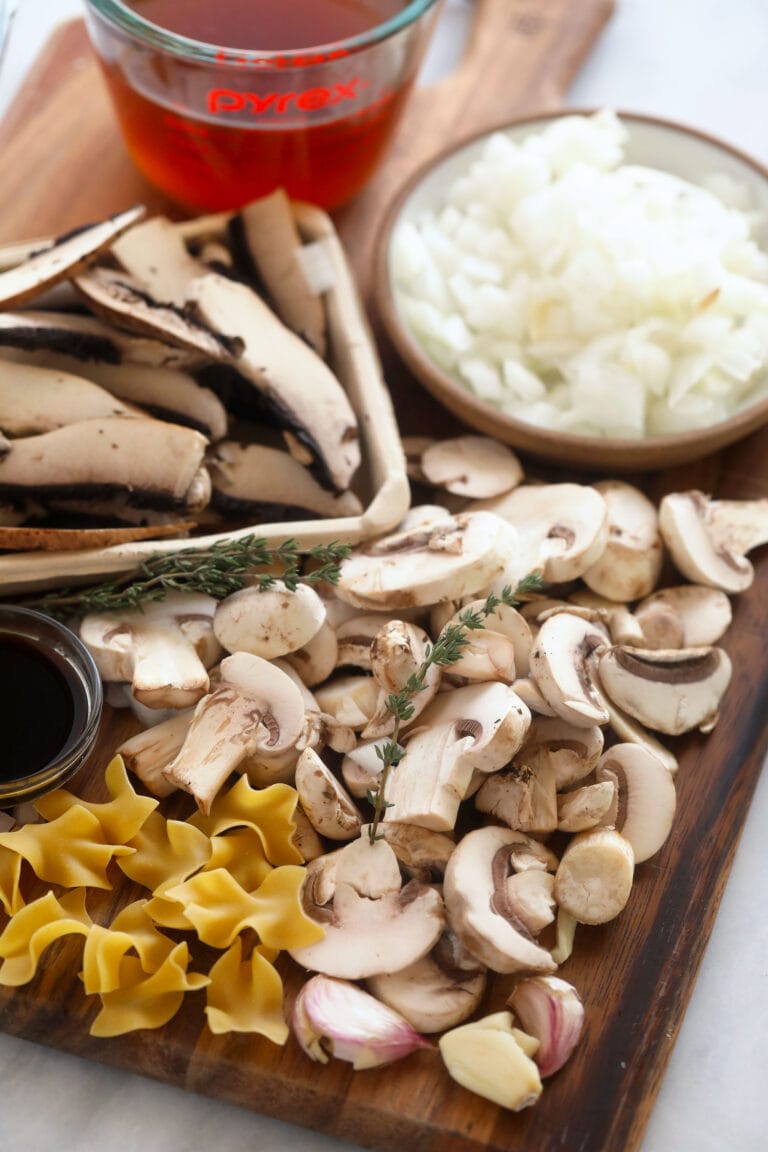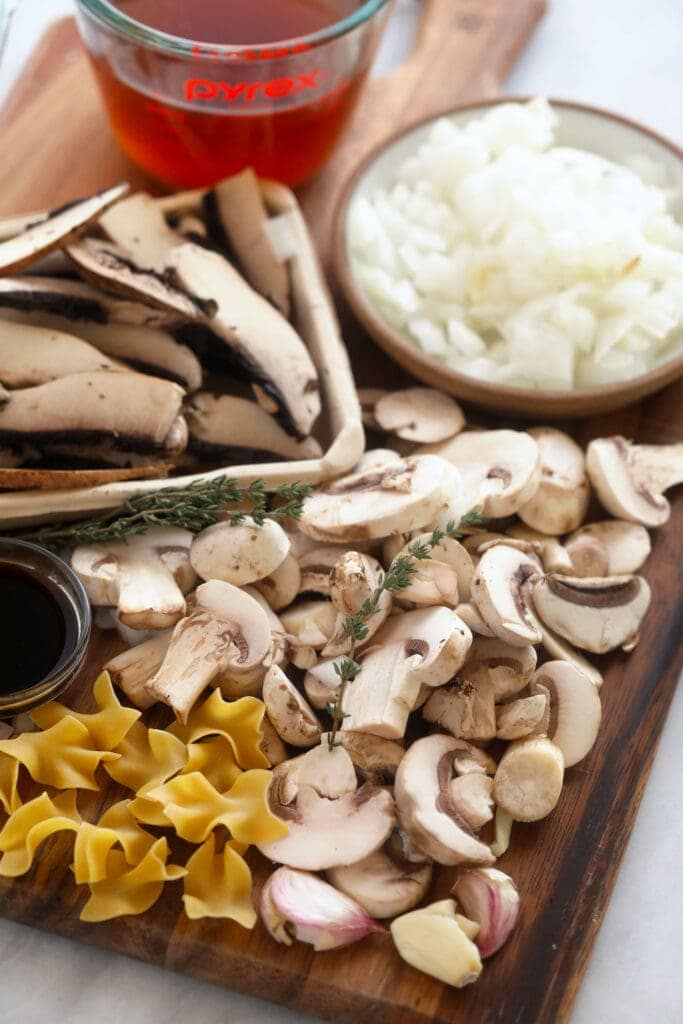 How to Make Mushroom Stroganoff
This mushroom stroganoff is a seriously easy dinner to make any night of the week! It is ready in 30 minutes, so you'll be sitting with a big bowl of comfort food in no time!
Sauté the Mushrooms
The first step to making mushroom stroganoff is to sauté the mushrooms. A common mistake when people sauté mushrooms is that they start cooking them at too high of a temperature and don't give enough time for moisture to cook off them mushrooms.
Here are a few tips when it comes to sautéing mushrooms.
Add mushrooms to the pan and make sure you toss the mushrooms in oil and sprinkle them with salt. It is important you don't skimp on the oil or the salt. The salt helps to draw the moisture out of mushrooms.
Start sautéing the mushrooms on medium heat, not high heat. You want to slowly sauté at first and then brown the mushrooms on medium high for last few minutes to brown them.
Try not to push the mushrooms around too much in the pan. Let the mushrooms sit and seep their liquid.
You'll know when the mushrooms are ready, when they are still plump, but golden brown.
After the mushrooms are sautéd add the onion and garlic until the onion is translucent.
mushroom options
There is no rule on what kind of mushrooms to use in this mushroom stroganoff recipe. We used a mixture of bella mushrooms, white mushrooms, and shiitake mushrooms.
Feel free to experiment with any kind of mushrooms that you'd like!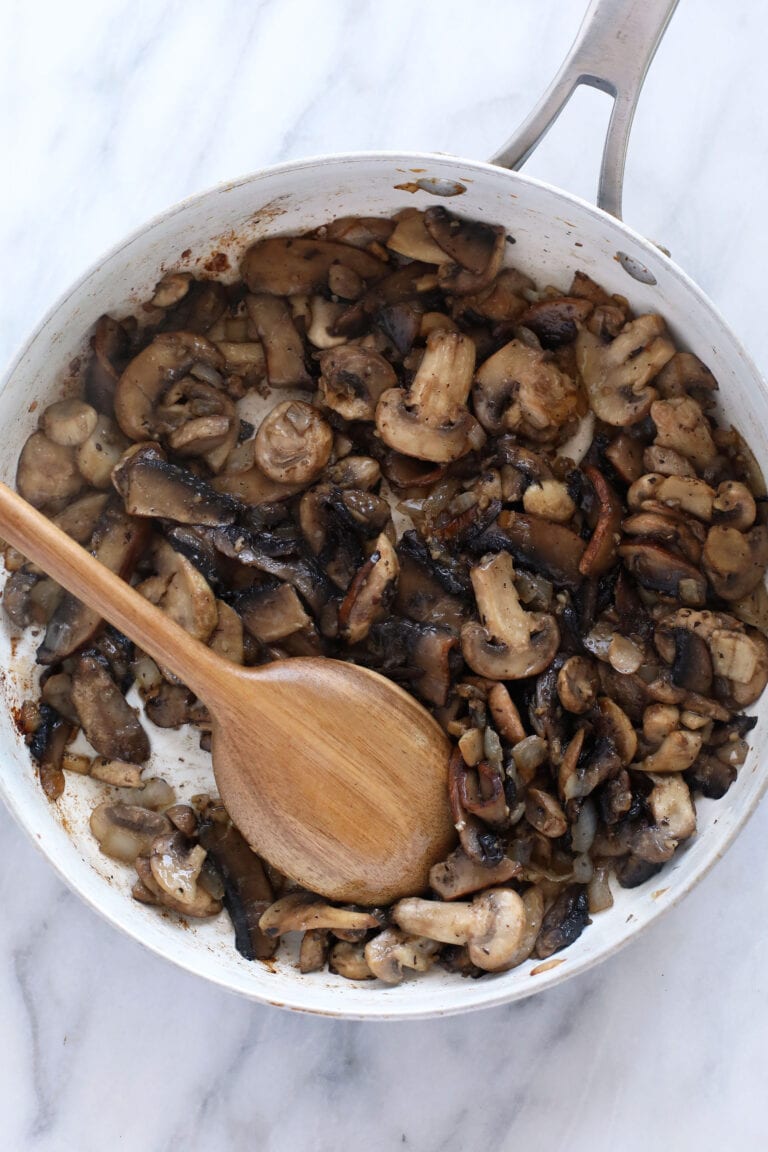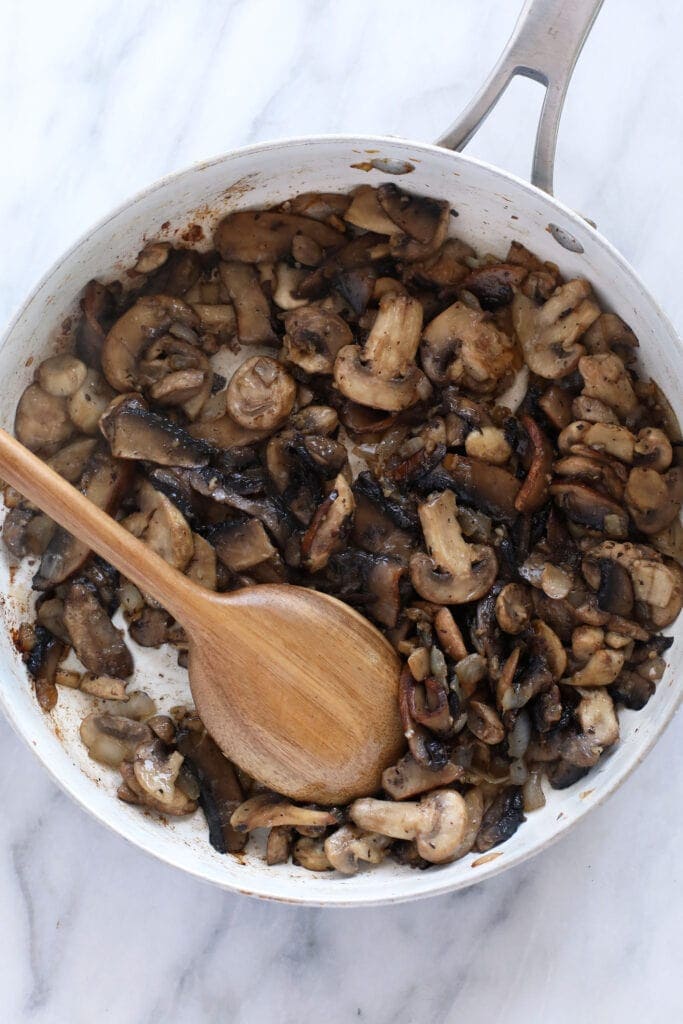 Combine broth an flour
Once the mushrooms are cooked, it's time to add in a combination of broth and flour. Whisk the flour into one cup of broth.
Normally for a slurry like this, you add corn starch to a warm liquid, but for this recipe, there is no need to use corn starch. Trust us!
Slowly pour the mixture into the pan and stir everything together over medium heat until the broth begins to bubble.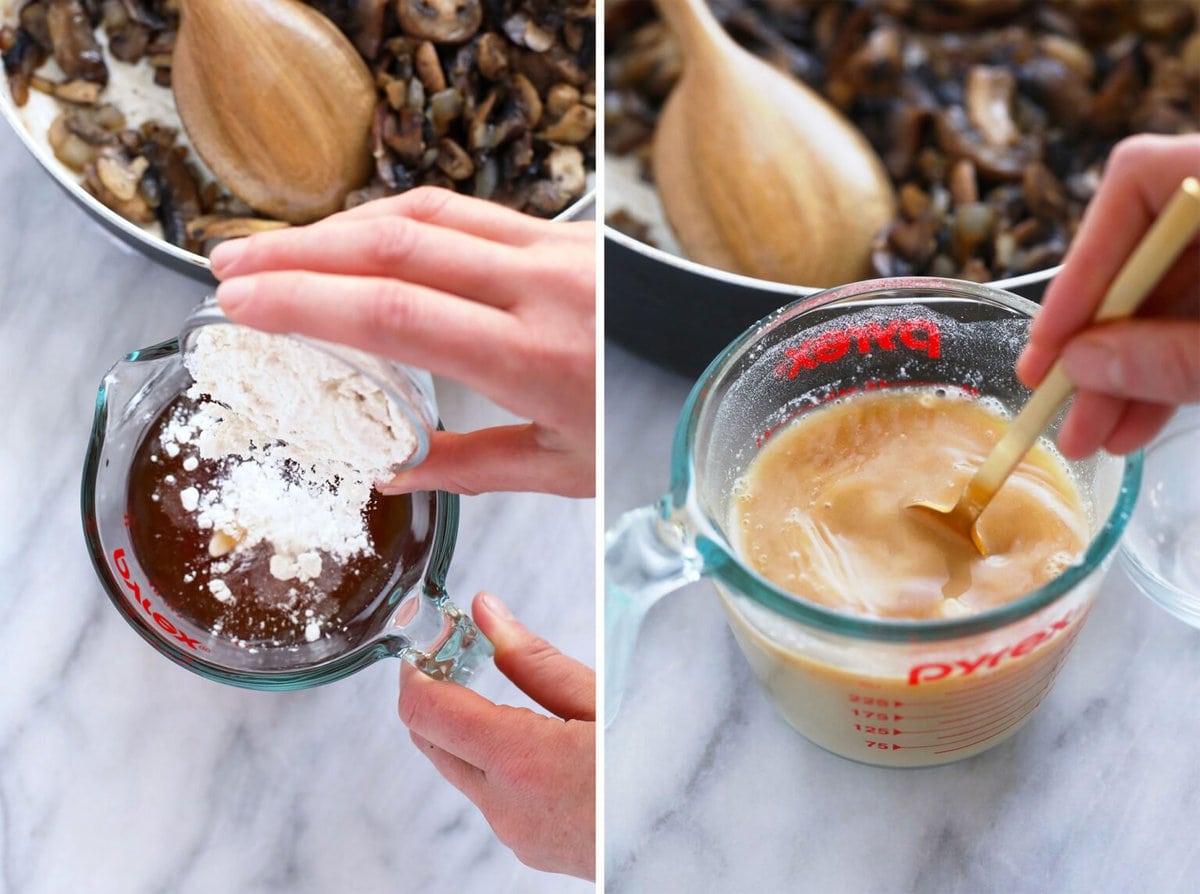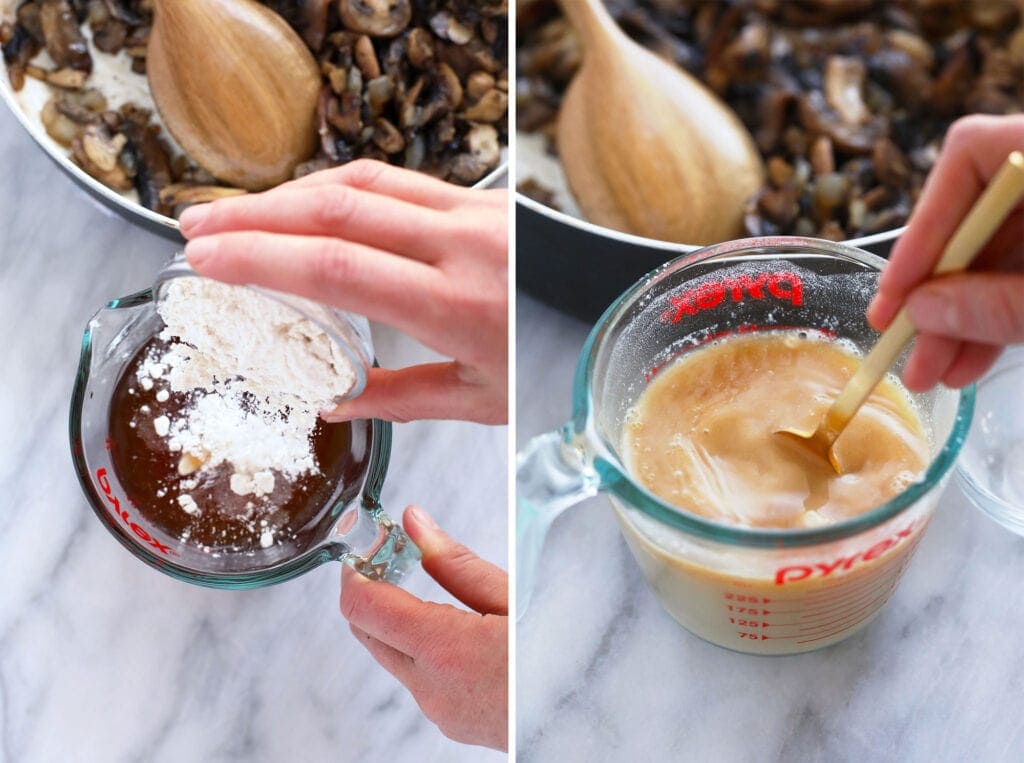 Make the stroganoff sauce
When the slurry thickens slowly add the Greek yogurt, the rest of the broth, and fresh thyme into the pan and mix. The Greek yogurt adds a delicious tartness to the sauce and creams it up to deliciousness!
When the sauce is hot, serve the mushroom stroganoff over noddles.
want a more traditional sauce?
We are huge fans of Greek yogurt, but you are more than welcome to swap it out for sour cream, which is much more traditional. You could even go 50/50 Greek yogurt and sour cream. Your choice!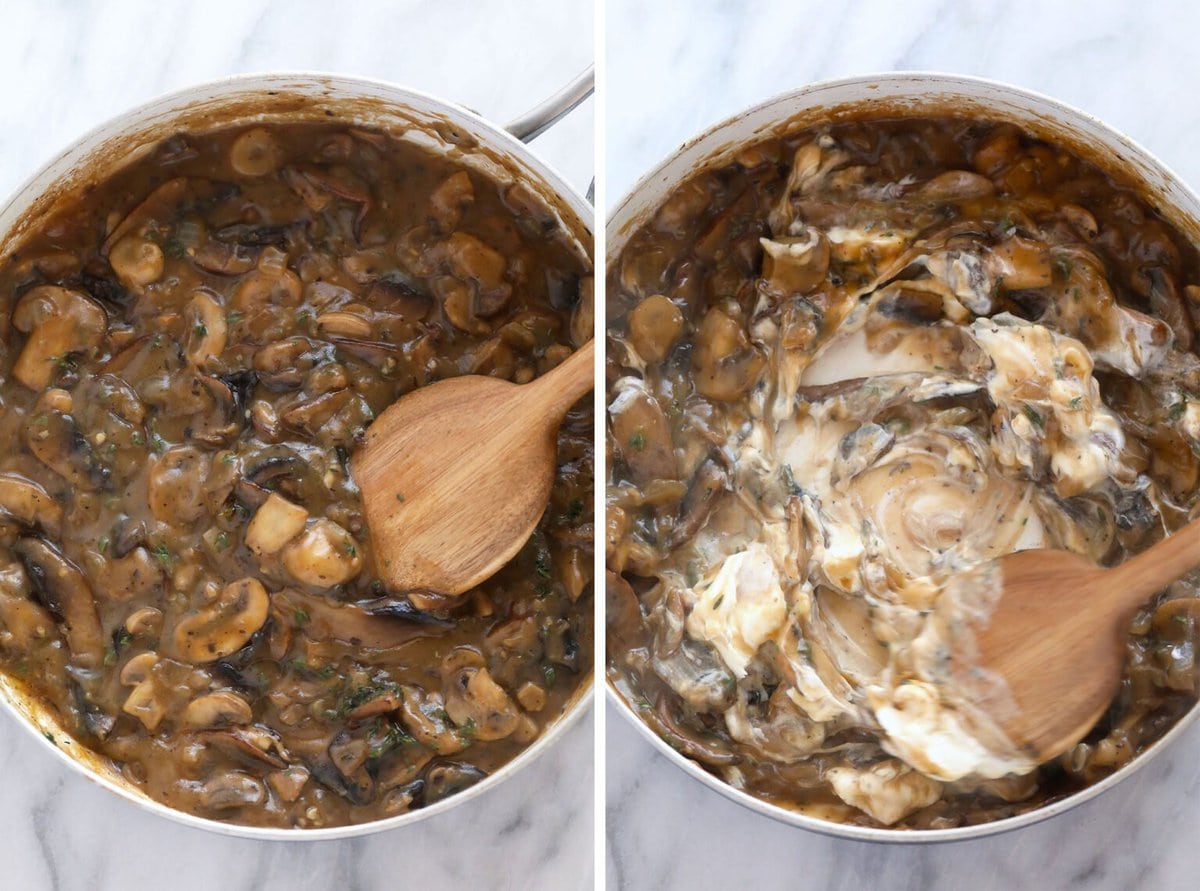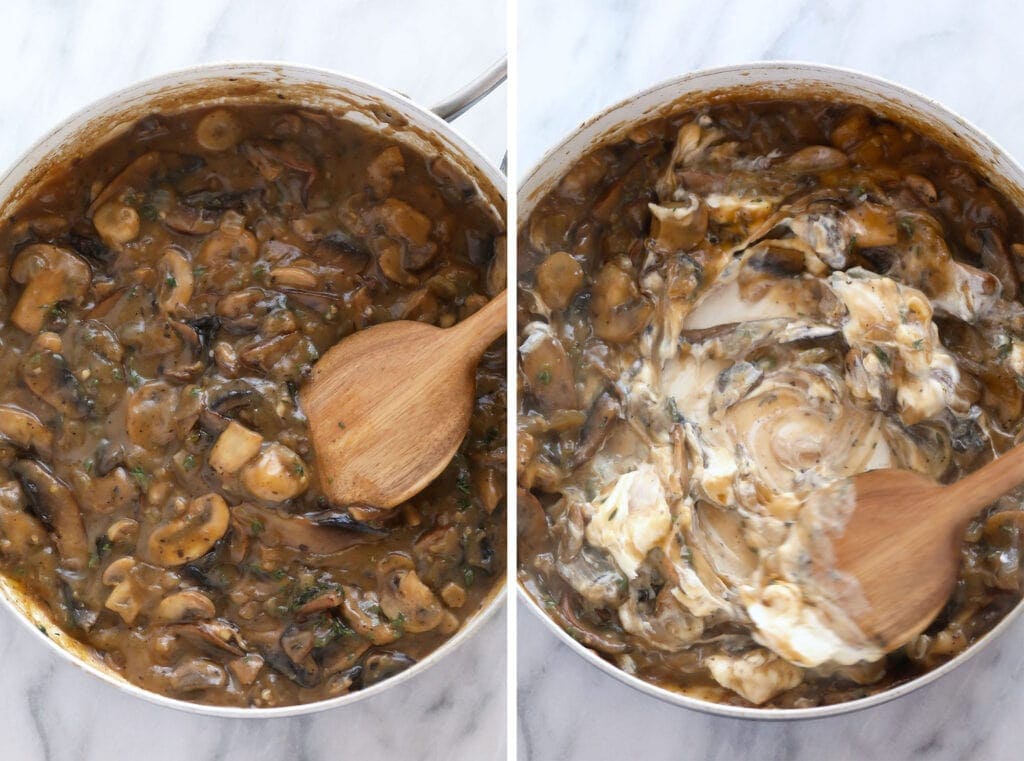 Mushroom Stroganoff Tips
How do you thicken mushroom stroganoff?
We used flour to thicken this mushroom stroganoff as we found the taste is much better than a corn starch roux.
Can I substitute milk for sour cream in mushroom stroganoff?
The best subsittute for sour cream (which is used in traditional stroganoff) is Greek yogurt, not milk. We used Greek yogurt in this recipe.
How do I make mushroom stroganoff gluten-free?
To make mushroom stroganoff gluten-free, use gluten-free pasta and gluten-free all-purpose flour for thickening.
Can I put other vegetables in mushroom stroganoff?
Yes, you can put other vegetables in mushroom stroganoff. Sauté other vegetables with the mushrooms when you add the onions into the pan. Here are some ideas:
Peas
Carrot
Potatoes
Shallot
How do I store mushroom stroganoff?
To store mushroom stroganoff, we recommend storing the pasta and the sauce separate from each other. Store the sauce in an air tight container and place it in the refrigerator for up to 5 days.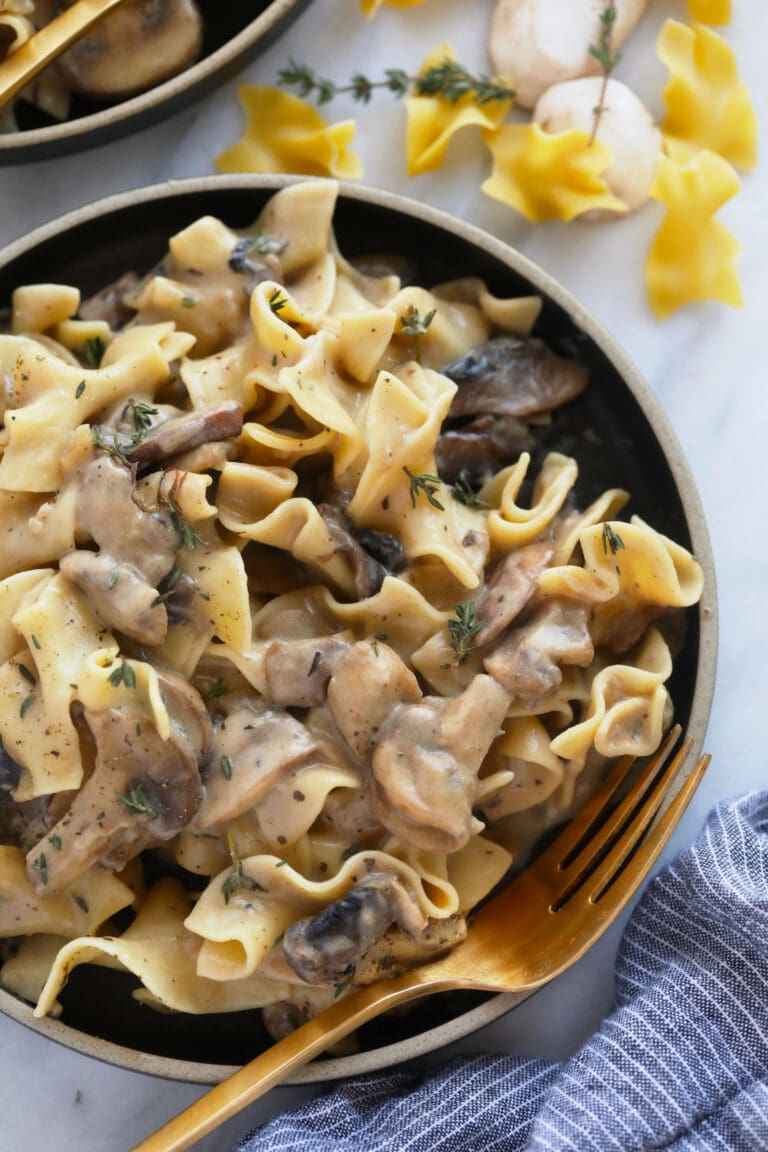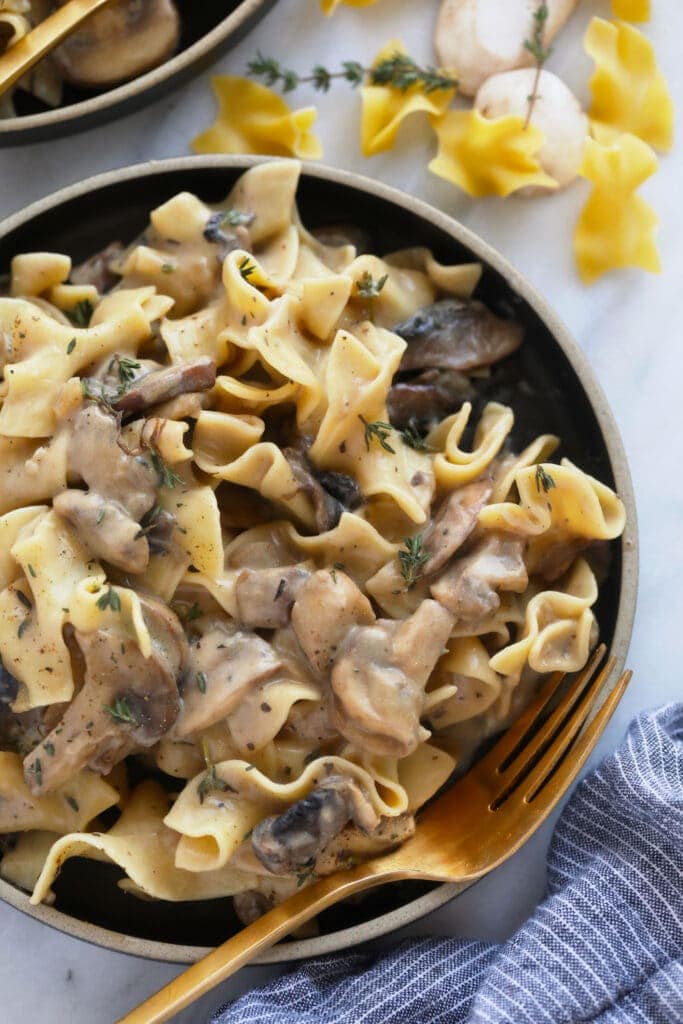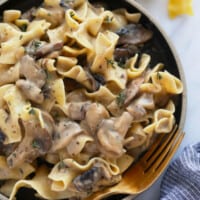 Mushroom Stroganoff
This is the creamiest mushroom stroganoff on the internet. It is made with hardy mushrooms, Greek yogurt, broth, and fresh thyme that are folded in with egg noodles to create the most comforting dinner.
Prep:
15 minutes
Cook:
20 minutes
Total:
35 minutes
Fat
14
Carbs
14
Protein
10
Ingredients
10

-oz. wide egg noodles

4 tablespoons

olive oil, separated 

20

-oz. mixed mushrooms, (we used portebella and white mushrooms), thinly sliced

1/2

large white onion, diced

5

cloves garlic

1/2 teaspoon

salt, separated

1/2 teaspoon

pepper

2 cups

vegetable broth, separated (or any kind)

3 tablespoons

white whole wheat flour

1/2 cup

2% Greek Yogurt (option to use sour cream)

2 tablespoons

fresh thyme, roughly chopped
Instructions
Begin by bringing a large pot of salted water to a boil. Add egg noodles. 
Let the egg noodles cook until they are al dente and then strain the water from the noodles.
Rinse the noodles with cold water and set aside. 
Next, heat a large pan (or dutch oven) over medium/high heat and add  3 tablespoons olive oil. 
When the olive oil is fragrant, add all of the mushrooms and 1/4 teaspoon of salt to the pan and turn the heat to medium/low heat. 
Let the mushrooms sauté for 6-8 minutes, tossing them every 3-4 minutes. 
Add 1 more tablespoon of olive oil to the mushrooms as well as the onion and garlic. Mix everything together and sauté for an additional 2-3 minutes. 
While the vegetables are cooking, add the flour to 1 cup of broth and whisk until the flour is mostly dissolved. 
Turn the heat to medium/high heat and slowly pour the flour and broth mixture into the pan and whisk consistently until the mixture thickens. 
Slowly add the rest of the broth, Greek yogurt, pepper, and fresh thyme to the pan and mix until combined. 
Bring the mixture to a boil and then turn to low heat. 
Fold the egg noodles into the mushroom sauce and let the mixture heat over low heat until the noodles hot and ready to eat. 
Nutrition Facts
Serving Size:
1/4
Calories:
217
Sugar:
5
Fat:
14
Carbohydrates:
14
Fiber:
3
Protein:
10
Category:
Dinner
Method:
Stove Top
Cuisine:
American
Diet:
Vegetarian
Keywords: mushroom stroganoff, mushroom stroganoff recipe